Mpesa is a mobile payment solution used mainly in Kenya and is provided by Safaricom. If you are being paid via Skrill, you can instantly transfer your earnings to your mobile wallet for quick access, use, and agent withdrawal.
Freelancing platforms such as Upwork used to offer Skrill as a payment method, but you can no longer add or use Skrill on the platform.
While most freelancers get paid either via Payoneer, PayPal, or Transferwise, some clients prefer sending payments via Skrill.
Don't worry if you haven't used Skrill before. It's actually painless.
Step 1: Create a Skrill Account
To get started, you need to head over to the Skrill website and create your account. If you already have created and activated your account, you can skip this section and jump to step 4, where I show you how to make a withdrawal from your Skrill account to Mpesa.
Click on the Get started or Register button, and you will be redirected to a Signup page where you need to fill in basic information as below: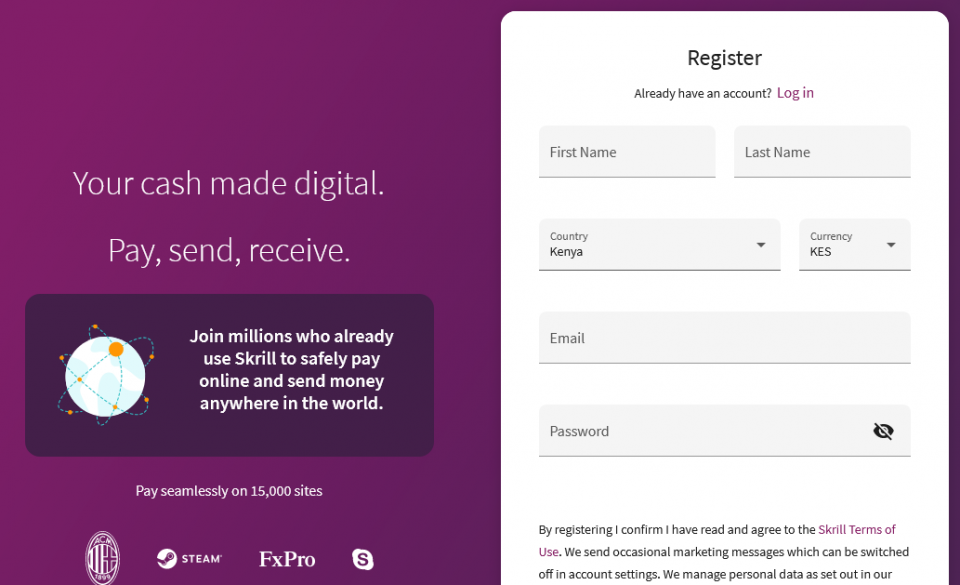 Step 2: Activate and Set Up Your Account
Next, head over to your email inbox and find a Get started email from Skrill. Click to activate and finish setting up your account. On your dashboard, you'll see three CTAs: Pay Online, Buy & Sell Crypto, Send Money. To get started, click on the first button to complete registration.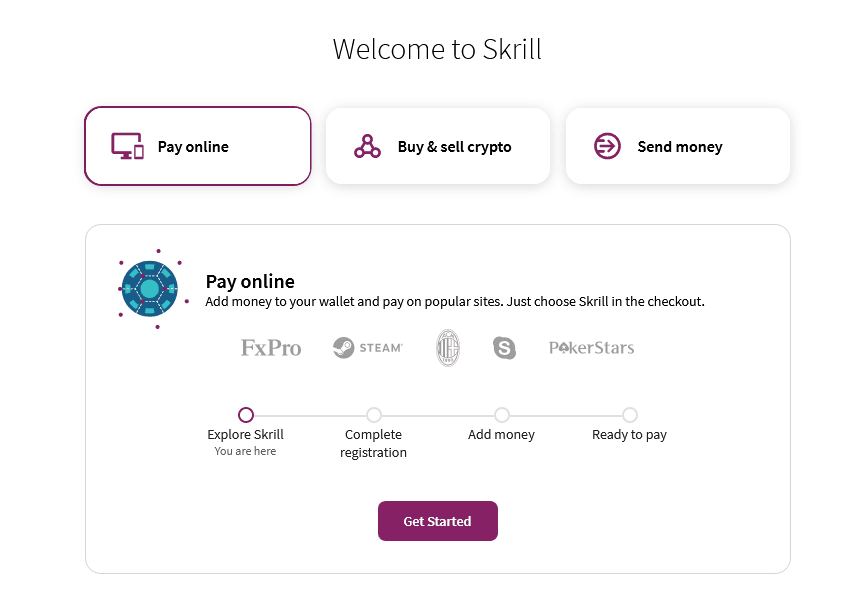 Click on the Get Started button to begin. Here, you'll need to provide a few more details about yourself, including your address and contact information, such as your phone number.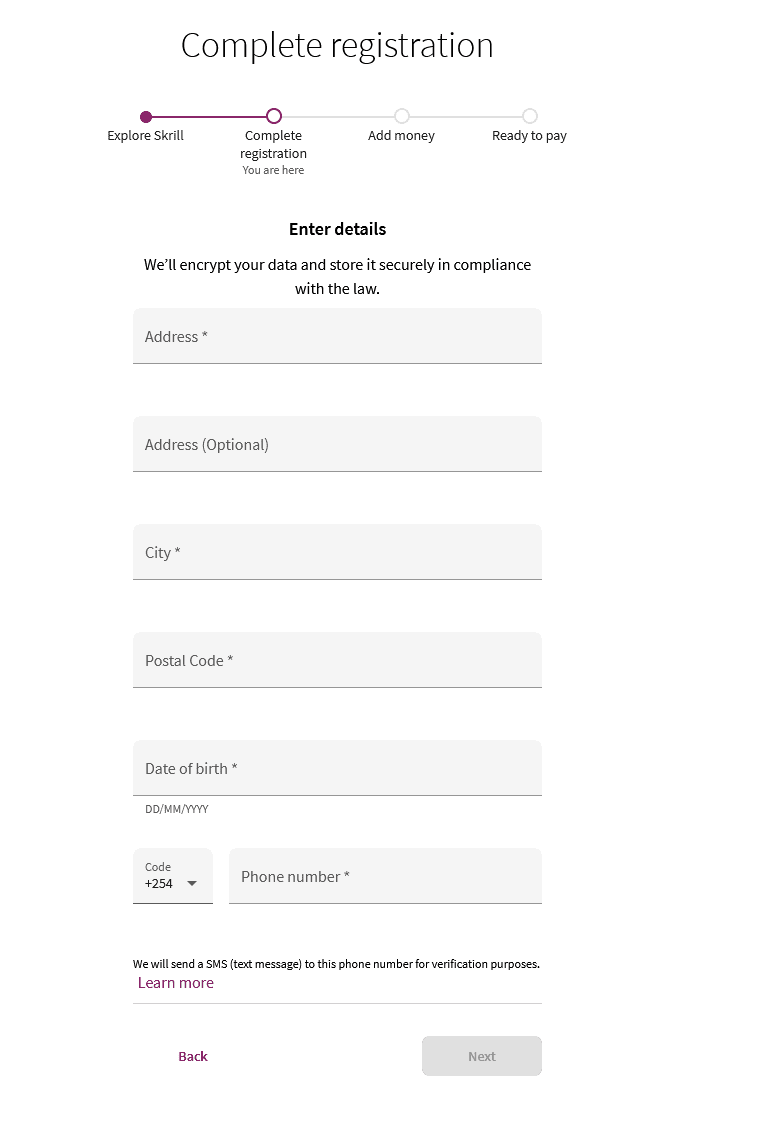 Now you need to verify your phone number by filling in a code sent to you via text message in the next step, and your registration will be complete, activating more features in your settings area.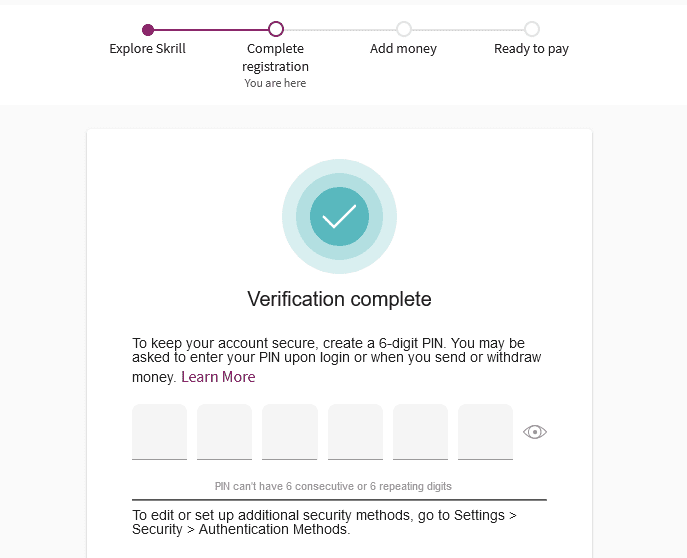 Next, you need to add a wallet. Options available for you will be displayed next as shown below: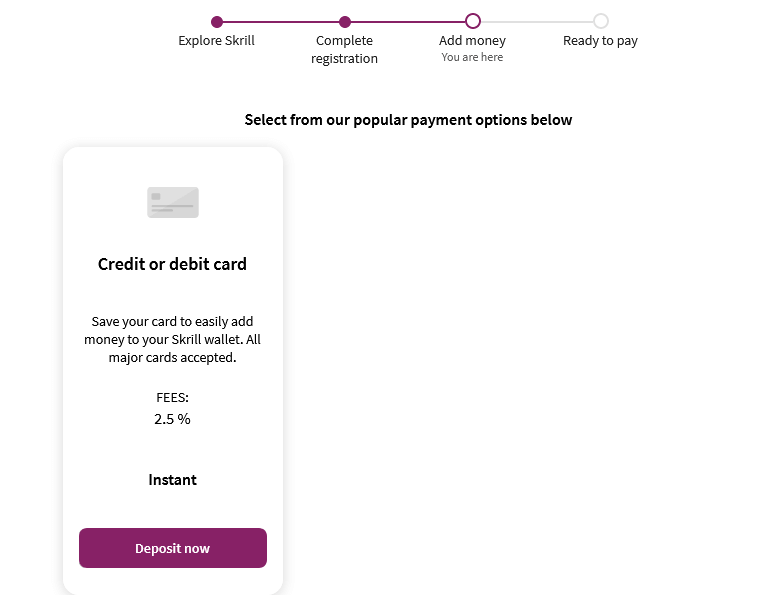 In most cases, you need to add a card that will be used as a payment method for your online purchases or when sending money.
Hover and click on the option you prefer to add as your deposit method to fill in your payment details.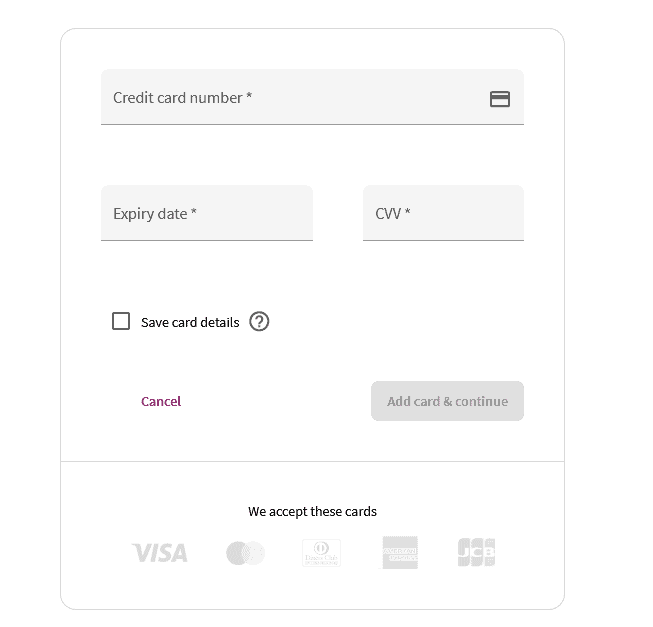 Perfect! You're done activating your account fully.
The next screen you see will prompt you to deposit money to your Skrill account from the card you just added.
Now, if you want, you can try adding money or just navigate away since you are not buying anything right now.
Step 3: Getting Paid with Skrill
Well, before you can withdraw, you need to have those funds available in your account. To get paid, your client needs just your Skrill email, and that's all. They will send money from their Skrill account to your Skrill email.
Once you are paid, the money will be available instantly and show up as a balance in the top navigation menu. Once you have funds in your account, a new option to withdraw your money will be added.
Step 4: Withdraw to Mpesa From Skrill
Since you now have some balance within your account, you can access them by withdrawing to your mobile wallet. To do so, follow the steps below:
If not logged in, log in to your account (a second authentication via one-time pin OTP may be required each time you log in from a new device.)
Add a Mpesa Wallet. If you had already done this, then your wallet will show up for you to select it. To use another mobile wallet, simply click on the green plus-circle below your wallets.
Now click on the Next button, and on the next page, you'll need to review and confirm your transfer.
Once confirmed, the transaction will be processed, and the money wired to your Mpesa account.
Typically, you'll receive your withdrawn amount in Mpesa in minutes, but sometimes processing may take a few hours.
What Skrill Alternatives Can You Use?
There are several payment solutions available through which clients can pay you. However, some three main and widely accepted solutions are:
Payoneer: This is loved by many since it's available in most countries, including the developing world, and funds can be withdrawn directly to the user's local bank accounts. Yes, you don't need a US bank account.
Wise, formerly Transferwise: Clients can wire money to your bank account or Mpesa, and the funds will be available within minutes. The waiting period is usually less than one business day.
PayPal: This is perhaps a solution known by many clients, but not everyone has a PayPal account or prefers using one due to some limitations and the inconvenience of having payment being withheld.
Conclusion
That's it! Now you know how to withdraw money from Skrill to Mpesa's mobile wallet.