Your organizational chart is what it sounds like: a diagram that shows the organization of your company. In other words, it's the way your employees fit into your company structure.
Most companies have formal charts with titles and job descriptions for each position in their organization—but some don't. Even if yours isn't written down or posted on the walls of your office, it still exists as an unwritten rule of how you organize and set up shop.
You may sometimes find yourself in a situation where you need to restructure your company—but for one reason or another, you've been putting it off. It could be that you're afraid of losing control over certain decisions, or maybe it's less about what you feel and more about logistics:
How will this affect my employees?
Will they understand their new roles?
What changes do I need to make now that the organization structure has changed?
If these questions sound familiar, we have good news: It doesn't matter if your chart is written on paper or simply on your mind. There are important things to consider for both types of organization charts that can help you better run your business—and, most importantly, they can help your employees do their jobs with less friction.
Here are some points to keep in mind for a formal organizational chart:
1) Layout the foundation of your organizational structure
If you can't remember exactly how your company is structured, take a few minutes to write it down or draw it up. Make sure to answer the following questions:
Who's responsible for what?
Where do the lines of communication flow?
How does information travel through different departments?
Your organizational chart doesn't have to be perfect—you can use free org chart templates online, like Venngage's Organizational Charts, to create an easy-to-understand guide so employees know where they fit into your business.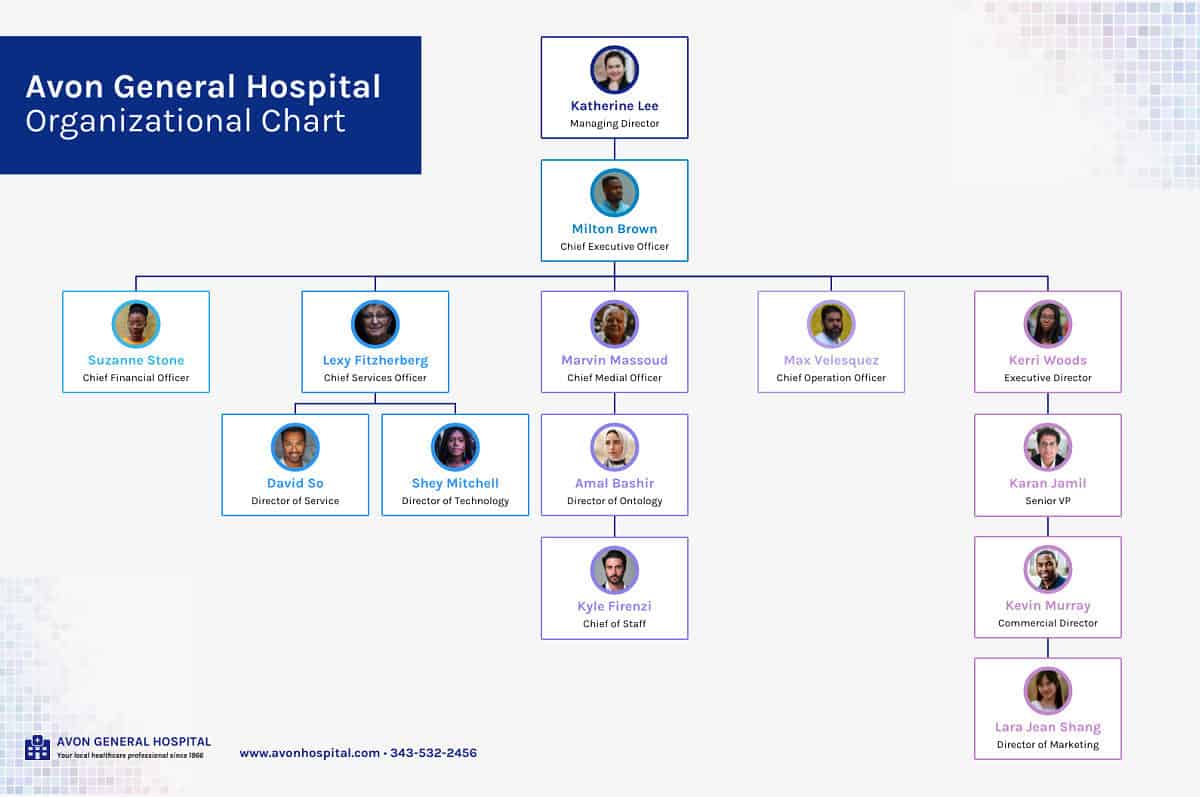 Venngage
2) Get everyone involved when creating an org chart
Once you've created that framework, get everyone in the loop! Let them weigh in on who should report to whom and any other important aspects of their new positions.
Venngage allows you to send a Venngage link directly to your employees so they can submit feedback on their new roles or even suggest names for their new department heads.
3) Keep your org chart simple and easy-to-read
Know that not every single employee needs to understand the ins and outs of each position. In fact, some may just need a general idea of what's going on in order to do their jobs well.
That being said, keep your organizational chart as simple and easy-to-understand as possible. Venngage lets you format your organization: You choose the colors and titles, add in backgrounds like logos and images…the possibilities are endless!
4) Make changes when necessary…without starting from scratch
If you find an opportunity for a change in your organizational chart, Venngage makes it easy for you to go back and edit. Once you've made a new Venngage diagram, just share the link with anyone who needs access—all of their changes will be saved along with yours.
5) Be transparent about your company's organizational chart
Just because there isn't an official organizational chart doesn't mean there shouldn't be one at all.
If the majority of employees are clueless about how they fit into the business, it puts everyone at risk. Create a simple chart that gives employees a better understanding of their duties and reporting structures.
6) Communication is key
Without an official organizational chart, it's harder to hold meetings where everyone can pitch in and put their best ideas forward. That's why you should make sure all employees understand the basic concept behind your company structure—who reports to whom and what each department does.
Venngage makes this easy with its organizational chart maker – just create a template and share it with everyone!
7) Empower employees to give input on what needs improvement
Since there aren't any formal rules or guidelines about how things should be done, let your employees know that they're free to give input on the changes they feel will work well for them and the company as a whole.
8) Draw it up!
If you're still working off of good old pen and paper, that's okay! However, you can still use modern chart tools like Venngage to create organizational templates based on your notes. Just upload the diagram to the template editor and swap out your original text with different shapes.
Conclusion
If you're a manager, it can be helpful to know how your employees think and what drives them. Knowing their needs will help you do more than just meet expectations; it could make for happier and more motivated staff members.
We all want the same thing: we want our well-being, happiness, autonomy in work choices, and feeling of achievement/progress at work to increase so that we are highly productive when on the job.
These things require an organizational culture where people feel they have a voice and space to grow–a place where there is room for mistakes without judgment or punishment.
Understanding these principles can also help managers appreciate why certain structures may not be successful with different types of personalities.
Ready to try Venngage?
Sign-up and start today on your org chart with Venngage's free infographic templates.