Selling digital products is one way of establishing your online business, apart from other ways of making money online such as display advertising and affiliate marketing. There are several types of digital products that you can sell.
Many people are opting for creating digital products since there are lots of complications that come with handling merchandise. Physical products are time-consuming to assemble or create. They also have complexities of shipping and handling, tax valuation, serving international customers, foreign laws, import duties, and requirements as well as inventory management.
Digital products, on the other hand, are easy to distribute due to their seamless automated delivery, sustainability and infinite replication. There's also a higher Return on Investment since once a product is created, it can be sold again and again without incurring any unit production costs, except for professional services where man-hours are required for every order.
What's a Digital Product?
Before we look at some of the types of digital products that you can create, let's understand what a digital product actually is. If a product requires manual handling, then it cannot be viewed as a digital product.
Thus, a digital product is an informational product or a service that can be created and delivered electronically without needing physical handling. Often, it's what results in the monetization of someone's skills, wits, experiences, and talents that are packaged in different formats such as eBooks and video files.
These formats are what are then referred to as the Types of Digital Products.
How to Sell Digital Products
Digital products can be sold in various ways and through various means. There are also several eCommerce platforms that you can use to sell your products.
Some of these platforms are specific to the types of digital products that the products fall under. For instance, you can sell online courses through platforms such as Teachable and Thinkfic, whereas, if you are selling fonts and other design elements, you would consider platforms like Creative Market.
The best way, however, of selling most types of digital products is through a third-party eCommerce platform such as SendOwl that handles payments. You receive payments without delay and you have access to your customer's data that you can use for promoting your other products.
SendOwl also integrates with several other platforms including most email service providers such as ConvertKit and hence you can add customers to lists and tag them accordingly to aid your segmented marketing strategies.
You can easily embed your products on your website using sendowl generated small pieces of code and your shop would be ready in no time. SendOwl has a free trial, and thereafter only $9 per month.
Benefits of Selling Digital Products
Easy to Create and Distribute. Digital products delivery can be easily automated and can continue generating passive income
No physical materials, staff or factories required
No major legal requirements to get started unlike traditional business setups
Digital products do not require major capital to get started.
Digital products can be replicated and sold again and again
What Types of Digital Products Can You Create?
If you have something to share, you can always turn it into a digital product, packaged in one of the following formats. Some ideas work well with specific formats. When creating your digital products, take time to assess and critically decide which format you will package it in, as this simple but important decision can be a difference in the success or failure of your product.
Here are 13 types of digital products you can start selling online.
1: Online Courses.
These are the cream of digital products. With the emergence of online jobs and the sprouting of freelancers, people are always taking courses to master digital skills in almost anything. Online courses pay well when properly done and they are not complicated to start. If you have been blogging on a particular niche for a while, chances are you can teach someone else how to do it, and she would be willing to pay for it.
Since they are self-paced, once you have created a course, you can continue receiving revenues as long as your course is available for sale.
A successful course is one that solves a major pain point of your readers and offers a working solution. You can deliver your course content in different forms such as audio files, videos, and texts. You can also decide if you want your course to be certified or not. If you opt for certification, you want to go for platforms that have certification features and plans that grant you access to use them in your courses.
Teachable and Thinkific are the two most popular platforms to sell your online courses. You can also set up learning management instead of using plugins such as LearnDash on your website.
2. eBooks
eBooks sell like hotcakes because they are affordable and provide a single one-stop solution that's backed by your expertise. While most eBooks sell at around $10, you can still charge more depending on the value proposition that your book has. Most experts charge $19, $25, $37 or even $49 per book, and this varies per niche.
If your eBook is exclusive to your blog readers (meaning you only sell it on your website) then you will be able to charge more and still make sales as long as your content is great. Today's market doesn't appreciable good content. Good content isn't good enough anymore. Your book should share secrets, and illustrations on how to go about a major hurdle and achieve a particular result that is promised in your book title.
You can also sell eBooks on some self-publishing companies' websites such as Lulu and Amazon Kindle.
Learn more about how to write and publish eBooks online
3. Software.
If you are tech-savvy and can write lines of code, this product is for you. People are always looking for better business tools to enhance productivity and cut down costs. If you can identify a major hurdle in your field and develop software that people can download and use, then you would have waved your own magic wand.
Think of software like video editors, screen recorders, etc. They all aimed at doing one thing really well. That's what your software should do. Whether, you are developing an app, snippets, or a plugin, if your product is good enough it will get noticed and experts will start mentioning it.
If you're experienced in a certain industry, you can help solve problems through the software you will create.
For example, it's hard to generate leads if you're doing multi-level marketing. But, there are platforms like MLMGateway that help solve problems when it comes to generating leads for multi-level marketers.
4. Web-Based Applications/ SaaS
Also known as software as a service, are just software solutions, the only difference is that they can only be accessed online and cannot be downloaded and installed on various devices.
People will pay a monthly or annual membership fee to gain access. Examples of web-based applications include Email Service Providers such as ConvertKit, MailChimp, Active Campaign, as well as social media management tools such as Crowdfire, Tailwind, and CoSchedule.
Even if your proposed solution is already available, you can still enter the market and find a competitive hedge that you can leverage on where your competitors are weak at. Siteground excels in Speed and Customer service, outdoing most of its established competitors in the web hosting industry.
5. Videos.
Videos are great types of digital products as they are preferred by people who are looking to learn step by step how to execute a particular task. Videos do well with recipe blogs, but also almost anything else.
All you need is a solution that someone will be interested in then break it down step by step in a tutorial video and charge a small fee for access and use of the content in it.
You can host your videos on YouTube and leave them unlisted or you can decide to opt for premium platforms such as Vimeo and Wistia, depending on your budget as they tend to offer some extra customizations to fit your needs.
6. Audio Files.
Audio is a powerful medium for relaying important messages and people are willing to pay for audio tracks that teach them something new, soothe them, inform or help them achieve their personal and business goals.
There are several audio products that you can sell online:
Audiobooks
Recorded lectures
Language lessons
Background noises
Ringtones
Funny phone away messages
Sound effects
Musical samples
Stock music tracks
7. Photography
Stock photos are still in high demand. That makes sense since thousands and thousands of new content are being churned out every second, and great visuals are becoming very popular in today's content marketing world.
If you have a knack for great captions and lenses, then this product can be suitable for you. There are several stock sites where you can sell your photos online. However, you can also start your own stock site and start charging a fixed fee per download or subscription fee for people to download up to a certain maximum number of photos per month from your website.
You can set up payment getaways using a membership plugin such as MemberPress integrated with SendOwl and your email service provider. You will also need a good hosting provider such as Bluehost to host your website. Dedicated hosting is preferred since high-quality photos take up quite a space.
8. Graphics and Templates.
This is great for graphic designers. You can sell.PSD files, PowerPoint themes, icon packs, etc. If you are an artist, you can also sell your own illustrations and artworks.
Demand for high-quality social media and Pinterest graphics and templates is increasing as the world gets visual in its content marketing. If you've mastered Canva and PicMonkey you can create Canva templates and start selling them for a few bucks.
9. Professional Services
Unlike the other types of digital products, professional services are quite demanding as they are not set-and-forget types of products. Your skills are needed for every order that you process. Some of the services you can offer include:
10. Selling Fonts.
If you are you're own creative obsessed with handwriting, you can create fonts and start selling them on your own website by integrating SendOwl or other eCommerce platforms like Sellfy, or selling them on sites like FontShop and MyFonts.com and earn 50% commission or at Creative Market that pays you 30% commission.
Not sure how to go about this? Have a look at how Miss Meyer sells fonts using Sellfy.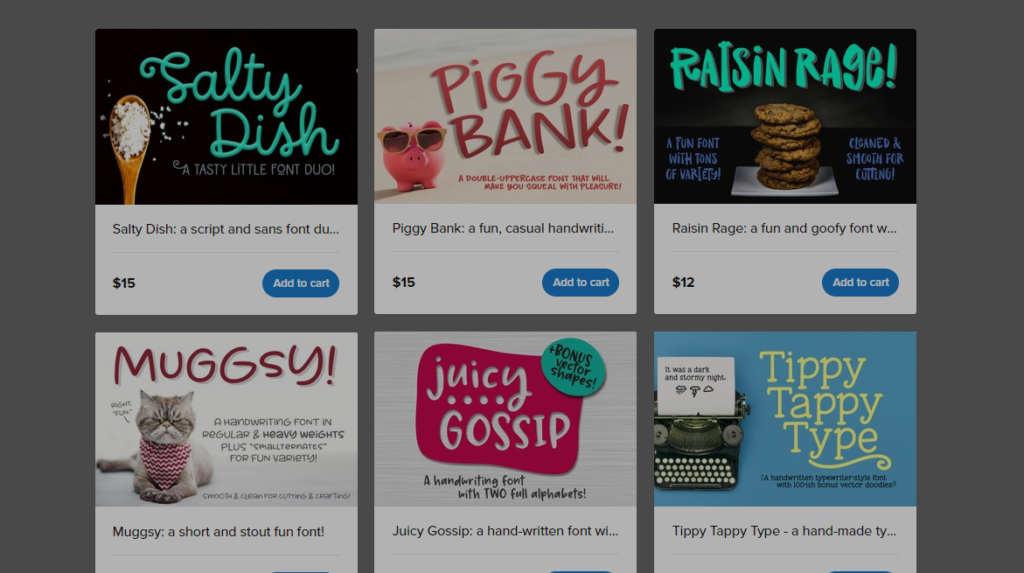 Most of her fonts sell at $12 and $15 and have dozens of different fonts she has developed. Think you can do the same? Well, it starts with a step forward.
11. Paid Digital Magazines
Newsletters and Magazines are seeing a renaissance and websites like Entrepreneur still do well with both their digital and print magazines. The secret is choosing a niche and sticking by it, then building your authoring on the topics of interest. Once you launch your magazine, the readers of your blog would be willing to subscribe to receive an issue every month and get updated on the latest developments in their industry.
Your magazine team should be dedicated to providing exceptionally useful articles for the magazines so as to retain subscribers. According to Foundr, your digital magazine should serve other purposes as well that will overall generate revenue for your Media business. These functions include building social media followers, building relationships with gurus, marketing and generating revenue.
12. Membership sites
Though demanding, but are not as demanding as offering professional services. You will create exclusive content that members will have access to and continue to add relevant content every week or every month on your site. This way you will engage your members and give them something of value that will compel them to renew their memberships every time.
Once you've structured your membership site and have your content strategy in place, you will only need to install and set up your platform and upload your content. With membership sites, you can offer any product including industry reports, job alerts, courses, eBooks, live Q&A, stock photos, etc.
13. Planners and Printables.
Productivity tools are in high demand and planners are easiest to make if you are a creative and a great organizer. Planners make work easier and can be created for almost any niche. Anything from recipe plans, editorial calendar, blog topics ideas, book planning, personal planners to New Year goals planners work. Your customers can then purchase ready-to-print versions of these planners and use them accordingly
Conclusion.
There are definitely more than 13 types of digital products, but what we've discussed here today are some of which you should give a try. Selling digital products is a great way to pay your bills as you establish your business and move up the ladder to creating something even more phenomenal.