Business expenses can really hamper a business and even though small on an individual basis they all add up. So, here are some tips to cut back on business expenses.
1. Consider Doing Your Business Virtually
If you are offering goods or services that do not require you to have a physical business location, you can use technology to avoid the expense of renting an office and enhance your business reach.
You can operate your business from the comfort of your home and integrate technology to reach out to your staff and your target market.
Once your business has grown and you have built a solid customer base, you can then consider renting out office space in a commercial building.
2. Save on Energy Costs
Energy prices cost some businesses a little and others a lot – either way it's still money.
Choosing a supplier that saves you is logical advice and can be easily done. Josco Energy's advice is to shop around and get the best deal for your business.
3: Try Open Source Software Instead
Open source software is software that is non-proprietary. In simple terms, the software can be found for free or at a very small charge compared to patented commercial software.
As a business owner, you can cut back costs by using this type of software.
It is important to note that most of the software needed to ensure efficient and optimal business operations today is open source.
For example, you can find open source bookkeeping, accounting and point of sale software in the market. However, remember that most open source software does not come with official tech-support services.
However, should you be in need of support services, you can always reach out to other software users in community forums.
If you are just getting your business of the ground and are looking to cut back on the initial cash investment, you should consider using open source software.
4. Connect With the Right Suppliers
If your new enterprise will be producing items for sale, you will need to find suppliers who can furnish you with the raw materials you need to create your products.
Before starting your search for suppliers, first set a budget for the materials you require.
You can then move ahead to search and search for several potential suppliers in your locality who can supply the materials you need within your budget.
After finding suitable suppliers, you can then move ahead and see if they are willing to create long term business relationships such as offering a line of credit.
A line of credit is akin to a credit card in that it affords you the opportunity to pay for goods or services purchased from a supplier at the end of a predetermined period of time.
5. Take Advantage of Discounts
Buying goods in bulk is cheaper than buying goods individually.
When you find suppliers for your business, try negotiating for discounts when making bulk purchases.
Most suppliers tend to be amenable towards offering discounts for bulk purchases. If yours is not willing to do so, you can always look around for one who will be willing to offer discounts.
To find great discounts that will help you save hefty sums during purchase, do not just limit yourself to suppliers in your locality.
You may find that out of town suppliers may be willing to offer great discounts for bulk purchases and on shipping fees.
6. Slash Discretionary Business Expenses
These are business expenses that you do not have to settle immediately or may not even need to have incurred in the first place.
To lower your overall business expenses exponentially, go through your expense list with a fine tooth comb and identify expenses that you can lower if not avoid totally.
7. Consider Outsourcing Service Providers
At times, you may find that there are no potential employees in the locality who have the skill set that your business requires.
In such cases, you should seriously consider outsourcing. This refers to engaging other firms of persons to handle the task at hand in return for compensation.
In the long run, you may find that outsourcing helps you cut back on employment expenses. Further, outsourcing is also beneficial since most outside organizations usually have employees who have the right skill set.
You can rely on the talent and experience of such employees to grow your enterprise before you hire your own staff.
8. Grow Your Business Gradually
It is best to avoid grandiose plans when starting a business.
It is way better to start small, grow your business gradually and then review your goals with each success to reflect the next step in your expansion plan.
Once you have gained a foothold in the market and your business is performing well, you may find that you can set aside more resources to aid in your expansion plans.
When your bottom line is better, you can use the extra cash to buy new equipment or even make new hires. With the extra resources, you can even open up new branches of diversify your portfolio to offer new services or products.
Focusing on gradual growth usually gives you a chance to evaluate how effectively your business is reacting to each change you make before you can invest more money in other proposed changes to help you meet the vision you have for your business.
9. Track Cash Flows Through Your Business
When doing research before starting a business, you will hear lots of people opine that tracking cash flow is important in a business… And it is.
For starters, tracking the flow of money in your business will help you avoid missing payments to suppliers and the attendant fines. Research has shown that many of the small enterprises that fail to track cash flow collapse in their first years of inception.
It is best that you track your cash flow from the moment your business starts operating. Remember that you will have to use cash to cater for business expenses before your enterprise starts generating revenue.
Your cash will also help cater for any unforeseen business expenses that arise.
Consider keeping an updated statement of cash flows as it will help show how you are using your money. A statement of cash flows can be updated on a monthly or annual basis.
Ideally, you should update your statement on a monthly basis so as to understand where your business cash is currently vested and if you have enough to continue business operations.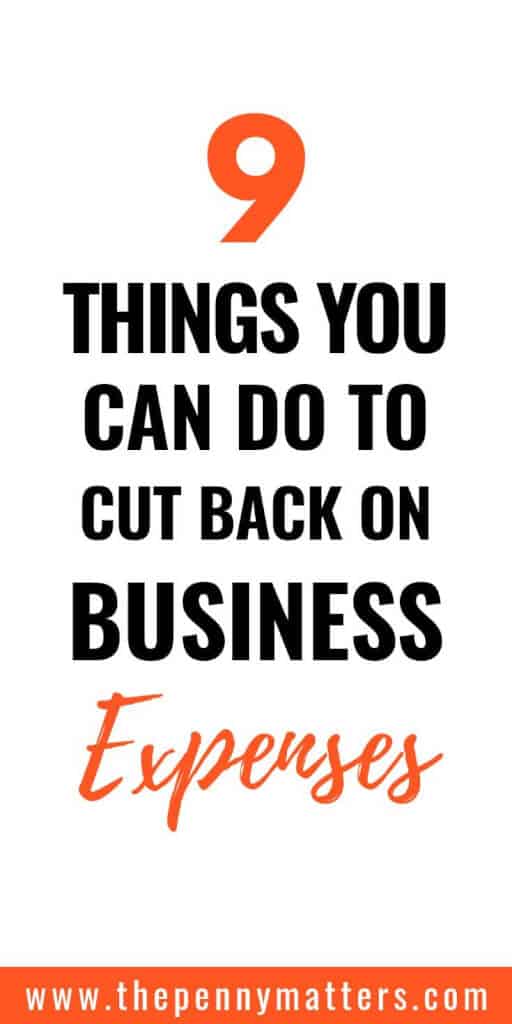 Bonus Resources:
Do you have a business and in need of resources? Here are some great recommendations to make your business a success.
Secure your business through worker's comp insurance from Cerity
Plan and execute a small business launch with this guide
Take business courses for free for 60 days
Conclusion
There you have it: 9 ways to reduce hour business expenses so that you can scale quickly.