Interested in starting a food blog but don't know how?
Whether you want to supplement your income or build a whole new business around it, food blogging is a great income stream for many food enthusiasts.
In this guide, I'll take you through how to start a food blog (or a recipe blog) step by step so that you can get started right away and make money blogging online. Food lovers, lean in. This is for you.
But first off, let's see what food blogging is.
What is Food Blogging?
Food blogging is writing a blog devoted to all things food, from kitchen wear, food, and ingredients to detailed recipe instructions. Some recipe bloggers write about local food while others specialize in terms of purpose or goal, for example, weight loss and healthy dieting.
So, as a food blogger, you'll be creating original content about the food you love and sharing it with your followers.
Examples of Successful Food Bloggers
What Do You Need to Start a Food Blog?
To start a food blog, you need 3 things:
Domain address
Web hosting
one hour commitment to set up your food blog without hiring a designer.
Here's How to Start a Food Blog:
To start a food blog, follow the simple steps below.
Step 1: Choose a Niche for Your Food Blog.
To start a profitable food blog, you need a good niche to blog about. With hundreds of viable food blog niches to choose from, finding the one that's right for you can be tricky.
To help you out here, follow the guidelines below:
Search Competitiveness: Choose a niche that's not too competitive. It will make it easier to rank your content much faster without requiring tons of backlinks. For instance, instead of blogging about western food, you can niche down further and blog about American Cuisine.
You, however, don't want to settle on a niche that's too small as you wouldn't have enough audience to turn your blog into a business. Find a niche that's somewhere in the middle, as you'll be able to monetize it much faster.
Settle on the niche that you love and are Knowledgeable about: writing blog recipes about foods that you have never made can be pretty exhausting, so, by focusing on an area where you are an expert, you not only give yourself an easier time creating content, but you also ensure that you provide your readers with knowledge that you can back up.
To make this process even easier, I've gone ahead and brainstormed a few niche ideas for you:
| | |
| --- | --- |
| Pet food | Salads for allergies |
| Desserts | Fun Food |
| Italian recipes | Smoothies |
| Coffee | Tea |
| Cook wear | Dinner Wear |
| Quick meals | Vegan recipes |
| Recipes for busy moms | Recipes for College students |
| Healthy eating | Tapas |
| Reviews | Restaurants |
| Low Carb | Wild Game |
| Cooking for one | Korean recipes |
| Soups | Juicing |
| Paleo Diet | Gluten-free |
| Pot cooking | Budget-conscious |
| Breakfast | Bread recipe breakfast |
| Baby food | Restaurant reviews |
| Appetizers | Organic Keto |
| Home Recipes | Latin paleo recipes |
| Nut-free keto recipes | Whole30 on a budget |
| Vegan baking | Wine pairings |
| Tofu | Organic Keto |
| Bread recipes | Mediterranean Appetizers |
| Baking for Kids | Plant-based |
| Healthy eating | Sugar-free |
| Pressure cooking | Belief based niches |
| Pizzas | Meal prepping for students |
| Pasta | Family Meal Planning |
| Italian Dishes | Exotic Cuisine |
| Cocktail Recipes | Veganism |
| Baking | Instant pot recipes |
Pick one niche and stick to it. Please don't try to be a jerk of all trades here. You may expand your niche once you are established, but for now, it's easier to blog on a particular topic.
Step 2: Decide on the Name of Your Food or Recipe Blog
Your blog will be your brand. So, make it memorable, delicious, and catchy. Use the following tips to help you come up with a suitable name for your recipe blog.
Know the kind of recipe Blog you desire to run: By being niche-specific, you can easily craft a keyword-rich name that will not only be recognizable but also easier to remember and relevant to your blog content. It's advisable, where possible, to go for a name related to the content you will be creating. Your food blog name should be specific but unique.
Seek inspiration from the existing blogs to see what works in your industry. How have they formed their names, and what message does each convey right off the bat?
Analyze and create a bank of words related to foods: Make sure that you have as many food-related words as possible, and then pick the ones that suit your specifications the most. Try a few direct combinations till you find one that clicks for you.
Adopt Alliteration: Use words that are easy to remember and sound similar or have the same letters at the beginning. Borrow a leaf from names such as Drink and Dance, Dunkin Donuts, Budget bytes, etc.
Use your name: Your name is unique, and so should be your blog name. The only downside to this approach is that you might run into problems if you ever decide to sell your recipe blog. Examples could include Alesha Diners, Paleo with Resh, Marie's Recipes, etc.
You can also try blog name generators. Just enter your chosen word or words into these blog name generators, and they'll bombard you with hundreds of blog name suggestions. You'll be spoilt for choice. Pick the one that's most appealing to you because if it pleases you, it'll also fascinate other people.
Some of the Food Blog Name Ideas for Your Inspirations:
Eating with Ashley
Food Stories
Mixing Diva
Food Babe
Mystery Flavors
Smitten Kitchen
Step 3: Register Your Domain Name
After coming up with a suitable name for your recipe blog, the next step is to register the domain name. This will be your website address, and since many people have this unexplained tendency of always getting the domain name wrong, you want to have one that is as close to the blog name as possible. For instance, Alesha dinners should secure aleshadinners.com.
Always go for a '.com,' '.co' where possible. Use a country TLD such as '. co.uk' if your food blog is focused on an audience from a specific country.
Register all of your domains with a single reputable domain name registrar such as Namecheap. You can then point the nameservers to your web hosting service provider such as HostGator or Bluehost.
Step 4: Get a Dependable Web Hosting Service for Your Recipe Blog
You can have a domain name and even design your website on a computer, but unless you upload it on a web hosting server, no one will ever know that it exists. You need a web hosting service to give life to your website. It'll allow people to get to you whenever they key in your domain name into the search engines.
When it comes to web hosting, you have three options: Shared hosting, VPS hosting, and Dedicated hosting. Shared, being the most affordable, is suitable when you are just starting. But once you reach 100K monthly visits, then you need to start thinking about VPS hosting.
While several web hosting companies offer shared hosting plans, we prefer Bluehost since it's affordable and easier to navigate for total beginners. With Bluehost, it's fast to get your site up and running. You can use their one-click installer to quickly install WordPress, log in and start designing your food blog.
a) Grab web hosting to Start Your Food Blog
First, visit Bluehost to purchase web hosting and get a free domain or use one you already have from other domain registrars.
Click on the Get Started Button to begin your blogging process
b) Select your plan
You've got four plans to choose from, but since you are just starting out, you don't need anything fancy. The lowest Starter plan should be enough. Select it and continue
c) Set up your domain name.
Here you can register a new domain or choose to use one that you already own.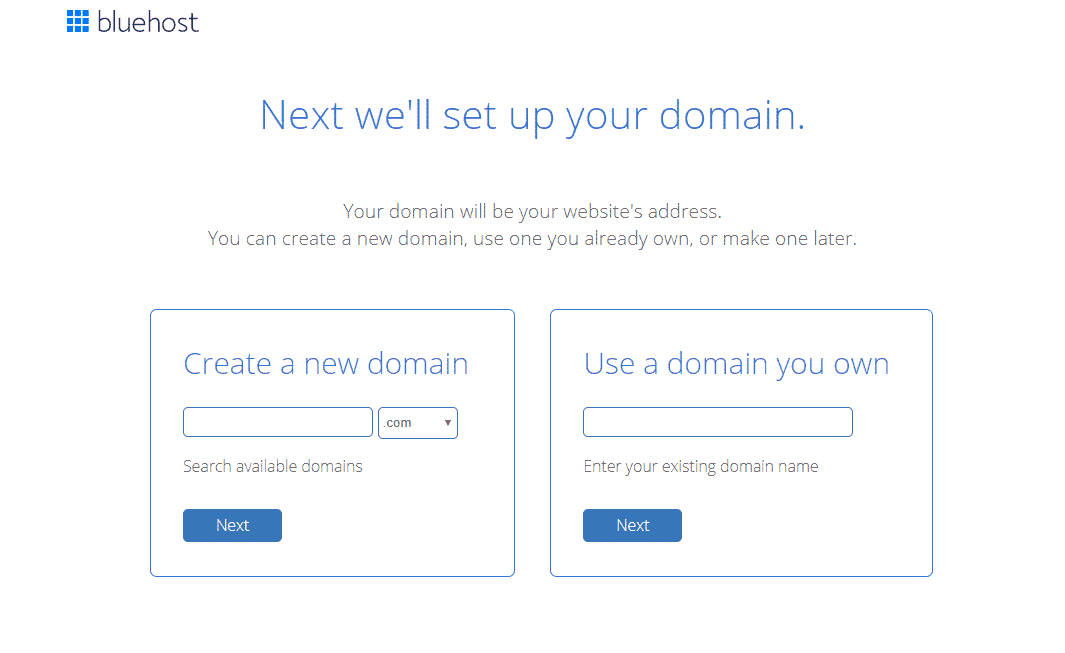 d) Fill out Your Billing Details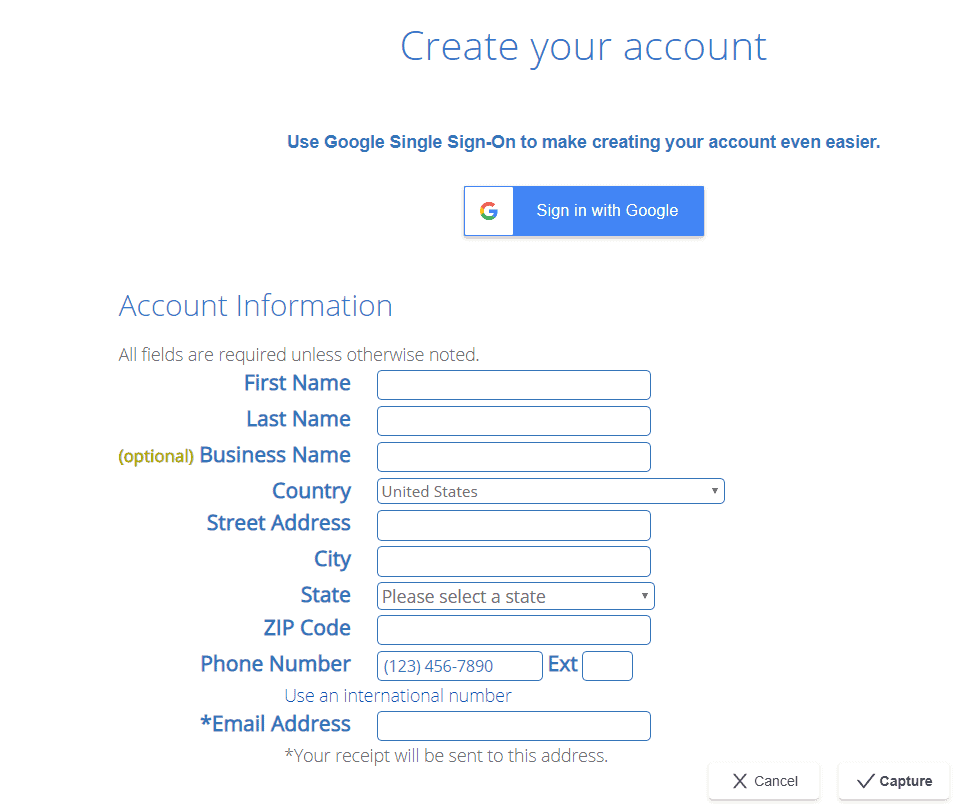 e) Customize your order by choosing hosting packages, duration, and other options
Your hosting account has unlimited resources, branded emails, and WordPress installation
By selecting a longer hosting duration, you enjoy the lowest monthly rate equivalents.
Uncheck all the up-sells that you do not need to bring down the amount due considerably. Most of the upsells being offered are totally unnecessary at this point.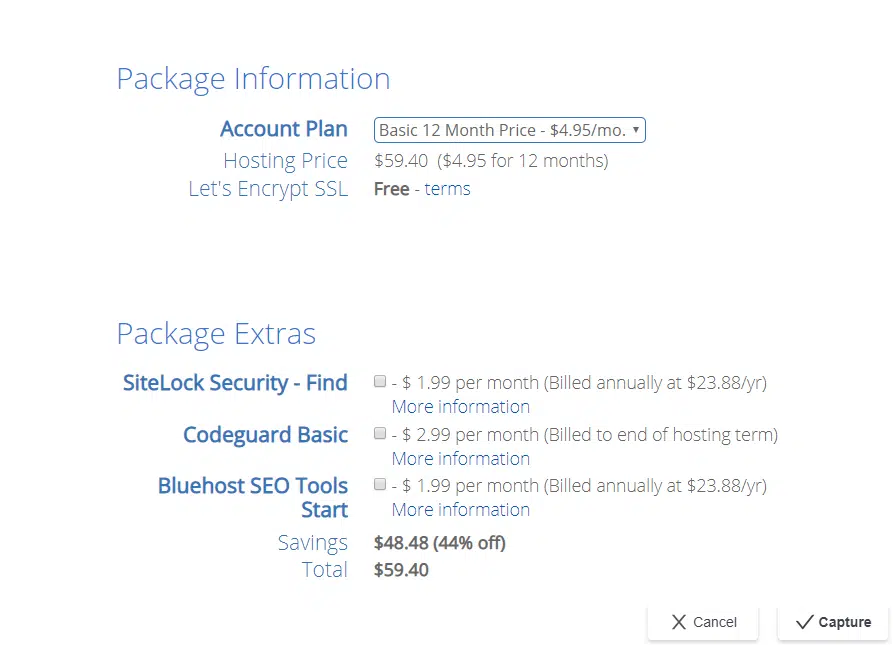 f) Create a Password for your Bluehost Webhosting Account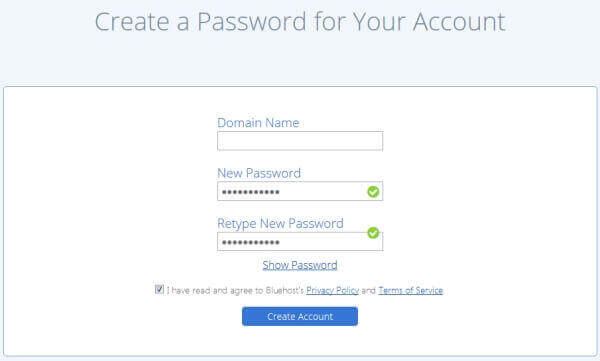 You'll then have an option to set a WordPress theme. Select any at this point as you will have an option to change this later on.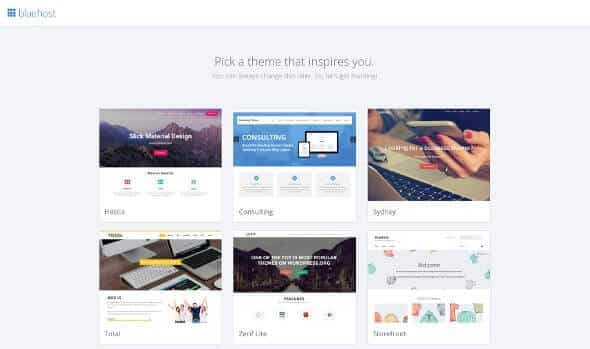 Your WordPress blogging software is now installed on your domain. You can then click on the Start Building button to log in to your site.
Step 5: Start Building Your Blog
You should now be logged in to your site. If not, simply navigate to yourwebsite.com/wp-admin or access it from inside your Bluehost account.
Choose A Great WordPress Theme for Your Recipe Blog
The next thing you want to do once you are inside your WordPress admin area is to go to Appearance>> Themes>> Add New to find a good theme that you wanna use.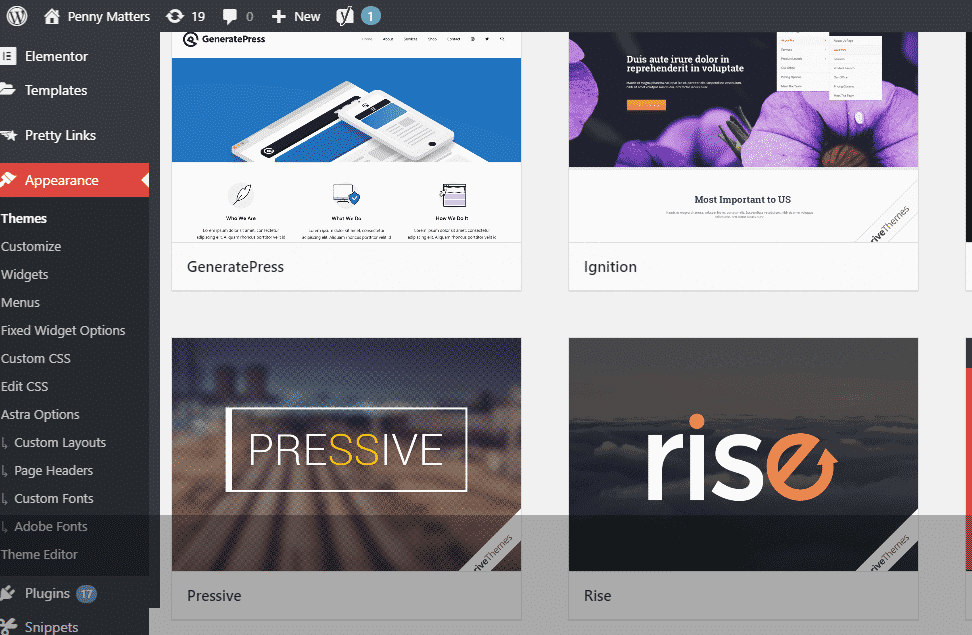 You need a great, visually appealing layout that speaks the language of yummy and delicious. The good news is that you don't need to know how to code to design your blog the way you want it to be. All you need is a great WordPress theme that is explicitly made for recipe blogs.
Some of the most popular WordPress themes for food bloggers include:
Astra Theme: This is a multipurpose WordPress Theme that is so light and gives you great design freedom so you can design your food blog the way you like it. With its integration with popular plugins such as WooCommerce, Elementor, etc., you can rest assured that you can implement any features without compatibility issues.
Rachel by Bluchic: This simply elegant and feminine theme is suited for food, recipe, and lifestyle bloggers. All Bluchic themes are speed optimized, WooCommerce ready, and optimized for conversion. See Rachel Demo
Cookely Theme: If you are looking for a WordPress Theme that has a simple layout for a simpler display of your recipes, then Cookely is the right one for you. It comes with 6 different color themes to brand your blog. You can also choose a grid layout or a list layout. The theme also comes with a built-in recipe index and integrates well with popular recipe plugins. See Cookely demo
Gourmand Theme: This minimalistic recipe blog theme makes your blog visually appealing and easier to navigate. Its recipe cards allow you to add all the necessary recipe details such as categories, cooking time, and difficulty. See Gourmand demo
Customize your WordPress website
From the left menu, go to appearance, then customize to set up your basic blog details such as site title, slogan, brand colors, etc, depending on the thee you chose.
Step 6: Install the Best Recipe Plugins
Your recipe blog's focus is to share recipes and fascinating food photographs to make your site popular. To display your favorite recipes in an engaging and appealing manner, you need to decide on the best recipe plugin for you.
When selecting the right recipe plugin, go for one that has the following features:
Premade templates
Powerful search capability
Nutritional info generator
Schema ready for recipes
Beautiful recipe cards
Ability to upload images and videos
Some of the best recipe plugins for your food blog include:
Blossom Recipe Maker
Tasty Recipes
Create by Mediavine.
Zip Recipes
Cooked
Wp ultimate recipe
Apart from recipe plugins, you also need supporting plugins such as Rankmath SEO plugin for setting up SEO, WooCommerce for selling products on your website, Elementor for designing your website, and Social Warfare for social sharing and setting up pin images for your blog.
Ready to Start Your Food Blog? Get Started Here.
Step 7: Write Your First Top Recipe Blog Post
To make your recipe blog successful, be authentic. Post only original content. Play to your strengths. If you don't like writing, create fantastic images and let them do the talking. Try to bring out your personality in your writing.
You can make your writing light and funny because most people who follow food bloggers look for entertaining content.
When describing a recipe, keep the part brief and let people read your recipe themselves. Make it classy but straightforward.
Creating content for your blog should be entertaining; otherwise, you won't carry on with it for long.
Where to Get Inspiration for Your Recipes:
Just as a great dish needs fresh ingredients, developing something new needs fresh information (inspiration)
Food bloggers get inspiration by reading magazines, and cookbooks, creating fusion cuisine, reading other recipe blogs, and eating the local cuisine. They also talk to people around them.
If you love traveling and trying out local recipes, you can leverage the power of food storytelling to have your readers come back for more weeks on end.
Step 8: Embrace Food Photography
Photos will make a significant part of your content, so you want to learn how to take great captures for your food blog. Photography is an art, so whether you are using your phone or a digital camera, you need to learn the art itself to have polished photos that perfectly compliment your recipes.
A few tips to remember when snapping food photos include:
Snap photos when the food is still hot or steaming if you take the photos while cooking.
Learn to plan the shots. Know what food accessories you need to make your photos stand out, well, without ruining the food. Artfully place the surrounding items and crumbs in the right positions to ensure that your shots look spotless and thought-through.
Where possible, use natural lighting, ensuring that the resulting shadows are well filled to avoid appearing in your photos.
Employ other photographic techniques such as the rule of thirds to fill your frame, as well as the leading lines that make subtle effects more pronounced. Ever notice how most food frames have a fork or a knife in them? Well, these are done deliberately.
Secure a great backdrop (s) for your food photography. From wooden tables to café settings, you are not limited here. Also, make sure that everything agrees with the general color scheme of your blog.
When shooting, camera angles are crucial. Directly above the food shot gives you a broader view, while side angles are great for food plates with layers. Try different angles and choose the ones that show your foods in the most flattering manner.
Where applicable, creative props such as wine glasses, plain cutting boards, etc., can give your pictures depth, creating a more dynamic composition.
Now, remember the food itself is the hero in food photography, not the person holding the food, not the frame, not the props. You can achieve this by capitalizing on depth. Focus on the food while letting the background fade off if it's too busy.
If you are design savvy, you can edit your food shots using applicable software, compress them using lossless compression, rename them for SEO and then upload them to your website media for use in your recipes,
Step 9: Start Promoting Your Blog
Starting and managing your food blog will not be a walk in the park. You'll spend time perfecting your recipes and mastering the art of food photography. So, it's only fair that your recipes reach as many people as possible.
How to Grow Your Food Recipe Blog Audience.
Some will cost you money, some can be challenging, and some will need you to be an SEO guru.
Write SEO-optimized Content: Do Keyword research when deciding what topics to blog about. This ensures that you are producing content that you are likely to rank for instead of just tossing and praying. Ensure that your content checks all the recommended On-page SEO tips.
Use the Pinterest algorithm to Your Advantage: Recipes and food storytelling are known to be popular on Pinterest. Create easily clickable pins using photos, wordings, and graphics in your pins. Look for popular good recipe pinners and follow them. Figure out what they are doing right and adopt the same for your account and your blog.
Guest Post on Other Popular Food Blogs: Since your blog is still new, you want to improve its domain authority by guest posting on other blogs within your niche. Apart from getting quality backlinks that will help you rank higher in SERPs, guest blogging can also generate high-quality visitors to your website. Find a way to offer a great giveaway within your guest posts so that you can build a high-quality list of food lovers.
Start a Community: If there's one other thing that food lovers love is a community of other food lovers. Facebook groups that are all about new and old recipes do really well. Build a great Facebook group from day one and propel the food storytelling narrative forward. As your group grows, you can urge the members to join your email list for more exclusive recipes and giveaways.
Grow Your Instagram Page: Instagram is a great place to showcase your kitchen expertise. Share photos of your kitchen, ingredients, and recipes with your followers. Also, jump on to the stories and post short clips. Growing a food Instagram account is easier now than ever. The good news is that once you have reached, say, 10,000 followers, the growth becomes even faster without you having to do anything apart from creating and curating great content for your readers.
Grow Your YouTube Channel: If you think Instagram is great for food bloggers, then try YouTube. One advantage that YouTube has over IG is that YouTube allows you to add clickable links in your videos' descriptions, thus a great way to direct traffic back to your blog. Food and recipe content do well on YouTube, and so, with a great content strategy, you can rank for much more competitive keywords on YouTube that you might not have with Google search.
Monetizing Your Food and Recipe Blog
Now that you know how to start a blog, create your first blog post and even promote it, the next step is to look for ways to earn from your blog.
You can make money from your food blog by:
Selling recipe books: Cookbooks do well in this industry, and the good news is that you can turn some of your well-performing recipes into cookbooks instead of starting from scratch.
Create Online Courses for Food Bloggers and Food Lovers: As a food blogger, you can teach other food bloggers how to grow and scale their blogs.
Running Display Ads: Displaying Google AdSense: Recipe blogs see tones of traffic; thus, by signing up with a premium ad network like Mediavine and Thrive Ads, you can start bringing in a couple of thousand dollars a month through native ads.
Use your Food blog as a portfolio to get freelance work: As an expert food blogger with a proven track record, you can start writing for more prominent food publications that remunerate you generously.
Become a Food Photographer: As a food photographer, you'll be doing social media campaigns for food companies.
Other monetization methods include affiliate marketing and recipe development. To learn more about monetization methods, you can read my post on monetizing a food blog.
How Much Does an Average Food Blogger Make?
Food bloggers can earn anywhere from a few dollars to more than $ 150,000 depending on the projects they're handling, i.e., is it a one-time project or a recurring one?) Your blog's stats also have an impact.
How they set their rates differ from one blogger to the other, but it mostly depends on the project's length. In simple terms, food bloggers may earn $ 50,000- $ 165, 000 per month.
Start a Food Blog Now
I hope that this guide on how to start a food blog has helped you get started. Food blogging is a great way to share your unique food taste and make money from it that you can use to fun other dreams. PennyMatters readers are hustlers, and we are not tied down to one idea.
To get started, click on the button below to launch your blog with Bluehost and continue supporting great content like these. Using our affiliate link, you support our content creation process without any additional cost whatsoever to you. Mysson promises.