The content at Scale affiliate program presents an excellent opportunity to earn a good income for every referral you bring in. You get to make anywhere between $75 and $300 recurring income.
So, if you've been looking for a high-ticket affiliate product to promote, consider joining Content at Scale here.
New to Content at Scale (CaS)?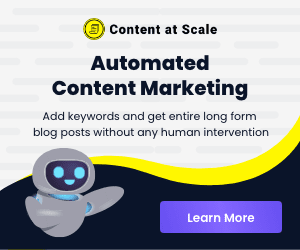 What is Content at Scale?
Content at Scale is an AI writing tool similar to Jasper AI and WordHero. However, unlike other AI writing software, Content at Scale can produce long-form content that's usable with minimal edits.
You don't have to build the articles section by section. Simply feed in your topic, enter target keywords, make a few customizations, and get a quality article within minutes that's around 2600 words long, complete with a FAQs section.
Why become a Content at Scale affiliate?
There are a few reasons to consider promoting Content at Scale
High ticket product with huge commissions
Recurring lifetime 15% commission for every sale you bring in
CaS is an easy product to promote to content creators, marketers, and businesses
CaS differentiates itself with the ability to produce quality articles at scale with minimal user inputs, making content automation possible.
Low minimum payout of just $20
Pays via PayPal
It's 2 tier affiliate program, you earn 5% more commissions from referred affiliates.
Ready to use creative assets for your affiliate promotion
20% more credits to incentivize people to use your affiliate link.
How do I apply to the Content at Scale affiliate program?
To apply to the CaS affiliate program, you simply need to click the button below, submit your details and wait for the approval.
Once approved, you get a sleeky dashboard where you can find your affiliate links, creative assets, reports, and other settings to help you with your promotions.