What is Society6?
Society6 is an online marketplace for independent artists and designers to sell their creations on a variety of products. The platform allows you to turn your art into print-on-demand products, such as t-shirts, phone cases, canvas prints, tapestries, and more.
But it's not quite that simple: Society6 acts as the seller and distributor of your designs while you focus on promoting your work.
How Does Society6 Work?
The first step is to upload your art to the site. There are no restrictions on the medium you use, so you can upload paintings, illustrations, photographs, digital art, and more.
After uploading your work, Society6 offers you a choice of products it will sell your art on. You can sell your work on everything from phone cases to leggings. The great thing about Society6 is that they do all of the printing and shipping for you—all you have to do is sit back and watch the sales roll in!
Society6 Payout
You can easily check your Society6 sales and earnings at any time by visiting the dashboard in your account. In order to get paid through Society6, you'll need to have an active PayPal account; once you're ready to request payment, you'll be directed to input PayPal information so that Society6 can send money directly into your PayPal account.
Once you've made at least $25 in sales (minus any applicable taxes), the payout system will automatically trigger when you finally reach that threshold amount or higher; alternatively, if you don't want to wait until the next automatic payment date (which is every Monday), you can choose a manual payout method instead. You'll need to wait for about one week before the funds will actually appear in your PayPal account; this is because there are some steps in between requesting a manual or auto payout (for example: verifying taxes).
Is Selling Work on Society6 Worth It?
My answer to that question is an enthusiastic *maybe*. It certainly fulfills my main requirement: I'm earning money with my art. The payout isn't great – but then again, most platforms don't offer artists much in the way of payouts. That's just the reality of our profession. And as far as passive income goes, every little bit helps!
What I really like about Society6 is its ease of use. Its streamlined (and attractive) website makes it easy to upload your work and start selling immediately. As for marketing, you don't have to do any heavy lifting because Society6 does all the social media advertising for you by sharing your art on Facebook and Pinterest if you tag it correctly. But this also means that the platform has limited visibility: few people are likely to just stumble upon your shop and start browsing through it…
So if you're looking for more exposure than your current social media following can provide, look elsewhere (like Etsy).
Society6 Pros
Free to sign up and start selling
Popular print on demand site with lots of traffic
Free listings
No product or customer handling
Society6 Cons
Uploading products can take longer
Large files requirement
You cannot set profit margins for most of the product types
Only offers PayPal as a payment method
Should You Sell on Society6?
To successfully use Society6, you should have a large social media following. Many of your sales will be driven by the people who follow you on Facebook, Twitter, Instagram, and Pinterest. If you are just starting out in the art world, it may take time for your fan base to grow.
You should also have a portfolio of work that's ready to sell. You'll need at least enough work for a full store, so don't expect to make any money if you only have one or two pieces completed. However, keep in mind that you can upload new works as often as you'd like once your shop is open and live on the site.
It also helps to sell on other platforms because it will diversify your income stream and increase your exposure. If all of your eggs are in one basket and none of them hatch, where does that leave you? No money and no art sale…
If you're an artist, you might want to explore selling your work with Society6.
If you're an artist, you might want to explore selling your work with Society6. The site offers creators a platform to sell art in a variety of forms (including framed prints, tapestries, shower curtains and even throw pillows) without having to front any money. Most important, Society6 takes care of the production and shipping of the products. You also don't have to deal with customer service—if a buyer is unsatisfied with their purchase or if it arrives damaged, it's up to Society6 to refund them and/or send them a new product.
Society6 makes it relatively easy for any artist who has already uploaded their art in digital form (high-quality images that are at least 1920×1080 pixels are recommended) onto the website. Whether you are looking for your first side hustle or want to supplement your income as an artist, selling your work on Society6 could be worth exploring!
Best Society6 Alternatives
Society6 isn't the only online marketplace for artists. These Society6 alternatives offer similar sales platforms, with varying commissions and services.
Zazzle
Fine Art America
Saatchi Art
Deviant Art
Artfinder
ArtPal
Etsy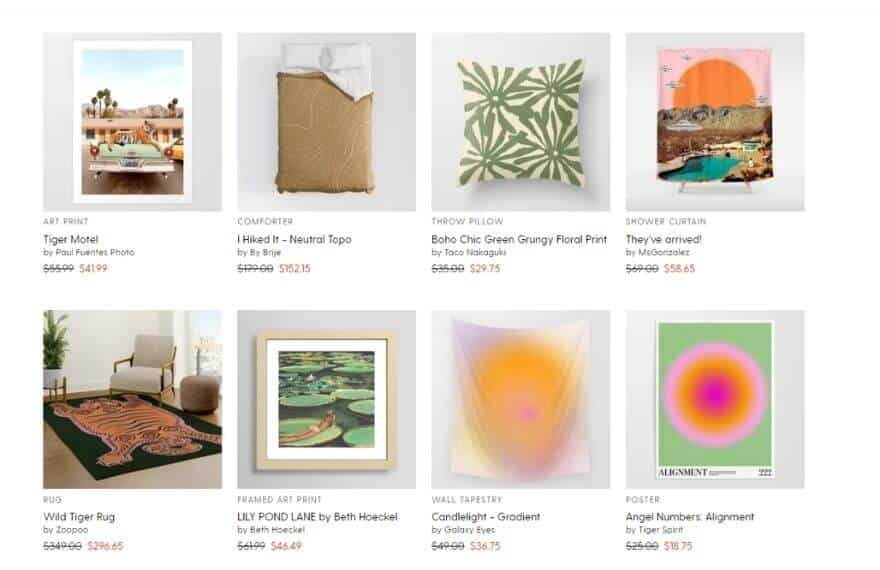 Society6 Reviews: Our Verdict
We think Society6 is one of the best options for artists and designers to sell their work in terms of ease of use. But we don't think you should rely on it as your only passive income stream.
There's a lot to love about Society6. It's easy to set up and there are no upfront costs: no printing, framing, or shipping to worry about. You can upload your art once, then sit back and watch the sales roll in without doing much else (unless you want to). And if you're not interested in selling full-sized prints (or anything else), you can opt-out at any time.
But before you sign up for an artist shop on Society6, remember that it's important to diversify your income streams so that if one dries up, you aren't left stranded. So go ahead and take advantage of this opportunity—but also look into some other online marketplaces that might be a good fit for what you have to offer.
Society6 FAQs
Is Society6 Legit?
Yes, Society6 is a legit money-making website for artists.