What is Wrapify
Wrapify is a company that pays you to use your car as a moving advertisement.
The way it works is simple: advertisers pay Wrapify to get their message out there, Wrapify then connects these advertisers with drivers who are willing to wrap their cars, and the drivers earn money by driving around like they normally would.
The amount you will make from "wrapping" depends on how many miles you drive and where you drive.
Advertisers set the areas they want their ad exposed within, so if your commute happens to be through one of these areas (and assuming you have no issues with the ad itself), consider signing up with Wrapify for some extra income!
Is Wrapify Legit?
Yes, Wrapify is a legit company that pays you to wrap your car with advertising. As of date, it has over 420,000 registered drivers.
Wrapify has been featured in the Inc.5000 list of fastest-growing companies two years in a row. It has also been covered by multiple news outlets including Forbes, USA Today, and Wired.
Wrapify Review: How Does Wrapify Work?
Wrapify is an advertising company that pays people to wrap their cars with advertisements.
Once you sign up for the program, you will be able to choose from a list of campaigns that are available in your area.
You can accept or decline the campaign as per your own preference.
If you decide to take up a campaign, you will have to drop your car off at a Wrapify wrapping center and their partners at a specific time and date. Once your car is wrapped, you will be ready to start making money.
Where is Wrapify Available?
Wrapify is currently available nationwide in the US. Some of the popular cities where you can easily get campaigns include:
Austin
Dallas
Seattle
Boston
Cincinnati.
San Francisco
Minneapolis
Orlando
San Diego
These are just sample cities, as Wrapify today claims to be available nationwide. So, if you live in the US, then you probably should be able to get campaigns with Wrapify.
Wrapify Requirements
Wrapify Vehicle Requirements
Your vehicle must be a passenger (sedan, wagon, coupe, SUV) or crossover vehicle. In other words, you can't wrap a commercial van.
The vehicle must be a 2010 model or newer.
The vehicle must be in good condition with a clean clear coat and without any major scratches or dings.
You cannot have existing advertising on your car for other companies (e.g., no Lyft or Uber stickers).
Vehicles with aftermarket modifications may not qualify for Wrapify campaigns based on client preferences and approval from our design team.
Wrapify Requirements for the Driver
To qualify for the Wrapify program, you need to:
be at least 21 years of age.
have a smartphone.
have a valid Driver's License.
Install Wrapify app
have no more than 2 accidents in the last 3 years.
have no major violations (DUIs, reckless driving, etc) in the last 3 years
How much money can you make with Wrapify?
The amount of money you earn depends on two factors: your miles driven and how big the ad campaign is.
Wrapify drivers typically earn between $200 and $450 a month, according to the company's website. If you drive a lot, though, your earnings could be even higher.
In general, the bigger the campaign and the more miles you drive each month, the more money you'll end up making.
However, keep in mind that many campaigns last for only one to six months. After that period of time has passed, any Wrapify advertising will be removed from your vehicle.
Wrapify Payouts
Wrapify pays depending on two factors: Your mile coverage and wraps coverage level.
Wrapify provides 4 wrap coverage levels, and each has its own rate:
Full coverage: $264 – $452 per month
Partial coverage: $196 – $280 per month
Lite coverage: $181 – $280 per month
Static and Rideshare Topper: $174 – $280 per month
The actual amount of money you make daily will then be determined by the mileage covered, the time of day, and the number of people on the road.
Wrapify processes payments weekly on Friday, via direct deposit. Your money usually arrives in your bank account on Tuesday or Wednesday.
Wrapify Pros
Wrapify is one of the easiest ways to get started earning a passive income. Let's have a look at some of the things that make it great:
Wrapify works with top brands in the world
It is free to use
You don't pay for your car to be wrapped
It is available in over 25 cities around the United States, although there are plans for more
Wrapify Cons
While you can drive as much as you want every day, Wrapify will only compensate you for 25-35 miles a day
Your earnings depend on time and traffic. Depending on the number of people that are on the road in your area during a certain period of time, you may earn more or less money per mile. For example, if there are fewer people on the road at night when it's raining and traffic is lighter than usual, drivers will earn less per mile because advertisers get less exposure for their ads.
Wrapify is not a full-time job. Your earnings from Wrapify are enough to subsidize some of your bills but not enough to live off of yet unless you're already making tons of money in another gig economy side hustle.
How to Get Started on Wrapify?
To get started, download the Wrapify app for Android or iOS. After that follow these steps to start earning money:
Create an account and complete your profile
Once your account is approved, you will have access to campaign offers available in your campaign zone
Choose a campaign you like,
Take your car for wrapping
Activate the app whenever you are in the campaign zone to start earning
Wrapify Alternatives
If you're interested in earning money while driving, here are some Wrapify alternatives to consider.
MyFreeCar. Similar to Wrapify, MyFreeCar provides drivers with quality ad space on their vehicles. The vehicle selection process is a bit more strict, but if you live in a metropolitan area, you may be able to find some opportunities.
Carvertise. Carvertise is mainly designed for rideshare drivers, but everyday commuters can apply. You can make $400-$1500 per campaign.
Adverttu. Adverttu is yet another Wrapify alternative that allows users to monetize their vehicles by displaying ads on them while they drive around town doing errands and traveling between destinations anyway.
Wrapify Warnings
Some cities do not have enough campaigns.
Poor customer service when problems occur.
Wrapify Reviews
While researching the net for this Wrapify review, we came across some of the most interesting reviews from real Wrapify drivers. Here are the screenshots of what's like working for Wrapify: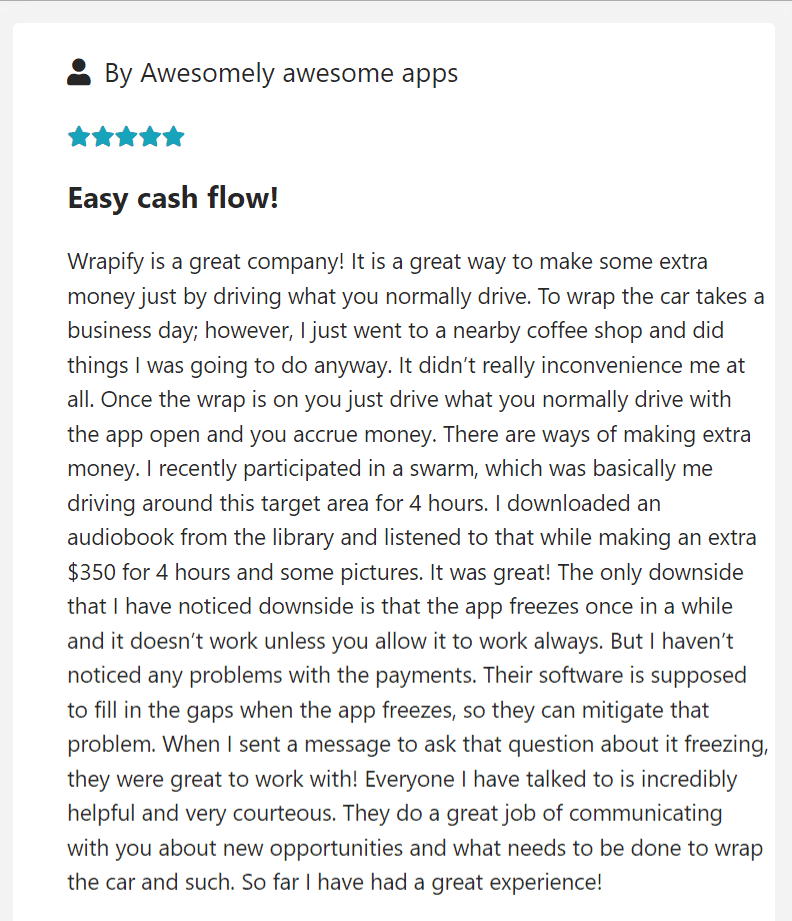 ---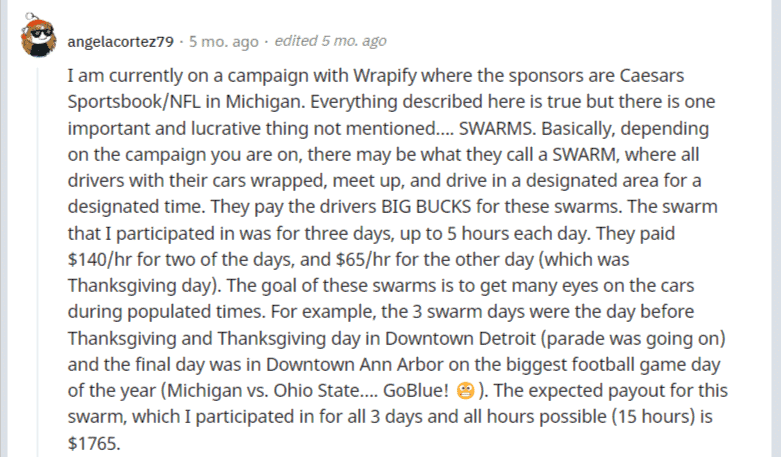 ---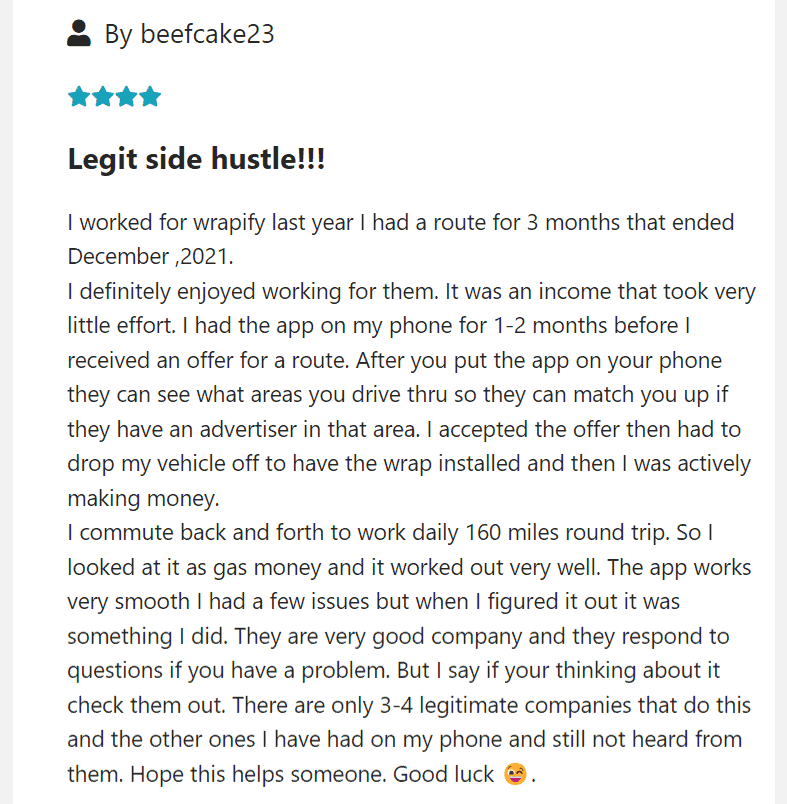 ---
Wrapify Final Verdict: Is Wrapify Worth it?
Well, that depends on your goals and circumstances. If you:
are a delivery driver or drive for ride-sharing services like Uber/Lyft
have a newer vehicle that meets the criteria for the Wrapify Opportunity Vehicle Program
live in an area that has a lot of Wrapify opportunities
are looking for more ways to earn money on the side (without having to quit your job),
then yes, it's definitely worth checking out!
However, if you're looking to make this gig a full-time job, you'd be better off finding other money-making options. There simply aren't enough driving opportunities available at this point in time.
Wrapify FAQs
If you're considering joining Wrapify, you'll have plenty of questions. Here are the answers to some of the most common:
How does Wrapify make money?
The company is an ad agency, so it makes money by placing ads on the cars of its drivers. Wrapify's clients pay the company to advertise their brand, and in turn, Wrapify pays its drivers a portion of those ad earnings.
Does the Wrapify wrap paint damage my car?
Sites like Wrapify, and others, use vinyl for their wraps that are easily removable. Wrapify will remove the wraps for free.
Is Wrapify safe?
Wrapify is a legitimate company that has been in business for several years. They use secure payment systems like PayPal and Stripe, so your personal information is safe.
Who Are The Main Wrapify's Competitors?
The main Wrapify Competitors include popular companies like Cavertise, Adverttu, and MyFreeCar. While there are some companies cropping up, these three are some of the largest Wrapify alternatives
How Long Does it Take to Get a Campaign with Wrapify?
It can take anywhere between a few days to a few weeks before you land a campaign on Wrapify. Landing a campaign largely depends on the advertisers and your location. As the company grows, and more advertisers and drivers join, you can expect to find more opportunities to apply.
Which is Better, Wrapify or Carvertise
Wrapify is more established than Cavertise, operates in more locations and the pay per campaign is generally higher. However, Cavertise has some benefits over Wrapify, such as more earning opportunities such as pay-to-park.
Am I eligible for Wrapify?
To be eligible for Wrapify, you need to be at least 21 years old, have a 2010 model vehicle or latest, live in the US, have a valid Drivers License, and pass a background check.
Does RedBull pay you to advertise on your car?
Popular brands such as Redbull, Pepsi, and Amazon work with car wrap companies such as Wrapify and Carvertise to promote their brands. So while RedBull doesn't pay you directly to wrap your car, they may, indirectly through Wrapify, if you pick their campaigns.
How Much Will Wrapify Pay You?
Wrapify compensations depend on the miles covered within the campaign zone. Also, note that the rate per mile varies depending on the time of day and the number of people on the road. That said, here are the estimates:
Make between $181 and $250 per month for the lite coverage
Make between $196 and $280 per month for partial coverage
Make between $264 and $452 per month for full coverage
How Long Do Wrapify Campaigns Last?
Wrapify campaigns typically last between one month and 6 months. When you have several options, it makes sense to choose a campaign that lasts longer as this secures your earnings for the next few months.
How Do You Get a Campaign on Wrapify?
To get a campaign on Wrapify, log in to your Wrapify app. If there are active campaigns in your area, they'll be displayed in your dashboard. Now find one that you want to work with and offer to promote