Most people want to create a separate income stream to help them pay the bills. Some are simply looking for an alternative to their current job.
If you're one of them, you may be wondering if it's possible to make extra money through the Internet.
The truth is that billions of dollars are generated online every day. The funny thing, however, is that "average" Internet users don't have any idea how or why it's happening. They have no clue if they could make money online, too.
In this article, I discuss how to make money online for beginners. So check them out, scrutinize them, and see if making money online is really possible.
Ways to Make Money Online for Beginners
Ready to start making money online, all while working from the comforts of your couch? Great! Let's explore money-making options for you:
1) Make Money as a Freelance Writer
One of the best ways to make money online is to offer your services as a freelancer. One such service is freelance content writing, which is in high demand as brands look to publish more high-quality content for their blogs.
The easiest way to get started as a freelance writer is to leverage freelance marketplaces like Fiverr, Upwork, and Flexjobs as they make it easier for you to land clients. 
Keep in mind that I am assuming that you know how to write for the web. If you are a total beginner, then spend time perfecting your skills.
Some of the skills you need to write for clients include:
Knowing how to write well
Knowing how to write for different types of audience
Adapting your style to match your client's needs
On-page SEO (SEO-writing) This technical term just means that you can do keyword research and craft content that natively uses some of the user's search queries.
Writing content that meets the user's search intent.
Freelance marketplaces will give you a footing, but once you are a master of your craft and have a strong portfolio, you can start looking for direct clients online. To do this, you can 'shop' in freelance writing job boards such as Problogger or start outreaching the clients you want to work with.
You are more likely to get hired, command more pay and have a steady stream of clients if you are a niche writer. It's okay to start as a generalist, but as you dig deeper into the freelance writing world, start niching down to a profitable niche that you love. In so doing, you will get better clients and have your proposals approved faster.
You might also want to start a blog one day around this niche, so it makes sense to invest your time and resources in something that you actually enjoy. Don't focus on health and fitness if you have no interest in learning and growing in the niche as a writer. The same rule applies to other spaces such as Blockchain, NFT, Sports, etc.
I can't teach you everything in this section, but if you are looking to learn more, I recommend taking this FREE 3-hour training on Content Writing.
What You'll Learn in Hands-on Content Writing
In this content writing course that you can take for free for 30 days, you'll discover:
How to use storytelling to create engaging content
Writing mistakes to avoid
Coming up with content ideas
Best writing tools to use
Writing unique content
Writing valuable content
Using power words
SEO and writing and much more
In this course, you'll also engage with case studies of content writing done right, so you'll know what good writing that ticks most of the boxes looks like. If you want to see the entire writing process, you can join Alex as she writes an article from start to finish.
2) Offer Services on Fiverr as Gigs
Fiverr allows you to sell almost any online service you can think of, from content writing, graphic design, and WordPress customization to composing poems and music. 
While it's not the most loved platform, freelancers make over $10,000 a month on the platform doing simple tasks. However, easy is subjective, so you want to offer the services you know you can deliver.
When you sell your services as gigs on Fiverr, you're basically out there to provide freelance digital labor.
There are two things that make gig-based platforms like Fiverr incredibly lucrative: the first is that payment and delivery take place online; the second is that you don't have to worry about the logistics and administration of your profession. (No NDAs, no invoicing, no contracts)
Another great thing about Fiverr is that it has a huge database of freelance clients, so there are many options for freelancers who want to hone their skills in different industries or niches like social media marketing, graphic design, writing content, designing logos, and more.
To succeed on Fiverr, follow these tips:
Optimize your profile fully: This means adding your profile image, filling in all the details required, writing a compelling Fiverr profile, etc.
Optimize your gigs: Gig pages on Fiverr are like the product listings. Clients do read your descriptions, so optimizing for search isn't enough. Take time to write your gig copy to appeal to your target clientele.
Format your gigs to make them easier to read: Fiverr Gig editor provides you with capabilities such as making text bold, adding lists, highlighting text, or italicizing. Use these tools to focus readers on the important sections. 
Deliver quality work: You need those 5-star reviews, and you need them like yesterday. Do not overpromise, but always overdeliver. I don't mean writing a 3000-word article for 1000 words order or providing 100 graphics more than requested. Focus on quality delivery. Make those five graphics awesome, and that 1000-word article should be ready to publish.
Deliver on time: Besides clients having the option to cancel late deliveries after 24 hours and losing all the potential revenues from the work you've actually done…partially, late deliveries and cancellations do hurt your gig's rankings and might take a while to recover.
If there's an issue, then make sure to resolve it way before nearing the deadline… the last minute "sorry, won't be able to deliver your work today, could we extend for a day or two," isn't professional, and might actually have clients canceling either way.
What to do next?
If you're new to selling on Fiverr, I recommend taking these free Skillshare classes on Making Money on Fiverr.
These classes take just about an hour to complete, but they will prepare you in ensuring that:
You set up your Fiverr profile to appeal to your ideal clients
You identify the right services to sell on Fiverr
You develop the skillsets to be competitive on the platform
You optimize your gig listings for SEO
You set up your gigs the right way
You know how to deliver fast, master automation, and start scaling your Fiverr Business.
You know all the Fiverr logistics (canceling orders, dispute handling, custom offers, milestone pricing, etc.)
Best Fiverr Classes to Help You Make Money Faster
Excited? If so, then here are my best one-hour classes on making money on Fiverr that you can watch for free with 30 days trial:
How To Freelance on Fiverr: 2021 Tips, Tricks & Growth Secrets – Zero to Top Rated Seller: Taught by a Fiverr top-rated graphic designer, this course provides you with the foundation you need to start selling on the platform. This is an ideal course to learn Fiverr gig SEO, Creating killer Fiverr profiles and gig pages and scaling and automating your Fiverr business.
Freelancing on Fiverr: Super Seller Success Tips: In just under 2 hours, this top-rated Fiverr super seller provides the most comprehensive course on Fiverr freelancing. If you want to master how the platform works and Fiverr logistics, I recommend taking this class.
How to Start and Grow a Fiverr Freelance Business: This class is ideal if you want a process of identifying what services to sell on the platform based on your skillsets and the demand on the platform. You will also learn how to perfect those skills to become relevant and competitive, as well as how to generate passive income with the platform(yes, it's possible)
3) Become an Online Proofreader
Working from home as an online proofreader is another lucrative way to make extra money online. Proofreading is a term that is usually used hand in hand with editing, but the two are very different.
While editing will often include restructuring and reconstructing sentences, proofreading focuses on correcting grammar and spelling. As a proofreader, your job will often include proofreading different types of content, from ebooks, web content, blog posts to essays and academic works.
How to Become a Proofreader
To become a proofreader, you need to be keen on details and have proficiency in the language used. As a beginner, that's all you need to get started as a proofreader.
However, if you want to make good money, you need to up your skills and even take some complex proofreading tests. The challenge of making money proofreading is landing clients and maintaining a steady stream of work. If you don't want to start off getting paid next to nothing, then you need to set yourself apart by taking a known program like Proofread anywhere.
This is by far the best Online Proofreading Course that gives you an advantage over the others.
Why Proofread Anywhere?
Caitlin teaches you everything you need to start charging up to $100 an hour as a proofreader. You can choose to take General Proofreading or Transcript Proofreading course, both being extensive programs that are constantly being updated.
In the General Proofreading Course, you will learn:
Proofreading Basics: Explore common errors, spelling variations, capitalization rules, punctuation, subject-verb agreement, commonly misused words etc.
Proofreading Methods and Practice: Learn four different proofreading methods and sharpen your proofreading skills
Steps to Turning Proofreading into a Business: Freelance proofreading, building a website, pitching clients, building a resume, business incorporation, minimizing taxes etc.
How to Look for Proofreading Jobs Online and Offline: Caitlin takes you through various ways to find jobs online, including joining professional associations, leveraging freelancing websites, cold pitching and writing proposals.
How to Work with Clients: client relationship, building a personal brand, asking for testimonials and referrals etc.
Ready to get started?
I suggest joining Caitlin in this free proofreading webinar to learn more about becoming a proofreader.
4) Become a Virtual Assistant.
Virtual assistance services are in high demand, especially now that most businesses are adopting work-from-home and remote hiring policies.
As a virtual assistant, you'll be responsible for handling different tasks on behalf of your clients, including travel arrangements, data entry, customer support and project management. The services you offer will be determined by the type of virtual assistant you brand yourself as.
Some of the best on-demand virtual assistants are:
General administrative assistant
Amazon seller assistants
Real Estate assistants
Website management assistant
Content marketing assistant
Social media management assistant
Pinterest VA.
You can start by offering basic services to test the market demand before deciding what types of services are right for you and your market.
Here is a resource of 275 VA services you can offer online
Once you have some solid proof that your services are in high demand, you can start charging premium rates and focusing your efforts on finding quality clients who will appreciate your services and potentially build a viable VA business.
There are several VA Jobs sites where you can find work. Take time to write compelling portfolios, collect testimonials and build a catchy professional portfolio website.
5) Make Money Online Fast With Affiliate Marketing
Here's the thing, you can join an affiliate program and generate your first sale within the next hour. It's possible.
However, a profitable affiliate business that brings in recurring revenue requires a deliberate sustainable approach that often involves developing digital assets such as Facebook groups, email lists and marketing content. These take time.
For many online entrepreneurs, affiliate marketing is the best way to make money since you don't have to test out and create a viable product.
To make money with affiliate marketing, here are my best tips:
Identify products that align with your business and the audience that you have built. Test out a few products to identify those that will be profitable for you.
Identify the best affiliate marketing channel (Blog, social media, paid ads, Pinterest etc.)
Find creative ways to introduce your affiliate products to your audience.
Develop content assets and rank them on Google. These content assets could be list posts, product reviews or ultimate guides. Focus on being helpful, and you will attract a highly targeted audience.
Build affiliate funnels. To do this, create lead magnets that are highly relevant to the products you are promoting, create a landing page where your visitors will enter their email address to download and start promoting your offers. On downloading your freebies, add them to a nurture sequence optimized towards one specific affiliate product.
What Makes a Great Affiliate Product?
A good affiliate product is one:
With great market adoption, positive reviews appeal to your audience and have favorable affiliate terms and conditions
Allows your main marketing channel. This is crucial. If your main audience is from Pinterest, then you don't want to join a program that prohibits direct linking from Pinterest. However, you can still join such a program if you would be creating bridge content and linking to those pages instead of from Pinterest.
Have competitive affiliate commissions. A good commission is in the range of 20-35%. Anything below might not be worth your while, especially if the product is under $50 with poor conversion rates.
Is not too expensive. While promoting premium offers will net you higher commissions, successfully promoting such products won't be easy as people will be more reluctant to part with large amounts. Promoting a $97 course could be more profitable than promoting a $2500 program. But again, it depends on the community you've built.
It doesn't matter if you've been working online for years or just starting; affiliate marketing is one of the easiest and best opportunities for people who want to earn some extra income on their own time.
Mastering affiliate marketing
By now, you've figured that affiliate marketing is much more than joining an affiliate program like Flexoffers or ShareaSale. To be a successful affiliate marketer, you need a strategy.
I recommend enrolling in an affiliate marketing course that teaches the basics of the game. This way, you know how to do everything right from the start:
How to design a WordPress site optimized for affiliate sales
How to drive traffic to your affiliate site
How to do keyword research for your affiliate business
How to craft effective product reviews and listicle posts that convert
Best affiliate programs to join
How to manage your affiliate assets/
You don't need a $997 program when starting. In Udemy, you can find great courses on the topic that teaches most if not all of the topics above. The course I recommend is Beginner Affiliate Marketing To Start In 1 Day – For 2022
Beginner Affiliate Marketing To Start In 1 Day – For 2022 Course
Spanning over 140 lectures, this Udemy course is enough to help you launch your affiliate marketing business the right way, at the very least. Some critical topics covered include:
Affiliate marketing without a blog
How to do affiliate product reviews to bring in sales
Choosing an affiliate niche(the why, the how and examples)
Understanding affiliate marketing(terms, cookies, affiliate offer structures, etc.)
Comparison of major affiliate networks (Shareasale, CJ, TravelPayouts, Amazon Associates)
SEO and keyword research for affiliates
Setting up an affiliate website
Promoting affiliate products with SEO
Social Media Marketing for Affiliates
YouTube marketing for affiliates
Email marketing and automation for affiliates
This 10-hour video course shouldn't take you more than two weeks to complete. The main idea is to familiarize yourself with the industry so as to make informed choices on the programs, products and even content types and platforms that you choose to use for your business.
Tools of Trade:
6) Make and Sell Low Content Books with Print on Demand
New to low content books? Well, it's something worth exploring. Low content books refer to books that do not contain lots of writing in them. Think notebooks, journals, planners, logbooks, coloring books, guest books etc.
These books can take you less than an hour to design and upload to Amazon KDP and start marketing them. But easy is a word far associated with this idea.
To make money with this idea, you need to do lots of research and trials to figure out which niches are best for your books and how to properly name and categorize your book.
If you are selling on Amazon, you need to list your book in categories that do not have many books. The essence is that a few sales in those categories will boost your ranking tremendously, and these rankings will cascade down to the other more competitive categories that your book is part of.
Take advantage of holidays such as Easter, NewYear, Halloween, Thanksgiving and Christmas to create trending notebooks and journals.
The secret to making it is to continuously test out ideas. This means publishing over 50 books within your first year and doubling down on those that gain traction to most.
How to Create Low Content Books
To create low content books, quite easily, you have two:
Using a design software like Canva
Use specialty software like Bookbolt, which is particularly designed for low content book research and design.
Making low content books with Canva
To make low content books with Canva, go to this Amazon KDP Cover Templates page, enter the dimensions of your book and click on the Download template button.
You can choose any size, but most journals and notebooks are 6 by 9 inches. Download your sample cover template, unzip it and make sure you identify the png file.
Now go to Canva and create a new design, with custom sizes of 6 inches by 9 inches. Upload your sample (png file) from Amazon onto the Canvas to guide you when creating your design.
We do this, so we know where the bleeds are. This way, we ensure that we do not have text or even lines(for the interior) running all the way to the trims.
Design your cover and interior using Canva elements. Make sure to use free elements only to avoid licensing issues. If you must use pro elements, then double-check to see that the licensing allows the use for Print on Demand use cases. Read on to find other places to get design elements that allow POD use cases.
To make the interior, simply create a new canvas that's 6 by 9 inches. Now add lines to create your first page, allowing enough space at the top for dates or any extra info. Make sure that the lines are a bit greyed out to prevent them from popping out.
Align the lines on the page to ensure they're on point. You only have to do this once. Once you are satisfied with your page design, simply duplicate the page 100 times. This is the maximum that Canva allows per design. To make 108 pages, you will need to create a new design, add the extra 8 pages, down both designs and combine them externally using any file manager.
Making LCBs with BookBolt in Less Than a Minute
Making Interior Designs with Canva will take you more than a few minutes, not to mention the limitations:
No ready-made interior pages for different use cases
Can only add up to 100 pages per design
No ready-made sized templates for Amazon KDP
This makes creating those 200 books in your first year a bit of a hustle. However, don't sweat it since folks at Bookbolt have made this process seamless and painless.
Bookbolt is a low content book research, design and listing software enabling creators to create and publish dozens of books every week if need be.
While Bookbolt makes book design super easy with over 100 premium interior designs, its superpower is in its KDP keyword research and Amazon listing optimization capabilities.
Tools of Trade
Things you need to start creating low content books:
7) Teach a Class on Outschool
You can make money teaching online with Outschool and get paid per session based on the number of students in your class.
Outschool is a teacher marketplace where you can teach kids almost any subject. However, the most popular classes on the platform are on reading, Writing, Music, Art, Drawing, gaming, dance, Language, Singing, Escape Rooms, Anime etc.
To have a rough idea of what you can teach, I recommend visiting the site and just browsing through all the upcoming classes.
To teach on the platform, however, you need to be a resident of the USA, Canada, Australia, New Zealand, England and Wales. So there's that.
What is different about this class is that you get to teach in small groups (less than ten or so) per session, and with awesome delivery, you can quickly become your student's favorite.
How much money can you make with Outschool?
The truth is, the more classes you teach on the platform, the more earning potential. Unlike other platforms where you get paid a flat fee of, say, $25 per hour, Outschool pays you 70% of all the earnings from your sessions. If you teach a class where students pay $100 to attend, and you get 5 students, you can easily bring in $500, with $350 being your net cut.
That's not such a bad amount to make in an hour. As you start getting popular on the platform, your classes will get more bookings, meaning more earnings. Besides that, you can teach more than one class a day. If you are dedicated, you can have $1000 days, teaching three classes a day.
The good news is that you don't need a degree or certification on the platform. It's just you, your skills and your teaching methodology. What am I saying? Just have fun sharing your knowledge.
Kindly note that getting bookings can be quite hard at first, especially if your classes are on general saturated topics such as ESL. You want to find your differentiator and offer something unique.
To get started, simply apply below.
8) Take Advantage of Deals From PayPal
Today, most people have accounts with PayPal or other digital payment services for sending and receiving money. The good news is that PayPal constantly sends great offers and deals that essentially are ways to bring money to your account balance.
One such offer is for the PayPal Mastercard. When you use the card to purchase something, you'll gain a 2% cashback for every item bought. That's an easy way to obtain free PayPal money since the cash back you've just earned will be added to your account balance.
Read on for more ways to receive easy PayPal money.
9) Make Money as a Pinterest Manager or VA
If you are a Pinterest sensation, one of the easiest ways to make money online from home is to become a Pinterest Virtual Assistant. The services you offer will vary per your packages, but generally, a Pinterest manager helps clients with:
Creating and Implementing a Pinterest marketing strategy that aims at achieving the set goals such as increased web traffic, boost in sales or building a brand's following.
Designing Pinterest templates and creating Pins for your client's blog posts and product pages
Setting up and optimizing Pinterest accounts.
Auditing an existing Pinterest account and giving recommendations
Scheduling Pinterest pins using a scheduler like Tailwind. Etc
Proving Yourself as a Pinterest VA
To succeed as a Pinterest VA, you need to prove that you know what you are doing. This means; first, you need to create and leverage your Pinterest account to grow traffic to your website.
This can take up to 3 months to have viable numbers if you are starting from scratch. Use this time to set up your website, brand your business, collect testimonials, and optimize your account.
Some of the things that can help you later include:
Taking screenshots of before and after pin designs
Screenshots of before and after Pinterest analytics
Clients care about the transformation you can provide to them, so taking these screenshots and then displaying them on your Pinterest management services sales page is a must-do to help boost your conversions.
Tool of Trade
If you are new to Pinterest at this stage of creating a portfolio, I recommend going through this sleek ebook on Making Pinterest Possible.
Making Pinterest Possible: This short ebook that you can digest in one setting will equip you with critical skills for succeeding with Pinterest, from pinnable designs, mastering scheduling, Tailwind prowess to account optimization and Pinterest SEO hacks.
You can then start looking for clients. The easiest way is to find clients on freelancing platforms like Fiverr or Upwork. You can then transition to direct clients using LinkedIn, your blog and Pinterest to market your design and management services.
How to become a Pinterest Assistant
If you want to fast-track your process, you can enroll in an accelerated path like FullyBookedVA. This is a more expensive system, but if you have money, then investing in Gina's program will help you navigate the VA business without many hurdles.
Inside the FullyBookedVA system, you'll get everything you need to know to run your Pinterest VA business, including:
Knowing what services to offer to clients
Branding your services
Knowing what clients you need to attract.
How to reach out to prospects
Onboarding processes
Social media and community management
Becoming more efficient and many more foundational topics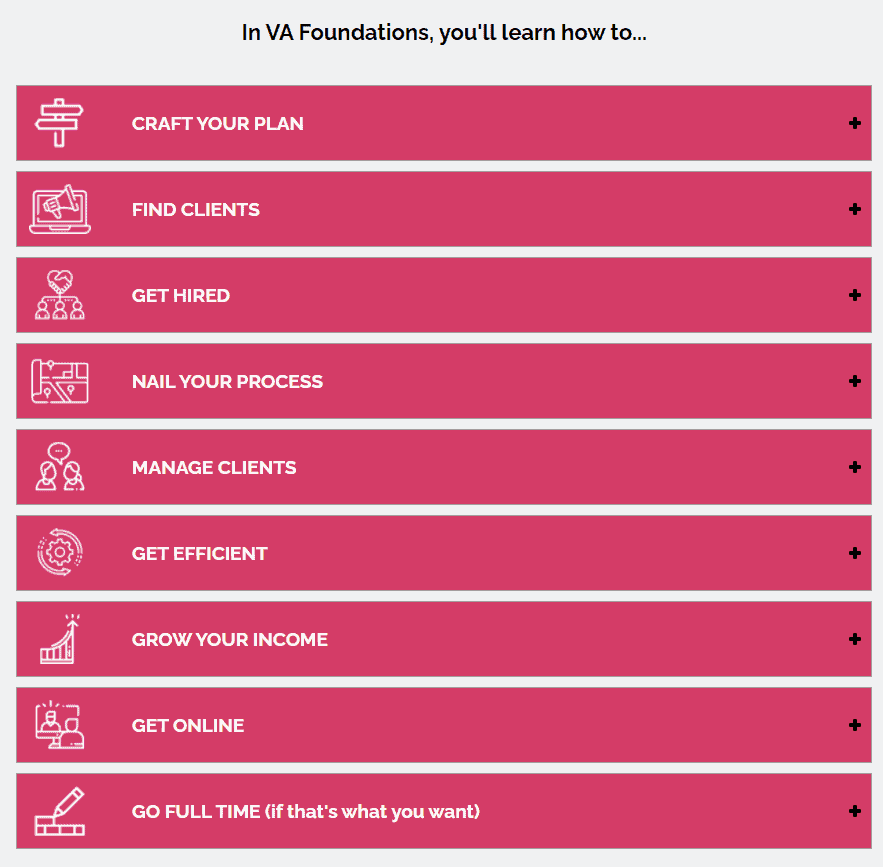 If becoming a VA is something that interests you, then I recommend exploring more about what this course can offer. The good thing is that most of the skills you will learn in the FullyBookedVA system can be applied to any sort of business. These are the skills that will stay with you for the long run.
10) Make Money as a Freelance Translator
This is perfect if you speak more than one language fluently and have pro writing skills. As a freelance translator, you get paid to translate articles and other write-ups from one language to another.
To make money as a translator, you need to find work! A good idea is to create your website, build a great portfolio and start looking for clients using tried and tested strategies, including:
Cold pitching
LinkedIn outreach
Social Media Marketing etc.
As you wait for your website to grow and start attracting targeted prospects, leverage freelancing websites such as Fiverr, Upwork, Freelancer, and PeoplePerHour to make money fast.
The truth is, landing translation jobs isn't as easy as it used to be, but if you focus on building a brand, delighting your customers and constantly sourcing work, it shouldn't take you long to start having a constant flow of work.
When getting started, try thinking of all the possible places where you could get translation jobs, from local businesses niched freelance marketplaces to translation agencies like:
With the help of translation software available today, your main task will be to proofread and edit content for contextual accuracy, which means that you do need to understand the two languages even with the help of powerful technology.
11) Make Money Teaching English as a Second Language
Teaching English as a second language is one of the most popular ways to make money online. An ESL teacher makes around $20/hour on average – and this rate varies depending on the platform, your experience and your student ratings. Some platforms even allow you to set your own rates.
There are many websites that offer courses and exams which you can take and start teaching as soon as possible. You will need to pass the tests to get licensed.
Most English Teaching Platforms require you to be a licensed ESL teacher have a bachelor's degree or English accreditation of some sort before allowing you to teach.
Some of the sites that you can use to make money online teaching English as a second language include:
Succeeding as an ESL teacher requires a combination of exceptional teaching skills and willingness to succeed. Not everyone is born a great educator, but most teaching skills can be learned and finetuned, one class at a time.
12) Sell Old Stuff, Like Shoes, Clothes, and Other Fashion Items
The chances are that you've got old fashion items at home that you don't use anymore–why not earn extra money from them instead of letting them pile up in your closet?
Thanks to the increasing number of apps and websites that serve as online marketplaces, selling your old possessions online has never been easier. If the items are just sitting in your closet without doing anything, you better place them for sale online.
No, you won't be getting the same price you paid to obtain the items, but, hey, earning a little amount instead of letting them eat space at home is better even if you don't use them anymore! Right?
13) Check Out Websites That Pay for Microjobs
There are different websites that pay Internet users for various things, such as testing products, taking surveys, and shopping. Well, you won't make tons of money, but they're excellent avenues for earning some extra cash. Here are some of the legit websites that pay:
Swagbucks – Swagbucks is a great platform for earning some cash by taking surveys, shopping, and using their search engine. Instead of just purely surfing the web, you can spend it earning extra cash with Swagbucks as a more productive way of killing your free time.
OpinionInn: This platform pays you to share your opinions through surveys. If you live in the US, UK, or CA, then this site may have enough surveys for you. You also get a $10 signup bonus after registration.
User Testing – This website pays USD$10 for testing other websites. The testing won't take long and is usually about 15-20 minutes. Now, you may be wondering why they pay someone for testing a website. The purpose is for the website owner to watch someone new to the site try to navigate it. It will help them identify the website areas that may need some tweaking.
InboxDollars – You're going to be taking shopping, surveys, etc., with InboxDollars. You immediately get USD$5 for signing up with them. You'll also get paid for using their search engine.
If you're serious about getting paid for taking surveys, sign up with as many survey sites as possible. Other survey sites you can visit are Survey Club, E-Poll Surveys, and GlobalTestMarket.
14) Start a Blog
If you have a knack for writing and know how to market yourself, starting your blog can be a fantastic way of making money.
Many people are doing it right now because they want the freedom that comes with not working under someone else or having a boss tell them what to do! How awesome would it feel?
You could also be making money by using your blog to grow a business, as it can also act as a great attraction marketing channel.
There are several ways that you can make money with your blog, including:
Selling info products
Google Adsense
Affiliate Marketing
Promoting your other businesses
Working with brands to post sponsored content.
Marketing your offline business online
Offering paid services on your blog, such as coaching and consulting.
Selling advertising space on the website for other businesses (many blogs make enough money this way!)
As a blogger, you are often building up a following, and you want to establish trust with your readers.
If people know that you have something valuable to offer, they will be much more inclined to pay for it in the future. That's what puts you on the path towards becoming an authority figure in your niche!
15) Make Money With Display Ads
To make money with Google Display Ads, you need a blog. So if you don't have one yet, follow this step-by-step guide to get started.
However, having a blog isn't just enough. You will need to develop strategies to drive traffic to your blog.
The most sustainable source of traffic is Google SEO. Take time to do thorough keyword research, build quality backlinks and develop awesome content that will rank well in search engines.
Doing keyword research for the right phrases related to what you write about will attract readers who want more of your content.
Once you have a sizeable audience, you can apply to join the Google AdSense program. Once approved, you can start displaying ads on your blog and get paid for every click.
As your blog continues to grow, you will want to join an ad management network like Mediavine or Thrive Ads to increase your earnings
Other techniques include:
Creating an online tool that many people will use for free and displaying ads strategically on the page
Creating a free directory of resources in your niche and displaying ads on the sidebar.
16) Create Videos That Make Money
You don't need expensive equipment to make videos! All it takes is a laptop, smartphone or tablet, a strong internet connection, video editing software like Final Cut Pro or Adobe Premiere, and the skills to create amazing videos.
The easiest way to make money with video is by entering YouTube's Partner Program, which allows content creators to collect a portion of the revenue generated from ads served on their videos.
To succeed as a Youtuber, choose a specific niche, build a loyal, strong audience on your channel, and consistently publish great content. You can create prank videos, teach skills, review products, stream video games, or create makeup tutorials. Once you've reached 1,000 subscribers, you can officially start monetizing your channel with YouTube ads.
You can also monetize your channel through affiliate links. To do this, create a tutorial or top list videos and include affiliate links in the video descriptions.
Another way to make money with videos is by using them to promote your online products and services. This is called "video marketing" or "viral video advertising."
By creating super engaging but targeted content for your brand, you'll attract viewers who are likely to purchase products from your website. You can post these videos on social media platforms such as Facebook, TikTok or even LinkedIn, depending on the type of audience that you want to appeal to.
17) Make Money With E-Books
Many people have made six figures selling their e-books. This could be you!
If you know how to write well, why not publish an eBook and sell it?
You can self-publish eBooks on platforms like Amazon Kindle Direct Publishing, or you can use a platform like Gumroad or SendOwl to sell your eBook from your website.
The first step to making money with an eBook is writing it, which can take anywhere from two weeks to a year, depending on the size of your book and your own personal schedule.
Once published, start marketing your eBook as soon as possible by:
Creating a buzz in advance through promotional emails and social media announcements
Sending out a press release to journalists about your launch
Creating an eBook landing page on your website.
Utilizing the power of email marketing with e-mail newsletter blasts, autoresponders and follow up series emails (start by sending them weekly)
If you don't have the time or the writing skills, hiring a ghostwriter through Upwork or Fiverr can be an option for you as well!
Some people also make money by selling their eBooks in PDF format on platforms like Etsy. If you're not tech-savvy but are still interested in this idea, you could hire someone to set up the files for you. The point is, you don't have to do everything on your own, especially when you don't know-how.
18) Start an Online Course
If you are an expert in a specific topic, you should consider creating an online course to teach your skill and help others.
It's a great way to make money online since once you have created the course and put it out there, you don't have to do anything more than just set up marketing campaigns and turn this into a passive income stream!
The downside is that this takes a lot of work up-front, and you also need the skills and experience to teach your topic effectively.
Some people make money by creating courses that are sold individually. Others prefer packaging them together and selling access to a membership site where students can pay monthly, quarterly or annually.
Contrary to what many creators believe, an effective online program doesn't have to be overly long or complicated, requiring months of development. With the right research, brainstorming, and promotion skills, any subject could turn out to be highly profitable. Just break down information into smaller, more digestible, and easy-to-absorb pieces.
Here are some strategies for building a successful online course:
Decide on the topic you want to create a course on. Ideally, you'd want to create an online course around a subject you're an expert on.
Watch other courses that tackle your topic. Look at the reviews of the course and take note of the aspects of the course that received praise. Also, keep in mind those that gained criticisms.
Create something better after your research by focusing on content that solves the major complaints while incorporating the positive things that people love.
Develop a free introductory module
Set up an e-mail list to collect contact information and distribute updates on the course's progress. Provide your subscribers with early access, exclusive bonuses and insider tips.
Offer different payment tiers so that people who can't afford your full plan can still take it for less or get individual modules of interest.
Create a workbook or PDF for students to use as a companion
Promote the course by writing guest articles and publishing them on sites like Medium, LinkedIn Pulse, The Huffington Post and Thought Catalog.
Start an online forum where people can meet up in person if they're interested. Facebook groups are ideal for building an engaged community around your courses.
While building a course is more time-consuming and complicated than other methods of earning money online, the payoff makes it worth it. Besides, once you've built up an audience, your course will continue to sell over time with zero reinvention necessary!
19) Make and Sell Hand-made Items on Etsy
If you have a talent for making items or are good at crafting, Etsy is the perfect place to make money.
Earnings from selling crafts on the site can vary widely depending on your skills and how much time and effort you put into it. The average seller earns approximately $150 per month though some sellers do better.
To get started, sign up on Etsy and create an account with the basics: your name, email address, payment information and a bio that explains what you make. Once your account is set up, you can customize it with a profile photo, avatar and shop logo.
Pricing is also important! You should price things realistically as inspired by your competition.
In addition to providing a physical description of your items, you should also provide photos and videos that offer more context so people can see what they're buying! It's important to follow Etsy's rules about images when uploading them.
Etsy is a great option for making money with crafts, printables, and hand-made goods if you have the patience!
20) Become an Online Consultant
Online consulting is a great option for someone with a specialized skillset.
If you know how to perform a specialized task that other people don't, this one's for you. Doing taxes, copywriting, Digital marketing, social media management, and bookkeeping are some of the tasks you can provide consultancy service for.
Clients are interested in hiring someone with expertise in the field they need help with. Just figure out what type of consulting people might hire you for, and then get started!
To become an online consultant, you need to have expertise in some field or subject. This could be anything from legal advice to cooking tips and everything in between!
To get started:
Define what kind of service you're offering. For example, "Marketing Consultant" or "Social Media Expert."
Create an online profile that tells people about you and what services you offer.
Identify your target audience by researching the demographics of who might hire a marketing consultant or social media professional, for example.
Set up the pricing structure so potential clients know how much they will have to pay upfront for your service, which can vary depending on the type
Advertise your services on sites like LinkedIn Pulse or Medium to find potential clients needing what you offer!
Don't forget the importance of networking with others who can provide connections for you – that could lead to more opportunities to make money!
To find potential clients, use the following places as reference points:
Seek out people you know who might need your skills.
Check freelance marketplace sites like Upwork and Fiverr
Network with friends to find connections in other industries that could lead to being hired by them or their customers.
Start an authoritative blog, publishing exceptional content in your industry to attract potential clients.
As an online consultant, you can earn a steady income by offering on-demand services, subscriptions or one-time consultations in your area of expertise. There's no limit to how many hours you work, so it allows you to create your schedule and work for as long as you like!
21) Become an Online Tutor
With the emergence of several online tutoring websites like Tutor.com, Tutortme and HowdyMath, online tutoring has become a popular way to earn money from home.
You can tutor students in subjects you are knowledgeable about (maths, science etc.) or teach them English as Foreign Language if you speak a foreign language fluently!
The best part of becoming an online tutor is that you can earn an hourly wage, work from home, and have flexible hours to take care of your family or pursue other interests.
To become start tutoring online, you need to have expertise in a subject and be able to teach it well.
You also need an account with one of the many online tutoring websites that provide these services. Some of the best online tutoring sites include:
Once your profile is set up, start looking for new students by posting ads on sites like Craigslist or Facebook groups to find potential clients!
Online tutoring is a great way to earn money online for college students looking to make extra cash. You're not going to make much more than minimum wage, but if you have a skill that's in demand, like Math or Science, this could be the perfect opportunity!
Online tutors can work with kids from elementary school up to college level. You can also provide remote tutorial services for subjects like English, math, and even drawing or singing. You know that people hire tutors for everything these days.
You don't need to meet them in person; you can do it on video conferencing apps, like Skype or Zoom. Set a pretty decent rate per hour, depending on how much experience you have and what you're teaching.
22) Start Dropshipping
Dropshipping's popularity is rapidly growing. It's, no doubt, a viable way to make money through the Internet. Some store owners were able to make six figures selling only one product.
What's dropshipping?
Dropshipping is a business model where an online store owner sells a product to customers while leaving to the supplier the storing, packaging, and shipping of the product to the buyers.
As a store owner, you need to perform several marketing strategies. You can send DMs or direct messages to potential customers, have an influencer promote your product, or run paid ads on various social media platforms or search engines.
23) Make Money Selling on eBay
eBay is one of the most popular online marketplaces, allowing individuals to start small businesses selling new and used items or even vintage ones. You can also register as a seller and sell handcrafted items or homemade goodies such as cakes, cupcakes, and much more.
To be successful in this business idea, you should aim to create eye-catching listings with high-quality images. It is also important to manage your customer service well and deal with disputes or dissatisfaction politely and professionally.
Closing Thoughts
There you have it—20 plus ways on how to make money online for beginners. And yes, it's possible.
Go for any quick method if you need cash immediately. If you have the luxury of time, grow your channel or an authority site, and monetize them.