TikTok's explosive growth has spurred an entire ecosystem of third-party tools.
While native TikTok AI features are useful, they might not be enough to help you dominate this saturated platform. Enter AI tools tailored for TikTok—these powerful allies can be game-changers for your content strategy.
Best AI tools for TikTok
Here's a curated list of the best AI tools for TikTok, designed to help you create video content faster:
Vizard AI
Pictory AI
FlexClip
Nova AI
InVideo
Canva
Capcut
1) Vizard.ai: Repurposing videos with AI magic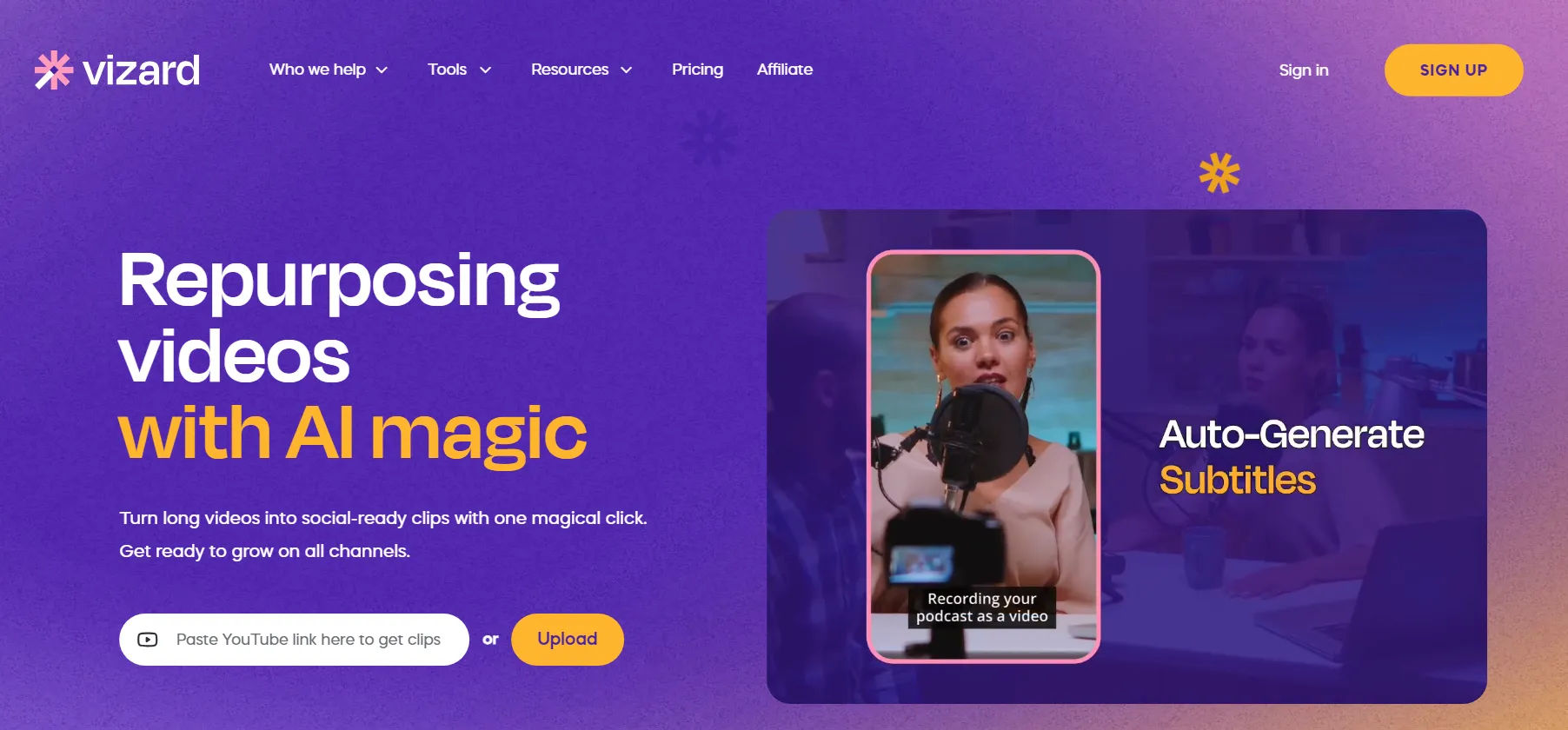 Vizard.ai specializes in repurposing your existing videos into fresh content that resonates with the TikTok audience.
Leveraging AI algorithms, Vizard.ai can identify the key segments of your videos and reshape them to fit the TikTok format, all while maintaining the essence of your message.
Key features:
AI-driven video segmentation ( AI clipping)
AI smart cut and autofocus
Easy video editing by altering transcripts
AI subtitling and translation
Format transformation
Automatic video summarization
AI Social caption generator
How to use it:
Head over to Vizard.ai to sign up
Upload your existing video content
Vizard automatically transcribes your video
Click AI clipping to start the smart cutting process
The tool then generates fully formatted shorts for TikTok, YouTube, or Instagram Reels and Stories
Review and fine-tune the AI-generated TikTok video
Download, share, or publish directly to your TikTok account from Vizard dashboard
With Vizard.ai, you can easily breathe new life into older video content, making it an excellent choice for content creators who want to maximize their output with minimal effort.
2) Pictory: Turning articles into TikTok Shorts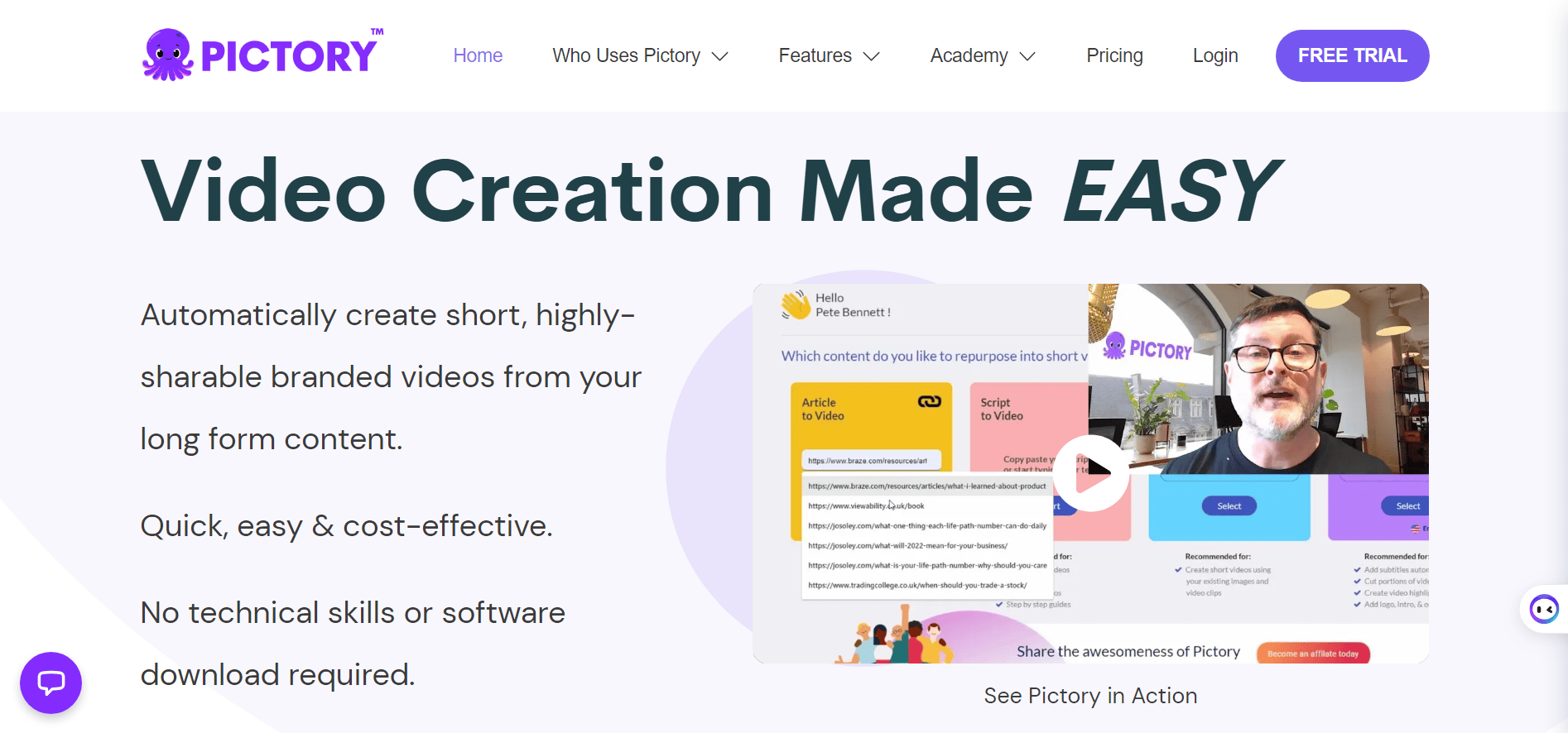 Pictory offers a powerful platform for transforming articles or scripts into visually engaging TikTok Shorts. Its AI-powered summarization and customization options make it a compelling choice.
Key features:
Script-to-video conversion
Article-to-video conversion
AI-powered summarization
How to use it:
Go to Pictory's website.
Input your script or article.
Customize the autogenerated video as needed.
Leverage the AI-powered summarization for concise content.
3) FlexClip: The all-in-one TikTok suite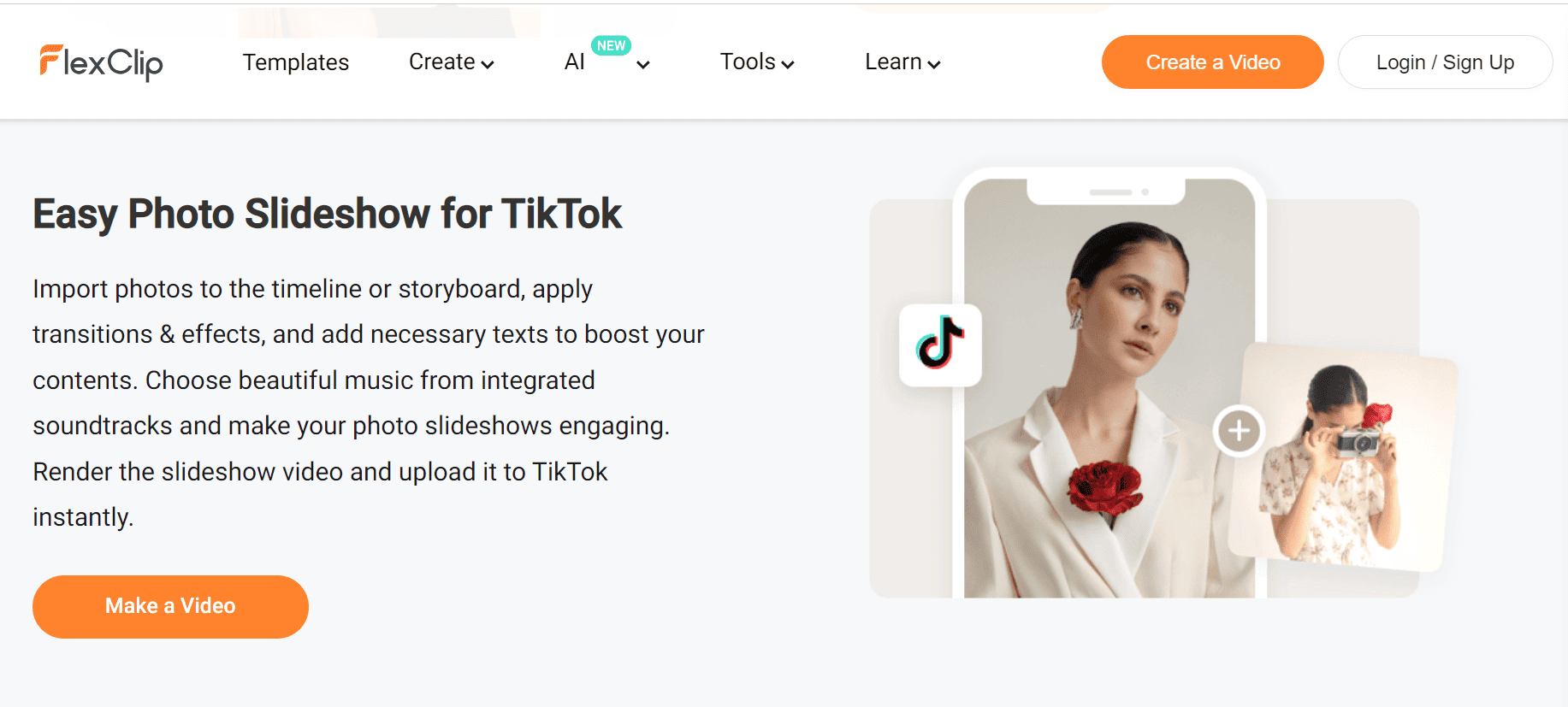 FlexClip comes with a multitude of editing tools specifically designed to generate TikTok videos.
Its AI capabilities are what truly set it apart, offering automated script generation and text-to-video conversions.
Key features:
AI script generator
AI text-to-video tool
AI text-to-speech for voiceovers
How to use it:
Navigate to FlexClip's website.
Use the AI script generator to come up with video topics and content.
Use the AI text-to-video tool to generate a video based on the script.
Utilize the text-to-speech feature for a voiceover if needed.
4) Nova AI: Translation and subtitles made easy
Nova AI aims to fast-track your TikTok video creation process with three AI-powered features.
Key features:
Auto-subtitle
Translate
Text-to-speech (TTS)
How to use it:
Visit Nova AI
Upload your video. (You can also upload from TikTok and YouTube)
Use the auto-subtitle feature to add captions.
Use the translate feature for global reach.
Use the TTS feature for an audio overlay
Edit your video with functionalities such as cropping, trimming, merging, TikTok cutter, auto-clipping, etc.
5) InVideo: Effortless TikTok video editing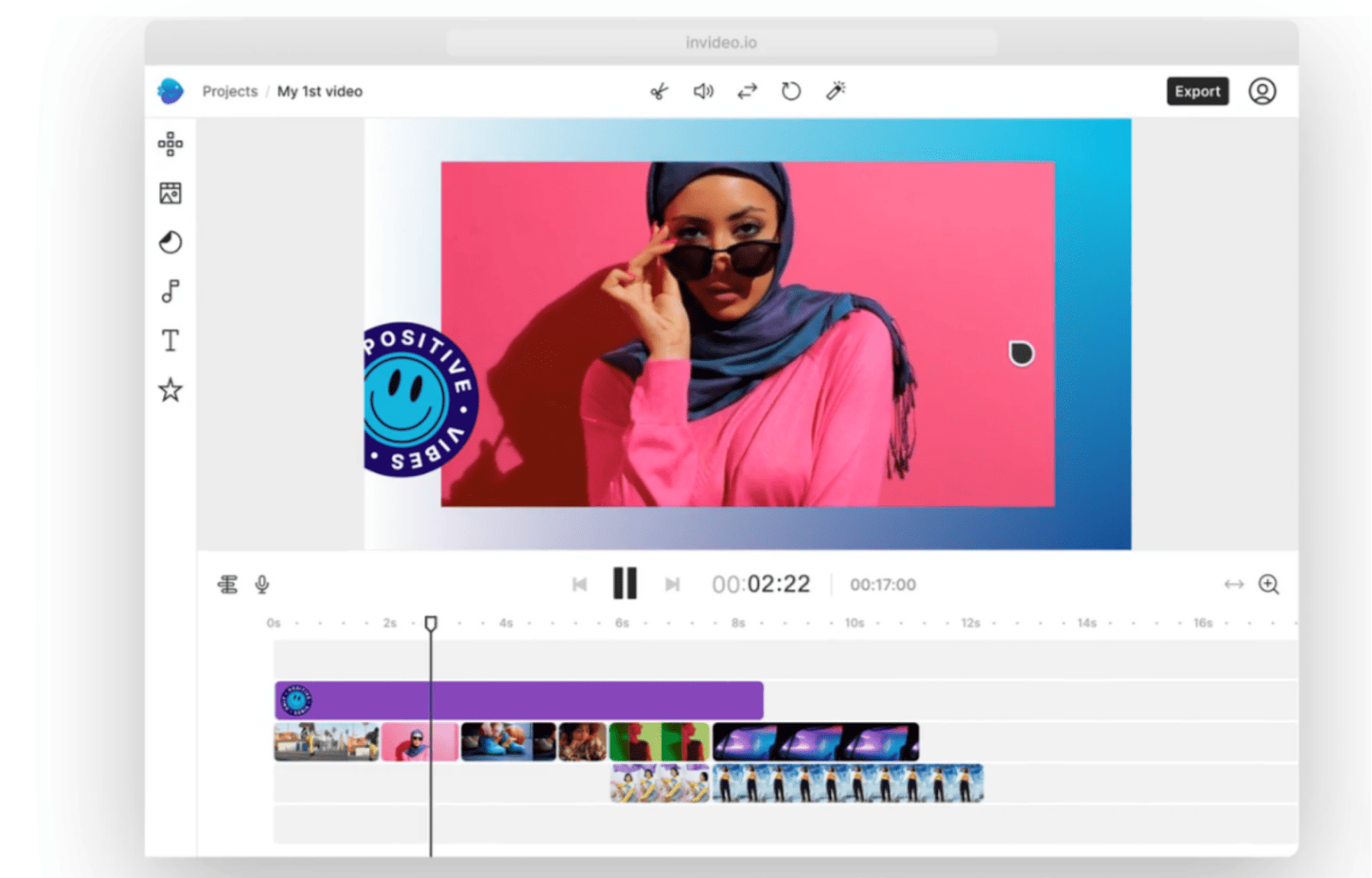 InVideo's AI-powered TikTok video editor brings a new layer of sophistication to your videos.
It enables you to script, edit, and add a variety of creative elements seamlessly.
Key features:
AI TikTok video editor
Wide selection of transitions, effects, filters, and fonts
Scripting assistance
How to use it:
Visit the InVideo website.
Choose a template or start from scratch.
Import or create a TikTok video.
Leverage the AI editor and creative elements to make your video stand out.
6) Canva: The design giant with AI capabilities
Canva might be your go-to for social media graphics, but did you know it also has AI tools?
Although not tailored for TikTok, these AI features can significantly improve your workflow.
Key features:
Magic Edit
Magic Eraser
Magic Write
Magic video background remover
Translate
Now, with the introduction of Canva Magic Studio, you can start your creation from a simple prompt.
The Magic Design feature lets you input any media to transform it into customized creatives that match your content and context. Your creative is built from Canva's library of images, fonts, and design elements.
When it comes to video content, Canva Magic Design makes it super easy to quickly edit your videos by instantly combining clips and even images to create Short videos that you can use for TikTok or YouTube Shorts.
7) CapCut: Basic video editing with AI-driven features
While CapCut offers basic video editing features, its AI-driven elements like filters, effects, and a massive music library make it stand out as a TikTok tool.
Key features:
Cut, reverse, change speed
Advanced filters and effects
Massive music library
How to use it:
Download the CapCut app
Import your TikTok video
Use the AI-enhanced features to fine-tune your video
Does TikTok use AI?
Yes, TikTok uses AI in a number of ways, including:
a) Recommendation algorithm: TikTok's "For You" page is powered by a complex AI algorithm that learns about each user's interests and preferences over time.
The algorithm takes into account a variety of factors, including the videos users watch, the accounts they follow, and the videos they like and comment on.
This allows TikTok to recommend videos that are likely to appeal to each user individually.
b) Content creation tools: TikTok offers a variety of AI-powered content creation tools, such as filters, effects, and transitions.
These tools make it easy for users to create engaging and visually appealing videos without any prior editing experience.
c) Moderation: TikTok also relies on AI to moderate content on the platform and identify and remove videos that violate its Community Guidelines.
This includes videos that promote hate speech, violence, or misinformation.
d) Accessibility: TikTok uses AI to make its platform more accessible to users with disabilities. For example, TikTok offers AI-powered captions and audio descriptions for videos.
In addition to these specific examples, TikTok is also using AI to develop new features and improve the overall user experience.
For example, TikTok is developing AI-powered features that can automatically generate captions for videos and translate videos into different languages.
Conclusion
Using AI tools for TikTok can significantly elevate the quality of your content and the efficiency of your workflow.
These seven tools offer various AI features that can help you edit, optimize, and even automatically generate TikTok videos.
Tailor your tool selection to your specific needs, and get ready to see your TikTok presence soar.