Looking to make money online in 2023? Leverage AI tools. Today, there are all sorts of AI generative software that people are using to make money online.
Examples include:
AI content generators (Jasper AI, ChatGPT, Writesonic)
AI rewording tools like WordAI
AI art generators like Jasper Art
AI video generators like Pictory AI
AI spokesperson video creators like Synthesia.io
Each of these types of AI tools present different ways to make money. In this article, I take you through 20+ AI tools to make money, and 9 different ways on how to make money with AI tools.
AI Tools to Make Money Online
AI copywriting tools are here with us, they have been since 2020. Today, these tools are being used by content creators, marketers, and copywriters to help fasten the content development process.
If you have a tool like Jasper AI, CopyAI, or Content at Scale (The most popular AI copywriting tools on the market), you might have been wondering how to leverage it to make more money.
In this article, I'll take you through some of the best AI tools to make money online
Best AI tools to make money
There are several AI tools on the market today that can help you make money online. These include AI writers, AI Art generators, AI video creators, etc.
I) AI writing tools to make money
AI copywriting tools are types of software that use GPT-3 and other Natural Learning technologies to generate content in a human-like format based on the text they have been fed with.
Some of the best AI writers include:
a) Jasper AI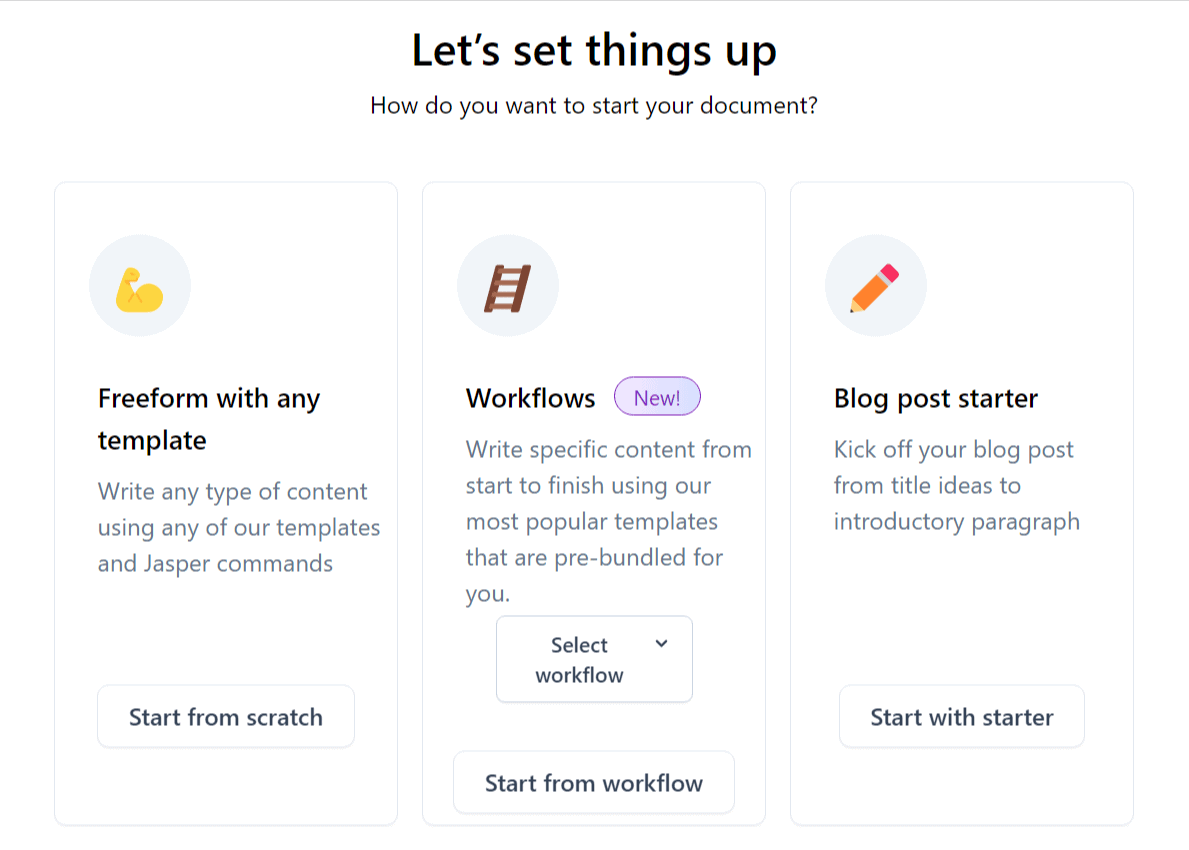 Jasper is the most powerful and affordable AI writing tool that you can leverage to make money. This tool is great for generating both short and long-form content.
Best Jasper AI features:
Commands for generating content quickly without switching to templates each time you want to write a different section of your content.
Powerful long-form document editor that provides you a playground for building up your articles
Content workflows: You can use Jasper's built-in wizards for generating different types of content (Blog post workflow, sales copy workflow, rewriter workflow, etc.)
Jasper Chat: This is one of the best ChatGPT alternatives that now includes an option to toggle Google Search. Doing so will force the AI to generate content using the latest info from Google.
Jasper Art: Another powerful feature within the platform that you can use to generate high-quality AI images.
One of the challenges of this tool is that you do need to do lots of manual edits to make your content suitable for your readers, and also to game AI detection tools.
That said, apart from the next tool, Content at Scale, Jasper is the most useful tool.
b) Content at Scale (CaS)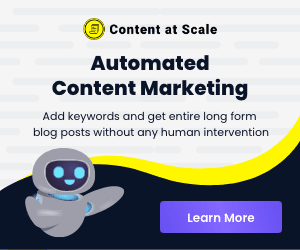 The newest entrant that is set to revolutionize the AI writing space is perhaps Content at Scale.
This tool wins for two main reasons:
Ability to generate completely unique, relevant, useable, and comprehensive content with just one click. (2600+ words)
Content that passes AI detection tools.
Unlike other AI tools to make money that act as writing assistants, CaS is like a freelance writer. Your work is just to be a human editor to finetune the generated content.
This tool is able to accomplish this because its proprietary system utilizes a combination of three different AI engines, as well as NLP and semantic analysis algorithms for content generation. It also crawls Google and parses all of the content that ranks highest.
There's a catch though. This is the most expensive AI tool but I believe it's worth it, because you're able to publish a 1000-word article for as little as $10. An average writer charges $100 for such a service.
Get Early Access:
This tool is only available via invite. Go to Content at Scale to request early access to the platform.
Best for:
Freelance writers: If you charge $200 per 1000-word article, and you use this tool, you would still make $190 per article, for a task that takes you 30 minutes to complete.
Bloggers: Use CaS to publish 1-2 articles per day on low-competitive keywords, per day, and reach over 500 SEO posts in your first year.
20% Post Credits
If you request an invite through our link and make a purchase within the next few days, you will get 20% more post-credits
If you have an audience who can benefit from this tool, you may consider joining the Content at Scale affiliate program and lucrative recurring commissions.
c) Frase AI
Another tool that can help you make money is Frase AI. This is the go-to tool for bloggers and content marketers, as it has great features for On-page optimization.
Frase AI features:
Ability to optimize your generated content based on top search results
SERP-inspired brief and outline builder
SEO and content planning tools
Content optimization tools (alternative to Surfer SEO)
You also get other writing tools that you would expect in any AI content generator.
d) Writesonic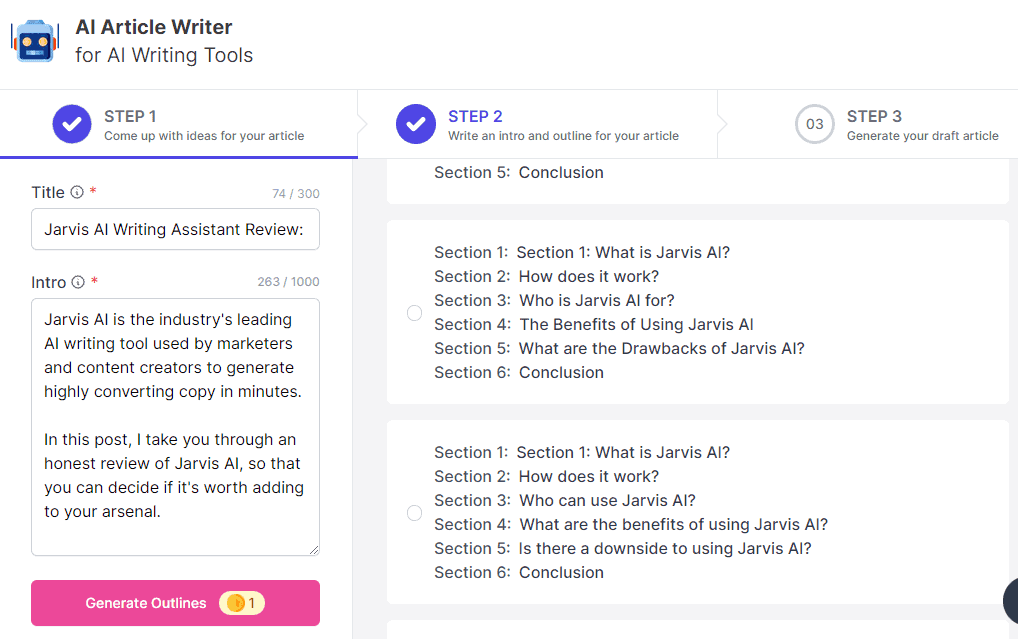 A close competitor to Jasper AI is Writesonic, with lots of tools for short-form and long-form content generation.
Main features:
Chatsonic: A ChatGPT alternative, similar to Jasper Chat, that connects to the internet but is more powerful
AI Premium Writer 4.0 — capable of generating 1500+ full articles with just one click but more customization options such as tone of voice, point of view, keywords, outline with up to 20 items, etc.



e) AISEO writer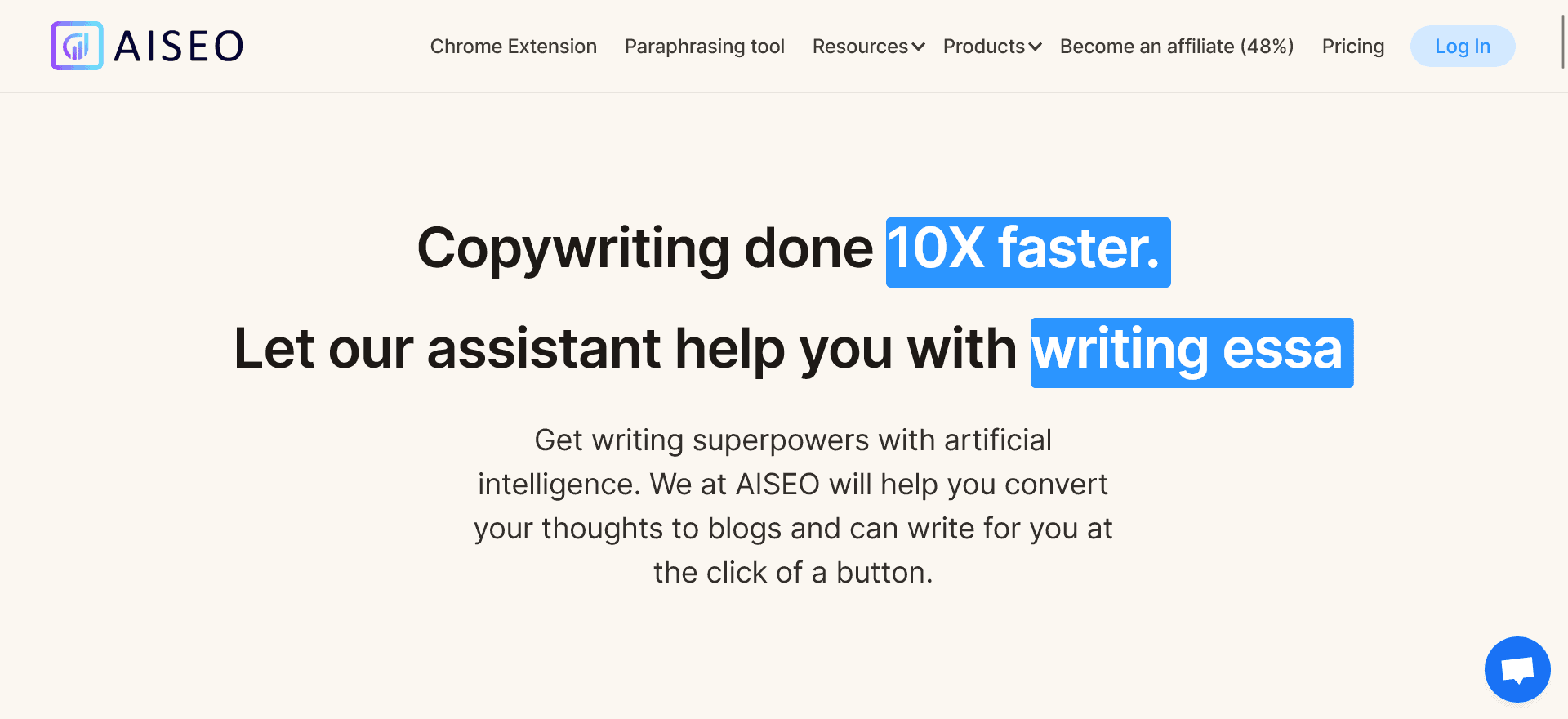 This can qualify to be a Frase alternative, but more affordable, starting at just $15/month paid annually.
Main features:
Blog post generator tool
Hemmingway readability AI improver
SEO documents
SERP Analysis
Ability to paraphrase up to 50K characters in one click
Powerful AI rewriter tool
Chrome extension for generating content on the go
Currently, this tool is offering a lifetime deal that starts at just $67 for 7 SEO documents per month, $147 for 15 SEO documents, and $397 for unlimited documents.
f) ChatGPT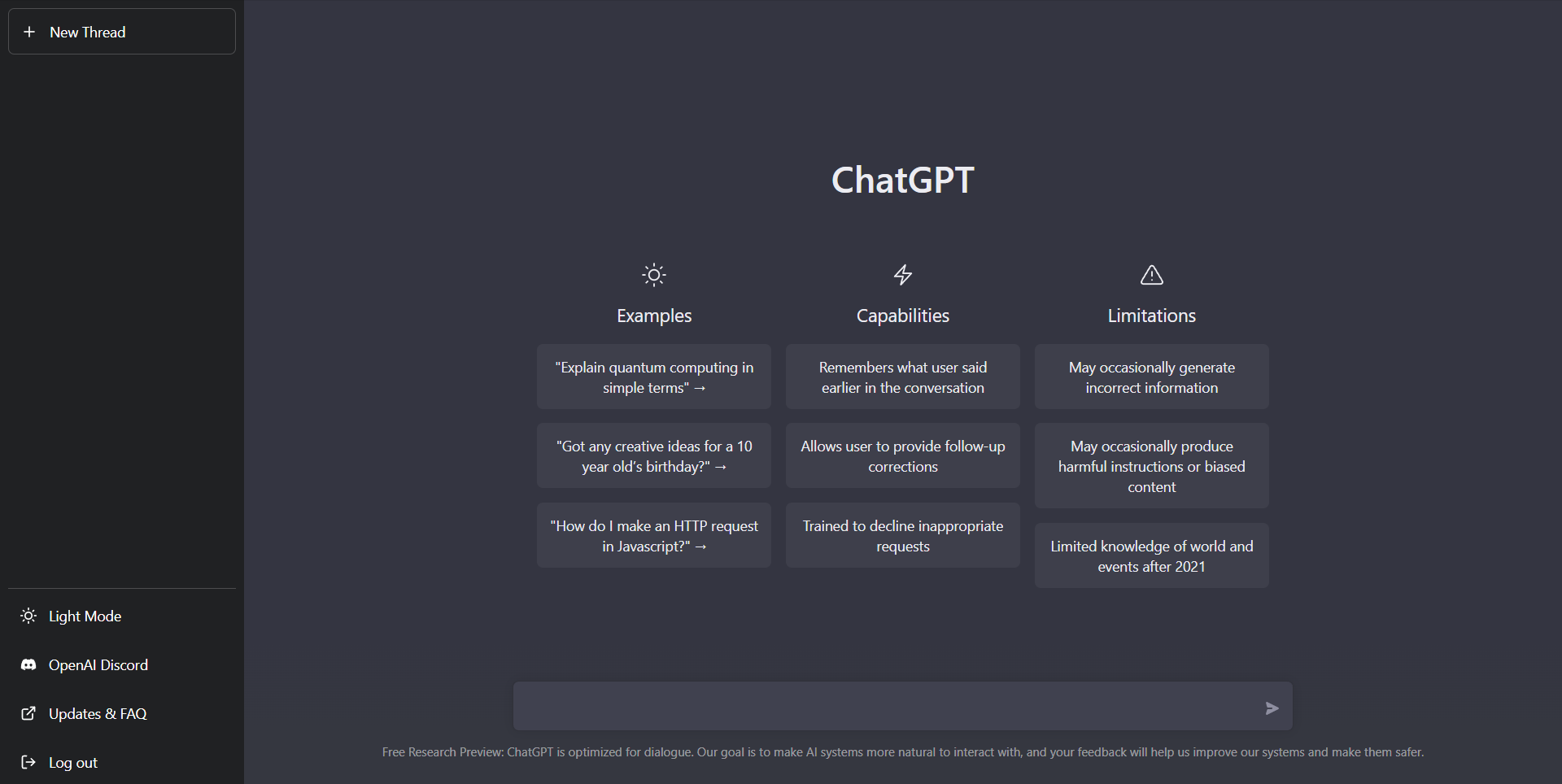 ChatGPT is a powerful conversational AI tool built on top of OpenAI's GPT-3 and GPT-3.5 models. You can use this tool to generate any type of content, and even write executable lines of code.
Main features:
This tool recalls conversations within a thread, giving it more context
Can generate lines of codes with its integrated Codex model
High-quality language generation: ChatGPT can generate human-like text that is often difficult to distinguish from text written by a person.
Handling context and conversation: ChatGPT is able to understand and respond to context, making it well-suited for use in chatbots and other conversational systems.



Handling a wide range of tasks: ChatGPT can be used for a variety of natural language processing tasks, including language translation, text summarization, and question answering.
Other AI writing tools:
These tools are perfect for breaking your writer's block and brainstorming ideas and marketing angles.
II) AI video tools to make money
Sometimes you need to whip out a simple animation video or do a spokesperson tutorial without showing your own face.
Luckily, AI video generators have come to our rescue. Small and big businesses alike are leveraging these tools to make money.
AI video editors
AI video makers
AI spokesperson videos
g) Synthesia.io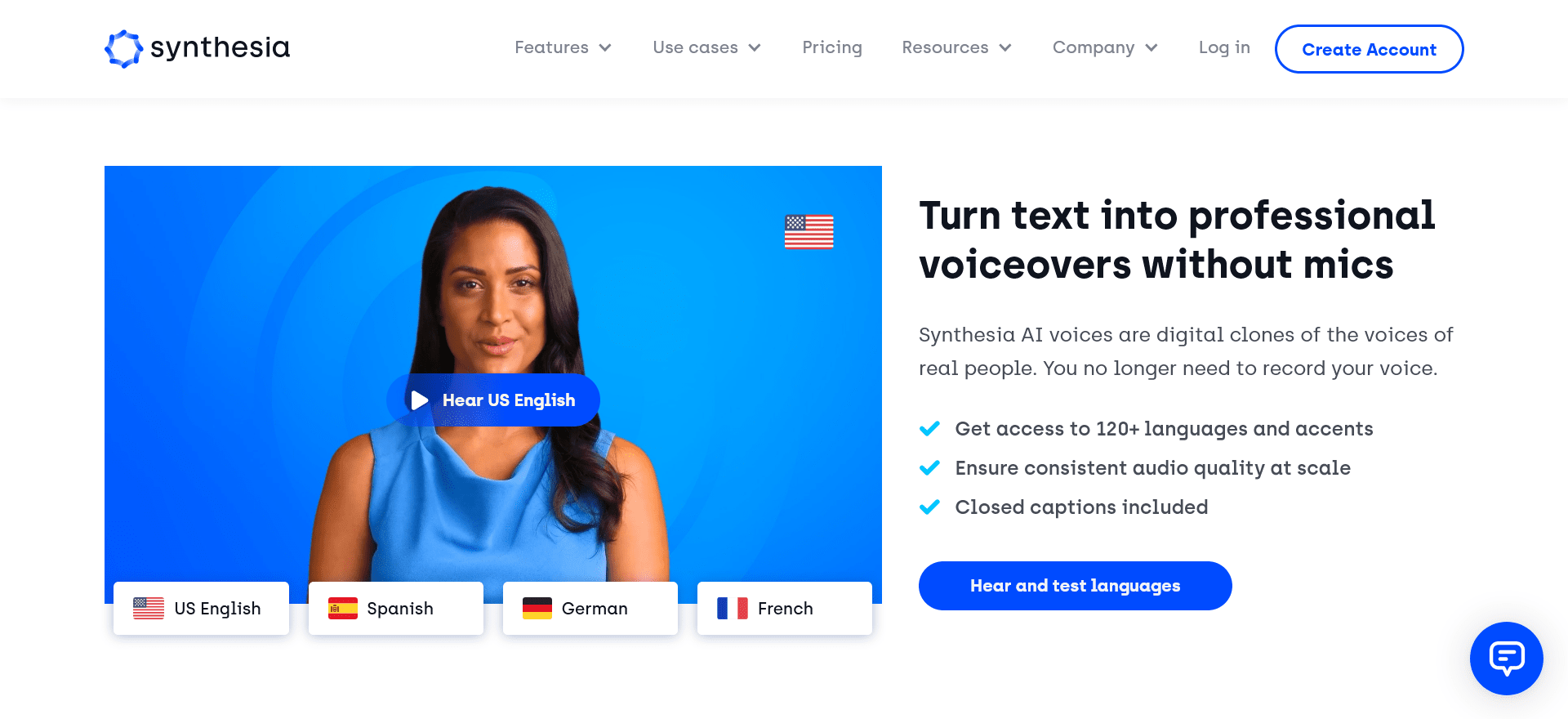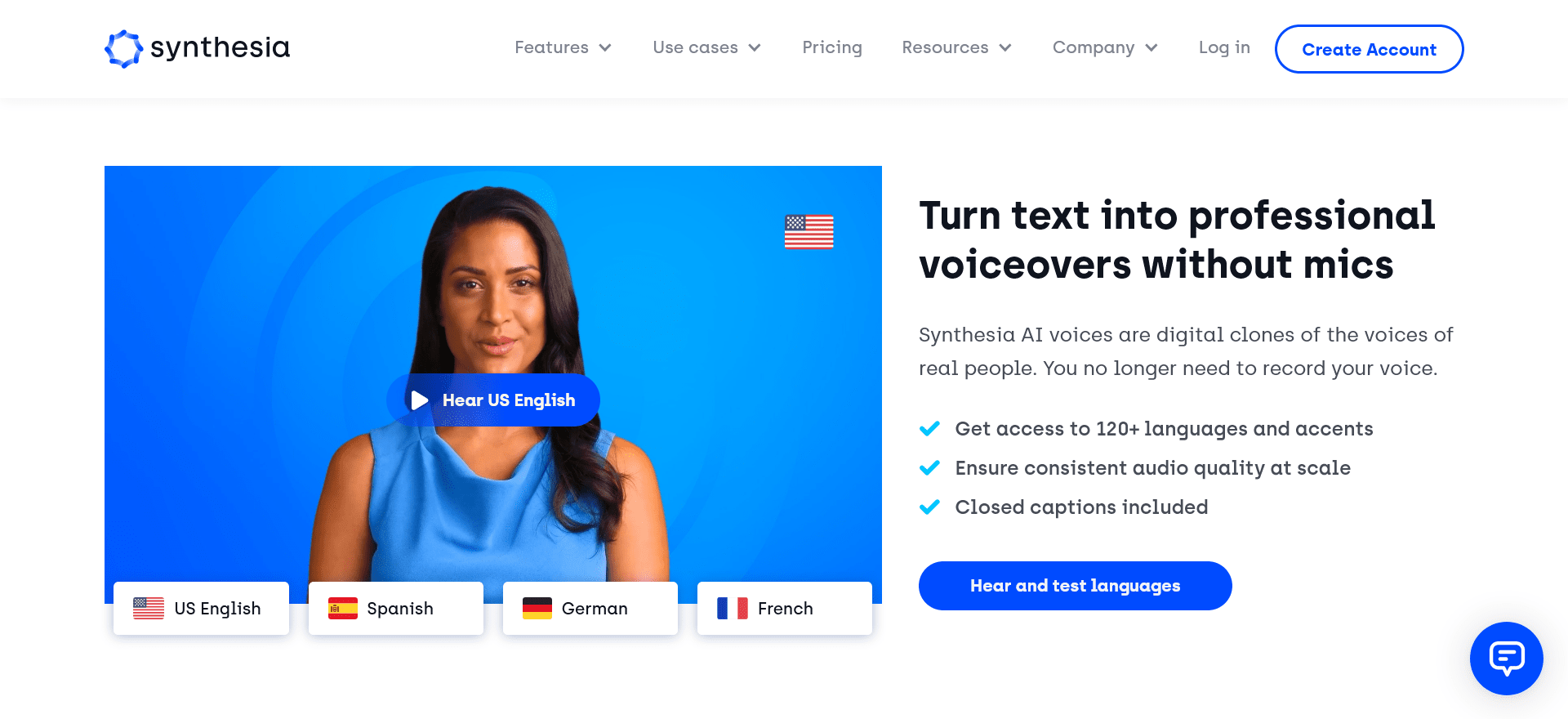 Synthesia is one of the earliest users of AI video generation. It has an intuitive interface that makes video creation a no brainer for anyone.
Your videos are narrated by AI avatars with voices that are barely indistinguishable from humans. And with a choice of over 65+ AI actors and 60+ supported languages, you sure can find a voice that can fit your brand.
These AI avatars are super realistic. One of the most used Avatar is Anna, that companies like Copymatic AI and Writecream use for explainer videos.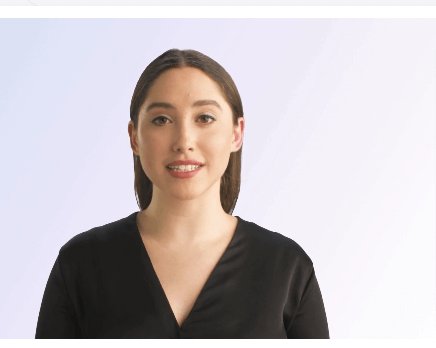 Synthesia features:
Multi-lingual support



Video duplication
Ability to merge videos created by Synthesia, avoiding the need of using a separate video editor
Voice customization — even replace synthetic voice with authentic human voices
Ability to use your own voice
Use custom avatars
Extend the power of Synthesia beyond the confines of the platform with their API access
You can use this tool for just $30/month, a personal plan that allows you to create up to 10 videos.
h) Pictory AI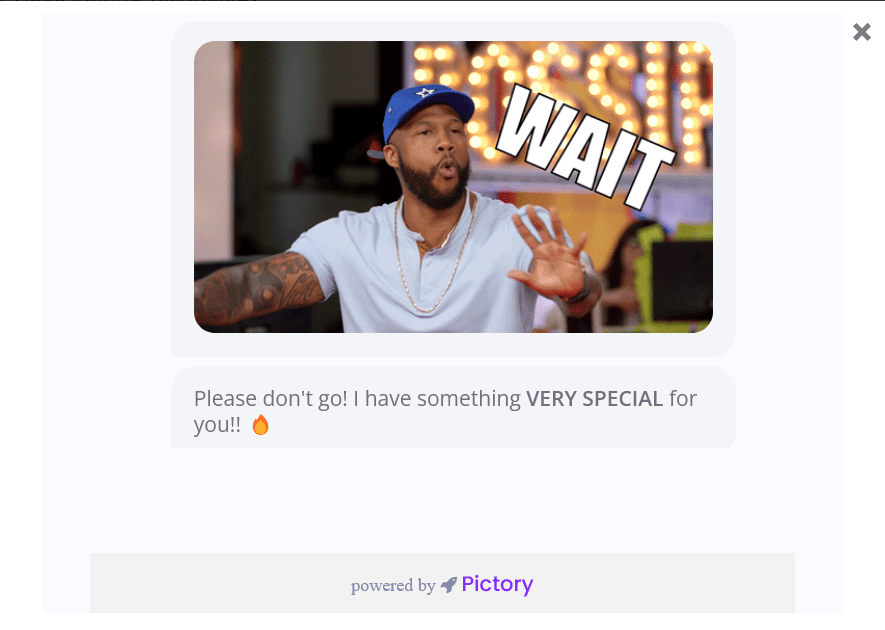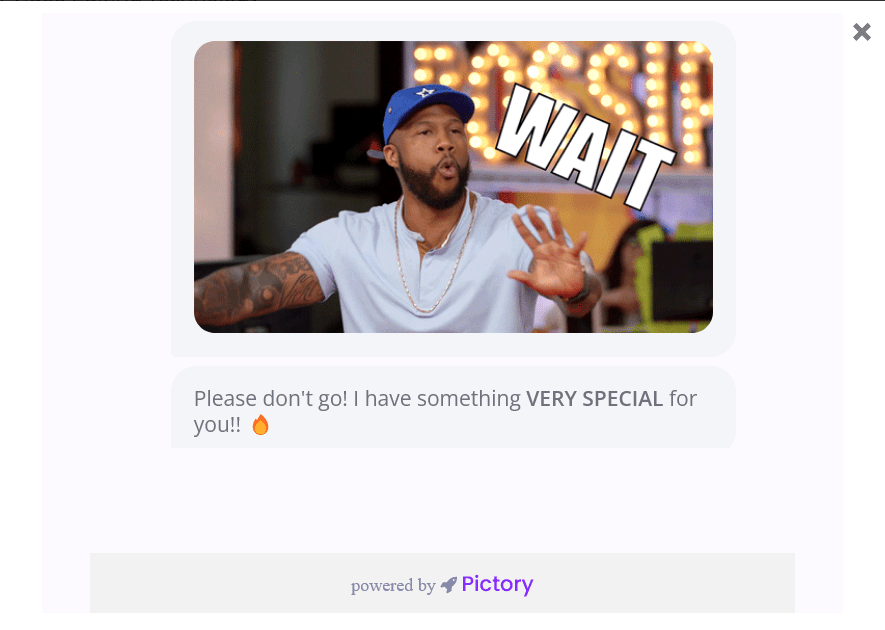 Pictory AI is another one of the best AI tools to make money online. With this tool, you can easily create short viral and branded videos to grow your brand and your influence.
It also has a powerful editor that can help you modify your videos by editing the transcripts. For instance, you could delete a word, or a phrase from a video transcript,
It's a web application, so there's nothing to download. Pictory automatically extracts key points from recordings (Zoom, Webinars, Microsoft Teams)
Use cases:
Turn your scripts into highly converting sales videos
Converting blog posts into Youtube videos
Automatically adding captions to your videos for accessibility
Create sub-titled videos for social media
You can also make money with this tool by joining the Pictory AI affiliate program and earn anywhere between 20% – 50% recurring commissions.
Other features of Pictory:
Script to video generator



Blog to video generator
Editing video using text
Creating video highlights
Auto summarizing long videos
Video transcription
Insert B-rolls
i) InVideo
This is a robust AI video creator and editor that helps you fasten the creation process. Just like Animoto and Vivavideo, InVideo leverages templates.
All you need to create a video is to type in your scripts, select a template and then start customizing to get you the desired result.
You can use it to create ad videos, explainer videos, etc.
j) Rephrase AI
This tool is similar to Synthesia, as it requires you to upload your script, select your AI narrator and corresponding voice and then click on generate to turn your text into full narrated videos.
Main features:
Custom actors
CTA labels
Ultra Realistic presenters
Personalization features through merge tags that can have AI spelling out your contact's names
Custom landing pages
Video editing studio to help you truly transform your content
Other AI video tools
III) AI Art Generators
Another set of AI tools that can enable you to make money is AI art software.
AI art generators use text-to-image technology to create powerful imagery. All you need is to feed them with detailed descriptions of the image you want to create
These tools are capable of generating completely unique images that you can then use for different use cases, such as creating coloring books, marketing materials or even Print on demand products for sale.
Examples of best AI art generators:
k) Jasper Art Generator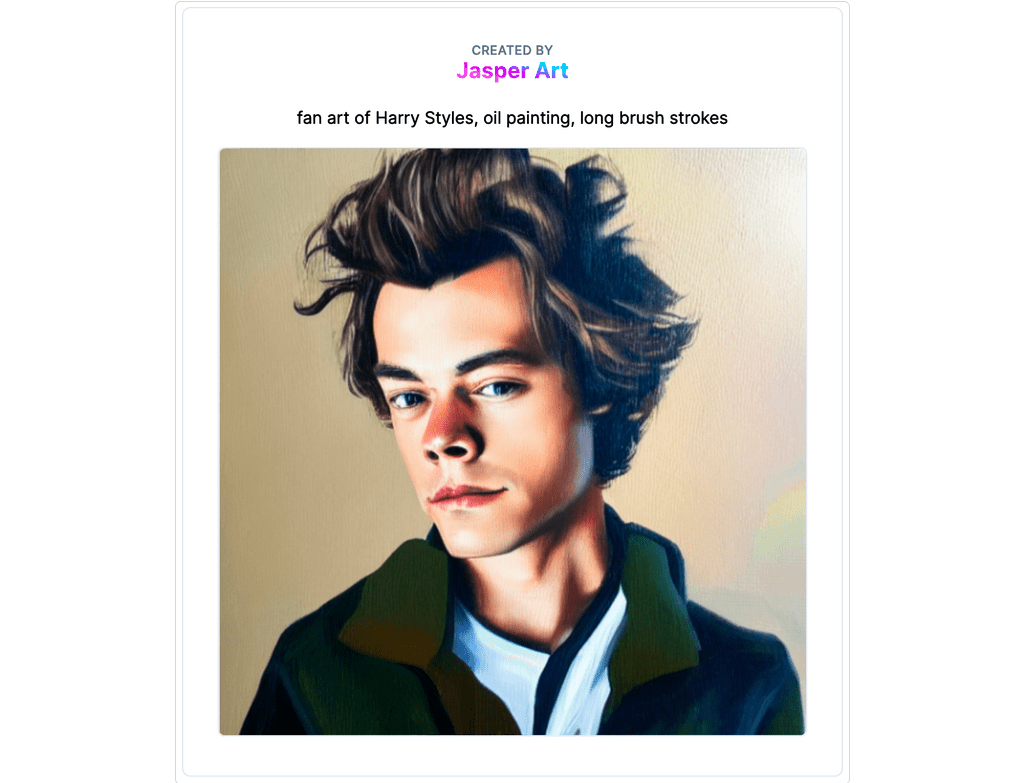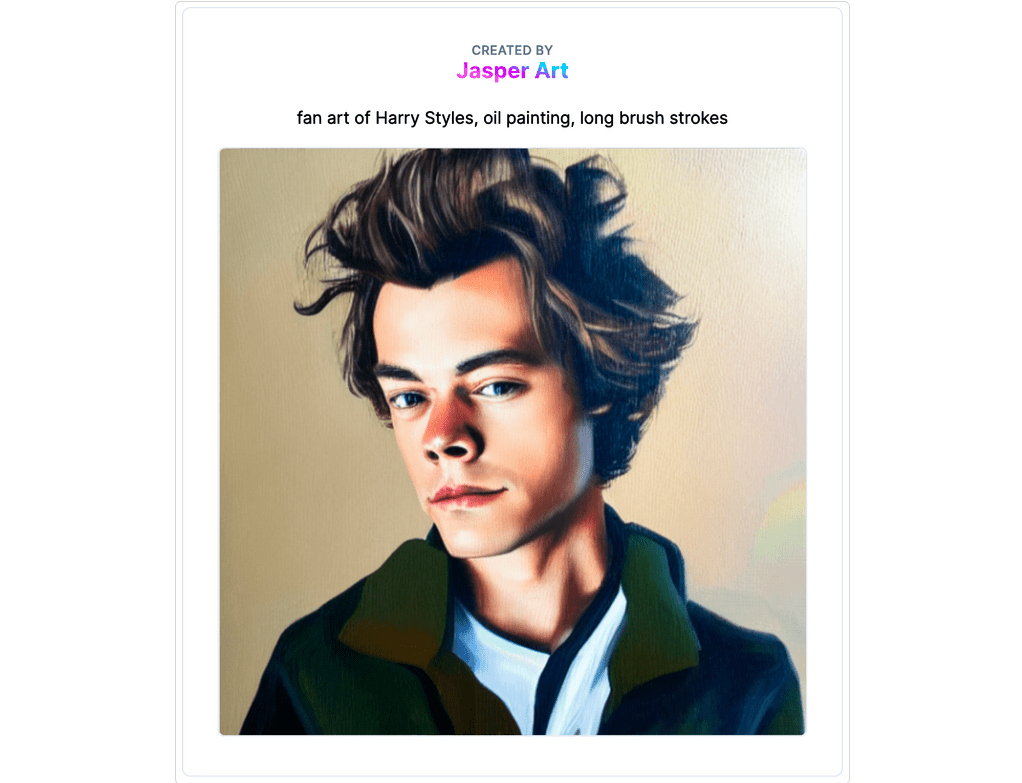 For just $20 a month, you can use your favourite AI writer to generate unlimited high quality art and images as well.
Jasper Art Generator is an AI-powered software built on top of Open AI's Dall-E-2 model that helps users to create unique, high-quality visual artwork.
It can generate abstract images, landscapes, and portraits based on any input data.
Using the generated artwork, users can also create digital art prints, which can be used for decoration or for sale.
Jasper Art features:
Intuitive user interface that allows users to enter any type of input data, and then generate images based on it.
Range of customization options, allowing users to set:

Art style
Medium



Artist
Lighting
Keywords
Modifiers, etc.
The better you're at writing effective AI prompts, the better your generated images will be.
l) Photosonic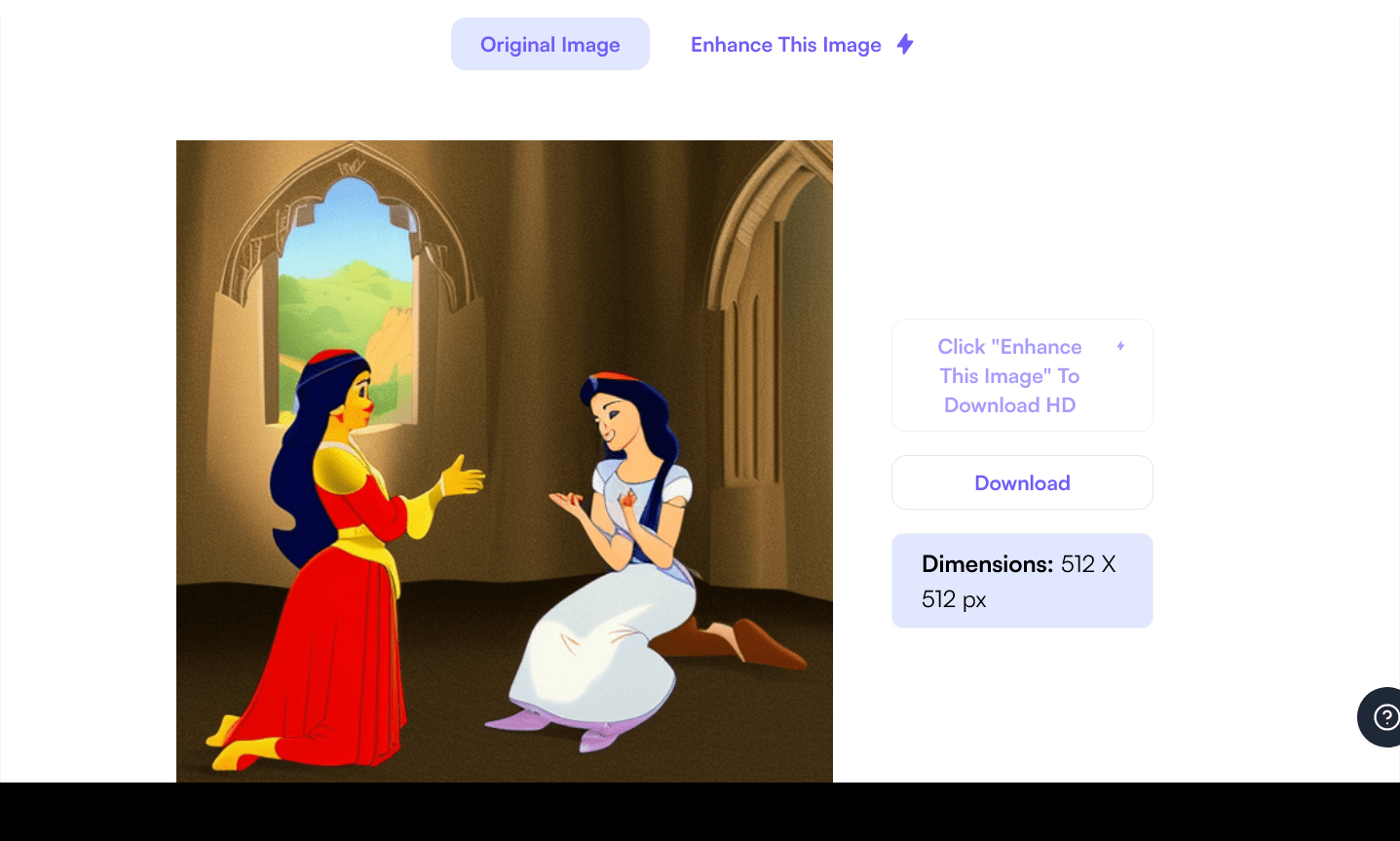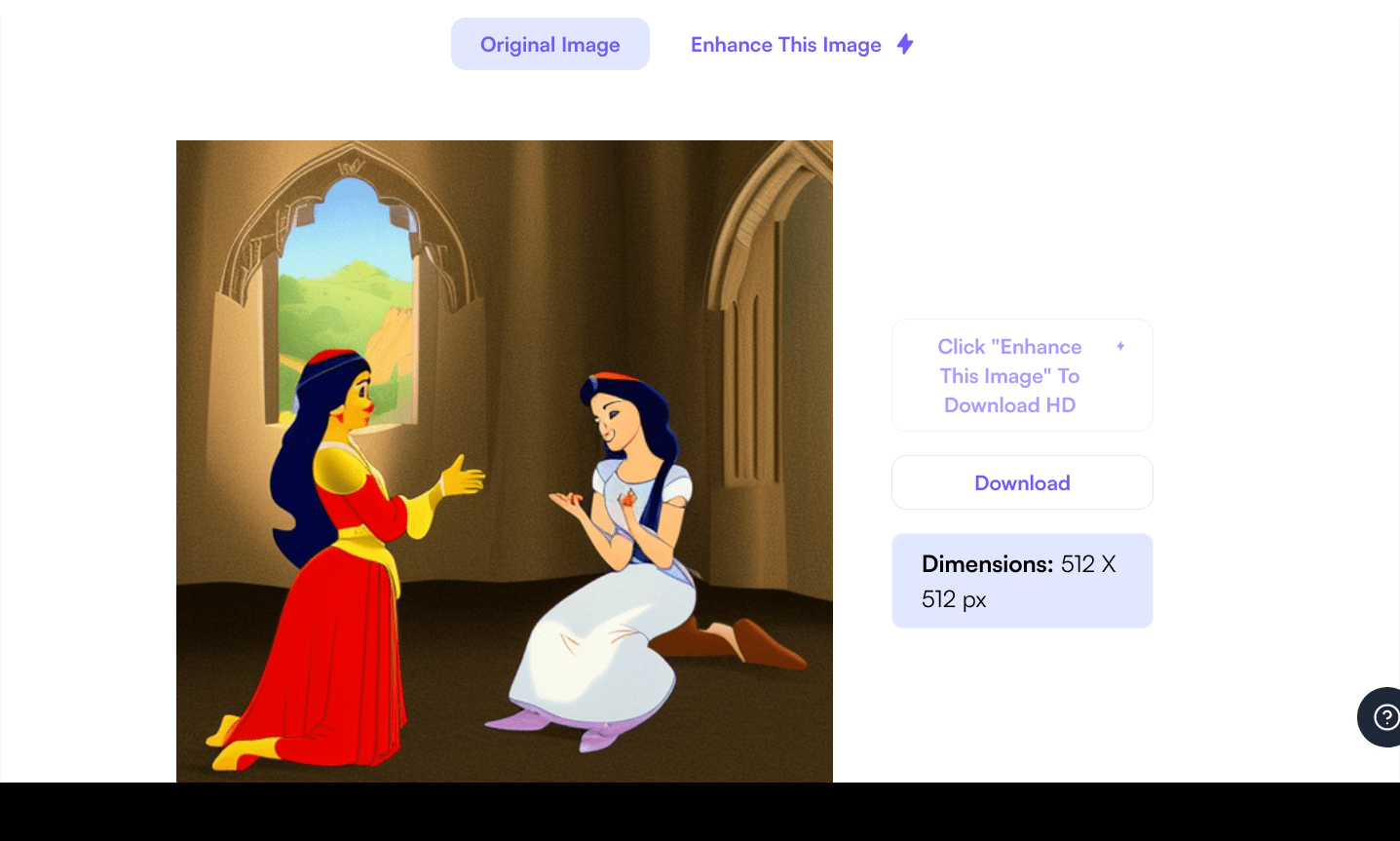 Photosonic is similar to Jasper Art, but is developed by Writesonic, another powerful AI content generator built on top of OpenAI's language models.
This tool can help you create stunning visuals and unique digital art for different use cases, with minimum effort.
You only need to provide some basic information about what you're looking to create and Photosonic will do the rest!
With Photosonic, users can create a wide range of digital art pieces, from abstract designs to detailed landscapes.
Photosonic features:
Built-in photo enhancer for downloading generated images in HD
High quality image generations



m) Night Cafe AI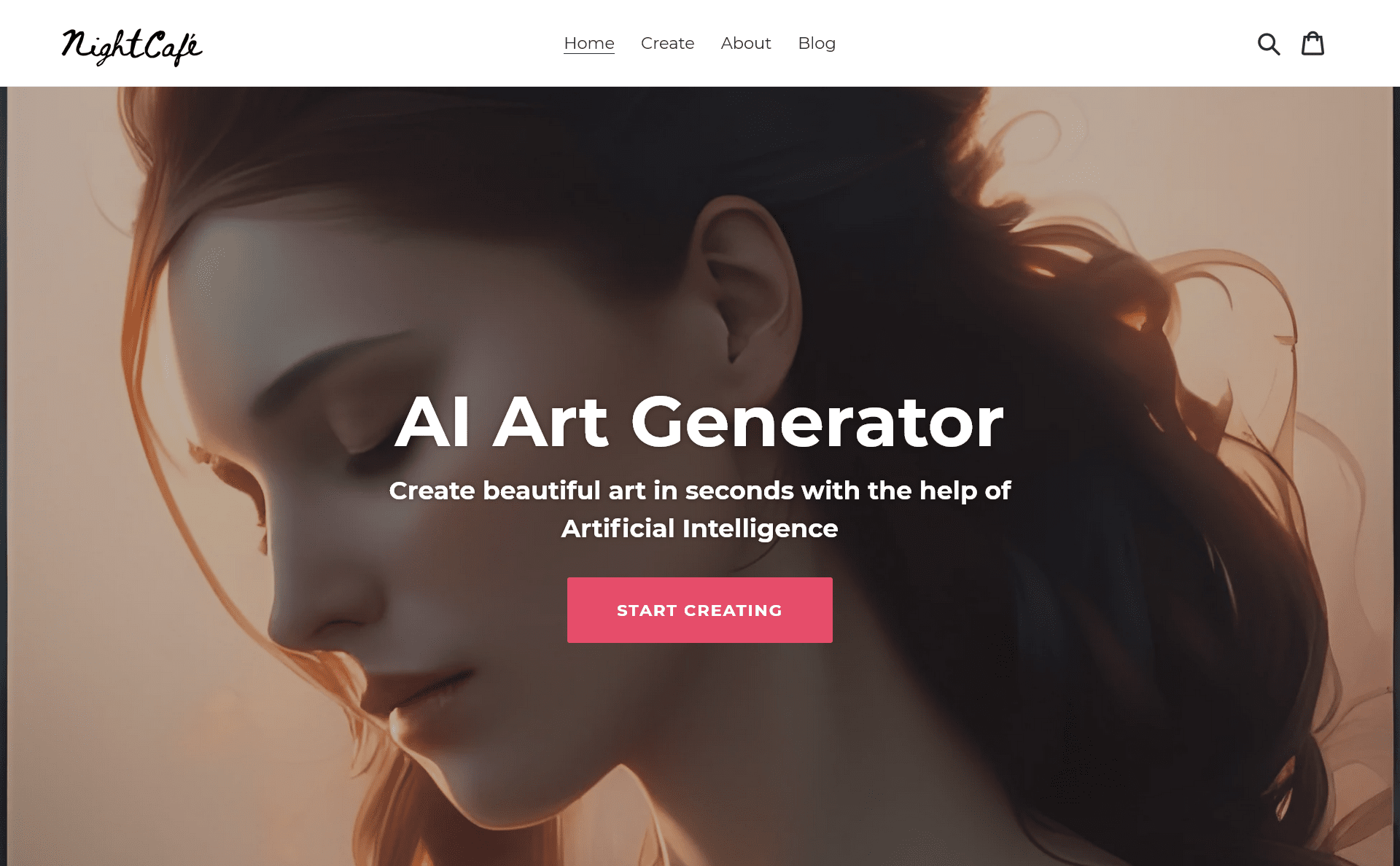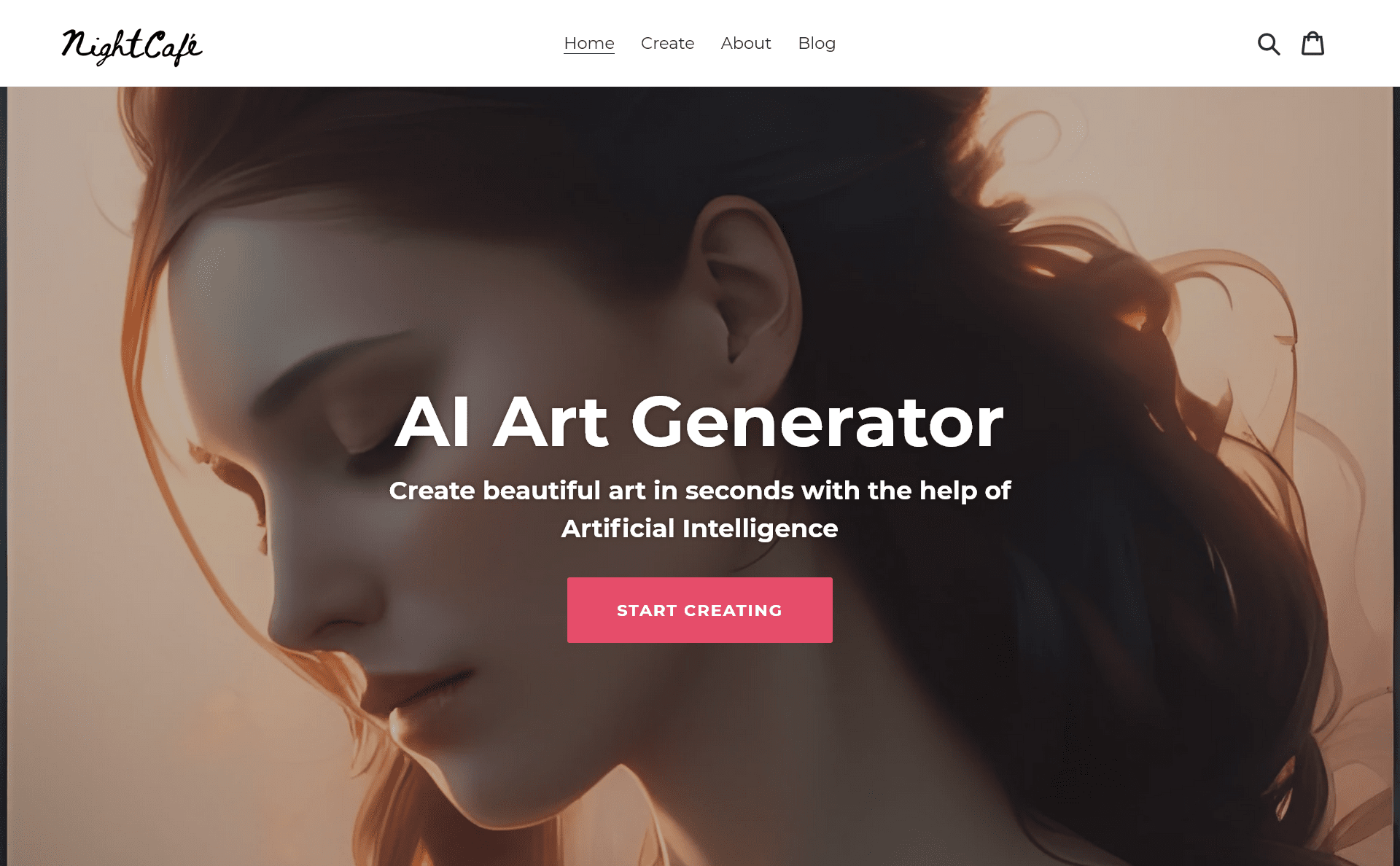 Another tool I recommend for making money with AI art is definitely Night Cafe.
With Night Cafe, you can generate high quality images by leveraging its customizable options, including:
Multiple styles
Ability to generate images in bulk
Bulk downloading
Default negative prompt setting
Ability to select an original image to use as a starting point.
Ability to boost the accuracy of the images generated
Symmetry of your images (vertical, horizontal)
You can also set aspect ratios for your images (Square, Widescreen, Portrait, Mobile vertical, or Landscape)
n) Stock Photos Upscaler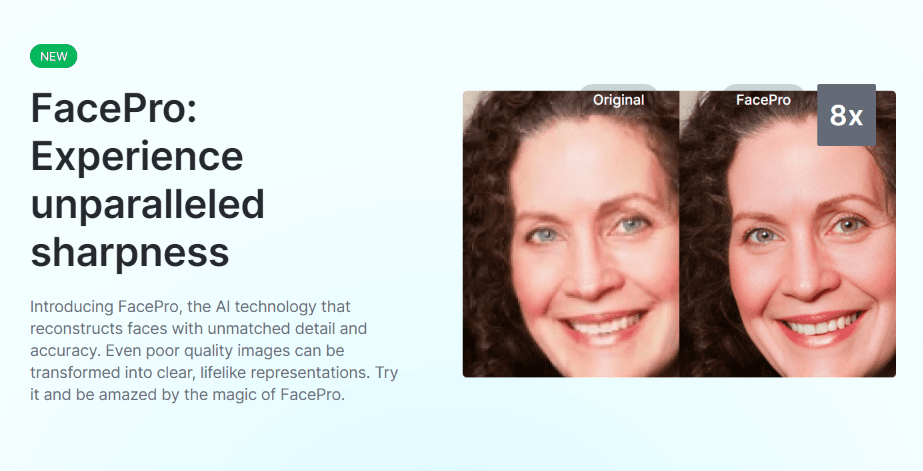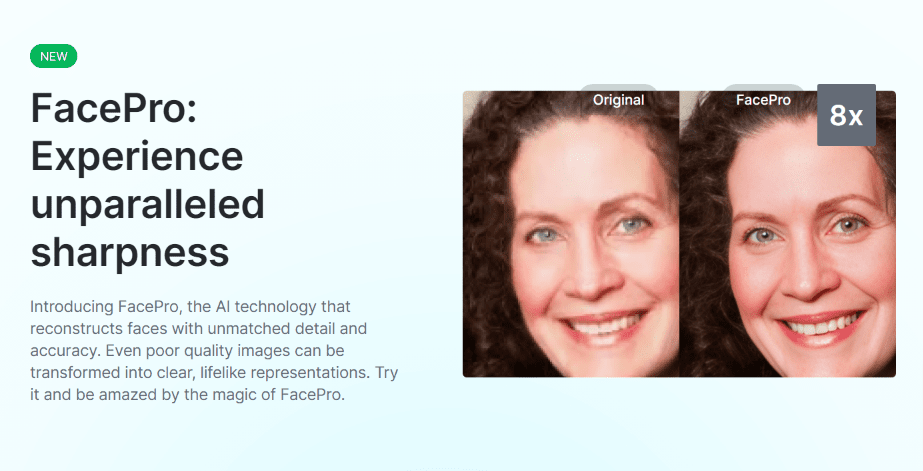 The images you generate with these tools are not of high quality and resolution yet. To make these images ready for commercial purposes (say Print on Demand), you'll need to enhance them by upscaling.
Upscaler is one of the most powerful image upscaling tool you should consider adding to your arsenal.
o) Midjourney
Midjourney is an AI-powered art generator that allows you to turn text-based prompts into images. With its launch in mid-2022, it has quickly become a popular tool for users who enjoy experimenting with bizarre prompts and seeing the creative output from the AI.
This tool is capable of generating super realistic and almost surreal images from text inputs.
Key features:
Natural language processing to generate artwork from text
Ability to DM yourself the generated images for easier access
Image upscaling
Image variations



Ability to start your generation from existing images by entering the image URl in the prompt.
How to use Midjourney:
Step 1: Ensure you have a Discord account. Midjourney works entirely on your account. Don't worry, Discord is free to use.
Step 2: Request access. Midjourney is still at Beta, so you need to visit their website to request access or do so directly on this page.
Step 3: Accept invitation, and navigate to the Midjourney channel on your Discord account. Choose one of the newcomer rooms on the left, and enter the room to start creating images.
What to do next:
Once you are in the correct room, you can enter the command /imagine followed by your desired prompt in the text box and submit it. Midjourney will then generate an image based on your prompt
Use /help to view tips on using the platform
These commands will give you more control over the image generated by the AI and help you create a unique and personalized image.
Other AI art tools:
Stable Diffusion
Starry AI
Deep Dream Generator
Night Cafe
Dall-E
Deep AI
IV) AI rewording tools (AI text rewriters)
Sometimes you'll need to paraphrase content or rewrite it for repurposing. In this case, you'd leverage AI rewording tools.
These tools help you rewrite existing content using AI, giving you completely unique variants of your content pieces
Here are some of the best AI paraphrasing tools to acquire:
p) WordAi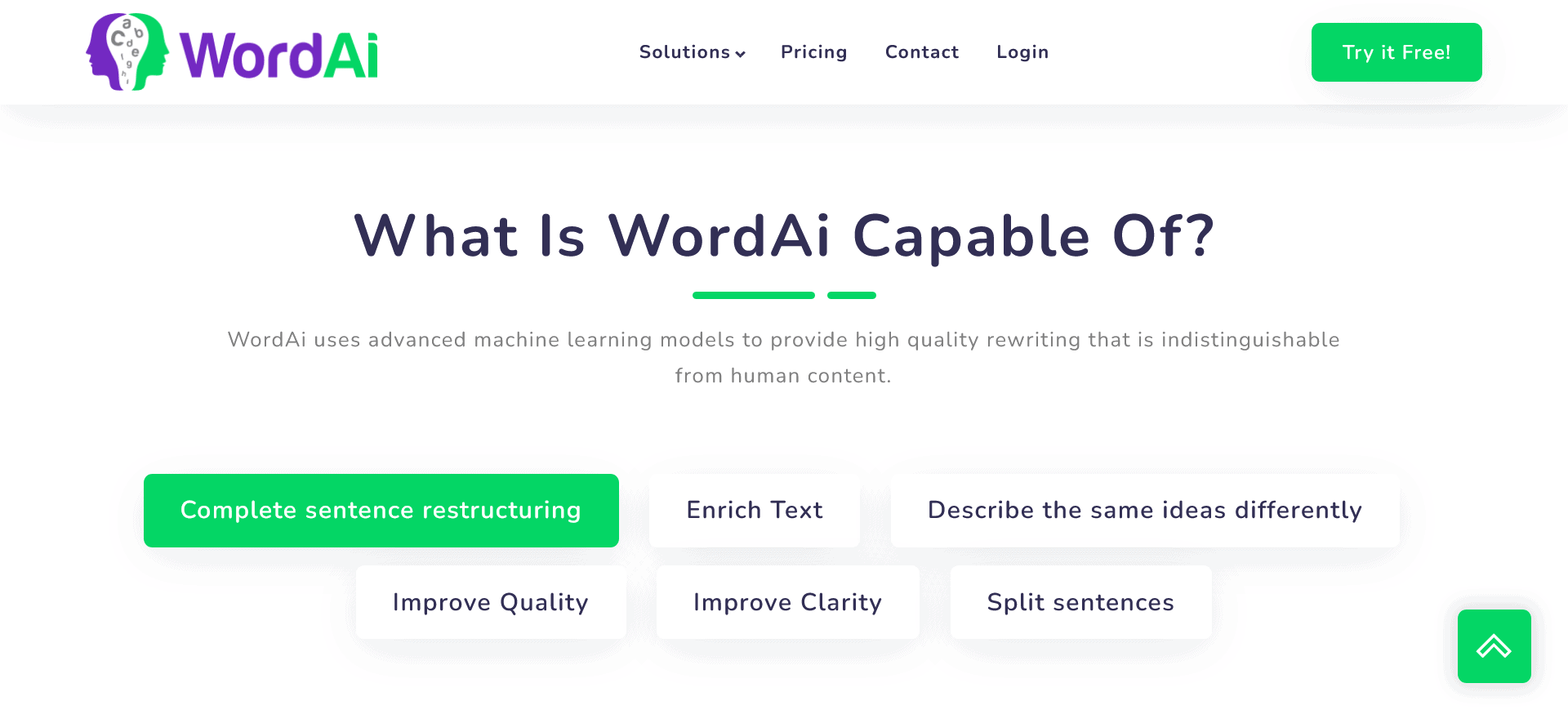 WordAi is a robust paraphrasing tool powered by AI. Some of the things you can accomplish with this tool include:
complete sentence restructuring
Enriching content



Approaching the same message from different angles
Splitting sentences and paragraphs
Improving the quality and clarity of your content
Unlike other rewriting tools, WordAI doesn't compromise on readability when rewriting your content. It's not just replacing words with their synonyms, but rather understanding the semantic meaning of the sentence or paragraph and then rewriting the whole concept from scratch.
Other features of this tool include:
Generate up to 1,000 unique variants from one piece of content.
Bulk rewriting — this feature enables you to upload all of your content at once, saving you time.
Article Forge integration
API access, enabling you to plug this tool into any of your workflows.
q) Copymatic Rewriter
Copymatic, besides being an AI content generator, also has a powerful rewriter wizard that uses AI.
About AI Rewriter:
Adjust creativity level or tone of voice to reflect in the outputs
The rewritten content is optimized for engagement
Rewrite content from URL
You can rewrite long-form content



I walk you through this tool in my latest blog post on how to rewrite an article without plagiarizing.
Here's how I was able to rewrite an article when I was testing this tool: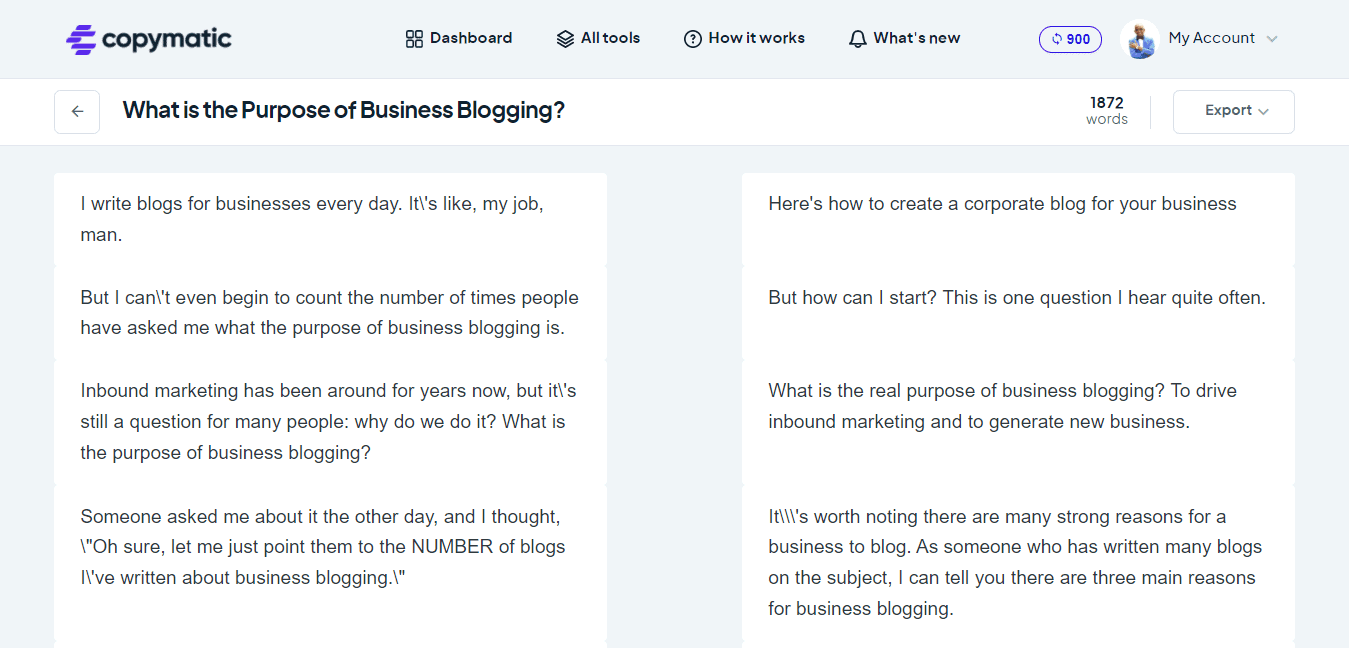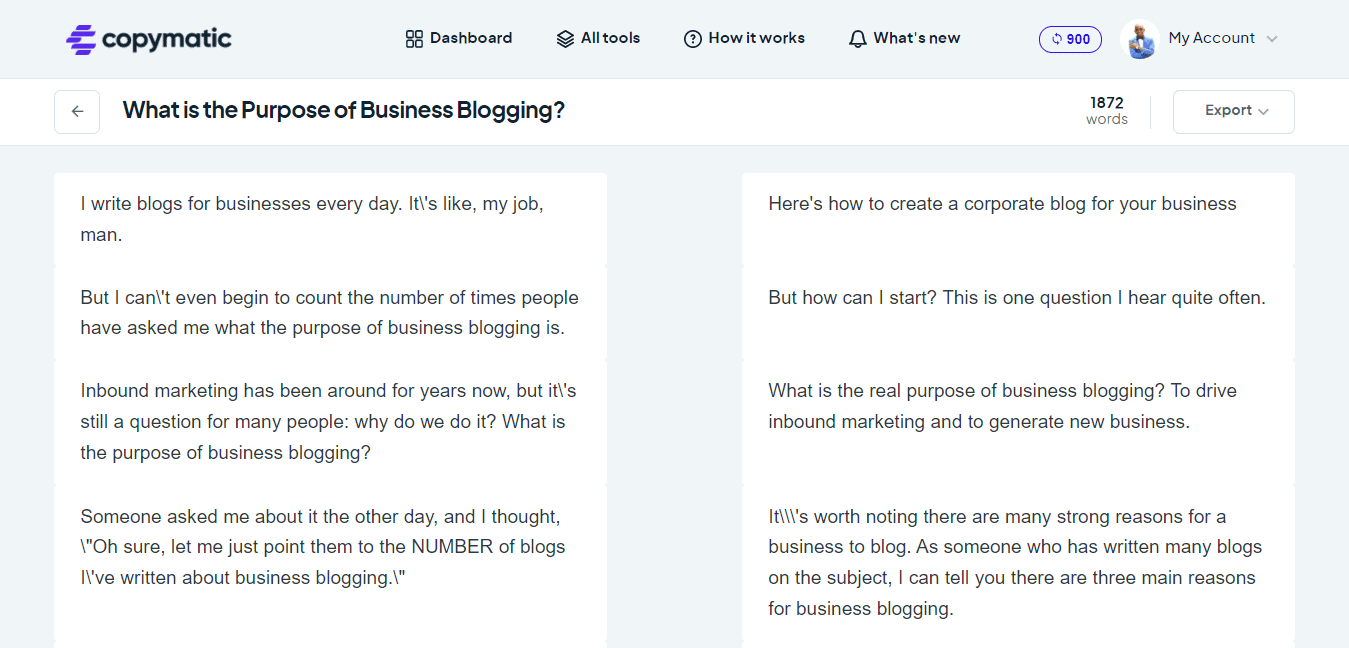 As you can see, it's almost impossible to tell if this was not rewritten by an actual human writer and not an AI.
r) QuillBot
Another powerful rewriting tool that many are using is QuillBot.
This tool can generate up to 5 variants based on the following modes: Standard, Fluency, Formal, Simple, and Creative.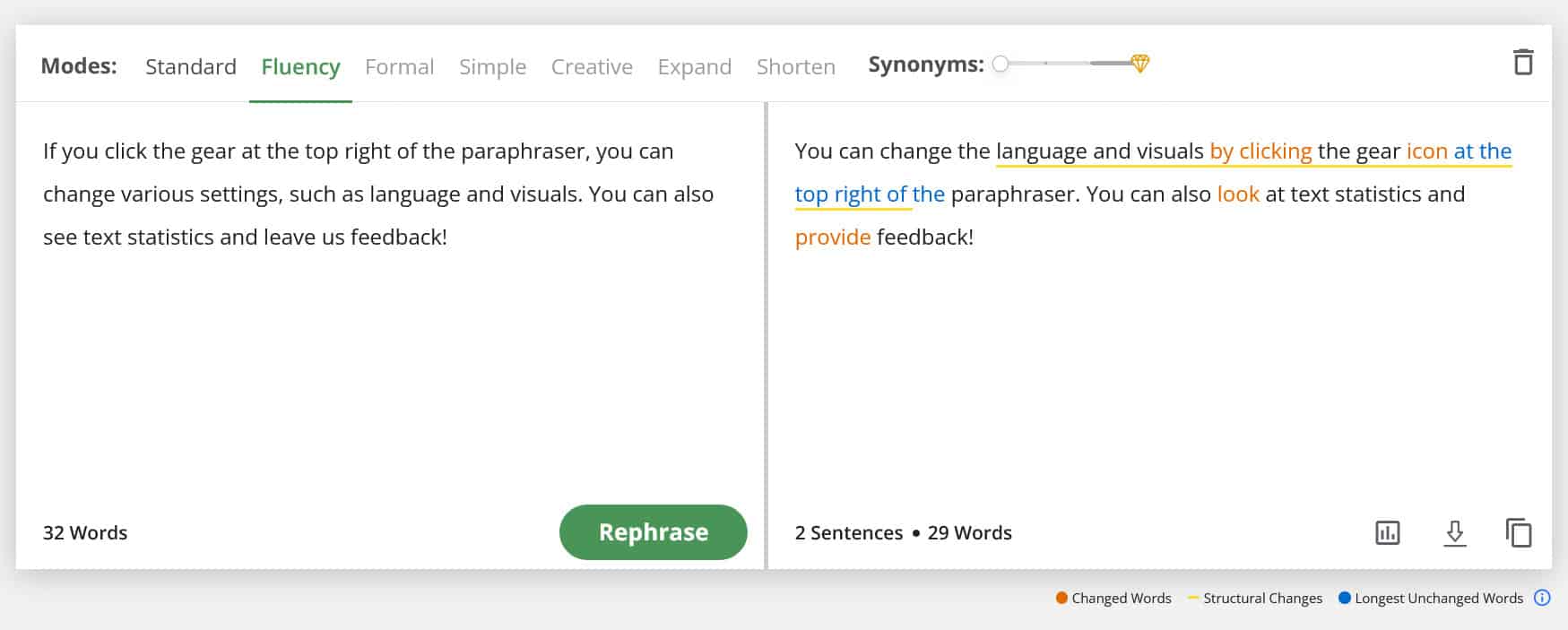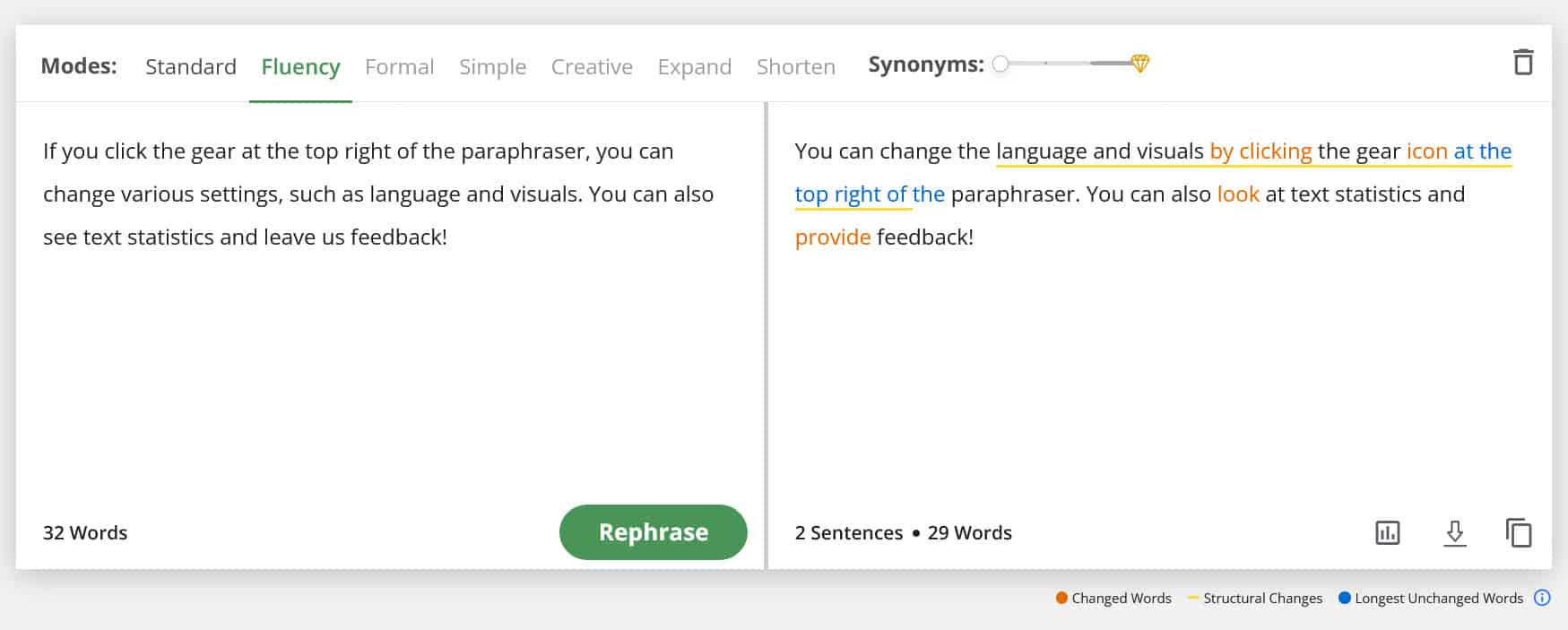 QuillBot features:
AI content summarizer
Co-writer tool
Grammar and plagiarism detection tools
Citation generator
The best part is that you can unlock access to all these tools for just $10 a month, or even less when you opt for an annual plan.
Other AI paraphrasing tools
V) AI SEO tools to make money
If you can leverage AI SEO tools effectively, then you can easily make money online.
Here are some of the best to consider:
s) Semrush
This is an all-powerful keyword research tool worth acquiring. It's quite pricey, but you can try the tool for free for 7 days using our link.
Semrush a suite of over 55 tools that help you with content marketing, keyword research, competitor analysis, backlinks analysis, SEO, PPC and social media marketing.
What you can do:
Uncover low-competition keywords to target
Daily SERP positions tracking
Technical SEO audits
Ability to audit and improve existing content based on real-time metrics
Unwrap keyword and topical gaps



t) SERanking (Affordable keyword option)
If you don't want to part with $119.95 a month for SEO, then SERanking is your close best option for features such as keyword research
Like Semrush, it's an all in one SEO-platform, but much easier to use thus suitable for ordinary bloggers like you and I.
Also, pricing starts at just $23/month, so this is a subscription worth retaining. You can use our link to try this tool for 14 days for free (No credit card )
SERanking features:
100% accurate search metrics for keywords
Detailed website audits with actionable recommendations
Backlink checking and monitoring
Monitor any changes on any website
SEO on-page optimization
Analytical and auto-posting tools for social media
Keyword grouping
SEO reporting tools



u) Outranking.io
If you want to write articles that do well for SEO, then Outranking is your buddy. It's similar to Surfer SEO but with more power.
You get actionable insights for SEO, content optimization and strategy that actually move the needle. It also has a powerful AI writer for generating quality blog posts and other content types.
Outranking.io plans start at $79/month, but you can get your first month for just $7, using our affiliate link.
Outranking capabilities:
Comprehensive SEO-optimized content outlines backed by SERP analysis, related search queries, entity analysis and AI
Detailed SEO content briefs
Ability to create factual content from ranking pages and custom research sources
Content planning with keyword strategy and topical clustering
SEO content optimization tools
Other AI SEO tools
Here are some more tools that you can use to make money with AI:
Contentpace — for content brief generation, SERP analysis and content optimization. Cheaper alternative to Surfer SEO and Outranking
Surfer SEO — for NLP content analysis and optimization
SpyFU — A powerful competitor analysis tool
MarketMuse — for planning, researching and creating content
I hope that this list of AI tools to make money has kept you thinking of all the creative ways you can best leverage them for your business. My favorites are, of course, Jasper AI and Content at Scale.
Remember that you can try Jasper for 5 days, generating up to 10,000 words during this period. So, make sure to give it a try.
How to make money with AI tools
Let's now get to various ways you can make money with these machine-learning and Artificial Intelligence-powered content generators.
1) Become a freelance copywriter
Becoming a copywriter used to take you years of dedicated learning, hours of case studies and pages of swipe files, and thousands of rows of power words.
Today, even the not-so-experienced writer can craft highly persuasive and converting sales copy with the help of AI copywriting tools. This is because these tools have built-in templates that utilize proven copywriting frameworks such as QUEST, Feature to Benefits, AIDA, Problem — Agitate — Solution (PAS), Before — After — Bridge, etc.
By playing around with these different templates, you will be able to come up with unique marketing angles, that you wouldn't have otherwise thought of on your own.
To try Jasper AI, the best copywriting tool and long-form content generator tool, click the link below.
2) Start an AI-powered blog
When you have an AI writer like Jasper (Jarvis AI), it's like having 5 other content writers working for you 5 days a week. Starting a blog is one of the best ways to make money with AI tools. This is because you are building a passive income stream that will generate money for you for years to come.
Now, starting a blog is more than just churning out dozens of awesome content every month. You need a strategy. Before you start your AI-powered blog, take time to do your research. You want to find a blog niche that is:
Less competitive with considerable keywords or topics with low to medium search volumes
The topics should be general enough that AI writing tools won't struggle to create content on their own
Is less scientific or technical
Keep in mind that you will be using AI tools to publish 3-5 blog posts every day for at least a year, so if you go for a niche that is too technical, these tools won't help you much as you will be doing lots of editing yourself.
When doing keyword research, it helps to invest in a tool like Semrush. You only have to sign up for the first month and spend this duration doing keyword research. Once you have identified a niche, then go ahead to research topics. Add potential topical keywords to a list or group, and then export them as CSV.
This way, you will always have the keywords to target even after discontinuing your Semrush subscription.
If you would rather do your keyword on a budget, then I recommend using SERanking an affordable keyword research tool.
3) Offer Pinterest descriptions on Fiverr
Writing optimized Pinterest descriptions is a challenge that many bloggers face. Being the shrewd freelancer that you are, this is something you can leverage to rake in $50 a day
There are several AI tools that Pinterest description generators such as Nichesss.
Jasper AI has a dedicated Pinterest Title and Description template that you can use to brainstorm ideas for your clients.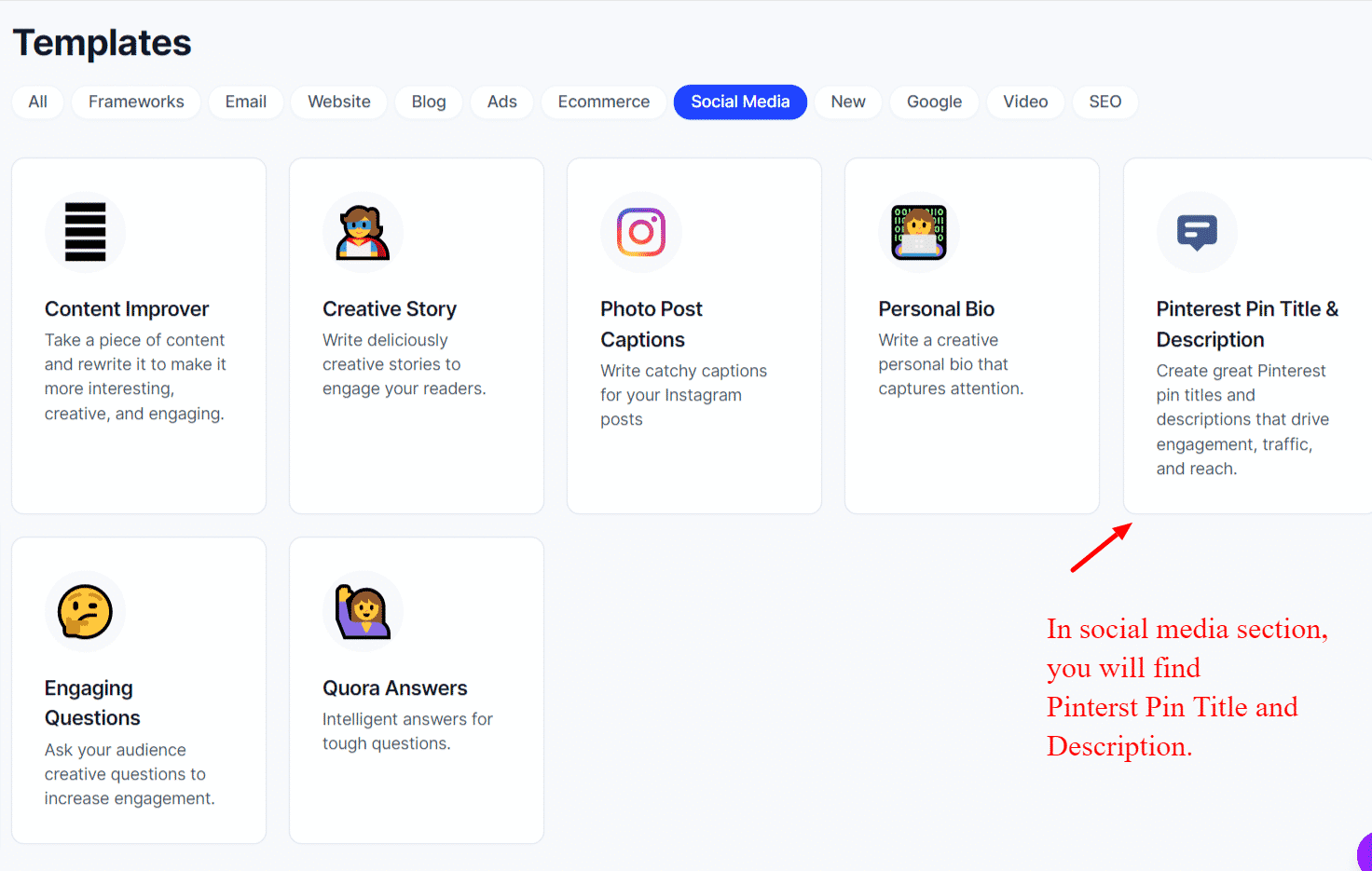 For a service like this, you can easily charge $10 on Fiverr and be able to have 5 bookings a day. Of course, you do need to prove yourself first, but once you have a few 5-star reviews, you could start getting orders on autopilot.
Things to note:
Your pin description should sound native with keywords naturally used without sounding like you are just randomly throwing in keywords
Pin descriptions max at 500 characters



Include a call to action
4) Get paid to do keyword research
If you have access to AI keyword research tools such as Semrush, and Ahrefs, then you know how addictive data can be.
If data excites you then you can make money with AI as a keyword researcher. Clients pay you a set amount to help them identify relevant topics that they can easily rank for.
Some of the popular AI keyword research tools that you can use to offer this service include:
Frase AI: A powerful content research and copywriting tool with an SEO keyword that comes in handy in identifying sub-topics to cover
Writerzen: This is like a Semrush plus Jasper AI.
Semrush: A dedicated keyword research and content analysis tool
SERanking: A best affordable alternative to Semrush and Ahrefs
5) Become a product description writer
Many AI tools have intuitive product description generators that can help you in creating product descriptions for any type of product.
You can offer this service on your website or through a freelance marketplace like Fiverr or Upwork.
The tools I recommend for product descriptions are Jasper AI and ContentBot.
6) Create and sell PLR digital products
PLR info products are digital products that are licensed for reuse or even resell.
If you have been offering PLR products, then you'll be glad to note that your work just got a lot easier, as AI tools will shorten the time to create them.
Types of PLR products to create:
Articles
Presentations decks



eBooks
Video scripts
Autoresponder messages
Lead magnets
Brandable courses etc
How much you charge depends on the commercial value of the PLR product. For short articles, you could charge $5 while for eBooks and brandable courses, you could charge anywhere above $67. For shorter PLRs, you can bundle a few together to make the offer more exciting.
7) Create and sell swipe files
Swipe files are some of the most popular types of digital products that sell well today. Before, you would have to spend time researching, brainstorming, and rewriting your copy until you have enough to bundle together.
Today, with the help of a powerful AI tool like Jasper, you could comfortably create a swipe copy with 50-plus variants on a weekend.
Some swipe files ideas to try include:
Email outreach copy templates
LinkedIn outreach templates
Social media copy
Facebook ad copy
Email subject lines
Blog Intros



Product launch email swipe files
Product description swipe files
You might one to niche down to a specific product type or industry instead of all and sundry.
Ready to start making money with AI?
If that is so, then make sure you grab your Jasper offer to generate up to 10,000 words of content for free in the next 5 days after signing up.