We are beings in the process of becoming: always learning, evolving, and developing. This means that niches that help us in this intricate nature will always be profitable.
Since this is skills-based, the best way to monetize these niches is through digital products and online courses. Membership sites do really well.
For instance, I have been a paying customer of Skillshare for over 3 years now, taking over 15 classes every month on the skills that I wish to perfect as a person and as a business owner.
How to Find Your Personal Development Niche?
Before settling on a niche, make sure you do your research to find a profitable niche that you will love writing about. You also need to discover lucrative keywords that you will be targeting if you choose a specific self-improvement topic.
To help you fasten this process, you can use an affordable keyword research tool like SERanking that provides you with hundreds of related topics based on your queries.
What is Personal Development?
Personal development is the process of improving your life and helping you grow as a person. It can be about learning new skills, improving your health, or developing new habits that will help you achieve your goals.
It's an important aspect of our lives because it helps us to grow as people. It gives us the chance to learn new things, make changes in our lives, overcome obstacles and become better versions of ourselves by challenging ourselves mentally and physically.
As you can imagine, more and more people are investing in their personal development journeys through books, online courses, tools, and programs, making the personal development niche quite profitable.
Personal Development Brands
To help you have an idea of what you can do with this niche, here are some of the best and most successful personal development brands to explore:
| | |
| --- | --- |
| Teal (Career Growth) | Skillshare |
| Omega Institute | Mindvalley |
| Skillpath | Craftsy |
| Hay House Publishing | IndyWise |
| Blinkist | Masterclass |
| Noomii | Headspace |
The 5 Areas of Personal Development:
Personal development is a process that encompasses the five areas of mental growth, social growth, spiritual growth, emotional growth, and physical growth. You can also include financial growth as part of this process.
The niches I have highlighted on this blog will touch on these 5 areas of personal development:
a) Mental Growth: Mental growth involves learning new skills, challenging yourself mentally, and taking on new challenges. It helps you become more self-aware, and better at controlling your thoughts, making it an essential part of achieving success in all areas of life. Example niches include mindfulness and meditation.
b) Social Growth: Social growth is about making connections with others and developing relationships with people. It helps us develop stronger friendships and relationships with others, and become more accepting and tolerant of other people's differences. Example niches include communication skills and active listening.
c) Spiritual Growth: Spiritual growth is about finding meaning in your life and discovering what drives you. It helps us become more aware of our own spirituality and faith, as well as develop a deeper understanding and connection with God. Example niches include Christian Life and Finding inner peace
d) Emotional Growth: Emotional growth is about understanding your feelings and how they affect your life. It helps us to become more aware of our feelings, and hence better at controlling them. Emotional management can make a great sub-niche to write about.
e) Physical Growth: Physical growth refers to making sure that your body is healthy and fit so that it can support your mind and spirit as well as help them grow stronger over time.
f) Financial Growth: Financial growth is about becoming financially independent by managing your money wisely, saving for the future, investing wisely, etc.
Profitable Personal Development Niches worth exploring:
Let's now highlight some of the best sub-niches within the self-improvement space that you can blog about, and make money doing what you love:
Physical Health
Spiritual Health
Dating and Relationships
Healthy Living
Happiness
Stress Management
Anger Management
Money Management



Weight Management
Confidence
Self-Defense
Minimalistic living
Inspiration/Motivation
Goal Setting
Networking
Jobs and Careers
Career Growth
Parenting and Family Life
Self Awareness
Office Productivity
Post Graduation
Life Plans
Dating Tips for Men
Dating Tips for Women



Online Learning
Public Speaking Skills
Millionaire Mindset
Financial Planning
Financial Literacy
Productivity Hacks
Language learning
Public speaking
Rapid Language Learning
Mind reading
Self-defense
Upskilling
Learning apps and tools
Skills Development
Survival skills
Stage performance
Stage fright



Speed reading
Good Habits Development/ Habit Formation
Interviews and careers
Communication
Leadership Skills
Efficiency and organization
Focus
Study Tips
Time management
Personality Traits
Meditation
Empowerment
Wealth Development
Body Language Skills
Journaling
Positive Thinking
Art of talking to anyone



Public Speaking
Creative thinking
Crisis Management
Social Skills for teens and kids
Speed learning
Wealth management
Lifestyle Design
Procrastination
Emotional Intelligence
Money Habits
Enhancing personal skills
Overcoming Fear
Dreams and Aspirations
Soft Skills
Success
Personal Transformation
Self-expression
Creative writing
Note-taking
Adventure
Concept Mastery
Financial Independence
Improved Sleeping
Breaking bad habits
How to Make Money in the Personal Development Niches
Unlike other niches, this niche needs a deliberate monetization strategy in order to be profitable. You won't earn much with Display Ads, or even affiliate marketing, but if you can identify a specific problem that your audience is facing and create an info product that solves it, then you can easily earn passive income growing your blog.
Some info-products you should consider include:
Self-improvement eBooks



Online courses
Paid webinars and videos
Skill training classes on Skillshare
You can also monetize it by:
a) Affiliate Marketing
Some of the notable affiliate programs in the personal development space include:
Tony Robbins programs
Mindvalley
Audible
Masterclass
Synctuition Meditation App
David Wygant Dating and Relationships programs
b) Membership communities
You can create a ton of resources that are member-access only, build a membership site and create affordable packages for different audiences. To make your membership even more interesting, you can add office hours where you show up live and answer questions that your members may be having.
c) Offer online coaching and consulting services
This is another model that works well in the personal development niches. The good thing is with this, you can charge a premium based on your experience and expertise
Personal Development Products to Sell or Promote with Your Blog
People are spending more money on personal development, now than before. In fact, the industry is valued at a whopping US $43.77 billion in 2022 and is expected to grow at a steady 5.5% through 2030.
Here are some of the most profitable products and services in this niche:
Motivational speaking gigs
Holistic training companies
Personal coaching (life and business coaching)
Audiotapes
Personal development books
Audiobooks
Infomercials
Online seminars and events
Stress management programs
Productivity programs
Lead generation services
Profitable Personal Development Keywords
When developing content for your self-care blog, it's important to target keywords that will get you high Returns on Investment. Of course, you need products to go along with these search queries, so find relevant affiliate programs.
Here are just but a few search queries worth considering:
NLP for confidence



Dating confidence
Public speaking confidence
Performance confidence
Personal Coaching
Counseling
Cognitive Behavioural Therapy (CBT)
Confidence coaches
Assertiveness training
Sports Psychology
Business endurance
Marketing Psychology
Sales Psychology
Hypnotherapy
Business coaching
Mastering persuasion/Negotiation
Self Help Keywords
If your personal development blog leans towards self-help, then I've got some lucrative keywords as well:
Habit formation
Habit formation time
Self-help for work/anxiety/depression
Self-help books
Habits of successful people
Self-improvement tips
Self-help tips for low self-esteem
Self-help podcasts/quotes/books/courses/apps
Self-help books for teens
Self-help skills
Productivity music
Just a glimpse at these keywords, and you can easily tell what types of products you can promote and earn money through affiliate marketing.
Key Personal Development Stats to Note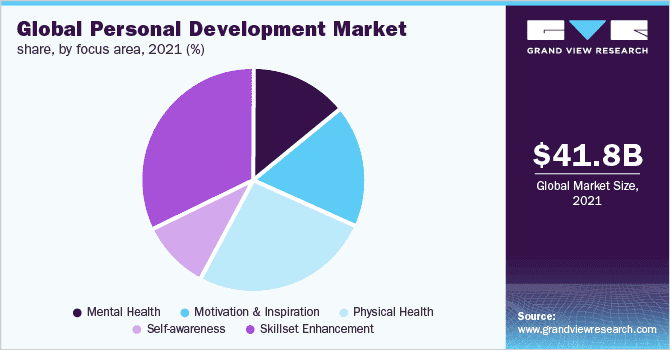 Personal coaching takes the largest market share at 38%
The personal development industry was worth $41.81 in 2021
North America accounts for the largest regional share, at 36%