Are you struggling to create engaging content for your Twitter account?
The X platform (formerly known as Twitter) has a lot of competition for creators, so you always need to keep your game up if you want to succeed.
Not everyone has the time to create dozens of viral tweets every day, and that's where AI tweet generators come in.
Thanks to these AI-powered tools, you can get the assistance you need to post high-quality content consistently and avoid writer's block.
This page will give you the top 9 AI tweet generators you can get in 2023. If you want to step up your game, keep reading!
Best AI tweet generators
1) Tugan AI
Tugan AI is a powerful AI tweet generator that allows you to create tweets that are actually useable right away.
These tweets make use of all the practices of a good X post, including captivating hooks, and seamless flow between lines.
What X posts can you create?
Normal posts
Long Twitter posts, helpful for Twitter Premium (Blue) users
X Threads
Why do I love Tugan for Twitter posts?
Once you sign up, you immediately fall in love with the UI and the simplicity of things inside Tugan AI. But what stands out from the rest of AI tweet generators are these two:
Create engaging tweets and Threads from existing blog posts. Simply enter the URL
Generate Threads from a list of keywords
Create tweets and threads from YouTube videos
And no, it's not just copying parts of the content and pasting. Tugan actually reads your content or video transcripts, analyzes it, and based on the best writing frameworks for short reads, turns it into actionable tweets.
I have found the content generated to be atleast 2X better than prominent AI tweet generators like Tweet Hunter. And that's maybe because Tugan doesn't strive to do everything… There are already powerful social media scheduling tools that you can leverage.
Now, Tugan, also allows you to create other types of short-form content besides tweets, including
Newsletters and sales emails
LinkedIn posts
If you have lots of content already published, Tugan is your choice. It excels better than the rest when it comes to short-form content and repurposing.
Using Tugan AI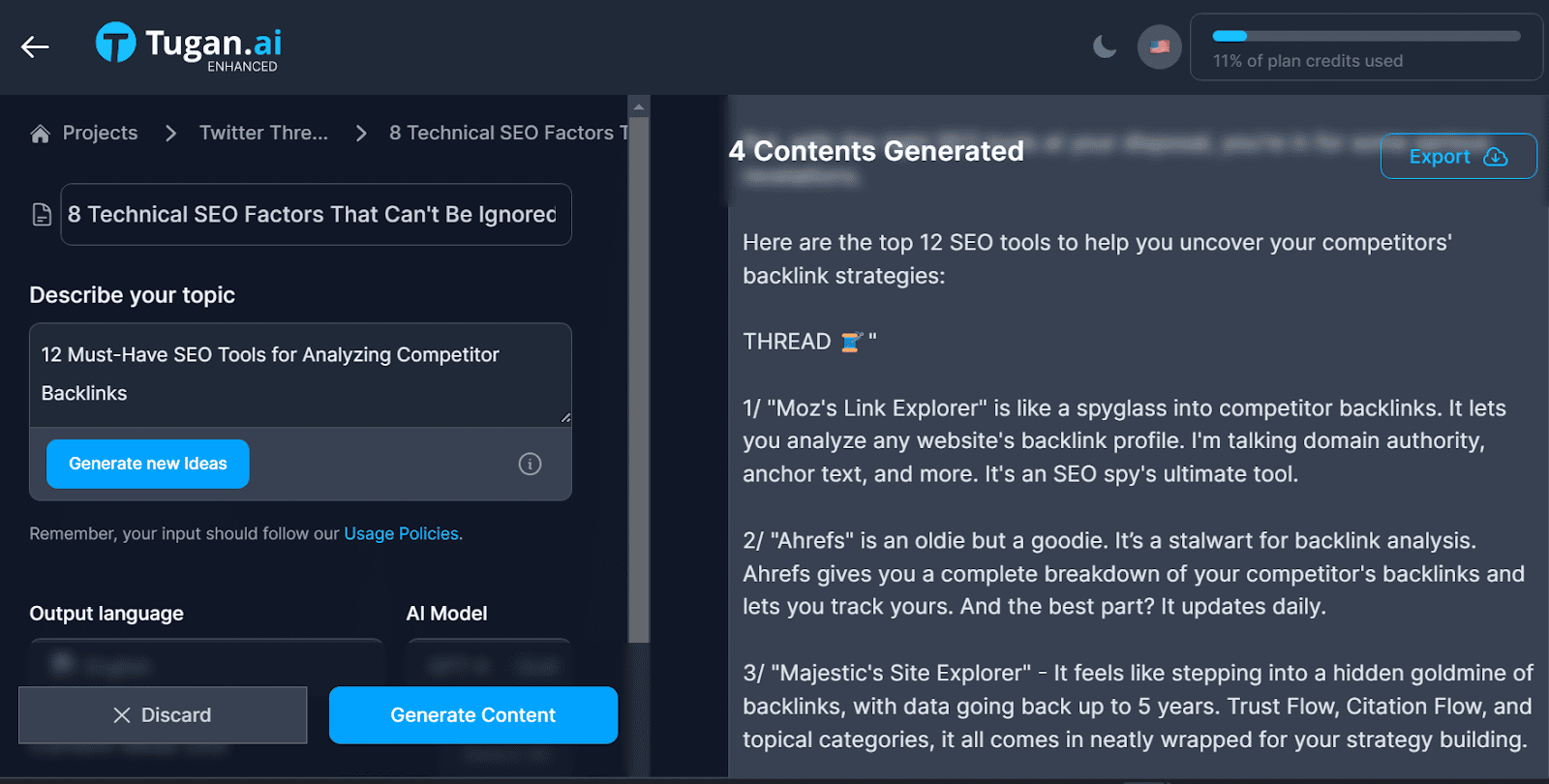 Once you sign up for the platform, all you have to do is select your Tweet generator tool of choice, give it a topic or URL, generate ideas, and then generate content.
Easy, peasy.
Generated content usually starts with a good hook, but you can always click on the Generate hooks for this Thread button that appears below each generation to get a list of 10 options.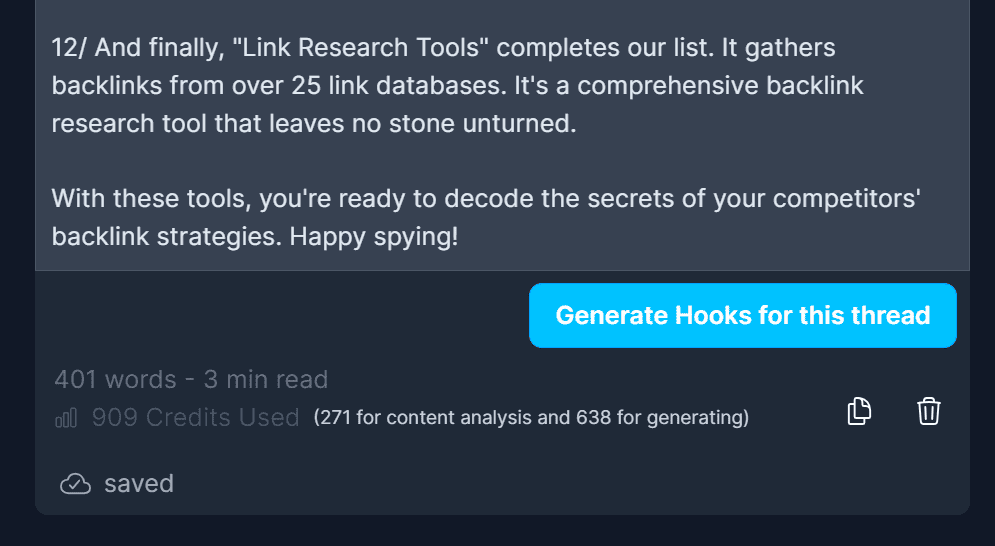 This workflow is what you need to get tweeting faster, and more efficiently. Look at these suggestions that Tugan recommended for me: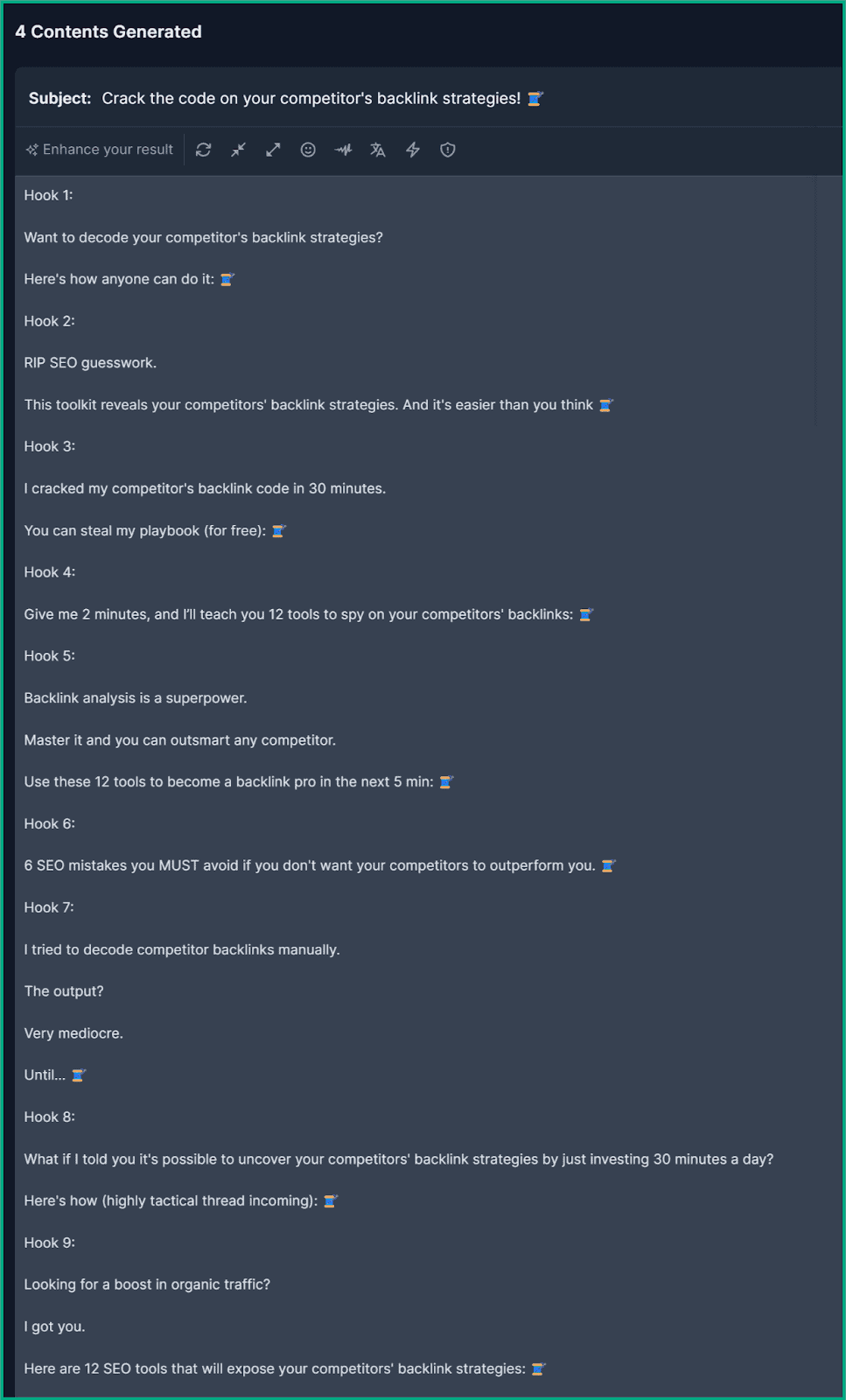 Once you have your tweets generated, copy them into a Word document or editor of your choice, and start editing from there.
Remember, if you want something that you can tweet right away, you are ahead of our time. You still need to do the work. Growing on X takes work.
Drawbacks
No easy way to turn your generations into X posts. You will still need to manually copy-paste each tweet or post in a thread.
No way to instruct the AI to generate content your way. For example, when generating a tweet from an article, I would have loved it to skip some headings.
If you are a busy business owner, a content creator looking to grow your X account and monetize, or an experienced copywriter ghostwriting Twitter and LinkedIn posts for clients, then this tool is definitely worth exploring.
Even though Tugan AI seems to be simpler than Tweet Hunter in terms of features, it still does the job for those looking for a quick and effective solution.
Tugan AI pricing
Tugan AI offers three plans:
Discover (Seven-Day Free Trial) – $0
Premium – $37 per month.
Pro – $97 per month.
2) Tweet Hunter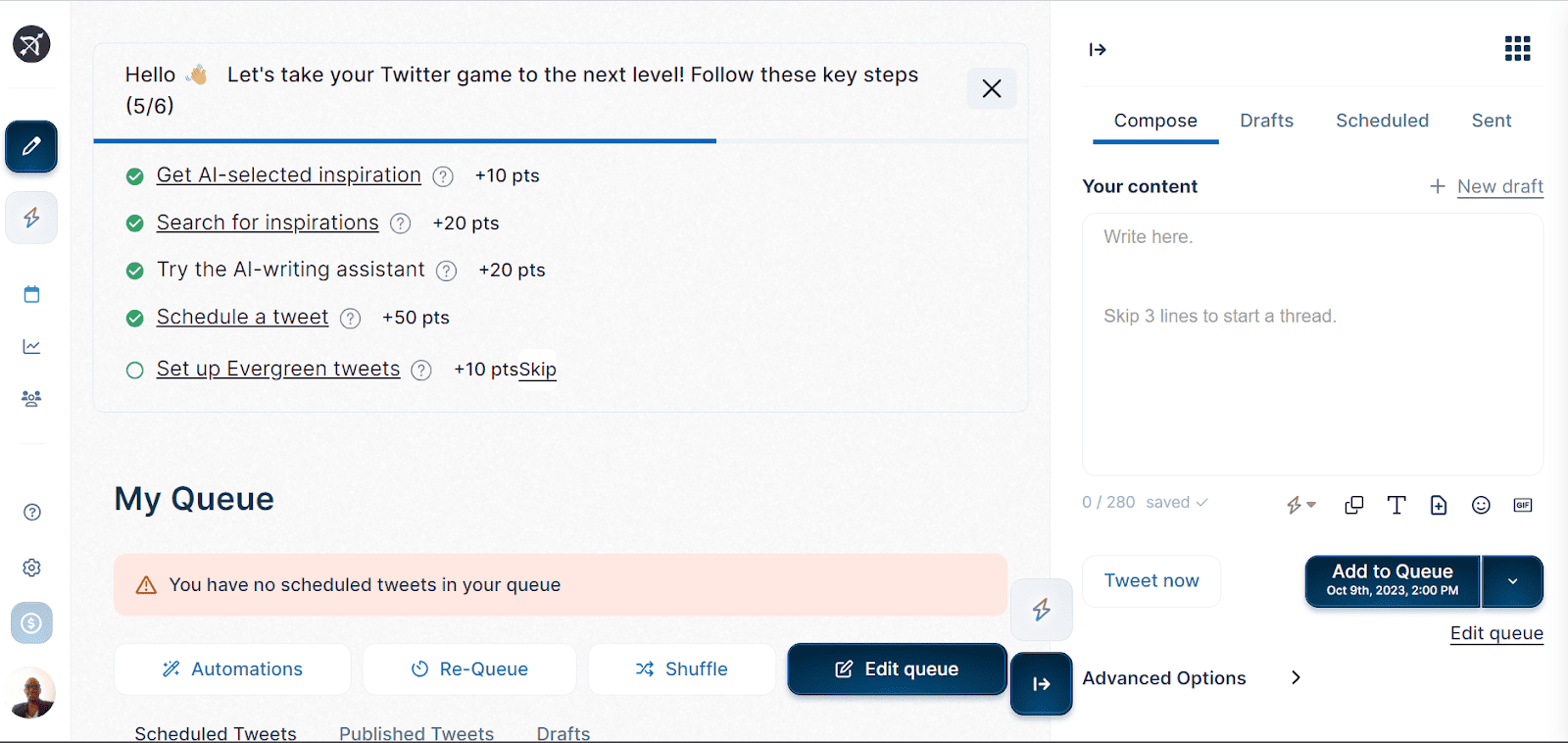 If you are looking for a more robust all-in-one tweet management system, then Tweet Hunter could be your solution
Tweet Hunter is one of the most popular tools for crafting tweets. The platform works with GPT-3 and GPT-4 to help you come up with the best content possible for your account.
Some of the best features you'll get from Tweet Hunter include:
Find high-performing tweets from creators to model
AI tweet writer and rewriter with TweetPredict feature
Scheduling and automation features
Schedule Threads as well
Auto DM feature
Retweets, Evergreen, and Autoplug
Twitter CRM feature
Find new leads on Twitter by adding a list of your dream clients
Chat Assist interface
There are also some helpful functionalities that can come in handy when trying to grow on X.
For instance, you can organize people into lists, find tweets to engage with and import people who interacted with a given tweet into Tweet Hunter CRM for organizing and building relationships.
Thanks to its analytic tools, you can also review your strategy and adjust it whenever you consider it appropriate.
Currently, Tweet Hunter offers a seven-day trial for those interested. Once the trial ends, you can choose from one of the following plans:
Discover – $49 per month.
Grow – $99 per month (or $49 if you have less than 1k followers).
Enterprise – $200 per month.
3) Hypefury
Hypefury markets itself as a "personal assistant" that can help you grow and monetize your audience.
As with the previous services, you can use Hypefury to create new and fresh content faster, allowing you to grow your audience and generate more sales.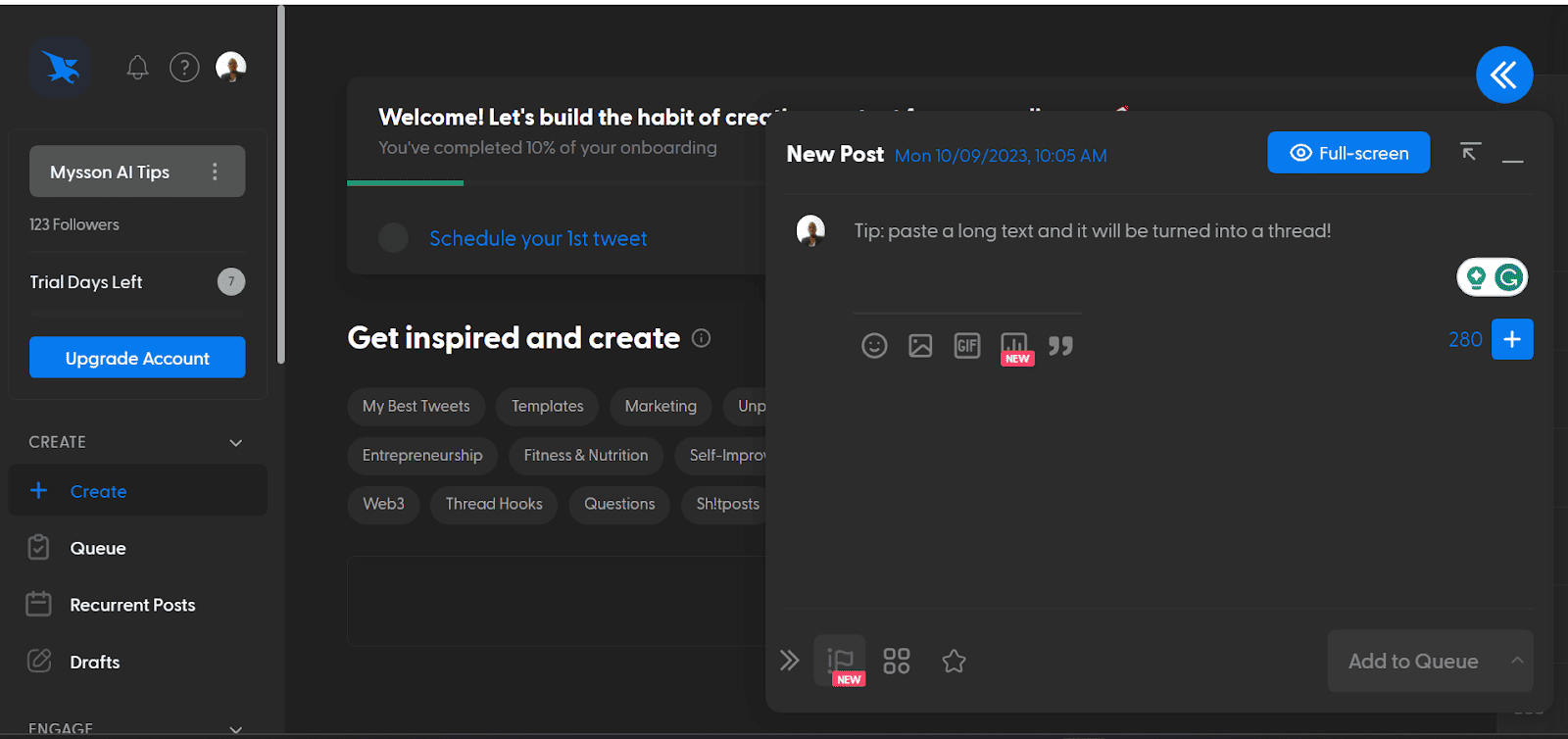 Some great features available at Hypefury include:
Automatic retweets/reposts
Auto-commenting
Instagram/LinkedIn integration
Inspiration from hand-picked top tweets from other X creators
Auto-comment feature to plug your newsletter, course, website, and product on your best-performing tweets
Auto-turn your tweets into Instagram images and post on the fly
Marketing Calendar
Threads writer and publisher
Blog posts to threads feature
Seamless integrations with Facebook, X, IG, LinkedIn, and Gumroad
Ability to invite ghostwriter
So, it's not an AI tweet generator, yet, but the features make it a stack worth exploring.
Hypefury pricing
Hypefury is currently one of the most affordable options on the list. Here are its plans:
Free – $0
Standard – $19 per month.
Premium – $49 per month.
You can get a 14-day free trial for both paid plans.
4) TweetAI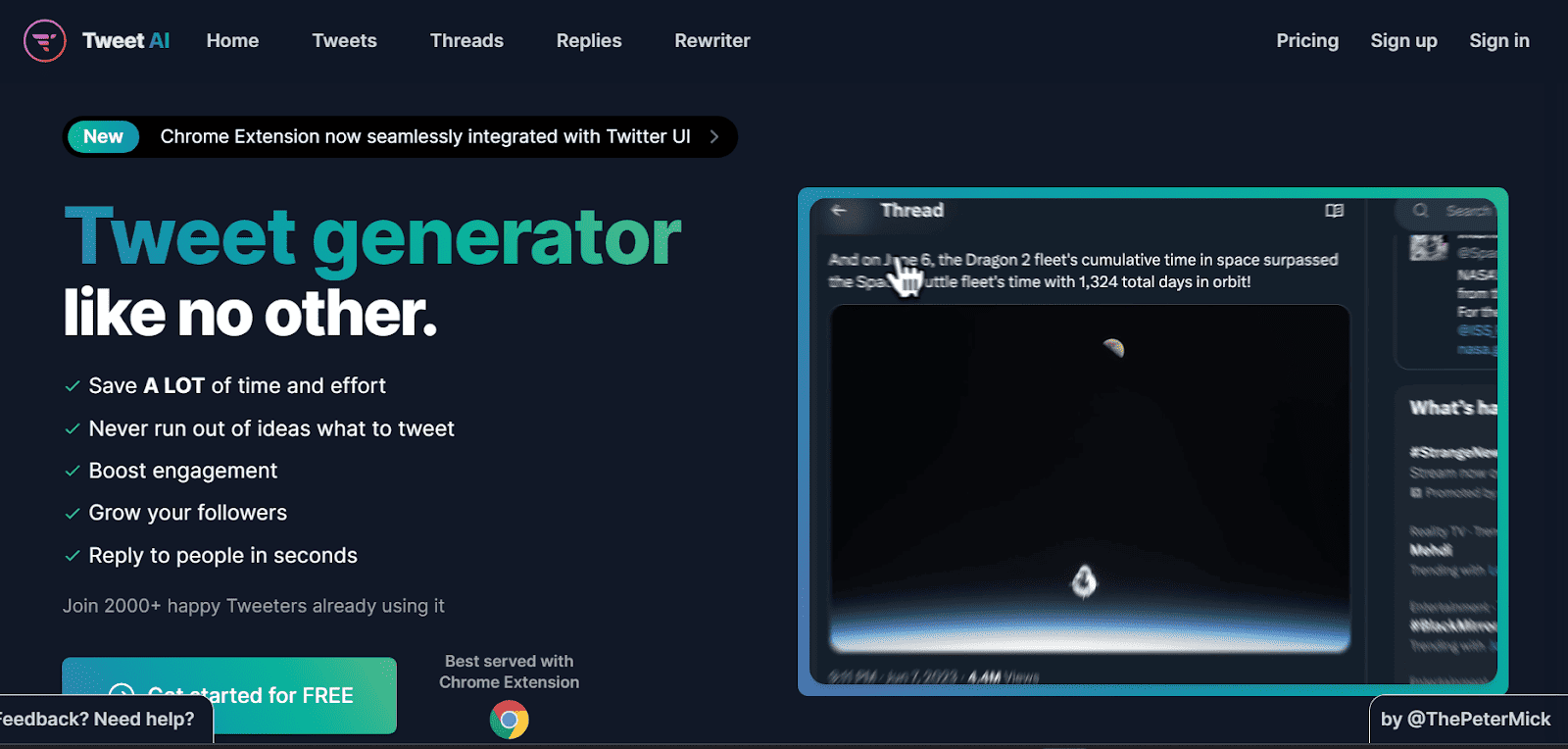 TweetAI focuses primarily on X (Twitter) tweets, but it also offers services for those threads posts.
The platform allows you to create personalized content within seconds thanks to its AI-powered engine.
Once you sign up, all you have to do is:
Tell the platform what you want the tweet to be about.
Enter your username.
Input how many tweets you want.
Set the tone.
Click on "Inspire Me."
The platform will give you a list of tweets that you can adjust to your liking. Here are some great features that this tool brings to your X posting experience:
AI-inspired replies
AI tweet generator
Old tweets rewriting
AI-inspired threads
TweetAI plans
TweetAI gives you two plans:
Free – $0 (30-tweet limit)
Unlimited – $9.99 per month.
You can also choose to pay for "tweet batches:" These are one-time payments.
200 tweets – $9.99.
400 tweets – $14.99.
600 tweets – $19.99.
5) TweetStorm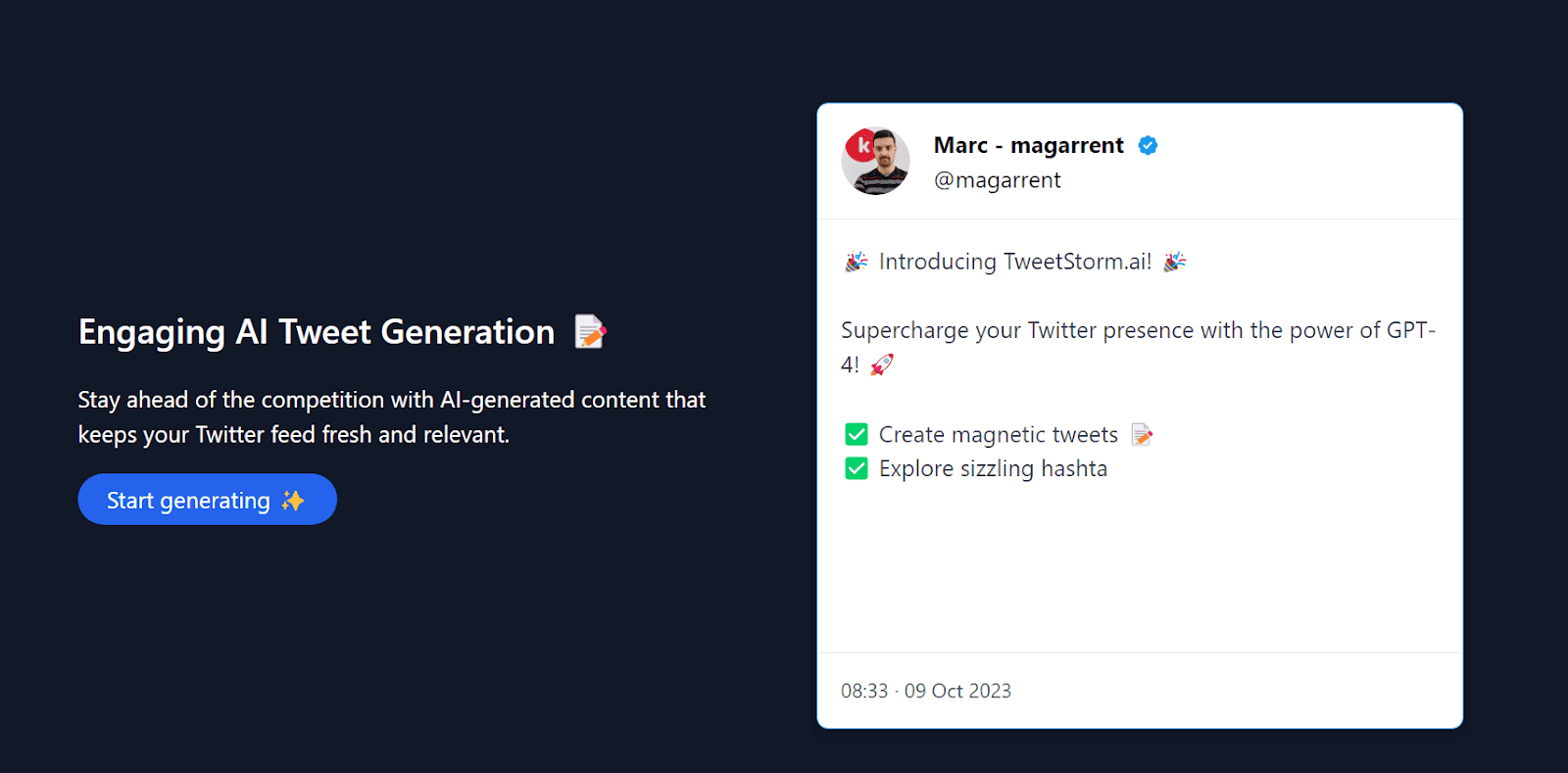 TweetStorm is an AI-powered generator designed to help you grow your audience.
Not only does it offer a smart tool to create engaging and viral posts, but it also gives you tools like:
Hashtag suggestions
Unique bios
Username generator
Unfortunately, this platform doesn't have some of the useful features that many creators enjoy, such as scheduling and automation.
Also, it's not as customizable as other tools on this list.
TweetStorm has three plans:
Hobby – $0
Professional – $12 per month.
Agency – 29 per month.
6) AI TweetFox
Even though TweetFox is still in its Beta phase, it offers quite a few tools to help you create content seamlessly.
Some of the features that will help you on your journey include:
Tweet creator
Viral tweet library
Analytics
Smart scheduling
You're free to adjust/rewrite the AI-generated tweets to fit your personality.
TweetFox AI pricing
Currently, TweetFox offers three plans:
Personal – $0 for 150 credits
Growth – $49 per month for 5000 tweet credits
Seasoned – $79 per month for unlimited credits
7) Thunderclap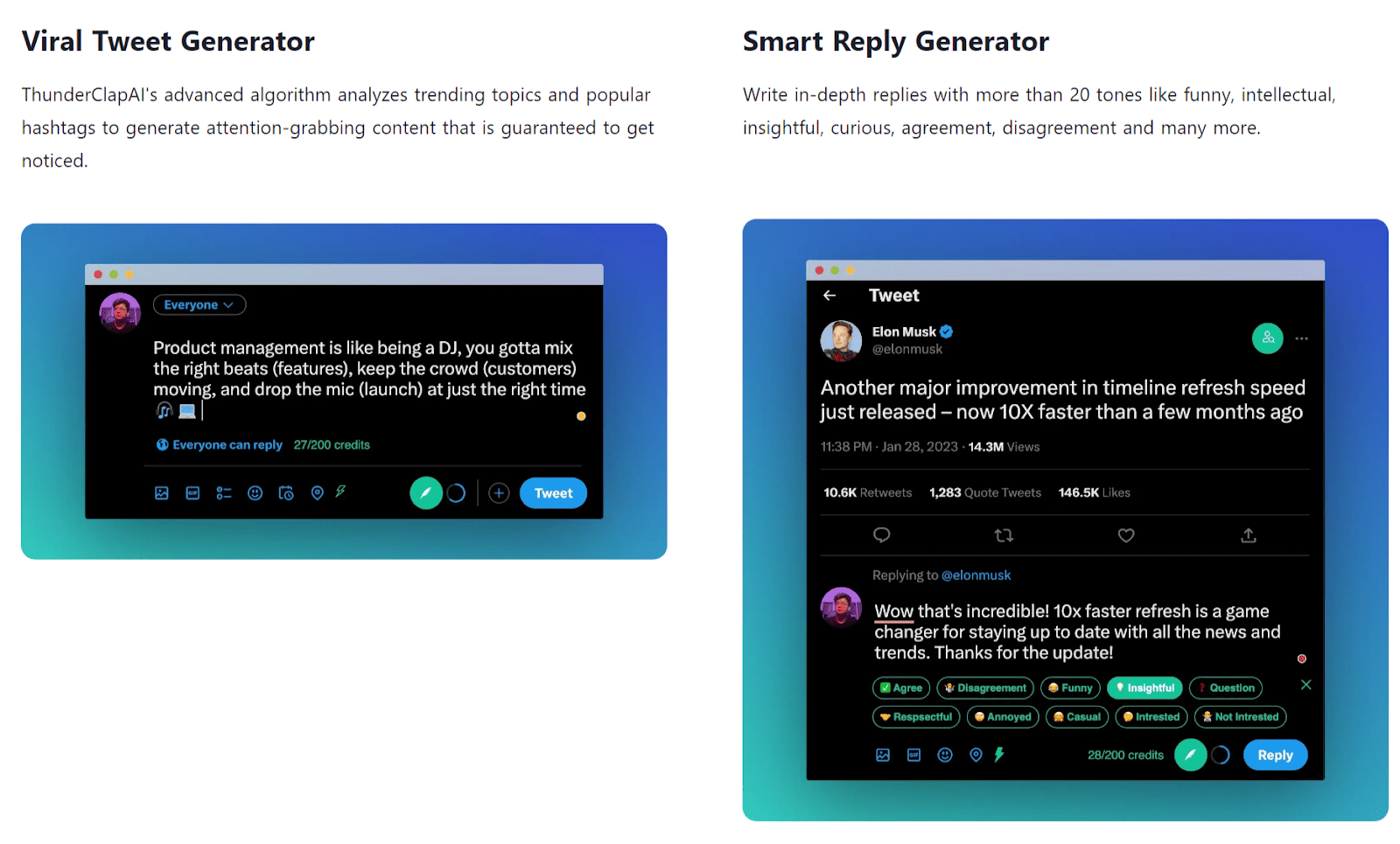 Thunderclap promises to "supercharge your Twitter game."
It allows you to generate viral tweets and smart replies, to help you build your audience faster
The only downside to Thunderclap is that it only comes with those two features only.
If you're looking for something more, you may want to consider the other options on this list.
Still, we believe Thunderclap is more than enough for those looking to generate tweets fast.
Thunderclap offers four plans:
Free – $0 for 20 credits
Starter – $7.5 per month for 200 credits
Booster – $15.9 per month for 700 credits
Viral – $24.2 per month for 1000 credits
If you're on a budget and don't want to have all the fancy features that other products have, this could be an excellent choice.
8) Tweetmonk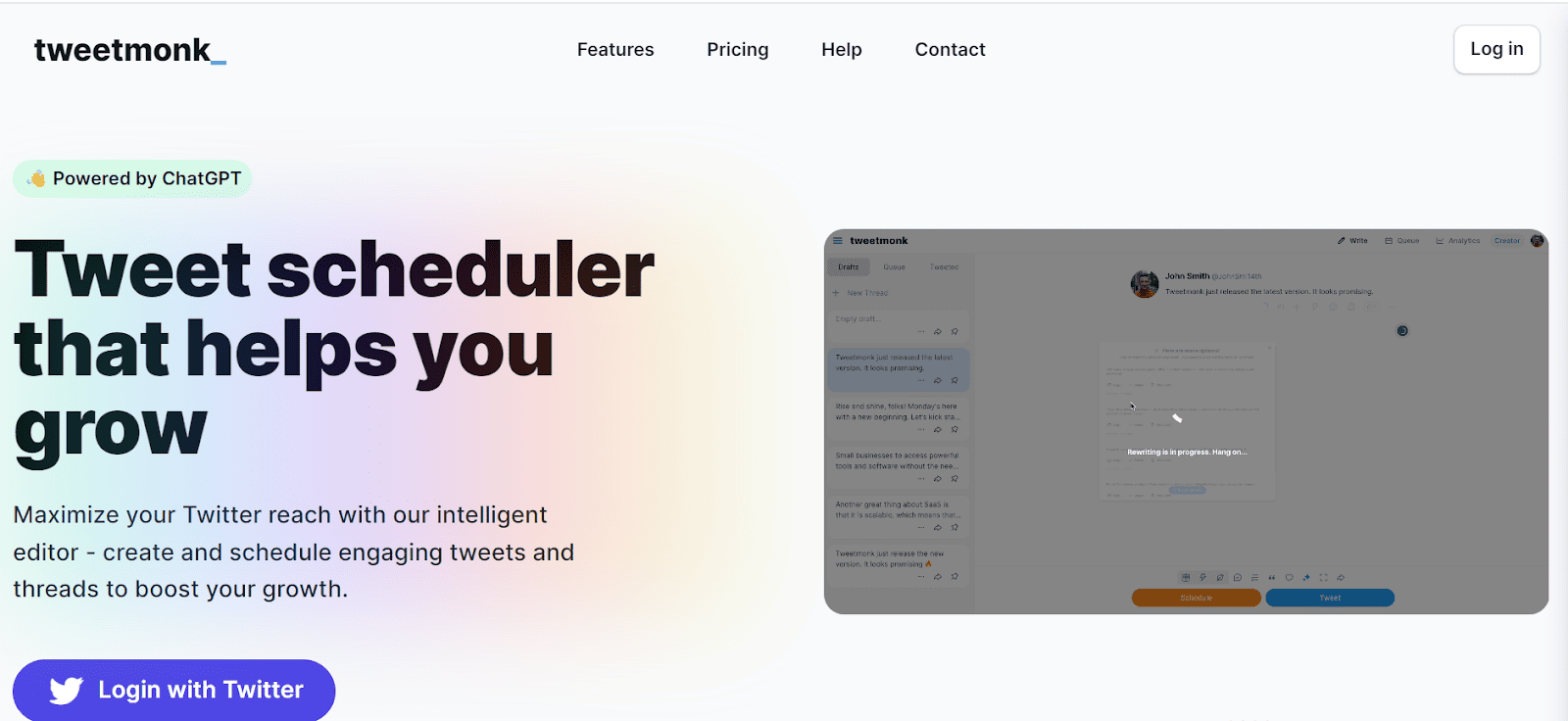 It's a scheduler powered by AI. Thanks to the platform, you can plan your content easily and within minutes.
Tweetmonk uses an AI-powered interface that helps you create, edit, and finish your content.
Even though it currently uses GPT-3, it offers more than enough for those who only want "base" content to customize themselves.
Besides AI writing, you also get scheduling tools, meaning you won't have to worry about manually posting everything.
This is great if you're dealing with a high volume of posts.
Other features to love:
Intelligent splitting of long posts into threads
Support for images, gifs, and videos
Support for poll posts
Threads ideas and hooks
AI writing tools
Auto tweet numbering to make your thread tweets easy to follow
Quote the first tweet at the end of a thread
Tweetmonk has two plans:
Solo – $10 per month for managing one account
Creator – $24 per month for managing 5 accounts
The main difference between the two is that the "Creator" plan allows you to connect up to five accounts, whereas the "Solo" plan only gives you one.
9) Tribescaler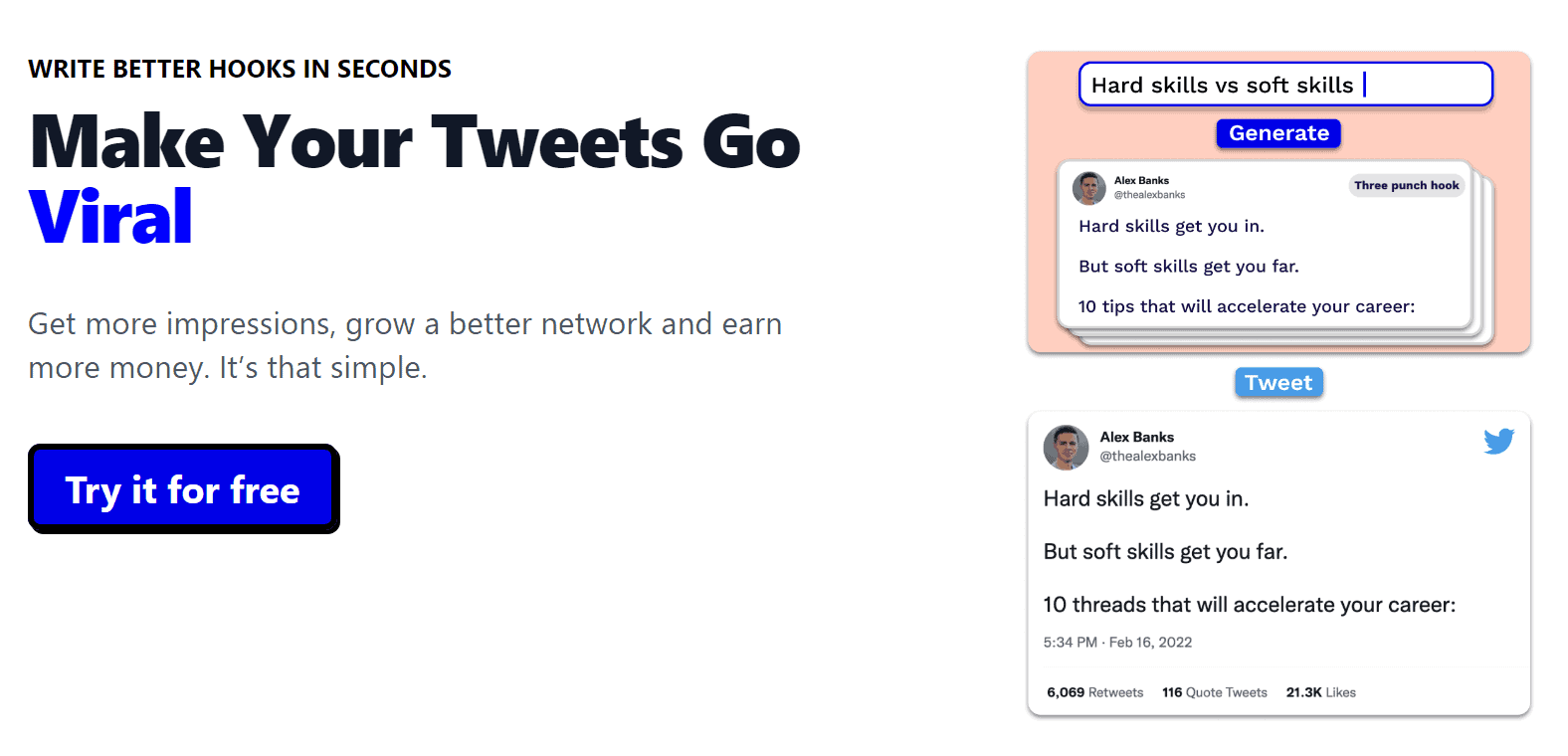 Tribescaler allows you to write better tweets and hooks fast.
What makes this platform different from the rest of the AI tweet generators on this list is that it focuses on people who want to create threads.
It gives you a compelling first tweet (hook) that will make people want to read the rest.
There are only two plans for Tribescaler:
Free – $0 for up to 500 words per month
Pro – $49 per month for unlimited words and early access to the thread writer feature
Conclusion
Finding the right AI tweet generators for your X growth goals is vital. I hope our list has given you an idea of which tools are worth exploring.
Here are the top three from our list: