Looking for an AI video generator software for your business?
Here's the thing: videos are becoming a preferred way of consuming content online, so being able to create content faster is something that every marketer should strive for.
In an era where AI is intruding into every aspect of our lives, the video industry isn't spared.
There are several AI video generators on the market today that are being used by real businesses, large and small, to streamline video content production.
Choosing an AI video generator
When picking an AI video generator, you want to choose one that:
Has a super-intuitive user interface
Is not too advanced for the content you want to create
Can handle video content that you will be producing
Produces videos with high resolutions
The truth is, figuring out these criteria will take you a while, but since investing in video software results in higher ROI, it's worth it. To help you out, I have summarized a few of these text-to-video generators in this article
Best AI video generator tools for professional spokesperson videos
1) Synthesia AI video generator
If you've been playing around with SaaS tools, chances are you might have come across sales videos with the Synthesia spokesperson that resembled the one in the image below: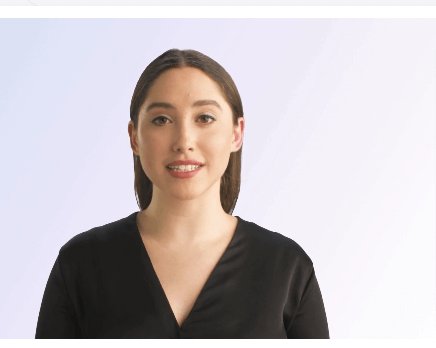 That's Anna, an AI Avatar by Synthesia that you can 'hire' to be the spokesperson for your business. And yes, she's multilingual, speaking over 50+ languages.
Interesting, right? And she isn't alone. There's Emma, Mia, Angela, Dave, and 50+ other avatars to choose from.
No kidding: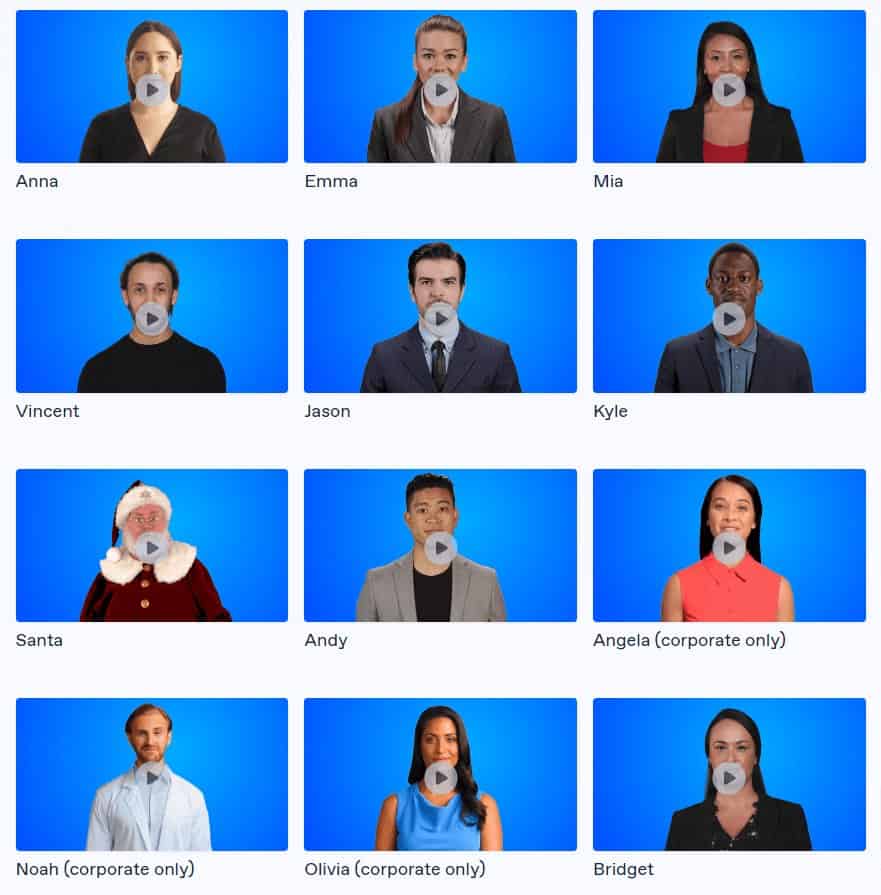 And several others.
In fact, these AI writing tools use Emma AI Video Character above in their videos:
Popular Synthesia use cases
Product walkthroughs
Learning and development
Corporate communications
Sales videos
SEO marketing videos
Video chatbots
These are just a few examples of how you can use videos generated by Synthesia AI.
How does it work?
Synthesia's interface is no no-brainer. Simply log in to your dashboard, feed your script, select and customize your gravatar and video details such as backgrounds and branding colors. Synthesia generates a spokesperson video for you in minutes with all the effects of an actual human, such as eye movement and facial expressions.
You can upload your own background image and music to match your branding if you like. The AI presenters have unique voice narration capabilities, just like humans. Some are more corporate than others. Being ultrarealistic virtual humans, it's almost impossible to tell them apart from actual human spokespersons.
You can create a free video with Synthesia using the link below to have a feel
Main features of Synthesia AI
Create videos in more than 40 languages, making it easier to scale content localization.
Merge videos: you can easily create multi-slide videos by merging Synthesia-created videos into one long video, without the need to move your files to a video editing software.
Ability to duplicate videos. You might want to create several videos with the same introduction text but a different body, such as discussing product features. This is where this feature comes in handy.
Voice customization: Love an avatar but don't like how they sound? Synthesia makes it easy to customize how your script is narrated. You can use a different narrator voice, replace synthetic with authentic human voices, or even your own by uploading your own recording.
Custom Avatar: Okay, needy one…maybe you don't even like how these avatars look. Now you can upload a custom avatar and use that one instead, either with a narrator voice of your choice or your own customized voice. With this feature, you can add yourself as the presenter and narrate the script as if you were actually recording it in your studio, but it's the AI doing all the work.
API access, making it easier to extend the use of the Synthesia avatars, including enhancing social media posts in the creation and scheduling platforms and even customizing chatbots.
Synthesia pricing
Synthesia offers two pricing options:
Personal— $30/month with 10 video credits
Corporate— custom pricing
The difference between these plans is that the corporate gives you access to corporate avatars and advanced features such as custom avatars, premium services, and more customization options.
2) Synthesys.io
Another great AI video generator tool is Synthesys which enables you to quickly create AI voiceovers and AI videos for any use case as per your needs. With this tool, you can generate voices to enhance your product demos, explainer videos, or even TV commercials.
What makes Synthesys different is its large pool of over 75 real human actors and 80 real human voices that span across a variety of ages, ethnicities, and languages, making it work for almost any business.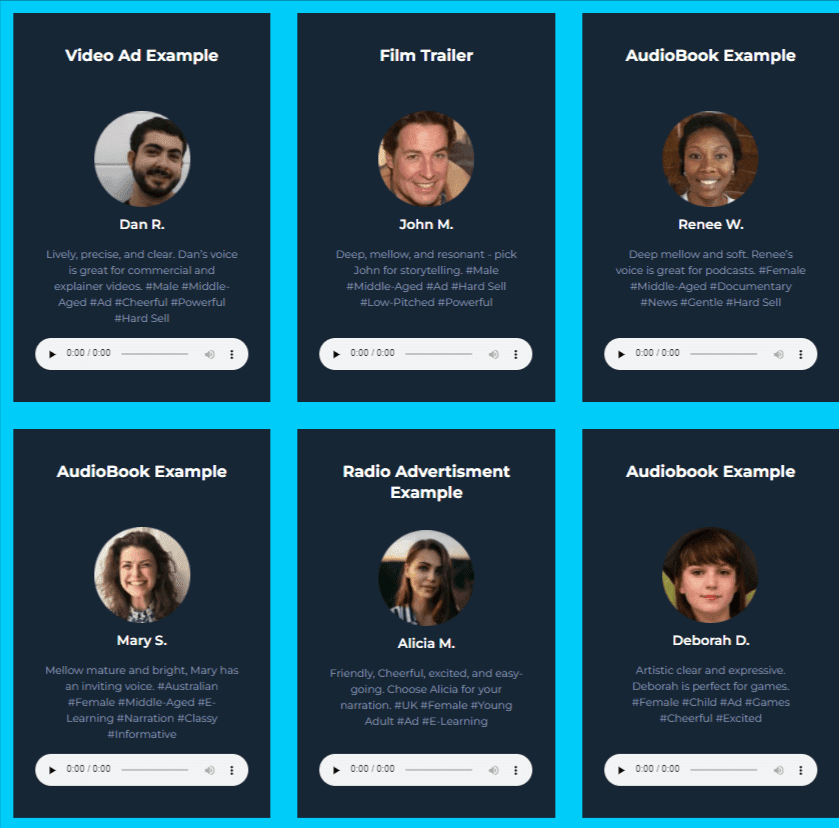 With the text-to-speech ai generator, you can create a wide range of voiceovers, as per the needs of your creative. Whether you want to create:
Enthusiastic commercials
Documentary-style videos
Friendly greetings or
Captivating storytelling,
You can! This is possible because Synthesys provides a wide range of voices with varying tones, languages and reading speeds.
How Synthesys.io works
To start generating voiceovers and videos with Synthesys, all you need is to log in to your account, choose your spokesperson, select your preferred voice, add your script, define your background and then click on the çreate' button.
You can have a look here to explore different use cases that are possible with Synthesys.
3) DeepBrain AI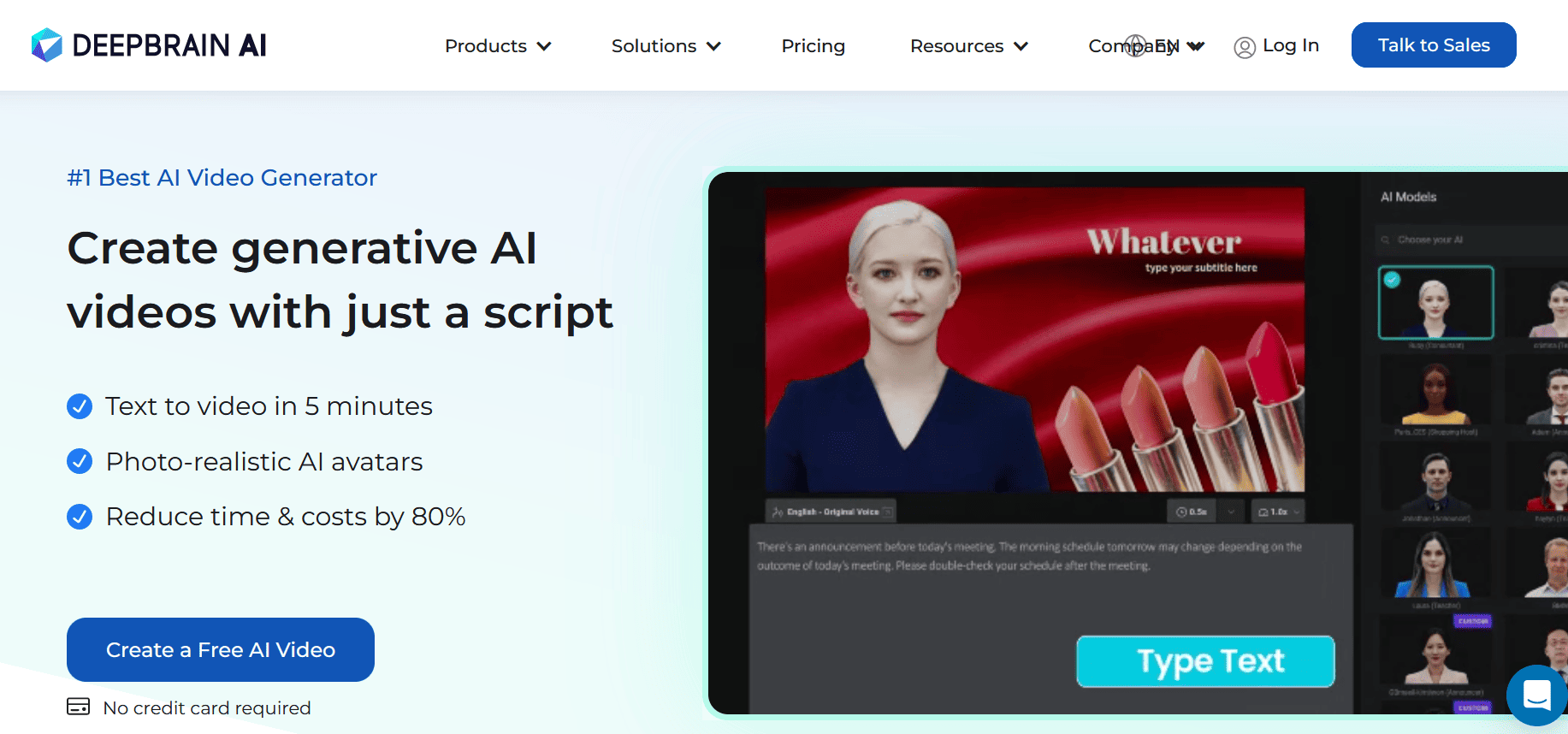 DeepBrain AI is a video automation platform that enables users to quickly create high-quality videos by following a set of steps.
It offers features such as AI Human, AI Studios, AI Interview, Rememory, AI Avatars, Text to Video, AI Video Generator, PowerPoint to Video, ChatGPT, Deepfake, and Online Video Maker.
It also provides solutions for financial services, retail & commerce, education, and media.
DeepBrain pricing
DeepBrain pricing starts from $30/month, for upto 10 minutes of video content a month, which is at par with other AI video tools in this list. For business plans, the Pro plan is a better option starting at $225/month for upto 90 minutes a month, and access to exclusive features such as priority video processing and API access.
4) Rephrase.ai
Another competitive AI video generator on the market today is Rephrase.ai, a powerful tool for creating studio-quality AI videos with just a few simple steps.
Powered by Generative Adversarial Networks, GANs, Rephrase leverages deep learning frameworks to analyze, understand, and interpret your script to generate great videos.
This tool functions just like Synthesia, requiring you to choose a template and select a narrator, and a corresponding voice of choice. Next, type in or paste your scripts, click on generate and watch the AI create amazing videos for you within minutes. You also can customize a few aspects of your videos to fit your brand guidelines.
The voice narrations are surprisingly good, and the style does vary from one character to another. So spend time testing different presenters to find one that fits your style.
Main features of Rephrase AI
Apart from the highly realistic presenters and voice narration capabilities, here are other notable features of Rephrase AI:
CTAs: You can add Call to Action labels to your videos that help you generate leads for your business.
Personalization: You can use merge tags to create personalized videos that spell out your contact's names. You can also use merge tags in video titles that appear on the video landing pages.
Custom landing pages: Create custom landing pages for your videos, with the ability to add custom CTAs and change primary accent colors to your brand colors.
Video Editing Studio: Access a suite of video editing tools that help you improve your videos without the need for third-party software.
Custom Actors: Similar to Synthesia Avatars, Rephrase presenters are referred to as actors. You can use the custom actor feature to replace the built-in stock presenters with yourself or one of your team members.
Rephrase AI popular use cases:
Personalized sales videos
Internal training videos
Explainer videos
Education content videos
Rephrase.ai pricing
Pricing for Rephrase Studio:
Starter plan— $25/month for 10 video credits
Enterprise plan— custom pricing
You will need the Enterprise plan to use custom actors and API and access more video credits.
Pricing for personalized videos:
Starter plan— $100/month for 10 campaigns and 300 personalized video credits (You can create up to 10 campaigns targeting 300 contacts in total.)
Expert plan — $500 per month for 50 campaigns and 2000 personalized credits with access to features such as custom actors, Zapier workflows, and embeddable landing pages
Enterprise plan— custom pricing— access to API integration and custom actors capabilities to your video personalization suite.
Rephrase.ai pros
Ultrarealistic virtual presenters
Ability to add CTA to video landing pages
High-resolution videos
Rephrase.ai cons
Fewer actors or avatars to choose from
Custom actors capability only available in the enterprise plan
Limited features than the competition
5) Synths video
Synths video uses Synthesia avatars to create videos with text overlays (captions), suitable for social media and YouTube.
With this tool, you can easily and quickly convert your existing articles into videos with just one click. If you've been wanting to start a YouTube channel to promote your business, but never got time, then this tool can come in handy.
Main use cases:
Drive sales from YouTube
Grow your brand on social platforms
Create marketing videos faster
Main Features:
One-click video generation: Simply enter your article URL and let the tool summarize the content and generate videos for your posts in minutes, hands-off.
Access to 40+ presenters: If you loved Synthesia ultrarealistic avatars, they are built into the platform, ensuring brand consistency.
YouTube video optimization: Access to a suite of tools that help you optimize your videos for YouTube. Analytics features are also planned for this tool. You can auto-upload your videos to your YouTube channel right away.
Synths video pricing
Synths Video has two plans:
YouTube Start: offered at $399/month that allows the generation of 10 videos
Custom plan: Starting at $800/month for 20 videos with access to features such as custom avatars, RSS feed, YouTube thumbnails, video branding, and multi-language support.
Best AI video generator for social media
If you just want simple text overlay videos that you often see on social platforms like Instagram and Pinterest with background music and no voice narration, then these tools can help
6) InVideo
InVideo is more of an AI Video creator tool than a generator because you do need to do the work to have the tool produce videos for you. It's template-based, just like Animoto and Vivavideo, which are video makers.
To create a video using InVideo, you need to type in your texts, choose a suitable template and then customize the results to ensure that your video is professionally done.
This tool is suitable for creating any type of video content, from presentations, slideshows to memes and promo videos.
7) GliaCloud
GliaCloud is a great AI video generator that helps you turn any content piece into an engaging video. This is a great way to repurpose your list posts for social and even YouTube.
Instead of hiring someone to do this for you on Fiverr, you can do it yourself with full control over what visuals to use for what scenes.
GliaCloud is super simple to use. Simply paste your URL or upload your article, choose AI summarizer, and press generate. Once done, you have an option to preview and edit scenes as you like them.
Some of the things you can do with GliaCloud include:
Adding transition effects
Customizing background music
Changing video layout
Enable automatic voiceovers
Add your own voiceovers
Video editing etc.
GliaCloud pricing
Pro plan: $300/month for up to 50 videos, 20GB upload storage and 720 pixels resolution
Business plan: $550/month for up to 100 videos, 60GB upload storage and 1080 pixels resolution.
Enterprise plan: custom pricing for mass video production and managing multiple brands.
Other automated video creation platforms
Below are some other popular AI video generator platforms: