Thinking of starting a mindfulness blog? In that case, exploring some of the best mindfulness blogs should be your first step to help you figure out how to approach yours.
As a mindfulness blogger, you will be helping your readers to
Practice mindful living in a way that befits them
Become more attuned to their current realities
Raise their tolerance levels
Reduce instances of anxiety, panic attacks, phobia, and depressive thoughts.
Become more aware of their current environs and those around them
Carry out meditation practices that enable them to tackle life challenges in a more composed manner
Increase their ability to regulate emotions and hence reduce stress, anxiety, and depression.
As you go through the mindfulness blogs below, try to find how these blogs try to achieve the objectives above, and question if it's an approach that you would take with your own blog.
Mindfulness Blogs I Love
1) My Self-Love Supply Blog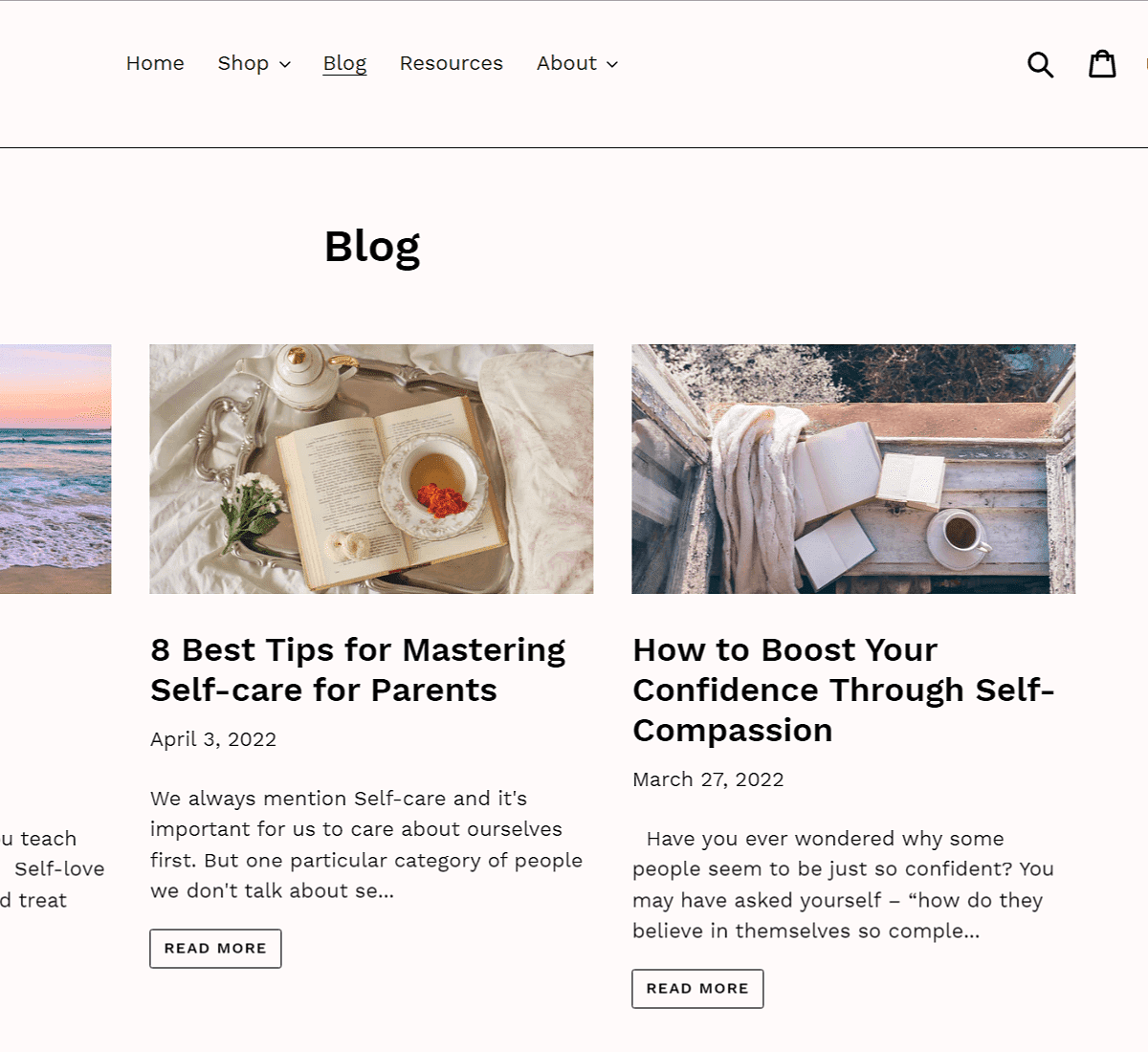 Self-love is a vital component of mindfulness, and My Self-Love Blog focuses on this component through a constant supply of self-care tips, healthy living advice, and mental health care reminders.
Past topics include:
Mind, Body, and Bubbles — Starting a Self-Care Routine
Seasonal Activities for Wellness
Daily Habits for Staying Motivated and Happy
Choosing Your Mindset Deliberately
Why Meditation Should be a Part of Your Daily Routine.
Founded in 2019, My Self Love Supply website and blog aim to provide tools and resources that help people to practice self-care at emotional, mental, and physical levels.
Monetization Models:
This blog makes money by selling digital products
2) Mindful.org
Tagged healthy mind, healthy life, Mindful is a popular mindfulness blog that reaches millions of readers every month. This blog takes a more professional approach when it comes to its editorial process.
Interesting mindfulness topics covered in the past have included:
How to practice gratitude
How mindfulness mediation eases the challenges of anxiety and ADHD
The Science of wanting: How we unhook from Dopamine
What Science says about the power of outbreath
As you can tell, most articles are written by subject matter experts, making this blog a more authoritative source in the Mindfulness space.
Extended channels:
Mindful Podcast
Mindful Magazine
Mindful YouTube Channel
How Mindful.org makes Money
Subscription Model: To have unlimited access to all the Mindful.org articles, you will need to buy a monthly or annual subscription at $2.49/ month.
Online Courses: This blog offers over 33 premium online courses, challenges, and webinars on mindfulness-related topics such as De-stressing, Working with pain, Work Mindfulness, Mindful writing, Self-care, Meditation essentials, etc.
Digital products: Besides courses, Mindful also offers other types of digital products that include meditation audio tapes, meditation challenges, and digital magazines.
Mindfulness Coaching: With four sessions that are 25-minute long, this coaching program starts at $375 per program, making it accessible to most individuals. If you will be offering coaching programs on your blog, you would want to visit the Mindful sales page to identify what makes their programs successful.
This blog also makes sustainable income through display ads, sponsored content, affiliate marketing, and self-hosted ads.
3) Pocket Mindfulness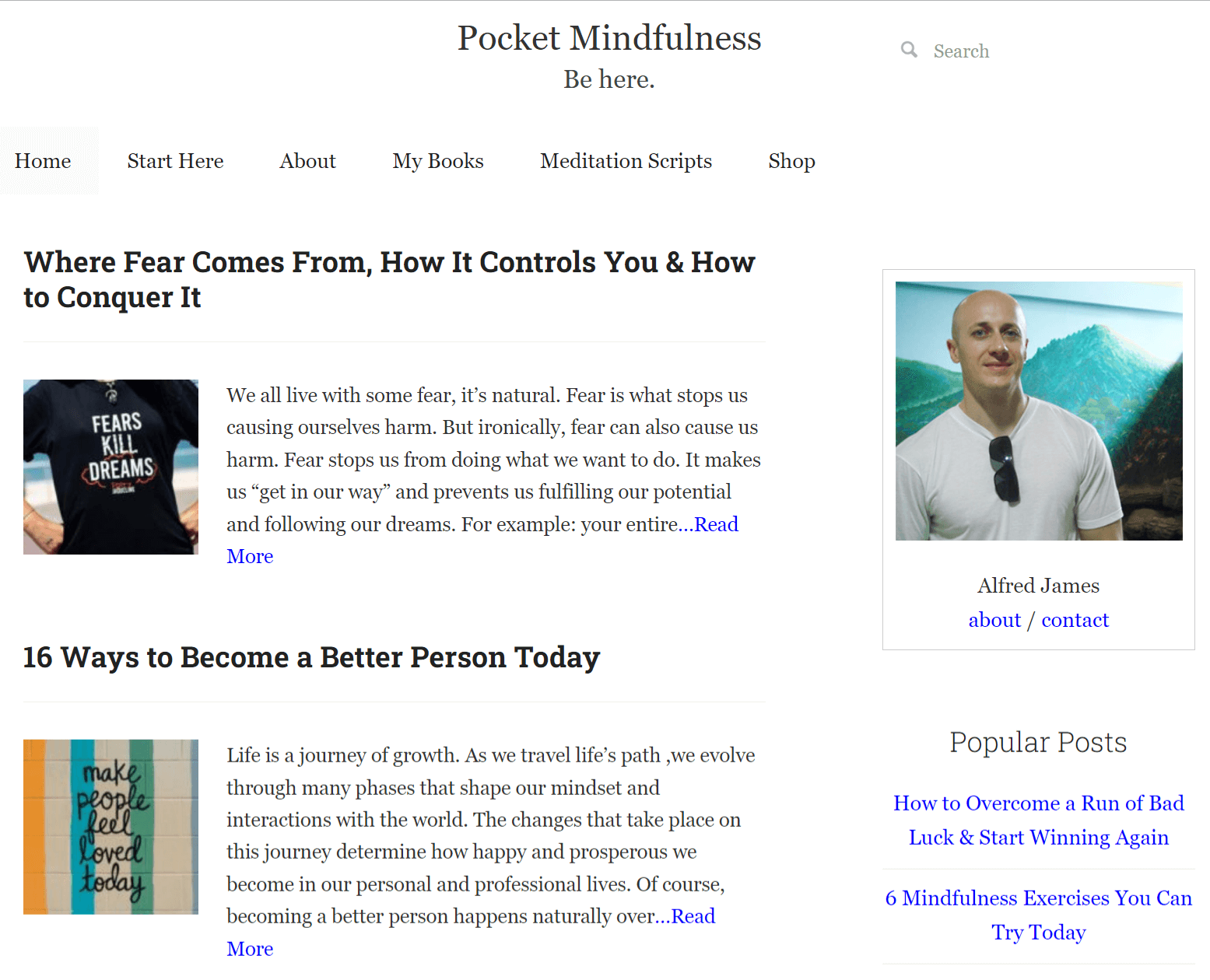 Taking a more simplistic approach in its design, Pocket Mindfulness is a resourceful blog tackling topics on happiness, mindfulness, etc.
Some of the topics covered in the past include:
Overcoming a run of bad luck and winning again
6 Mindfulness exercises to try today
Living in harmony with your mental companion
The art of self-sabotaging
How to practice loving-kindness meditation
4 Proven principles of success I didn't learn until I was 30
At the time of writing this post, Pocket Mindfulness didn't seem to be doing any Display ads, but I did notice other monetization models:
Affiliate Marketing: this blog recommends products from Amazon, and is part of the Amazon Associates Program
Digital products: Pocket Mindfulness sells ebooks that are available on Amazon Kindle and Clickbank, and online courses on Mindfulness available on their Shop page.
4) The Blissful Mind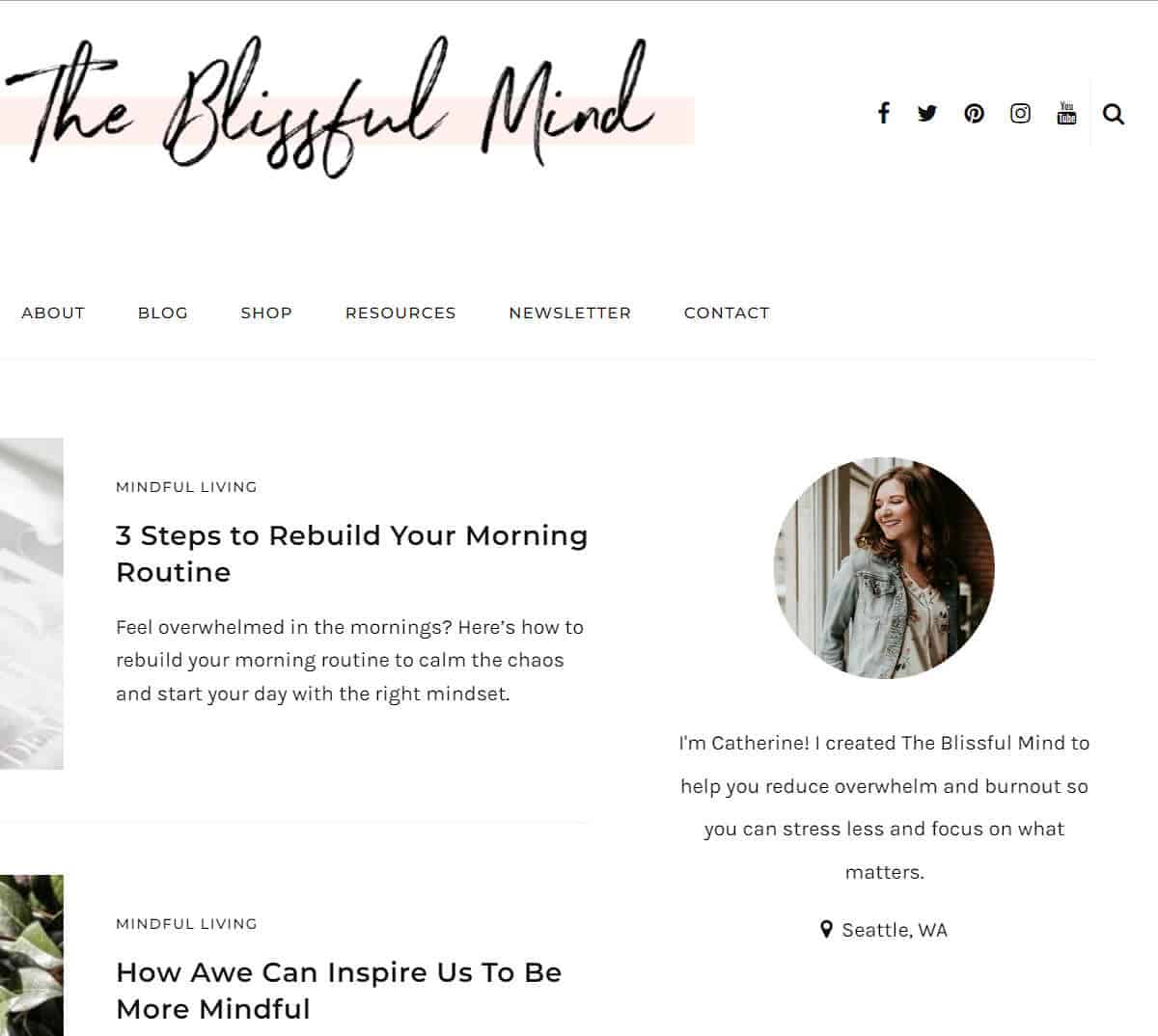 Founded by Catherine Beard in 2014, The Blissful Mind is a great blog that helps people improve their mindset and productivity, develop self-care routines and boost their self-esteem.
Some interesting mindfulness blogs include:
How we can improve us to be more mindful
Steps to rebuilding your morning routine
How to organize your week according to the planets
Letting go of what doesn't serve you
How to practice gratitude when it's not working for you
Since starting the blog, Catherine has gone ahead to earn her Master's degree in Health and Wellness Coaching, giving her content much-needed credibility in the mindfulness and wellness space.
How The Blissful Mind Makes Money
Infoproducts: Online courses ( Catherine's signature program is 21 DAYS OF CALM)
Other digital products: self-care journals, toolkits, journal templates, etc.
Display Ads: this blog is part of the Mediavine Ad network and makes money displaying ads within its content.
5) The Mindful Project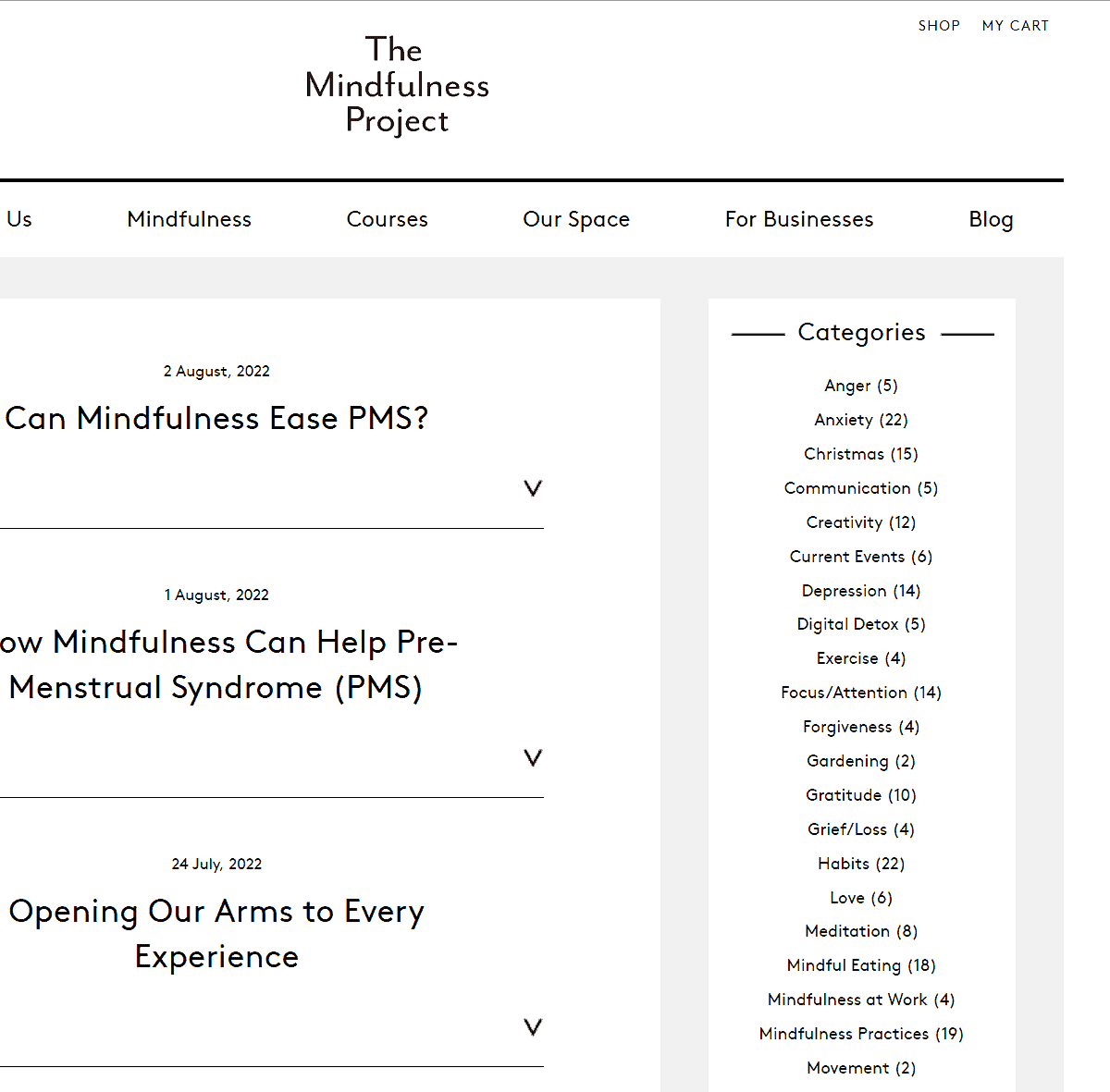 The Mindful Project by London Mindful is a website that is dedicated to all matters of mindfulness, founded by Alexandra Frey and Autumn Totton in 2013.
The blog tackles all topics related to mindfulness such as mindfulness practices, life experiences, easing anxiety and depression, self-acceptance, self-care, stress reduction, etc.
Here are past topics covered on the topic:
5 common misconceptions of self-compassion
Dealing with Impostor Syndrome
Meeting imperfection with kindness
Unleashing creativity with mindful photography
Mindful Birthing
Why we procrastinate and how mindfulness can help
What you notice when you visit the blog page, is that all posts use the toggle content approach, instead of reloading pages when you click on post titles. While this improves user experience, it might hurt SEO if not done correctly.
Monetization Models:
This blog makes the majority of its earnings through digital offerings in terms of online courses, meditation practices, and mindful journaling workshops amongst others.
Should you Start a Mindfulness Blog
As you go through the mindfulness blogs above, you will realize that there are several options at which you may approach this blogging space.
What's important though is that you need to know your stuff. To be successful in this space, you need to offer helpful and actionable advice, without all the empty rhetoric.