Are you a passionate blogger seeking to monetize your website and boost your earnings?
If so, you might have come across Mediavine, a popular ad management company that has helped thousands of content creators maximize their ad revenue.
But before you can join the Mediavine family, it's essential to understand their requirements and application process.
This blog post will provide you with a detailed Mediavine review, focusing on the 2023 new Mediavine requirements, the application process, payment methods, terms, alternatives, etc.
What is Mediavine?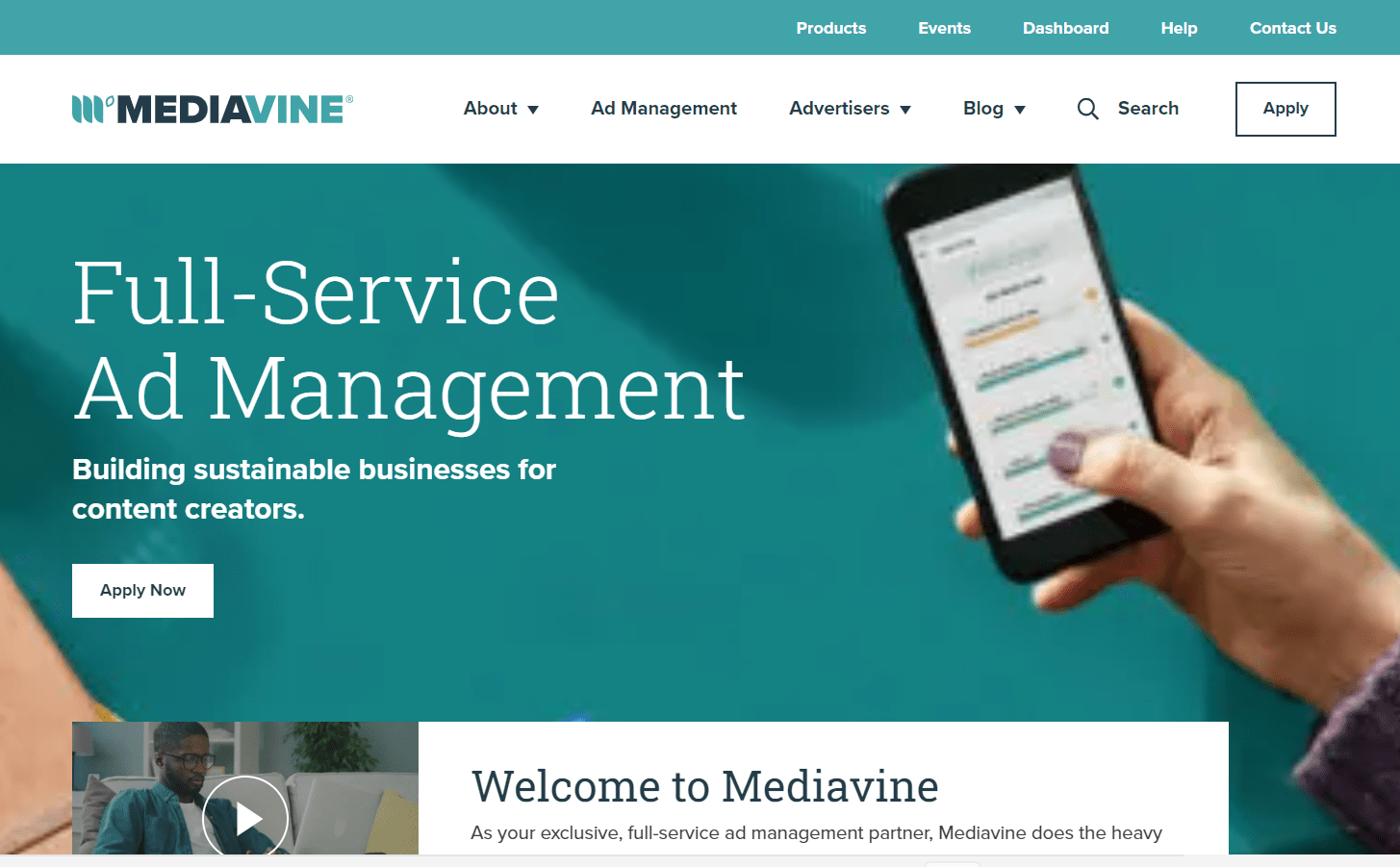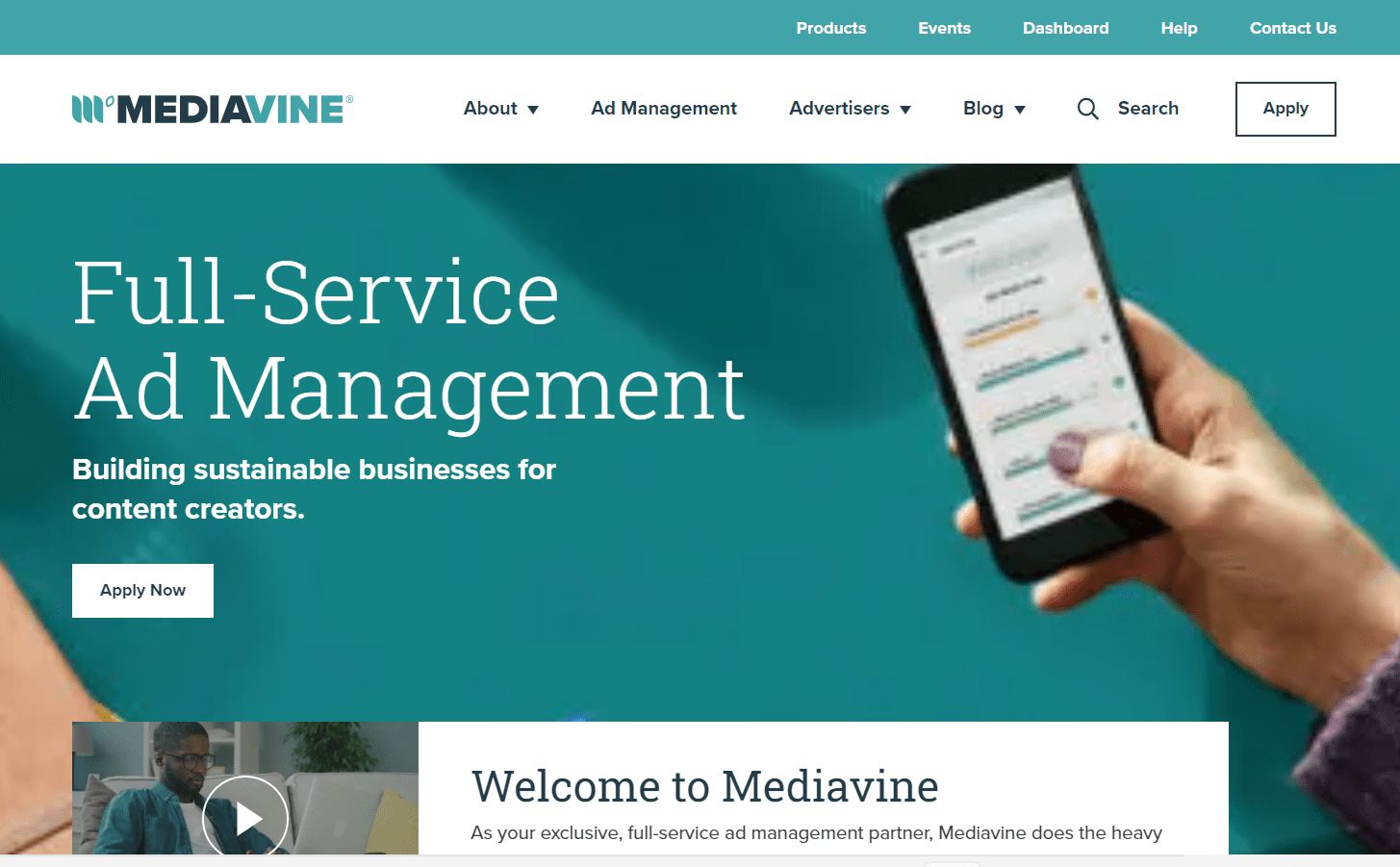 Mediavine is a full-service ad management company that helps bloggers and content creators monetize their websites through display ads, video ads, and sponsored content.
Founded in 2004, Mediavine is known for its commitment to user experience, site speed optimization, and programmatic advertising.
The company began as a publisher itself, operating several large websites before transitioning into ad management.
The company focuses on partnering with publishers in various niches, such as lifestyle, food, travel, and parenting, connecting them with premium advertisers to generate higher earnings.
Their firsthand experience as publishers has helped them understand the unique needs and challenges that content creators face. As a result, they have developed a suite of tools and services that enable publishers to earn more revenue from their websites.
Why did Mediavine requirements change in 2020?
In 2020, amidst the Covid-19 pandemic, Mediavine updated its requirements for a few reasons.
The primary goal behind the change was to ensure that Mediavine maintained high-quality standards for the publishers in its network, which would, in turn, help deliver better results for advertisers and improve overall ad revenue for publishers.
Understanding Mediavine requirements
To join Mediavine, your blog needs to meet specific requirements.
Here's a breakdown of the key criteria:
a) 50,000 monthly sessions
Mediavine requires your website to have a minimum of 50,000 sessions per month, as measured by Google Analytics. This traffic requirement helps ensure that your website has a sufficient audience to generate meaningful ad revenue.
This number is two times higher than what was required in 2020 before the new changes were announced.
b) Good standing with Google AdSense
To qualify for Mediavine, your website must be in good standing with Google AdSense. This means you must adhere to Google's policies and guidelines regarding content quality, ad placements, and prohibited content.
Having a good standing with Google AdSense indicates that your website is trustworthy and likely to meet Mediavine's content quality standards.
c) Original content
Mediavine accepts publishers from any niche, as long as they are lifestyle-focused. This means that your website should focus on topics related to everyday life, such as food, travel, fashion, or home improvement.
Your content must be original, which means it cannot be copied from other sources, and it should provide value to your readers.
d) Long-form, engaging content
Mediavine looks for websites with long-form, engaging content that keeps readers interested and encourages them to spend more time on your site.
By creating high-quality, in-depth content, you can increase user engagement, which can lead to higher ad revenue potential.
e) Similar requirements for a second website
Before the 2020 Mediavine changes, you only needed to garner 25,000 sessions for your first blog, and after being accepted you would only need 10,000 sessions for your other websites to be accepted.
That's no longer the case though. For every website that you submit to Mediavine, you'll need 50,000 sessions, regardless of whether you already have approved websites with them or not.
How Mediavine benefits content publishers
One of the main reasons content publishers choose Mediavine is the potential for higher ad revenue. By working with premium ad networks and optimizing ad placements, Mediavine helps publishers earn more from their websites.
Let's explore some of the key benefits of using Mediavine.
Higher ad revenue potential
Mediavine's advanced optimization techniques and access to premium advertisers ensure that you earn the highest possible revenue from your ad placements.
By continuously testing and refining its ad strategies, Mediavine ensures that your website's earning potential is maximized.
Access to premium ad networks
As a Mediavine publisher, you gain access to top-tier ad networks, including Google AdExchange, AppNexus, and more.
These networks provide high-quality ads, which translates to higher earnings for you.
Mediavine RPM
Revenue Per Mille (RPM, meaning revenue per thousand page views), is a metric used to gauge the performance of ad placements on a website.
While the RPM varies depending on several factors, such as niche, seasonality, and website quality, Mediavine is known to provide competitive RPMs compared to other platforms.
The formula for calculating Session RPM is:
Session RPM = (Estimated earnings / Number of sessions) * 1000
For instance, if you earned $1,200 over the last 30 days and had 50,000 sessions, your Session RPM would be $24(($1,200 / 50,000) * 1000 = $24 ).
Now, determining the average Mediavine RPM isn't straightforward, as Mediavine is a programmatic-first network where no two sites are alike.
Programmatic advertising involves advertisers purchasing ads based on a combination of your site's audience, content, and past ad performance.
Given the variations between sites in these aspects, comparing even two travel blogs, for example, is not simple. At Mediavine, sites can perform vastly different from one another due to factors such as ad partners, site speed, content formatting, theme layout, and audience makeup.
That being said, on average, Mediavine publishers have reported RPMs ranging from $10 to $30. However, it's important to note that this is only an average, and actual RPMs can be higher or lower based on various factors.
To have a rough idea of how much you can make, consider going through Mediavine income reports for blogs similar to yours.
Mediavine verticals
Mediavine works with a diverse range of websites and offers a variety of verticals to cater to different niches and industries.
The verticals are designed to provide targeted advertising and content optimization solutions for publishers within specific markets.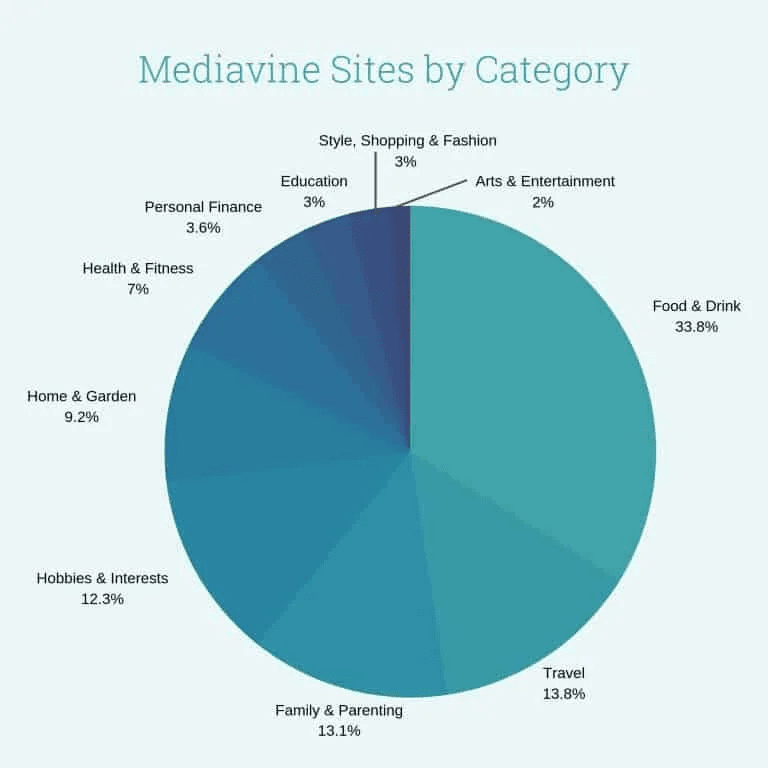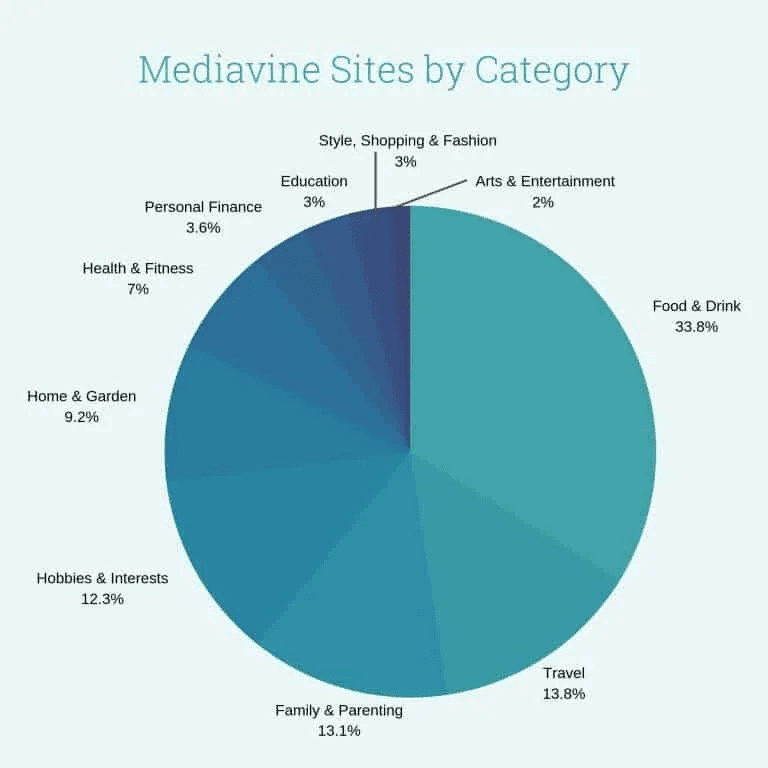 While food-related websites have always represented a significant segment of Mediavine's inventory, the company has expanded into many other niches.
An approximate breakdown of Mediavine's community by category:
Food & Drink: 33.8%
Travel: 13.8%
Family & Parenting: 13.1%
Hobbies & Interests: 12.3%
Home & Garden: 9.2%
Health & Fitness: 7%
Personal Finance: 3%
Education: 3%
Style, Shopping & Fashion: 3%
Arts & Entertainment: 2%
Mediavine Food
If you are a food blogger or have been searching for Mediavine sites, you may have come across the term "Exclusive Member of Mediavine Food" in the footer of some websites.
This leads to questions like:
What is Mediavine Food?
Is Mediavine Food more or less competitive to get accepted than other Mediavine categories?
What other categories does Mediavine form industry-specific partnerships with?
Mediavine Food is one of the several "buckets" or general categories that Mediavine uses to organize publisher websites by vertical, making it easier for ad partners to target their intended audience.
This designation is used for any food or recipe-related sites as a way to categorize them into individual categories. This ensures that when advertisers buy ads through the various platforms that Mediavine uses to populate the advertising space on these sites, the ads show up on the correct kind of site.
Mediavine has always been well-known for its strong presence in the food blogging niche. Initially, food-related websites constituted a significant portion of the company's ad inventory, with about 47% of publishers falling under the Food & Drink category.
Recognizing the potential for engagement and advertising value in this space, Mediavine initially considered focusing solely on food-related content.
Today, the food vertical is still the largest category in their pool of partner websites.
Example of a Mediavine Food blog:
Pinch of Yum is a popular food blog that focuses on providing readers with delicious and approachable recipes, cooking tips, and insightful food photography.
The blog covers a wide range of culinary topics, from appetizers and main courses to desserts and vegetarian dishes. By sharing personal stories, expert recommendations, and beautiful visuals,
Pinch of Yum aims to inspire its audience to cook and enjoy food at home.
Mediavine Travel
Mediavine Travel is a dedicated vertical focused on providing tailored advertising and content management solutions for travel bloggers and publishers.
These sites are assigned to a single Comscore category, which helps boost publishers' buying power by pooling impressions from multiple publishers.
This increases the collective size, making individual Mediavine Travel sites part of a high-paying, powerful category, allowing travel bloggers to improve their RPMs to levels they might not be able to reach otherwise.
Such sites often have a disclaimer: Exclusive member of Mediavine Travel
Mediavine Travel is the second largest category after food and drinks.
Example of a blog running Mediavine Travel ads:
Yoga, Wine & Travel is a travel blog that focuses on providing readers with inspiration, tips, and advice on exploring the world through yoga, wine, and unique travel experiences.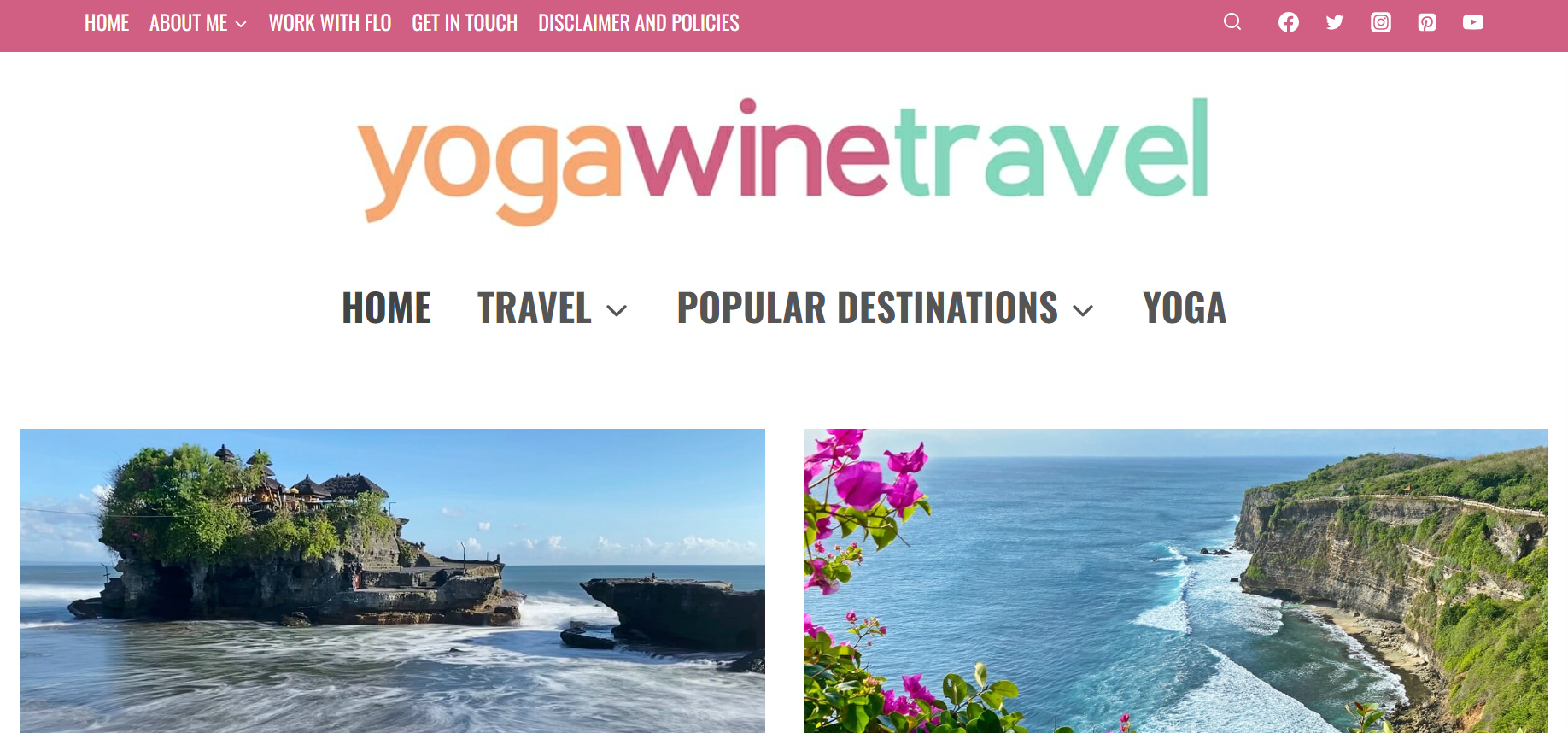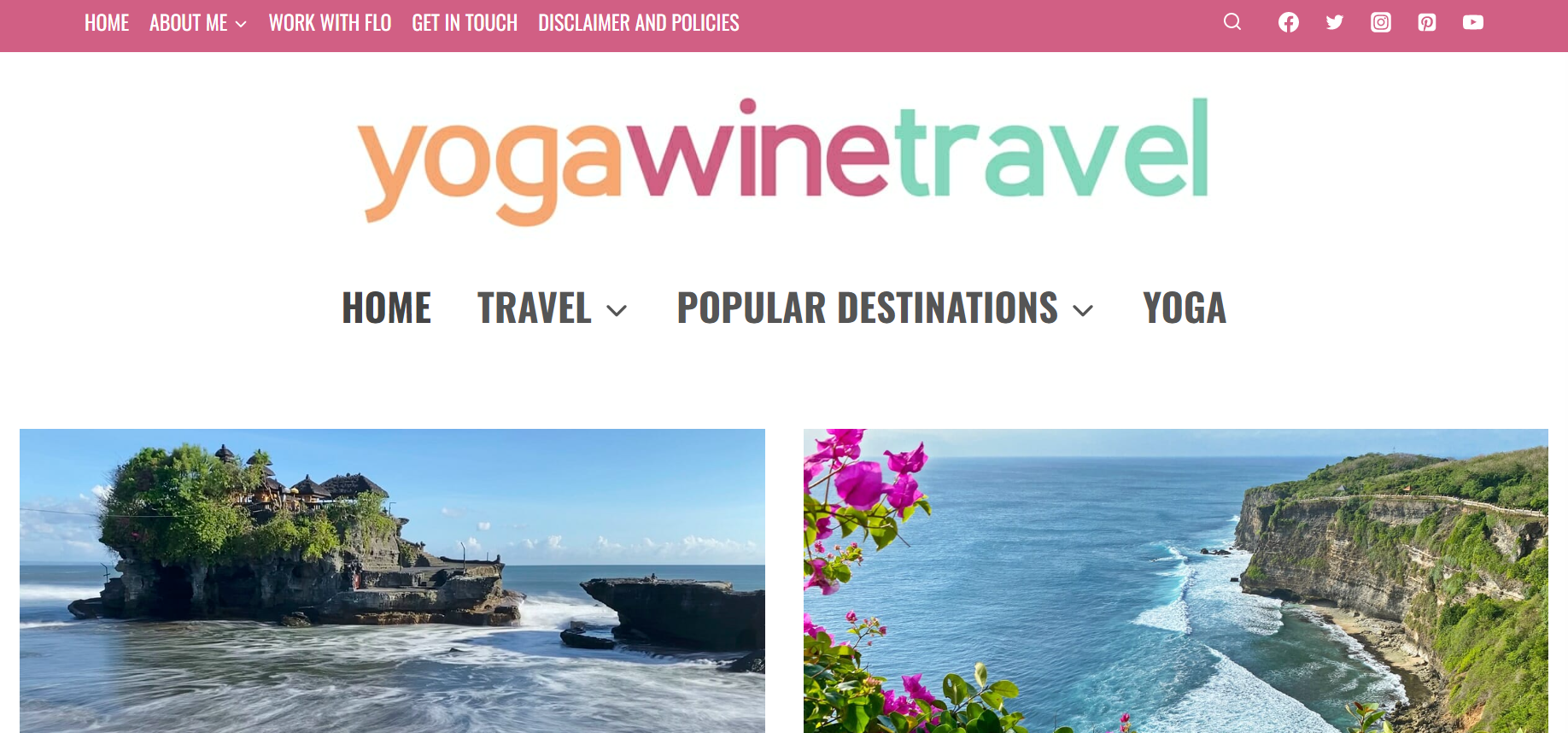 The blog covers a wide range of topics, from yoga retreats and wellness escapes to wine-tasting adventures and in-depth destination guides.
By sharing personal stories, expert recommendations, and stunning visuals, Yoga, Wine & Travel aims to inspire its audience to embark on transformative journeys and create memorable experiences.
Mediavine Finance
Mediavine Finance is a category within the Mediavine advertising network that specifically targets finance-related websites. It supports financial bloggers in optimizing their websites with highly-viewable ads, faster-loading pages, and better user experiences, all contributing to long-term growth and success.
Example of Mediavine Finance publisher:
Making Sense of Cents is a popular finance blog dedicated to helping readers learn about personal finance, budgeting, debt reduction, and building wealth.
The blog offers practical tips, personal experiences, and expert insights on various financial topics, such as saving money, investing, earning extra income, and managing finances effectively.
Applying to the Mediavine ad network
After ensuring that your blog meets the requirements mentioned above, submit your application through the Mediavine website.
Simply click on the button that says Apply Now on this page. You'll be directed to a Google form where you need to provide details about your blog.
The details requested include:
Your name and email address
Your website's domain
The blogging platform your website uses (e.g., WordPress, Squarespace, Blogger, Wix, etc.)
Information about your website's traffic and Google Analytics access
The Mediavine team will review your site for content quality, traffic, and policy compliance. If your application is approved, you'll receive an email with further instructions on integrating Mediavine ads onto your site.
Reasons for rejection (What advertisers want)
When joining Mediavine, all sites undergo a multi-step approval process. Not only must your websites meet Mediavine's basic requirements above, but they must also be approved by every single monetization partner (e.g., Google, Index Exchange, Rubicon, etc.).
Different partners may have additional processes, but following these simple steps can help prevent your sites from being rejected:
Avoid buying traffic: Purchasing traffic can raise red flags for monetization partners and result in bans that are difficult to undo.
Maintain a clean and updated site: Buyers and exchanges may manually inspect sites before white-listing them, so make sure your homepage and other important landing pages are clean, easily navigable, and regularly updated. Other factors to consider include site speed and having an updated Privacy Policy.
Keep content appropriate: Advertisers may be hesitant to be associated with controversial or inappropriate content. Aim for G-rated or PG-rated content to attract a wider range of advertisers.
Diversify your content (within reason): Expanding your content to include diverse yet relevant topics can help attract a broader range of advertisers.
Once your site has been approved, there are other ways to meet advertisers' preferences:
Embrace video: High-quality video content on popular pages can lead to increased revenue, as CPMs on video can range from $10-30.
What to do if Mediavine rejects your application?
If Mediavine rejects your application, don't be discouraged. Instead, take the necessary steps to understand why it was rejected and how you can improve your website to increase the likelihood of acceptance in the future.
You can then consider reapplying or exploring alternative ad networks.
Understanding the reasons for rejection
Review the feedback provided by Mediavine to determine why your application was denied. Common reasons include insufficient traffic, low-quality content, poor website design, non-compliant ad placements, or prohibited content.
Addressing the issues and improving your website
Once you understand the reasons for rejection, work on addressing those issues and making improvements to your website.
For example, if your website was rejected due to low-quality content, invest time in creating valuable, engaging, and well-researched content that appeals to your target audience.
If the issue is insufficient traffic, focus on implementing SEO best practices and promoting your content through social media channels to increase your reach.
Reapplying for Mediavine
After making the necessary improvements to your website, you can consider reapplying for Mediavine. Ensure your website now meets all of Mediavine's requirements and that you have addressed any issues mentioned in the previous rejection.
Exploring Mediavine alternatives
If you're unable to meet Mediavine's requirements or are unsuccessful in your reapplication, consider exploring alternative ad management platforms such as:
Each ad management platform has its unique advantages and drawbacks.
For example, Google AdSense has lower traffic requirements but may offer lower ad revenue potential.
On the other hand, Ezoic offers a more advanced AI-driven optimization but may require more technical know-how.
Carefully evaluate each platform to determine which one best aligns with your website's needs and goals.
How much of a cut does Mediavine take?
Mediavine operates on a revenue share model, typically taking a 25% commission on the ad revenue generated by your website. This fee covers the cost of their services, including ad optimization, reporting, and support.
While this percentage may seem high, it's essential to consider the value provided by Mediavine's expertise and the potential increase in your overall ad revenue. Plus, it's way less than what Google Adsense charges.
Mediavine payment methods
Mediavine uses a trusted partner, Tipalti, to process payments for publishers. Tipalti is a licensed money transmitter in 190 countries and 120 currencies, ensuring safe and secure transactions.
This partnership allows Mediavine to offer multiple payment options to publishers.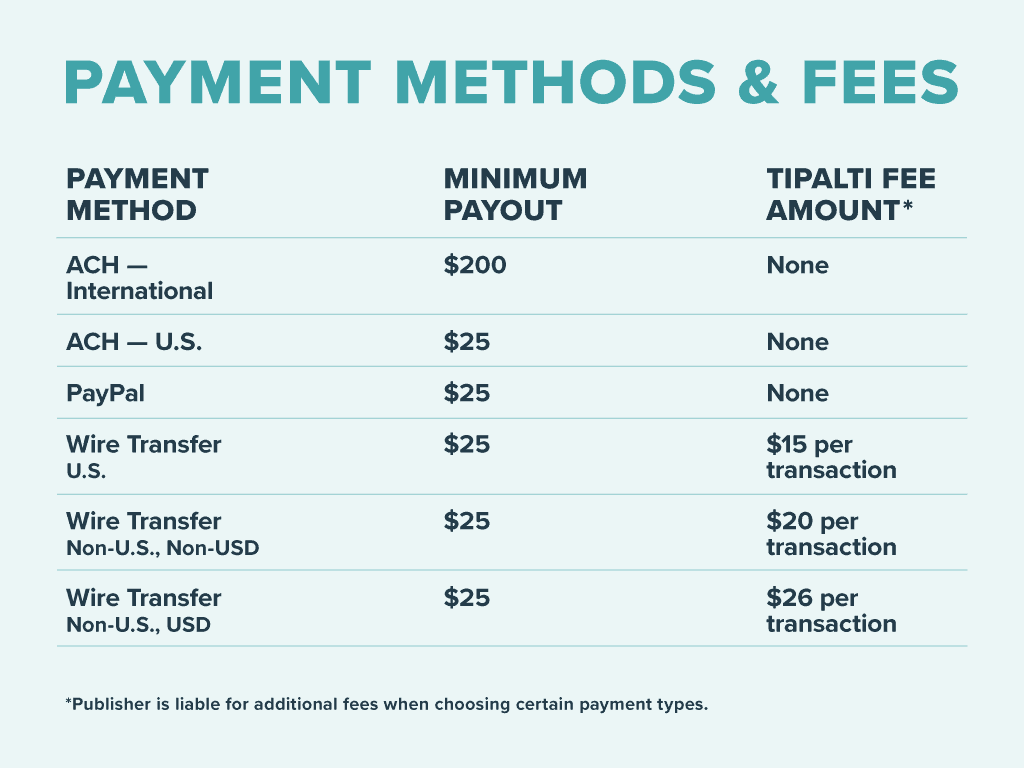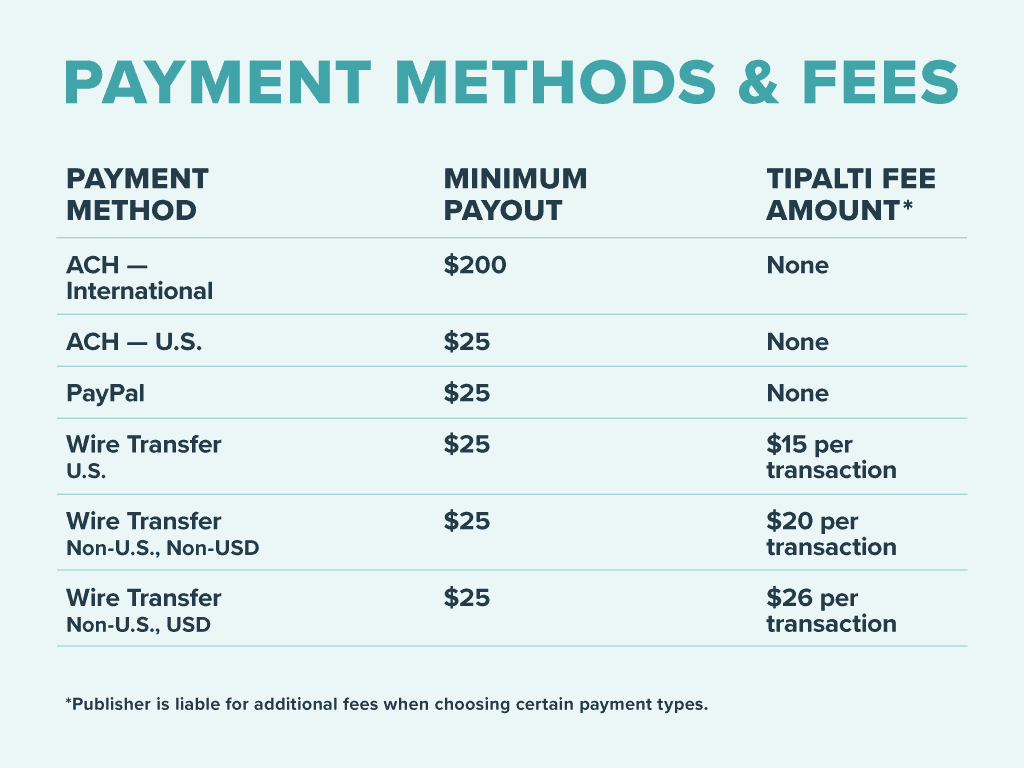 Setting up a payment method
When you register with Mediavine, you'll be prompted to select your preferred payment method and complete a one-time setup process. You can choose from the following payment methods:
PayPal
Domestic ACH
International ACH
U.S. wire transfer
International wire transfer
Please note that some payment methods may incur additional fees.
Payment methods explained
Here's a brief overview of each payment method:
Domestic ACH
Domestic ACH transfers, also known as direct deposit or electronic funds transfer (EFT), involve entering your bank account and ABA routing transit number into your payment profile. This method is usually fast, but clearing times can vary depending on your banking institution. There are no fees associated with domestic ACH payments.
PayPal
You can connect your existing PayPal account through Tipalti to receive payments. Funds are transferred immediately, but additional fees may apply for bank transfers outside the U.S.
U.S. Wire Transfer
U.S. wire transfers, also called credit transfers, provide a direct connection between bank accounts. This method is fast and reliable, but there is a $15 fee per transaction, paid by the publisher.
International ACH (eCheck / Local Bank Transfer)
International ACH, sometimes called global ACH, eCheck, or local bank transfer, leverages the existing ACH capabilities of a country's banks to efficiently execute cross-border payments. This method typically takes a few days to clear, and there are no fees, although a 2% currency conversion fee applies.
International Wire Transfer
International wire transfers, like U.S. wire transfers, are fast and reliable interbank payment methods that handle cross-border transactions. Fees depend on whether the payment is made in local currency or U.S. dollars, and they range from $20 to $26 per transaction, paid by the publisher. A 2% currency conversion fee also applies for local currency transfers.
Mediavine payment terms
Mediavine, as a leading ad management platform, offers a clear and transparent payment structure for its publishers.
Understanding the payment terms is crucial for publishers to manage their revenue and expectations.
Payment frequency
Mediavine issues payments to publishers on a Net-65 basis. This means that earnings accrued in a given month will be paid out 65 days after the end of that month. For example, if you earned revenue in January, you would receive your payment around the first week of April.
Compared to other ad networks such as Ezoic or AdThrive, this has a longer waiting period.
Payment thresholds
Most payment methods offered by Mediavine have a minimum payment threshold of just $25 USD, except for International ACH where you need a minimum of $200 to initiate a withdrawal.
Publishers must meet the minimum payout threshold for their chosen payment method to receive their earnings for a given month. If the threshold is not met, earnings will roll over to the next month until the threshold is reached.
Payment processing time
Once payments are issued, the processing time depends on the chosen payment method. Some methods, like PayPal, offer almost immediate transfers, while others, such as domestic or international ACH, may take a few days to clear.
It is important to consider the processing time and potential fees associated with each payment method when selecting your preferred option.
Payment currency and conversion fees
Payments can be made in either local currency or U.S. dollars, depending on the payment method chosen.
If you opt to receive payments in your local currency, be aware that a 2% currency conversion fee may apply for international ACH and international wire transfers.
Updating payment info
You can update your payment method and related information at any time within your Mediavine account. Make sure to keep your payment details up-to-date to avoid delays or issues with receiving your earnings.
Mediavine FAQs
How many pageviews do I need for Mediavine?
Mediavine requires a minimum of 50,000 sessions per month which is the equivalent of 60,000-80,000 pageviews, as measured by Google Analytics. While this metric is based on sessions rather than pageviews, it's essential to have a substantial audience to generate meaningful ad revenue.
How do I qualify for Mediavine?
To qualify for Mediavine, your website must meet its requirements, including a minimum of 50,000 sessions per month, high-quality content, user-friendly design, compliant ad placements, and no prohibited content. Ensure your website meets these criteria before applying.
How long does Mediavine approval take?
The Mediavine approval process can take anywhere from several days to a few weeks, depending on the number of applications they receive. Once your website has been reviewed and accepted, you'll receive an email with instructions for the onboarding process.
How much money can I make with Mediavine?
The amount of money you can make with Mediavine depends on several factors, including your website's traffic, content quality, user engagement, and ad placements. By optimizing these factors and providing a positive user experience, you can maximize your ad revenue potential.
If you come in with 50,000 sessions, you can expect to earn anywhere between $1000 and $1250 a month, which is a pretty decent monthly income.
Is Mediavine better than AdSense?
Mediavine and AdSense have their unique advantages and drawbacks. Mediavine often provides higher ad revenue potential due to its access to premium ad networks and advanced optimization techniques.
However, it also has higher traffic requirements compared to AdSense. Consider your website's specific needs and goals when choosing between the two platforms.
What is the best Mediavine alternative?
There is no one-size-fits-all answer to this question, as the best Mediavine alternative depends on your website's needs and goals.
Some popular alternatives include Ezoic, Monumetric, Google AdSense, and AdThrive.
Conclusion
Understanding Mediavine requirements and the application process is crucial for content creators looking to monetize their blogs effectively.
Mediavine is an excellent ad management platform that can help you increase your ad revenue and improve your website's performance.
By joining Mediavine, you can unlock higher ad revenue potential and enjoy a range of benefits tailored to content publishers.