Having another stream of passive income is a welcome relief from the many financial obligations that crop up daily.
You can make it online through blogging, affiliate marketing, running Google ads, etc. But this takes time and hard work before making big returns on investment.
Nowadays, you can make a decent income online selling low-content books on Amazon without writing a single word.
How?
Through Book Bolt.
This is a powerful companion for any low-content book publishers who wish to scale production and reach publishing faster. In this Book Bolt review, I take you through everything you need to know to determine if this tool is worth it.
What is Book Bolt?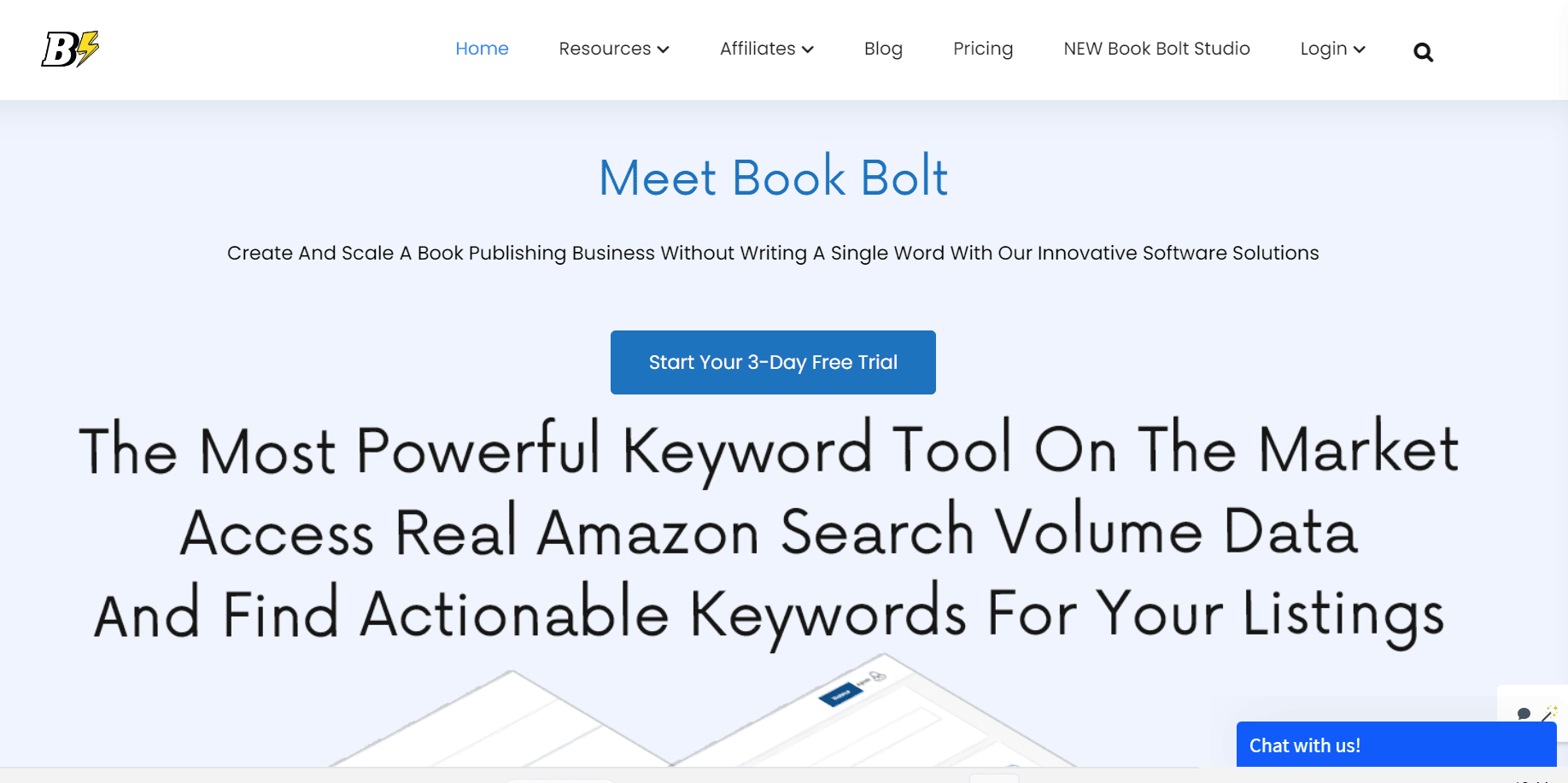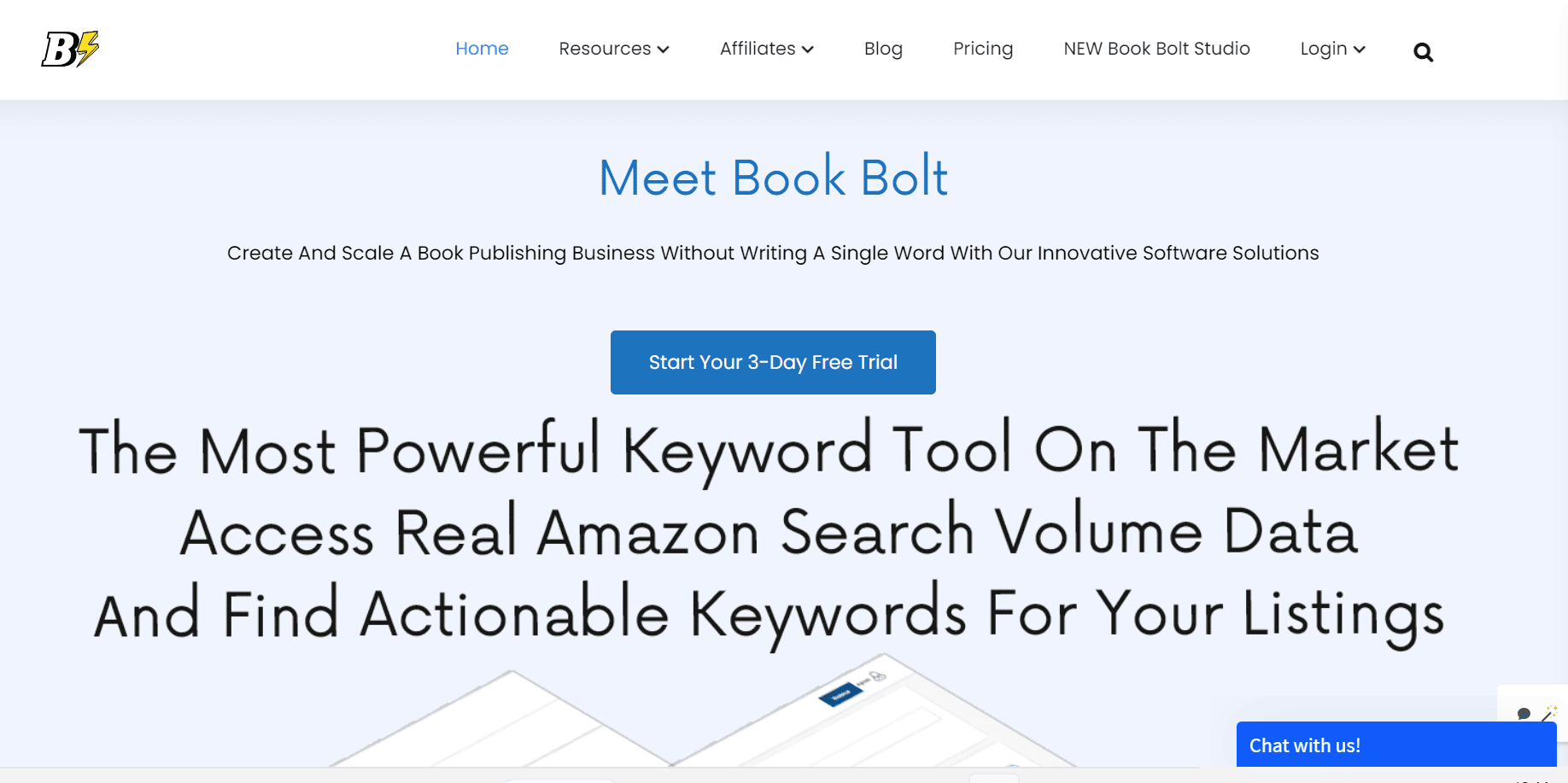 Book Bolt is a low-content book publishing software for beginners that enables you to create a low-content book from scratch.
Book Bolt helps you to grow a book publishing business without writing a word. Book Bolt helps business owners but also all writers, regardless of genre.
What is Book Bolt used for?
Book Bolt allows you to create no-content books in formats such as sheet music, journal and wide-ruled. With this software, you can painlessly create one or more no-content books and list them on Amazon's KDP.
Using an inbuilt keyword tool, you can look for the most popular niches, designs, and keywords. The cover creator ensures that your cover has the proper proportions and has the most appealing images and texts for your books.
Book Bolt helps you at every stage of the publishing process for your low-content books.
What are low-content books?
Low-content books contain little or no text or visuals. Instead, they're blank slates for readers to fill with their ideas and thoughts.
The main advantage of publishing low-content books is their quick creation. You don't need to be an expert; you can publish them without facing copyright issues. Low-content book examples include;
Prompt books
Planners
Music composition notebooks
Diaries
Journals
Log books
Coloring books
Activity books
Calendars
Puzzle books
Guest books
What is Book Bolt used for?
Book Bolt is used primarily for creating and selling low-content books on Amazon's Kindle Direct Publishing (KDP) platform. It offers a suite of tools designed to simplify the book creation process and help you succeed in the low-content book market.
Here's what you can do with Book Bolt:
Design book covers and interiors
Researching low-content book ideas
Create puzzle books
Saving and exporting designs
Thus, this tool is perfect for streamlining your KDP business, helping you create attractive, in-demand books more efficiently.
Book Bolt review: features overview
Bookbolt has terrific features that set it a bar higher than its counterparts. Here are some of them.
1) Book Bolt Studio for book interior design and cover design
You can design gorgeous books and interior templates with a few clicks using the Book Bolt Studio, even without design experience. The Studio enables you to create a one-of-a-kind and visually striking book in record time.
Book Bolt studio features include:
Cover Creator
Interior Designer
Drag And Drop Editor
Complete Customization
1200+ Free Fonts
Over a million Royalty Free Images
Patterns, Scale-able Designs
2) KDP Spy Extension
When producing low or no-content books for the KDP platform, it is critical to understand what is selling. The aim is to provide new products on KDP to an underserved audience.
Book Bolt's KDP Spy extension allows you to identify high-demand niches to enter the market with unique designs and dominate the market.
This will make you earn more royalties, translating to more money in the bank. With the KDP spy chrome extension, you get details such as:
Estimated sales
Estimated revenue
Product price
Best Seller Rank
Rating
Reviews
Author
Publication date
3) Listing optimization
Book Bolt has a listing optimization tool that helps you optimize your list by selecting the right categories and back-end keywords. It also enables you to earn more cash from your local listing. Book Bolt has a Book Bolt lister extension that works wonders.
Book Bolt Lister is accessible under all Book Bolt plans. It allows you to upload countless book design variations easily.
Book Bolt Lister has your back if you have to publish book design covers but are tired of constantly editing titles, keywords, and descriptions.
With the Book Bolt Lister, you can assign book profiles to hotkeys to swiftly and effectively pick titles, keywords, and descriptions with a single click.
4) Amazon KDP keyword and product research tools
Kindle Direct Publishing, or KDP, is Amazon's self-publishing service that enables writers to sell their books to Amazon's huge audience without going through a traditional publishing house.
You can make ebooks and low-content books with no upfront costs or stock orders. There's a catch, though. You need a keyword tool to help you find the relevant keywords. That's where Amazon KDP (Kindle Direct Publishing) Keyword tool comes in.
It is designed to help authors and publishers optimize their book listings on Amazon by suggesting relevant keywords that potential readers might use to find their books.
5) Trendspotting tools
Book Bolt's trend-spotting tool analyzes data from Amazon's bestseller lists to identify patterns and trends in book sales. The tool examines the number of sales, reviews, and other useful metrics for books on Amazon in diverse categories and subcategories.
Based on this analysis, the tool identifies trends regarding what types of books are selling well, popular topics, and keywords and phrases frequently used in book titles and descriptions. It presents this information to users in a user-friendly format, such as charts and graphs, to assist them in making informed decisions about what books to write and publish.
Furthermore, it allows you to narrow your focus on specific trends relevant to your interests by filtering the data by category, subcategory, and time.
Book Bolt's trend-spotting tool helps you stay updated on the latest book market trends and opportunities. This enables you to make data-driven decisions about your publishing strategies.
6) Book Bolt Cloud
One of the most powerful Book Bolt features is the Cloud Tool. It is useful when determining the type of book you want to write.
You must specify a book type or category, and Book Bolt will retrieve real-time data from Amazon, including sales history, ranking, and search volume.
It lets you research the best seller with an option to filter by prices. This could give you ideas and a friendly nudge to write your book.
7) Book Scout
Book Scout is an excellent tool for determining which keywords are used for the highest-ranking books in your category. The tool also shows you how many times each keyword appears in those Amazon KDP books, plus the search volume for every keyword.
This is extremely useful because it shows how many individuals search for that particular keyword versus how many books are already available. It gives you a good feel of how competitive that keyword is. So, you can decide whether to write the intended book or try your luck elsewhere.
8) Puzzle creation software
The puzzle and activity book generator is a bonus for purchasing Book Bolt's Yearly Pro plan. It aids in the creation of puzzles and activity books.
Word scramble
Cryptogram
Maze
Coloring pages
Sudoku
How does Book Bolt work?
Here's how Book Bolt works:
Book Bolt is a bookseller software that assists Amazon KDP sellers in making good money from their book sales. With Book Bolt, you can conduct keyword research and get critical insights about the competition in your category and trend. Also, you can create and design book covers and interiors with a click of a button.
Once you've selected your keywords, use them to optimize your book's title, subtitle, description, and other metadata on Amazon. This will help your book appear in relevant search results and increase its visibility to potential readers.
KDP keywords are essential to your success on the forum. They can make or break a purchasing decision. Incorrect keywords can lead readers astray and cause them to lose interest in your book before they even know its content, reducing your chances of making a sale.
Every book listed on KDP can be linked to various keywords. Ensure that your keywords are accurate, intentional, and discoverable. They should be relevant to your book content and correctly represent your writing.
Book Bolt's pricing and plans
There is no free version of Book Bolt. Instead, Book Bolt offers a 3-day free trial to allow you to test the features. So, you can use Book Bolt free for three days. During the free trial, you will have access to all of Book Bolt's features based on the plan you choose for trial.
Book Bolt offers two paid plans as follows:
Monthly: $9.99 per month (or 89.99 yearly)
Features you enjoy are :
Keyword and Product Research
Cover and Interior Designer
Amazon Search Volume
KDP Spy
24/7 Customer Support
Monthly Pro: $19.99 every month (or 199.99 annually)
Features to enjoy
Keyword and Product Research
Puzzle Creation Software
24/7 Customer Support
Cover and Interior Designer
Amazon Search Volume
KDP Spy
Book Bolt's pros and cons
Pros
Each plan has all the tools you need to make money from the get-go
The puzzle book generator is available with the pro plan
It has a stellar customer support
Cons
It can be pricey when operating on a shoestring budget
The interface can be confusing when you are new
Is there a Book Bolt free alternative?
Yes, there are free alternatives to Book Bolt, although they might not offer the same combination of features specifically tailored for low-content book creation on KDP. Here are a few alternatives you can consider:
Canva: Canva is a free online design tool that you can use to design your book covers and interiors. It offers a wide variety of templates and design elements. However, Canva does not have niche-specific research tools or the PuzzleWiz feature offered by Book Bolt.
Google Trends: For market research, you can use Google Trends. It's a free tool that allows you to identify trends and popular search terms. While not as tailored to the low-content book market as Book Bolt's research tool, it can still provide useful insights.
Discovery Puzzle Maker: If you're interested in creating puzzle books, Discovery Puzzle Maker is a free online tool that can generate different types of puzzles. However, its capabilities might not be as comprehensive as BookBolt's PuzzleWiz feature.
While these free alternatives can help you with different aspects of your KDP business, none offers the complete package specifically designed for low-content book creators as Book Bolt does.
Book Bolt FAQs
Is Book Bolt free?
No, Book Bolt is not free, it's a paid software that goes for $9.99 a month. However, they do have a 3-day FREE trial, during which you can try all of the features that your plan allows.
Can I make money using Book Bolt?
Yes, you can definitely make money using BookBolt. It provides tools and resources that can assist you in creating and selling low-content books on Amazon KDP, a potentially profitable venture.
By using BookBolt's design tools, you can create attractive covers and interiors for your books, which can drive more sales. Additionally, the platform's research tool can help you identify trending niches in the low-content book market, guiding you to design books that are in demand and hence, more likely to sell.
Can I use Book Bolt for free?
BookBolt offers a free trial period for new users. During this trial, you can explore and test all of the platform's features without any cost. This gives you a chance to see firsthand if the tool suits your needs and workflow.
However, once the trial period ends, you'll need to choose one of BookBolt's paid plans to continue using the platform. The cost varies depending on the level of features and tools you need access to.
But given the comprehensive design and research tools it provides, many users find the investment worth it for their KDP business.
Does Book Bolt actually work?
Yes, BookBolt does actually work. It's a legitimate tool that many self-publishing authors and Kindle Direct Publishing (KDP) entrepreneurs use to simplify their book creation process and increase their chances of success in the low-content book market.
However, it's important to remember that the success of your KDP business will depend not only on the tools you use but also on your effort, creativity, market understanding, and persistence.
While Book Bolt provides the tools and resources you need, it's up to you to learn how to use them more effectively.
Individual results do vary greatly, but many users have reported positive experiences and success using Book Bolt in their KDP business.
How good Is Book Bolt?
Book Bolt is worth every penny if you want to make money writing and selling low-content books on Amazon. It has incredible tools, such as keyword research and optimization, to help you know what to write about and make money from your hard work.
On top of that, it is reasonably priced, and each plan has essential tools to help you write the right books and earn from them. You may encounter challenges when starting, but once you get the hang of it, you'll have a seamless experience.
Final thoughts: Is Book Bolt worth it?
At the end of the day, the question remains: Is BookBolt worth it?
In our opinion, it certainly is. It offers a comprehensive set of tools that can simplify your book creation process and help you succeed in the low-content book market. It's easy to use, even for beginners, and its focus on low-content books makes it a unique offering in the market.
However, it's essential to remember that Book Bolt, like any other tool, is just that – a tool. Your success in the KDP business depends largely on your creativity, market understanding, and effort. But with Book Bolt, you're certainly equipped with a powerful ally.
In conclusion, we recommend giving Book Bolt's free trial a go. Explore its features, design a book or two, and see how it fits into your KDP business. You might just find that it's the tool you've been missing. Happy publishing!