Today, you can consult on almost anything, and as technology advances, more consulting opportunities are opening up. So, if you've ever wanted to make money as a consultant, now is the time.
Two reasons:
Businesses are spending more on consulting today than they ever have: This has probably been fueled by the need for rapid implementation. While learning the ropes yourself can take a couple of weeks, you can learn a lot and accomplish more in a one-hour strategic meeting with a consultant.
Remote working and outsourcing: Before, businesses wanted to have in-house teams. Today that need is no longer necessary. Several business success stories have shown that companies that scale quickly outsource what they can and hire what they can't outsource. 
It's even for the second reason that today you can find individuals marketing themselves as outsourcing consultants and companies looking to hire them.
Tools You Need to Run Your Consulting Business
Getting started as a business consultant requires nothing more than a functioning website and an email marketing service. However, to scale and be more productive, you need an arsenal of some of the most critical tools.
Bonsai for freelance management: Proposals, contracts, invoicing, etc
Calendly for letting prospects and customers book time with you
Zoom for video calls with your clients
Time tracking tools like HourStack or Accelo
CRM tools like HubSpot
Project management tools like Slack and Mavenlink
Project management tools like Trello
Google Docs for collaborative documentation and  files sharing
11 Best Consulting Business Ideas That are on Demand
Now, if you're looking to start a consulting business, here are a few ideas for you. Typically, you want to consult in a field where you're an expert; otherwise, you wouldn't help your clients the results they desire.
1) Business Automation Consulting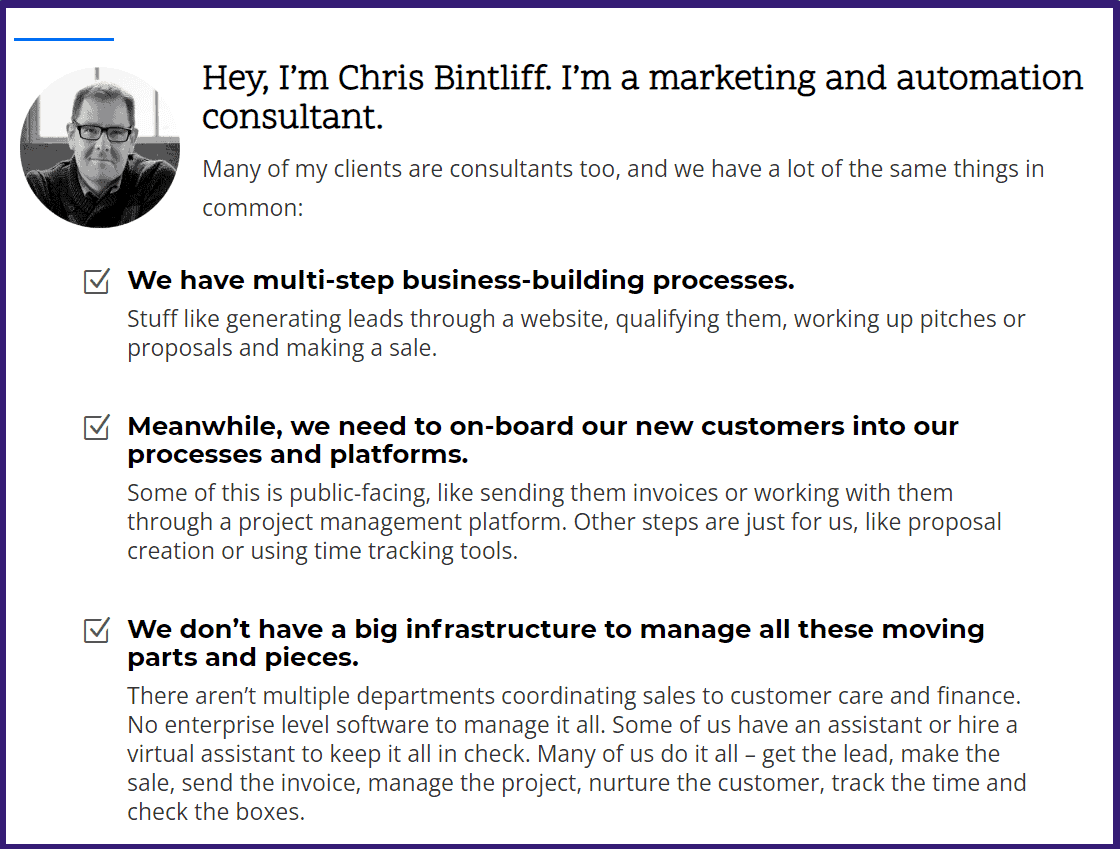 Technology is changing, and so is the way we do business. As a business consultant, you help your clients identify opportunities for streamlining their processes, and automating what they can.
Some of the key roles of an Automation Consultant include:
Analyzing and dissecting business processes to find out areas for improvement
Workflow automation
Suggesting technology needed to achieve certain automation goals.
Creating and helping the team implement an automation roadmap
This, therefore, means that you need to have tinkered with several B2B and B2C tools and software that make work easier. You'll leverage emerging technology such as Artificial Intelligence and Robotic Process Automation (RPA) to streamline some of your clients' work. 
Documentation is also critical to enable companies when transitioning departments or new hires. As you work with your clients on automation, make sure you're documenting all the processes. This will enable the team to understand and even diagnose automation systems on their own.
That said, you don't need to know every tech to consult on business automation. However, you need to be good at research and testing so that you are only recommending the best tools to your clients. The tools you recommend should reduce work, not introduce more complex processes that make the team less effective.
Some of the workflows you will help your clients create include:
Lead generation
Onboarding processes
CRM Management
Personalization and customization processes
Notification processes
Communication processes etc.
2) Marketing Consulting
This is a broader type of consulting and can be effective if you have a larger team.
As a marketing consulting team, you'll help your clients with critical things such as:
Researching and understanding buyer personas
Finetuning company's brand messaging and brand tone
Brainstorming marketing ideas to generate leads and sales
Identify critical marketing channels for your client to focus on based on the nature of their businesses.
If you are a team of one, you want to focus on one type of marketing consulting, e.g., SEM, PPC, or TikTok Pinterest Marketing consulting. In so doing, it will be easier for you to establish a brand since all your efforts and marketing content will all work together to brand you as an expert in a given channel. 
3) Facebook Ads Consulting
Facebook Ads can be frustrating for beginners. Knowing how to set up Pixels, create custom audiences and target the right audience is a hustle, not to mention crafting the right ad for a given ad objective.
As a veteran Facebook Ad manager, you know what works and what doesn't. You can also tell when it's time to stop running some ads and when making minor tweaks is necessary.
By working as a Facebook Ads consultant, you stop businesses from flushing their budgets down the sink. Your advice can come in handy, enabling companies to create highly converting ads that help them scale their businesses.
To become a Facebook Ads consultant, you need to be knowledgeable about:
Ad tracking and monitoring
Custom audiences
Video ad creation
Text ad creation
Image ad creation
Social Ad copywriting
With copywriting, you can now leverage the power of AI copywriting tools to help your clients brainstorm ad copy over a few different marketing angles to find some that speak to the hearts and souls of their target customers.
4) Financial Consulting
Financial consultants are on-demand, with their services being sought by businesses of all sizes.
Your role as a financial consultant is to assess your client's financial situation, from assets, debts, expenses, and income, to determine their future financial goals and how to achieve them.
For instance, for clients who want earlier retirement, you need to guide them in creating a battle plan that helps them achieve this goal. You may:
Advice on what expenditure to scale down
What investments to make
Advice on how much to save
Suggest better retirement accounts to use.
For you to be a financial consultant, laws in different countries require you to be certified. Some certifications include Certified Financial Planner (CFP) and Chartered Financial Consultant (ChFC.)
You will also need to get a license such as FINRA that allows you to sell financial products.
5) SEO Consultant
If you have extensive knowledge and experience optimizing websites and web pages to rank in position 1 on Google, you start an SEO Consulting firm.
Your work as an SEO consultant is to help your clients optimize their websites to get organic traffic from Google. Some areas that your clients can consult on include:
On-page SEO
SEO tools and plugins set-up and implementation
Off-page SEO
Topics and keywords to target
Technical SEO
Pagespeed optimization
As part of your packages, you can include a free or paid website audit service that will help you diagnose the issues that your clients' sites could be having that are causing them not to appear on Google for target queries.
6) Social Media Consulting
Social media marketing is now more complex than ever. Getting results is no longer about just when to post and how often, but it goes on to media types to create, brand positioning and messaging, to intensional viral content creation.
If you are a renowned social media guru, then you can help clients get better results with their efforts. You can guide them on creating content that boosts engagement and sparks conversation online.
Community management is also becoming one of the most sought-after social media services. Facebook groups are now central to Facebook, and many companies are now leveraging the platforms to provide and outsource customer support. Some of the popular companies doing this really well are:
If this is an area you are not familiar with, consider taking an online course on growing and managing Facebook groups. You might need to create one for your consulting business as well.
7) Career Consulting
Starting a career consulting firm is also one of the best consulting business ideas to try. With new careers popping up every day, it can be hard to decide which path to pursue.
As a career advisor, you will assess your client's needs, passions, and desires and guide them toward choosing a career path that's right for them. 
Other Consulting Business Ideas
There are several other consulting ideas that you can offer, including:
IT Consulting
Legal Consulting
PR Consulting
Video Marketing Consulting
Shopify Consulting
Web Design Consulting
Headless CMS Consulting
Green Living Consulting
Web Design and Development Consulting
Branding Consulting
Magento Consulting
WooCommerce Consulting
LMS Consulting
Diversity Consultant
The key to choosing the right consulting business is staying through to your skills and passion. Consulting business is demanding, and clients are more likely to drop you like a hot potato if your strategies aren't getting them results.
Wrapping up
While consulting is a demanding venture, helping others achieve immense growth is self–reading and thus can be a fulfilling business to start. However, keep in mind that getting your first three clients is going to be a hustle without testimonials or a bunch of past clients to vouch for you.