Wondering how to blog without a website?
To some people, owning and managing a website or a hosted blog is too much work, and all they want to do is hit the road blogging.
If this is you, then you're in luck as I'll show you 7 ways you can blog without owning a website:
1) LinkedIn Publishing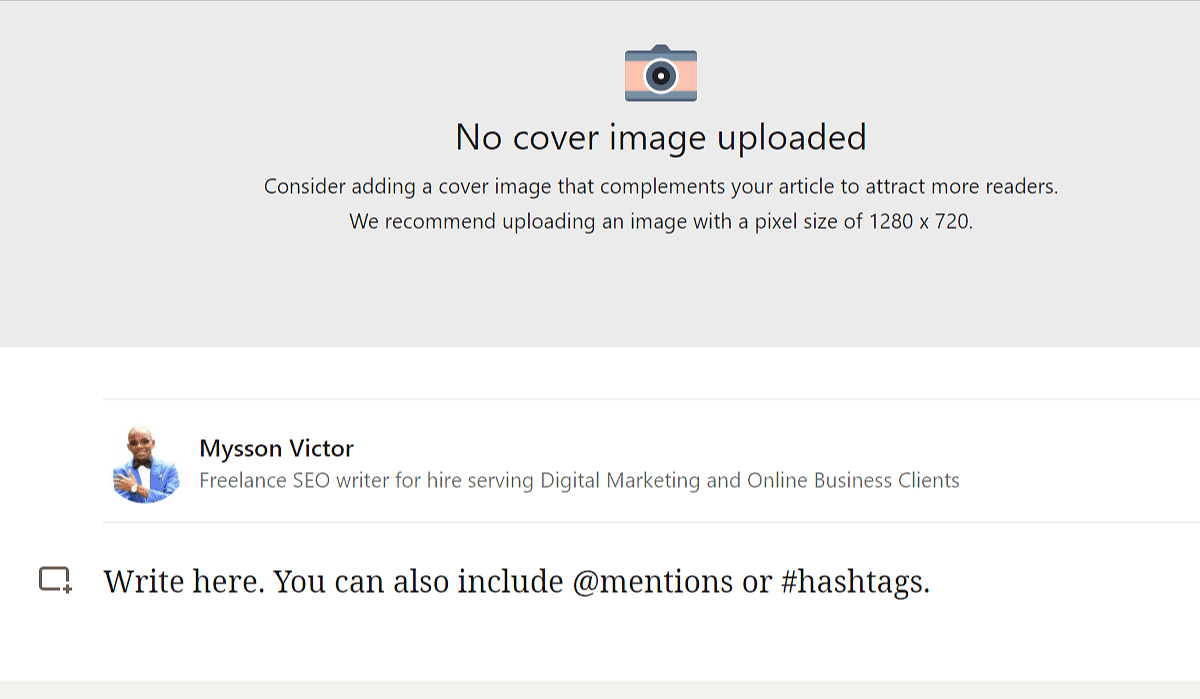 LinkedIn is a great platform for professionals looking to build their personal brand and grow an audience. You can use it to contribute your expertise and share resources with others while growing your follower base.
You can also use LinkedIn Publishing to create content for your company or for yourself.
On a desktop or a laptop, you can easily publish a new article by clicking on the Write article option directly below the Start a post prompt box at the top of your homefeed.

Next, you'll have to choose a profile or a page on the Publish as modal that appears if you have LinkedIn pages on your account.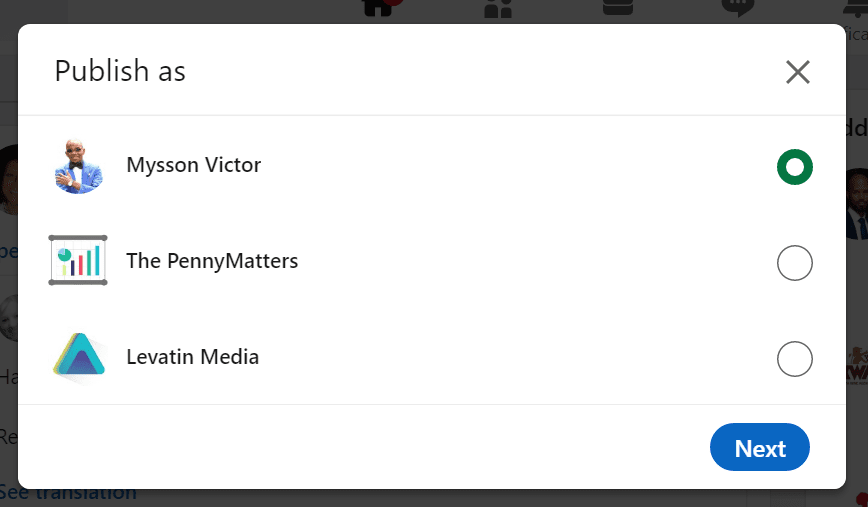 The editor is quite simple, making it easier for you to quickly write and publish your LinkedIn article in minutes.
Why use LinkedIn for blogging
There are a few reasons why you might opt to choose LinkedIn:
Ability to add a variety of media elements including images, videos, podcasts, slides, and tweets amongst others to improve the visual messaging of your content.
LinkedIn publishing is great for establishing thought leadership
With the right articles, you can easily build a loyal audience, helping you extend your personal or company brand.
Besides these apparent benefits, LinkedIn also has other features that can help you make the most of your content. For example, you can continue sharing other nuggets on your timeline and link your articles whenever appropriate.
You can also create a newsletter, and let others subscribe to receive your content. To access the newsletter feature, you need to turn the creator mode on and have at least 150 followers.
2) Medium Blogging
If you're looking for a free blogging platform, Medium is an excellent option. It has more than 100 million readers and it's available in many different languages.
It also has its own search engine that helps people find content based on their interests, so if you write about something unique or niche, this can really help get you noticed by the right people.
Besides being a blog platform where anyone can publish content for free, Medium also gives authors the ability to profit directly from their writing through a revenue-sharing mode. You do need to live in a country where Stripe is available to be part of the Medium Partner Program.
Like LinkedIn, you can build a loyal following, and guaranteed readership whenever you push out new content.
3) Tumblr
Tumblr is both a blogging platform and a social networking it. The true power of Tumblr is on its social networking side as Tumblr posts can go viral in a matter of hours. Get this right, and you can easily drive tonnes of eyeballs to your content.
If you want to start a blog without having to buy hosting or build a website, this is the best option for you.
Tumblr publishing is best for short articles with lots of visuals (images, graphics, gifs, and videos.)
Now, unlike typical social sites such as Facebook, Instagram, and Twitter, Tumblr allows you to customize your page with themes, helping you brand your blog the way you want. While the options and controls are limited compared to those you'd have with a typical self-hosted website, you are able to customize the basic stuff.
4) WordPress.com
WordPress.com is a free blogging platform that allows you to create, share and monetize your posts without having to worry about hosting or web design.
WordPress.com runs on Automattic's servers, which means you don't need to spend money on your own server space or web design.
It's built on top of WordPress.org, the popular content management system that powers nearly 30% of all websites. This gives you a leg up if you ever finally transition to your own hosted website.
You get tons of customizations for free using hundreds of free WordPress themes that allow you to brand your blog to your liking.
Unlike WordPress.org, WordPress.com has a more streamlined interface that makes it easy for beginners to set up and start blogging.
5) Blogger
Blogger is a free blogging platform that's owned by Google, and it has some great features for beginners. It's one of the oldest blogging platforms one of the few free options that allow you to monetize with Google Adsense.
Like WordPress, Blogger has a lot of themes and plugins to give your blog a polished look that matches your branding styles.
Blogger also offers a number of tools for bloggers ranging from SEO tips to monetization options.
If you're looking for a place where you can experiment with personal blogging without having to think too much about design or technical issues, then Blogger might be the best option for you!
6) Microblogging
Microblogging is a way of sharing short updates on the web. You can use it to share your blog posts, or just as an outlet for your thoughts.
Twitter is one of the most popular microblogging sites out there, and with Twitter threads, you can easily turn those 280 characters into full stories, and help you build a formidable brand online.
Types of microblogs you can publish include text posts, videos, links, quotes, memes, images, etc.
One of the main reasons why microblogging has become quite popular is because of the ease of content production and the ability to automate and schedule sharing with social media scheduling tools like Publer.
7) Canva Websites and Canva Docs
Canva is an online design tool that allows you to create visually stunning pages. It now has the ability to create full websites.
While Canva websites don't have full blogging capabilities yet, you can still use this feature for blogging by publishing articles as pages. What you will like the most with Canva for blogging is that you get access to all the design elements that Canva has to help you beef up your messaging.
Another cool feature that Canva recently introduced is Canva Docs, a powerful feature for collaboratively creating stunning documents for various use cases. While you don't have the ability to share documents publicly, I believe this feature is forthcoming and can be a great addition to improving your blog with Canva Websites.
8) Google Sites
Google Sites is a free platform for creating websites. It's easy to use and doesn't require any coding, so it's great for beginners who want to start blogging without purchasing a web hosting service.
To use Google Sites for blogging, you need to create a page, and set the template from the default webpage to Announcements. This will then allow you to create new posts that are then organized chronologically (as in a blog) according to dates of publication.
9) Quora Spaces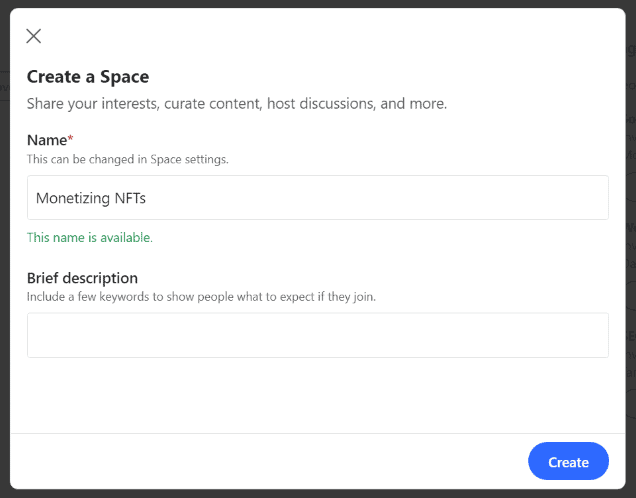 Quora Spaces is a new feature that Quora introduced to foster collaboration and has since replaced Quora Blogs.
Quora Spaces lets you create an online hub for your followers to connect, engage, and learn from each other.
It's a place for you to curate the best content about your topic of expertise, and then use it as a springboard for further discussion. You can add moderators and contributors to your Space.
To create a Space, navigate to Spaces from the top navigation bar, or go to this link. On this page, click on the Create a Space button. A Modal prompt appears where you need to enter your Space name and description.

Can You Make Money Blogging Without a Website?
Yes, you can still make money blogging without a website. Some platforms like Blogger allow you to implement Google ads, while others like Medium have a revenue-sharing model where you get paid a commission based on the number of readers that your content attracts each month.
When using free blogging and microblogging platforms, the best way to make money is perhaps affiliate marketing, as most platforms restrict the use of ads.
Creating and selling your own digital products is also a great way to make money blogging without a website. Options like Medium and microblogging can help you build a loyal audience that can buy into your products and services.