Late last year I received an email from Fiverr Affiliates announcing the eCommerce contest that would see three winners bag $2000, $1000 and $500 respectively. My first thought was, "well this is too much a competition,"
However, I decided to give it a shot for two reasons: Winning any amount could really help me sort my growing bills of running PennyMatters, and two, I could finally commit to creating a great content to promote Fiverr, something that I had been postponing for a while.
Well time passed and soon it was 4 days before the deadline and so I rushed to create the content, making sure that I met the five judging criteria outlined by the Fiverr team: insightfulness, originality, up-to-dateness and originality.
Two days later I had drafted my eCommerce Business Outsourcing guide, with over 3000 words. I then prepped it for publication and submitted the post to the contest review team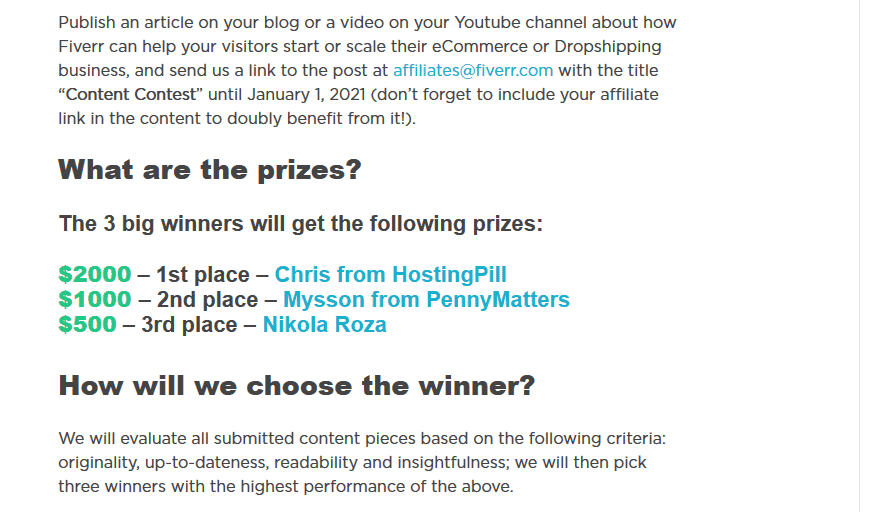 On Friday last week, the usual monthly Fiverr affiliates newsletter came in and I was actually surprised to see my blog as first runners up. Also getting a mention from the Fiverr blog is quite an honour by the way.
Being a young Kenyan, who until 2017 knew nothing about blogging or marketing to finally creating an authoritative blog that is helping hundreds of solopreneurs globally, this is not just a small win for me, but a testament that, if we all keep at it long enough, somehow we will become better.
To see the article in question, visit this link
How to Win any Competition
Prizes that come with winning, however big or small are sweet no matter how established you already add. But simply participating in writing contests isn't enough. You need to commit and assure yourself that 'you can do this.'
Show up: Don't cut yourself shot before the race even begins. To win, you must submit your work. That therefore means, come what may, submit.
Commit to outdo yourself: Contests exist for a reason, people have to work for the prizes. You definitely aren't the worst applicant, but chances are everyone else is as good as or better than you. You are entering to win, not to try out. That means your submission needs to be your best works ever.
Self-judge your work based on the criterion provided: Before submitting my article to Fiverr, I had to ensure that my article was original, thoughtful, readable, up-to-date and insightful enough to outdo all the other submissions.
Clear succinct writing: cover the topic concisely. If you have to use an analogy, make it short or break it down into several parts that are referenced at different sections of your article.
Ready to get started with contest writing? Try some of these contests compiled by Reedsy