I have compiled a list of premium courses and coaching programs that will help you make more money, build sustainable growth systems and scale your business, without selling your soul.
Learn a new skill, and implement every lesson you can get, because when this storm will be over, soon, you will have more to give in return: in terms of new expertise and kindness
So let's get started!
Best Premium Courses of 2022
1) Fully Booked VA
Are you a freelance virtual assistant looking to build a reliable VA business? This program ensures that you are never out of work again.
This premium online course will help you:
Identify the types of virtual assistant services to bundle together
Learn how and where to find high-quality clients who will propel your growth
Determine what to charge your clients
Figure out the business aspects of freelancing
Learn how to onboard clients for an awesome experience
How to learn and use tools and software to boost productivity and scale your business
How to balance work and life
Gina is the creator of the FullyBookedVA system and has been helping virtual assistants jumpstart their freelance businesses for over 7 years now.
Gina runs Horkeyhandook, a successful business teaching people freelance writing virtual assistance.
Her courses are the most sought-after by virtual assistants looking to hone their skills.
She started her VA business back in 2014, landing her first client within a month, and 4 months down the road, she was making $4000 a month working part-time.
It surface to say, if anyone knows the VA business, it's the creator of the FullyBookedVA system
The program consists of 3 extensive steps:
Step 1: VA Foundations
This section teaches you everything you need to start running a VA business from home.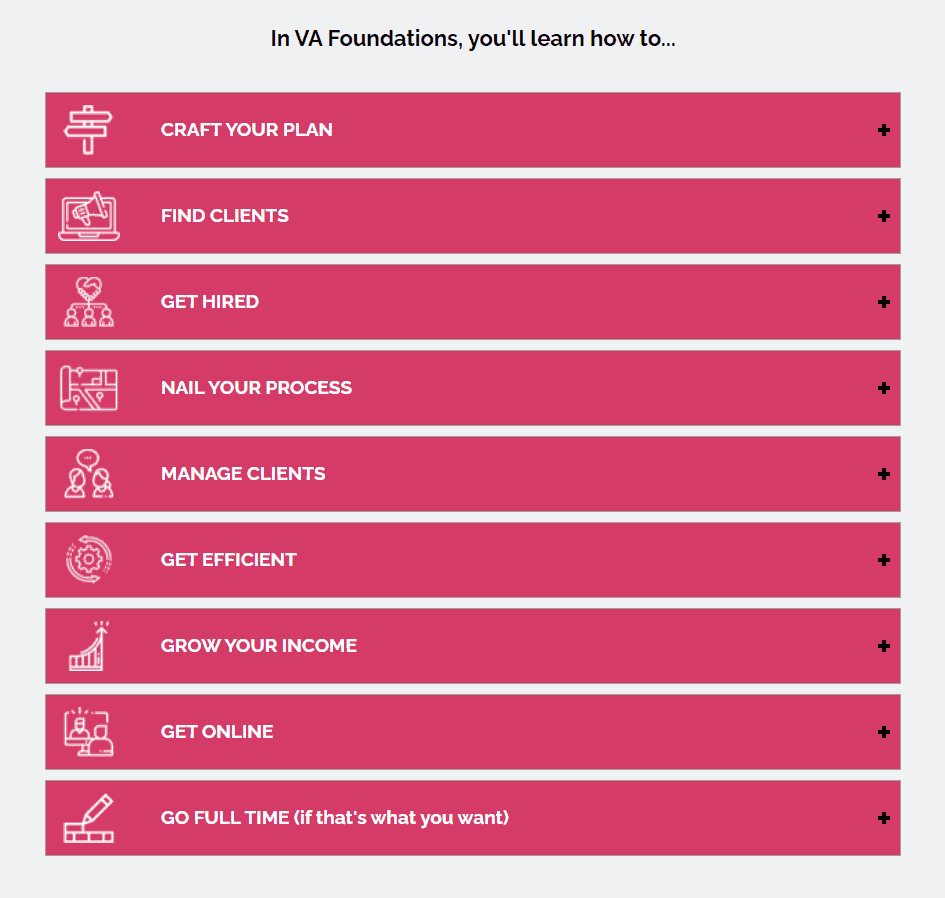 You will also have access to 18+ ready-to-use templates, worksheets, scripts, and guides so that you don't get stuck while building your business.
Step 2: Building Client Roster
When you complete the VA Foundations course and successfully take your exam, you become Horkey Handbook certified. Gina Horkey is a reputable and respected figure in the VA world, and having a certification to go along is quite a plus.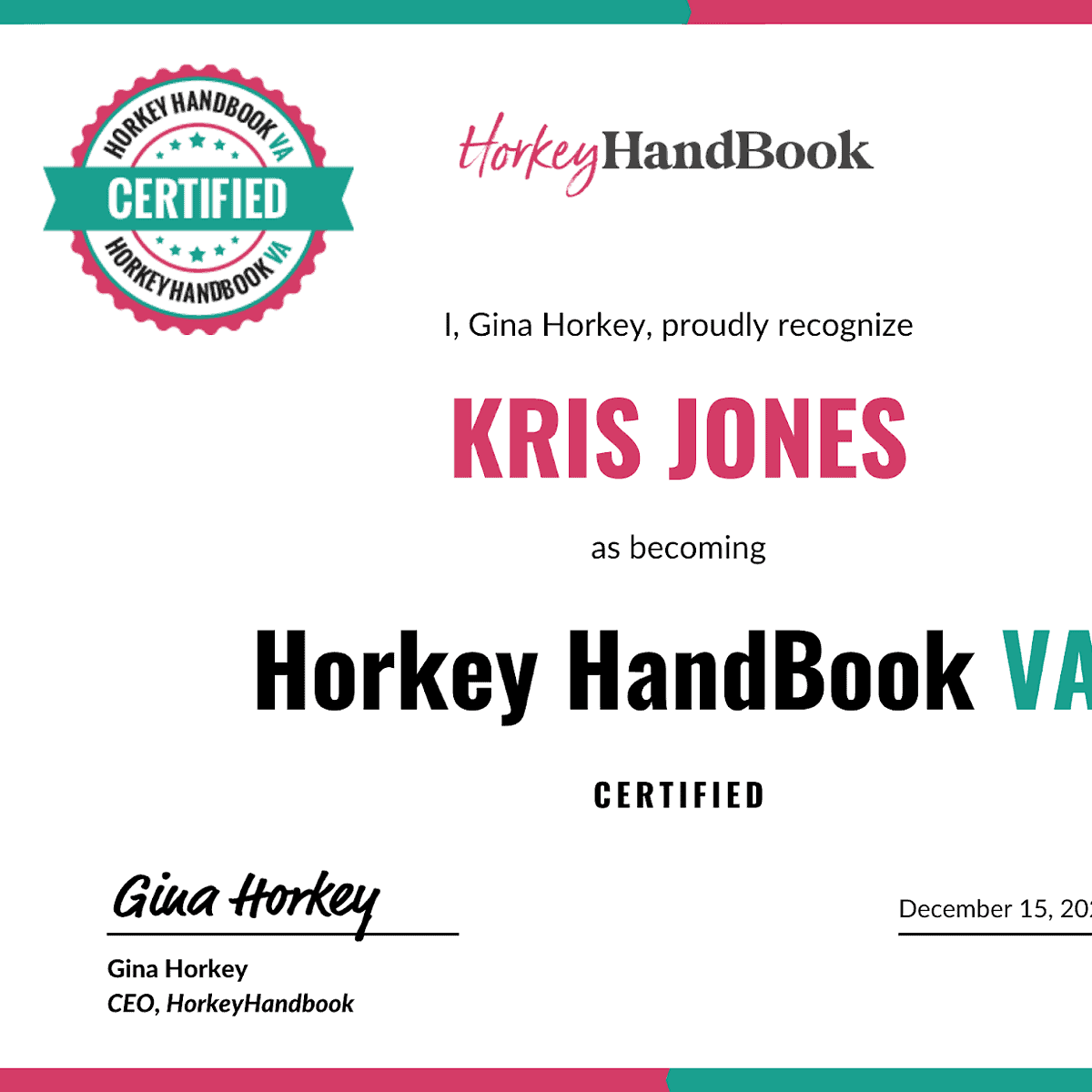 This is the point when you should start cold pitching clients.
You will also have access to the VA listings board for a year that has lots of high-paying VA jobs carefully handpicked and vetted.
Step 3: Scaling
The next phase of your VA training is scaling. This is the point where you decide to niche down. You can choose from the four specialization tracks, depending on the needs of your clients.
Content marketing
Customer service and admin
Social media and community management
Tech and Automation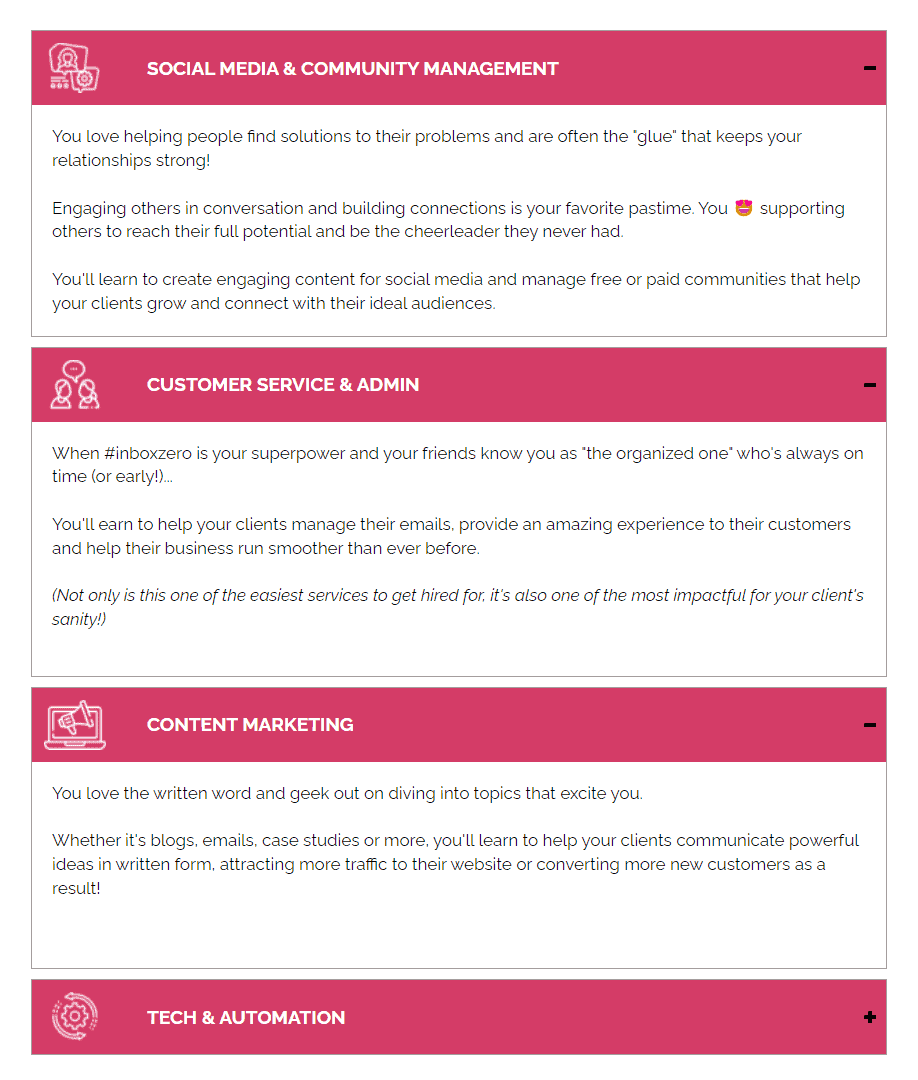 Also, the specialization tracks give you access to all of the Horkey Handbook courses, at no extra cost. These courses would cost another $1000 if purchased separately.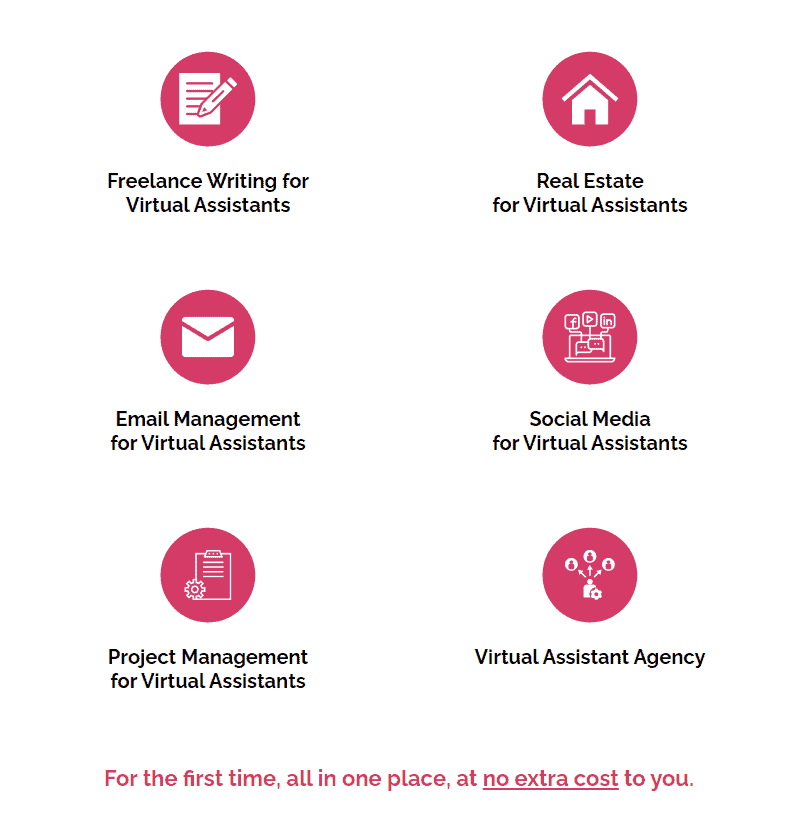 Besides these awesome bonuses, you will also get the support you need to grow your virtual assistant business. The support is in three channels:
FullyBookedVA forum
Weekly coaching sessions
Monthly deep-dive training with Specialization Track coaches, guest experts, and the #FBVA team
Ready to become Fully Booked?
2) HerPaperRoute Society
If you want a guided path to building a business that generates tens and even hundreds of thousands of dollars a month, then joining the HerPaperRoute Society is definitely the best investment.
HerPaperRoute Society is a professional business mentorship program for business owners who are ready to make a big leap forward in their success story.
If you've been wondering:
How can I take my business from -$10K months to +$50K months
How do I create and sell digital offers so I can stop providing 1:1 services
Where do I go to find customers
How can I build a sustainable growth system
Then, this program by Chelsea is the FRAMEWORK that you need.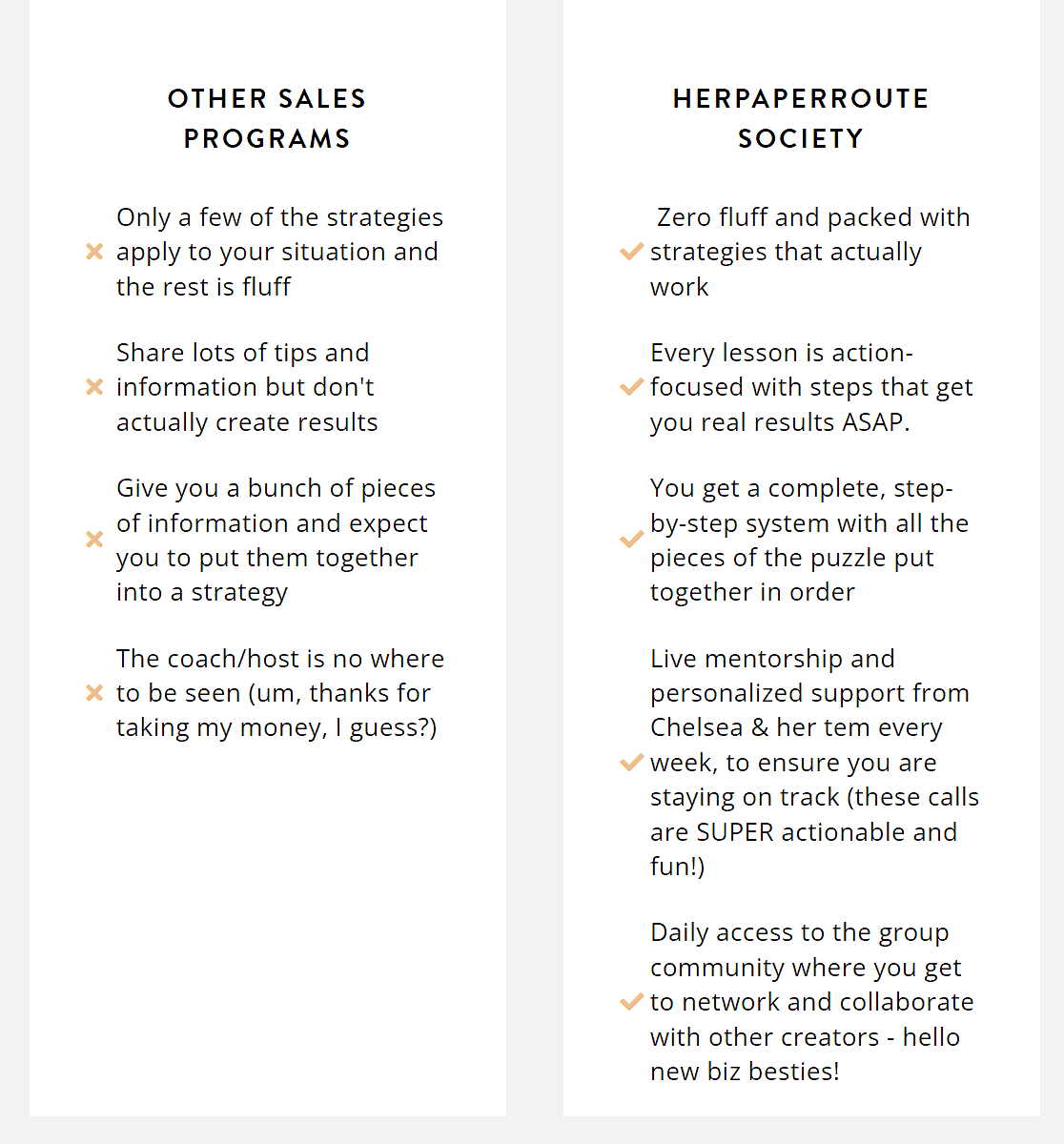 Chelsea has put together this extensive mentorship program based on her experience of teaching over 30,000 students how to build sustainable digital businesses.
Her 4-part framework consistently leads to big profits, big launches, and consistent $30K months. This is the system you'll learn in the HerPaperRoute Society.
Ready to Transform Your Business?
Then apply to join the HerPaperRoute Society below
Society program enrollment closes May 29th at 1159pm EST
3) Jumpstart Your Virtual Assistance Business with Gina
Not ready to invest in the FullyBookedVA yet?
Gina's Jumpstarting Your Virtual assistant business mini-course goes for $99 only, which is an introductory course to her flagship program above: Fully Booked VA.
4) Access 30 Days of All Skillshare courses for Free
Skillshare is a rapidly growing platform with tons of useful courses that you can take while in isolation.
The platform has over 24000 online courses cutting across multiple disciplines
Some of the courses I recommend include:
Social Media Marketing: Top Tips for Growing Your Followers & Going Viral
Branding for Entrepreneurs: Building an Aspirational Brand on Instagram
Art of the Start: Turning Ideas into High-Growth Businesses
Going Freelance: Building and Branding Your Own Success
E-Commerce Essentials: How to Start a Successful Online Business
To access the platform for free for the next two months, simply follow the link below
Wrapping Up
I admit,
Putting this together took a breath out of me but I know it was worth it.
Going through all the above resources can be overwhelming. I suggest you assess your current needs and take the courses that will help you meet them.
If you are planning to use this time to start a blog, then I suggest you read this massive guide on how to start a money-making blog step by step. In nine steps, you will have everything you need to get started. And grab my Bluehost discount for affordable web hosting before you go.
To help others find these awesome courses before they reset back to premium, please share on social media. I have even made awesome pins for you to pin on Pinterest below
Bonus: The Best Free Content Writing Video Lesson