Can your email inbox get any less cluttered? In this SaneBox review, I take you through how you can boost email productivity, and work smarter all while ensuring that your important emails are attended to. 
With the right inbox management and cleaning tool, you'll be able to:
Save several hours a month
Quickly identify and attend to important emails
Achieve inbox zero without missing emails
Stay productive
You will be able to achieve all of the above with SaneBox, but first, what exactly is this handy tool, and what does it do?
What is SaneBox?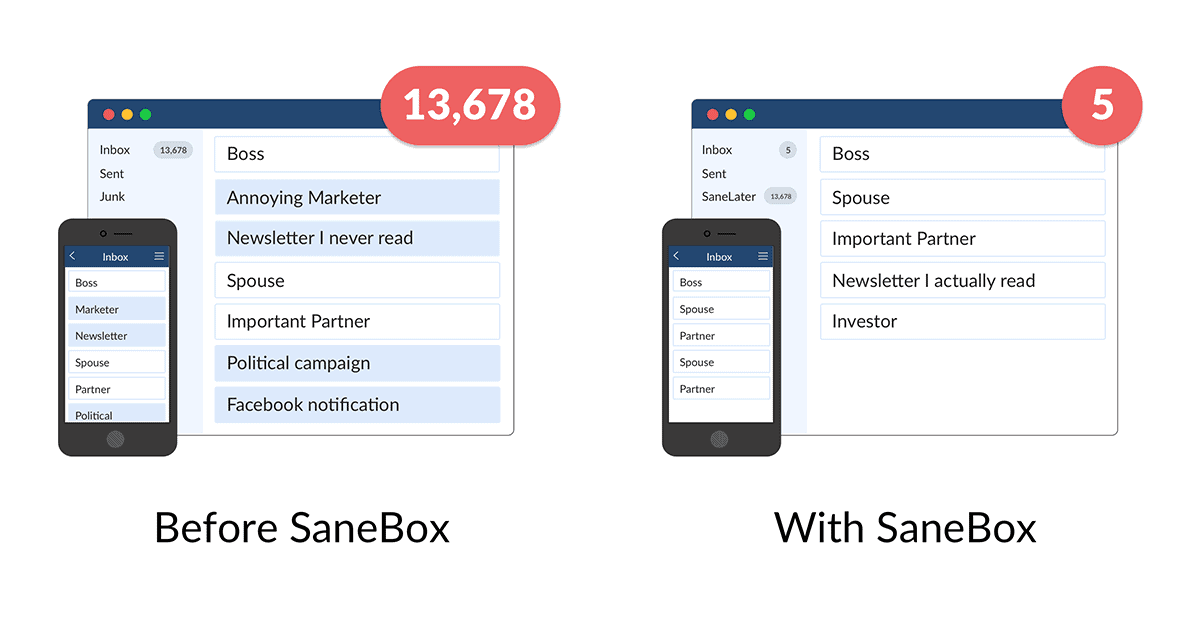 SaneBox is an inexpensive email inbox management tool that helps users organize their inboxes, prioritize emails, reduce clutter in their inboxes, and generally become more productive when it comes to email handling.
Other things you can do with SaneBox include the ability to snooze emails with SaneLater, enabling the Do Not Disturb mode, auto-trashing useless emails with easy-to-set-up filters, and even tracking emails for replies.
How Does SaneBox Work?
It's easy to get started. Simply create an account on SaneBox and follow the following process to clean your email accounts.
Type your email address and password, and click on the clean inbox to start the cleaning process.
SaneBox starts analyzing your emails. This process can last a few minutes to a few hours depending on the number of email messages you have.
When SaneBox robots are done, only important emails will be kept in your inbox, while the rest are moved to a separate (new) folder called SaneLater.
Next, review your inbox emails, and if you still can spot unimportant emails, simply drag them to the SaneLater folder, and the algorithm will remember this for future emails for this sender.
This is just but the basics of email sanity you can achieve with SaneBox.
To best leverage the tool, you will need to take advantage of all the features that it offers. We dig deeper into each feature below.
SaneBox Overview Video
Why SaneBox? 7 Main SaneBox Features That Make it Awesome
a) Do Not Disturb mode
When turned on, this handy feature temporarily moves all new emails to a Do Not Disturb folder. You can even set up a custom away message to cut back on follow-up emails while on vacation.
To enable this feature, log in to your account, and from the left navigation, click on Do Not Disturb and set it to pause.
This feature has 3 built-in critical customization options, giving you more control and flexibility:
Set it to only receive new emails at certain times of the day. This way you don't have to be constantly checking your inbox, a habit that lowers your productivity at work
Unpause the feature automatically, at a given date or time. For instance, you can unpause emails every Monday at 3:00 pm, or at a given time that you set aside for reading emails.
For very important emails, set up delivery exceptions. This way, these emails will always arrive in your inbox. Think VIP clients.
You can turn this feature on whenever you're away from your devices, say your focus hours, at night, when away on a vacation, and over the weekend. You will need to set up and supply the keyword pass to the senders you want to bypass the Do Not Disturb folder.
b) SaneBox Auto Reply Messages
You can use the auto-reply message feature within your custom folders, snooze folders, and the Do Not Disturb folder.
This is a handy way to send an email letting the senders know that you received their emails and give more info on when you would be replying or directing them on what steps to take next.
SaneBox sends the auto-reply message to your contact only once per hold period. So if a sender replies to your auto-reply message, SaneBox won't resend the message.
SaneBox-Review-Overview_compressedDownload
c) SaneBox SaneLater Folder
By default, SaneBox moves all of your unimportant messages out of the inbox, to a dedicated SaneLater folder. However, you can further categorize them and send them to specific custom folders.
The SaneLater emails will then be summarized for you with the SaneBox Digest feature. There are two main customization options you can leverage when it comes to SaneLater:
Allowing all new contacts to reach the inbox
Training the SaneBox: Simply move the email from SaneLater back to the inbox, and SaneBox will remember it for future similar emails.
d) SaneBox Digest
For first-time users of any email cleaning tool, there is an innate fear of overlooking or missing important emails. AIs can't get it right all the time, right?

Well, this is where Daily Digest comes in. This tool allows you to have a quick overview of all the new, unimportant emails that were sent to different folders. The digest only includes the emails you haven't seen.
By default, SaneBox sends the digest once a day between 2:00 – 5:00 PM, but you can customize this based on your schedule.
e) Sane Black Hole
With this feature, you can train SaneBox AI to auto-send unwanted emails to the SaneBlackHole folder by dragging them here or using other features such as subject filters, domain filters, or SaneBox Digest.
Emails in this folder are auto-trashed once they're 7 days old, giving you the time to revert any if necessary.
This is an effective way of dealing with unsolicited emails since unsubscribing often sends signals to the senders that your email is actively being maintained, resulting in them adding you to even more lists.
f) SaneBox Snooze Feature
You can use SaneBox snooze folders to hold emails for a given period before they can reach the inbox. Use this feature to defer emails that are not important or actionable right away.
For example, you can defer all transactional emails such as receipts to a given day you've set aside for processing.
There are default snooze folders such as @SaneTomorrow and @SaneNextWeek to differ emails till the following day or week, respectively. You can also create custom folders where you can set a date and time when emails should be popped back to your inbox.
g) SaneBox Reminders
This is your email outreach assistant that reminds you when your important emails haven't been responded to or acted upon.
Here are 3 use cases to apply this feature:
Defer processing an email until later. (Simply forward the email to a reminder address)
Personal reminders
Getting notified when the email you've sent hasn't had a response so you can follow up. (To use this feature, add a reminder address as a CC or BCC when sending the email.)
h) Sane Attachments — Auto-save to Cloud
There are five main reasons you want the attachments saved to the cloud:
Easier tracing
Safeguarding
For modification purposes (documents)
Save on quota for large attachments.
Enable collaboration
Sane attachments to work with your existing cloud solutions such as Google Drive, Microsoft OneDrive, Box, Dropbox, and Evernote. (iCloud is not supported)
If you have several email accounts registered with SaneBox, you can activate a separate cloud service, depending on your needs.
Kindly note that this feature is not retroactive, so it only works with the new attachments that you receive after you have turned on the feature and authorized your cloud solution.
How does it work?
The Sane attachments feature saves the attachments to a folder you've specified in your cloud storage solution and then strips the attachment from the email.
There are a number of things you can do with customization options available for you with this feature:
Choose which sane folders can upload attachments
Auto-add a link to the email pointing to the attachment that was uploaded to your cloud.
Decide whether the attachment link above should appear at the top or bottom of the email
Make your attachments to be only accessible to the people with the share link by choosing not allow attachments to be public.
Save a copy of the original (unmodified) email (This copy can be saved in the trash folder or the @SaneOldAttachment box)
SaneBox Reviews
SaneBox Pros and Cons
SaneBox Cons
SaneBox's smart AI makes it easy to automatically send incoming emails to specific boxes, helping you declutter the inbox
This tool also enables you to train the AI so that future emails go to the desired boxes.
Affordable pricing tiers, enable anyone to achieve inbox zero
SaneBox also runs a truly resourceful Zero academy that you can access for free.
SaneBox Cons
Sometimes definitive support is missing when looking for answers to specific use cases.
There's a bit of a learning curve to fully leverage the tool
Limited trainable sane folders. SaneBox confines you to only 6 folders, so if you need more, this can be a limitation.
SaneBox Review — SaneBox Pricing
SaneBox offers three pricing options, based on the number of features you can activate. The best option is the Lunch plan ($12/month), which offers 2 email accounts and 6 features activations.
The link above allows you to try all the features of SaneBox for free for 14 days, without providing your credit card details.
SaneBox Plans:
Snack: For just $59 per year ( or $7 per month), you get to use SaneBox for 1 email account, and activate 2 features of your choosing.
Lunch plan: This plan costs $99 per year (or $12 a month), and allows you to choose 6 features for each of the two allowed email account activation.
Dinner plan: If you have more accounts that need cleaning, then the Dinner plan may be the right plan for you. This plan costs ($36 per month or $259 per year). You get access to all features for up to 4 email account activations.
SaneBox Review — Is it Worth it?
SaneBox is worth it, as it not only makes you more productive, but can help you get to important emails faster, and hence close more deals. Try it yourself here, and you will be surprised how quickly you can fall in love with this tool.