Congratulations you recently landed a job that pays 40 dollars an hour, which might seem like a lot, especially if this is your first job, right off college.
But then, how much are you actually making at that rate?
40 dollars an hour is how much a year?
If you make $40 an hour, your yearly salary would be $83, 200. This result is obtained by multiplying your base wage by the number of hours you work in a year, assuming you work 40 hours a week for the 52 weeks available in a year.
Now, how much you actually take home will be considerably less, given that there are lots of other deductions that will be made, including
Social security
Medicare
Federal Income Tax
State Income Tax (where applicable)
These deductions could amount up to 25% of your total earnings. When you are being paid an hourly wage, often our minds trick us into believing that that's the exact amount we're taking home, when in reality, it isn't.
How much is 40 dollars after taxes?
The United States has a progressive tax system, which means that the more you earn, the greater percentage of your income goes to taxes. Some states collect income taxes as well, and these can be either flat (everyone pays X percent) or progressive (the more you make, the higher percentage you pay).
So, to know how much taxes you pay on a 40 dollar an hour salary job, you need to pull up the tax table or use online calculators that help you calculate how much tax you pay based on your tax brackets and the state you work in.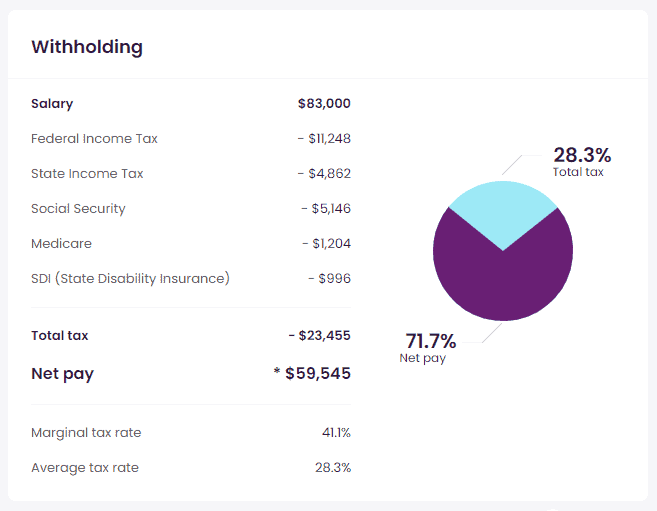 An example above is a tax breakdown for a California worker. The net pay comes down to $59,545. If we divide this by 2080 work hours in a year, then the $40-hour rate comes down to $28.6 only.
40 dollars an hour is how much a week?
Employment law in America allows the term "full-time" to have a range of definitions. Some companies define full-time as 40 hours per week, others 45 or more. But generally speaking, if you are working 40 hours per week consistently, you are probably considered full-time.
If you work 40 hours a week at $40 an hour, your weekly paychecks will be $1,600 before taxes and other deductions. If you work overtime, then the pay would be higher, since overtime hours are usually paid at double the normal rate.
40 dollars an hour is how much a day?
To figure out how much you make in a day, multiply the number of hours that you work in a day with your hourly rate.
For example, if we're talking about an eight-hour shift, then you would be making $320 per day. Again, these are your gross earnings.
40 dollars an hour is how much per month?
Assuming that you show up to work consistently, 8 hours a day, 5 days a week, for the 4.2 weeks in a month, then you would be making $6720
Summary table for $40 / hour
Converting $40 an hour in another time unit
| Duration | Unit |
| --- | --- |
| Annual salary | $40 an hour is $83,200 annually |
| Monthly salary | $40 an hour is $6720 monthly |
| Weekly salary | $40 an hour is $ 3360 biweekly |
| Bi-weekly salary | $40 an hour is 1600 weekly |
| Daily salary | $40 an hour is $320 daily |
Careers That Earn You $40 Per Hour
Here are some examples of jobs that range anywhere from $40 an hour to over $100 an hour:
Lawyer
Law clerk
Clinical research assistant
Personal banker
Accountant
Social media manager
Sales rep
Marketing and brand manager.
How to Live Off $40 Dollars an Hour Salary
First, you need to figure out what your essential expenses are. These include things like rent, utilities, food, clothing, and transportation. 
Once you know what your fixed monthly costs are and their summations, you need to determine how much more you bring in every month, on top, and then budget those to cater to your savings, investments, and the rest to your other needs and wants.
The good news is that most people do make more than they spend each month. The bad news is that this surplus doesn't cover everything needed for a happy life. This surplus often leaves someone wanting or needing something extra or different—things like going out for drinks.
The remaining gap—the hole in the budget—is called living under one's means. It's not where anyone lives long-term.