If you have a passion for writing and dream of working for yourself, freelance writing could just be what you are looking for. The best part? You don't have to be experienced, have English as your first language, or hold a university degree to pursue your dream.
However, just like any other job, you require some skills to deliver valuable, engaging, and impactful content. Digital content creation space is continually evolving, and as the creator, you need to level up
Read on to find out how to become a freelance writer with no experience, as well as the skills you need to start and excel in the freelance writing industry.
Essential Skills for Becoming a Freelance Writer
Communicating through writing is the most basic skill you need to become a freelance writer, but it doesn't stop there. Below are some of the skills you will need to become an excellent writer as you begin pursuing your passion.
1). Editing Skills
Editing helps you polish up your work, and tailor it to suit your target audience. You can do this with the help of editing tools like Grammarly as they make editing much easier.
While self-editing skills are crucial to write high-quality pieces, it also expands your scope of work beyond just writing. For those times you may not feel like writing, you can take up editing and proofreading jobs as they don't take up as much effort as writing.
2). Perfect Pitching Skills
Pitching skills come in handy when you are looking for clients to write for. Therefore, you need to learn the art of bidding to help you land jobs.
If you have a company in mind that you want to write for, study their industry and be updated about it before expressing your interests. This way, you can send relevant and personalized pitches and ideas that will help boost your possibility of being hired.
3). Ability to Meet Deadlines
As a freelance writer, excellent time management skills are crucial to help you meet deadlines and achieve quick turnarounds.
Missing out on deadlines frequently will quickly make you run out of clients while sticking to deadlines without compromising the quality of your work will help you retain them. Always gauge how much work you can handle within a given period, then be organized enough to prioritize the important matters first.
4). Excellent Research Skills
Well-researched content builds credibility among your clients and readers and depicts you as a writer who knows what they are talking about. Great research skills enable you to even write on topics that you know little about, so you are not limited to a specific industry.
Although the internet offers the best sources of information, you need to widen your research sources to books and even interviews and avoid depending solely on the first page of your preferred search engine.
Skim through as many as the first 100 Google results so that you do not miss out on the important elements that people are looking for.
5). Knowledge of SEO
Understanding SEO enables you to come up with content that appeals to search engines, drives traffic, and inspires your readers to take the desired action.
This includes appropriate use of keywords, coming up with optimized headlines and descriptions, and formatting your content in line with SEO best practices.
Always ensure that your content meets the users' search intent as this is the basis of your clients' business. Your client needs content that will make people take action. If your content doesn't meet the search intent, readers will most likely bounce back. No business for your clients means no business for you.
Practical Steps on How to Become a Freelance Writer with No Experience
In your quest on becoming a freelance writer, you should first ensure you acquire all the necessary skills. Thereafter, utilize the steps below to help you land your first job and subsequent clients as a newcomer writer.
(i) Build a Network of Freelance Writers
Creating meaningful relationships is the best place to start when trying to become a freelance writer with no experience. After all, most new writers land their first jobs through recommendations and referrals.
Make use of social media spaces and online platforms like LinkedIn and Facebook groups to connect with writers who will add value to your freelance writing career.
An excellent network will not only offer you tips on how to go about freelance writing but can also point you to job opportunities and recommend you to clients.
(ii) Join a Freelance Writing Platform/Agency
For most newcomer writers, joining a writing agency is one of the best ways to start. Numerous agencies offer new writers a platform to hone their writing skills while earning from it. What's more, you are sure of payment for your work, considering that most new writers find it difficult to chase payments from their clients.
By joining a writing agency, you get a chance to build your portfolio, get clients, and grow as a writer since most agencies offer support to beginners. Just ensure that you only credible agencies that are well established. The pay will not be as good but still the best place to start as you work on building your writing portfolio
(iii) Build Your Writers Profile
As a writer who is just starting, an impressive profile will land you jobs in no time. Although you don't necessarily have to be experienced, you need samples to show your clients that you can deliver what they are looking for.
As such, Consider the following:
Write and refine your samples and have them published on free platforms like LinkedIn or Medium
Start your own blog where you post your content and showcase your portfolio. For instance, I do get direct clients because of my blog AspiredBlog
Guest Post on other blogs so as to put yourself out there for clients to find you.
Solicit testimonials from your recent clients and showcase them on your website.
(iv) Begin with Topics You Are Most Comfortable With
Since you are starting without prior experience in freelance writing, it would be much easier to begin from a point of knowledge. Pick a niche that best interests you by identifying topics you are most comfortable with.
Are you passionate about health and nutrition, finances, or real estate? If yes, begin writing and looking for clients in these fields as you work your way up as a freelance writer.
(v) Pitch Fearlessly
Master the art of cold calling, improve your pitching skills, and market yourself boldly. If you identify a client you would like to work with, don't shy away from pitching as it could land you a lucrative deal.
Although it may be quiet unnerving at first, you will get better with practice as you consistently and regularly approach potential clients. Be sure to obtain permission from your clients whenever necessary if you plan on using the pieces you have worked on independently as samples.
You can also find freelance writing jobs by scouring freelance writing job boards and applying on jobs that fit under your niche.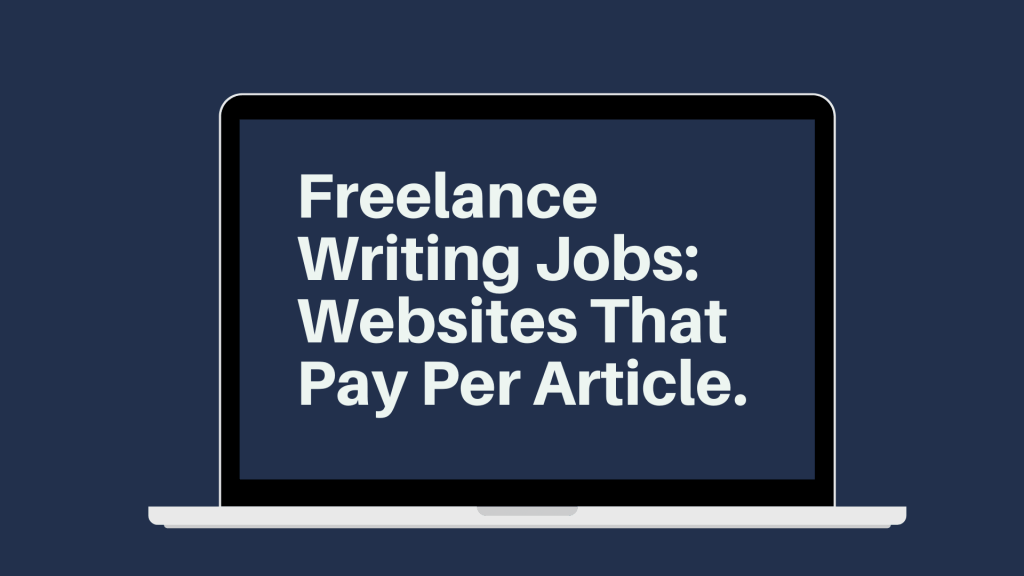 Summing Up
With the above tips, you can confidently hack how to become a freelance writer with no experience.
Keep in mind that it might take a while to master the craft, but your discipline and dedication will make you excel. Rejections are normal and should not discourage you. By being consistent and seeking to improve your craft, your freelance writing journey will be successful and worthwhile.