Did you know that less than 10% of affiliates are responsible for driving 90% of the traffic and conversions in most affiliate programs?
It's not like there is a shortage of affiliate programs; there are tons of them. We are talking about a multi-billion dollar industry with projected revenue growth of over $10 Billion by 2021.
So, why is it that majority of affiliate marketers are barely earning any income from their affiliate marketing efforts? The stats are a sharp contrast to what you see when you look up the 'affiliate marketing income report'.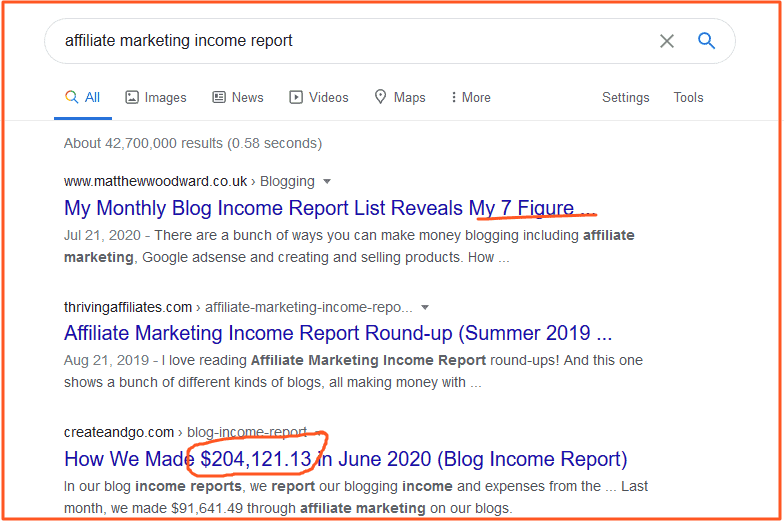 Well, one thing most gurus won't tell you (because they are probably trying to sell you their courses) is that affiliate marketing is not easy or fast. Many of those success stories you see have been at it for years, building their online business from the ground up before they started seeing meaningful results.
What is affiliate marketing?
Before we get into the mistakes most beginners make, let's take a moment to explain what affiliate marketing is all about and why it's a lucrative industry.
Simply put, affiliate marketing is a process of promoting other people's products or services and earning a commission from the sale.
What makes the idea lucrative is that anyone can do it from anywhere, with or without startup cost. As an affiliate or publisher, you don't need to own a product or spend any money on it. All you have to do is promote it, whichever way you can, and you get paid when someone purchases through your link.
Why do so many people fail?
The better question is, why is affiliate marketing so popular? If you have been following the trends, you must have come across some statements repeated over and over:
Easy like 1, 2, 3! Straightforward! Anyone can do it!
And that is what attracts the masses.
However, the reality is different. Most affiliates are not driving into the sunset in Ferraris or sipping wine in private jets. That's because they start off on the wrong foot, making beginner mistakes from the onset.
Here are affiliate marketing mistakes most beginners make
Of course, it's not just beginners—or else the numbers would be different. Most people have been failing and continue to fail because of the following rookie mishaps. Let's get to it.
1. Treating it like the lottery
It's easy to get carried away by the promises you find online. You find yourself jumping into a program without even knowing what you want to sell or why. It's likely you don't have a traffic source to send to your offers. So you end up doing what everyone else in your situation is doing: sharing links everywhere.
Let's face it. If you were making any money, you wouldn't be spamming social media. Besides, people don't just buy from any link they come across. They know where to go for the things they want.
As an affiliate marketer, it's important to position yourself as someone who offers a solution to the needs of your target audience.
Affiliate marketing is a business. And like any other business venture, even if it was selling fruits on the streets, you need to approach it prepared. I dentify your affiliate niche, figure out your target market (audience and a niche) and map out a strategy that will convince potential customers to open their wallets. You don't just rush out there and hope someone will buy from you.
2. Lack of knowledge
Did you start your affiliate marketing journey by enrolling into an affiliate marketing course?
You'll be surprised to know many don't do that, at least not at first. Some will try and fail, and then either give up or go back to seek knowledge. Why?
Because they buy into the easy structure of affiliate marketing:
Get the product, sell it, and earn a percentage.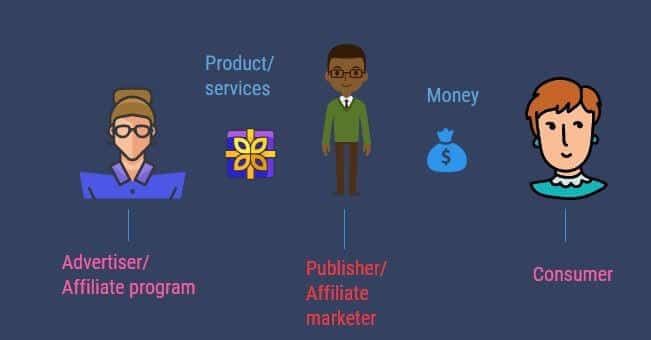 However, once you get past the basics, you realize there is a whole system in place. People are competing for the same products, the same audience.
You need to do market research. You need to know how to leverage internet marketing. You need to know how to adapt to frequent changes in the online business world.
You can think of it like this; if it were any other business or career, you wouldn't jump into it blindly. Affiliate marketing should not be an exception.
3. Not creating email lists
Most people do not take time to build a loyal audience when starting off. You start off adding links without building a list. But that's not a problem because you have to start somewhere. The problem is not seeing the point of having one.
Also, building an email list is not easy, and that scares away many beginners. It takes time and effort. A successful affiliate marketing business will take time and effort. If you're thinking long-term, you should realize that an email list is the backbone of an online business. Not having one, unfortunately, means you don't have a well-thought-out business strategy.
However, growing a list doesn't have to be complicated. You don't need a blog or website to start building a list. Most people don't have that starting out. All you need is an email marketing app like Mailerite or ConvertKit, signup for the free versions. Connect your list to a free opt-in page (landing page). There are many landing page creators online.
Now, as you leverage social media, go ahead and share your capture page links instead of direct affiliate links.
4. Promoting the wrong products
As a newbie, it's easy to grab whatever product you see and start promoting. The problem with doing that is that you'll be ramping up support for a product you don't know much about. And if you don't know much about a product, you'll likely promote it to the wrong people, through the wrong means.
Affiliate Product research is important. You don't necessarily need to taste products, leave that to when your business has grown, and so has your audience. With a bigger audience, you now need a medium. It could be a blog, website or YouTube channel. That's when you need to taste products or services you believe in and offer honest reviews.
However, while starting out, you just need to research your offers so that you know what you're promoting. Take a look at the reviews as they are excellent guides.
5. Promoting too many products
Have you ever subscribed to a list, only for your inbox to start piling up with tons of offers from the same person?
No one likes clutter. Many affiliates make the mistake of selling everything under the sun as soon as they have an audience.
It would be more effective to stick to a select group of products or services. It's even easier to validate your support for a few products rather than dozens of them.
6. Relying on a single traffic source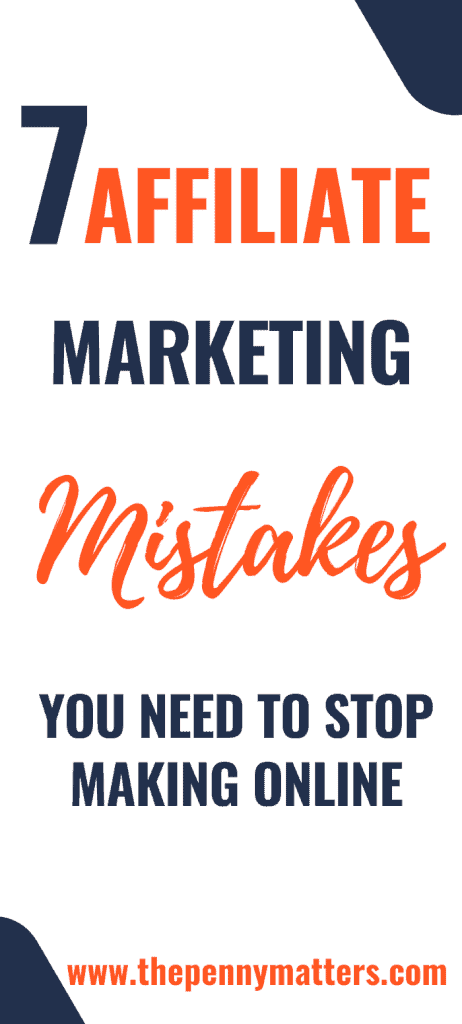 One of the biggest mistakes most affiliate marketers make (veterans or not) is relying on a single traffic source. Of course, you can make a lot of money from one traffic source, but that's not sustainable.
Changes in the online world happen frequently and abruptly. It may only take one Google algorithm update to collapse your business. If you rely on a social media platform, you could wake up to a suspended account. You could also lose subscribers on your email list.
Having multiple traffic sources is the most effective way to secure your business. Aside from Google ranking, here are other reliable traffic sources to tap into:
Social media (YouTube, Facebook and Instagram are huge sources).
Email marketing
Paid advertising.
Guestpost traffic
7. The lack of patience
Making money online takes time.
The lack of patience and unrealistic expectations can spell disaster. Affiliate marketing is a great way to earn a reliable income online. However, it requires patience to grow an online business capable of generating income consistently.
Conclusion
Affiliate marketing is as attractive as a get-rich-quick scheme, but it's a business. While some people have achieved success very fast, those cases are few. Also, strategy plays a big role in determining how fast you see success.
For most people, it's very realistic to earn little, if anything at all, during the first year. So brace yourself up and know that you're in this for the long haul.