When someone mentions online business, what often comes to mind is this rather intimidating notion of being a CEO of a fully-fledged company that's making millions in annual revenues.
The truth however is, anyone selling products and services online is an online entrepreneur: You own an online business if you:
Offer freelance services to clients such as freelance writing, design, virtual assistance, transcription, proofreading, editing, WordPress development, tutoring, or any other service that can be offered virtually
You sell your own digital products such as eBooks, eCourses, planners, Printables, artworks, etc.
Operate a dropshipping business where you are essentially the middleman in the sales process
Sell your own physical products through Print on Demand services or through the Amazon FBA program
Run an eCommerce business etc.
To start an online business, you need the right mindset. These streets, even though are tough, can be rewarding to those who never stop showing up.
This is where we make a pact, that no matter what happens, or how slow the business seems to be going, we shall always show up, and get some work done.
Most entrepreneurs are made; it's the lessons, the experiences, and the skills we acquire along the way that makes us better.
The Challenge of Running an Online Business
As entrepreneurs, we are great when it comes to creation. We design products and services that make work easier for our customers. The challenge is marketing.
We're creators, not really sellers.
We write we design, we develop, we integrate, we record, we fine-tune, we tweak, we systematize. That's what we do best. When it comes to selling my friend, this isn't really our forte.
As a solopreneur, this is a hurdle you want to face head-on during the early stages of running your online business, otherwise, you'll be forced to believe that your product isn't good enough, when it actually is better than what is already in the market.
How to Start an Online Business from Home
1: Finding the Right Idea That Can Sustain You Emotionally and Financially
This, my friend, is big. If you are going to base your business on an idea that will wear you off, then you need to think again.
You've read that you need to find what you are good at. My advice?
Do just that.
Do you love writing, teaching, building sites, illustrations? Find out what businesses can you start around the things you love, the things you're actually good at. You can teach that skill, create eBooks around your favorite topics, offer your services as a freelancer, or develop software and sell it as a service.
This should be something that you see yourself loving and doing 7, 12, or 20 years down the road. You may not be as skilled at it as yet, but you are excited to keep learning and improving on it.
Once you have settled on an idea, then find out how others are monetizing it. Google can help you here. Simply search for your idea, and visit the blogs and websites where it is being discussed.
2: Choosing the right monetization model
Two things to consider: Your preferred model and the overall preferred model industry-wise. For instance. Illustrations. Freelance illustrators are being sought after by brands, authors, and publishers. You can decide to offer custom illustrations. Thus your main model here is freelancing.
The next thing you want to do is visit a freelance marketplace like Fiverr and Upwork and use their search bar to search for Illustration services or jobs. Fiverr will display all the illustration services that are being offered by freelancers.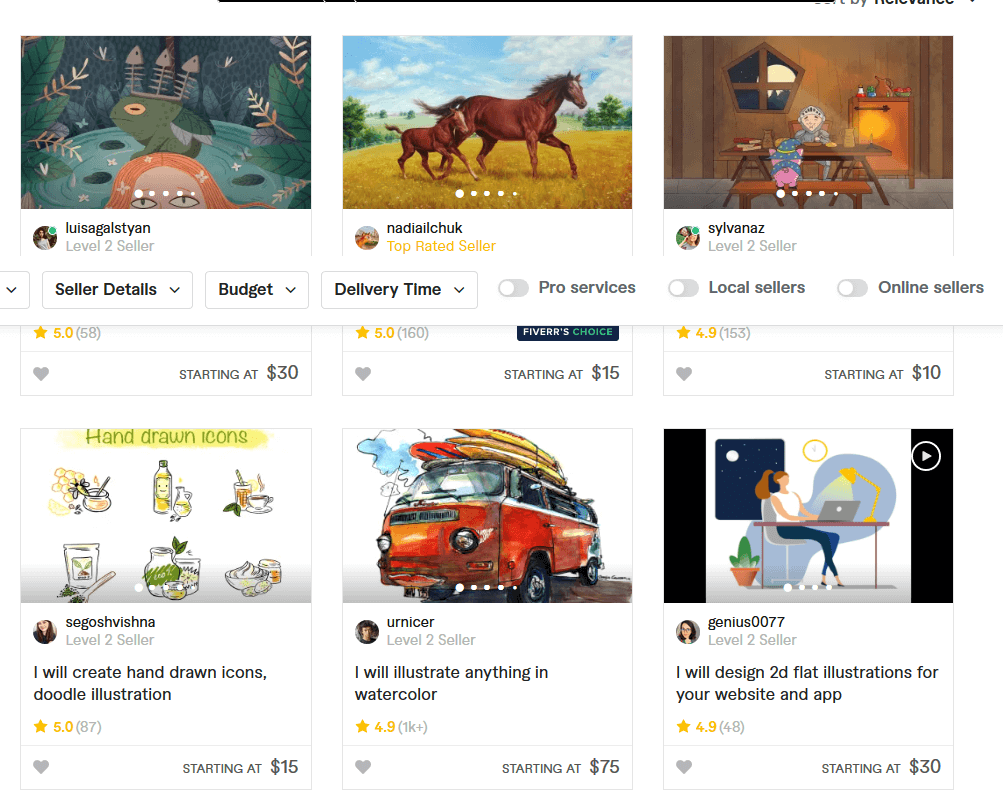 Write down a few that you think you can provide for your clients. This will help you differentiate yourself. Sometimes nicheing a level deeper can be all you need to hit the ground running.
3: Benchmarking with your Competitors
Besides your preferred model, what other models are your competitors using in their businesses?
Most often you will realize that one model may not be sustainable after all. Illustrators may decide that creating artworks and selling them on Etsy may free them time since these are create-once items. So Digital products could be another addition to their businesses.
The same applies to other freelancers as well. Should you sell one service such as Freelance writing, or opt for Virtual assistance and productize your services?
Instead of depending only on SEO writing, what about you add a custom package for SEO Audits?
These are the things you will end up discovering if you do your benchmarking well.
To get started, spend a few hours on a keyword research tool such as Semrush, and find bloggers writing about topics in your niche. You can also try search terms such as "industry + bloggers" to bring you curated lists.
You can then visit these lists, copy the URLs and then start exploring each site one by one. You should be able to come up with a list of at least 15 favorite competitors.
Now visit each of these competitors and find out the following:
How they do content marketing
How they write copy
What services they are offering
What products they're selling
What tools do they use
What other platforms, apart from, their websites, do they use to sell their products and services



How do they get leads?
From your findings, you can then decide what you can replicate for your business right now.
4. Profiling Your Ideal Customer.
To succeed online as a solopreneur, you need to serve the right customer.
This means, being intentional on what channels you gonna use to attract her, creating lead magnets that only she prefers, and planning the customer journey that is best suited for her.
You cannot know these things if you haven't taken the time to know her.
4. Develop your online Presence.
It isn't really an online business if you don't have a website. Despite what other coaches say, I believe you need a functioning website. Yes, you can sell on marketplaces and social media, but can you really grow a brand there?
I don't think so.
Sometimes, even before I have clarity on what I want to do, so long as I have a name in mind, I always grab a domain and set up a simple site. I do this for two main reasons:
There's no turning back. It kinda keeps me on toes. My homepage could be just a simple coming soon page, but still plays a role in ensuring that I don't shelve this one back, like all the rest. I will work on branding later, but I have to get started somewhere.
Domain age and SEO. This may not be the strongest ranking factor, but it's still a crucial factor when it comes to ranking on Google. Even if I only blog on the site once a month before my actual project launch, a year later, I won't be starting from zero.
Your website is essentially your store where all of your business activities take place. People pass by, like what they see, and they decide that you're worth a shot. So they give you their precious assets, their business cards (email addresses). They receive value and become your customers.
So by now, you should have figured out that you don't just need a generic website. You need a site that breathes life. You can hire me to do a website for you, or if you like it, you can build a really dynamic site yourself using Astra theme and Elementor Pro.
I've built over a dozen websites using these tools, and I can't change a thing.
Astra theme provides the framework that gives you full flexibility when it comes to the layout of your site. Now with flexible layouts already in place, Elementor Pro helps you design your website to look just the way you like it.
Don't believe me? See how this blog post is laid out. I designed this single post template using Elementor and applied it to all my single posts.
What's cool is that you can design a single post template for any category or post type. That means, I could have this for my online business posts, then another for my freelance category. My page template is a lot different from the one I use for blog posts.
If you really want to build a dynamic site, then grab Astra Pro for $49 and Elementor Pro for $49 only.
With these two, you can then visit any site or page that you like and then model the design yourself using Elementor. There are thousands of Elementor templates for your inspirations that are available online. Elementor comes with hundreds of templates as well.
5. Design Your Products and Services.
Well, if you gonna be running an online business, then you will need products or services to sell, right? Even if your model is affiliate marketing, you need to know what products you gonna promote for your audience.
For your own digital products, you will need to block time to create them. Again, the time that will take you to create one product depends on the topic and the format. Typically, online courses seem to take much longer than eBooks, planners and other Printables. For services, you need to determine your packages and their matching prices.
6. Create Sales Pages
Yes, cringe all you want, but you still need these guys.
To successfully sell your products and services, you need high converting sales pages. These pages lead potential customers to imagine what their lives could become if they get your products.
Sales pages should only focus on converting customers. Thus minimize distractions. Remove unnecessary sidebar and subscription boxes. You can use exit-intent pop-ups to capture people who do not purchase your product/service from this page.
If you have Elementor, you can design this page to your liking, choosing the button styles, backgrounds, layouts etc.
Alternatively, you can use a more robust landing page tool such as Leadpages to collect leads and close sales
7. Find People to Collaborate with.
If your online business is based on a Digital Products model or SaaS, then you can make use of your beta testers and affiliates to grow your brand and bring in extra sales.
If your product is good enough, you won't have a hard time convincing influencers in your niche to become your affiliates.
When pitching, consider a storyline approach. This is a principle I teach in Pitch Your Way to Sales module inside the Online Business Formula. If you already have access, then jump straight right in here to explore.
8: Plan Your Launch
You're a step away from the world of business my friend. This is where you get to pat yourself on the shoulder and be proud of the far you've come. Now all you need is to create your announcement assets such as banners, posters, email copy, website copy, announcement blog post etc.
Have these scheduled to go out on your promotional day. If you have that announcement blog post, you can schedule it in WordPress as well.
Send an email to your beta testers and affiliates using a tool like Convertkit letting them know that your business will go live the following day. Also, include coupons if any that they can use to share your products. If you are running a launch offer, mention that as well.
Now, on the launch day, launch! Send your new business to the entire world. Make good noise.
9. Tweaking, Marketing and Scaling.
Learning how to start an online business doesn't end with the launch. Actually, it starts there.
Everything you ever knew about starting and running an online business will fly off the window pretty quickly. Then, you'll have to learn new marketing strategies, most of which will be out of experimentation.
If your sales funnels are not working for you, tweak them. Refine your copy. What about your email sequences, are they seeing high opens? Are they converting?
Then you also need to figure out a way to attract quality traffic to your landing pages.