While Pinterest has changed a lot since the algorithmic changes introduced in 2020, it still remains a great way to drive traffic to your blog, faster than SEO.
To be successful in Pinterest marketing today, you need solid strategies, as what used to work a few years back could actually harm your growth on the platform.
I recommend taking a few Pinterest courses, as this is the surest way of ensuring you are implementing the tested and proven Pinterest strategies that work today.
Best Pinterest Courses of 2023
1) Pinteresting Strategies Bundle (2022 Update)
Pinteresting Strategies is one of the best Pinterest courses that you should consider taking if you want to improve your results. It's taught by Carly Campbell, of Mommy on Purpose, whose accounts receive nearly 4 million monthly impressions.
In this course, you will learn how:
To design and implement a manual pinning strategy that works
Pinterest works
To implement the best Pinterest SEO Strategies
You will also receive bonus content when you sign up for the course, which includes free pin templates, access to the Pinterest Mastermind Facebook group, and a Facebook Live Video.
As of 2021, the Pinteresting Strategies course is part of a course bundle, dubbed, Pinteresting Strategies Bundle, that also includes three other products:
Pinterest Title Traffic Hacks (eBook – See more )
Pin Design Rules to Break (eBook – See more )
Pinterest Niche Site Deep Dive (See more)
Getting Long Clicks (Training Video)
What I like about this course is its ongoing maintenance. Carly occasionally releases updates as the platform algorithms changes.
2) Making Pinterest Possible
If you prefer an eBook format, then Making Pinterest Possible by Anna of The She Approach is a great Pinterest course for you to understand how Pinterest works.
This 170+ pages eBook provide nuggets you need to start driving an avalanche of traffic to your website using proven strategies that work today.
Topics covered in this eBook include:
Pinterest essentials
Leveraging Pinterest Group Boards
Pinterest pinning strategy
Secrets to hitting 36K followers
Pinterest automation
Pins optimization best practices, etc.
With this purchase, you also get access to free masterclasses on pin design and pin scheduling using Google Sheets, as well as access to Canva pin templates
3) Get Paid to Pin
Also in an ebook format, Get Paid to Pin is a short but insightful read for anyone who wants to leverage the Pinterest platform to make a living.
Dale, the author behind the Blogging Her Way blog, developed a simple pinning strategy that enables her to earn an extra $500+ a month, promoting affiliate links.
What's cool about Get Paid to Pin strategy is that you don't actually have to blog to make money.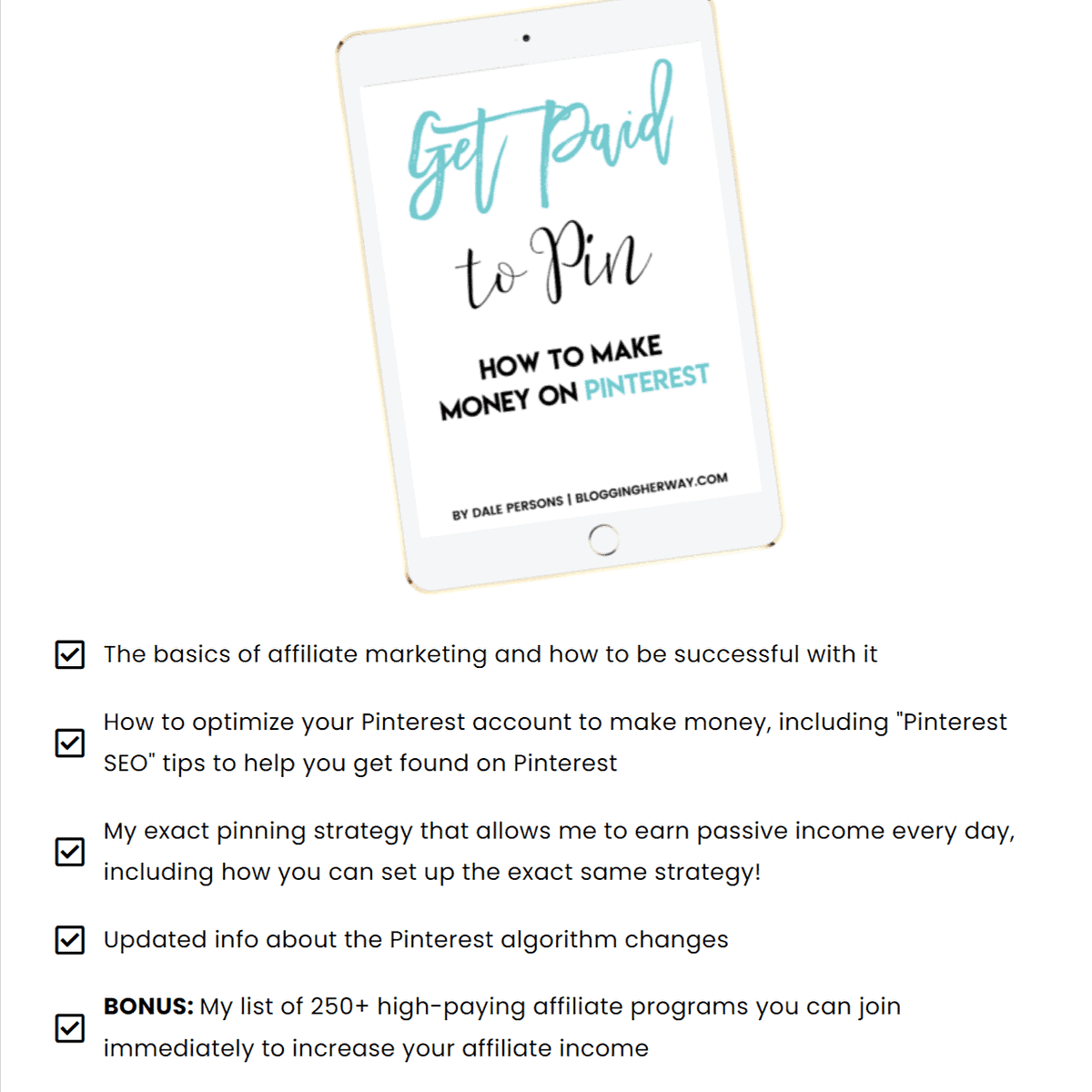 4) Pinterest with Ell
At just $39, this is the most affordable extensive Pinterest marketing course that gives you everything you need to be successful at Pinterest.
This course was last updated at the beginning of 2022, so the information reflects strategies that work today.
In this course, you will learn how to:
Set up your account for Pinterest SEO
Do Pinterest keyword research the right way
Create clickable pins that drive traffic to your blog
Develop an effective pinning strategy
Leverage Tailwind to automate Pinterest
Make money on Pinterest
Use Pinterest to boost sales and email subscribers
Make sense of Pinterest Analytics
5) Pinterest Popular Course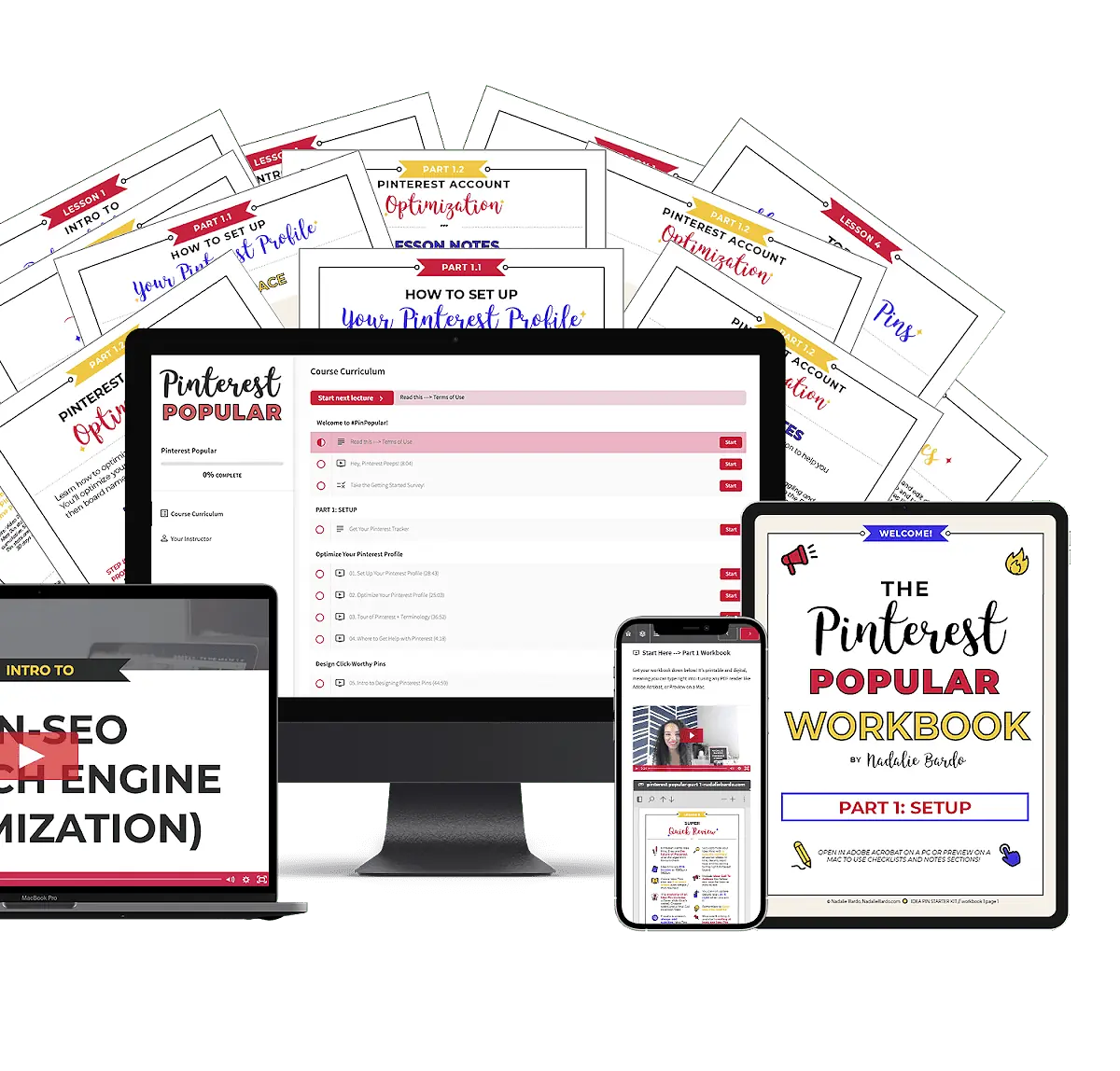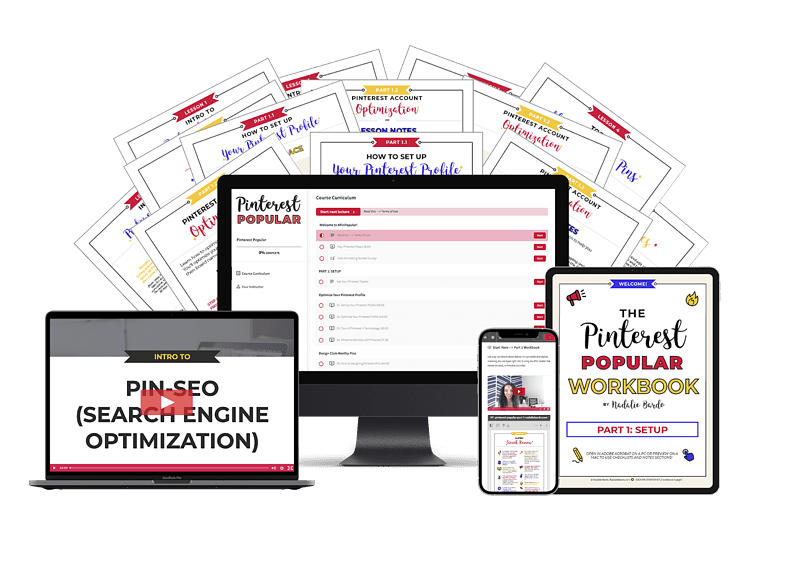 If you are tired of second-guessing your approaches to Pinterest Marketing, then taking Nadalie Bardo's course is something worth considering.
With this purchase, you get:
15+ hours of training (every lesson you need to be successful)
Pinterest tracker to help keep your pins organized
Course notes and worksheets for each lesson
Extra tech training on tools such as Canva, PinInspector, Tasty Pins, Grow Social, etc.
Nadalie Bardo is a Pinterest Expert who shares up-to-date info about Pinterest on her YouTube channel. Her Pinterest account sees nearly 5 Million monthly impressions, so she does preach and drinks her wine.
Nadalie's 15 hours of training are spread across crucial topics, including
Pinterest Essentials
Pinterest SEO
Pinterest Tools
Understanding Pinterest boards
Pinning strategy
Manual pinning strategies
Tailwind scheduling
More Pinterest Marketing Resources
To up your Pinterest game, you need to leverage other resources that will help you scale your pinning, do keyword research right, as well as create clickable pins.
Build your entire online business with the Systeme suite of tools including websites, blogs, courses, cart, landing pages, and sales funnels
Use Grammarly to improve your writing. With this tool, you can check grammar from anywhere you work, check plagiarism from your…
Wrapping up
I hope that this list of the best Pinterest courses has inspired you to consider learning more about Pinterest so as to best leverage it for your blogging business.
Here are my favorite ones: