Your blog name is a key branding tool for your online business and web presence. Finding a good blog name isn't easy since every name imaginable has got its domain name already taken. The good news is that you can leverage blog name generators and business name generators to help you find good blog name ideas for your blog.
You want to think of a blog name as something that gives your readers a clear picture of who you are, what you do and what you stand for. There are several blog name ideas online, and this even makes it harder to really narrow down to a blog name that you wouldn't come to regret it later.
What Makes a Good Blog Name?
A good blog name is the bearer of the whole picture. Your blog name should be about what you occasionally blog about, or the course that you stand for.
A short and easy-to-remember blog name is the way to go if you want to retain traffic and attract word-of-mouth promotion. It should be something that people wouldn't find it hard to come back to when they need to.
Using a keyword or combination of keywords is still a good practice, both for search engine optimization and relevance. WpBeginner combines WordPress (WP) and Beginner, while some other sites use long-tail keywords to name their blogs. Look at the examples below:
If you are after your own personal brand and authority building, then you can use your own name as your blog name and domain address. Most popular personal brands include Neil Patel, Amy Porterfield, Michael Hyatt, Amylynn Andrews amongst others
What is the blog name generator?
A blog name generator is a tool that uses a vast amount of database and machine learning and word combinations to help you come up with unique, nice-sounding names. Most of online blog name generators are conditioned to do the following:
Suggest a number of names based on the keywords you type in.
Check for the domains' availability of the corresponding names
Often help you buy and register the name you want for your blog
Direct you to web hosting and domain name registrars where you can register your domain and set up your website.
Best Blog Name Generators 2019
Let's now look at some of the best domain name generators that people are using to generate blog name ideas for their blogs and businesses.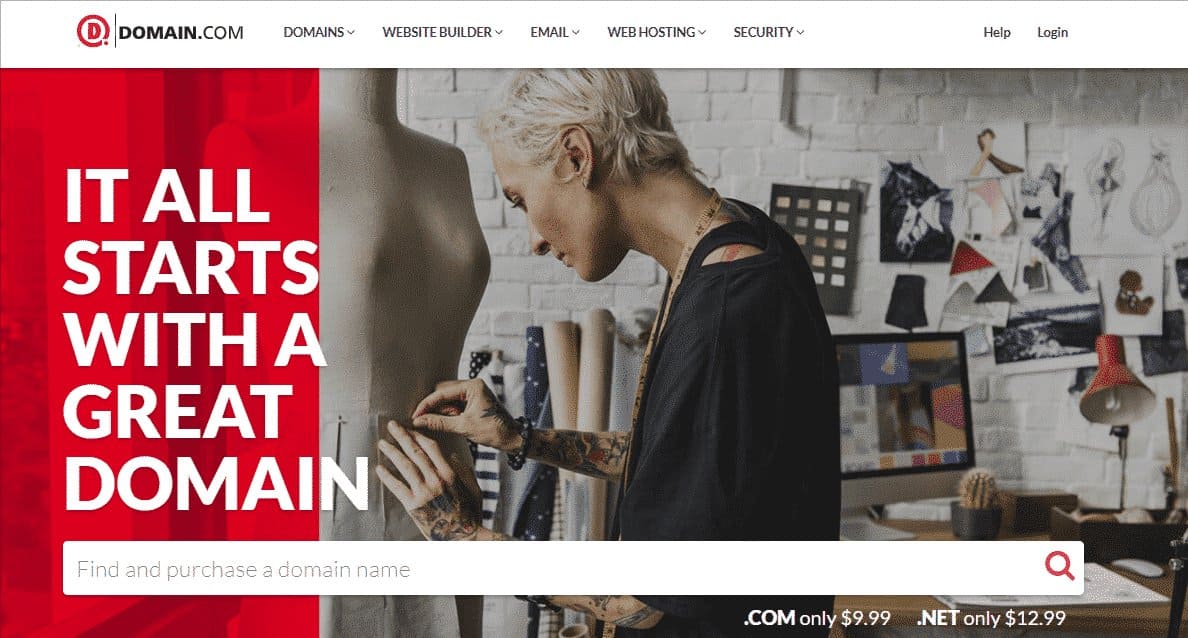 Domain.com is one of the best domain name registrars that has stood the test of time. The cool thing that stands out from the other registrars is that it comes with a really powerful blog and a business name generator.
When you enter a keyword, this generator will check to see the domain names availability of those particular keywords and their combinations. If not available, it will show you suggestions related to your keyword.
Domain.com shows both new and premium domains which are on sale together with their corresponding prices. Pricing varies depending on the domain extensions such as .com, .org, .net, .io, .host, .blog etc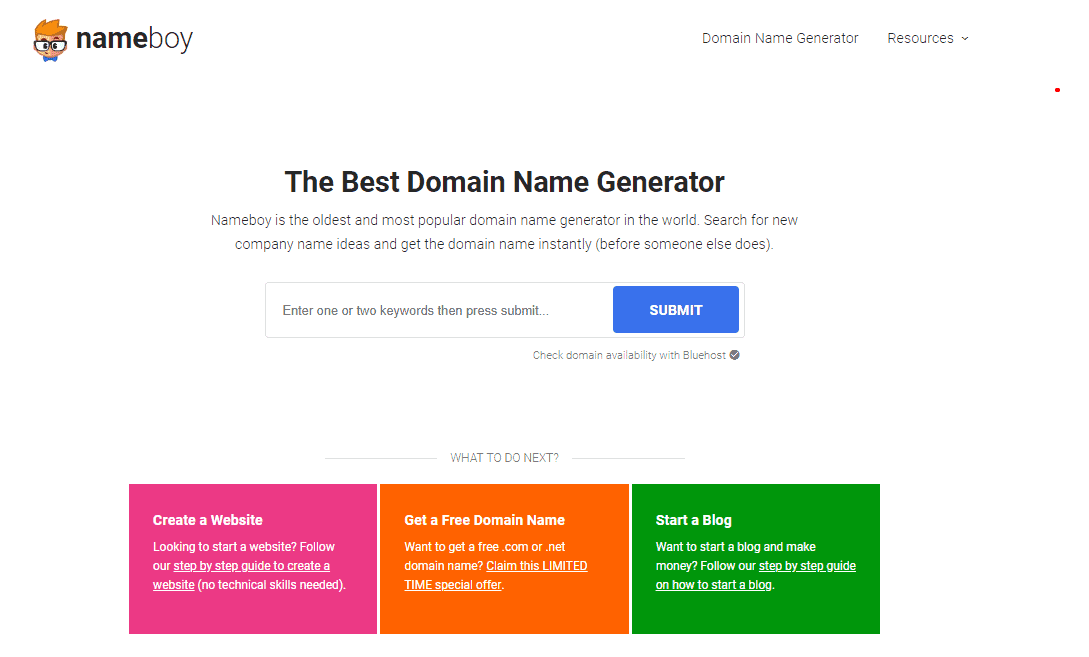 Nameboy is one of the oldest and most popular domain name generators where you can find domain names, blog names, and company names and register your domains via Bluehost.
To get started, simply enter your keywords in the domain availability check search bar. The generator will then suggest hundreds of blog names that you can use for your business/blog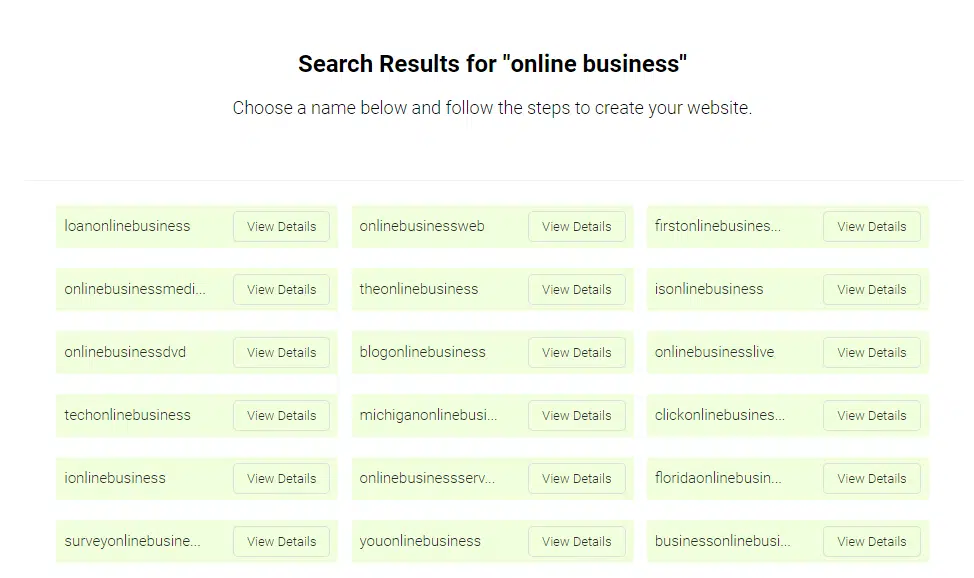 If you don't find a perfect name, then you can search again using different keyword combinations, synonyms, etc. until you find your best blog name.
Once you have selected a name for your blog, you can click the 'View Details' button next to the blog name you've chosen.
Doing so will open the Bluehost website where you can register your blog name and buy web hosting for it as well
At Bluehost, you will get 60% off on WordPress hosting, and a free year of free SSL, and a free domain name.
Nameboy is also blazingly fast, thus you can browse through several blog name ideas in no time so you can go ahead to start building your blog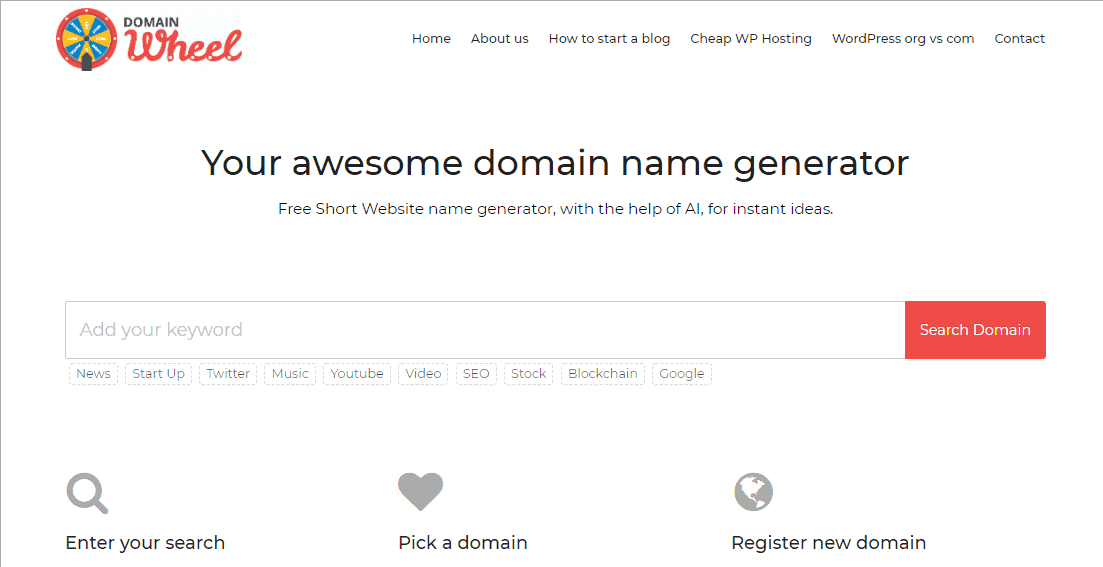 Domain Wheel functions like Nameboy. You enter your keyword or select suggested topics and the domain name generator will autosuggest names with available domains. When you click on your favorite suggestion, you are redirected to Bluehost where you can register your domain for free with the web hosting plan
With Domain Wheel you have an option to narrow down your results to specific domain extensions (TLDs)
4. Namemesh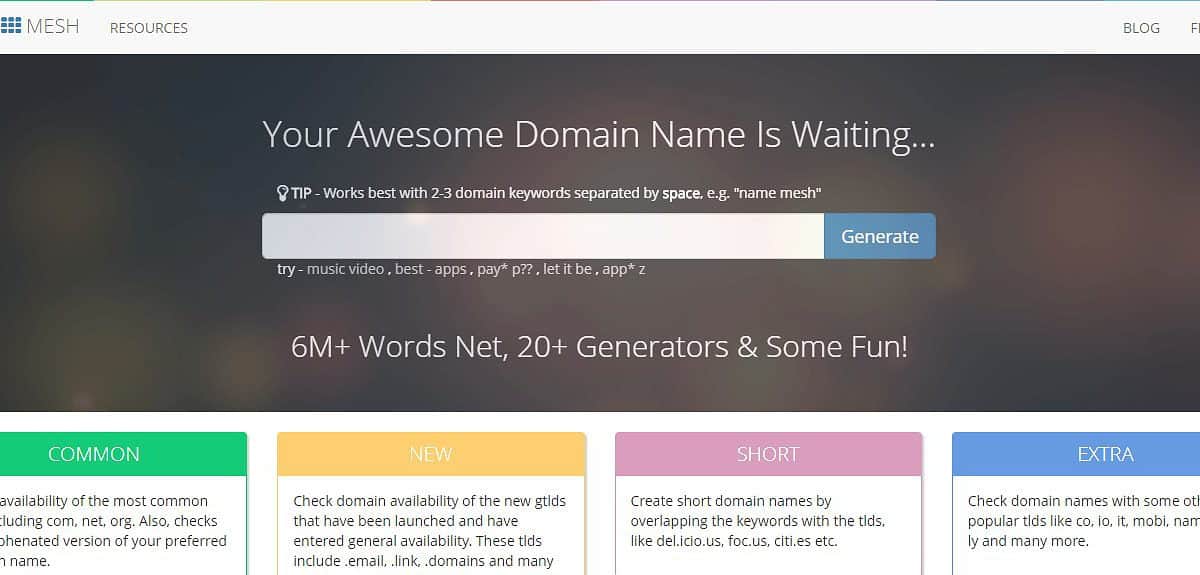 Namemesh takes its blog name ideas generation to a different approach than most of the other generators. Blog name suggestions are categorized into Common, New, Short, Similar, SEO, fun, etc.
For each category, you'll see multiple suggestions for domains that are available related to your keyword. Once you pick a name you'll be able to register it with Godaddy.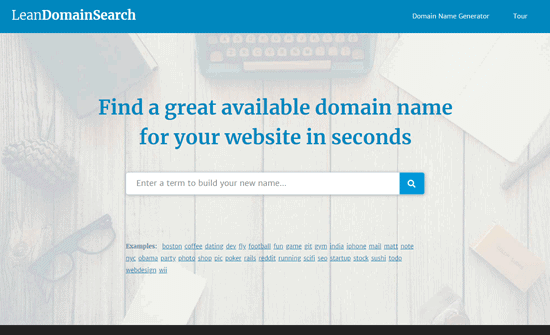 This is one of the simplest and most user-friendly blog name finder tools, and is offered by Automattic, the brains behind the famous WordPress.com
Once you enter your keywords, a list of blog name suggestions will be displayed. For instance, let's say you are planning to start a resume writing blog, then you would want to search for 'resume tips'
Below are the results that Lean Domain Search Will Display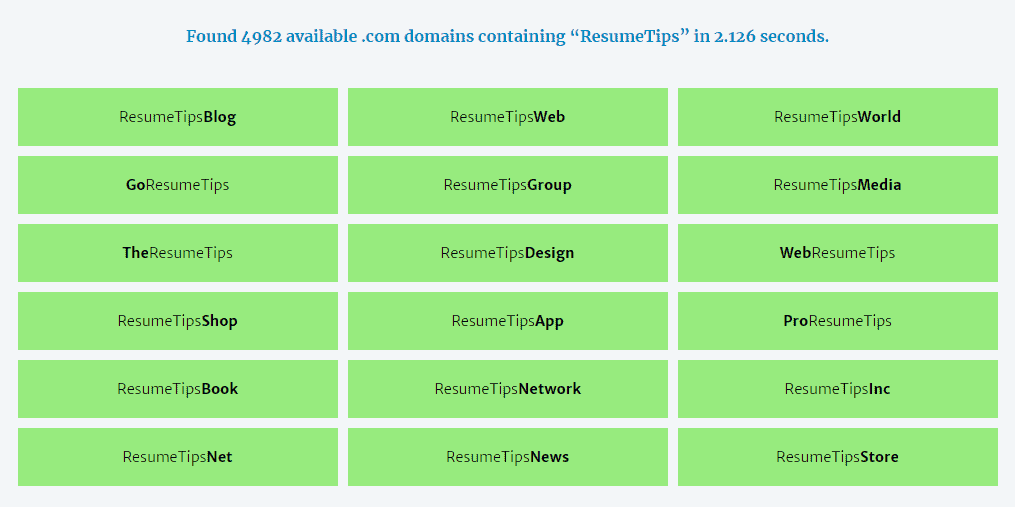 With Lean Domain Search, you get thousands of branded business name ideas revolving around your keywords. These blog name ideas are those which you wouldn't even have thought of.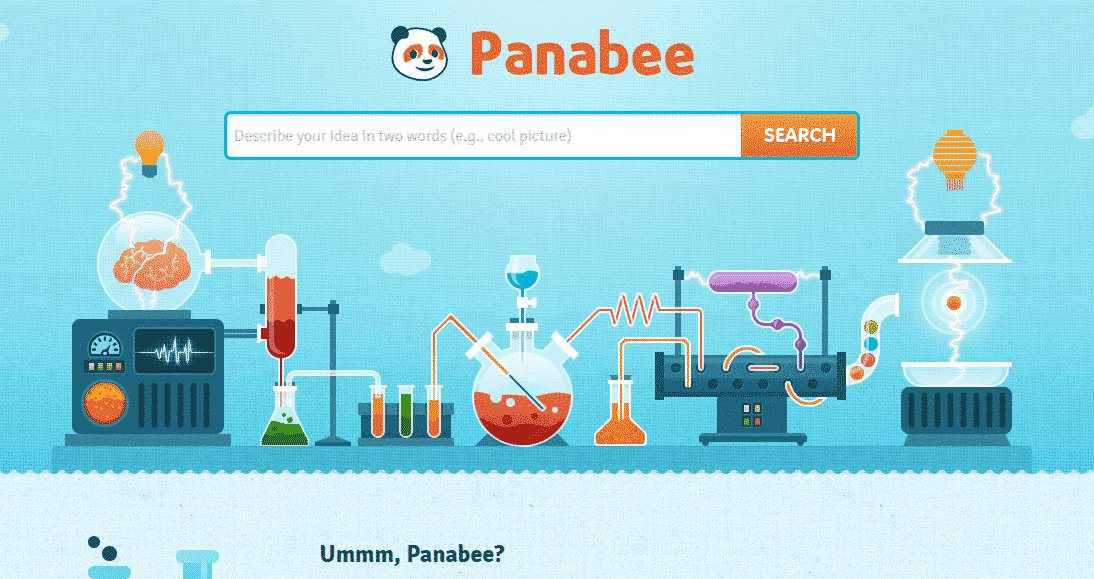 When doing a blog name search, Panabee is one of the name tools that you will definitely need to use. It gives you a simple way to search almost for anything:
Blog names generator
Company name generator
Social media account usernames
Search blog post titles
You only need to describe your idea in two words and the generator will come up with hundreds of suggestions. If the domain names are available, the names will have blue heart icons preceding them, if not then red-orange heart icons indicate that the domain names are already taken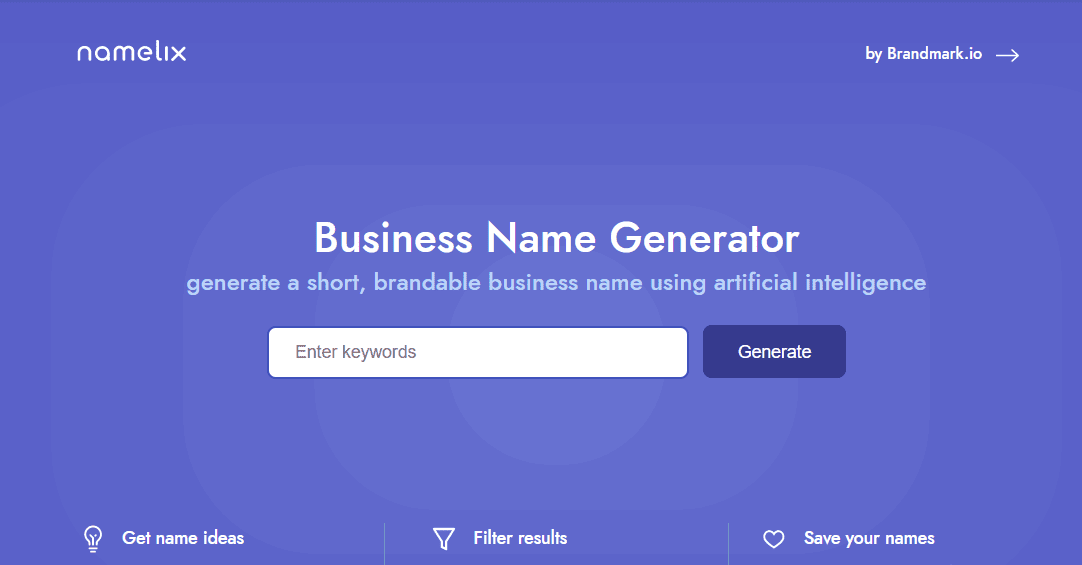 Sometimes blog names generators do not give you the best results. Why not try business name generators such as Namelix
Namelix is a powerful tool that uses your keywords and length recommendation to visually suggest the best business names that you can use for your blog. You can then choose to register your domain or even purchase a high print-quality vector and png logo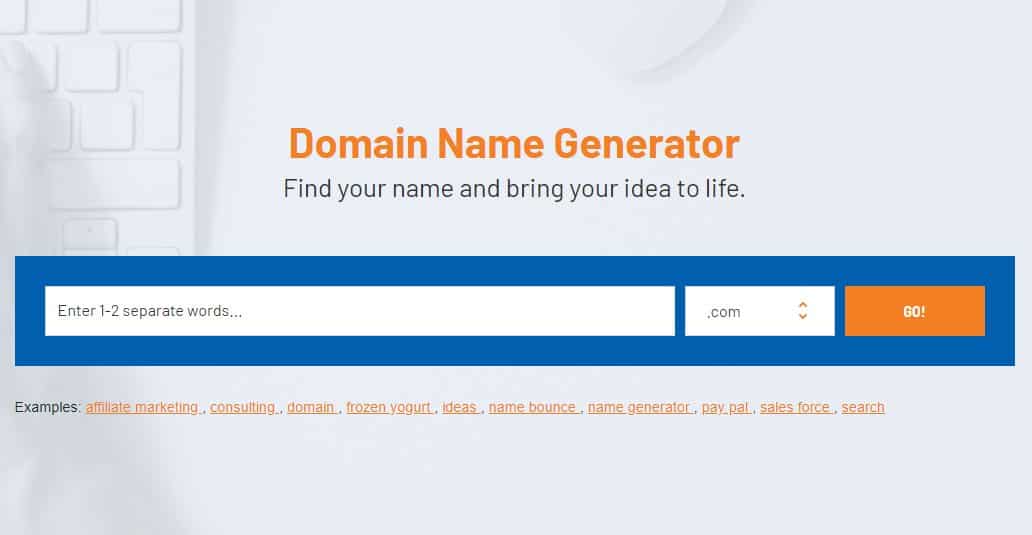 NameBounce is another simple and user-friendly blog name generator. After you enter one or two keywords, NameBounce will generate hundreds of domain name ideas that you probably haven't thought of before.
On NameBounce, you can generate domain names with domain extensions like .net, .co, and .co.uk.
If you don't find the perfect name the first time, try searching with different keywords.
If you see a name you like, make sure to click on it to confirm that it is available.
Doing the blog name search for the possible blog topic, 'resume tips' on NameBounce, I got the following suggestions: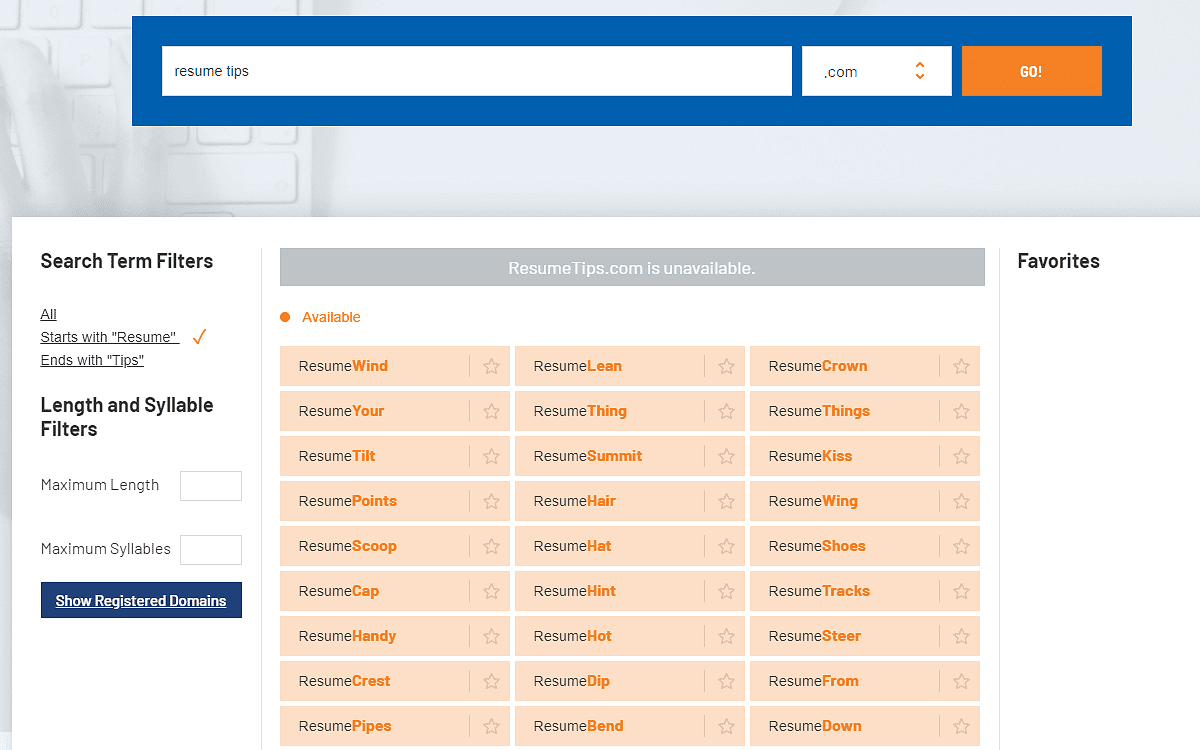 How to Register a Blog Name for Free
These online blog name generators will help you come up with your ideal blog name, which is currently available. However, if you do not act quickly, your domain might not be available tomorrow.
Competition for the best domains is at its peak. That's why, even if you are not ready to set up your blog or website right away, it's a good practice to research, find and register your domain right away.
However, before you go ahead to register, why not get the best deal?
As our reader, you can now register your blog name domain for free at Bluehost using our affiliate link when you purchase affordable WordPress hosting starting from just $2.75 per month
That's all! I hope that these blog name generators (business names generators) have helped you to come up with a super cool blog name. If you want to to find other tools to grow your blog, then I recommend you check out our ultimate list of blogging resources and online business tools to grow your business
If you liked this article, then please follow us on Pinterest for more engaging posts. You can also find us on Twitter and Facebook.