With the surge of on-demand video streaming services like Netflix, the need for accurate and timely closed captioning has never been greater.
Closed captioning not only makes content more accessible for the deaf and hard-of-hearing community but also aids language learners and people who prefer watching videos with subtitles.
As a result, there is a growing demand for skilled professionals in this field. This blog post will guide you through the nine best websites to find Netflix closed captioning jobs.
What is Closed Captioning?
Closed captioning or subtitles is a process of displaying text on a screen that corresponds to the audio being played.
This process is used to provide a visual representation of the audio, making it accessible to people who are deaf or hard of hearing, as well as those who may have difficulty understanding the audio due to accents or other factors.
Qualifications for closed captioning jobs for Netflix
To qualify for closed captioning jobs on Netflix, you must meet certain requirements. These include:
Proficiency in the language for which you are applying to provide closed captioning or subtitling
Excellent grammar, spelling, and punctuation skills
Experience in closed captioning or subtitling
Familiarity with closed captioning software and tools
Strong attention to detail
Ability to meet tight deadlines
How to find closed captioning jobs for Netflix
Does Netflix Jobs' Website offer caption work?
While going through their jobs website, I couldn't find any freelance work listed, be it editing, subtitling or closed captioning. So, no, Netflix doesn't offer captioning jobs directly on their website.
To find work, you need to work with the creatives and the publishing houses directly. In that case, there are some websites that make it easier to discover Netflix captioning jobs, including:
1) Netflix captioning jobs on Rev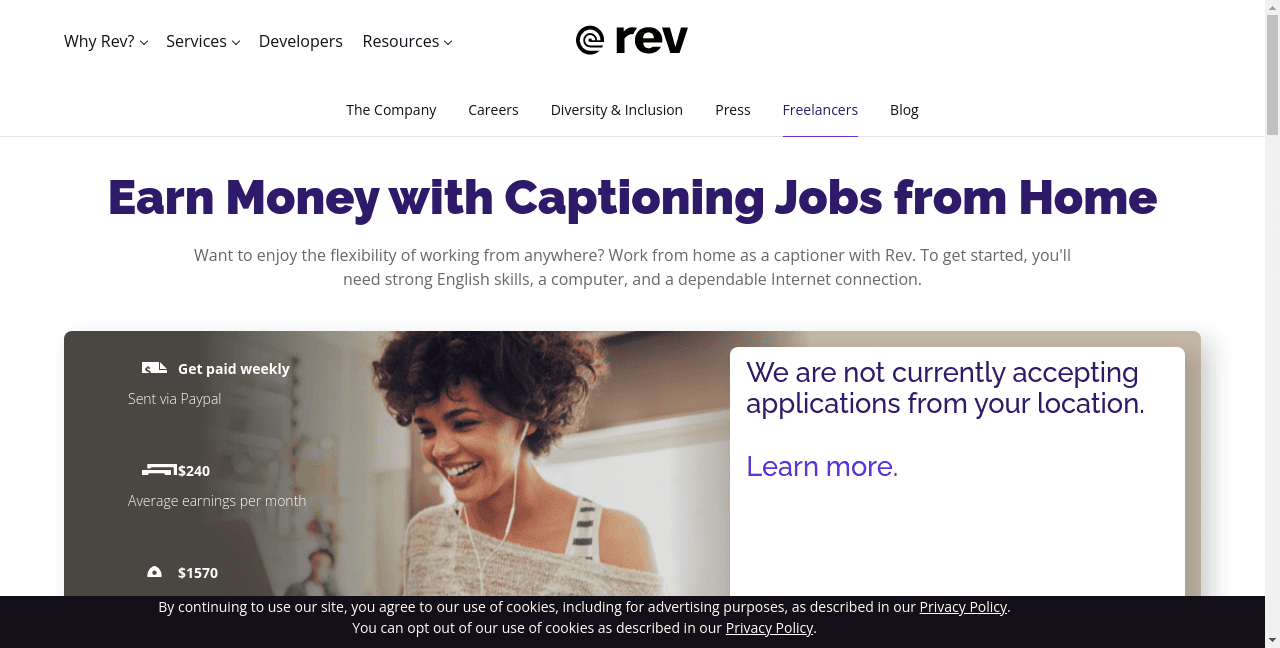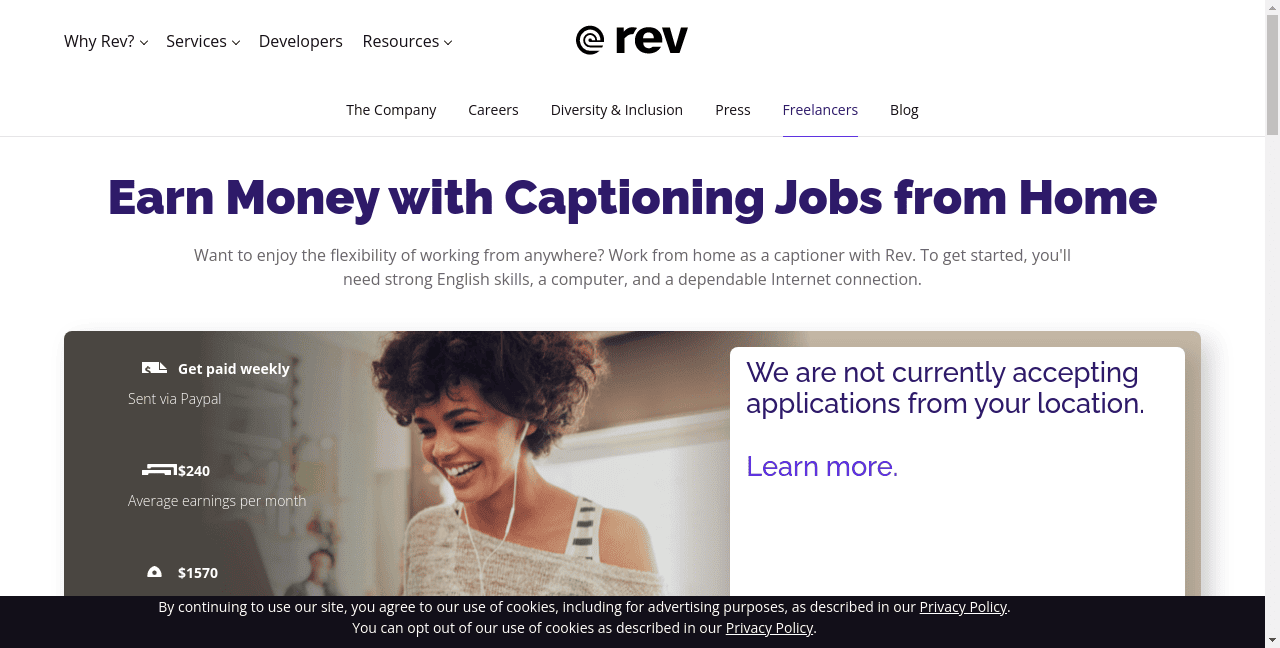 Rev is a website that provides transcription, captioning, and translation services.
They offer closed captioning jobs for Netflix, and similar streaming companies such as Hulu, and Amazon Prime.
To apply for a job on Rev, you need to create an account on their website and complete a series of assessments to demonstrate your skills.
2) FlexJobs
FlexJobs is a paid job board that specializes in remote and flexible work opportunities. They have a section dedicated to closed captioning and subtitling jobs.
FlexJobs verifies each job posting to ensure that it's legitimate, which helps to protect job seekers from scams.
To apply for a job on FlexJobs, you need to create an account and pay a membership fee, which gives you access to their job listings.
3) Find Netflix captioning jobs on Fiverr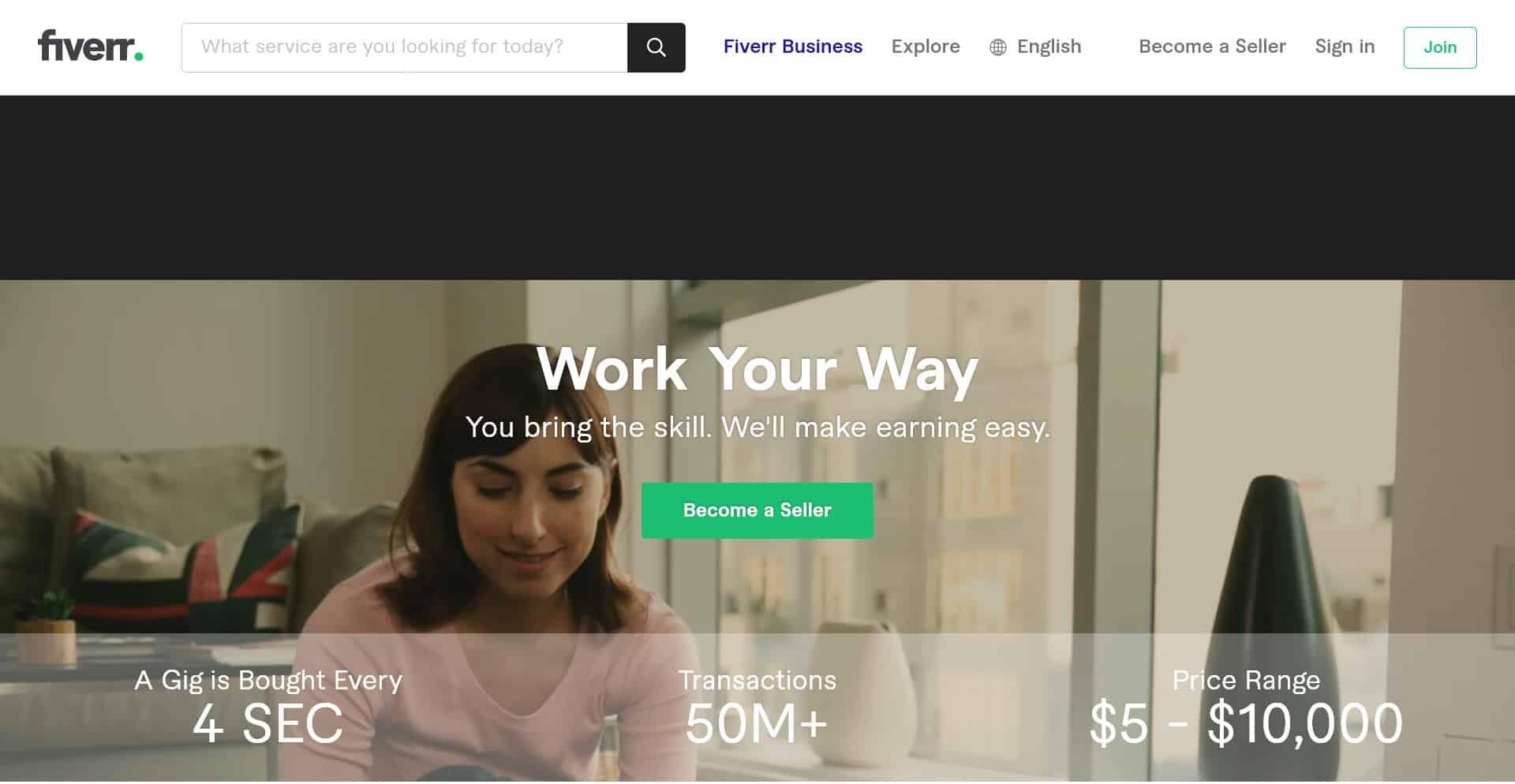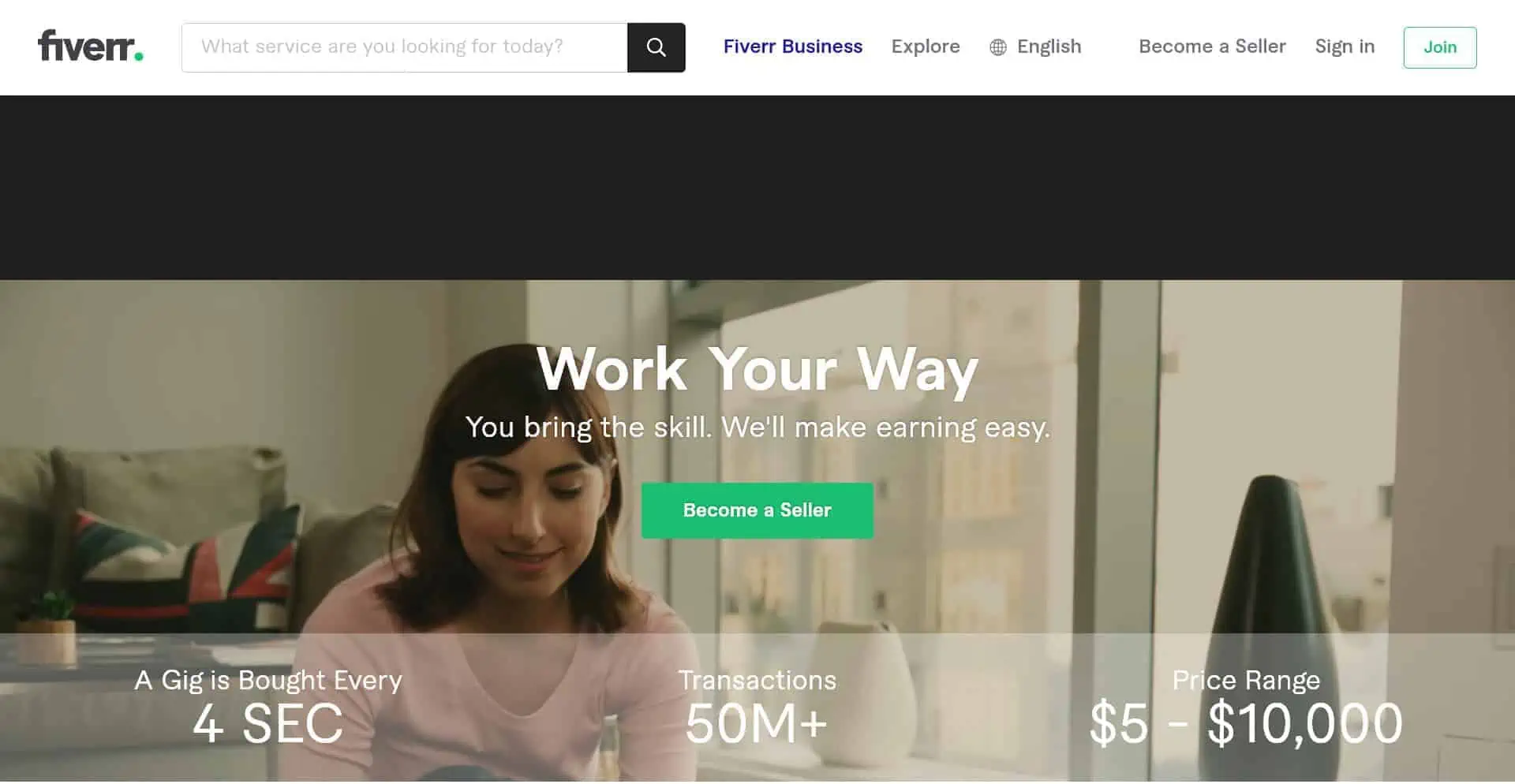 Fiverr is a freelance platform that connects freelancers with clients who need their services. It allows you to set your own rates and work schedule, which gives you more flexibility.
Clients looking to outsource Netflix subtitling tasks go to Fiverr because it has a large pool of freelancers from different backgrounds, dialects, and languages who are willing to work for less than the industry's competitive rates. 
You can start here as you work on building your portfolio.
To apply for a job on Fiverr, you need to create an account on their website and create a relevant gig.
Clients can then browse your gig and hire you if they are interested in your services. Fiverr also offers various tools and resources to help you market your services and grow your business.
4) 3PlayMedia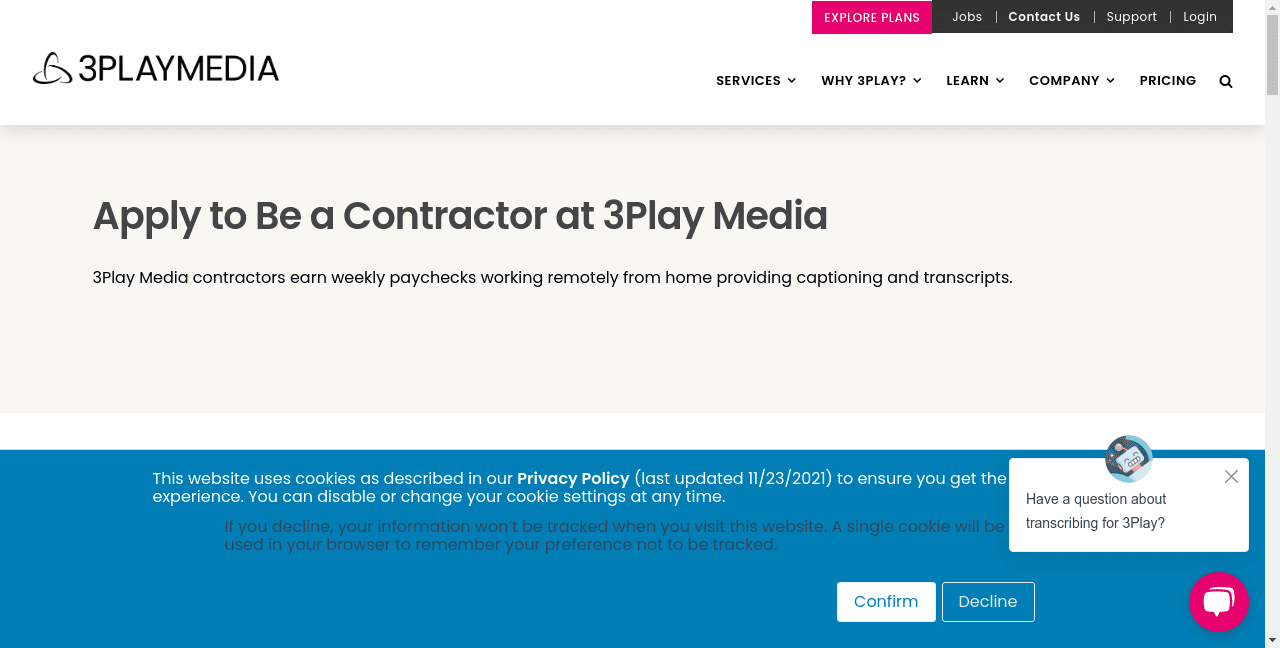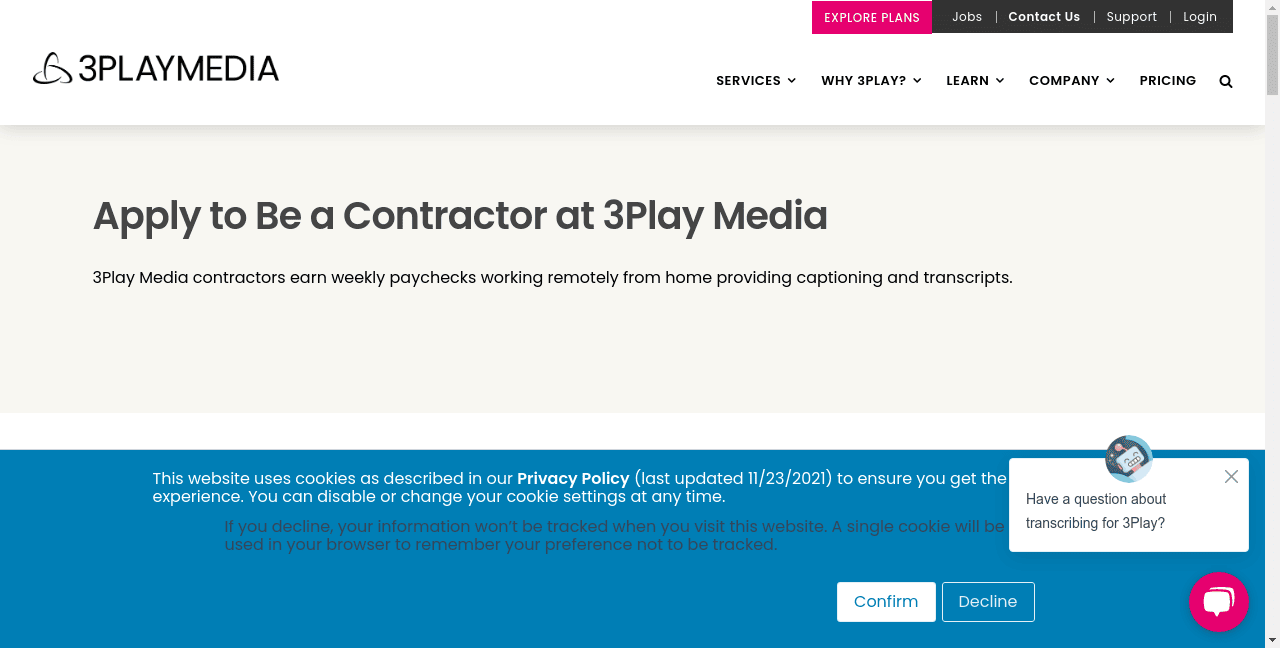 3PlayMedia is a company that provides closed captioning, transcription, and translation services. They offer closed captioning jobs for Netflix, as well as other companies.
3PlayMedia is known for its advanced technology and innovative solutions. They use a combination of human editors and AI technology to provide fast and accurate closed captioning services for their clients.
In 2022, 3PlayMedia acquired CaptionMax, a company that provides closed captioning and subtitling services for broadcast, cable, and online video platforms. The acquisition brought together two of the leading providers of closed captioning services, combining 3PlayMedia's cutting-edge technology with CaptionMax's extensive experience in the industry.
If you are interested in learning more about the acquisition of CaptionMax by 3PlayMedia, you can visit the following link: CaptionMax is now a 3Play Media company.
To apply for a freelance transcription and captioning job on 3PlayMedia, you need to complete and pass an application process. This includes a transcription test that you need to pass to be accepted.
Once you are accepted, you will be given access to their platform, which allows you to choose the projects you want to work on. 3PlayMedia offers flexible working hours, and you can work as much or as little as you want.
One of the advantages of working for 3PlayMedia is the opportunity to work on a wide range of projects. They offer closed captioning services in several languages, including English and Spanish.
While working with this company, you aren't allowed to use a VPN service, and doing so may see your account terminated without a warning.
In terms of compensation, 3PlayMedia claims to offer competitive rates for their captioning services. They pay their captioners per minute of video, with rates depending on the type of project and language.
5) AI-Media
AI-Media is a company that provides captioning, transcription, and translation services.
AI-Media uses a combination of human and artificial intelligence to provide high-quality closed captioning services.
It's not clear how you can apply for the job here, but if you really want to work for these guys, then shooting them a quick email won't hurt.
6) VITAC
VITAC is a leading provider of closed captioning services in the United States, handling everything from live TV broadcasts to streaming platforms like Netflix. They regularly post job openings for Netflix closed captioning positions.
To apply for a job at VITAC, you'll need to visit their website's career page and submit an application form along with your resume. VITAC typically requires applicants to have previous experience in captioning, as well as strong English language skills and fast typing abilities.
By working with VITAC, you can expect a steady workflow and competitive pay rates based on your experience and project complexity.
7) CaptioningStar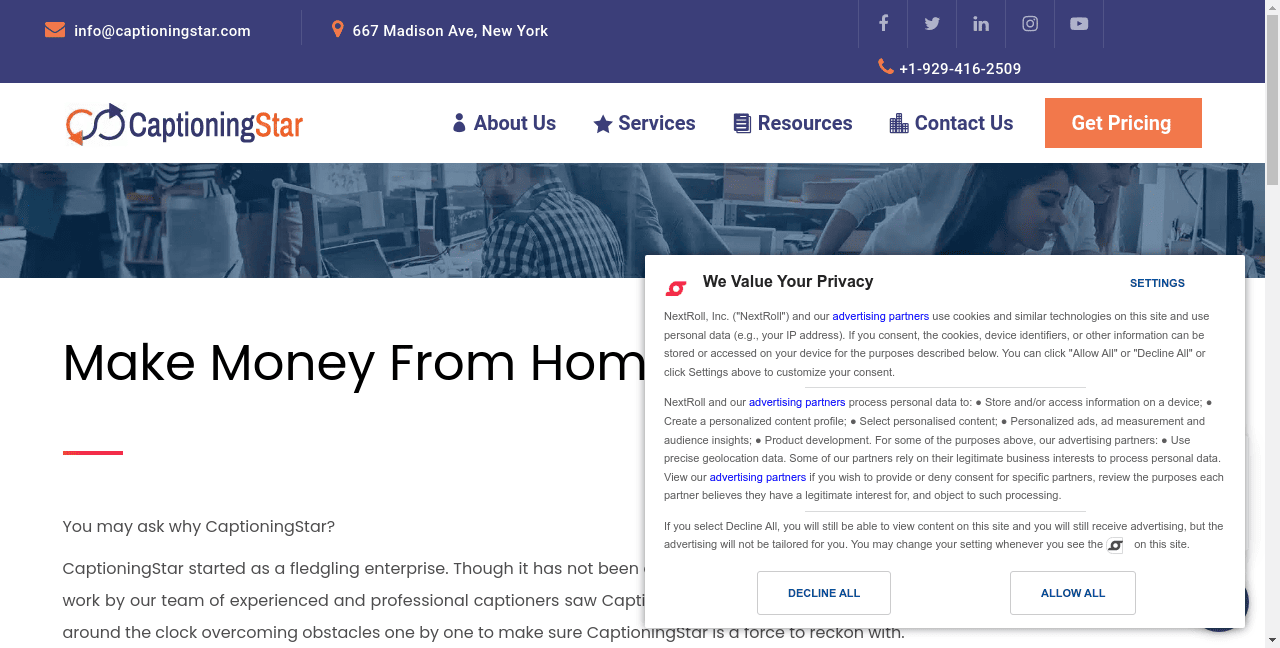 CaptioningStar is a captioning and transcription service provider that offers job opportunities for experienced captioners. To apply for a Netflix closed captioning job at CaptioningStar, you need to have strong language skills and experience in captioning or transcription.
The application process at CaptioningStar involves submitting your resume and completing a captioning test. The company offers competitive pay rates, flexible work hours, and opportunities for growth within the organization.
8) Upwork
Upwork is a popular freelance marketplace where you can find various captioning jobs, including those for Netflix. Create a profile, list your skills, and apply to relevant projects.
Remember to keep an eye out for Netflix-related projects, as they might not always include the keyword in their title.
How much can you make captioning Netflix content?
The amount you can make captioning Netflix content depends on several factors, such as your experience, skills, and the company or platform you are working for.
According to Glassdoor, the average salary for a captioner in the United States is around $43,000 per year, which translates to roughly $21 per hour.
However, the pay rate for Netflix captioning jobs can vary widely based on the company or platform you are working for, as well as the specific project and language you are working on.
Some companies may pay per project, while others may pay per hour or minute of video. Rates can also vary depending on the language, with more in-demand languages often commanding higher rates. 
It's also worth noting that some companies may offer higher rates for rush projects or for projects that require specialized skills or expertise.
Conclusion
Closed captioning jobs for Netflix presents a great opportunity to work remotely and provide valuable services to people who rely on closed captioning to enjoy their favorite shows and movies.
In general, working as a freelance captioner can offer more flexibility in terms of work schedules and rates, but it can also be more competitive and require you to be more proactive in finding clients and projects.