You're here because you want to make money on Fiverr, right? Well, don't worry—we've got you covered.
To make money on Fiverr, you need to create your gigs and start promoting them. We'll walk you through how to set up your first gig in just a few steps.
In this post, I'll show you how to create a gig on Fiverr. The task of creating gigs on Fiverr is pretty straightforward. However, by the time you finish this article, you will see that there are lots of nuanced details that will help your new gig get attention.
What's a Gig on Fiverr
A gig is an individual service that a seller on Fiverr offers, and it's typically priced starting from $5. Thus, on Fiverr, A gig is a service listing that others can purchase directly, without having to contact you first.
After you've created your gigs, they will appear on your Fiverr profile.
How to Create a Gig on Fiverr
Creating a gig on Fiverr is a process that involves 6 steps. To create a gig, simply click on Create your first gig button after creating and updating your account.
If you already have gigs and want to add a new one, simply navigate to the Gigs page on your profile from the top navigation, and click on the Create a New Gig button.
Don't have a Fiverr account yet?
Creating a Fiverr account is easy and totally free.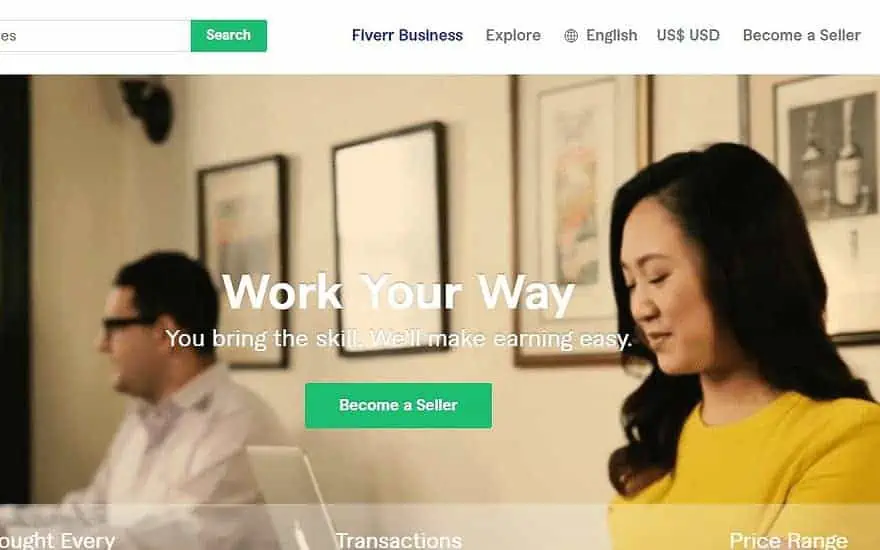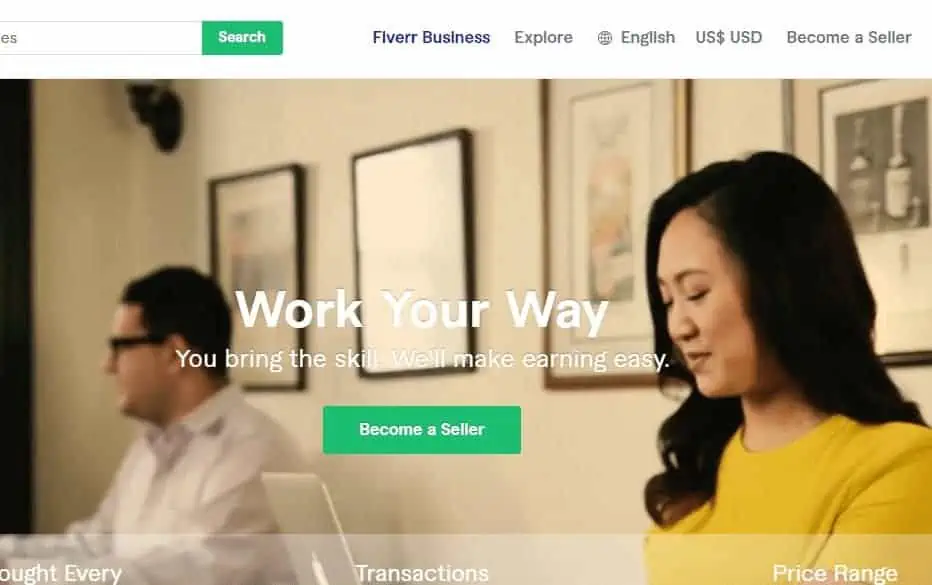 Simply go to their Fiverr homepage and click on the Join button, or navigate to their Become a Seller page from the top navigation bar.
Now, to create a gig on Fiverr, here are 6 steps to complete:
Step 1: Service Overview
This is the first pane you'll be taken to when you click on Create New Gig button. The fields here differ from service to service. An example of the Gig overview page for a WordPress design service looks like this:
The three critical fields here are the Gig Title, Category, and Tags. One thing to note is that the URL slug of your Fiverr gig page is taken from the Gig title, the first time you publish your Gig, and cannot be modified.
So, if you want to have an SEO-friendly URL, that is short and contains your target keyword, then enter that exact phrase in the Gig Title. Don't worry about it making sense, as you will come back after publishing your gig to change your Gig title.
For our example above, we could use Elementor WordPress Web Design as the Gig Title, and our slug would be /elementor-wordpress-web-design after we've published it. (You need at least 4 words in the title to save your gig)
This title doesn't make sense, so we will need to go back, and edit it to something more coherent, for instance:
I will…Design SEO Optimized WordPress Website Using Elementor
I will…Build a Beautiful SaaS website using Elementor
I will Develop a Personal Fiance WordPress Website with Elementor.
You only have 80 characters for your gig title, so choose your wording wisely.
Tags will help your gig come up in relevant search queries, so make sure to choose them wisely.
Once complete, click the green 'Save and Continue' button at the bottom right of the screen to advance to the next section.
Step 2: Scope and Pricing
The pricing options on Fiverr have evolved over the years. Today, you can offer the legacy basic pricing, or enable packages to offer 3 different pricing points.
The Packages option is usually enabled by default, but if not, simply toggle the offer packages option at the top of this pane. The 3 packages are: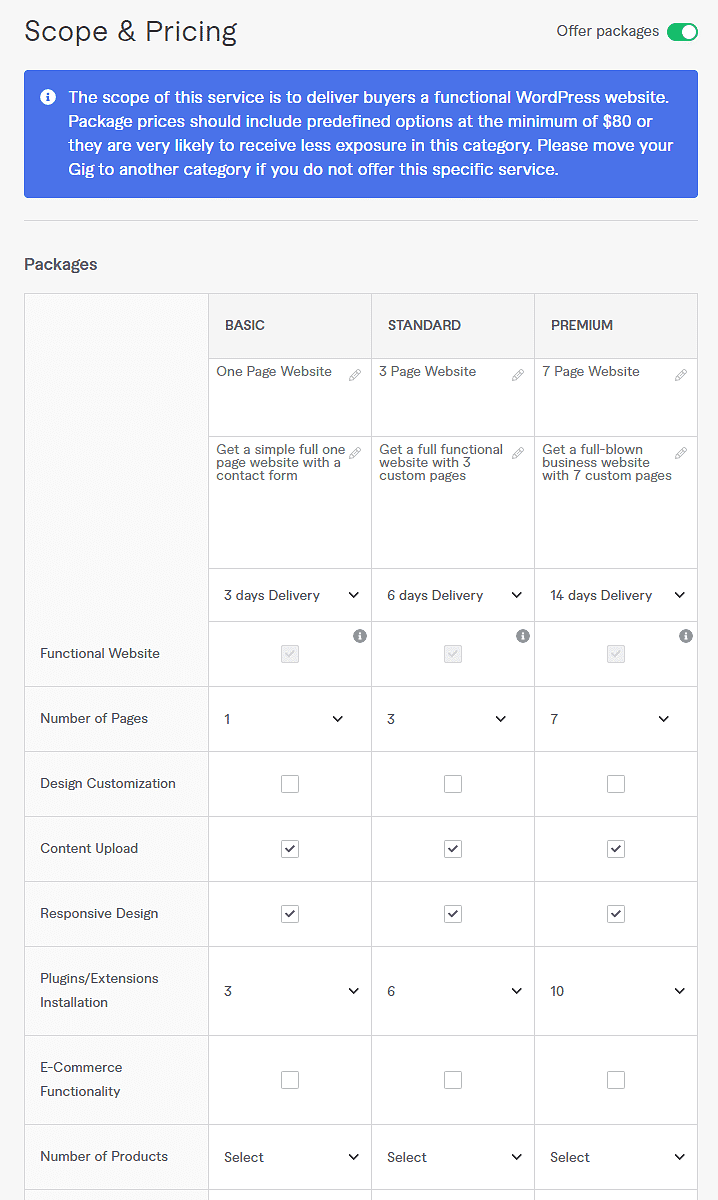 Fiverr Pricing Tips:
Creatively name your packages: Making your package title pop out is critical to getting orders. Ensure that buyers can tell the different benefits from your titles.
Set a Convenient delivery time: Depending on the service you provide, your convenient delivery time will vary. It's always advisable to allow at least one day more than you need to provide a service to allow for some unanticipated things that might crop up while you work on your order.
Package descriptions: Fiverr provides you up to 100 characters to briefly describe what a service package includes.
Other things you need to set include package prices, delivery times, and the number of revisions. Some services might have other fields such as shipping and stock images.
After the main pricing options, you also have an option to include Gig Extras, and charge more. You can charge to include more words, stock photos, research, more revisions, faster delivery times, etc.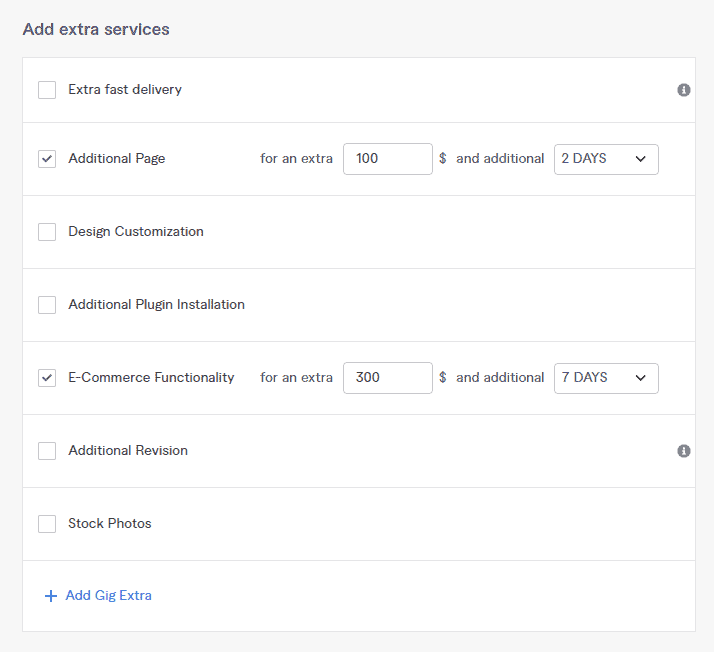 The extra service options here are largely determined by the Fiverr category your gig is in.
Step 3: Fiverr Gig Descriptions and FAQs
This is the step where you get to sell your service. Your Gig is like a sales page, and the gig description is the sales copy.
Fiverr allows you up to 1200 characters, which isn't a lot, so you need to prioritize what to say. A good Fiverr gig description should:
Explain the benefits your clients will get when they order from you
Demonstrate that you know your work
Compel prospective clients to take action
Enabling Milestones
If your gig is in an eligible category, you have an option to enable Milestones. With milestones, you turn your gig into a series of steps and get paid after each step.
This is suitable for bigger projects. Note that even in eligible categories, your basic package needs to be $100 and above to enable the milestone feature.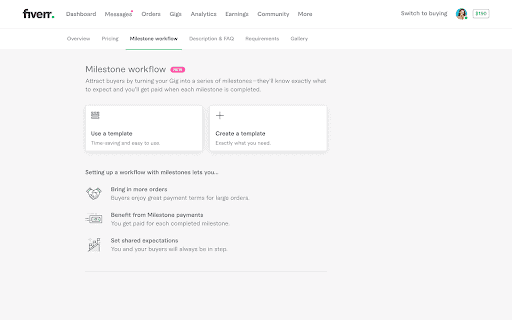 At the moment, you can enable Fiverr milestones on these subcategories only:
Business Plans,
3D Product Animation
Producers and Composers
Social Media Marketing, and
Desktop Applications.
After you have enabled Milestone, you will be taken to a pane to add Milestones. Follow all the steps, and once complete and your gig is published, buyers will have an option to pay for the whole project, or per milestone.
Adding Fiverr FAQs to your Gig's page
Still, on the Description tab, you can add Frequently Asked Questions to your Fiverr gig page. This way, you can address some concerns that you weren't able to, in the gig description due to character limitations.
Step 4: Define Your Gig Requirements
For your order to begin and the clock to start ticking, buyers have to submit the order requirements.
In this step, you get to define what you need from your client in order to get started on their order.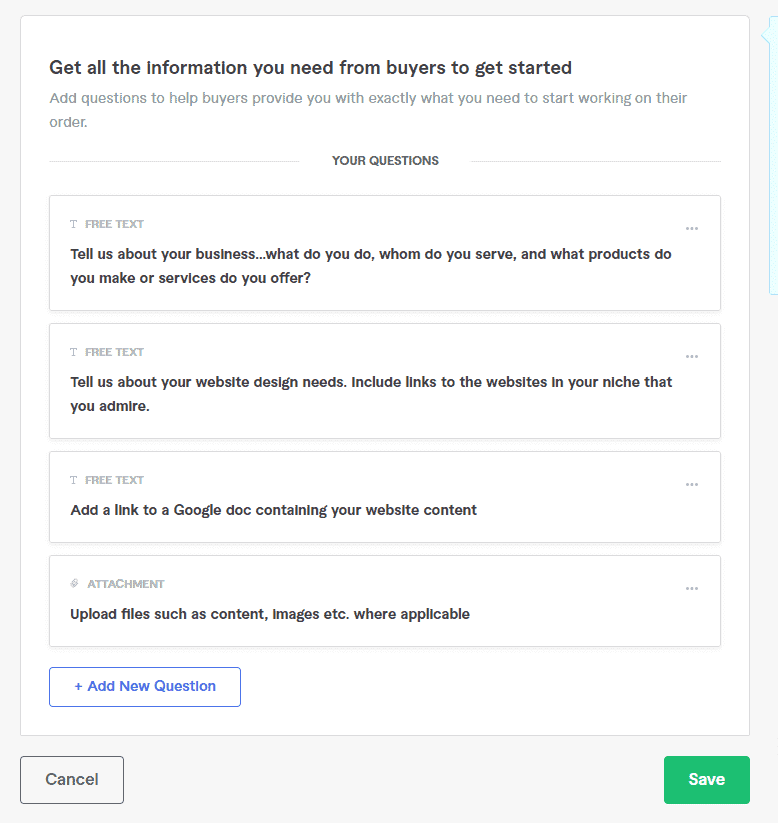 The requirements may vary due to the nature of the project, but in most cases, you will need a client to provide:
Project details
Access details in case you need to log in to their platforms eg for web design
Supporting links
Assets such as brand kits, content briefs, etc.
Be sure to request all the details that you need. For critical requirements, be sure to mark those as required so that the buyers may not submit empty fields.
When purchasing an order, gig requirements come last. That is, a buyer first successfully completes a purchase and then is asked to submit the requirements.
Step 5: Fiverr Media Gallery
This second last step involves adding media images to your gig. You can add up to 3 images, though you only need to add one to be able to publish your gig.
The first image becomes your Fiverr gig cover image, so make sure to set the one you want to show in Fiverr feeds.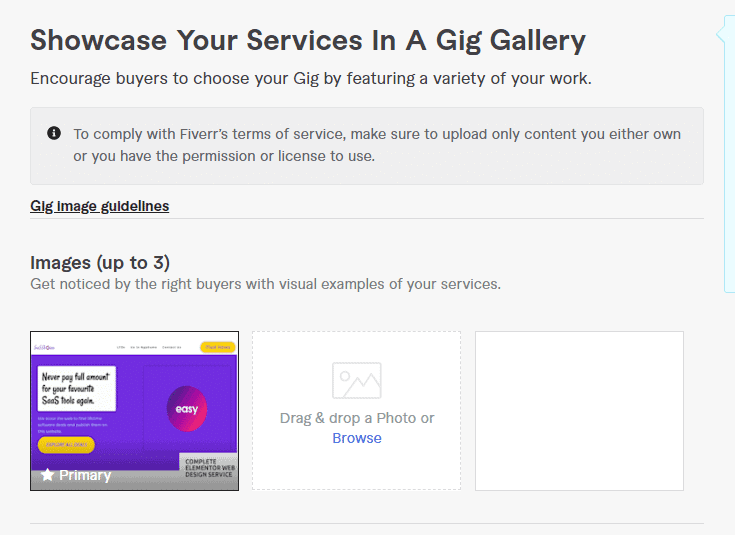 If you choose to include Video, then the video becomes a featured gig media, instead.
Apart from images and videos, you can also include up to 2 documents to help people better understand your service.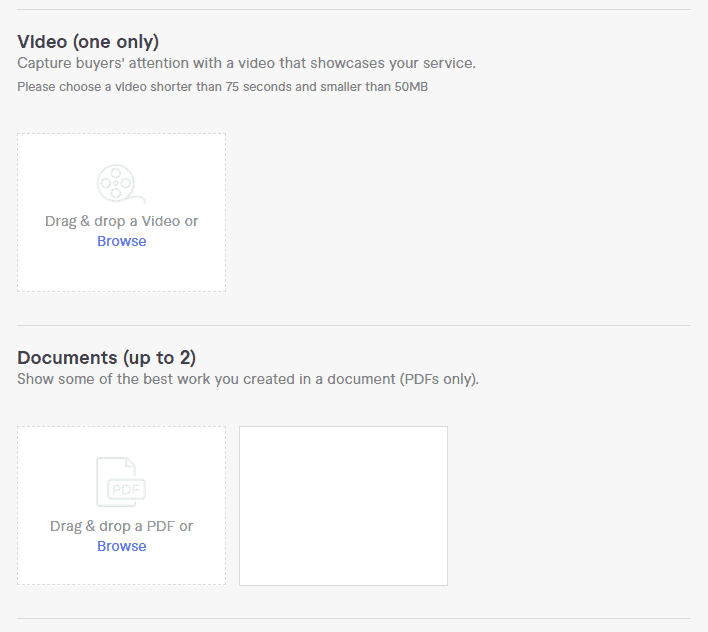 Step 6: Click Publish
That's it! You are a click away from launching your Fiverr business by posting your first gig. Make sure everything is in order, and then click the green 'Publish' button.
Step 7: Editing Your Gig
If you followed our advice for creating sleek Fiverr gig permalinks (URLs(, then you need to go back to edit your title to make it more coherent, semantically correct, and appealing. Be sure to do this less you start sharing something that others will cringe on.
Conclusion
That's it. You now know how to create a gig on Fiverr. I hope the tips in this post have helped you know which parts of your gig listing need a little bit more effort.
The next step to making money on Fiverr is to start promoting your gig to help it gain traction.
If you are wondering if Fiverr is right for you, then I welcome you to read our detailed Fiverr review guide for sellers. We share more details and tips about freelancing on Fiverr.