Creating accessible content is essential in today's digital world. One way to make your content more accessible is by adding closed captions.
In this article, we will discuss the best closed captioning software tools of 2023 to help you make your content more inclusive.
These tools will make it easy for you to generate accurate and high-quality captions for your videos. They also come in handy if you are a freelance closed captioner.
What's closed captioning software?
Closed captioning software is a digital tool or app that allows users to create, edit, and synchronize text captions or subtitles with the audio and video content of a multimedia file.
These captions make the content more accessible to individuals who are deaf or hard of hearing, as well as those who might be watching videos in noisy environments or learning a new language.
Closed captioning software can automatically transcribe spoken dialogue into text, enable manual editing and formatting of captions, and export the captions in various formats for use with different media platforms.
Why use closed captioning tools or services?
There are various benefits of captioning or subtitling your videos:
Benefits
Improve user engagement: 85% of videos on social media are watched on mute. By adding captions, you can attract more viewers and increase watch time.
Boost SEO and rankings: Closed captioning also improves SEO ranking, as search engine crawlers can detect more aspects of captioned videos than non-captioned content.
Enhance accessibility: By investing in closed captions for your videos, you can make your content more accessible, reaching new audiences that might otherwise be excluded due to language barriers or hearing impairments.
Compensate for poor audio quality: Captions can help your audience understand your content in cases of poor voice quality or background noise.
Best closed captioning software
1) Pictory AI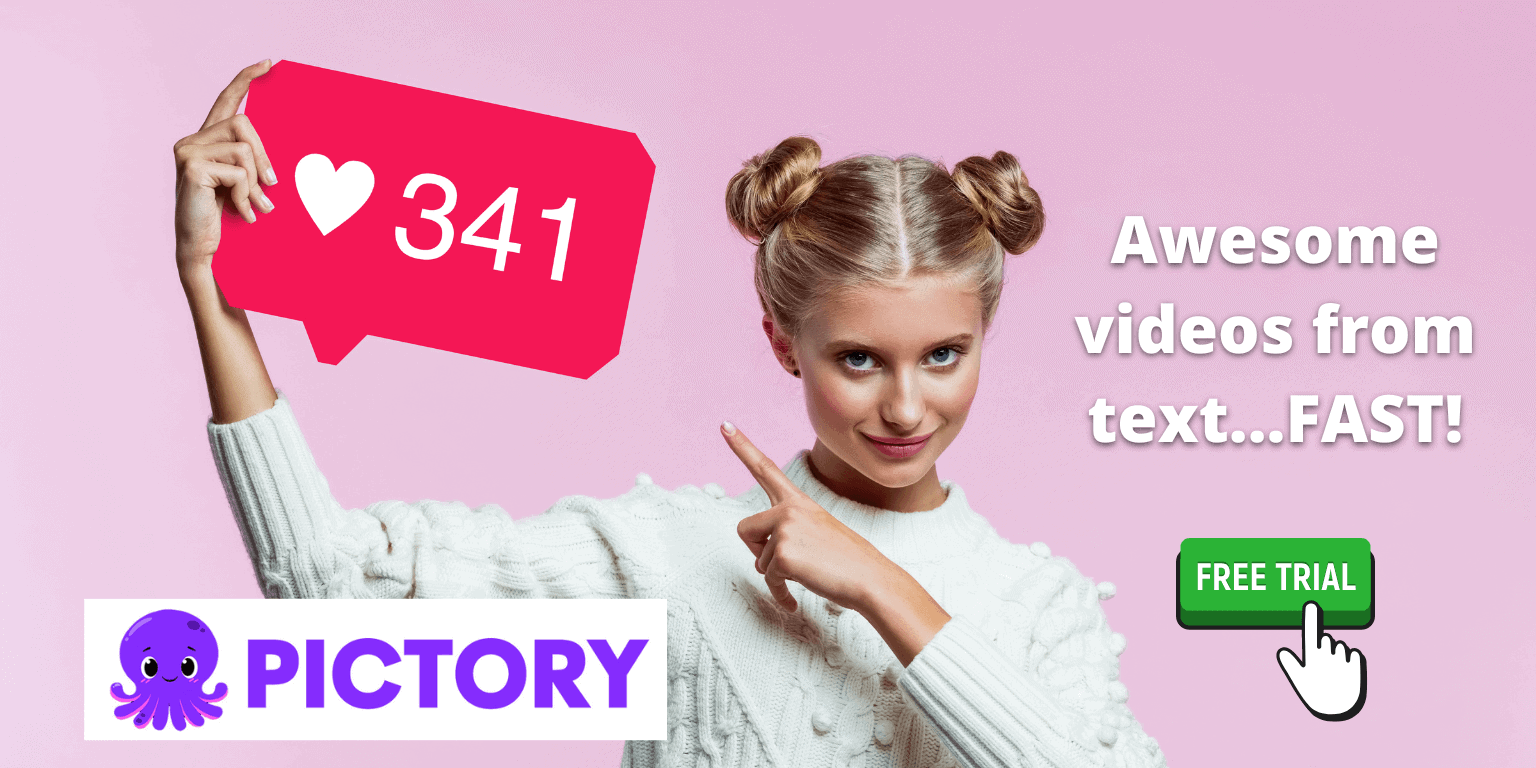 Pictory AI is an AI-powered video editing and closed captioning tool designed to make your videos more accessible, engaging, and SEO-friendly.
With an easy-to-use interface and powerful features, Pictory AI allows you to caption your videos in just a few simple steps.
It supports multiple languages and offers customizable caption styles.
It's primarily an AI video generator, but with the approach below, it makes a great video captioning tool.
Pictory AI features
Automatic transcription: Pictory AI's advanced AI engine automatically transcribes your video into text using cutting-edge Automatic speech recognition (ASR) tech.
Edit and customize: Correct errors in transcriptions, and remove unwanted parts of the video by editing the text.
Customizable captions: Customize font, size, and color to match your brand and style preferences.
Support for multiple languages: Pictory AI supports a wide range of languages, making it perfect for international audiences.
Integration with popular video platforms: Easily export your captions to popular video platforms like YouTube and Vimeo.
Save and share: Download your video with burned-in captions or download the transcription as a text file, SRT file, or VTT file.
How to use Pictory AI:
Sign up for a Pictory AI account.
Upload your video file.
Select the language of the spoken words in the video.
Wait for the automatic transcription to complete.
Review and edit the generated captions as needed.
Customize caption style and appearance.
Export the captions to your preferred video platform.
Ready to try this great subtitle and closed captioning software?
Pictory AI is perfect for various types of videos, including webinars, demo videos, e-learning and training videos, and video podcasts. Start your free trial today and experience the benefits of auto-captioning with Pictory AI.
2) Rev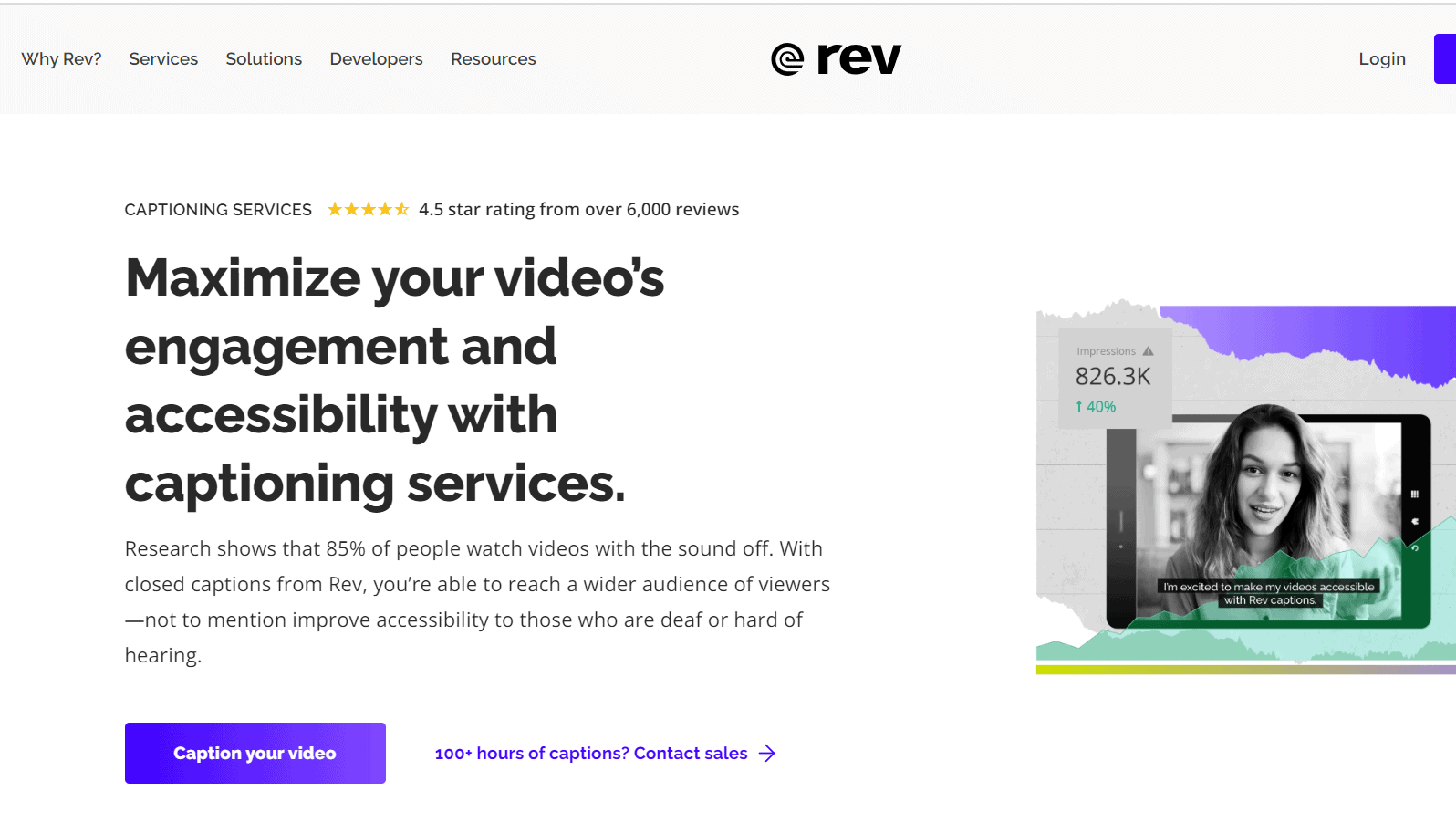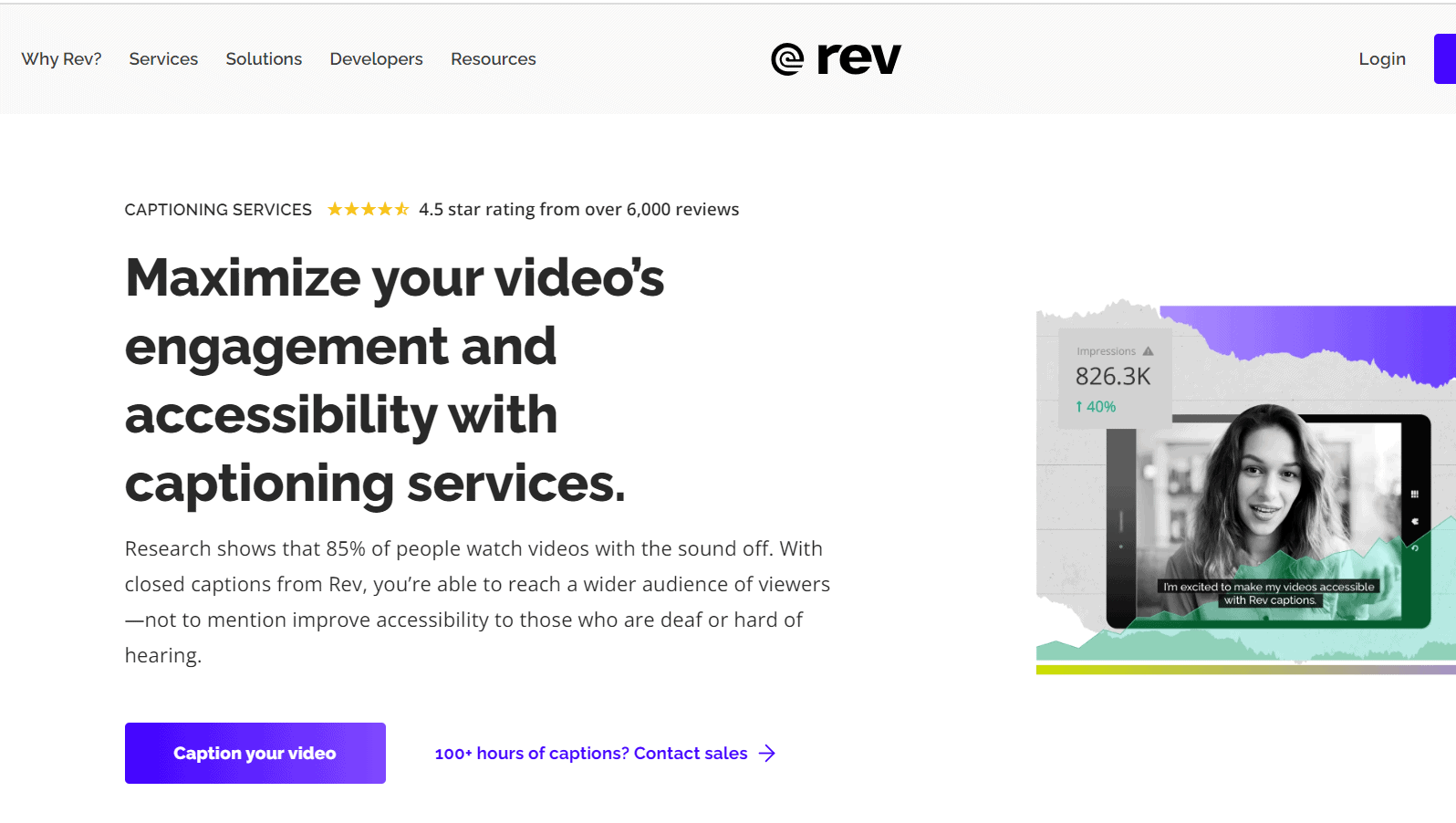 Rev is a popular transcription and closed captioning service that combines the power of AI with human expertise to deliver top-notch captions.
This captioning service provides accurate, fast, and reliable captions for your videos. With a large network of professional transcriptionists and captioners, Rev delivers high-quality captions that help you reach a wider audience and improve accessibility.
Rev key features
AI-powered transcription: Rev uses AI to generate accurate transcriptions for your videos.
Human review: Professional captioners review and edit the AI-generated captions for even greater accuracy.
Fast turnaround: Receive your captions within hours, depending on the length of your video.
Multiple format support: Export captions in various formats, like SRT, VTT, and TXT.
Easy video submission: Send your videos to Rev by uploading them directly, sharing a public URL, linking your YouTube, Vimeo, or other integration accounts, or automating uploads with your LMS, CMS, API, or Zapier integrations.
Interactive editing tools: Review, edit, and annotate captions alongside audio with Rev's interactive tools, then share and export in your preferred format.
Collaboration: Invite team members and clients to view, edit, and download caption files, even if they don't have a Rev account.
Simple integration: Easily integrate Rev into your workflow with options to place orders directly from Dropbox, YouTube, Vimeo, or Google Drive.
Caption styling: Add burned-in captions (open captions) to your videos and adjust the text's font, size, and color for platforms like Facebook, Instagram, and more.
Rev's closed captioning services help you reach a larger audience, improve accessibility, and enhance your video content.
3) Otter.ai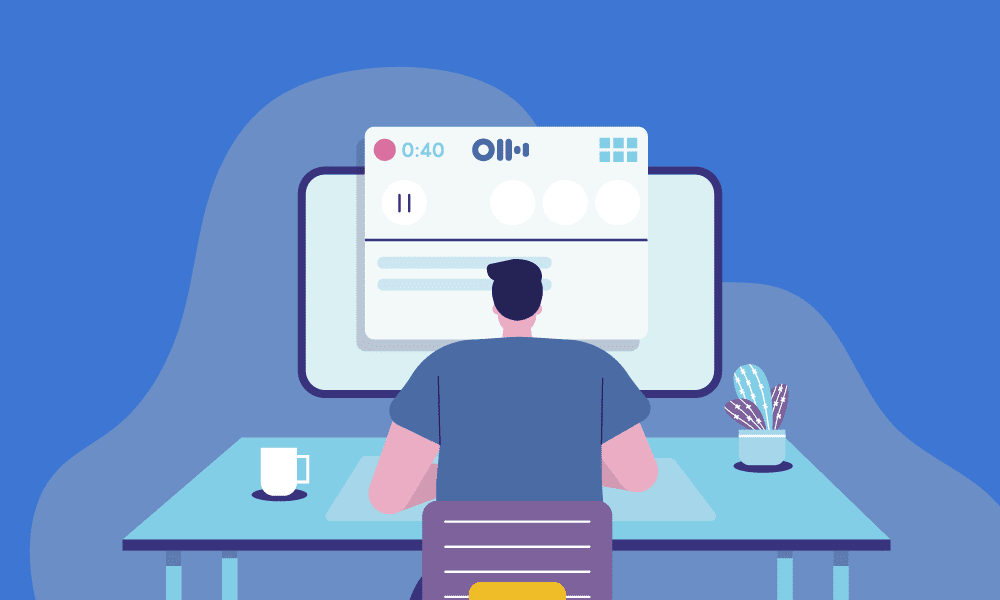 Otter.ai is a user-friendly tool for generating closed captions and transcriptions. It's perfect for podcasters, content creators, and business professionals.
With Otter.ai, you can easily convert conversations into captions or subtitles by exporting the conversation as an SRT file.
Keep in mind that the SRT export option is only available on the Otter Pro, Business, or Enterprise plans. Check your program's compatibility with SRT files before proceeding.
How to use Otter.ai:
Sign up for an Otter.ai account.
Upload your video or audio file.
Wait for the transcription to complete.
Review and edit the generated text.
Export the captions in your preferred format.
Uploading your Otter.ai SRT file to your video program or platform is simple, as many programs and platforms support the SRT format. If you're unsure, check your program's compatibility with SRT files beforehand.
Otter AI Live Captions for Zoom
Otter's Live Captions for Zoom adds AI closed captioning in real-time for Zoom meetings and webinars you host. Participants can click a button to view live captions directly in the Zoom window.
This feature is available to Otter Business subscribers at no additional cost for a limited time. Note that meeting hosts must have Otter Business and Zoom Pro or higher, while participants can view live captions for free.
Otter.ai also enables you to import videos, edit and verify transcripts, and export them as SRT files. The platform offers a comprehensive solution for creating captions and subtitles for your videos.
4) GoTranscript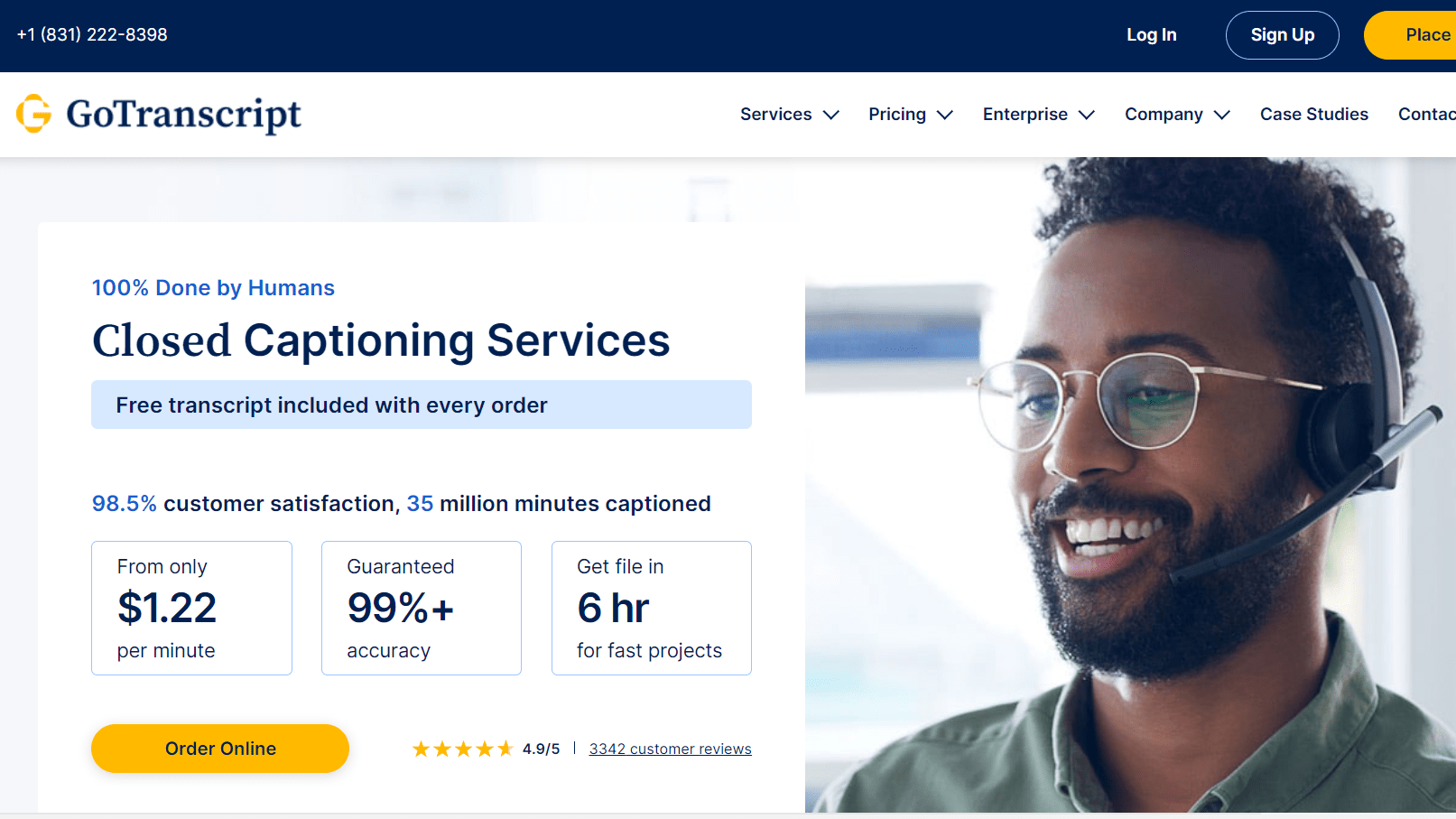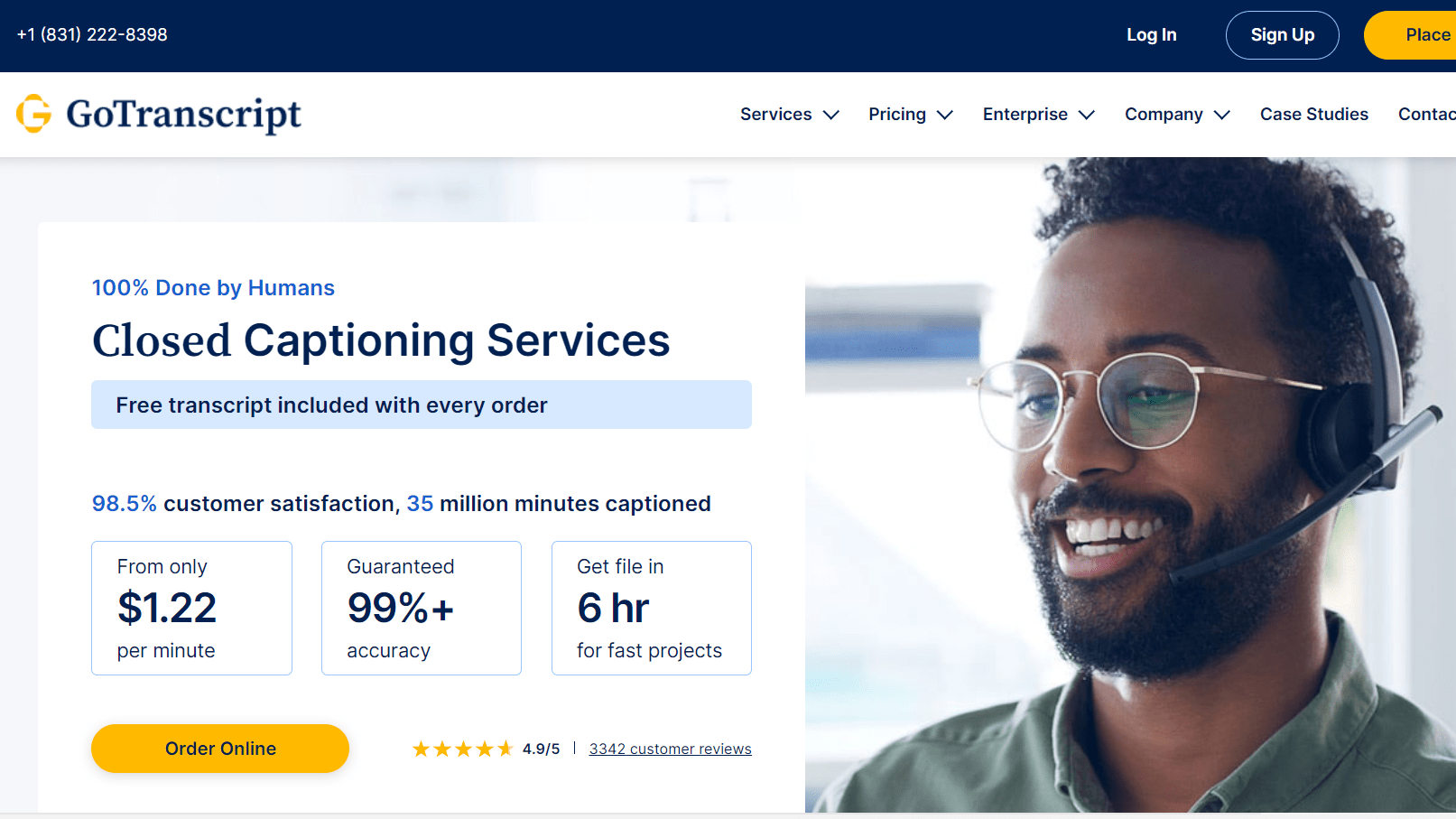 Similar to Rev, GoTranscript is a professional transcription and closed captioning service that focuses on human-generated captions for enhanced accuracy.
GoTranscript offers 100% human-generated closed captioning services, ensuring high-quality results with 99%+ accuracy.
With a customer satisfaction rate of 98.5%, over 35 million minutes captioned, and starting from just $1.22 per minute, GoTranscript is a reliable choice for closed captioning needs.
The process is simple and secure:
Upload your video or audio files easily via the web or through a link.
Pay online using a major credit card, debit card, or PayPal.
Receive your captions delivered via email.
GoTranscript features
Professional captioners: GoTranscript employs a team of skilled captioners to ensure top-quality captions.
Fast turnaround: Receive your captions within a few hours to a couple of days, depending on your chosen turnaround time.
Support for multiple languages: GoTranscript offers captioning services in various languages.
Various format options: Export your captions in several popular formats.
5) Amara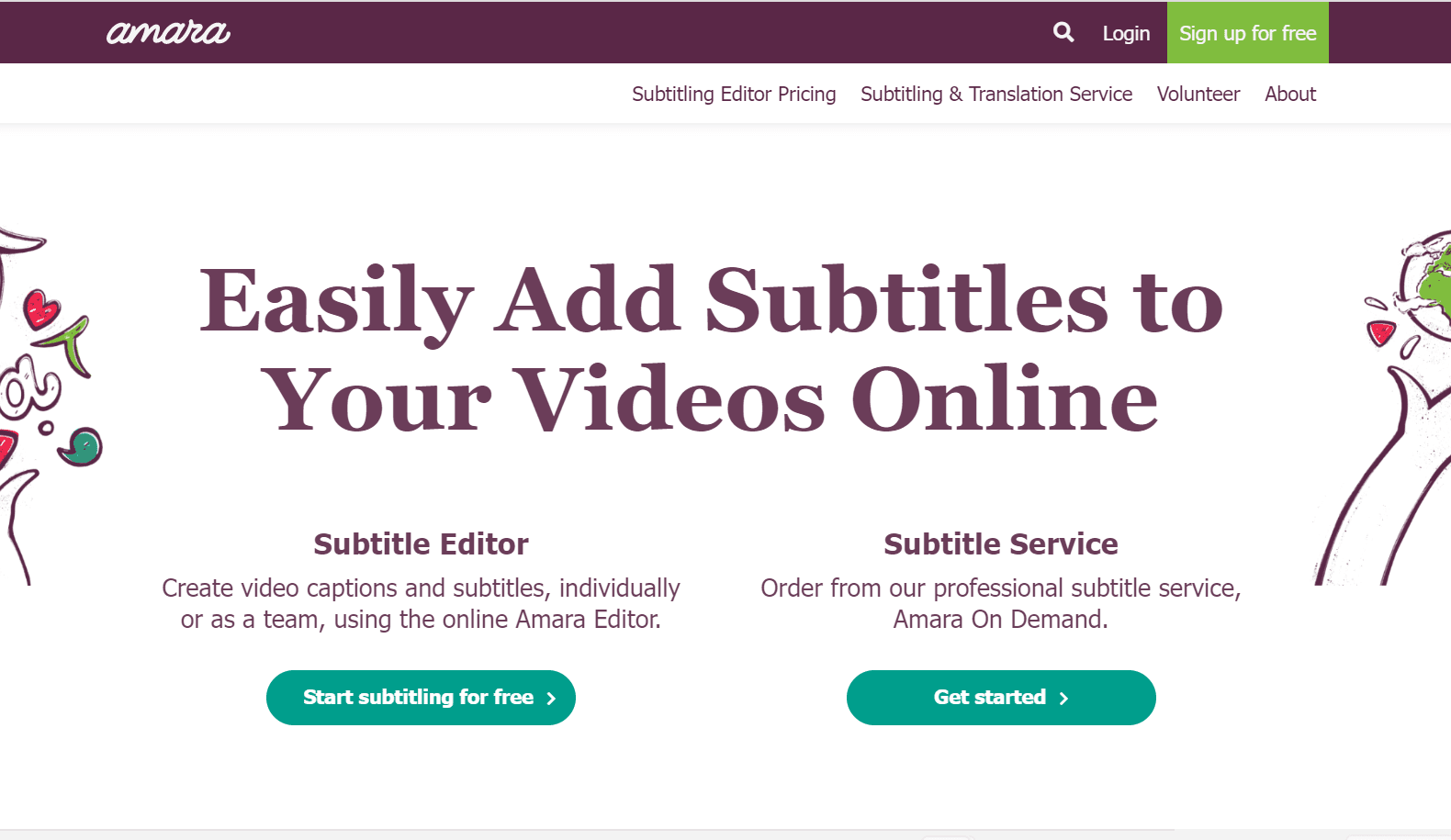 Amara offers an easy-to-use online platform for adding subtitles and closed captions to your videos, with options to create and edit subtitles individually or as a team using the Amara Editor.
Alternatively, you can order professional subtitle services through Amara On Demand.
The Amara Subtitle Editor is a multi-award-winning, cloud-based solution with state-of-the-art subtitling features. It allows you to coordinate subtitle projects of all sizes, whether you work alone or with a team.
The Amara Editor offers features like:
Audio waveforms
Adjustable playback speed
Efficient shortcuts, and
Notes for easy communication.
Amara's platform provides flexible and customizable workflows to manage the quality and consistency of your subtitling output.
With powerful and intuitive team management tools, you can designate roles and permissions for team members, allowing managers to oversee the workforce and projects while linguists can find and complete tasks.
The Amara Enterprise plan allows you to seamlessly integrate with YouTube, Vimeo, and other video hosting sites, enabling an easy way to import and export subtitles.
The robust Amara API allows you to automate workflows and subtitling assignments, integrating Amara's functionality into any existing system for further customization.
Amara On Demand offers affordable, high-quality subtitles, captions, and text translations in multiple formats and over 50 languages. Their team of over 2,500 professional linguists, all native speakers, work to ensure your caption and translation needs are met while capturing the tone and meaning of your content.
While Amara has a free plan, the real power comes with paid options, starting from $24/month USD.
6) EZTitles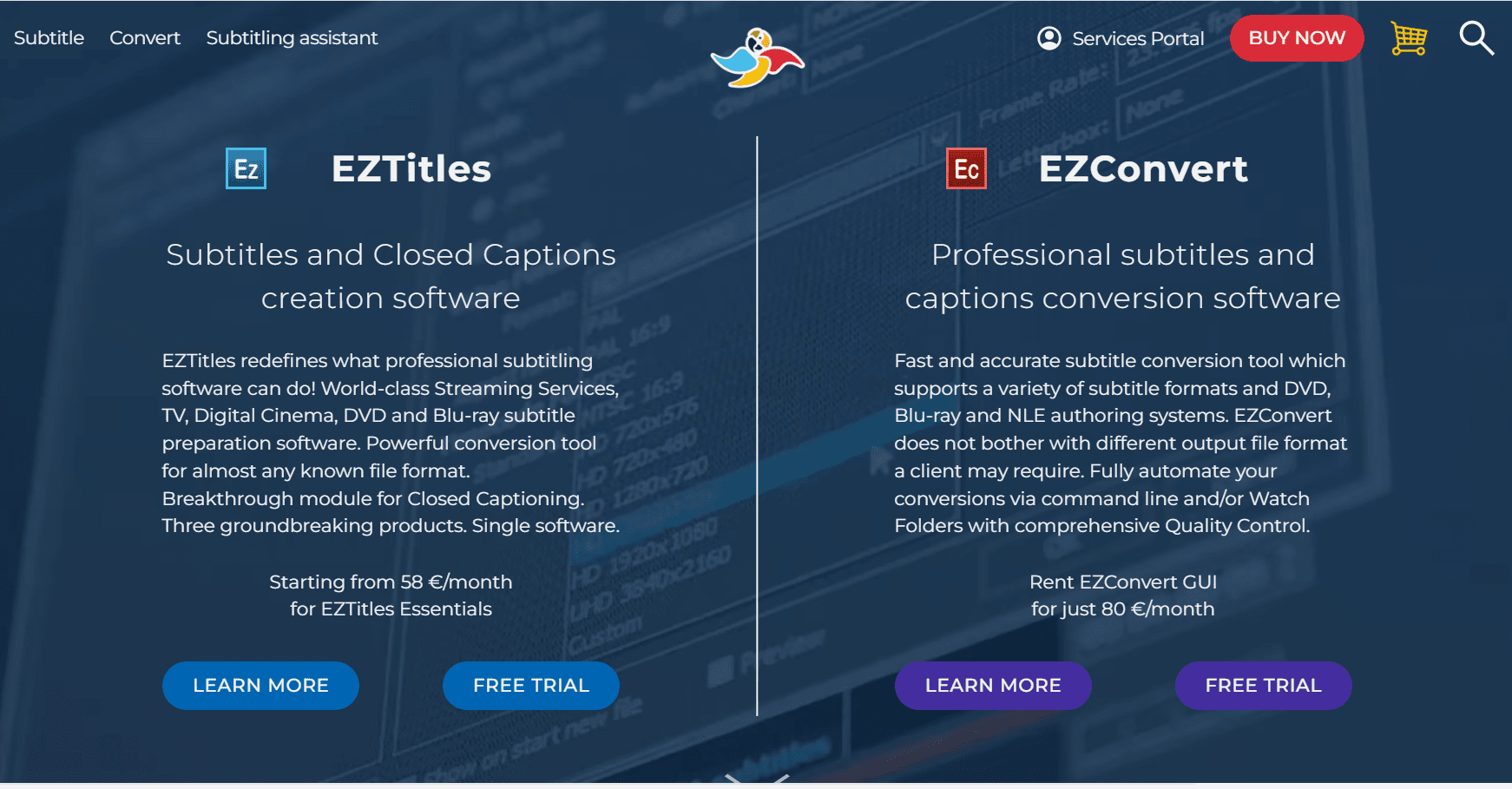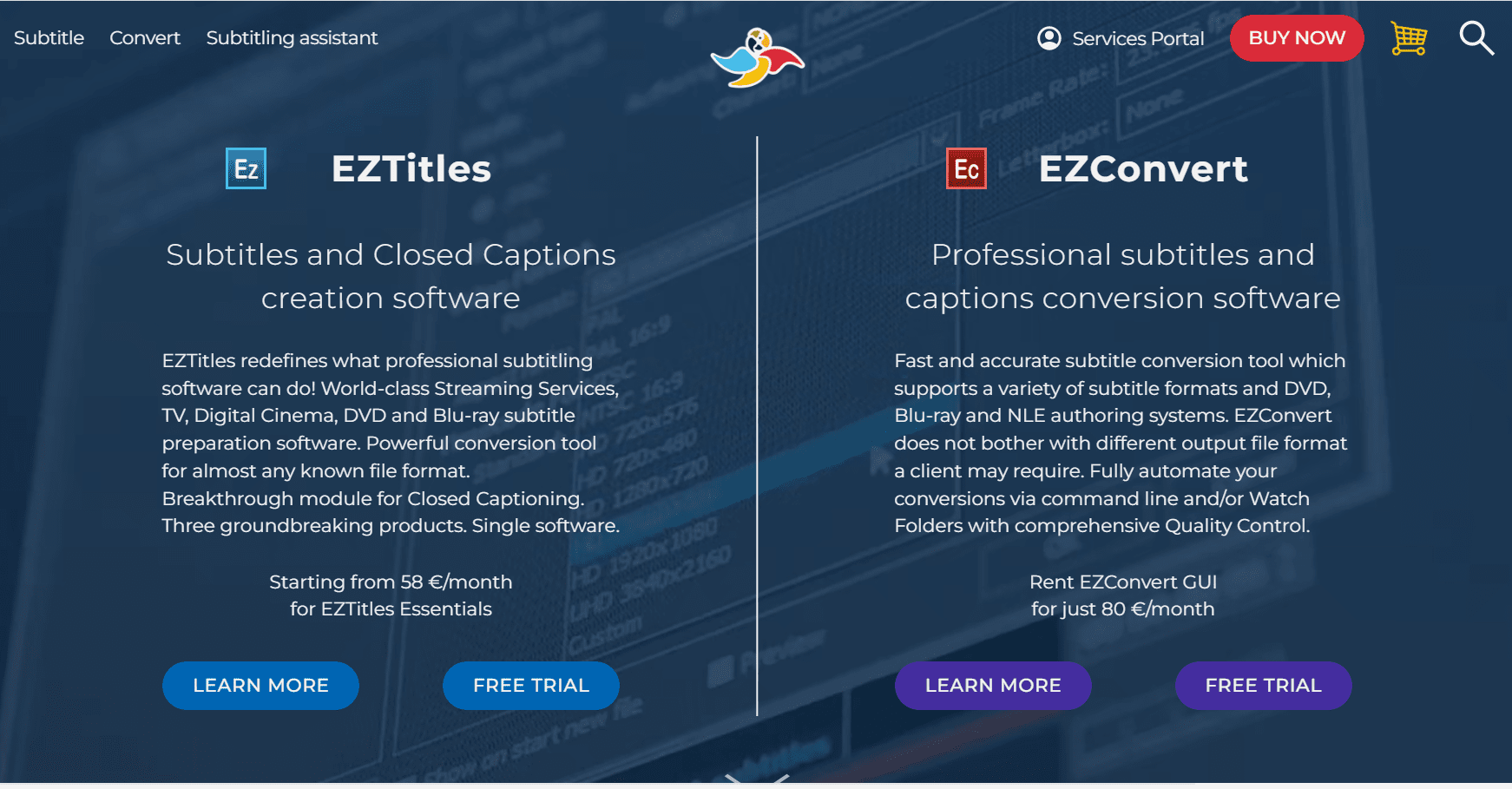 EZTitles offers two types of professional subtitling and captioning tools to cater to a variety of needs. Some of their main offerings include:
a) EZTitles
EZTitles is a comprehensive software solution for creating subtitles and closed captions, used by world-class streaming services, TV, digital cinema, DVD, and Blu-ray.
With support for almost any known file format, this tool also features a breakthrough module for closed captioning. Pricing starts from 58 €/month for EZTitles Essentials.
EZTitles is compatible with major streaming services like Netflix, Disney+, Apple TV+, Amazon Prime, Hulu, and others, adhering to their respective subtitling standards.
The software can be used to create subtitles in any language and export industry-standard timed text and open subtitle file formats.
EZTitles works with nearly any known video format, any resolution, and any screen ratio.
How to use EZTitles:
Purchase and download the EZTitles subtitling software.
Install and launch the software on your computer.
Open your video file and create a new subtitle or caption file.
Add and edit captions or subtitles using the software's advanced tools.
Save and export the captions or subtitles in your desired format.
b) EZConvert
This is a fast and accurate subtitle and caption conversion software supporting various formats and DVD, Blu-ray, and NLE authoring systems.
With EZConvert, clients can fully automate conversions via the command line and/or watch folders with comprehensive quality control. You can get access to EZConvert GUI for 80 €/month.
As you can tell, EZTitles products aren't cheap, so unless you have a stream of captioning clients or a good number of personal projects you are working on, this tool may not be for you.
7) CaptionMaker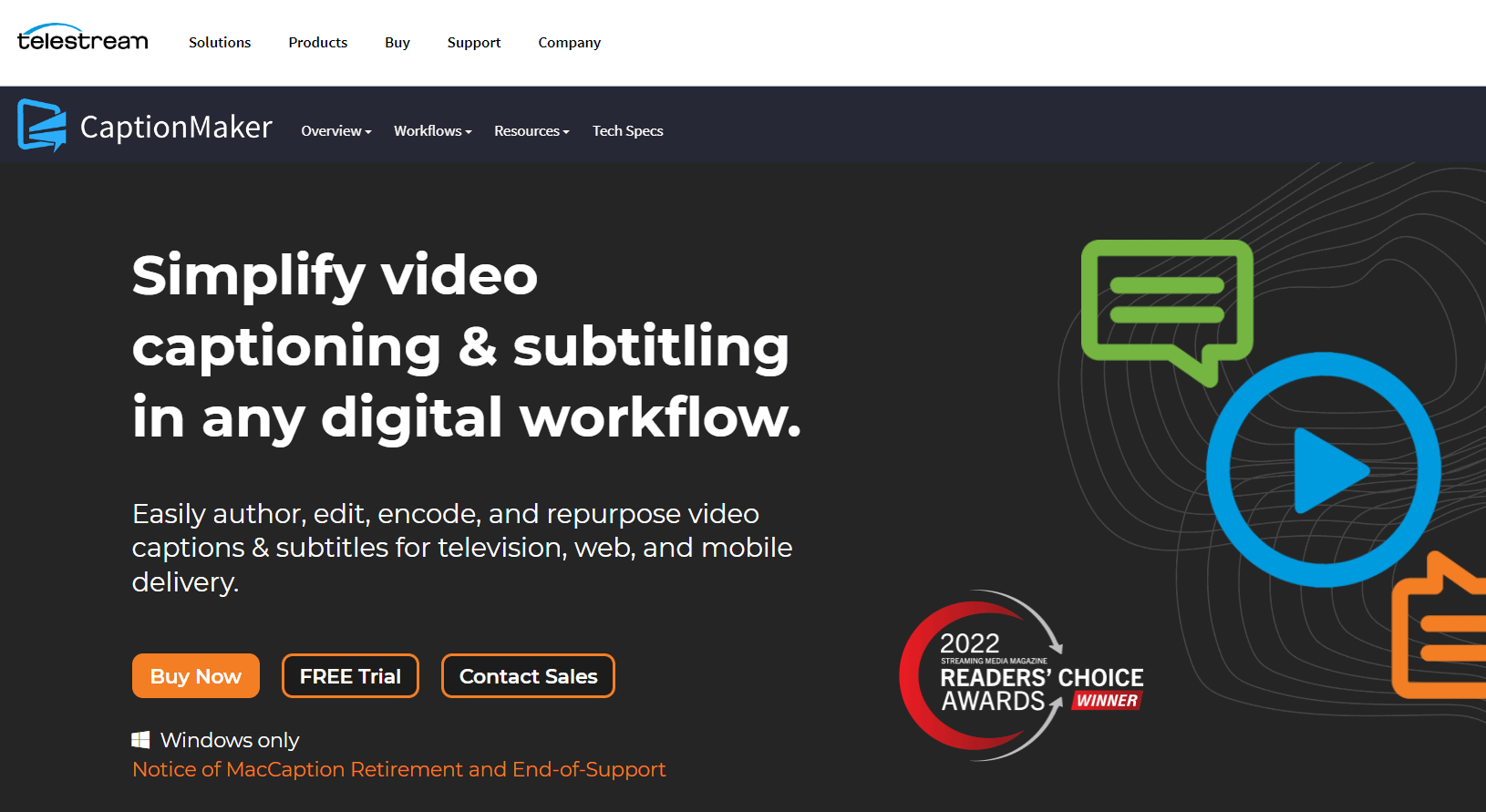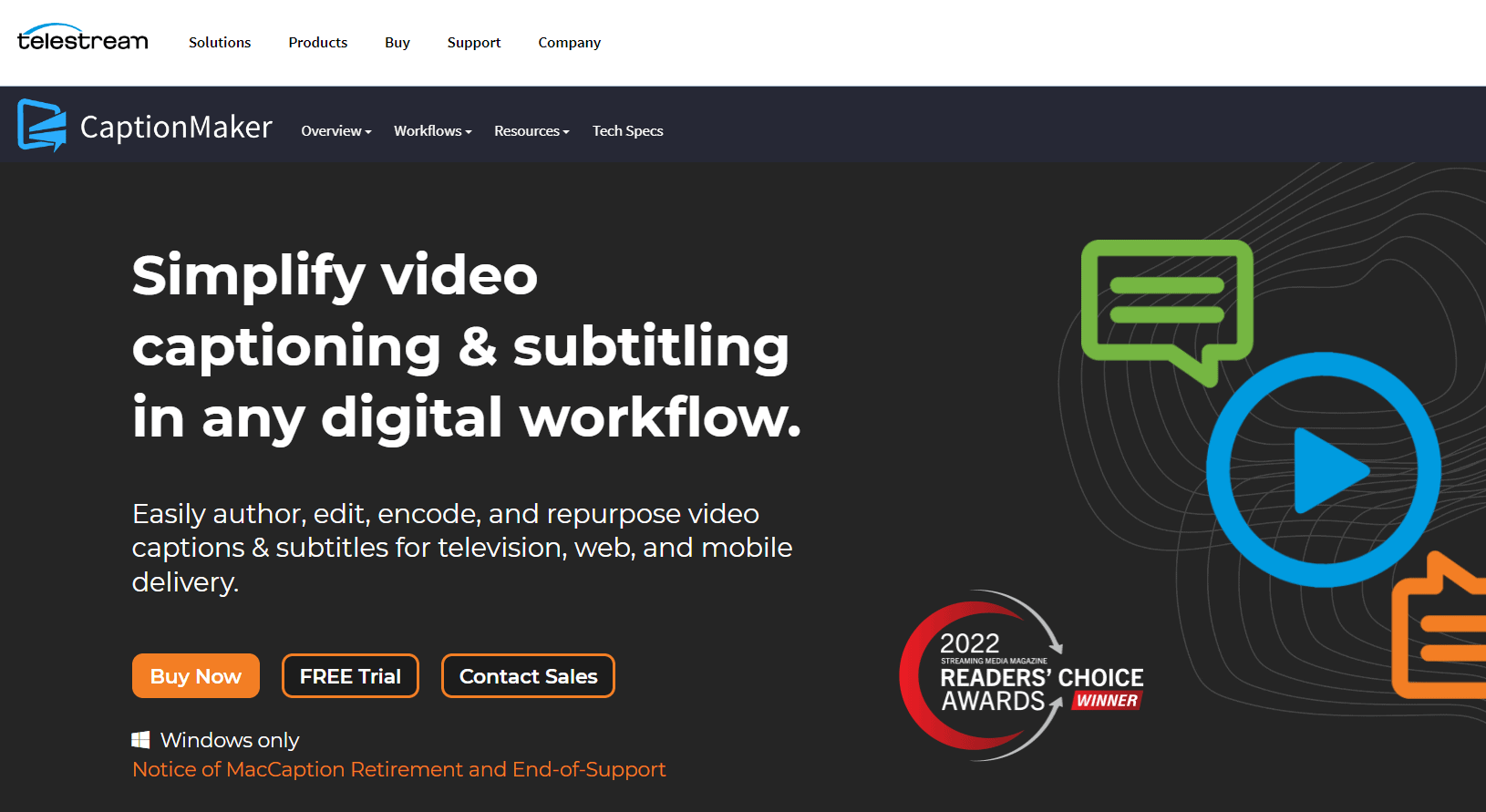 Telestream's CaptionMaker is a closed captioning and subtitling software designed to simplify the process of complying with government regulations, enabling greater access to broadcast content for television, online, and mobile viewers.
At the core of CaptionMaker is the e-Captioning™ engine, which integrates with digital production systems to prepare and encode both standard and high-definition video with caption and subtitle data.
CaptionMaker offers a wide range of features, including:
Creating and editing captions
Encoding captions into media
Automating captioning and subtitling tasks.
It also offers closed captioning and subtitling solutions for various industries, including broadcast and VOD, content producers, corporate/government, and education.
One of the unique features of CaptionMaker is its Stanza caption engine, which comes with a web browser interface, providing a simpler, more streamlined way to create captions.
CaptionMaker also offers speech-to-text technology, allowing users to automatically transcribe video in over 100 languages and quickly edit the text results with new custom keystrokes.
8) Subtitle Edit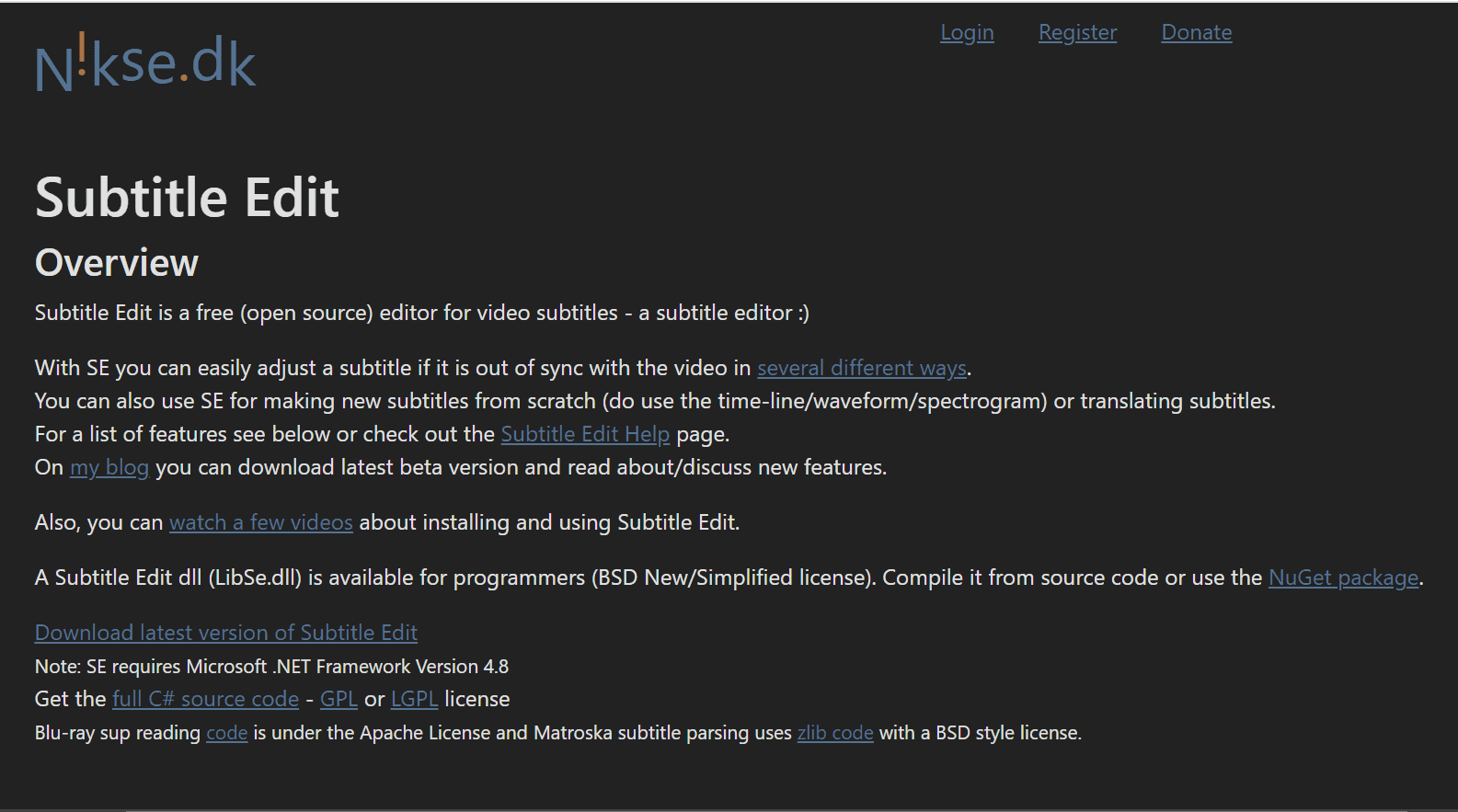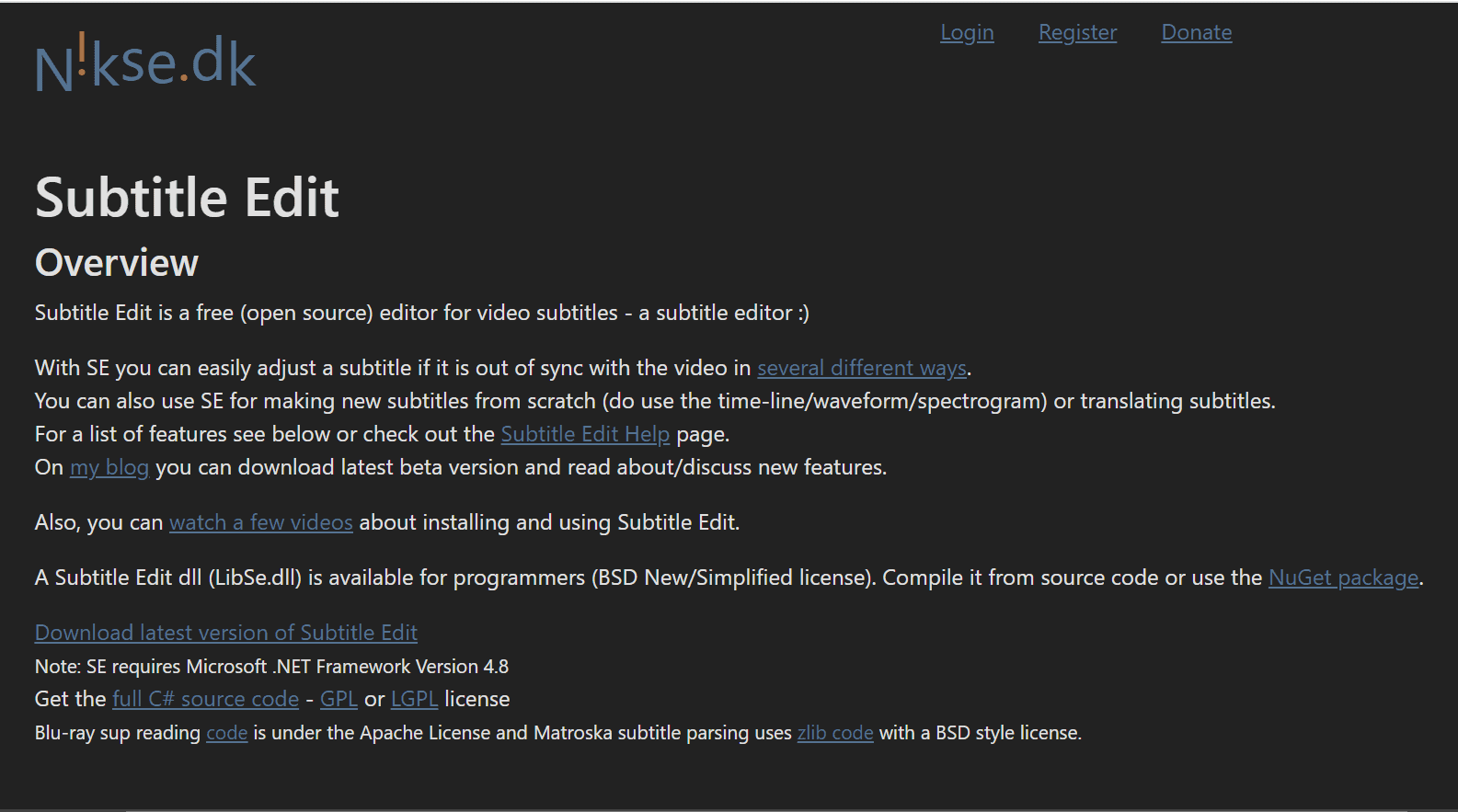 Subtitle Edit is a free, open-source software tool for creating and editing subtitles and captions. It offers a variety of features for users who need a powerful yet cost-effective solution.
This open-source software offers a wide range of features that enable users to adjust, sync, translate, and create subtitles with ease.
One of the most significant advantages of Subtitle Edit is that it supports over 300 subtitle formats, making it one of the most flexible subtitle editors in the market.
It also offers a cool audio visualizer control that displays waveforms and spectrograms, allowing users to adjust the start/end position and speed of their subtitles visually.
Subtitle Edit also enables you to improve your caption copy by providing tools for fixing common errors, renumbering, checking spellings, and merging or splitting subtitles.
Another exciting feature of Subtitle Edit is its ability to auto-translate subtitles via Google Translate, making it easier for users to translate subtitles into different languages quickly.
Subtitle Edit is available for download on its official website, and it requires Microsoft .NET Framework Version 4.8 to run. The software is available under the GPL or LGPL license.
To display subtitles, users need to save the subtitle file in the same folder as the video/audio file and give it the same name as the video/audio file (not the extension). For playing videos with subtitles, users can use popular video players like Media Player Classic – Home Cinema, VLC media player, etc.
9) AHD Subtitles Maker
AHD Subtitles Maker is a free, versatile software designed for creating and editing subtitles and captions with a simple interface. It runs on Windows 11, Windows 10, Windows 8, Windows 7, and Windows Vista.
This small and lightweight application has a clean interface that makes it easy to create and modify subtitle files for corresponding videos.
AHD Subtitles Maker can rip subtitles from MKV files, modify the ID3 tags on music videos, and export and import subtitles in various formats such as SRT and SSA. The program works with most subtitle file formats including Adobe Encore, DVD subtitles, Final Cut Pro, MPlayer, Quicktime, Subrip, YouTube subtitles, and many others.
Using AHD Subtitles Maker involves creating a project file where you have a video in the left-hand panel and subtitle data in the center. You can add different tracks for various languages and adjust the display of lines of text based on where in the video is being played.
The tabbed interface of AHD Subtitles Maker is organized into tabs, so it is easy to get around depending on the task you wish to undertake.
Like most closed captioning software in this list, AHD Subtitles Maker has an audio transcription function. You can also customize subtitles with various fonts, colors, and effects, and add images like logos and watermarks.
You can also adjust subtitle timings to match the video, add text effects like shadow, emboss, and blur, and insert text into existing subtitles.
The program is released under the GPLv3 license, so anybody can download, install, run, and distribute the software with little in terms of restrictions.
10) MixCaptions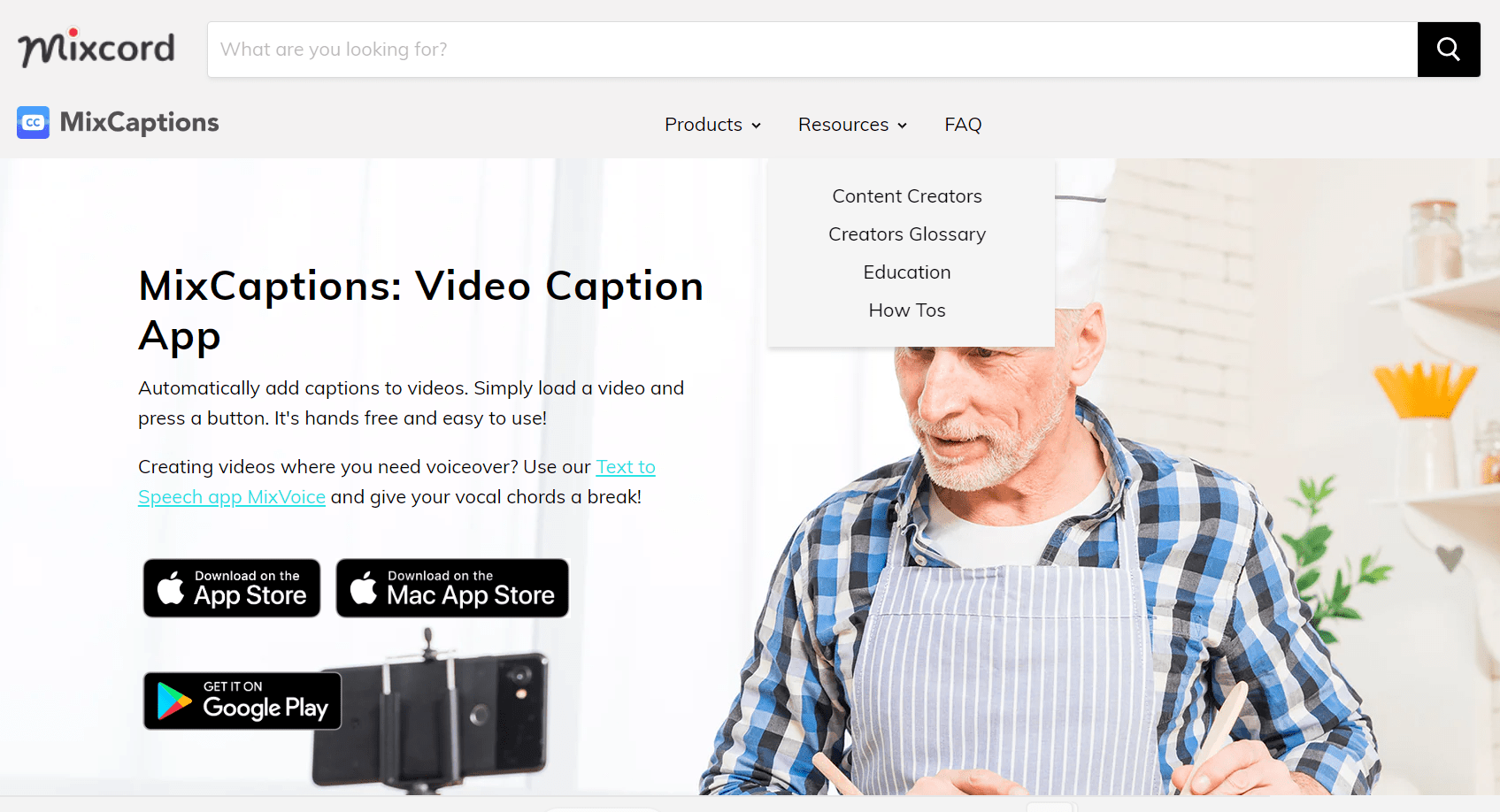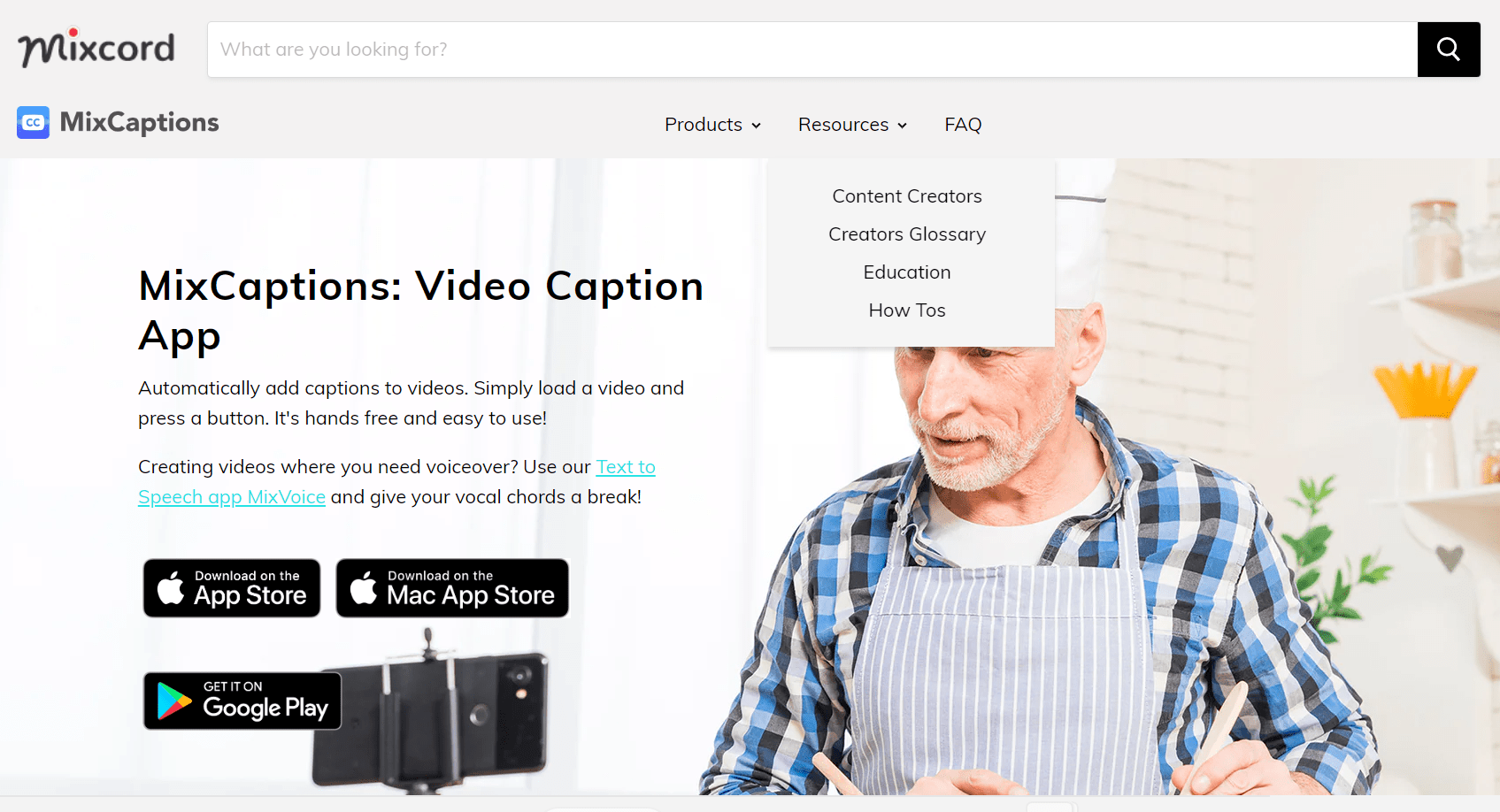 MixCaptions is a mobile app available on both iOS and Android devices that allows users to easily create and edit captions and subtitles on the go.
With this app, you can quickly and automatically add captions to videos, making it a perfect solution for creators, business owners, and anyone looking to create inclusive and accessible content.
Key MixCaptions features
MixCaptions offers a range of features that make it an essential tool for video captioning. With this app, you can:
Transcribe up to 30 minutes of pre-recorded video or use audio files to create videos with captions
Import SRT files or export SRT files to be used on other platforms
Customize the font color, size, and placement of captions for easy viewing
Resize and reposition captions so they are not covered by buttons and text
Bleep out profanity on TikTok videos to avoid being reported
Generate captions once and export videos in different ratios for various platforms
Caption videos up to 30 minutes long, export videos with captions in 4k, and translate captions for global audiences
11) Veed.io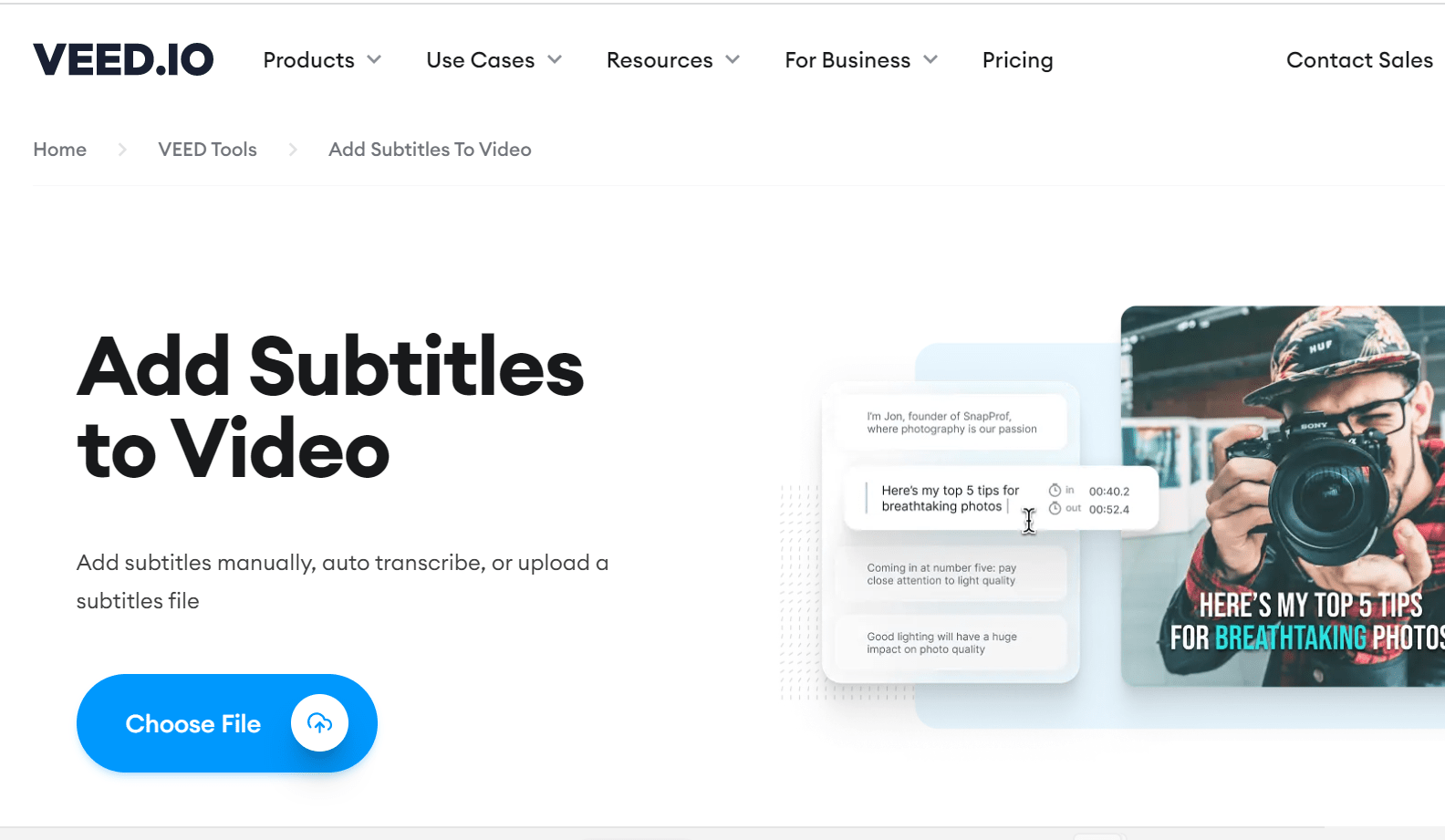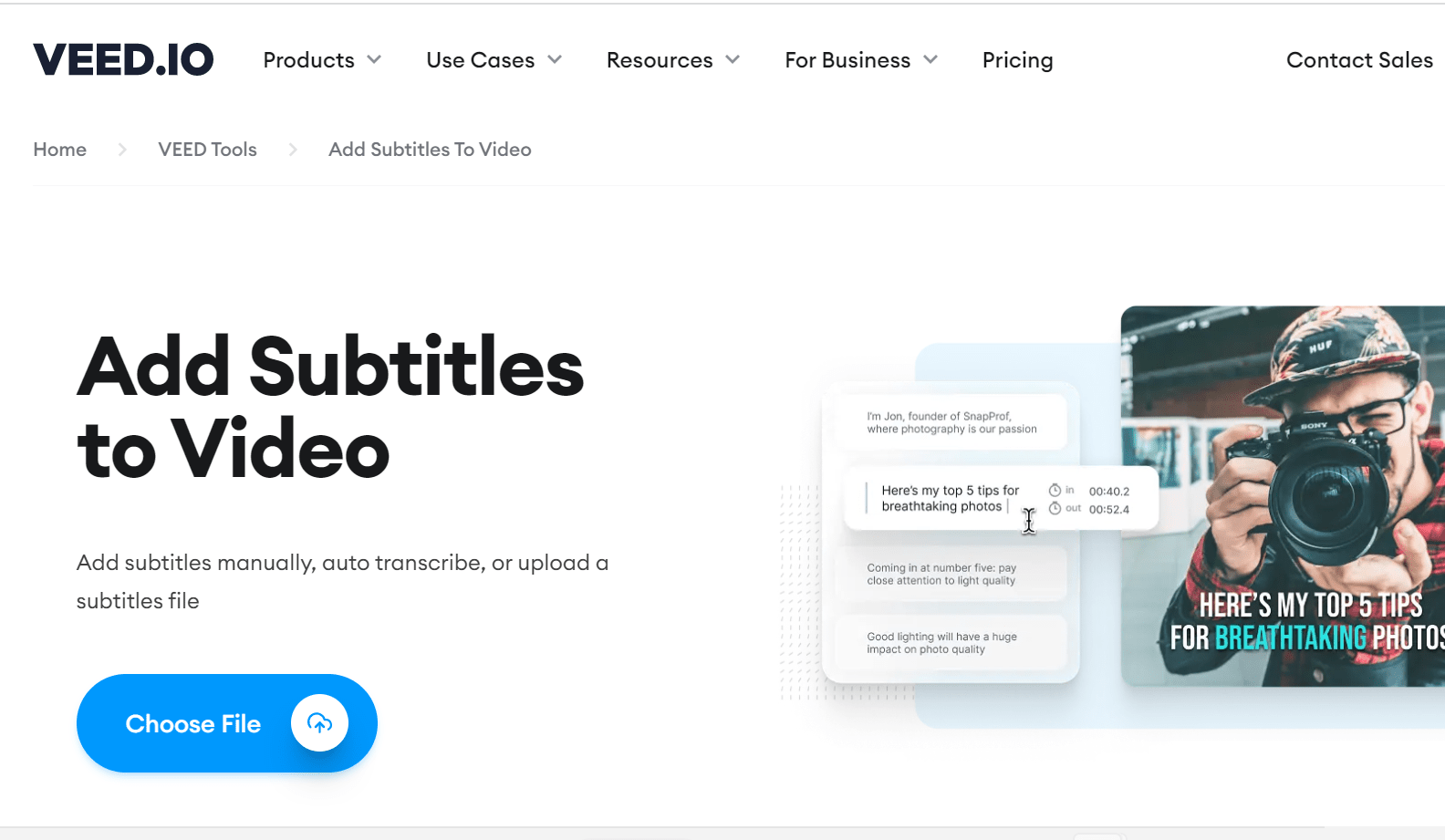 Veed.io is an easy-to-use online video editing platform that offers closed captioning capabilities along with a suite of video editing tools.
Using cutting-edge AI technology, VEED's speech-recognition software can detect over 100 languages and accents, accurately transcribing speech and generating captions with great accuracy.
To generate closed captions using Veed.io, simply upload your video into the editor. Next, click "Subtitles" and then "Auto Transcribe," then "Start."
Finally, make any necessary edits to the text, and then hit "Export" to download the captions. It's that easy!
In addition to its closed caption generator, VEED offers a range of other AI video tools, including an auto-subtitle generator, an online video editor, and the ability to add subtitles manually.
Conclusion
In 2023, there are several closed captioning software tools available to make your content and those of your clients more accessible and easily consumable.
Pictory AI, Rev, EZTitles, CaptionMaker, Subtitle Edit, AHD Subtitles Maker, MixCaptions, and Otter.ai are among the best options, each with its unique features and capabilities.