The recent release of GPT4 has elicited different reactions from different industries. While most people are impressed by its capabilities, some can't help but wonder if ChatGPT will replace their jobs.
If you're part of the latter group, I'd like to assure you that there's no need to worry. In fact, ChatGPT is likely to make most jobs easier instead of eliminating them.
In this article, we'll look at 5 creative ways of making money with ChatGPT in 2023. Keep reading to learn how you can use AI to earn a living.
What is ChatGPT?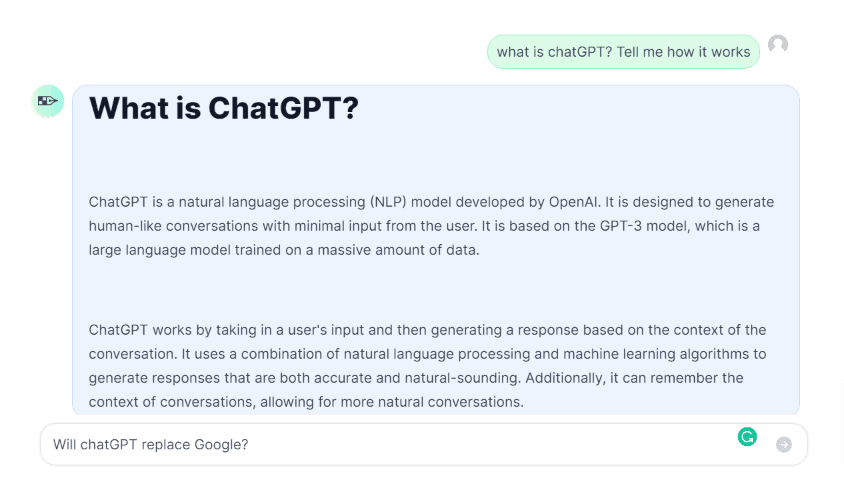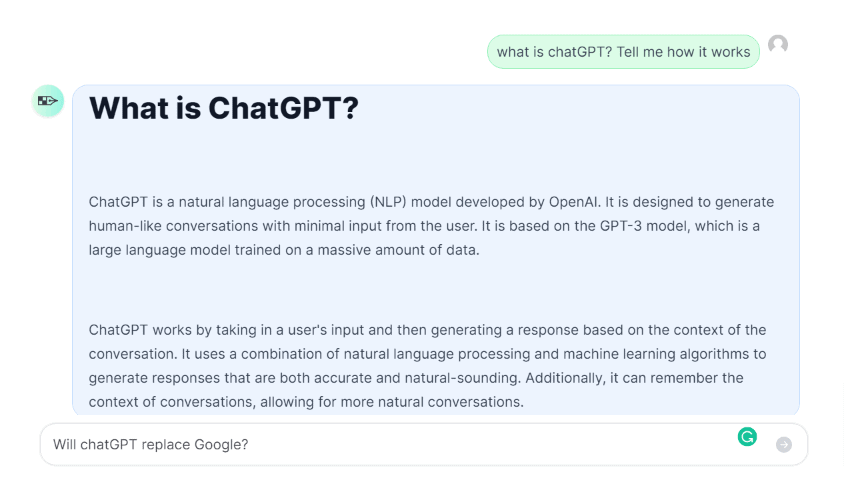 ChatGPT is a groundbreaking language model from OpenAi. The platform adopts a conversation-style method, where you ask it a question, and it answers it according to the information fed to its database during its training.
ChatGPT is programmed to process questions, understand them like humans, and answer them to the best of its "knowledge." As a result, you can ask follow-up questions after the first answer, and it will answer in the context of the previous chats in the thread.
For instance, you can ask ChatGPT, "How do I make an omelet?" and it will provide an omelet recipe. You can then ask, "What if I don't have tomato paste?" and ChatGPT will give you tomato paste alternatives in that recipe.
How to make money with ChatGPT
The effect of ChatGPT on human labor has been the subject of many public discussions. However, the platform doesn't pose any threats currently. In fact, you can use it to make money in fields that were previously difficult to venture into.
Let's look at some of the best creative ways of making money with ChatGPT.
1) Scale your freelance writing business
ChatGPT can help you scale your freelancing business in a number of ways. For instance, you can use ChatGPT to conduct market research to identify trends and opportunities in your field.
ChatGPT can update you on the latest technologies, tools, and best practices in your industry, helping you stay ahead of the competition.
You can also prompt ChatGPT to craft compelling pitches, proposals, and marketing material. This will help you win new business and grow your revenue.
2) Start an AI-powered niche blog
Another great way of monetizing ChatGPT is starting a niche blog.
ChatGPT has been trained on a wide range of topics and can use that knowledge to help you create unique and engaging content for your niche blog.
The language model can give you interesting topics for your blog posts, as well as unique content to keep your audience engaged.
ChatGPT can also help you optimize your blog for search engines by suggesting relevant keywords and phrases, and it can assist you in crafting attention-grabbing headlines and subheadings.
You can then monetize your AI-powered blog through display ads and affiliate marketing, the two proven monetization strategies that work well once you have enough organic traffic to your site.
For display ads I recommend joining premium networks like Ezoic or Monumetric when starting out, and later moving on to higher paying networks like Mediavine and Adthrive once you have atleast 50,000 monthly sessions.
To start a blog, all you need is a domain name and a reliable but affordable web hosting service like Bluehost, and your site should be up and running in a day or two since you can opt to design a simple website yourself using WordPress. Bluehost makes it easy to install WordPress with their one-click install feature.
3) Freelance web development
About a decade ago, you needed to be an experienced programmer to build a website from the ground up.
However, easy-to-use, non-code-based web development platforms like Elementor, Squarespace, Wix, and Bubble have since emerged, allowing people without a programming background to create websites.
ChatGPT (GPT4 specifically) takes this to the next level. The advanced AI chatbot can generate code for a website from a single prompt, allowing you to create a functional website in just a few seconds.
Web design is one of the most marketable skills on freelance sites like Fiverr and Upwork.
You can list your services and start solicing for clients by bidding on projects that you're confident that ChatGPT will help you deliver. Once you agree on the terms and how the website should look and feel, you can then visualize how the website should look and describe it in a GPT4 prompt.
However, it's important to note that ChatGPT might not produce a replica of the web pages you had in mind, and it might take a few adjustments to get the website right.
As a result, having a coding background will be advantageous as the AI will do most of the work for you, and you'll just have to make some minor adjustments, saving you hours in coding and debugging work.
4) Start a YouTube channel scripted with ChatGPT
While it's easy to create a YouTube channel, creating successful content is a challenge for most YouTube creators.
You need fresh content ideas, good scripts, and much more to run a successful channel.
Here's how ChatGPT can help you kick off your YouTube career:
Content ideas: ChatGPT can generate content ideas for your YouTube channel based on your niche, target audience, and other relevant factors. For instance, if you want to start a cooking channel, you can use ChatGPT to come up with unique but creative recipes.
Audience engagement: ChatGPT can provide suggestions on how to increase your audience engagement and improve your overall channel metrics.
Scripting: Apart from fresh content ideas, you can also use this tool to generate full scripts for your YouTube videos.
Video scripts translation for subtitling: At the moment, ChatGPT cannot transcribe videos, but you can use other tools to help you with this. Once you have transcript, you can feed it into ChatGPT and ask it to translate it into another language. You can then use the second transcripts as subtitles. This way, you make your video content to be accessible to more people.
Search Engine Optimization: Another way that ChatGPT can boost your YouTube channel is through SEO. You can ask it to provide SEO optimized video titles, meta descriptions, detailed video descriptions with keywords, and YouTube tags.
Additionally, if you're using GPT 4, you can prompt it to generate complete videos for you. While the technology is still hit-and-miss, it has been used to generate a whole movie, complete with AI-generated actors and voice-over. Since AI learns and improves with user feedback, the videos are likely to be of much higher quality in the future.
5) Social media management
Social media usage is at an all-time high. As a result, many companies are looking to leverage their social media platforms to appeal to their target audience.
This has led to the rise of social media management departments in most successful organizations. As a social media manager, you're required to use social media management software like Zoho Social, Hootsuite, and Sprout Social to post engaging content regularly on the business's social media platforms. You're also required to engage with the followers by replying to their comments and sharing relevant posts.
Here's how ChatGPT can help you make money through social media management:
Generating posts: You can prompt ChatGPT to generate engaging social media posts that resonate with your target audience.
Social media strategy: You can feed the company's statistics, like demographics and desired public image, to ChatGPT and prompt it to create a suitable social media marketing strategy for you. This will ensure you reach as much of your target audience as possible.
Generating witty replies: Depending on your branding strategy, you might want your social media accounts to be known for funny, quick-witted replies to comments. ChatGPT can help you come up with great replies that will help you gain popularity in meme culture.
6) ChatGPT Plugins
Creating and selling ChatGPT plugins for popular content management systems like WordPress or Shopify can be a great way to monetize your skills.
These plugins can simplify the integration of ChatGPT into websites, allowing users to leverage the AI's capabilities without extensive technical knowledge.
OpenAI recently introduced this feature, and soon anyone will be able to create custom solutions that would take the usage of this platform to a whole new level.
Current ChatGPT plugins are Web Browser, Code Interpreter, Knowledgebase retrieval plugin, Instarcart, Expedia, Kayak plugins, etc.
7) Build a tool on top of ChatGPT and OpenAI products
This is the most obvious way of leveraging OpenAI products that companies such as Copymatic, Bertha AI, Japser, Writesonic, Pictory , etc. are leveraging.
The competition is already stiff, but if you can find a niche that isn't well-served yet, jump on it. Here are some ideas of what you can build.
A professional Twitter threads generator
A WordPress plugin that enables users to write, optimize, edit, schedule and publish blogposts with the help of ChatGPT
An AI blog post formatting tool
An integrating tool, etc.
ChatGPT Monetization FAQs
Can ChatGPT replace human writers?
While ChatGPT is a powerful tool for generating content, it's essential to remember that it's not perfect. Human writers still have an edge in terms of creativity, factual info, understanding context, and writing with emotions. ChatGPT merely serves as an assistant, and it's a long way from being a co-writer.
Is it ethical to use ChatGPT for content creation?
Using ChatGPT for content creation is ethical as long as the content is original, and proper credit is given when required. It's essential to ensure that the AI-generated content is of high quality and serves the intended purpose.
How can I learn to integrate ChatGPT into various platforms?
To learn how to integrate ChatGPT into various platforms, you can start by exploring the API documentation provided by OpenAI.
There are also numerous online resources, tutorials, and forums where you can learn from the experiences of other developers who have successfully integrated ChatGPT into their projects.
What are the limitations of using ChatGPT for making money?
While ChatGPT offers numerous opportunities for generating income, it's important to be aware of its limitations.
The AI may sometimes generate incorrect or nonsensical responses, and it may not always understand context or nuances as well as a human writer.
Moreover, as the technology becomes more widely adopted, competition in the market may increase, making it essential to stay ahead of the curve and offer unique, value-added services.
How do I start offering ChatGPT-powered services?
Begin by familiarizing yourself with ChatGPT's capabilities and choose a service or application that aligns with your skills and interests. Develop a portfolio, and start marketing your services on social media and online marketplaces.
Do I need programming skills to make money with ChatGPT?
While programming skills can be advantageous when developing custom applications or integrations, they're not necessary for offering services like freelance writing or virtual assistance.
Is ChatGPT the only AI tool I can use to make money?
No, there are many other AI tools available that offer different capabilities. ChatGPT is just one example of a powerful language model that can be utilized for various income-generating purposes.
However, most of these tools are built on top of OpenAI's products such as Whisper, GPT-3, GPT-4, and ChatGPT.
Here are ChatGPT alternatives for making money that you should try:
Should you make money with ChatGPT?
ChatGPT is a great resource for anyone who's looking to make money online. The AI chatbot has made most online tasks easier to accomplish.
With the rise of GPT4, ChatGPT will continue to learn how to solve more problems and make life easier for us. Therefore, it's only right to capitalize on this opportunity and make money from the search engine of the future.