Going green is a great way to go if you're looking for a niche that's not too competitive.
These niches are great for affiliate marketing, as sustainability enthusiasts are willing to spend more when they are supporting a cause they believe in.
But first, what exactly do we mean by a green niche?
What's a Green Niche?
A green niche is a topic that has something to do with the environment. It could be anything from gardening, to recycling, or even something as simple as making your home more energy efficient.
The great thing about the green niche is that it's on an upward trajectory, as people are starting to appreciate the impact that traditional goods are having on the environment and the climate.
Green Niche Ideas
Here are some green niches that are popular and profitable:
1) Zero waste
Zero waste is a lifestyle that aims to eliminate all trash and reduce the amount of material that is put into landfills. The trend has been growing in popularity as more people become aware of how much waste they produce every day.
With so many people starting to take a key interest in this lifestyle way of living, it's no surprise that there are many sites that provide information about how to live a sustainable lifestyle.
If this is something that interests you, then you can start a blog exploring ways that people can achieve and live a zero-waste lifestyle when it comes to self-sufficiency, food, water wastage, etc.
2) Green products
Green products are products that have been designed and manufactured to have a lighter impact on the environment, either during production or use.
They are eco-friendly goods that are often made from recycled materials or that use sustainable manufacturing methods. Many people are now interested in buying these products as their contribution to saving the environment.
People buy green products to help them reduce the environmental impact and may include anything from reusable shopping bags, and solar panels, to energy-efficient light bulbs.
3) Sustainable Fashion
Sustainability has entered the fashion industry, and it's becoming mainstream as well.
Sustainability-conscious people are exploring ways to help reduce the impact that their wear has on the environment. One of the ways is shopping for more durable clothing, that uses materials that are less harmful to the environment in a bid to achieve a carbon-neutral fashion industry…
Thus the eco-fashion fashion industry is a lucrative niche to explore for your affiliate marketing industry. You can blog about eco-fashion products, recommend eco-fashion brands as well as educate your readers on the subject of sustainability as applied in fashion and why fast fashion is doing more harm than good today.
4) Organic Foods
Instead of blogging on organic products in general, you can niche even further, and focus on foodstuff.
Organic food is produced by farmers who emphasize the use of renewable resources and the conservation of soil and water to enhance environmental quality for future generations.
As an organic food blogger, your job will be to help your readers learn about different types of organic food, where to buy them as well as provide them with the best recipes.
5) Self-Sufficiency
Self-sufficiency is a growing trend in which people are interested in learning how to grow their own food, make their own goods, and live off the grid.
While some may choose this lifestyle for financial reasons or as a way of reducing their carbon footprint on Earth, others simply enjoy knowing they have everything they need right where they live—no traveling required!
If self-sufficiency is ingrained in your blood, then this can be quite an interesting niche to explore.
6) Sustainable living
This is a hot topic right now. People are more aware than ever of the resources they use, and they want to do their part to save the planet.
Sustainability refers to the ability of human society to meet its needs without degrading the natural environment or depleting resources beyond their capacity for regeneration.
If you're passionate about the environment and want to share your knowledge with the world, this is an excellent niche for you.
7) Organic Products
Organic products are a growing trend, especially among people who want to avoid pesticides and other chemicals in their food.
Many people also want to know how to use organic products safely in their homes or garden. You can start a blog dedicated to organic products, where you get to write listicles and review posts.
8) Solar Power
Solar power has been growing exponentially in recent years, making it a hot topic for sites that provide information about installing solar panels on your home or business, or how to use solar power in other ways.
9) Clean Transportation
Clean transportation topics include electric vehicles (EVs), hybrid vehicles, and other types of zero-emission vehicles such as hydrogen-powered cars.
10) Organic Gardening
Organic gardening is a popular topic because it's a way to grow your own food while reducing your carbon footprint.
11) Veganism
Veganism is a growing trend that many people are interested in learning more about.
Veganism is a way of living that seeks to exclude the use of animal products for ethical, environmental, and health reasons.
Veganism falls under green niches as it aims to conserve animals
12) Green homes
Green homes are houses that use energy-efficient appliances, materials, and designs to reduce their overall environmental impact.
13) Healthy Eating
People are getting more interested in eating healthy and exercising regularly, so there's always something new to write about.
20 More Green Niche Ideas to Explore
Here are a few more green niches:
Wind energy
Rainwater harvesting
Water conservation
Green Living
Green Energy
Recycling & Repurposing
Waste Reduction & Management
Environmentalism
Green cleaning products
Green beauty products
Climate change
Renewable energy
Green Office
Green website hosting
Reusable products
Recycling
Upcycling
Eco Travel
Green businesses
Alternative Energy sources ( You can explore the Alternative Niche here)
Global warming 
Examples of Green Blogs
a) Green Journal
Green Journal is a UK-based website that publishes news around renewable energy and sustainability.
Topics covered include food wastage, solar energy, green energy sources, climate change, and sustainability amongst others.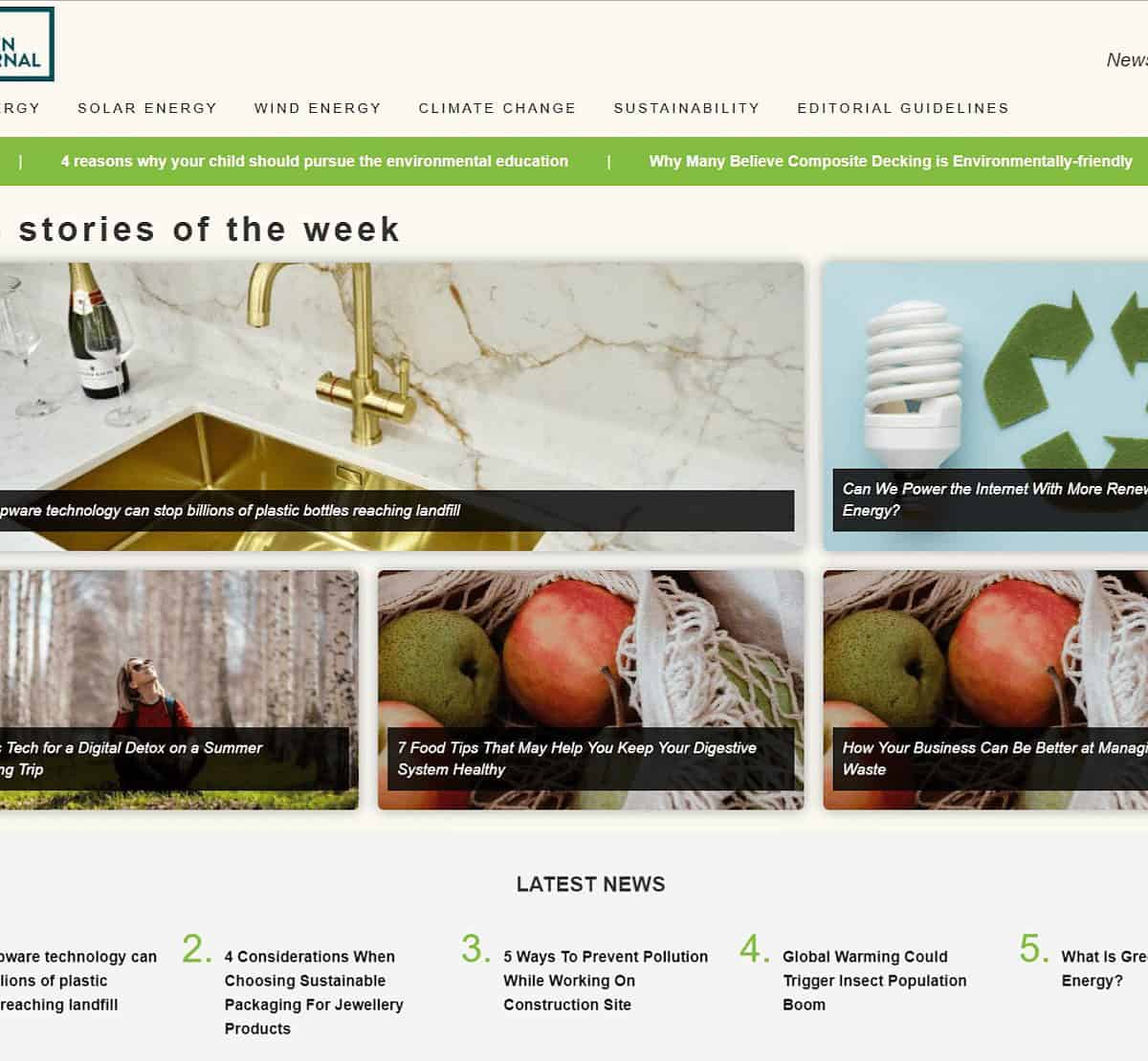 b) Green Dreamer
The Green Dreamer is an interesting blog, as it talks about more advanced green topics.
Past topics covered include:
Environmental justice,
Carbon sequestration,
Regenerative agriculture
Global warming
Eco anxiety
Plastic pollution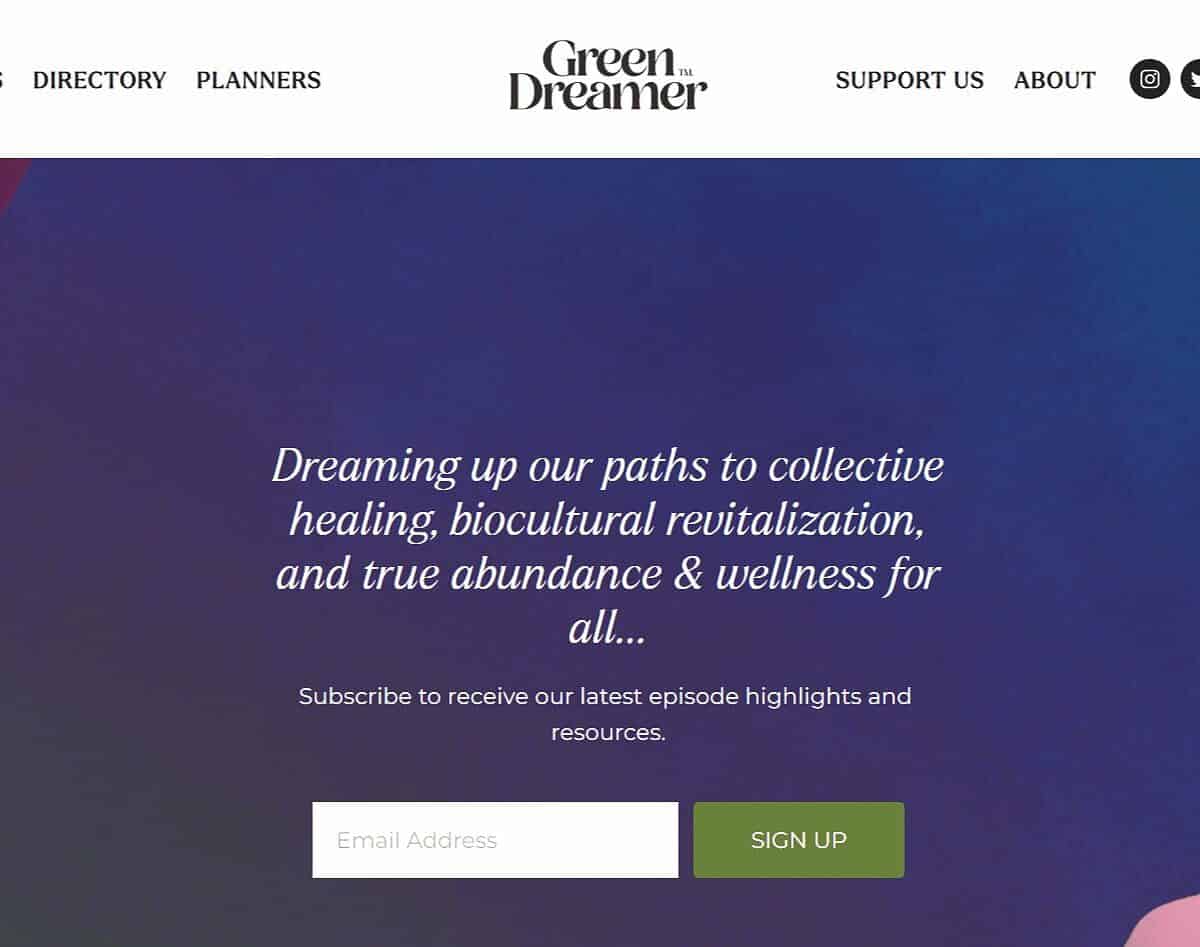 Besides blog guides, this website also runs a popular podcast, with nearly 400 episodes on all matters of environment-conscious living.
Examples of Green Products for Affiliate Marketing
In your green niche blog, some of the on-demand products you can review and make money as an affiliate include:
Instant hot and cold water taps
Live plants for home and office decor
Best Green Affiliate Programs to Join
Lively Root for live plants through the Awin affiliate network
Blueland for reusable bottles
Eat cleaner for all-natural cleaning products
The Green Life for natural and organic products
Love Goodly for non-toxic, vegan, and cruelty-free beauty products
How to Monetize a Green Blog
Affiliate marketing: Find and review products and brands that focus on sustainable living
Display ads: If you manage to attract a large enough audience, then you can make passive income with premium Ad networks such as Ezoic, Mediavine, or AdThrive.
Community support: Sometimes running ads or doing affiliate marketing may not be the right model (not sustainable for your sustainability blog), so you can leverage your cause and ask people to support your mission through platforms such as Patreon. Green Dreamer does this well.
Ready to get started?