Fiverr provides a convenient way for freelancers to find work, but with millions of workers on the platform, the race is to the bottom when it comes to the pricing of services.
Becoming a Fiverr Pro Seller is one way to stand out from the competition and increase your earnings per every gig order you receive and complete.
What is Fiverr Pro?
Fiverr Pro is a program that allows you as a seller to offer pro gigs and earn more. Unlike regular gigs on the platform, Pro gigs enable you to charge upto 10 times rates, and you're more likely to work with high quality clients who appreciate your work.
Businesses trust Pro sellers because they have been vetted by Fiverr team, offer quality work, are more professional and always deliver on time.
Being a verified Pro seller on the platform thus automatically gives you the credibility you need to attract quality buyers.
What categories are available in Fiverr Pro?
At the time, only a few select categories qualify to be Pro Gigs, and these include:
Writing and translation
Graphic and design
Digital marketing
Music and audio
Programming and tech
Video and animation
If your service isn't in either of the above categories, you can still apply and the team will reach out once your category or sub-category is added to the Fiverr Pro program.
How to get verified as a Fiverr Pro seller
To become verified for the Fiverr Pro program, you need to submit your application. Doing that is super easy, but first you need to have a Fiverr seller account. If you are not yet a seller, you can sign up here
During the application process, and depending on the category you're applying to, you may be required to submit some or all of the following details:
Your social media handles
Years of experience
CV or resume
Links / casestudies
Your working portfolio
List of references
List of your past clients
Educational credentials
Other relevant achievements
Since these are critical details in the application process, make sure you have them all laid down before you start applying.
Fiverr Pro application form and process
Follow these steps:
Step 1: Visit the official Fiverr Pro application page, and log in to your Fiverr account.
You may use a new or an existing account.
Alternatively, you can also log in via SurveyMonkey
After you're successfully signed in, you will see a new green button on the right of the page that says "Apply Now." Click on this button to get started.
You're then redirected to a page that has two tasks. Click on the first task, one that says "Application form"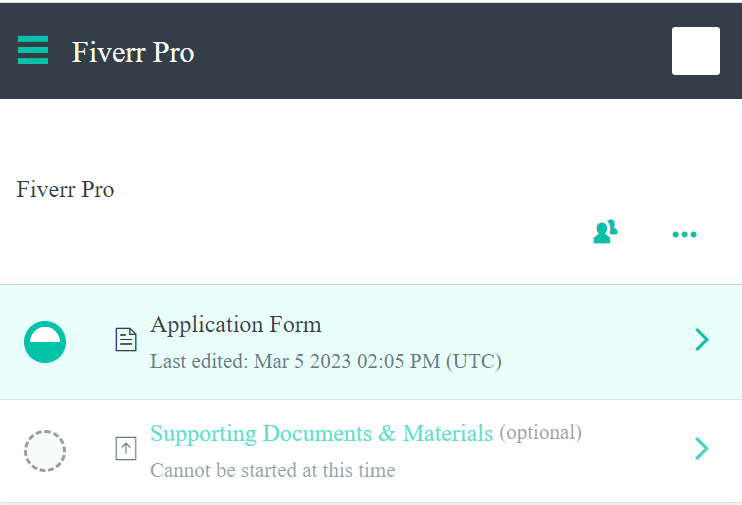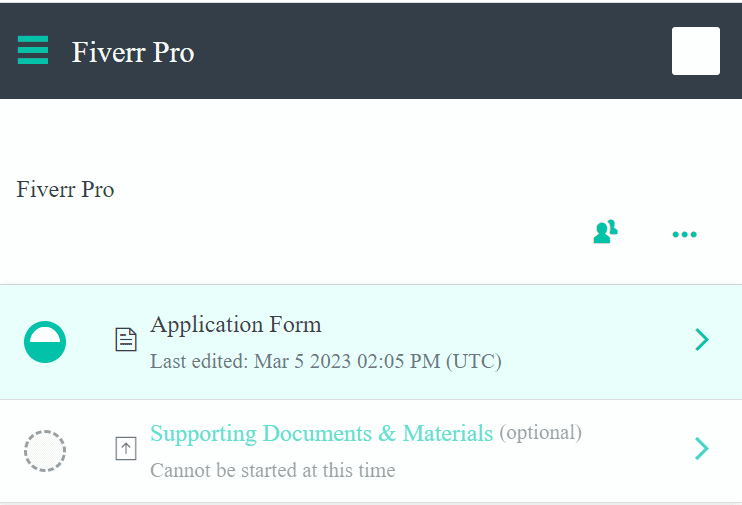 Step 2: Submit your details
On the application form fill in all the relevant details, and make sure that the email shown here is the same as the one you used to create the linked Fiverr account.
Some details you may be asked include:
Personal information
A video of yourself — upto 1 minute long
3-5 sentence bio
A link to your website
Professional information, etc.
One you've filled all the information and reviewed it, click on the Submit button to start the review process.
Fiverr Pro Review Process
The review process that see you verified as a Fiverr pro seller involves three rounds of interviews:
Technical vetting: This round is aims to vet your tech savviness, and that you're capable of delivering quality work on your type of service.
Professional vetting (2 rounds): This is where two Fiverr managers reach out to you to vet your professional ethics and conduct. Things they'd be looking for in these interviews are:
Professionalism
Mannersisms
quality and experience levels.
One thing to note is that the methods employed and vetting processes used differ based on your sub-category, the reviewing managers and the applicant's responses and portfolio.
Fiverr Pro onboarding session
After you've been accepted into the Pro program, you're required to attend an onboarding session This attendance is necessary for your Fiverr Pro Seller program to be activated.
You'll find the link to the session in your acceptance email.
Creating a Pro Gig on Fiverr
The process of creating a gig for your pro seller account is the same as the one for a regular Fiverr gig.
You can create a Pro Gig by following these steps:
Log in to your Fiverr account and go to the Selling menu.
Click on My Gigs and select Create a new Gig.
Choose the Fiverr pro-approved category that matches the service that you'd be offering.
Check the box labeled "Is this a Fiverr Pro Gig?"
Follow the prompts to fill in your Gig title, description, and pricing.
Upload samples of your previous work and any other relevant qualifications.
Publish your Fiverr Pro Gig and wait for buyers to place orders.
You can also opt to convert an existing regular gig into a Pro gig if it meets the set conditions
Benefits of Fiverr Pro
Fiverr Pro comes with a number of benefits, including:
Access to dedicated Success Manager who can help you scale and improve your Fiverr freelance business
Highly professional online working environment
Access to serious buyers who are after quality work, and not just the lowest price they can get
Prompt resolution to issues arising from your engagement with buyers
Ability to take communication off Fiverr after an order has been placed and confirmed. You do however need to document your off Fiverr communication to be elligible for Seller protection
What is the difference between Fiverr and Fiverr Pro?
Fiverr is an online marketplace where freelancers can offer their services to clients from around the world. Fiverr Pro is a premium version of Fiverr that is designed for high-quality professional services.
The main differences between Fiverr and Fiverr Pro are:
Quality of Services: Fiverr Pro offers high-quality professional services that have been vetted and approved by Fiverr. Fiverr, on the other hand, offers services from a wide range of freelancers, including those who are just starting out.
Pricing / Rates: Fiverr Pro services are generally more expensive (10x, 20x) than those offered by regular Fiverr sellers. This is because the services are provided by experienced professionals with proven quality record.
Vetting Process: Fiverr Pro has a strict vetting process to ensure that only the most qualified and professional service providers are listed on the platform, which can help you stand out from other sellers on Fiverr. Regular sellers are usually not vetted. Anyone can sign up and start selling on the platform.
Customer Support: Fiverr offers dedicated 24/7 VIP customer support to the Pro sellers. This means that if you have any issues with your order, you can contact a Fiverr Pro customer support representative who will be able to help you. Fiverr also offers customer support to regular sellers, but it's not as promt.
More Exposure: Fiverr Pro sellers are featured prominently on the platform and are more visible to potential clients, which can lead to more business opportunities.
Fiverr Pro FAQs
Is Fiverr Pro free?
Yes Fiverr Pro is free to join. There's no membership fee. However, all Pro Gigs do carry the standard 20% Fiverr fee.
Can I reapply to Fiverr Pro?
If you received a rejection letter from Fiverr it doesn't mean that that's the end of it. You're welcome to apply again after sorting the issues, improving quality of your work and building a stunning portfolio. You can only reapply six months after your first response.
Can I convert my existing Fiverr Gig to a Fiverr Pro Gig?
Some of your existing regular gigs can qualify for conversion into Pro gigs provided they meet the set conditions. You will need to submit a Pro Gig Conversion Form.
How hard is it to become a Fiverr pro?
It's relatively hard to be accepted into the Fiverr Pro program. The application process is designed to be rigorous, often with 2 or more rounds of interviews. The company claims to only accept 1% of the applications.
How much do Fiverr pros make?
Pro gigs usually start from $100 for a project that sell at $10 as regular gigs. Thus you can easily land projects worth $5000 or even $10,000 on this exclusive program that would have otherwise net you $500, or $1000 only.
How will buyers know I'm a Pro seller?
After being approved for the program, you will be elligible for creating a Pro Gig. Pro gigs are labelled with a Pro badge that indicates the users that they're getting the best quality services provided by vetted freelancers.
The label is named: Pro Verified
The ratings of the Pro gigs are indicated in a shade of green colour instead of the orange colour for the regular gigs.
Buyers are also able to search exclusively for pro gigs, or browse them on a dedicated page featuring all Pro gigs.
Your Pro seller profile will also be activated, with the category that you applied for being indicated. You can always add more pro categories to your account by submitting the Pro Service Expansion Form.
Is Fiverr Pro worth it as a seller?
Whether Fiverr Pro is worth it as a seller depends on your specific circumstances and goals. Fiverr Pro offers several benefits for sellers, including higher earnings potential, increased exposure, and enhanced support.
However, there are also some potential downsides to consider, such as the more rigorous application process, higher quality content expectation, and the higher level of competition.
Here are some factors to consider when deciding whether you should apply to the program:
Skill Level: Fiverr Pro is designed for highly skilled and experienced freelancers who offer top-quality services. If you feel that your skills and experience are at a level that justifies the higher prices, then Fiverr Pro may be worth it for you.
Niche Expertise: Fiverr Pro is especially suited for freelancers who specialize in a specific niche or industry. If you have a unique skill set or offer specialized services, Fiverr Pro can help you stand out from the crowd and attract clients who are willing to pay a premium price for your expertise.
Pricing: Fiverr Pro allows sellers to charge higher prices for their services, but you'll need to be confident that your rates are competitive and reflect the value you offer. If you're able to attract clients who are willing to pay a premium price for your services, Fiverr Pro can be a lucrative platform.