In today's digital age, technical blogs have become an essential source of information for professionals and enthusiasts alike. Writing a technical blog is a great way to share your expertise, provide valuable insights, and connect with like-minded individuals in your field.
However, creating a technical blog can be daunting, especially if you're not sure where to start.
In this article, we'll give you a comprehensive guide on how to write a technical blog. We'll explore the tools and tips you need to create a compelling and informative technical blog that will engage your readers and establish you as a thought leader in your field.
How to Write a Technical Blog
1) Identify your audience
One of the key factors in creating a successful technical blog is understanding your audience. Knowing your readership will help you tailor your content to their needs and interests, making your blog more engaging and informative.
Here are some tips on how to identify your audience:
Analyze your current readership
Conduct market research
Identify the level of technical expertise
Analyze your current readership
If you already have an established blog, take a look at your current readership. Who is visiting your blog? What are they interested in? What questions do they have?
This information will help you create content that resonates with your existing readers.
Conduct market research
If you're just starting out, conduct market research to identify your potential audience. Look for online forums, social media groups, and other online communities where people in your field gather.
Pay attention to the questions they're asking and the topics they're discussing. This can give you insights into the interests and concerns of your target audience.
Identify the level of technical expertise
It's important to know the level of technical expertise of your audience. Are you writing for beginners, intermediate-level readers, or advanced professionals? This will help you determine the level of detail and technical jargon you should use in your blog.
2) Choose a topic
Choosing a topic is one of the most important steps in creating a successful technical blog.
Your topic should be relevant, interesting, and informative to your audience, and should showcase your expertise in your field. 
Let's look at a few important tips on how to choose the right topic for your technical blog:
Identify your area of expertise
Brainstorm and keyword research
Choose a unique angle
Be specific
Identify your area of expertise
Start by identifying your area of expertise. What are your strengths and knowledge areas? What topics are you passionate about? Choosing a technical blog topic that you're knowledgeable and passionate about can help you create engaging and informative content.
Brainstorm and keyword research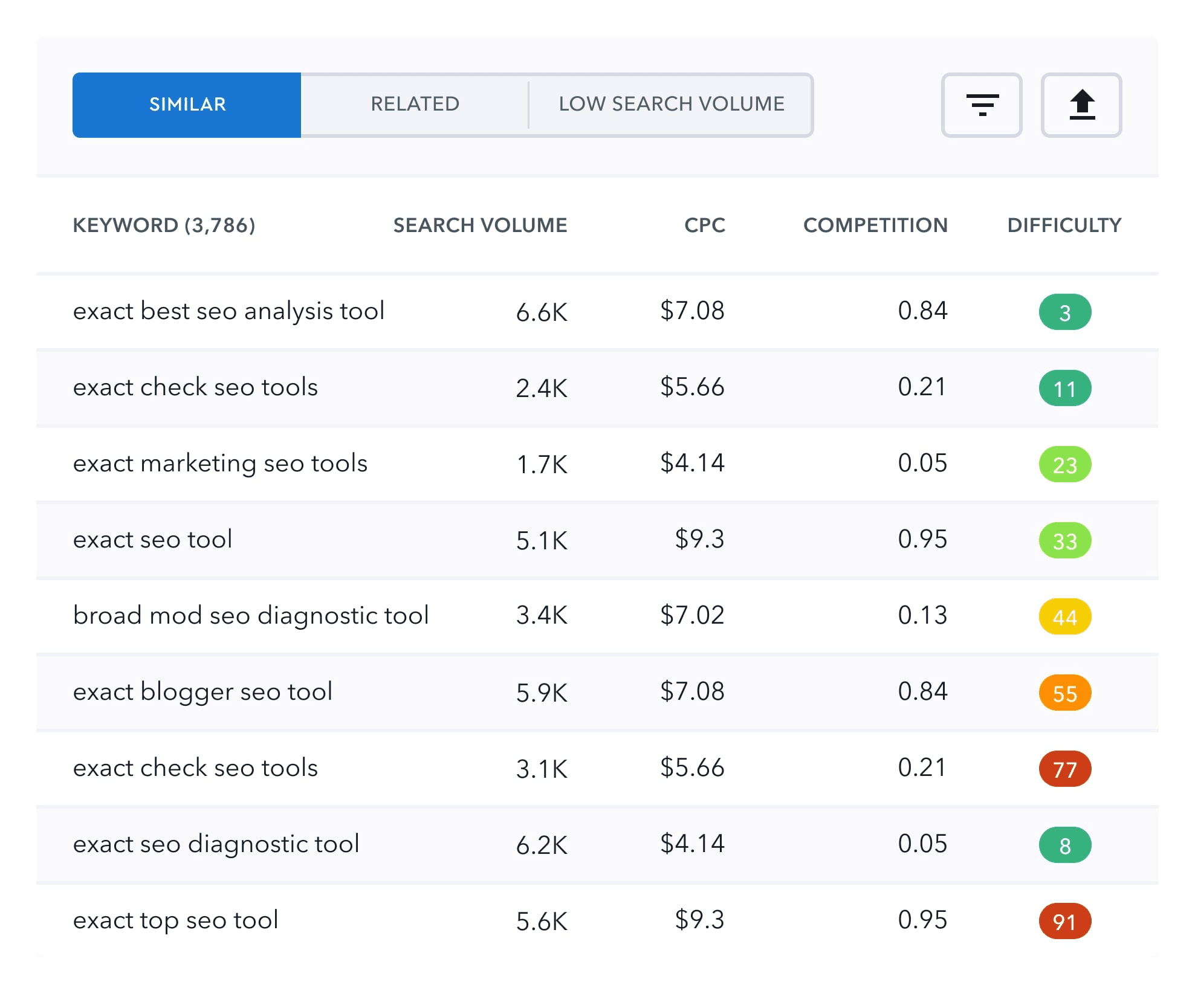 Once you've identified your area of expertise, brainstorm potential topics. Think about the questions your readers might have and the problems they're trying to solve.
Conduct research to see what topics and keywords are currently trending in your field, and what questions your audience is asking on forums and social media.
One great tool you can use is Semrush, a premium keyword and customer research tool that gives you all the metrics you need to come up with great low-competition topics to write about.
If Semrush is too expensive, you can try SERanking, a great and cheaper Ahrefs and Semrush alternative, starting from as low as just $23/month.
(No credit card required for 14 day trial)
You can also use keyword research tools like BuzzSumo or Answer The Public to find these trending topics and keywords.
Choose a unique angle
While it's important to choose a topic that's relevant and informative, it's equally important to choose a unique angle that sets your blog apart from others in your field. Consider what insights or perspectives you can offer that others may not have considered.
Be specific
When choosing a topic, be specific. Narrowing down your topic to a specific area or problem can help you create more focused and informative content, helping you rank faster.
This can also help you avoid overwhelming your readers with too much information.
3) Create a blog outline
After you narrow it down to a specific topic, it's time to start writing the content. One of the writing practices is creating an outline for the blog before writing the actual content.
This reduces the possibility of dwelling on a few points and giving less attention to others. It also allows your blog to have a natural flow of ideas, increasing its readability.
Here are a few tips you can use to create your outline:
Organize the content: Group the main ideas and supporting details into categories or sections.
Prioritize the information: Decide on the most important information that needs to be included in the blog.
Arrange the ideas: Arrange the information within each category in a logical order.
Label each section: Use headings and subheadings to label each section of your outline.



A SERP analysis and content optimizer like Surfer SEO or Contentpace can you create comprehensive outlines and content that help you rank on Google.
4) Writing the article
Your blog should essentially have three parts: the introduction, body, and conclusion. Let's look at how you should write each of these sections.
Why you need a strong introduction
The introduction of a technical blog is the first thing readers will see, and it's crucial to grab their attention and give them a reason to continue reading. When writing an introduction for a technical blog:
Start with a hook: Use a statistic, quote, or question to pique readers' interest.
Provide context: Explain why the topic is important and relevant to the reader.
Outline the content: Give readers an overview of what they can expect to learn from the blog post.
Writing the body
An effective body is important because it provides the main content and ideas of the blog post.
It should be well-structured and easy to follow, using clear and concise language. The body should also provide readers with practical and applicable knowledge that they can use at work or in everyday life.
Here are a few tips you can use when writing your technical blog's body:
Use clear and concise language: Technical concepts should be explained in simple language that is easy to understand.
Provide examples: Use real-world examples to help readers understand how the information can be applied.
Use visuals: Use diagrams, graphs, and images to illustrate complex concepts.
Writing a good conclusion
A good conclusion is essential for a technical blog because it emphasizes the main ideas of the body and leaves readers with a clear understanding of the topic. It also provides an opportunity to give readers actionable recommendations for further learning or application of the knowledge presented in the blog post.
Here, you can also include a call to action or further instructions, such as recommending them to another blog if they need more information on the topic.
A good conclusion should:
Be short and precise: Readers have already learned everything they need from the body, it's therefore important to keep the conclusion short.
Summarize the key points: You don't have to list everything you said in the body, but you can highlight the takeaway.
Restate the purpose: Remind readers of the purpose of the blog post and how it can benefit them.
Provide recommendations: Give recommendations for further reading or other steps.
5) Leveraging AI tools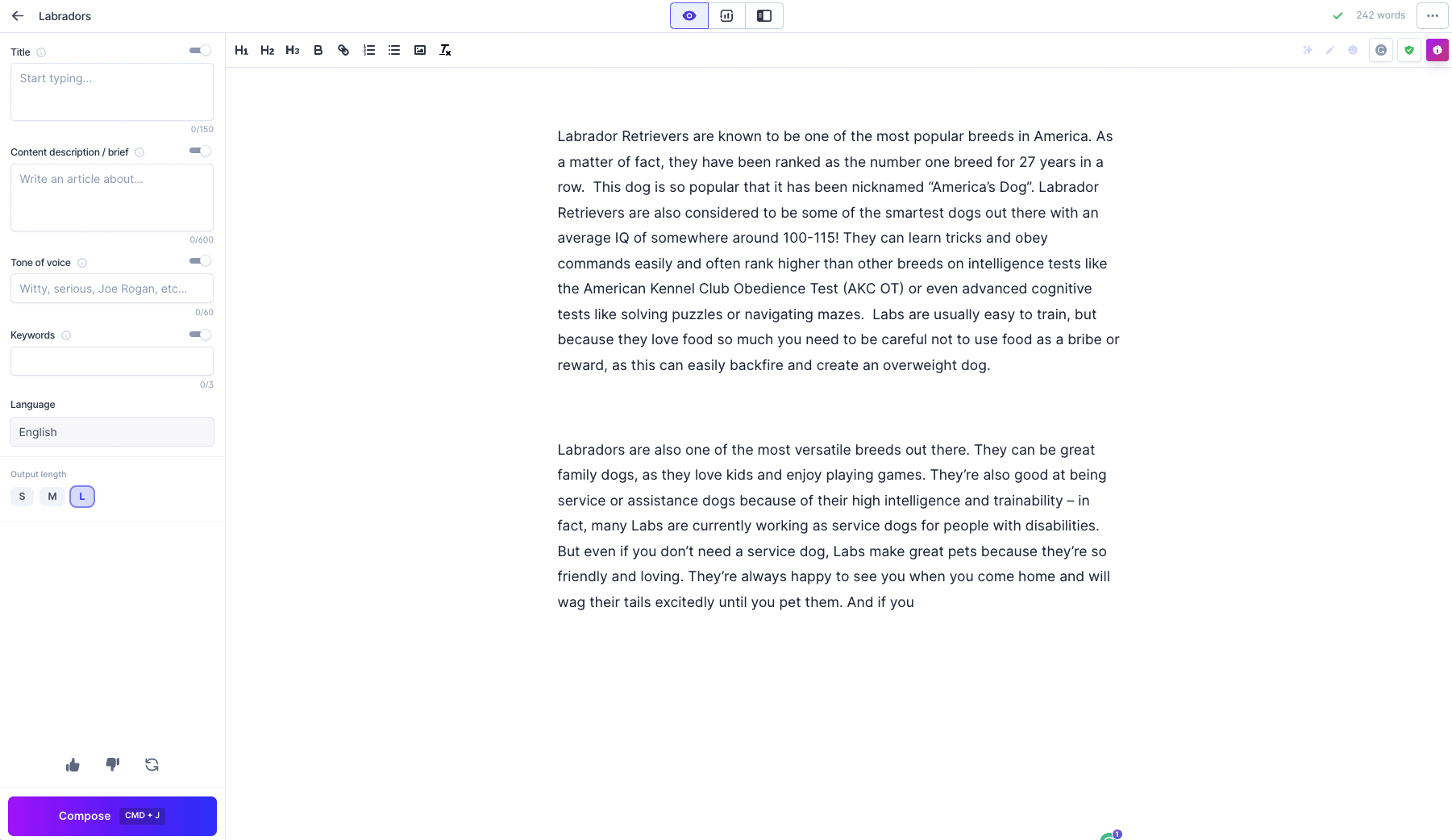 Crafting your blog yourself can be quite tedious, and given that to rank your blog today you need to push out lots of content every month, you need help.
One approach is to outsource content writing services from freelancers and digital agencies. This works great but getting hold of great writers is a task in itself, and can also be quite expensive given that you have to part with $200 for every article that you outsource.
Now, it's 2023, and generative AI tools are starting to mature, and even big publishing houses are using AI writing tools to help them publish content fastet.
One such tool that I recommend is Jasper AI. It's a really powerful AI content generator that can help you push draft long-form content in a matter of minutes, so you can 10x your publishing frequency.
You can try this tool for 5 days, during which you may generate up to 10,000 words in free AI content.
With Jasper, you still need to do lots of editing before you can publish your work, but the quality is often better than other AI tools.
However, if you need content that is as close to being publish-ready as possible, then use Content at Scale. It's more expensive, but let's you write 2600+ factually correct articles with just one click.
6) Editing and publishing
This is the final, but most important step of publishing a technical blog. Editing involves reviewing the content for accuracy, clarity, and readability.
Read through the blog several times, looking for grammatical errors, while fact-checking the information. Ensure there are no vague statements or contradicting points of view.
You can use tools like Grammarly and Hemingway Editor to ensure your blog is error-free and easy to read.
Publishing is the easiest part. Simply format the content appropriately, upload it to the blog platform, and make it live for readers to access.
If youpublish content regularly, then consider using a dedicated editorial plugin for WordPress. I love and use Strive Calendar on this blog.
Write a technical blog today
Congratulations! You now know how to write a great technical blog post. With a clear outline, effective introduction, informative body, and well-constructed conclusion, you can communicate technical information to your readers in a way that is both accessible and engaging.
By following these steps, you can produce content that stands out in your field, provides value to your readers, and enhances your credibility as a technical expert.