Sometimes we find ourselves at that point, where we need to make money quickly to sort out an emergency.
We've all been there. I have been there, and thanks to the internet, I learned how to make 100 dollars fast without getting scammed after being scammed.
There are several ways to make $100 and above online — completing micro jobs, offering your expertise, or selling something online.
How fast you make your first hundred dollars will depend on the type of job you choose, your hustle spirit, and your ability to complete the tasks on time while providing quality work.
Throughout this article, I use the $2000 a month term to refer to any idea that brings in $100 a day for the 20 working days in a month.
How to Make 100 Dollars Fast Daily
This article discusses some of the best ways to make $100 fast. Then, once you've made your first hundred bucks, you can replicate the process. This way, it is possible to get $100 daily, bringing in $2000 a month or more, working online from home.
I'll admit that duplicating your success is not practical for most online jobs, but since your earnings fluctuate day on end, you can spread them throughout the month. This way, your 'good' days will cover for the 'low days.'
Let's now explore some of the best ways to make 100 dollars fast online.
1) Sell a Service on Fiverr
Fiverr presents a great opportunity to make $100 a day by offering your expertise for money. On Fiverr, you can sell literally anything, from tech skills such as audio and video editing web development to something as unpopular as being a virtual friend.
To make 100 dollars a day on Fiverr, you need to think strategically. You can list a simple gig for $10. This means you need to do at least ten deliveries a day to reach your goal. Alternatively, you could offer more premium services and charge $50, $100, or even more a gig. In so doing, you only need to get two buyers a day.
In my post, I discuss some of the best Fiverr gig ideas attracting tons of buyers in 2022 and beyond. These include virtual assistance, web development, WordPress management, SEO writing, Copywriting, graphic design, Canva designs, etc.
How to Freelance on Fiverr:
This is a short 2-hour class teaching you everything you need to know about starting on Fiverr to being a top-rated seller. Using my affiliate link below, you get access to this course for 30 days for FREE.
2) Tutor Kids Online on Outschool
If you enjoy teaching online, you can easily make 100 dollars a day on a platform like Outschool. This is a legitimate teaching platform with over 140,000 classes and millions of students.
When it comes to what you can teach, there is no limit. From grade subjects such as English, Sciences, and Mathematics to hobbies such as drawing, art, animations, coding, and life skills.
Outschool gives you the freedom to teach your passion on your own terms. Students typically pay $10 a class. The more students your class has, the more you can make. With 5 students joining your 1-hour class session, you can easily make $50 an hour… Now do the Math…
If you can teach 2 classes a day and have an average of 5 students for each, then you can make $100 a day, translating to nearly $2000 a month working 20 days only.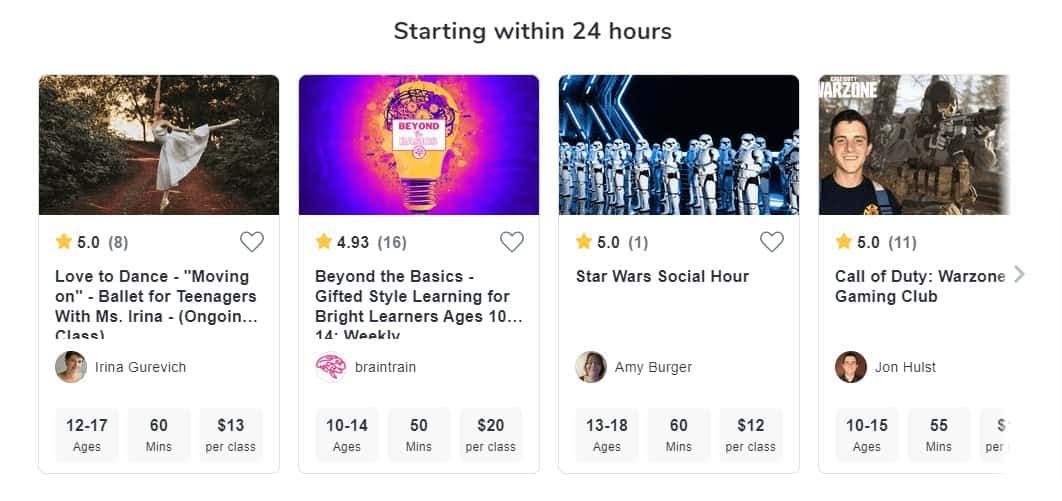 I recently discovered Jade, who brings in nearly $10,000 a month teaching full-time on Outschool. To explore opportunities available for you, sign up below and get started on the platform.
3) Find a Great Affiliate Offer and Promote it Strategically
Strategic affiliate marketing is a great way to make money fast and on a consistent basis. By strategic, I mean:
Choosing a product offer that you love and that your target audience needs.
Choosing an offer that has high conversion rates
Having a thought-out strategy for driving traffic to your affiliate links
Choosing an offer that can make you 100 bucks with five or fewer sales.
A good candidate offer could be a SaaS product that earns you a recurring commission of $15 per referral. Your strategy should be able to get you ten new referrals every month.
Your first month will make you $150, which isn't a lot since we need to hit $2000 a month. However, if you consistently bring in 10 new recurring referrals every month, you should achieve your 100 dollars a day goal in about 10 months.
Ten months is a reasonable amount of time to build a business that passively generates 2000 dollars a month. You can, however, accelerate this time frame by promoting several offers and putting in more hours to drive more sales.
The good thing about this method of making money is that once you've created your assets, such as review posts or listicles, you'd continue earning and bringing in more referrals without doing extra work.
While you can make 100 dollars in just under an hour of setting up an affiliate program, consistently bringing in that same amount of time won't be as easy as posting your affiliate link in your Facebook group or embedding a banner on your site.
4) Sell Old Items
You can easily make $100 by selling old items that you no longer use. There are several sites for selling clothes online, for instance, including Poshmark and Tradesy.
Besides clothes, you can also sell unused gift cards, old laptops, phones, old DVDs, video games, other electronics, and kitchen items.
The challenge with this strategy is that eventually, you'll run out of old items to sell. To generate cash daily, you need to expand your operations. Source vintage items that people are selling online for cheap and resell at higher pricing to make a profit.
For this second strategy to work, you need to have a good eye for great items, be aware of their original pricing, and ensure that they are in good condition before making a purchase. Then, once purchased, you can spend a few dollars to fix them before listing them for sale. Do this well, and you'd soon have a $2000 a month business.
5) Rent out an Unused Space
If you own your house and have some extra rooms that you don't use, you can rent them online through a platform like Airbnb and bring in an extra $1000- $2000 a month, depending on the room size, quality and location.
When traveling for a holiday, you can decide to rent out the entire house and thus bring in even more money. The good thing about using a platform like Airbnb is that your properties are protected to an extent in case of unexpected damages, and the guests are always known to the company, making it easy to trace them in case of an issue.
You can read reviews to help you screen the applicants before approving them, but you can't always trust the reviews since most of them are usually generous.
6) Become a Shopper
You can make money shopping for others using some popular sites that pay you to shop and deliver items to their customers. On average, these sites pay $10-20 an hour. So working four hours a day can net you anywhere between $50- $100 a day.
To enable you to shop, these companies provide you with a business credit card that you can use to purchase the items. This way, you never have to use your own money.
Some of the platforms that you can work for include:
For most of these companies, you need to be at least 18 years old, pass a background check and have a smartphone. To access jobs, simply download and log in to their apps. You choose your own hours when you are available for work since you work as an independent contractor.
7) Wrap Your Car
If you have a car and spend most of your time driving during the day, you can make money with advertising. The amount you make will depend on the company you're working with and the types of wraps.
Generally, full-body auto-wraps pay the highest, compared to other partial wraps or window stickers. You can expect to make $300- $1500 per campaign, according to Carvertise.
Some of the best companies that you can use to make money with car wraps include:
While searching for companies to work with, be aware of car wrap scums. You should never pay to work online or to cash a check.
8) Sell Your Crafts
If you like working with your hands, you can turn your creative skills into real money by selling your creations online. Things you can sell online for quick cash include:
Woodworking projects
Artworks
Jewelry etc.
If you are looking for ideas on woodworking projects to build, here are the 52 most profitable ones.
Once you have a good number of your creations, you can list them on marketplaces like Amazon or Etsy or start your own Shopify store. Even if you only make 10 sales a month, you can still make the $2000 a month, with pricing of just $200 per item.
9) Make an Extra $100 Pet Sitting
Another cool way to make 100 dollars fast is to offer pet sitting services in your area. You can talk to people in your area to find clients or use an app like Rover to advertise your services and find pet owners who need your services.
Some services you can offer include:
Dog walking
Dog training
Pet sitting
Pet grooming
Doggy daycare
Drop-in visits
Animal boarding etc.
With a platform like Rover, you get to set your own rates, but you can expect to make at least $15 an hour dog walking. To reach your $100 a day goal with this strategy, you need at least three clients for 3 hours a day jobs.
10) Drive people around (Ridesharing)
Another way to make money fast is by becoming a Uber driver.
To get started, you need to visit your country's Uber driver registration page, create an account and upload the required documents. These docs include your National ID, Driving Licences, Profile Photo etc. The next thing you need to do is book a vehicle inspection, and once approved, you can go ahead and activate your account.
Apart from Uber, there are several other ridesharing companies you can work with, including:
Ridesharing earnings fluctuate depending on the peak hours, location and tips. However, one can expect to earn anywhere between $10-$25 an hour. If you are working full-time, it's possible to make $100 a day driving people around.
11) Become a Freelance Writer
If you are a skilled SEO writer, you can easily make $100 a day creating blog posts for business websites.
How much you can make depends on your expertise and where you source clients. Direct clients can pay you $100 or more per 1000 words, while if you are using freelancing websites such as Fiverr, you can expect to make around $25 for the same.
Making money as a freelance writer is more demanding than the other forms here, but once you have authoritative samples published under your name, you can leverage them to get even higher-paying clients.
Quick Ways to Make 100 Dollars
Some of the platforms that enable you to make money fast include:
Swagbucks: Take online surveys and complete small tasks for fast money. Get a $5 sign-up bonus.
OpinionInn: Share your opinion for cash. Get a $10 signup bonus.
Outschool: Teach anything for fast cash
As you can tell by now, making money fast doesn't necessarily happen within minutes or hours(unless you have a loyal audience already), and even those who do will require work to make them sustainable. Making $100 is easy, but making that amount consistently, day after day, months on end, needs a proven executable strategy that is sustainable in the long run.
If you want to make money online as a freelancer, I recommend enrolling in this free Skillshare Upwork class. (Free 30 days access with My Skillshare link)