Do you need an unlimited design service that goes above and beyond in terms of timely and quality deliveries? If so, think Kimp.
In this Kimp Review quick guide, I'll take you through everything you need to know about Kimp Unlimited Design Service.
Kimp is currently running a promotion, where you get 50% off your first month. Use our link to take advantage of this deal.
What's Kimp?
Kimp.io is an unlimited graphic design and video design service offered at flat monthly fees. As a Kimp client, you can request unlimited designs for any of your ongoing projects or your clients' if you are an agency or a freelancer.
There are several ways you can use the visual designs you get from Kimp in your business, including:
Adding custom elements to your web pages such as Homepage and service pages
Branding your business with professionally done brand assets such as SVG logo designs, custom graphics, brand kits, website mockups and Media kits
Jazzing up your blog posts
Using Video graphics to boost sales in your service and product pages
Marketing your business on social media platforms such as Instagram posts
Boosting engagement on your content.
Creating all the designs above can be quite expensive, given that logo designers charge about $100 an order, and some are even more expensive. With Kimp, you get unlimited graphic design services for as low as $499/month, and you get to save 40% for your first month.
Advantages of Using Kimp Unlimited Design Service
When you opt for an unlimited design service like Kimp, you enjoy lots of benefits like:
Getting more designs for less: You only pay a monthly rate instead of per graphic or design pricing
Unlimited design revisions: Kimp's entire business relies on repeat customers; thus, their objective is to delight their customers, delivering awesome digital experiences, so they have them coming back. You work hand in hand with the designers to ensure that you finally get that logo design that speaks to the hearts and souls of your target audience.
Avoiding the need to keep chasing after unreliable designers: Kimp delivers your designs on time.
Faster deliveries: With Kimp, you get the deliveries of simple orders within one to two business days, contrast that with independent designers who take up to 14 days to deliver their first drafts. Kimp can deliver designs faster due to its growing team of expert and multi-talented designers.
Managing designs with no additional cost: Kimp allows you to invite team members or even clients to engage with the Kimp team, providing feedback on the designs, avoiding back and forth communication between you, the Kimp team and your Marketing department.



Own your designs: You don't have to pay extra to get source files. As your business grows, you might need to tweak a few elements, such as brand colors. If you are no longer with Kimp, it doesn't mean you have to redesign your entire assets. Simply have any designer from your team modify your source files.
What Designs Can You Create with Kimp?
Kimp design services allows you to request almost any design for any use case, including the following:
Custom graphics
Logos
Icons
Newsletters
Presentation decks and Powerpoint Templates
Infographics
Packaging and Labels
Blog banners and graphics
Podcast and YouTube covers
Book Covers
Tshirt designs



Billboards
Amazon product mockups
Brochures
Business Reports
Custom illustrations
Display Ads
eCommerce graphics
Invitation cards
Services
Sometimes you need a few things done to spice up your images and videos. Kimp helps with this as well:
Background removal
Adding text overlays to videos
Adding Video thumbnails
Animating your logos
Video Editing
Videos
Some of the video types that you can request from Kimp include:
Demo videos
Testimonial videos
Cinemagraphs
Educational videos
Social Media videos
Explainer videos
Product highlights
Character animation
Company culture videos
Kimp Review: My Experience with Kimp
To write this review, I decided to test their service with my new business, Levatin: a web design and content agency. During this test, I ordered the following:
Logo design



Favicon
Custom graphic
Logo animation
The team responded to my request in about an hour and provided me with the details I needed to provide via an intuitive Trello dashboard. I filled in details about my business and provided my brand guidelines, including colors, fonts and brand type description.
Within 24 hours, I received the first drafts of 4 different logo designs and their mockups. I ended up choosing the fourth design and requesting modifications to be made before I could use it.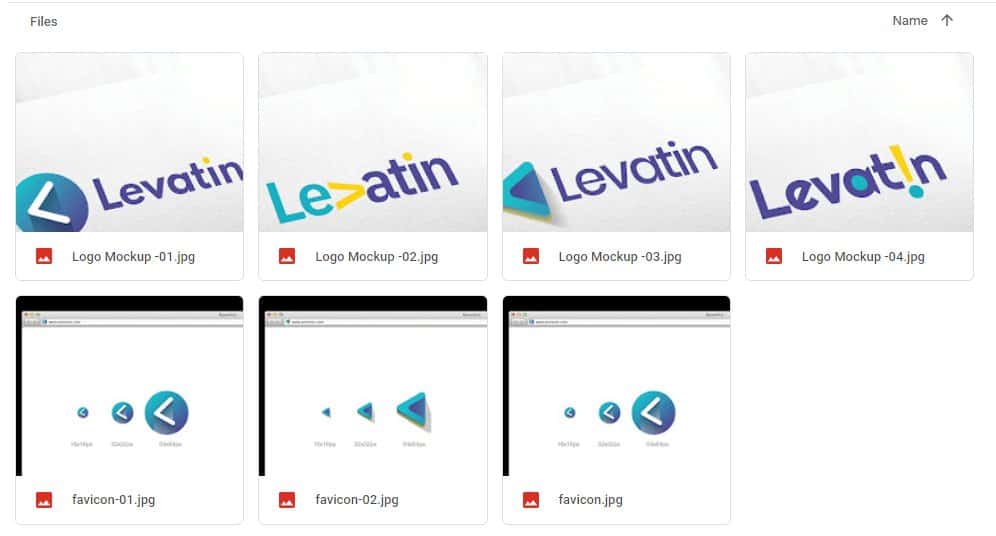 To guide the team with the idea that I had in mind, I took the fourth logo, pasted it on Canva, and copied some parts of the other logos, and rearranged them in a nice way. This is how I mapped out my perfect logo for the team to design.
Though I loved the fourth design, I wanted to use the favicon from the third logo and the font type from the second logo. I also wanted the 'í' from the fourth logo to face up instead.
My final delivery was delivered a day later, and I was impressed with the result. In fact, these are the logos and icons I am using on my Levatin business website. The SVG versions were high quality.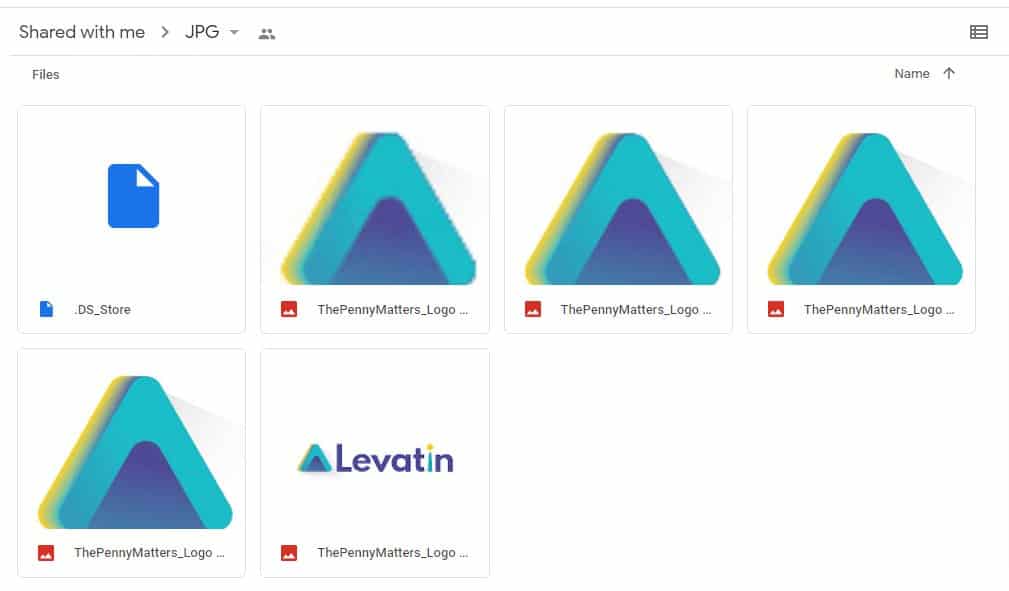 This is the logo file: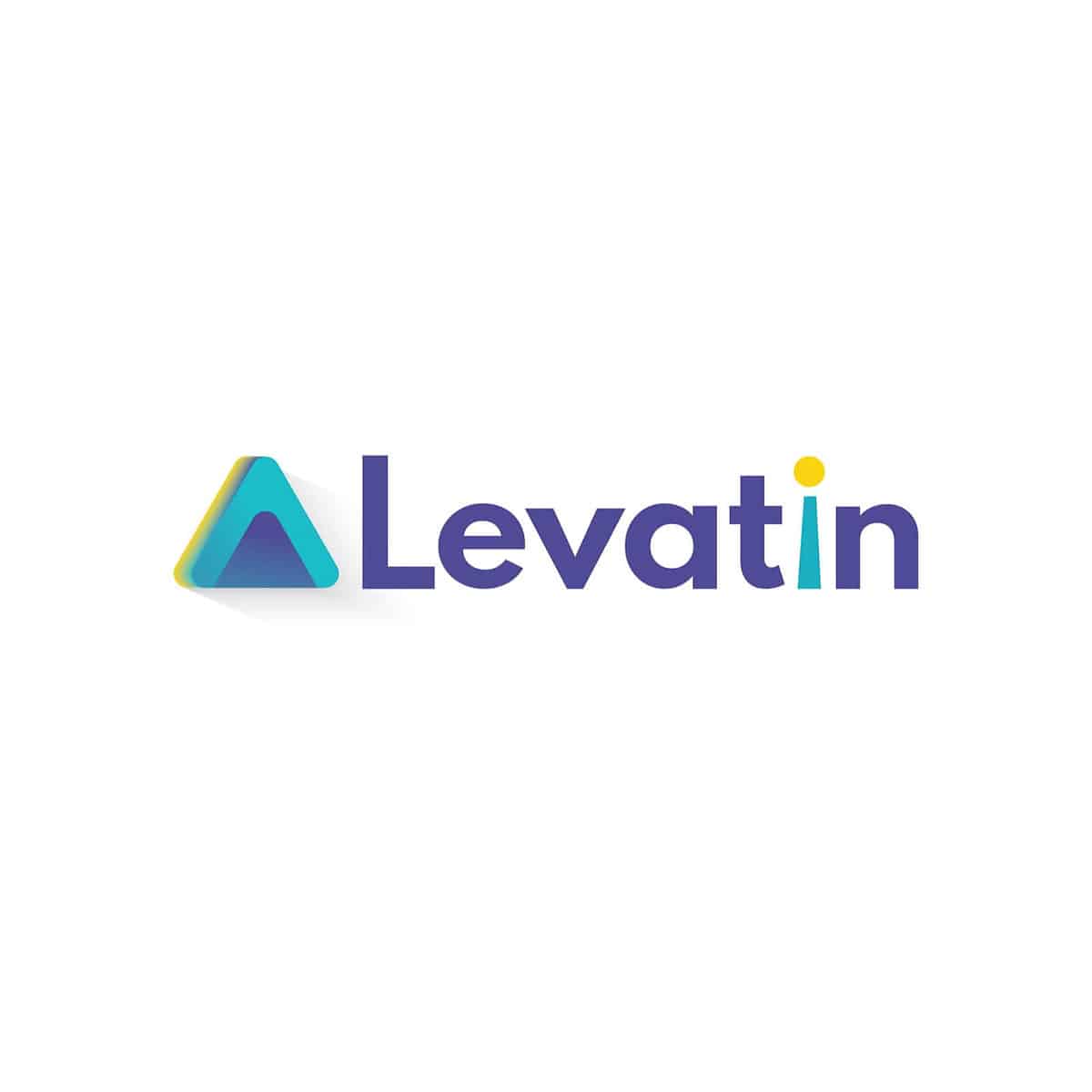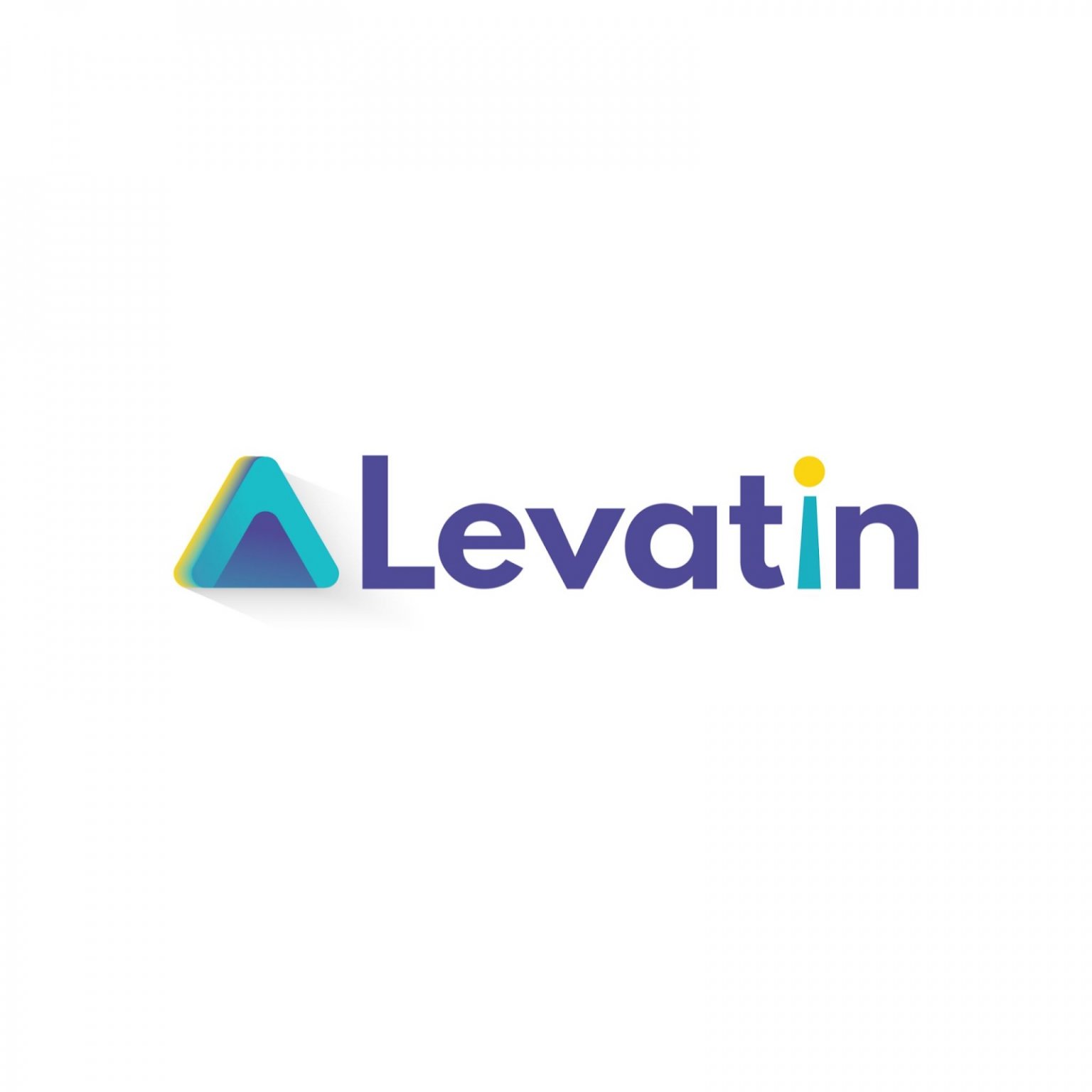 Once I was satisfied with the results, I requested an animated version of the logo that I could use in video intros:
For the graphic, here is the final version I received: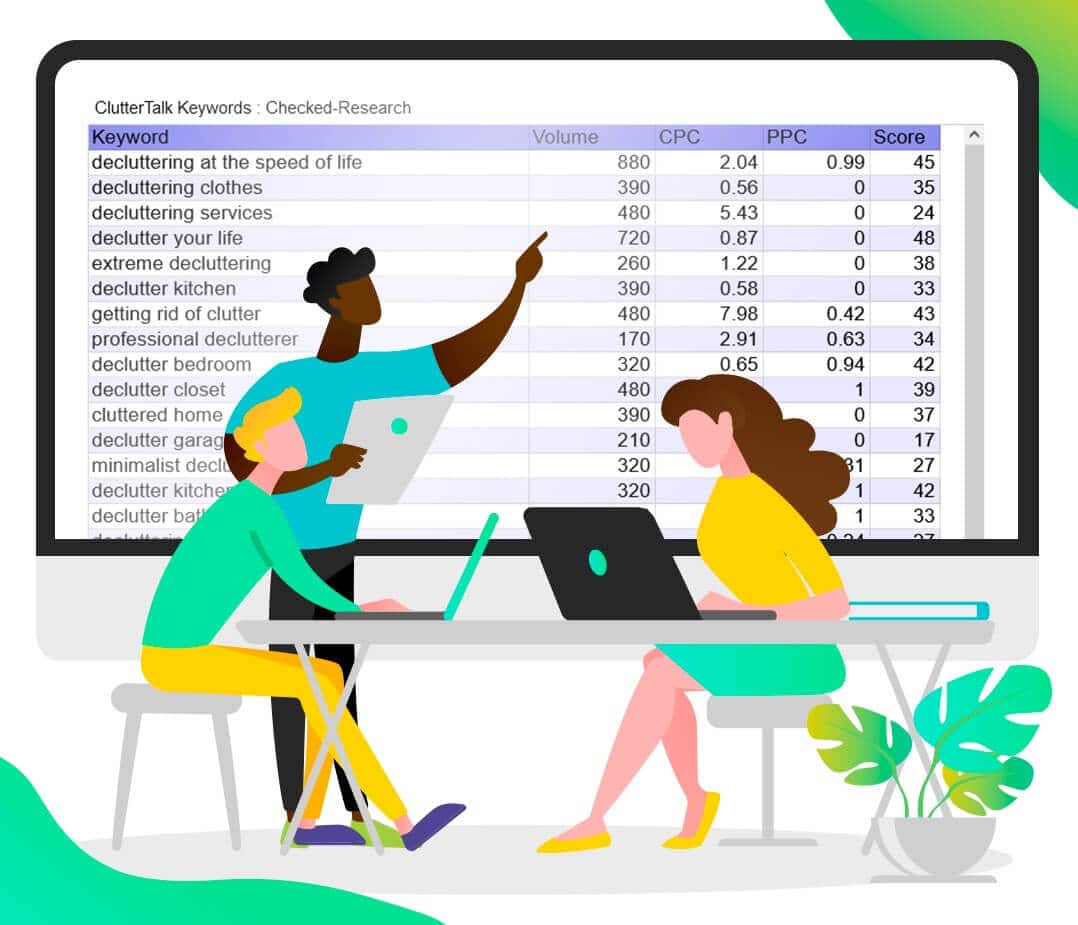 Overall, I was content with what I received, and the prompt support provided.
Who Uses Kimp Design Services?
If you're excited about Kimp but not sure if it's the right fit for you, here are the best candidates:
Solopreneurs: Outsourcing graphic design allows you more time to spend on activities that affect your business's bottom line.
Small businesses: As a small business, hiring an entire in-house design team isn't feasible. By leveraging an unlimited design service, you get to keep costs down without cutting down on some of the critical aspects of your marketing component.
Social Media Managers: If you are a social media manager managing ten clients paying you $900 per month, then getting a Kimp plan that grants you both graphics and video requests could help boost your productivity and even delight your clients since your posts are more likely to have better engagement rates.
Kimp Pricing: How Much Does it Cost?
Kimp charges a flat fee of $499/month for a graphics plan, $599/month for a video plan and $895/month for a plan that includes both graphics and videos. These plans give you access to everything you need without paying extra for services such as sourcing stock photos, background removals, video editing, logo animation, and other graphics-related services.
If you are a first-time customer, you get to enjoy their current 40%off offer for your first month, meaning you could save up to $358 today.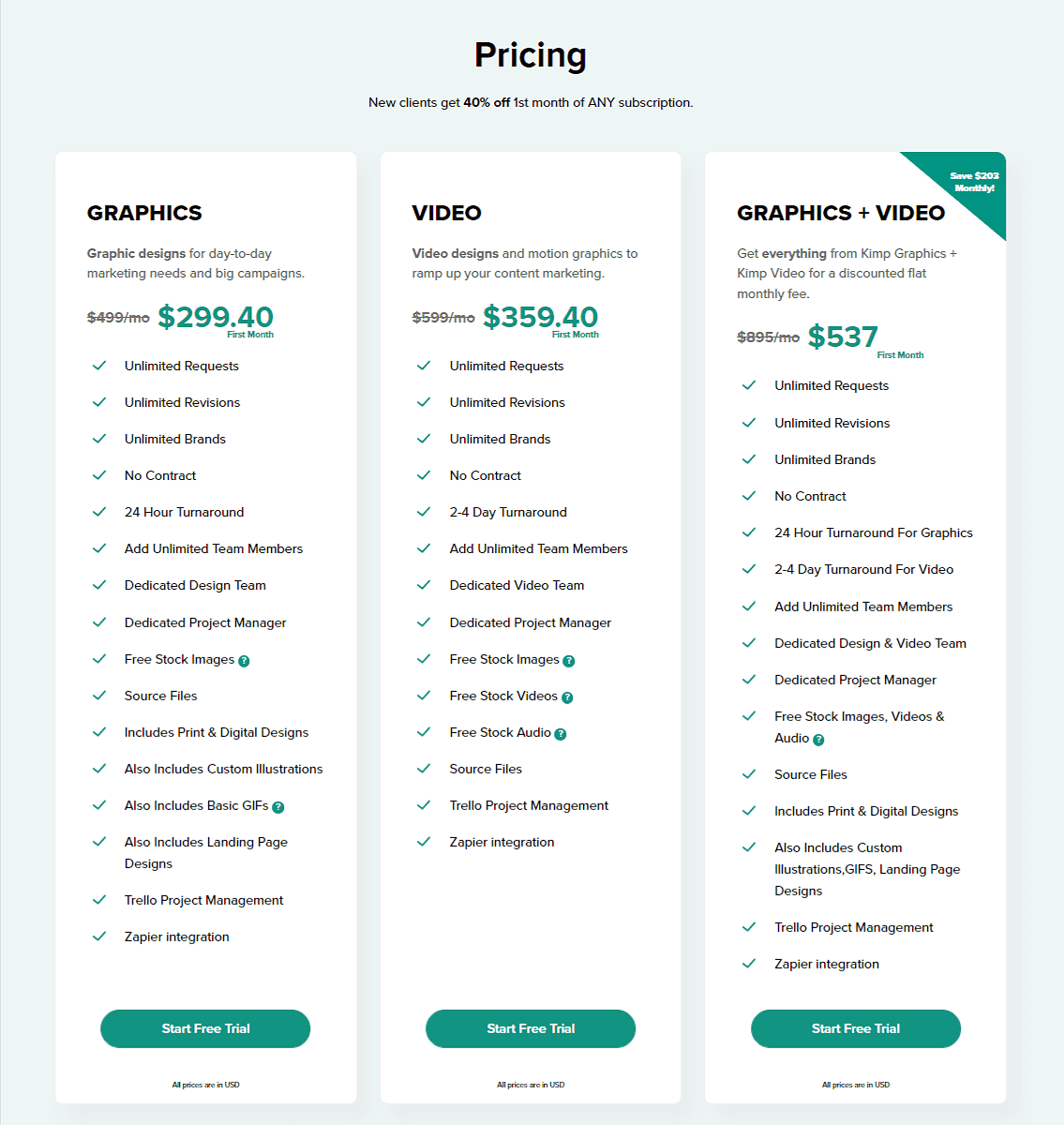 What You Get with Kimp.io Subscription Packages
Unlimited revisions



Unlimited requests
Add unlimited brands (best for managing different clients)
Free premium photos and graphics from Shutterstock
Dedicated design team
Dedicated account manager
Access to a dedicated client's Trello board
Getting Started with Kimp
Getting started with Kimp.io is super easy, simply choose the plan you want on the pricing page, and click on the Start Free Trial button. You will be taken to a page to fill in the details for your 7 days free trial.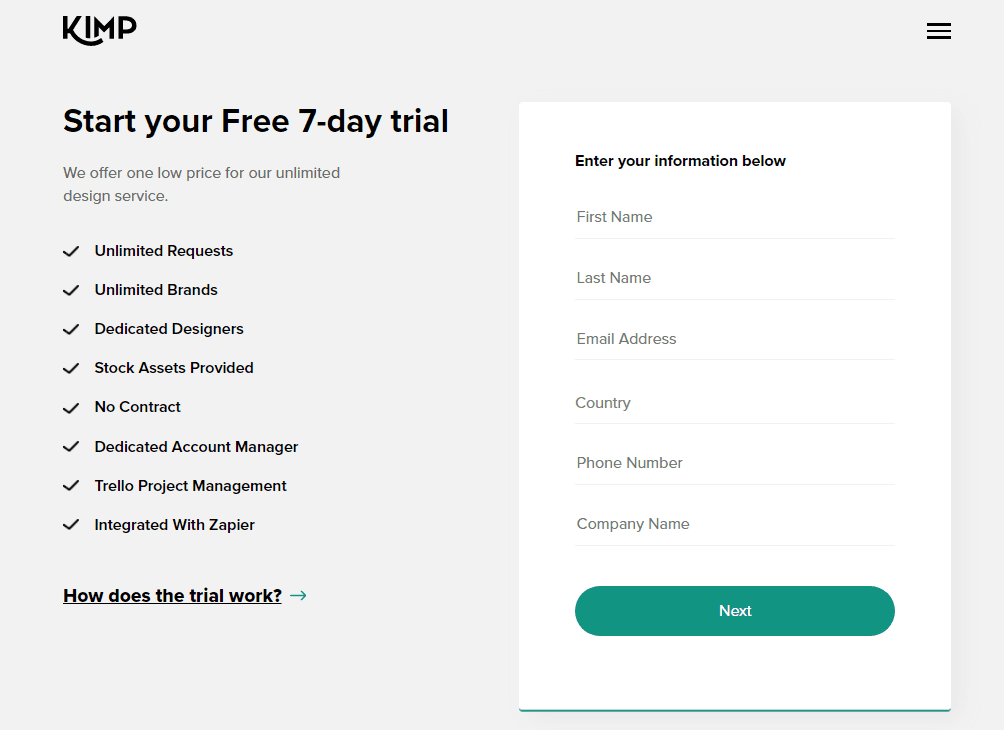 The next page on this form pane will prompt you to set up a password for your account. Next, choose your plan to start your free trial. Then, proceed to checkout to enter your billing details.
You'll only be charged once the trial has expired. If you don't want to continue with the discounted month charge, make sure you cancel before the trial ends.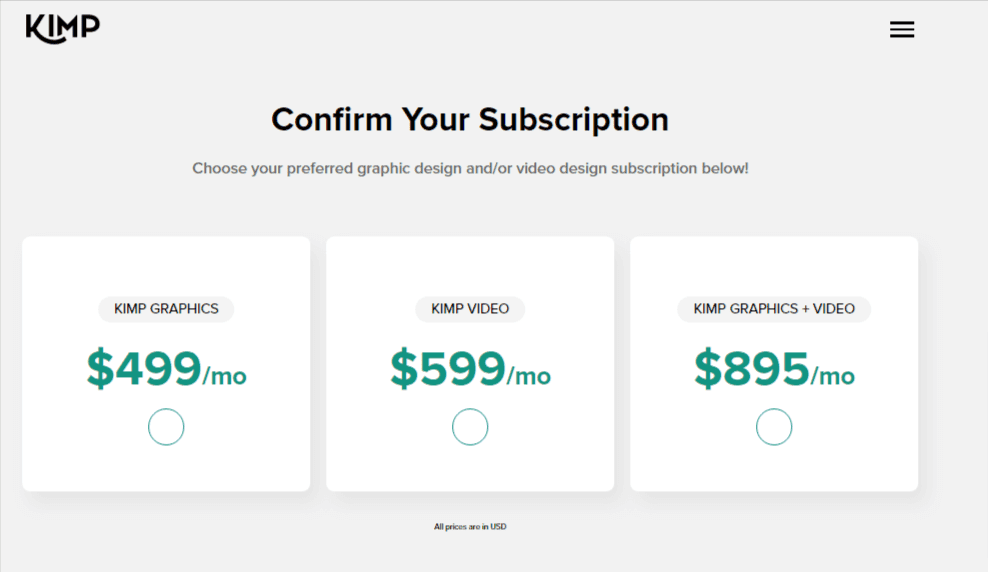 At the time of writing this review, it seemed Kimp is only accepting card payment method, although they could be offering more payment methods depending on the residential country.
Once your account is active, you'll receive an email detailing how to get started, with a video tutorial and a link to your Trello board.
How Kimp Works
Your Trello board consists of a series of steps as Trello lists, including:
Requests: This is where you add your design requests as tasks. A member of your design team will check your requests to ensure that you have provided enough details to get them started. If not, they will update the card, and you will be notified of what you need to provide.



In Progress: When any of your requests are approved, it's moved here. This list shows all the projects that are being worked on.
In Review: Once a task has been delivered, it's moved to this list. You go through the delivered files and accept them or request edits. If you request an edit, it's moved back to the 'In Progress' list. Otherwise, it's dragged to the next list.
Completed: All the completed requests are dragged here.
Trello makes it easier to quickly visualize all the design requests you've made and their progress statuses. Here's my board: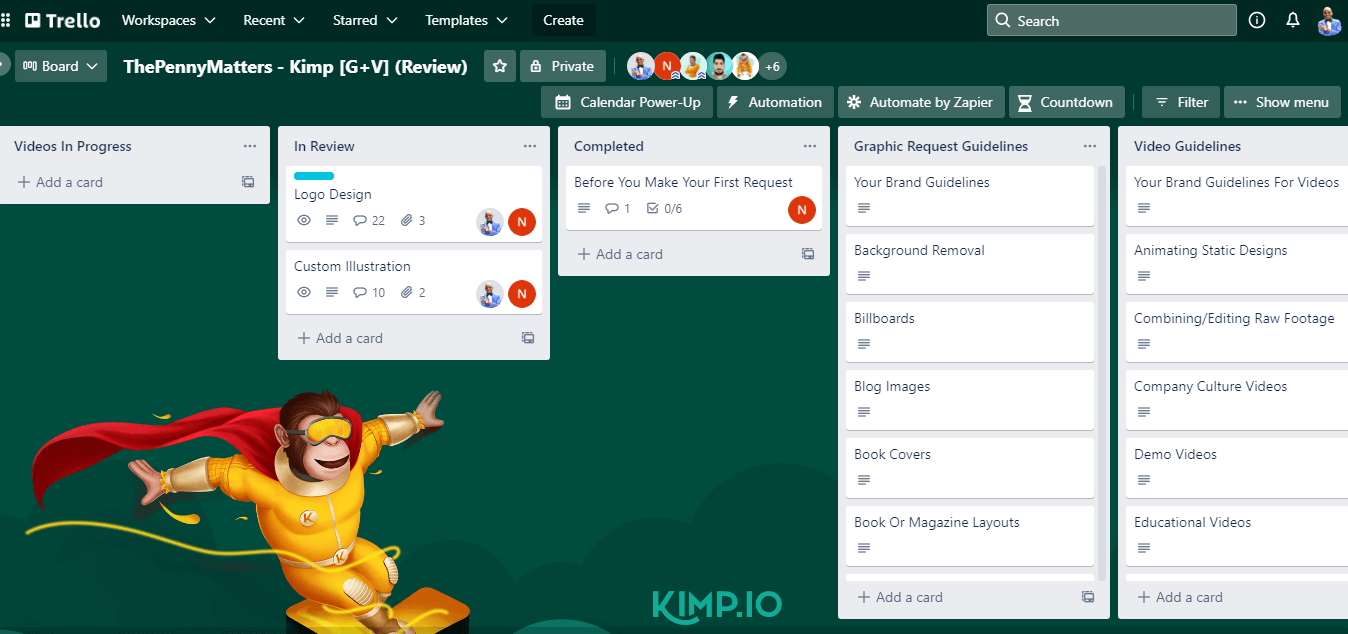 Few Things to Note About Kimp.io
Clients can submit as many requests as they want, though Kimp team only process 2 requests at a time and typically they get around 2-3 requests completed each for standard requests.
Delivery duration depends on the day of request, and the complexity of the tasks (Video request on Friday will take longer to deliver)
Kimp designers don't work on weekends
Kimp doesn't provide a one-on-one video walkthrough, but it has several short videos you can watch if you get stuck or contact them via live chat.
Alternatives to Kimp
Some of the best alternatives to Kimp.io include:
Penji: An unlimited design service that focuses mainly on graphics for use cases such as branding, advertising, marketing, POD and product mockups. Here is our Penji review
Wrapping Up
If you have been thinking about adding more visuals to your marketing strategies, then using an unlimited design service like Kimp will not only save you hours and loads of money but will also give you peace of mind knowing that you've got the visual side of your business professionally handled.