If you want to work from home, but you're not sure what jobs are legit or how to get a work from home job with no experience – this list is for you!
Working from home is a dream for many people. You're able to set your own work hours and able to work on your own terms. Whether you want to spend more time with your family, or are just tired from the 9-5 grind, then these ideas will enable you to make a decent monthly income, of at least $1000.
Well, that might not sound like a lot, but considering that you are only working on them part-time, and have other side hustles, this is in fact no less money.
What Are No Experience Jobs?
When a job listing says "no experience," it means that the company is looking for someone with some particular skills but no actual experience in that industry.
So, the jobs listed here are the ones you should be able to do comfortably without much struggle. Some like online tutoring will rely on the knowledge you already have, so you don't have to take a 4-year program to teach something online
Work From Home Jobs No Experience
Now, here are some of our top picks for the best work from home jobs that do not require experience or skills to get started:
1) Virtual Assistant Jobs
An example of a great work-from-home job that requires no experience is virtual assistance. Virtual assistants help busy entrepreneurs and executives in running their businesses or operations.
Your task as an administrative assistant might include:
Responding to business emails,
Scheduling appointments,
Managing calendars
Seeking opportunities for your clients such as media coverage and podcast invites.
Depending on your background, you might want to provide other types of virtual assistance services to your clients as well. For example, if you've been in the Real Estate, then working as a Real Estate VA will be more profitable since clients are willing to pay more for VAs who understand their industry.
How to find virtual assistant jobs
When starting, freelance websites are your best shot for landing clients faster. Platforms like Upwork have lots of virtual assistance offers you can bid on.
Fiverr, on the other allows you to productize your services, by listing them as gigs that others can purchase.
Once you win a bid on Upwork or get an order from Fiverr, it's time to establish your name in the marketplace.
To do that, you need to go above and beyond to wow your client and get them to give you a raving review. You will find it easier to land bids and get orders on autopilot after you've earned a few five-star reviews on your account.
Best Virtual Assistant Course to Get You Started
You don't need to take a program to start working as a VA, but doing so will help you avoid all the hurdles, learn the rules of the game faster, and even command higher rates since you understand your worth.
The course I recommend is Fully Booked VA, which teaches you everything you need to know about starting a successful VA business.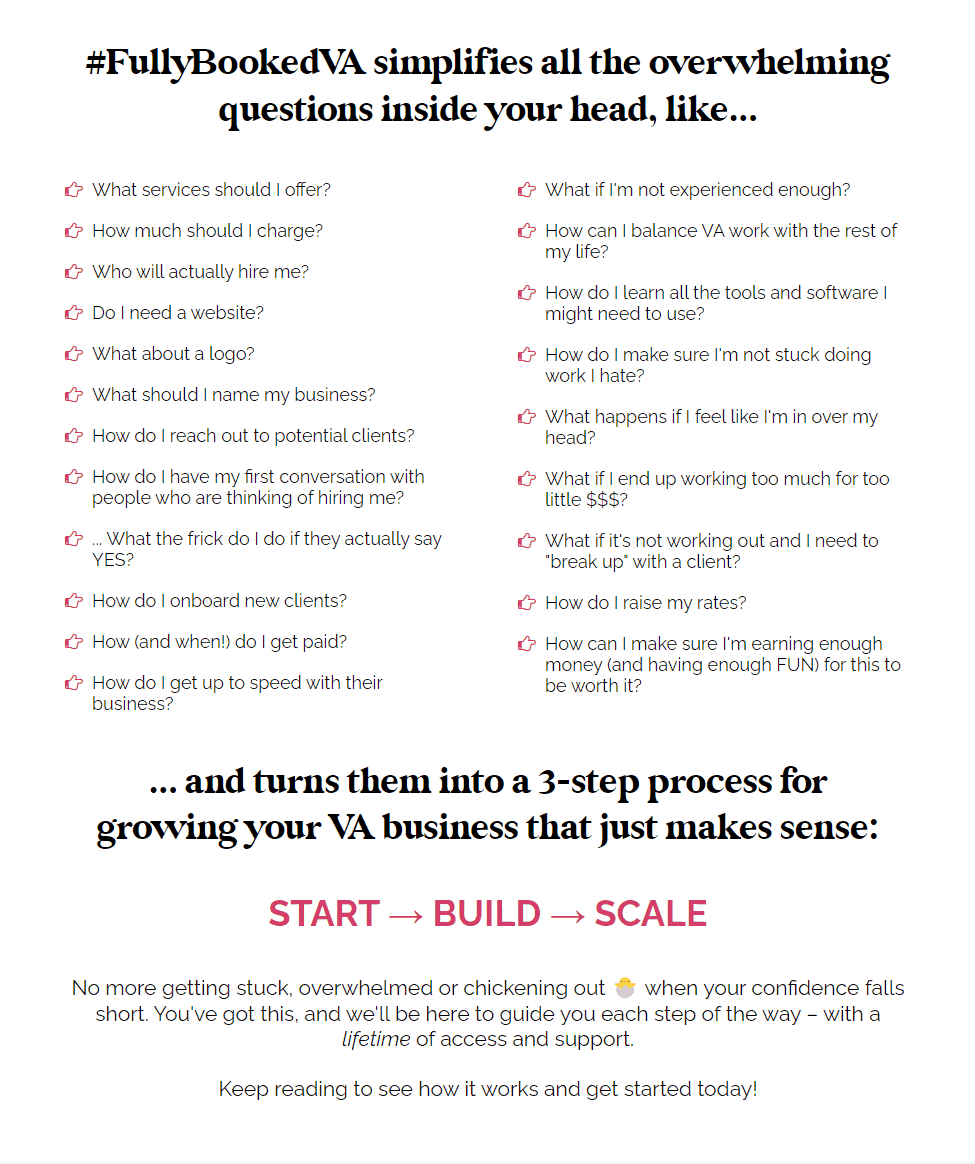 Ready to start working from home as a virtual assistant? Then click below to access
If you are looking for something more affordable, then you can consider Gina's VA Jumpstart course
2) Social Media Management Jobs
Social media management jobs are the perfect work from home option if you have some experience managing social media profiles, or are willing to teach yourself a few new skills.
The clients hire you to:
Maintain an optimum posting schedule
Brainstorm ideas to boost growth and engagement
Improve their brand awareness on social media
Generate leads and even sales via various social campaigns
Unless you are niched down to a particular platform like LinkedIn or Pinterest VA, you would be managing multiple platforms at once for your clients and monitoring various interactions including comments, shares, and messages across all accounts
The reason why you don't need to have prior experience is that all you need is to learn how to use a social media scheduler like Publer to plan and schedule content. This should take you a day at most.
For brainstorming topics, and captions, then you can use AI copywriting tools like CopyAI or Jasper.
These tools will provide you with different variations of the copy based on the info you feed in.
The responsibilities of a social media manager include:
Planning content strategy according to our client's needs,
Monitoring all relevant conversations
Responding appropriately with targeted messaging
Creating engaging posts that will encourage fans/followers/subscribers (depending upon what platform we're talking about)
Engaging with their following while maintaining an appropriate tone
Measuring campaign results against objectives set beforehand
Developing long-term strategies based on research findings–not just what worked yesterday but what will work tomorrow, etc.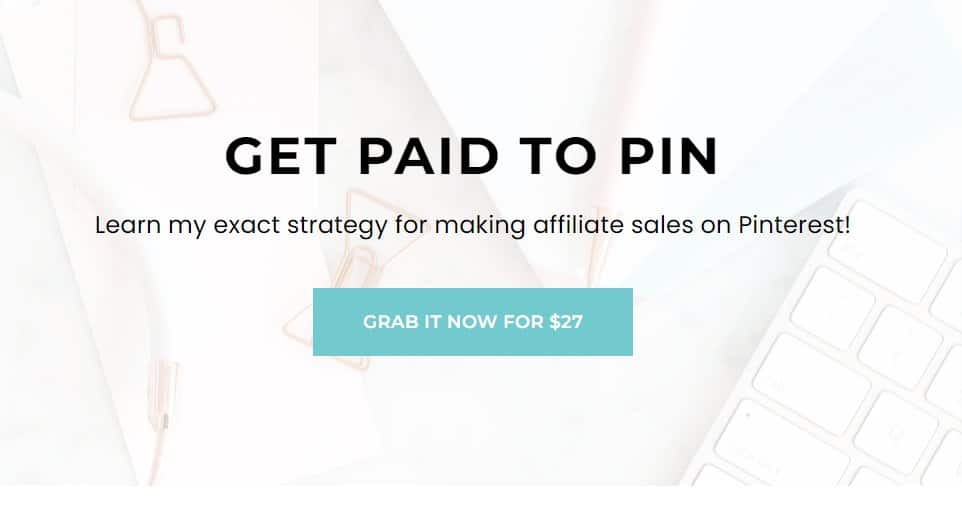 3) Offer Easy No Experience Gigs on Fiverr
Fiverr is a great option for people with no experience. With Fiverr, you can sell almost any type of service.
You don't have to be a pro to make money on Fiverr. All you need is to deliver on the promise that you make on the gig copy.
Some of the best work from home gigs you can offer with no experience on the platform include:
Background removal
Canva templates
Document format conversion
Mockup generation for books, multimedia, marketing materials, etc.
Proofreading
Online research
Coming up with business names
4) Online Community Manager and Moderator
Online communities are proving to be profitable for many businesses, but managing them can easily eat up valuable business time. Thus, many businesses are choosing to completely outsource this marketing channel to freelancers.
As a community manager, you oversee a community (of sorts) and make sure that everything is running smoothly. This can mean dealing with trolls, reporting bugs, or even just keeping the peace between members who have gotten into a squabble!
There are lots of different types of communities you can manage too. These include:
Online forums for discussion about different topics
Facebook groups for particular interests or causes
Guilds/clans within video games (like World of Warcraft)
Discord channels
Subreddits within Reddit that focus on a particular topic or cause
Upwork is a great platform to start looking for community management work from home jobs that you can do remotely.
Flexjobs also has tons of community manager jobs you can apply for.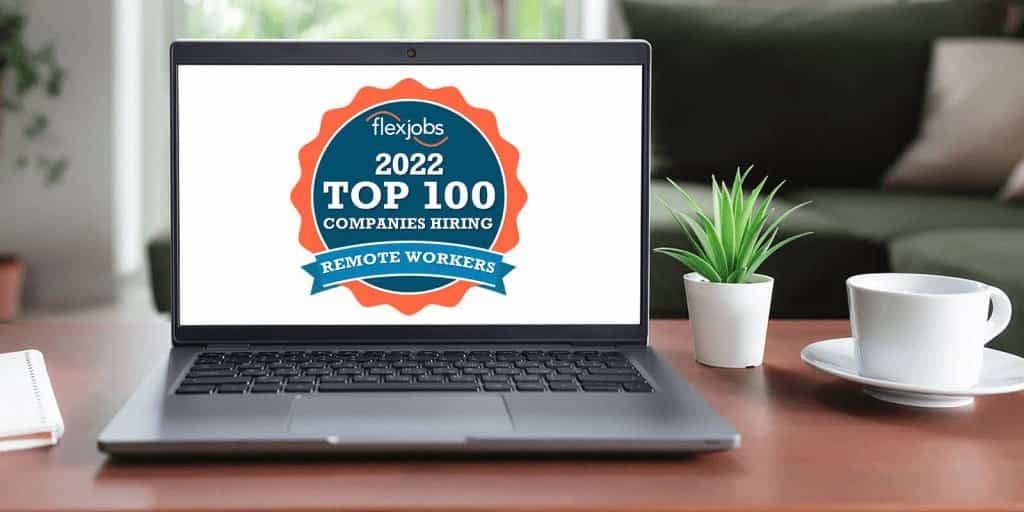 5) Delivery Jobs From Home
Transportation gigs are some of the most popular no experience work from home jobs out there right now. This is because they don't require specific training or certifications — just a willingness to drive people or shop around!
If you have access to a car and enjoy driving, consider signing up to be a driver for Uber or Lyft.
You can choose your own hours, make some extra money, and meet interesting people along the way!
If you don't want to drive people around but still want to work from your car, try delivering food with Uber Eats instead!
Some of the delivery jobs you can do from home include:
Instacart jobs: This site pays you to become a shopper. A customer orders groceries online, and as a shopper, you visit the stores, make a purchase and deliver them.
UberEats: This platform pays you to deliver food to its customers.
Postmates: This is a popular app for delivering food, drinks, and groceries
Doordash: With this app, you can easily make $18 an hour doing food delivery jobs from home
Deliver people: Another work from home no experience job is offering taxi services through apps like Uber, Bolt, Lyft, etc.
6) Online Tutoring Jobs
Another great work from home idea is doing tutoring jobs. Since you are already knowledgeable on the subject that you would be teaching, you actually don't need to have prior experience as a tutor.
The skills needed can be learned on the job. For instance, working with an online tutoring platform, using Zoom, and connecting your webcam are things you can master in a week just before you start taking classes and onboarding students.
To get you started, here are some of the best no experience tutoring jobs sites from home:
Outschool: With this site, you can teach any subject, academic or skill-based. How much you earn depends on the number of classes you teach and the students who attend them. It's easy to make $80 an hour teaching only one class with 10 students in attendance.
Preply: Best online language tutoring platform. Use this platform to teach English as a second language
VIPKid: If you love teaching kids, then VIPKid will be the right home hustle for you.
Cambly: Another popular language teaching platform
TutorMe
Chegg Tutors: This is best for educators and academicians since the target audience is High school, college, and professional students
All that's required for this position is good communication skills as well as knowledge of the subject you intend to teach. As long as you have both of these things, there's no reason why this job wouldn't be a great fit for you!
7) Data Entry Jobs from Home
If you have good typing skills and you're comfortable using your computer, then a data entry job may be just what the doctor ordered.
Data entry jobs are often the bait in work-at-home scams, so check out all data entry opportunities carefully. Know how to recognize a data entry scam, and do not pay to use a platform.
For many companies, you'll need to complete and pass a short test and complete an application to be considered. Check out these 16 companies that hire workers who want to work from home.
Some Work from home data entry jobs to consider include:
8) Website Testing Jobs
Website tester jobs are all about making sure that your client's website is functional and user-friendly.
Your job as a website tester is to look at websites, on different devices while navigating across various parts and reporting on your experience.
You might get asked to test a website's usability — like how easy it is to find what you are looking for — or get tasked with finding bugs in your software code if you are a programmer
9) Review Jobs
You can get paid to review websites, apps, books, software, and more.
There are many sites that will pay you for writing reviews such as OnlineBookClub, InboxDollars, etc.
If you're looking for a list of websites that pay you to review books, then check out the linked article above.
Some sites will also pay you with Gift cards, which might be enough to finally buy that sleeky mouse on Amazon.
For sites like Capterra, when you first sign up and write your first review, you will start getting invitations to write more reviews. Each published review gives you a gift card worth $10, and you are capped at 5 reviews a month. Now, join 2 other companies and you could be netting $150 a month in Amazon gift cards. That's enough to buy, you know that thing!
10) Online Researcher Jobs
As an online researcher, your job is to search the web and collect data to present to the client. You may need to be able to write content as well. As per Payscale, researchers are paid around $15-$20 per hour.
To do this job, you need to be a good problem solver. Your job is to find the answers to the questions that the client has, so you need to be creative and think outside the box.
You will also need strong communication skills so that you can communicate with your clients and get feedback on what they are looking for in their research papers or articles.
11) Micro Tasks Sites
On microtask sites, you are paid in points that can be redeemed for cash or gift cards. You could also work on a task and be assigned more advanced tasks as you gain experience. A few examples of micro-tasking sites include:
mTurk (Amazon Mechanical Turk)
Clickworker: This is one of the best-paying sites for those who want to work on data entry jobs, like creating contact lists and filling spreadsheets with information.
Most tasks in micro-tasking websites pay from $0.01 to $20 depending on the complexity and how fast the worker completes each one.
Payments are made via PayPal weekly and must reach a minimum balance of often $10 before they are released to your account. If a micro-tasking website requires a minimum payment that is likely to take you 6 months to reach, it's probably a scam.
12) Become a Chat Agent
As a chat agent, you'll be helping customers through live chat. The work is pretty straightforward: using your computer and keyboard, you'll answer questions and help customers navigate the company website.
This job requires fast typing skills and basic customer service skills (e.g., patience, empathy).
If this sounds like it might be right up your alley, check out these companies that hire chat agents:
LivePerson
LiveWorld
Apple at Home
OutPlex etc
You're also going to act as a salesperson, so you need to have some sales experience or training.
13) Mystery Shopping
Companies hire mystery shoppers to help audit how their shops are run, from how customers are welcomed and served to the general outlook of the store.
Mystery shopping companies hire people to do this for them. These are mystery shoppers.
Mystery shopping can help you earn some extra cash. Mystery shopping jobs are not hard to find if you live in a busy area with lots of stores.
If you love shopping and want to earn money, mystery shopping is definitely for you! As a mystery shopper, your sole purpose is to evaluate customer service and other aspects of the business by posing as a regular customer.
The best part of being a mystery shopper is that you can perform this job any time at any place with no prior experience required!
14) Online Surveys
Online surveys are a great way to make money from home, and they're ideal for students, stay-at-home moms, or anyone looking to earn extra cash while doing something fun.
You only need to have access to a computer and the internet if you would like to start with online surveys.
There are several websites like Swagbucks that offer online surveys on a wide range of topics such as shopping habits and favorite products. The best way to find legitimate survey sites is by reading review posts by people who have actually earned from these platforms
Surveys will take about 20 minutes of your time and can pay up to $10 per survey, depending on the length and topic of the survey. The more frequently you answer surveys, the more money you will make as well.
Also note that to make good money from surveys, you need to be residing in the US or similar economic countries.
Conclusion
I hope you've enjoyed my list of the best work from home jobs that don't require a degree or experience.
Most of these jobs can be started with little to no upfront cost and have the potential to earn you an excellent living from home.
The best work from home jobs are ones that you enjoy doing and feel confident at.
If you love writing, then freelance writing is for you. If you enjoy giving advice, then try virtual counseling.
Everyone has different talents that they can turn into a job at home. I hope this article helps get your creative juices flowing so that you can find your perfect work from home job!