Ever wondered whether it's actually possible to work from home as a virtual assistant and have the ability to choose your own hours?
Yes, it's possible. Many people are making money as virtual assistants, right from the comfort of their homes, and you too can.
Now, working as a virtual assistant is perhaps one of the most popular options for stay-at-home moms because it enables them to spend more time with their kids without bailing at work.
In this post, I share with you some of the popular virtual assistant jobs for beginners.
But first,
Virtual Assistant Jobs: What Are They?
Virtual assistants provide administrative support services on behalf of individuals or companies.
As a Virtual assistant, you are tasked with helping your clients with their day-to-day office tasks remotely. That's right! No traveling! No following your boss around, well, at least in person.
The tasks will depend on the company that you are working for, the clients' needs, and your skills. That said, most virtual assistance tasks usually revolve around answering emails, creating presentations, and handling social media accounts, amongst others- all without ever meeting in person!
Virtual Assistant Jobs from Home with no Experience
Start by looking into some of these companies that provide VA jobs for beginners even with no experience:
1: Fiverr Jobs for VAs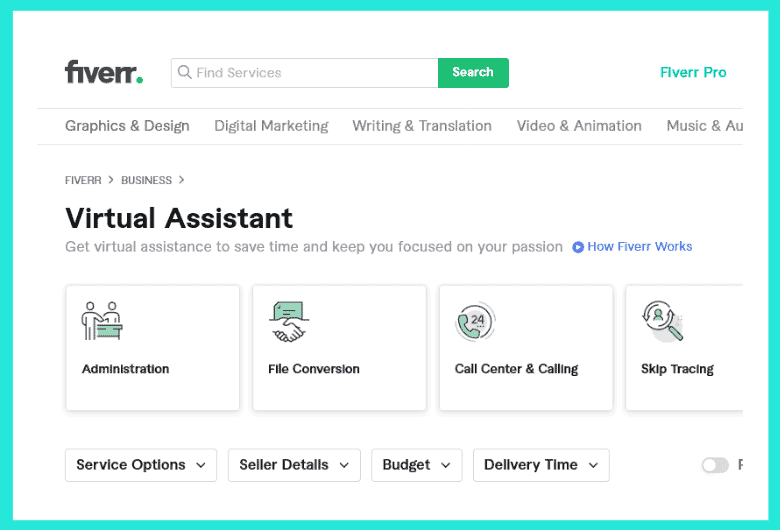 Fiverr is a great platform to get virtual assistance jobs without much hustle. While it started as a place to sell services for $5, Fiverr has grown to be one of the go-to sites for many businesses looking for premium services.
As a virtual assistance service provider on the platform, you can offer services in almost everything from social media management, WordPress management, and graphic design to SEO content writing.
The best thing about it is that it's easy to get started, and you don't need to have lots of experience to make money on Fiverr. You'll, however, need those raving 5-star reviews before you can get consistent orders or charge more without affecting your sales.
To succeed on Fiverr as a Virtual assistant, you need to:
Provide great customer service – You are representing your company to the client with every task. Customer service is one of the most important aspects of this job, and if you can't provide excellent support to your clients, then you can't convince them that you'll provide great service to their clients.
Be professional and punctual – You are a virtual assistant, so it is your job to make sure that you meet deadlines and provide tasks on time. If you're looking for long-term clients, then being punctual will be key in establishing yourself as reliable and trustworthy.
Always deliver quality work on time. Your gigs' ranking largely depends on the performance of your previous orders, so it's important to always deliver quality work on time. The clients will depend on you for everything from social media management to website maintenance, so they want someone who can get the work done.
Don't be afraid of hard tasks- If someone offers a task, it doesn't mean that it will require hours of research and data entry, so don't be scared off by complicated jobs because you'll eventually learn how to do them, and most VA providers are willing to take on some difficult projects as well just not all at once!
Important things to note:
Fiverr takes a 20% commission off your earnings.
Fiverr has four levels: New Seller, Level 1, Level 2, and Top-Rated sellers. Eligibility for these levels is reviewed month-to-month
2: Find VA Jobs at Flexjobs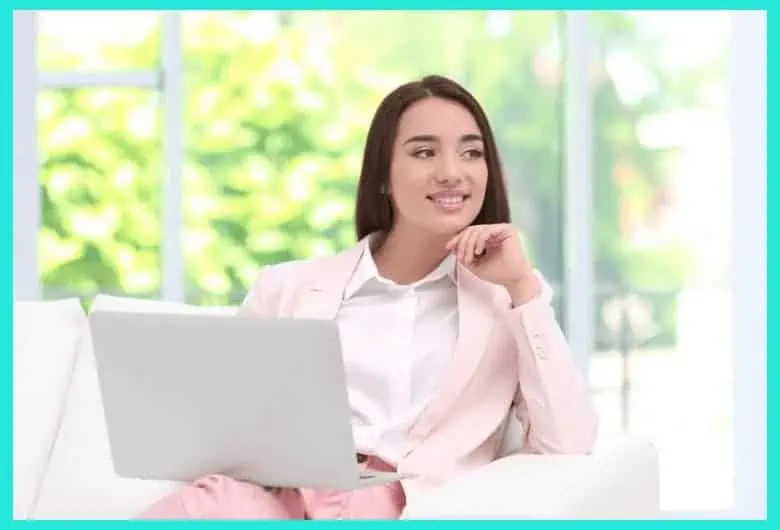 Flexjobs is one of the best places to find VA jobs. It's a job board specializing in full-time remote work and freelance positions for people with all levels of experience, from entry-level to experts.
You can search by keyword or filter through different categories like customer service, technical support, administrative assistance, etc.
Flexjobs guarantees 100% job satisfaction because they have a quality assurance team that reviews job posts before they are approved for posting on the site.
Each applicant is also allowed to rate the company and communicate with other applicants through Flexjobs' social media outlets, unlike freelance marketplaces where communications only happen within the platform.
If you want to avoid scams and poor listings, then subscribing to Flexjobs is your best shot. There are hundreds of jobs in different niches.
Important to note:
Flexjobs offers a free trial for one month to new members.
Some jobs require experience, but you can also look at the entry-level positions if that's what you're looking for.
You can choose to pay $14.95 monthly, $29.95 every three months or just $49.95 annually to unlock full access.
3: Bid for Jobs on Upwork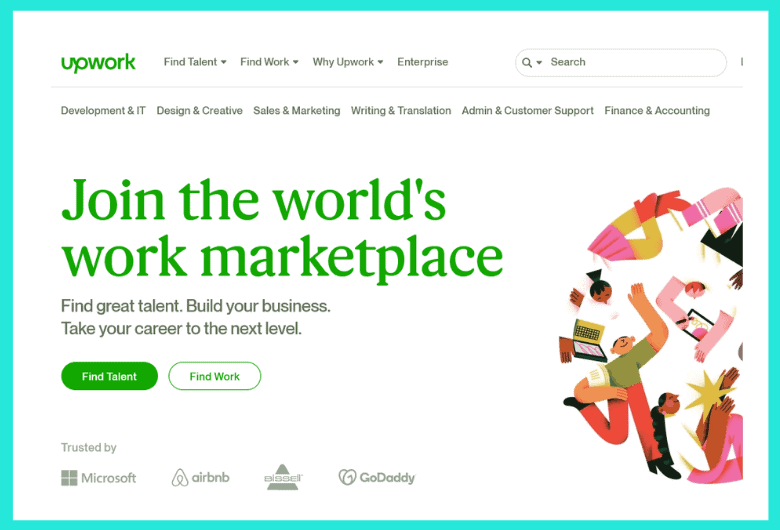 Upwork is a freelance marketplace trusted by millions of freelancers and business owners worldwide. To find jobs relevant to your VA skills, simply search for the industry and the type in the kind of work you're looking for. You can also filter jobs by location, job types, hourly pay rates, or even skills required.
To bid on a job post: sign in to your Upwork account- select the project listing where you want to apply – fill out your profile information, so employers know who they are hiring- and submit your bid.
When searching for jobs on the platform, you can use the phrase 'VA' or search specific skills, for instance, blog management, WordPress management, SEO, etc.
Important Things to note:
To sign up, you'll need a verified email and phone number. – You must be 18 years or older to apply for jobs on the site.
Upwork takes a 20% commission off your earnings.



You'll have access to professional tools that will help you do your job efficiently and effectively. For example, a Desktop app that you can use to log time on hourly contracts.
Just like Fiverr Gigs, you can now list your freelance services as Project Catalogs, and clients can purchase directly.
4: Fancy Hands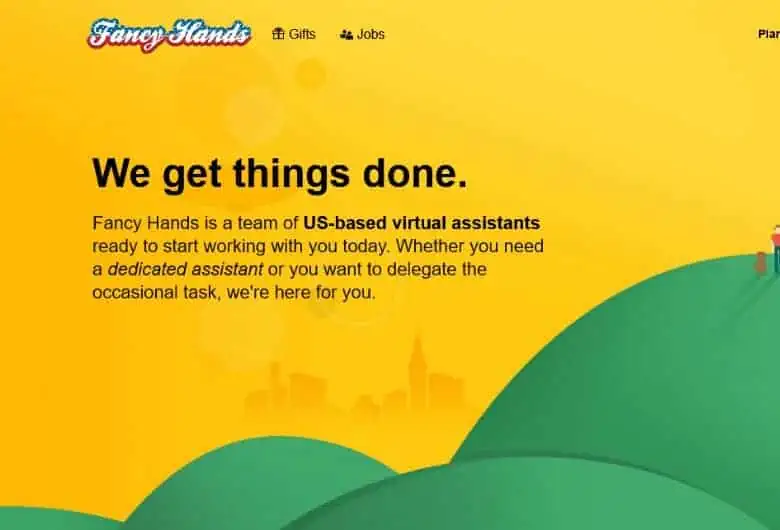 Fancy Hands is another great place to look for virtual assistant jobs. It's a company that offers virtual assistance services to clients across different verticals.
When you join Fancy Hands as a VA, you become one of their assistants. Think of this as Fancy Hands outsourcing their clients' projects to you.
Tasks involved include making business calls, scheduling appointments, booking hotels, and other tasks you may be good at.
The tasks usually take 10-20 minutes, and you can earn between $ 3-7 depending on the nature of the work involved.
Being a US-based company, FancyHands only hires As from the States.
Important things to know about Fancy Hands:
You need to be from the United States to join Fancy Hands as a virtual assistant.
As you complete more tasks, your VIP membership grows and gives you access to higher-quality jobs at better rates.
There is a $30 processing fee for new members joining the site and accessing their jobs, but this gives you access to all of Fancy Hands' work opportunities.
Fancy Hands also has an app that can make your virtual assistant job more convenient when on-the-go
5: Vicky Virtual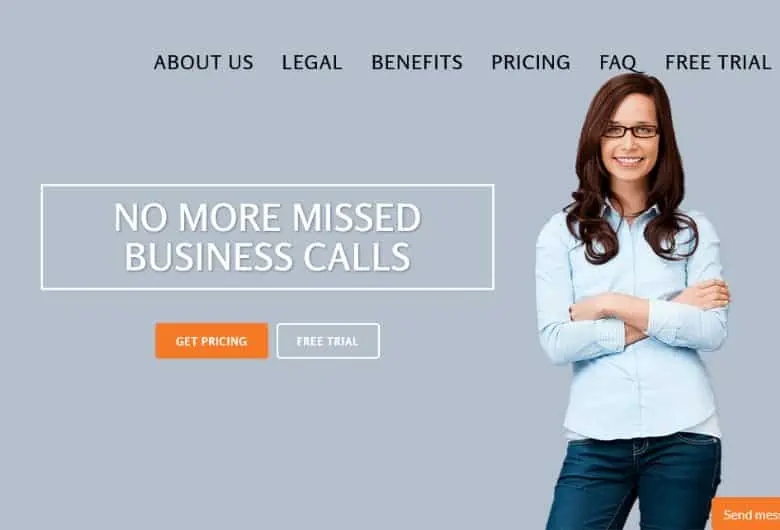 Vicky Virtual is a Virtual Assistance company specializing in phone support. You are hired as a receptionist, and your tasks include:
Answering business calls
Assisting callers with their issues on the phone
Booking appointments and
other basic reception tasks
Composing and sending accurate messages on time.



Earnings: $10/hour
Started in 2014, Vicky Virtual is a relatively new company that can be an excellent opportunity for beginners.
If you've been in the customer care sector before or just enjoy talking to people, then you might enjoy working for this company.
Things to note:
There are no strict hours; you set your own schedule
You, however, do need to commit 40 hours a week
The company does not provide health insurance for employees.
6: 99 Dollar Social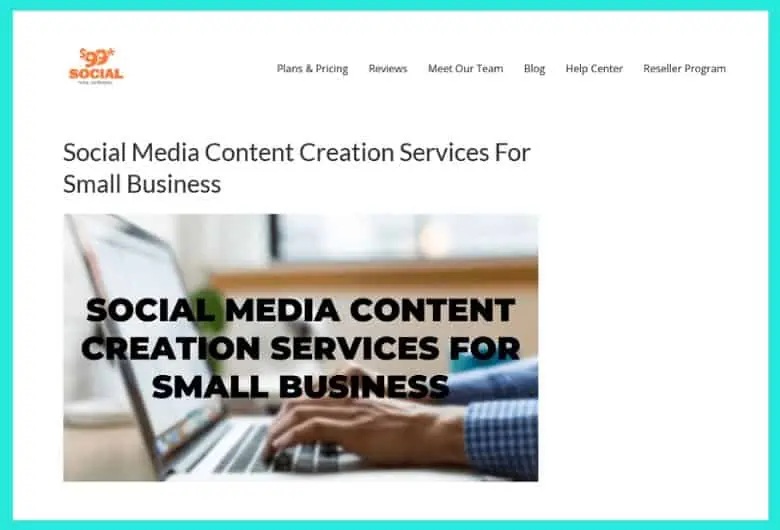 99 Dollar Social is a website that provides different social media services, all for only $99.
The company does offer clients an option to upgrade their packages and get more hours or different types of social media sites/services; however, most companies don't need the extra features as they are just starting.
As a Virtual assistant working for 99 Dollar Social as a social media content writer, your tasks will include:
Researching and coming up with ideas for posts.
sourcing images
writing engaging social media copy to go along with the posts
Scheduling the posts in the content planner
This is a full-time position, and you'll be expected to work 40 hours a week.
7: Time Etc
Time Etc is Majorly for US-based virtual assistants. The company has been around since 2007 and claims to have served over 22000 firms. It has offices in Vero Beach, Florida, and Indianapolis, Indiana.
Services that they offer include:
Research
Content writing
Data entry jobs
Administrative tasks etc.
Social media copywriting.
Sales administration
Marketing administration
The initial rate is $11 hourly, and you can apply for an increase after working for them for a while.
8: LinkedIn Jobs
LinkedIn is the largest professional network with over 500M monthly users. Almost every potential client you can imagine has a LinkedIn profile.
To find relevant jobs for you, head over to the LinkedIn Jobs section and search using relevant queries such as Virtual assistant, LinkedIn assistant, content writer, etc. Then, sieve through the results until you find the ones that appeal to you and then apply.
Keep in mind that employers use your profile as your resume, so make sure you optimize your profile accordingly. Share tips in your area of expertise, engage with other professionals, and get people to notice you.
Also, take time to connect with your potential clients, leave thoughtful comments on their posts, and once you've warmed them up, send them a message to let them know that you are available for virtual assistance jobs.
9: Zirtual
Zirtual is a company that provides virtual assistant services to entrepreneurs, small corporate teams and.
Tasks include:
Inbox management
Scheduling appointments
calendar management
Developing social media strategies
Data entry
Research
Website maintenance etc.
Founded in 2011, Zirtual strives to be the best Virtual Assistant Company for entrepreneurs.
To become a Zirtual Virtual Assistant, you need to have excellent communication and organizational skills. You are paid 50% of the revenue, which comes down to $6.5 to $9 per hour, depending on the client's plan.
10: Craigslist
Although Craigslist has its own risks associated with it, there are plenty of opportunities available for virtual assistants since several skill-specific posts are posted there daily.
You need to be aware of the scams and frauds that happen when sourcing jobs through Craigslist. To avoid falling victim, be sure to research the company before you apply for a position to avoid getting scammed. It's become easier to determine if a firm is legitimate or not by examining its marketing assets, social proof, and reviews online.
To find virtual assistant jobs on Craigslist, you can search for "virtual assistant" or keywords such as "assistants wanted." You can also include your specific specialization, for example, Pinterest manager, or better still, narrow down findings to your location.
Also, be sure to read the position's description, requirements, and qualifications before applying for it. Keep in mind that some positions may not allow applicants from your country or state of residence.
You'll find a lot of pretty vague listings, but you will also find some legitimate ones.
11: Remotive
Remotive was started to remove the frustrations and barriers that are sometimes associated with finding remote work.
At any given time, Remotive has got about 2000 active job listings spanning different skills, from software development, content writing, virtual assistance etc.
Popular categories include:
Customer Service



Design
Marketing
Software development
Content development
Sales
You can also use the search bar to find the jobs for the specific skills that you're interested in.
12: Guru
Guru is a freelance marketplace that is almost similar to Fiverr and Upwork. It's great for beginners as it has lots of entry-level jobs that you can execute even if you have no experience.
To start making money as a VA on Guru:
Sign up for a free account
Update your profile by filling in all the sections in a way to appeal to target customers.
List the services that you provide as a VA



Start looking for VA jobs that suit you in different categories like Software Development, Customer Service, Marketing, Writing, etc.
Start applying to jobs, ensuring that every submission is personalized and addresses the points in the job description.
13: Virtual Assistant Forums
Online forums can be a great way to share ideas, find job postings, and get advice from veteran virtual assistants.
VA forums are not as many and the majority of the great ones require a monthly subscription to access.
Virtual Assistant Directory



VAinsiders
VAnetworking
Several training courses are available online for those who want to learn the skills required as a virtual assistant or just brush up on existing ones. Try Skillshare or Udemy for short affordable courses
14: Belay Solutions
Belay Solutions is a leading provider of virtual assistant services that helps companies large and small solve their most time-consuming, difficult, or high-volume tasks.
As their VA, you'll be handling tasks such as:
Bookkeeping
Administrative tasks
Social media strategy
Inbox management
Projects coordination
Calendar management etc.
15: PeoplePerHour
PeoplePerHour is another great place to find more VA jobs. It's a freelance marketplace for short-term projects, and the pay is relatively favorable.
To get started, you need to create and update your account, filling in all the required details. If not sure what to write, browse around to see how other VAs are using the platform.
You can then start looking for jobs that suit you and apply to them. The site has a rating system, so it might be a hustle before you can land your first client and start building credibility.
16: Remote.Co
Remote.co is also a great place for finding VA jobs. With its wide range of skills, you are sure to find something that suits your skill set and experience level.
To start using the site, sign up with LinkedIn or Facebook. You can then search Remote's database by typing the work expertise needed and your location.
The jobs are typically remote, perfect for someone who wants to work from home and travel the world (or just avoid commuting).
17: Clickworker
Clickworker is a micro-job site that has been around since 2006. The site is especially good for those with a need to work from home, but there are also jobs available if you live near a city like Berlin
Clickworker functions more like an app, and it's easy to set up your account on the site. You can then choose to get notifications for any new jobs that are posted.
It allows you to work from anywhere, and the tasks are sort of VA-friendly. Some of the tasks include:
Writing text/copy such as social media content, product description, captions, etc
Proofreading
Copy-editing



Researching
Photo captioning
Audio and video recording
Editing audio, video, and images
18: OkayRelax
OkayRelax is a personal assistance firm that takes time-consuming tasks off the clients' shoulders, giving them more time to relax and unwind.
The tasks range include:
Schedule management
Calendar management
Travel planning
Reservations
Suggesting outdoor activities
Administrative tasks etc.
Carrying out product and other types of research
Managerial tasks
19: VirtualVocations
VirtualVocations is a leading provider of remote and virtual staffing solutions. They help clients hire from the best talent pool in the world with expertise in multiple disciplines.
Some of the virtual assistance jobs that you can find on these sites include:
Data entry



Bookkeeping
Administrative Tasks
Consulting
Customer service
Editing and Proofreading
Design
Marketing
Content Writing
Transcription
20: Boldly
Boldly is a great agency that specializes in staffing professionals for marketing, sales and business development roles. The jobs are fully remote. What perhaps sets Boldly apart from the other virtual assistance companies is that you get to choose whom you want to work with on a long-term basis.
You'll be working remotely to support 2-3 clients on a long-term basis, usually under two years. You, however, need to commit at least 20 hours a week.
Virtual assistance services offered include a range from
Executive Assistants
Writing & Editing
Marketing
Bookkeeping
Customer service
Project Management
21: Connected Women
Connected Women is a virtual business that provides professional assistance to women entrepreneurs. You are not required to commit any specific number of hours, and the service is 100% mobile-friendly.
The company offers
Business Development & Marketing



Web Design & Development
Accounting & Bookkeeping
Strategic Planning Consulting Services
HR Support
Social Media Management Help
Can Anyone Become a Virtual Assistant?
It used to be that only those who were highly educated could get these types of jobs, but thanks to advancements in technology and our ability to communicate more easily than ever before, anyone with basic computer skills can become a virtual assistant.
Conclusion
In this article, I have enumerated 21 different virtual assistance jobs for beginners to help you land your first clients and grow your VA Business.