Online tutoring is an alternative to traditional tutoring. You work from home, communicate with students through an online platform, and get paid weekly or monthly.
Tutoring sessions are done at your own convenience, which means you can fit them into your schedule. It's easy to get started and some teaching platforms don't require you to have any qualifications or teaching experience, besides the knowledge on your specialty subject.
So, if you enjoy helping others learn and grow, online tutoring offers great satisfaction!
What Are The Requirements For Online Tutoring?
The requirements vary depending on the platform and the subjects that you'll be tutoring.
Most tutoring platforms will require tutors to have a GED (General Educational Development) test, a high school diploma, or another, subject-specific certification.
To become an online English teacher, for example, many platforms will require a TEFL certification (Teaching English as a Foreign Language). If you tutor in another language you may need a similar qualification.
There are also platforms where you can tutor without any previous accredited qualifications, especially skills-based tutoring such as programming tutorials or language courses accessible to non-native English speakers. An example of such a tutoring site is Outschool.
You should always check with the platform about their requirements before registering as a new tutor, but if there are none then it's potentially an opportunity for anyone looking for part-time work from home!
Other requirements include:
Online tutoring skills
Concept mastery
Have a good internet connection
Be able to work on the platform's schedule
Have a computer with a webcam
For most online tutoring jobs from home, it's important that you're able to work on the platform's schedule; and show up a few minutes before your class begins. If you anticipate that you won't make it, make sure to cancel or change shifts on time. Each platform has a stipulated period within which you may request a tutor swap or cancel a class.
How Much Do Online Tutors Make?
The compensation varies from site to site, but typical rates range from $10-$20 per hour. Keep in mind that every company has different pay structures, so be sure to do your research!
There are also platforms that allow you to set your own prices based on the recommended rates.
Now, online tutoring gigs won't make you rich—the average US tutor makes around $25 an hour—but they can be great part-time work if you have experience teaching others and want an extra source of income on the side.
That said, it's possible to earn an extra $1,000 a month or more working in the evenings and weekends.
Online Tutoring Websites for Beginners and Advanced Tutors
To get you started, here are some of the legitimate online tutoring jobs from home that pay well.
1) Outschool
Outschool is a teacher marketplace that hires tutors from the US, Canada, Australia, New Zealand, England, and Wales to teach kids online
The students you will be teaching are generally kids between the ages of 3 and 18 years.
Outschool doesn't require formal qualifications, but you do need to be knowledgeable about the subjects that you will be teaching, have a strong internet connection and own a computer or laptop with a webcam.
Since Outschool delivers sessions via zoom, you do need to know how to work the platform, especially when teaching a group class as you will be rotating students on-screen when interacting with you.
To start tutoring on the platform, you need to list your classes and the students with the help of their parents will book them. Once your class is booked, all you need is to show up at the scheduled time and start teaching.
The classes are usually small, about 5 students, sometimes more
With Outschool, you generally make around 70% of what the student pays for the session. To make $10 per student per hour, therefore, you need to offer your session at, say $15. So if your class is attended by 5 students, you'll make $50 during that one-hour session
Since the pay is per student per hour, rather than just a flat hourly rate, you tend to make more per hour compared with other online tutoring websites on this list.
What sets Outschool apart is that you can teach virtually anything, especially when your popularity arises, as it will be easier to fill up student seats
One challenge, however, with a marketplace like Outschool, is that it's quite saturated for the common subjects, which makes it hard to attract bookings when you're a new teacher.
2) Magic Ears
If you're looking for a legitimate online English tutoring job from home, consider joining Magic Ears.
Unlike tutoring marketplaces such as Outschool, Magic Ears hires its teachers directly to teach pre-made lesson plans provided to them by the company.
You, therefore, don't have to worry about having your own classes or student bookings – you'll be paid based on how many hours you work.
Magic Ears Requirements:
You need to be a degree holder or currently a student of a bachelor's degree in any field to be considered
Hold a 120-hour ESL Certification. If you don't have one you can take Magic Ears' full ESL course for just $20
In general, teachers seem to have a great experience working with them. However, lately, Magic Ears seem to be scaling back operations since the time when the Chinese government banned private tutoring
3) VIPKid
VIPKid is the world's leading online K-12 learning platform. The company partners with pre-screened, top-quality teachers to provide one-on-one virtual education to children in China between the ages of 4 and 12 years old.
To teach on VipKid, you need to
Have teaching experience,
Be a bachelor's degree holder and
Be legally eligible to work in the US or Canada
VIPKid provides teaching materials and curricula to you, so you don't have to worry about creating your own or doing any lesson planning work.
If you're interested in having a flexible job that allows you to set your own hours and earn $14 to $22 an hour, consider becoming a VIPKid tutor from home.
Now that you know all about working as a VIPKid tutor at home, get ready to share your knowledge with some eager students!
To start teaching English on VIPKid, apply as a tutor here
4) Superprof
Superprof is one of the largest online tutoring jobs websites, with over 19 million registered tutors.
Like Wyzant, they provide both online and in-person sessions. If you are looking for online and local UK tutoring jobs, then Superprof is one site to consider.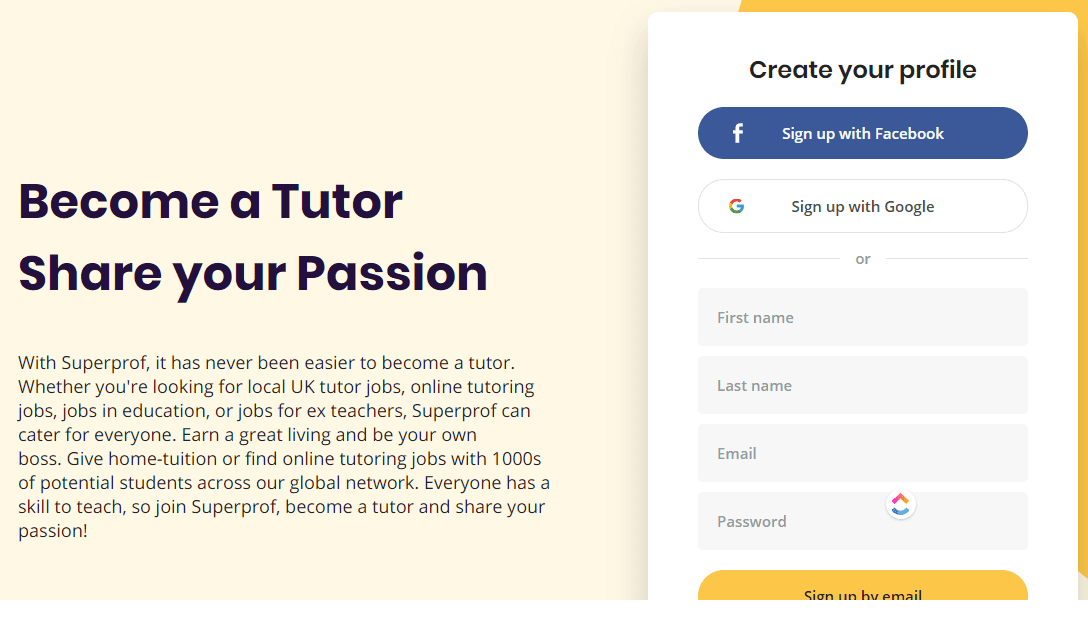 To get started, all you need is:
Create a Superprof tutor account



Create a tutor ad for free
Define your terms including schedule, fees and methodology
Land students and start teaching
You can tutor in over 1000 subjects available on the platform where students need help
5) Wyzant
Wyzant is a private one on one tutoring platforms that allows teachers and students to meet online or offline. You can tutor on both academics and skills-based courses.
For instance, some common topics include:
Spanish
Chemistry
English
Guitar lessons
Accounting
Coding
Test Prep
Math



With Wyzant, you set your own rates, meaning you could earn considerably higher than in most platforms. Most tutors charge $30-$60 an hour.
The platform pays via direct deposit.
While you don't need to be a certified teacher, you do however need to be at least 18 years old, reside in the US and have a valid Social Security Number.
a freelance platform for tutors to connect with students
tutors set their own prices
tutors set their own schedule
6) Yup Math Tutoring Website
Did you enjoy Math topics such as Calculus, Algebra, Geometry, etc? I did, but I don't have the confidence that I'll be a great tutor on these topics, so I'll leave these to the real geniuses like you.
Yup is a Math tutoring website that hires Math educators to help students master some of the challenging Math topics above.
Yup tutors are current and former teachers, educators, and graduate students with extensive tutoring experience, so if you are just a beginner, this site may not be the right fit for you.
To apply for the Yup tutoring program, you need a Bachelor's degree at the very least and experience as a Math teacher.
The platform pays tutors every month via PayPal or Direct Deposit.
The application process involves three critical steps:
Written application
Math proficiency exam
Teaching exam, mimicking a tutoring session
To become a Math tutor at Yup, sign up here
Labeled "the best way to find online tutoring jobs," Yup is an easy platform to use and has competitive pay.
Yup also offers stress-free, flexible scheduling, and if you have any questions about the application process, they've got answers.
7) Chegg Tutors
Chegg is a tutoring and homework help site that specializes in helping students with college courses. Students go to Chegg to seek:
Homework help
Exam prepping
Writing support
As you can tell, Chegg isn't like any other tutoring website on this platform. The majority of your earnings will come from answering student questions, rather than tutoring students one on one.
Note: Chegg appears not to be offering tutoring services anymore, but if you are a University educator, you can submit your learning materials, and license them for use. The site claims that you can earn up to $4600 per material you submit.
8) Tutor.com
Tutor.com, an on-demand tutoring platform based in San Mateo, California, is accessible both as a website and as a mobile app.
It not only allows students to find tutors for the subjects they need help with but also enables teachers who are interested in conducting online lessons from home to make extra money.
Teachers can sign up from anywhere in the US and receive paid teaching jobs through the platform.
What you need to know about tutoring on Tutor.com
Tutor.com provides on-demand 1-to-1 tutoring services on almost any subject
Learners on the platform are quite diverse, from kindergarteners to college students and career professionals
tutors can be paid $14-$18 per hour



Only accepting applications from the US
Sessions can be on-demand or private student requests
To qualify to teach on Tutor.com, you need to be residing in the US, have a valid Social Security Number, and have a degree or are currently enrolled at an accredited University in pursuit of a 4-year degree
You can apply to become a tutor here
9) Studypool
Would you like to get paid for helping students?
Then you'll want to sign up with Studypool, a platform that connects students with tutors from around the world. Whether you're looking for a part-time job or an easy way to make money online, Studypool offers unique opportunities.
It's a platform that pays you to help students with their studies. This is how Studypool works:
Students post questions and how much they are willing to spend
After you're approved for the program, you can browse questions and bid on the ones you are confident you can tackle
If you win a bid, you will need to submit your answer. The task will be marked complete if the student is satisfied with your response
Studypool charges around 20% of whatever you make on the platform.
Studypool is the brainchild of David Yang, a Korean-American entrepreneur who attended Stanford University and worked with professors at top schools such as MIT and Harvard. His goal was to establish an online community where people could learn from each other and help make learning fun. Studypool was launched in 2013 and has since recorded over $1 million in earnings for its tutors.
You won't make much off of individual assignments but some lucky (and skilled) tutors rake in hundreds of dollars per day using Studypool as an income supplement or full-time
10) Tutapoint
Tutapoint is a rather small online tutoring service that hires US-based tutors to help students with their academic challenges.
Their system matches you with students based on your skills, subjects, and past performance. Students can also choose their past tutors if they enjoyed working with them.
To qualify to teach on the platform, you need at least 2 years of proven teaching experience.
Most Tutapoint reviews show that the company genuinely cares about its students and tutors, and the pay is about $14 an hour.
The 9 Types Of Tutoring Jobs
General Tutors
Skills-based tutoring
Subject Tutors
Test prep tutors
Language and ESL tutors
Homework help tutoring
Learning disability tutors
Student tutors
Pre-K tutors
Why Become an Online Tutor
you can earn a good living
you can do it from the comfort of your own home



you don't need a teaching certificate
you can make your own schedule
you can use your skills to help others
you can specialize in a subject you love
Wrapping up
Online tutoring jobs from home are ideal for those who have a respectable level of experience in their field and don't need any kind of teaching certificate to prove it.
There are a lot of online tutoring jobs from home opportunities out there, and it can seem like one company is the same as another. But there are some big differences between the good ones and the bad ones.
If you want to make sure that you're working for a reputable company, doing something you love, and getting paid well for it, then always do your due dilligence before committing to a tutoring website.