To write content that will meet your reader's needs, you need to leverage the power of search intent.
You want to give your prospective readers the content that they are looking for.
To do that, you need to know what exactly they want when making certain queries. This will help reduce your bounce rate, keep readers engaged, and taking action while savouring your content.
become Intentional when it comes to SEO
It makes sense to release blog content when you know that Google and other search engines will love.
That's why, before writing any content, you need to do keyword research. Through this process, you will determine what your readers are searching for, and the search intent behind every search.
What's Search Intent?
The search intent of a query is the reason behind it. The why. Why did they search for this particular phrase? Are they looking for information, want to make a purchase or just to navigate to the various pages of a particular website.
You can determine search intent behind a query by searching your keyword in Google and analyzing the first page results.
This is one of Google's ranking factors that isn't talked about much by SEO guides, yet it's a powerful factor that has to be gotten right. Remember, satisfying the user's intent is Google's #1 goal.
In fact, Google now tells us to forget everything we know about marketing, because search intent is now redefining marketing funnels
There are three main types of search intent:
1: Informational Search Intent:
First, is the informational intent. Lots of searches online are done by people looking for information. For instance, how to do SEO, food recipes, what is PPC? etc.
Informational keywords will most likely contain phrases such as:
How to
what is
the difference
why
The best way to
the best
Top ten
2. Transactional intent.
These are queries done by people looking to buy stuff online. Most searches such as buy shoes online, discount, etc. are transactional. Others, however, are not that direct. For instance, "comfy home office chair" turns out to be transactional rather than informational.
Transactional search intent keywords will contain words such as:
Buy
Discount
Purchase
Coupon
Deal
Product names etc.
3. Navigational Search Intent
This query is usually about going to a specific page of a specific website. Most brand names are navigational. For instance, Bluehost login, Semrush, Amazon associates etc.
Unless you are the brand, you want to avoid navigational keywords as the brand will always rank at position one and receives almost all the click-throughs.
By looking at the results displayed when you query your keyword, you can tell the intent behind it, so you can decide whether or not to write content on it. Navigational intent queries are hard to compete with, as the brand will always take position zero.
How to Use Search Intent to Write Better Content:
Now that you are familiar with the three types of search intent, how can you use this information when creating content?
The number one thing that content research achieves is getting rid of the assumption. It's easy to assume that because you've picked up a particular keyword, then you can easily tell the intent behind it by simply observing the keyphrases.
Don't assume.
Trust SERPs.
Simply query your keyword from an incognito window (This way, your search results will not be influenced by your search history)
By observing your search results, you should be able to come up with four metrics:
Search intent: Is it informational, transactional, or navigational. Informational keywords will be indicated by detailed guides, transactional by product categories and pages, while navigational by site links
Content types and formats: Popular content types on the first results pages are an indication of what content type people are more likely to be clicking on. Is it a list post, a how-to guide, product list, etc. Here, you have to go with the flow, but your content needs to be 3x better. For instance, the search for 'how to make juice' returns videos as featured snippets. Including a tutorial video for this keyword would help you meet your readers' search intent.
Content approach. This is the angle that the content takes. This gives you an insight into 'who' is looking for this content, 'their 'why', and the language they use. For instance. If your search for "how to make juice" you will see phrases like Easy, healthy... This way you can refine your keyword so that it fits one of the approaches above.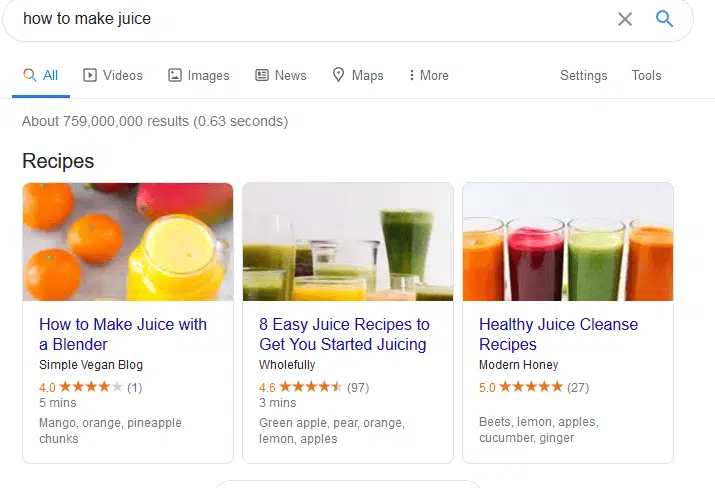 If the results include terms such as affordable, cheap, or specific (low) pricing, then it tells you that the searchers are price cautious. If that is the case, then you want to factor that in, especially if it is a transactional keyword and the content type you are working on is either a product page ora products category page.
Do you usually factor in search intent when creating content for your blog? How has that worked out for you?