Your website is your office.
It's where handshakes are extended, connections are made and businesses established. It's your store where actual sales are made.
In today's post, we'll have a look at the six key elements of what makes a good website.
Therefore, conversion rate optimization is a crucial marketing strategy that web designers should implement in their designs
A poorly designed website scares people away. You need a professionally looking website in order to build a professionally profitable online business. However, a pretty website doesn't always mean a profitable website. Conversion – that ability to convert visitors into subscribers and/or customers – is a complex process, and even the most elegant web design can stink when it comes to conversion rates optimization.
To be successful online, you have to approach your website design and layout with savvy marketing skills, buying psychology as well as user experience in mind. Combine all these three skills and you have a successful online platform for your business.
But, how do we get there? How do we move from a really cool non-converting website to a really cool highly-converting giant?
We take care of the basics. Tweaking some elements of your blog or website might not seem as a lot of work, but they are these little changes that can make a huge difference in your marketing strategy and overall success of your business.
What Makes a Good Website
Here are some of the ways you can set up your website or blog for conversion rate optimization.
#1: Make your blog mobile responsive.
You can bet your bottom dollar that 70% of your readers access your blog via their smartphones. To ensure that you don't lose them, you need to give them a smooth browsing and navigating experience. So, as your blog grows, strive to make your blog mobile responsive. You may need to hire an experienced website designer to help out with this or look for an awesome mobile responsive WordPress theme to use instead.
Employ the power of social proof by Displaying Great Testimonials
Before anyone buys from you or subscribes to your list, they need to trust you. Achieving this at their first visit is really hard, but not impossible. To escalate this trust-building process, there are a number of things you could do
Add great testimonials from your customers
Add testimonials from prominent personalities in the industry
Include a Featured In section, where you showcase logos of media companies that have featured your blog/products/services
Include the number of your social media following
Showcase the industry books you've authored
Include tweets from people praising your work. You can easily embed tweets to your website directly using a code you can generate from Twitter.
Include a link to your updated LinkedIn profile.
#2: Have a Prominent Call to Action
What do you want your visitors to do when they land on your page? Is it to download a free book or subscribe to your list or to read a particular blog post? Create a short compelling copy that invites an action and includes a prominent Call to Action (CTA) button. Selena Soo does this really well by posing a compelling question that resonates with her readers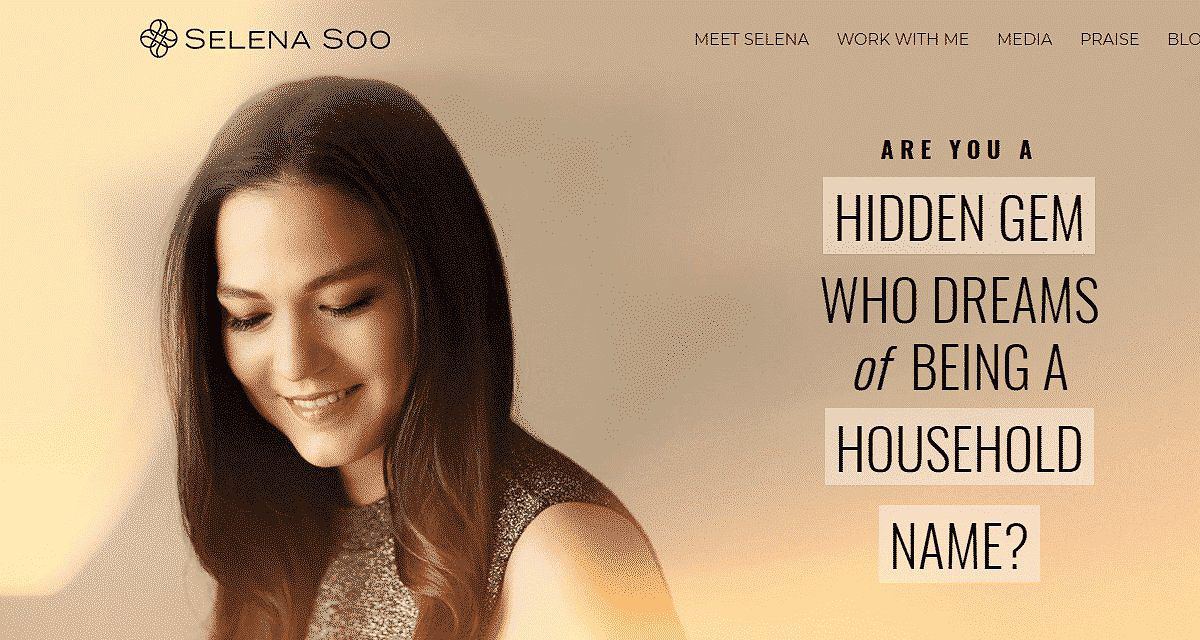 You will notice that she also shows her face, something that shows her readers that she is not just a figure behind the screen. This enhances her brand online and help appear familiar in the minds of her readers
#3: Go Easy But Smart With Colors.
Overusing colors is a sign of unprofessionalism, and this turns people off. While something may seem cool on your end, it is absurd and 'just too much' for your readers.
To choose brand colors that resonates with the readers of your blog and the users of your website, you need to understand the psychology behind colors:
Light Blue: Masculine, youthful, cool
Purple: Youthful, royal, contemporary
White: Pure, clean, honest
Black: death, heavy, serious
Gold: Stable, elegant, conservative
Dark Blue: Trustworthy. stable, mature, calming
Pink: Youthful, warm, feminine, glam
Red: excitement, hot, danger, stop, no,
Orange: Organic, positive, emotional
Green: Comforting organic, positive, growth, life
Brown: Organic, unpretentious, wholesome
Focus on what brand you want to take it out there, is it something organic, feminine, youthful etc.
#4: Think Through Your Navigation Menu.
The easier it is for your readers to look around, the faster they will find what suits them, and hence take action. And besides, navigation is the only way that your visitors reach your products/services after arriving on your site.
While it's tempting to go crazy and cram every category and pages to your website's navigation menu, it's not effective for your visitor's decision making process.
Stick with a few items, but selectively and thoughtfully picked and arranged.
Include a search box as well.
Some visitors reach your blog looking for a particular post, page, product or service. The easiest way to retrieve what they want is searching the site. At The Penny Matters, we have a search bar at the bottom of the homepage, as well as at the top of the sidebar.
#5 Make Readable copies.
Just because you find a fancy font style appealing to you, doesn't mean it would be appealing to everyone.
Chose legible font styles
Emphasize important information with bold and italics
Format with headlines and subheadings
Use Simple sentences
Use shorter paragraphs
#6 Display your Offers Above the fold.
People will have to see your opt-in at least seven times before deciding to take action, in most cases. So, if growing your list is your priority, you will want to place it in the following three prominent places:
At the top of your page
At the end of every blog Post
In the footer