There are several affiliate marketing terms that you will come across as you continue with the learning curve.
While scouring the web looking for affiliate products to promote and finding new strategies to scale your business, you'll come across some technical terms that are used across the affiliate industry.
These terms are vital in selecting the programs you want to work with.
Affiliate Marketing Terms
Some of these affiliate terminologies include:
1) Disclosure
This is a statement you make informing your readers that you use affiliate links on your website.
To comply with FTC laws, you need to have this disclosure somewhere on the page where you use affiliate links. You want to place this statement towards the top of your pages before you mention your affiliate offers.
You should also have a Disclosure page where readers can learn more about how you make money from your blog.
2) First-click attribution
This means that the affiliate program will allocate commissions to the affiliate who was the first to refer the customer who made a purchase within their cookie duration.
3) Last-click attribution
Programs using the last-click model attribute the sale to the affiliate whose link was the last one that the customer clicked on before making a purchase.
This means that though your referral could still be within the agreed cookie duration, you will not earn a commission if they clicked on another affiliate's link and ended up purchasing the product.
The last click is awarded the commission.
4) Earnings Per Click (EPC)
Earnings per click is the average amount an affiliate earns for each person or visitor that clicks on their advert to go and buy from a merchant's website.
It's usually calculated as the overall earned commissions divided by the number of clicks over a particular period.
For example, if 100 people clicked through to your merchant site, and 5 of them ended up making a purchase that earned you $100 per sale, then your average EPC is $500/100, which equals $5.
5) A/B Testing
A/B testing refers to the process of simultaneously running two or more versions of a webpage – with variable content or design elements and tracking different key metrics so as to identify which version is the most effective at achieving the intended goal, be it clicks, conversion or subscription.
Affiliates can use this method to test which creatives will provide them with the highest conversion rates.
6) Affiliate ID
This is a unique identifier provided by affiliate networks to identify affiliates who are members of their program. Usually, this is a username or a number assigned to the affiliate by the affiliate software.
7) CTA: Short for Call to Action
CTAs are used in advertisements and marketing materials to encourage the reader or viewer into taking a specific action. Usually, these are links or buttons that lead to the affiliate programs.
8) Two-tier affiliate programs
An affiliate program that also features a tiered commission structure. Affiliates earn commissions on the sales of other affiliates they refer, as well as on their own sales.
9) Advertiser
Advertisers are the merchants with products. They pay affiliates to promote their products through influencer marketing, where compensation is commission-based.
10) Affiliate/Publisher
This is you. You promote other people's products as an affiliate and earn commissions when people take actions such as making a purchase or signing up to a list.
11) Affiliate Network
This is an affiliate marketplace that brings merchants and publishers together.
The affiliates can choose which merchants they want to promote. They then apply directly through the program, and the merchant can either approve or disapprove affiliates.
Examples of affiliate networks include:
Impact radius
Rakuten Advertising
Commission Junction (CJ), etc.
Affiliate networks act as intermediaries between affiliates and merchants, providing affiliates with access to products and services from a wide range of merchants.
12) Conversion
This is an event generated by a user that the merchant is willing to pay for. This can be clicks, leads, or sales
13) Conversion rate
A conversion rate is the percentage chance that an online user takes to purchase what they found after clicking on one of your affiliate assets.
14) Lead
Think of this as a contact that has the potential of becoming a buying customer to your merchant.
There are affiliate networks specifically made for call leads.
15) Deep linking
This is a feature in your affiliate network or program that enables you to generate an affiliate link to any page or post on your advertiser's website.
These links are called custom affiliate links.
For instance, you may want to point to a guide instead of a product but still want to get attributed if a person ends up taking action on the merchants' websites.
Not all programs allow you to create custom links, though.
16) Tracking link
Also known as the affiliate link.
This is the unique link that leads to the offer and attributes you as the referrer. You will use this link when promoting your partner's products.
17) Above the fold
This refers to the section of your website which is visible upon loading the page without one having to scroll.
Here, make sure you place your most converting opt-in offer or a banner of your relevant and high-performing affiliate product.
18) Pay-Per-Sale
Affiliation model that only earns you a commission for every sale you make
19) Pay-Per-Lead affiliate programs
A pay-per-lead is an affiliate advertising model where affiliates are compensated when they generate a non-sale activity. Examples of such activities include:
Subscribing to an email list
Downloads
Starting a free trial
Making an inquiry
Booking a meeting
Checking loan eligibility, etc.
Thus, with CPA programs, don't have to make an actual sale to earn. This is common with loans and credit niches.
Your referral must sign up by submitting their contact details.
20) Pay Per Call
This is the new affiliation model that pays you when a referrer gets on a phone with your advertiser. Again, you don't have to make a sale to earn a commission.
21) Creative assets
These refer to promotional materials that your affiliate partner provides to help you easily promote their products.
These include banners, images, logos, email swipe files
22) Swipe files
These are templates that you can easily tweak and re-use to promote a product. You have permission from your partner to use them. Swipe files can include email templates, social media, and even webinar templates.
23) Affiliate Manager
An affiliate manager is a person in charge of managing a network's affiliates.
Think of this as your goddess in the affiliate world.
Some programs will assign you a dedicated affiliate manager. This is a person hired by the advertisers to help their affiliates get started, optimize their commissions, and expound on ways to help them grow.
24) Adblocker
These are tools that prevent display ads and even affiliate banners from showing when they are turned on.
Many web users are using ad blockers to block ads when browsing the web. Thus, people who are likely to see your ads are way fewer, today than ever.
25) Attribution
This is a process that affiliate software uses to identify which affiliates are driving conversions.
These software tools are becoming clever in that they can attribute conversions based on the last click, first click, or even share commissions between the first and the last click.
For instance, an advertiser can set a commission to 30%, and in the case of the scenario above, they can set it so that the first click gets 10% and the last click gets 20%
26) Anchor text
This is a word or phrase that hyperlinks to another page on the web.
The anchor text can be either descriptive, such as "Women's accessories for an online store with items for women," or it could just be a keyword-rich anchor text like "women accessories."
27) Datafeed
A Datafeed is a comprehensive list of products, their prices, availability info and descriptions, and other relevant information.
It's the information that merchants pass on to their affiliates to help them sell their products.
28) Exit-intent popups
Exit-intent popups are popups that appear when visitors are just about to exit your page.
The intention behind this is that if you show them something they like then maybe they'll buy it instead of leaving altogether after all!
You can use exit-intent popups to show targeted affiliate products with massive exclusive discounts or give an incentive for people to signup to your list and be added to your affiliate sales funnel.
29) Affiliate posts
These are blog posts written primarily to promote affiliate offers. Examples include:
Product reviews,
resource/recommendation pages,
Product listicles and
Product tutorials or how-to guides.
30) Affiliate commission
This is the percentage of a sale you earn when someone buys something on the merchant's site through your affiliate links.
31) CPA (Cost Per Action)
The amount paid to an Affiliate for every signup, download, form submission, etc. (Typically a non-sale activity.)
32) CPL (Cost Per Lead)
The amount paid to the affiliate for every lead generated through form submission, free download, or newsletter signup.
For the affiliate, this is the Pay Per Lead
33) CPS (Cost Per Sale)
The amount paid to the affiliate for every sale made via their affiliate links. For the affiliate, this is the Pay Per Sale.
34) Landing page
A landing page is a webpage that is designed with a specific conversion goal in mind.
For affiliates, these pages are optimized to increase the chances of conversion when the users finally click through to the merchants' sites.
35) Lead magnet
A lead magnet is an offer given away for free and acts as an incentive for people to subscribe to a mailing list.
This could take the form of eBooks, checklists, workbooks, discount codes, free trials, whitepapers, etc.
These leads are then added to an affiliate sales funnel, where they are nurtured through a series of emails before an affiliate offer is pitched to them.
36) Referrals
These are customers or users you've brought to the company through your affiliate promotions.
Affiliates can refer their friends and family to a merchant's affiliate program for an initial reward or incentive.
37) Sales Funnel
A logical sequence of steps that are designed for a specific conversion goal in mind.
38) Affiliate sales funnels
These are funnels that use a series of pre-written emails and automated follow-up sequences to encourage people to buy merchants' products, and services or join affiliate programs.
39) Surveys
An online survey created with a single objective – understanding what users think about a particular product or service and how they use it.
This data can be used later as valuable input into affiliate marketing campaigns to better target those most interested in the products being offered by merchants.
40) Target keyword
This refers to the search keywords that are most likely to convert a visitor into an Affiliate.
41) Retargeting
This refers to the process of displaying certain ads to an individual who has visited your website previously but left without making any conversions.
As an affiliate, you can use retargeting to get people to join your affiliate funnels.
42) Affiliate programs
These are programs where merchants offer commissions (sales) on their products, services, or affiliate membership to the affiliates when they refer people through special links on social media pages, blog posts, and forums.
43) No-follow
These are links that do not pass on the link equity to other sites.
In most cases, it makes sense to set your affiliate links as no-follow links.
44) Do-follow links
These are links that do pass on the link authority to other sites.
45) Lead generation
The activity of generating leads through various strategies like content marketing, social media posts, and paid campaigns.
For affiliates, the primary goal of lead generation is to add them to your affiliate sales funnels.
46) Click-through rate (CTR)
The click-through rate (CTR) is the number of clicks received by a link divided by the number of people who viewed the promotion.
In affiliate marketing, this means that if you have an affiliate banner that links to your merchant's product page, and you show it to 100 people, and 2 of them click on it, then your CTR is 2%.
Click-through rates are important because they help you understand how successful your marketing is. If people are clicking through your emails, you know that your content is resonating with them. If they're not, then you can figure out what needs to change to get them to click through more often.
47) Google Ads Keyword Tool (Keyword Planner)
This is one of Google's most popular tools often used in identifying profitable keywords related to any business or service.
You can use the keyword planner to help you determine which keywords to target for your affiliate posts.
48) Affiliate marketing forum
An affiliate forum is an online community where users can ask or share information, tips, and tricks about affiliate marketing.
They're great places to get advice from other professionals in the field and meet new people who are into like-minded things.
An example of a great affiliate forum is Afflift, which also includes a hub with lots of resources for affiliates.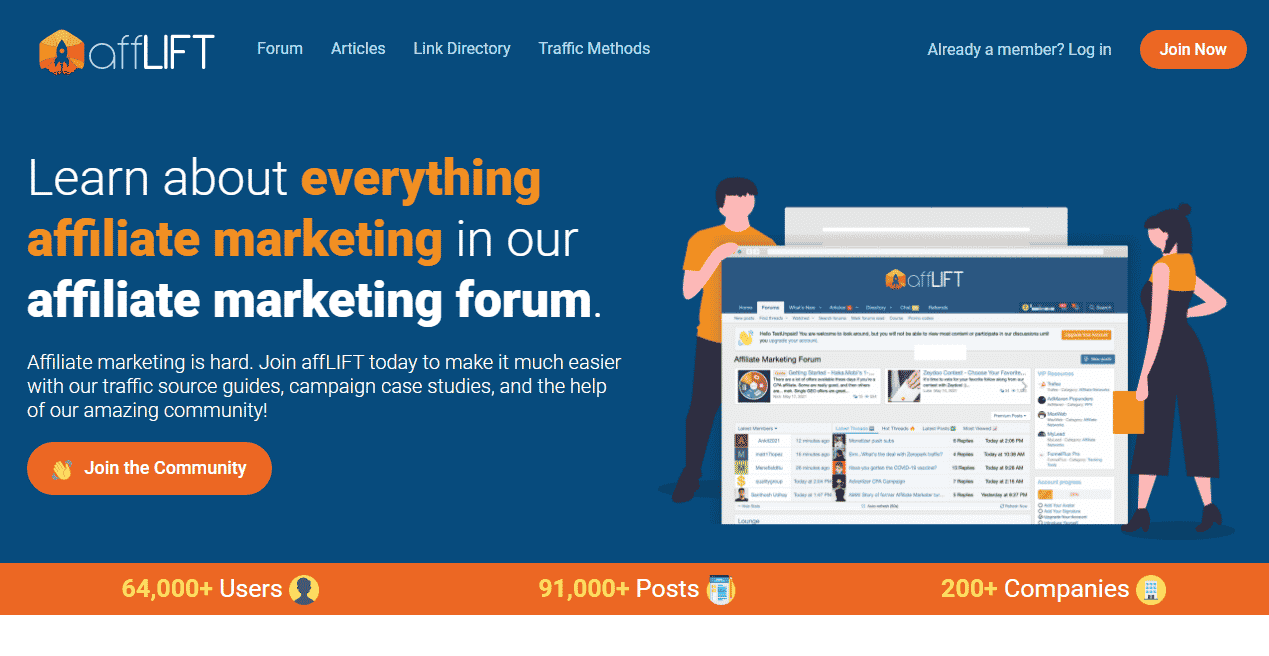 49) Contextual links
These are links that are placed in the articles. Also called editorial links.
50) Customer bounty
Simply put, it's just another term for commission.
51) Coupon codes
These are coupons that can be given to an affiliate to encourage their users to make a purchase through their links.
As an affiliate, you can negotiate with your merchant to secure exclusive discounts for your readers
52) Super affiliate
A super affiliate is a member of an affiliate program who has generated large amounts of revenue for the company they work with.
Super affiliates get to enjoy some privileges such as custom landing pages that bear their names on the merchant's websites, and exclusive discounts for their referrals, amongst others.
53) Cookies
These are pieces of data that a website stores on your device browser.
In affiliate marketing, cookies are used to identify if a customer has come from an affiliate and what products they have looked at.
54) Cookie duration
—The length of time in which these cookies will remain valid on your site before it expires or is destroyed by another referral's cookie.
This can vary depending on how long the cookie is set to last.
For example, a 30-day cookie duration means that if someone clicks through your affiliate links and doesn't make a purchase right away but comes back within 30 days, you'll still be eligible for a commission.
55) Banner blindness
Banner blindness is a term used in digital marketing to describe the inability of people to notice or pay attention to banner ads.
It's a psychological phenomenon that occurs when we're so used to seeing banners and ads that we don't take the time to look at them. We see them, but then we just keep scrolling because we know there's nothing for us in those ads.
This is so because they're so prevalent online, that we've become numb to the constant bombardment of these types of messages.
If you rely on banners to promote your affiliate offers, then this concept could be eating away at your earnings.
56) Drip campaigns
Drip campaigns are a series of emails or other messages sent to subscribers. They are a form of email marketing and can be used for encouraging customers to purchase from affiliate links on websites
57) Engagement
This is a term used in affiliate marketing when a customer has clicked on an advert, visited the website it was promoting, and either bought something from there or at least completed some form of activity.
58) Higher value products
These are affiliate products at premium pricing, thus higher commissions, but are difficult to promote.
It may be worth promoting higher-value products rather than lower-priced ones because they will likely have a more significant percentage return in commissions.
59) Impressions
This metric refers to the measure of the number of times affiliate assets are shown on the website and is determined by display frequency, number of users, and the sessions per user.
60) Tracking software
Tracking software is a tool with a built-in tracking system for calculating commissions.
61) Initial commission
The commission rate an affiliate receives when they first sign up for an account at the network and may be set by a site or at the discretion of the individual affiliate program manager.
62) Referral bonuses
These are extra earnings given to an affiliate on top of the accrued commissions based on a predetermined criterion.
They are used to encourage affiliates to create more affiliate assets and bring in more referrals.
63) Banner ad
An image placed on a web page typically contains advertising and links to other pages.
Luckily, there are ways to combat banner blindness. One way is through creative banner placement and design.
64) Chargeback
When a sale for which the affiliate has already been compensated falls through, or a purchase is disputed, the affiliate may be charged back for their commission.
Popular Affiliate Marketing Abbreviations You Need to Know
CPM refers specifically to pay-per-impression instead of cost per impression (i.e., impressions could be free, but CPC would not).
Ad: Advertisement
CPC- Cost Per Click
AM: Affiliate manager
AOV: Average order value
AW: Affiliate Window
CJ: Commission Junction
CPA: Cost per Action
CPL: Cost per Lead
CPO: Cost per Order
CTR: Click-Through Rate
CRO: Conversion Rate Optimization
CPS: Cost per Sale
LP: Landing page
PPL: Pay per Lead
PPS: Pay per Sale
ROI: Return on Investment
SEO: Search Engine Optimization
SERPs: Search Engine Result Pages
TOS: Terms of Service
URL: Uniform Resource Locator
UV: Unique Visitor
Conclusion
I hope this list of affiliate marketing terms has helped you learn more about working in the digital space. If there are any definitions or acronyms that we missed, please leave a comment below!