Writing great copy is hard. It requires time and creativity, but more than that it needs a good understanding of language and how it works.
Fortunately, there are some amazing AI writing tools out there that can help you write better content, faster and frame your ideas in multiple different ways – especially if you're using them in conjunction with your own human intuition as well.
One such tool is WordHero, one of the newest entrants in the AI copywriting space. This tool helps you quickly generate high-quality blog posts, sales copy, and social media updates.
This WordHero Review article will cover everything from what WordHero does to its features compared with other AI-based writing programs before getting into pricing details so you can decide whether or not this service is right for your business or not.
What is WordHero?
WordHero is an AI-powered content generator that automates the process of writing blog posts, sales copy, creative stories, and social media posts.
With WordHero, you can:
Generate social media content that engages your readers
Create sales copy for your landing pages that boost your conversion
Write short, and crispy emails that have people taking action
Brainstorm ideas for your branding and marketing needs
Some of the main competitors of this tool include Jasper AI (Formerly Jarvis AI), CopyAI, Copymatic, Contentbot, and Copyshark.
Features of WordHero
The WordHero AI copywriting platform is full of features that will help you create better content for your business.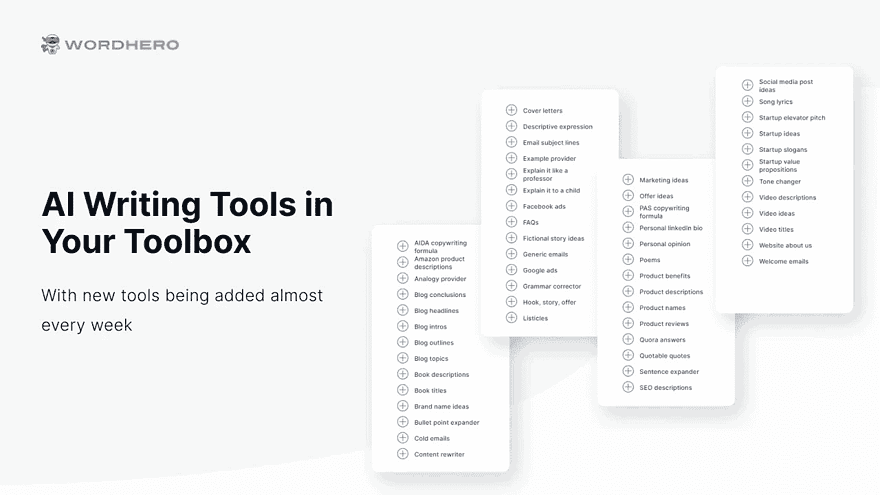 a) Short Copy Templates
WordHero's short-form writing tools use an artificial intelligence algorithm to write the best possible headlines, descriptions, and meta tags for any product.
There are over 60 short copy templates on the platform, making it possible to generate ideas for any type of marketing content that you need.
b) Keyword Assistant
This newly introduced feature can help you optimize your content for the relevant and semantic keywords without having to run it through an external content optimization tool like Surfer SEO.
To access the keyword assistant tool, follow these steps:

Direct your attention to the top left sidebar where writing tools are located
At the top of this pane, click on the back arrow (chevron) next to the search bar
A keyword assistant form pops up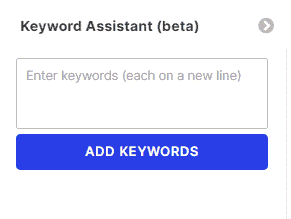 Enter your keywords here
Make sure to enter each keyword in a separate line.
After you've input the keywords, and run the AI writer tool, the content will be generated that tries to make use of the keywords in a native way. If you are writing a blog post, you can always add or remove keywords depending on the section of the blog post you are at. Once a keyword from the assistant tool has been used, the checkmark turns green.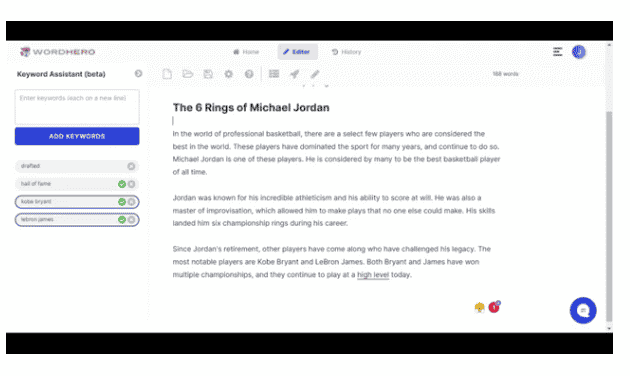 c) Longform Editor Tool
The long-form editor is a new tool in WordHero, similar to Jasper's Document editor, but without commands.
You can read our detailed WordHero vs Jarvis guide to learn more about these two powerful AI copywriters.
This feature lets you write longer blog posts using built-in writing tools for generating blog outlines, introductions, and blog post sections. We will discuss more on this tool later on in the post, but for now, let's move on to other features like writing templates.
WordHero Writing Tools (WordHero Templates)
With over 60 writing tools and templates, you can be sure to find any tool for any use case imaginable, including storytelling and even creating food recipes for your food blog.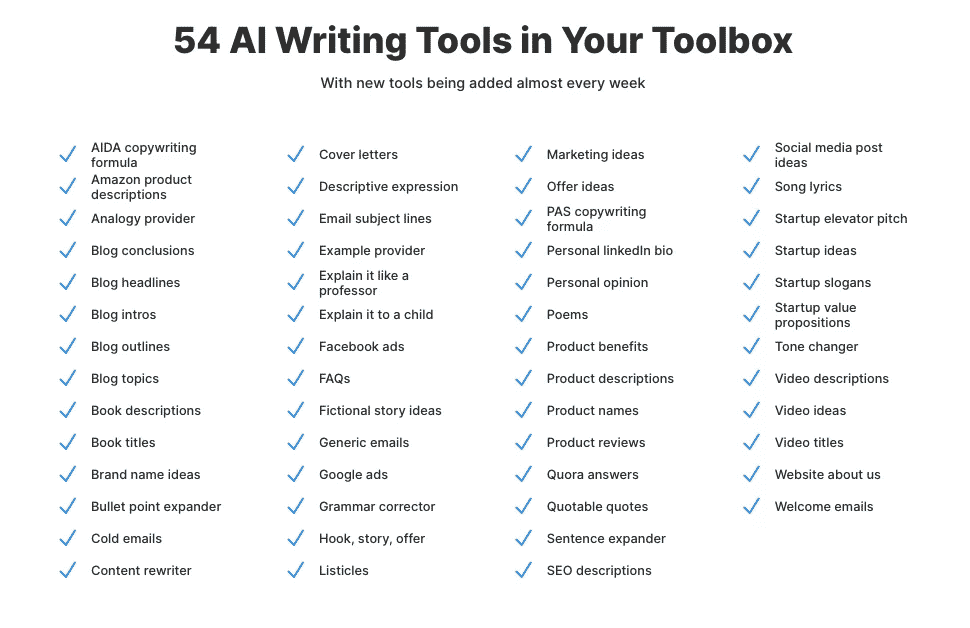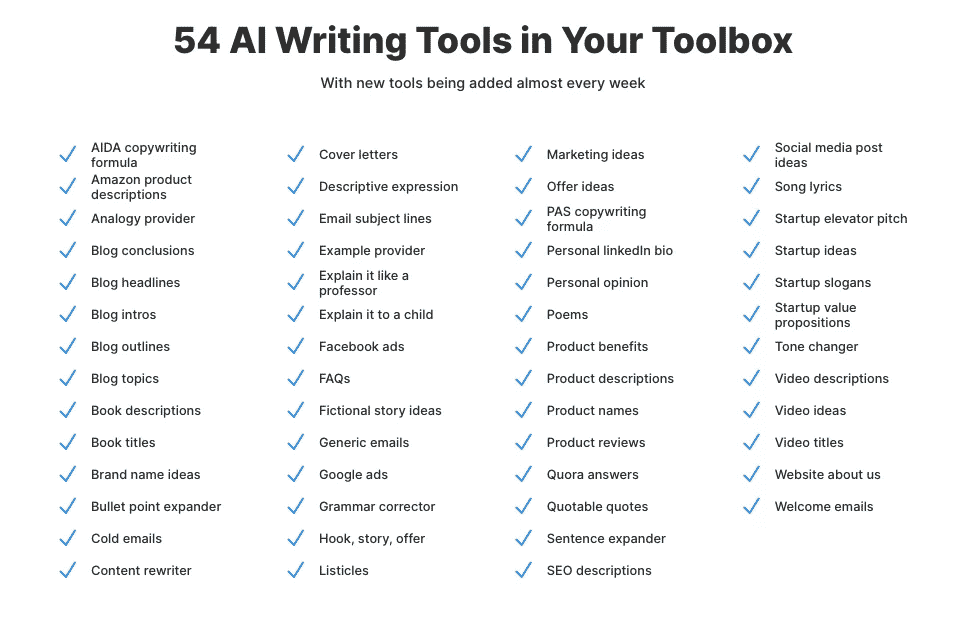 Some of the common WordHero templates include:
| | |
| --- | --- |
| AIDA copywriting formula | Analogy provider |
| Amazon product descriptions | Blog conclusions |
| Blog headlines | Blog intros |
| Blog outlines | Blog topics |
| Book descriptions | Book titles |
| Brand name ideas | Bullet points expander |
| Cold emails | Content rewriter |
| Cover letters | Descriptive expression |
| Email subject lines | Example provider |
| Explain it like a professor | Explain it to a child |
| Facebook ads | FAQs |
| Fictional story ideas | Generic emails |
| Google ads | Grammar corrector |
| Hook, story, offer | Listicles |
| Marketing ideas | Offer ideas |
| PAS copywriting formula | Personal LinkedIn bio |
| Personal opinion | Poems |
| Product benefits | Product descriptions |
| Product names | Product reviews |
| Quora answers | Quotable quotes |
| Sentence expander | SEO descriptions |
| Social media post ideas | Song lyrics |
| Startup elevator pitch | Startup ideas |
| Startup slogans | Startup value propositions |
| Tone changer | Video descriptions |
| Video ideas | Video titles |
| Website about us | Welcome emails |
| Food recipes | Press release |
| Lead magnets | Blog paragraphs: Force AI to use keywords |
| Features/advantages/benefits | New rewriting tool (non GPT-3) |
| Review generator | Tone Changer |
Who Uses WordHero?
WordHero is designed for content marketers, social media managers, and bloggers. It's also a great tool for marketing agencies and sales teams who need to generate sales copy regularly.
WordHero Pricing
WordHero's pricing structure is straightforward. There's one plan available, which grants you unlimited access for $49/month (or $29/month if you pay annually).
If you're just trying out AI-generated copywriting for the first time, this might seem like a lot of money—but keep in mind that WordHero's competitors charge about twice as much for similar services. This puts them at the lower end of their competitors' prices overall.
WordHero Lifetime Deal
With this deal, you enjoy unlimited access to the following:
All 50+ writing tools (and counting)
All future writing tools/templates
The ability to generate AI content in 100+ languages
The lifetime deal is $89 but does not include the long-form editor. To unlock the long-form editor, you will need to stack an additional code for $89.
Pros of WordHero
WordHero is a great tool for writers. It can help you write faster, better, and more consistently.
Here are a few pros of using WordHero:
Unbeatable fair pricing: With just $49/month, you get to enjoy unlimited runs and access to all the AI writing tools. This makes WordHero one of the best affordable AI writing tools on the market today
Sleek Interface: You could sign up and be up and running in no time. The interface is user-friendly and the generation process only takes a second or two.
Write faster: Your writing will be more efficient because you're not stuck trying to come up with the right words on your own or finding ways around Writer's Block (which doesn't exist). WordHero will give you ideas as long as you know how to direct it properly, and with a mix of different writing tools, you can easily find different angles from which you may approach your copy.
Cons of WordHero
While WordHero is an amazing tool for generating social, sales copy, and full blog posts, it isn't perfect.
Here are some things to keep in mind when using the platform:
WordHero is not free: This can be a bit of a pain if you only need to generate a small amount of content every month or so.
No free trial: This means that you can't take this baby for a spin before committing.
WordHero Roadmap
This tool is always undergoing continuous improvement, and the pricing is only likely to go up from here. You can track the progress on their public Trello board.
Currently, here are some interesting tools and features under development:
Conversation between 2 people generator
Hero content generator
Engaging questions tool
Pinterest pin title and description tool
Better organization of documents
Plagiarism checker integration
Dark mode
Resume bullet points
Character count for SEO description tool
Send to the Editor button under results
These are just a few of the tools that are either planned or marked as work in progress.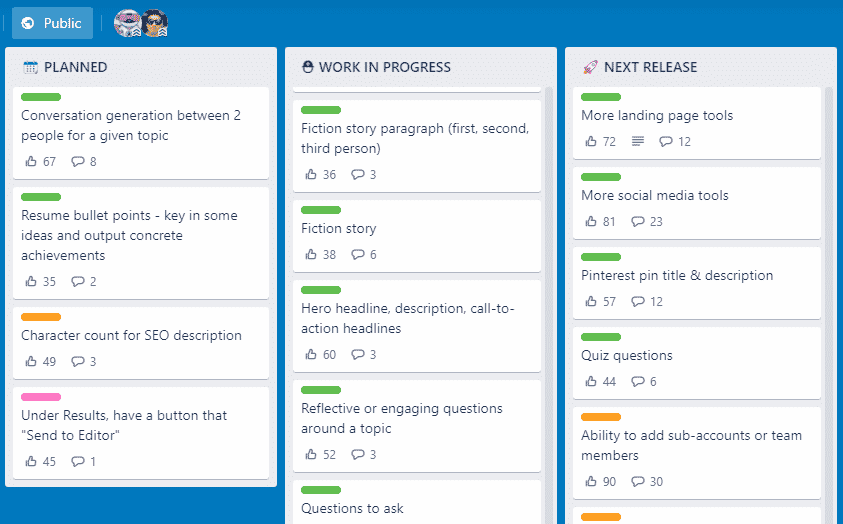 WordHero Supported Languages
WordHero supports over 100 languages, but I have only highlighted some of the most popular ones below:
| | | |
| --- | --- | --- |
| Afrikaans | English | Amharic |
| French | German | Greece |
| Chinese | Croatian | Danish |
| Dutch | Swahili | Estonian |
| Finnish | Greek | Hebrew |
| Hindi | Irish | Igbo |
| Indonesian | Hungarian | Japanese |
| Italian | Japanese | Kinyarwanda |
| Korean | polish | Maltese |
| Nepali | Norwegian | Portuguese |
| Punjabi | Romanian | Russian |
| Somali | Sudanese | Swedish |
| Turkish | Thai | Urdhu |
| Ukrainian | Vietnamese | Xhosa |
| Yiddish | Yoruba | Zulu |
| Welsh | Tagalog (Filipino) | Persian |
You can see the updated list here
WordHero Reviews
Here are what other WordHero users had to say about this tool: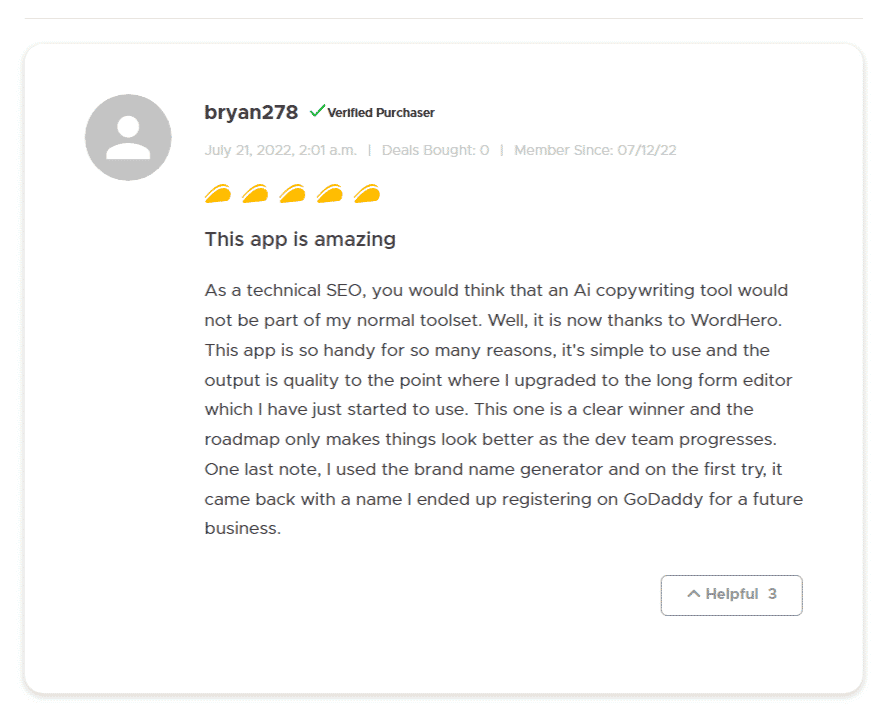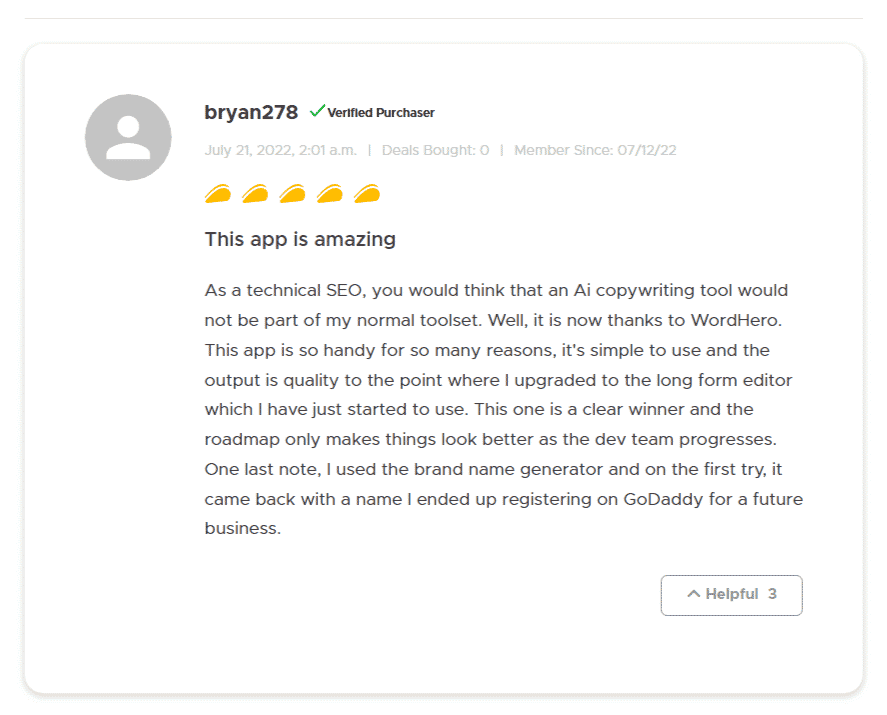 Another user had this to say as well: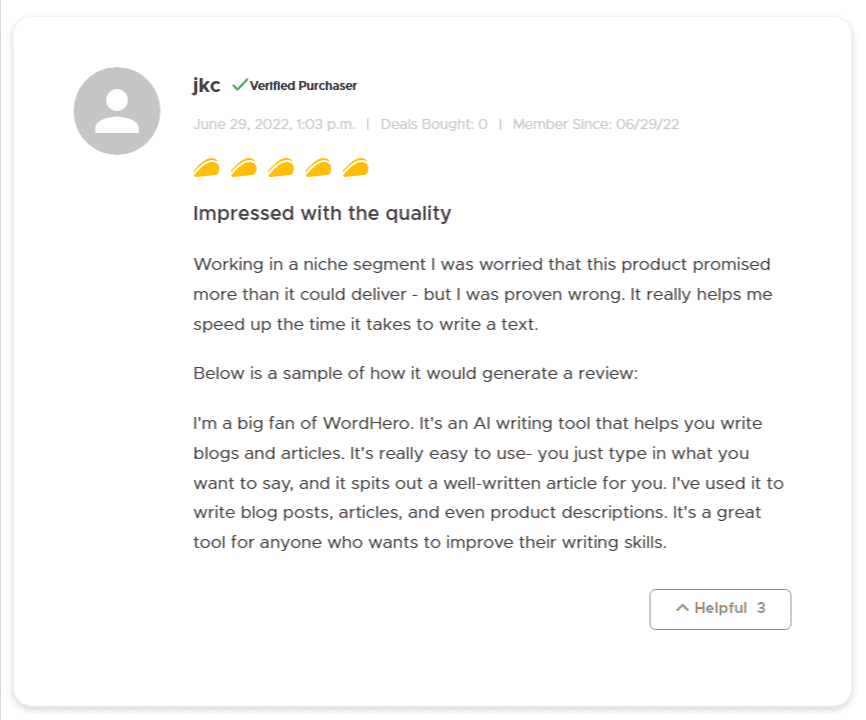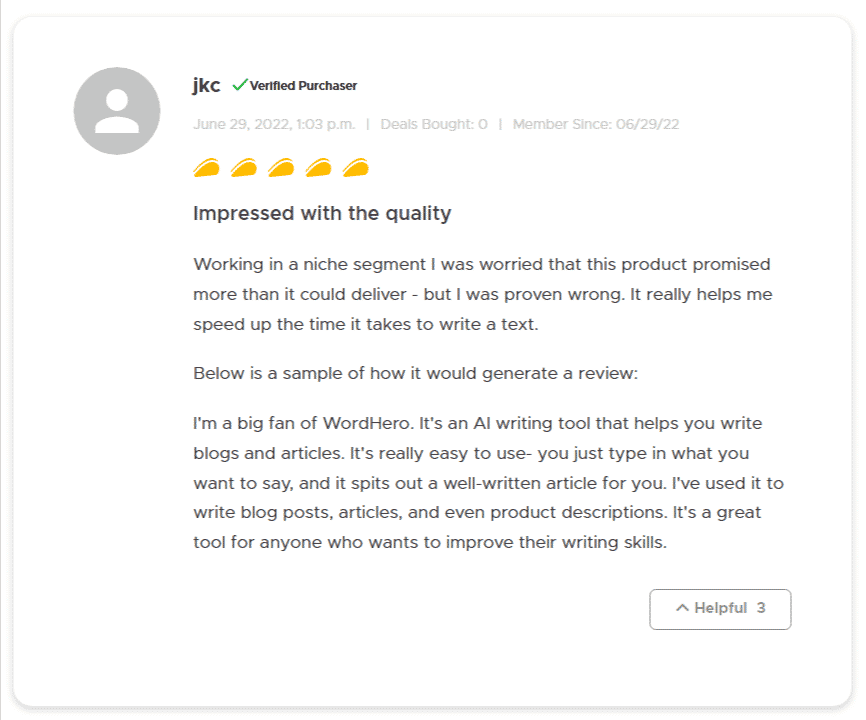 How Does WordHero Work?
WordHero is a cloud-based AI copywriting tool that generates content for you. It does this through artificial intelligence (AI).
WordHero uses a combination of AI, NLP (natural language processing), and machine learning to generate blog posts and social media posts from scratch using the text that you've input in the writing tools.
The program relies on the GPT-3 technology, developed by Open AI. The generated content largely relies on the gigabytes of data (Approximately 10% of the internet) that GPT-3 was fed with.
Like many AI writing tools, WordHero uses templates to help you generate different types of content, including social media ads, photo captions, sales copy, and even full blog posts.
You just need to enter the topic of your post and tell WordHero what kind of tone you want your text to have (e.g., friendly or authoritative).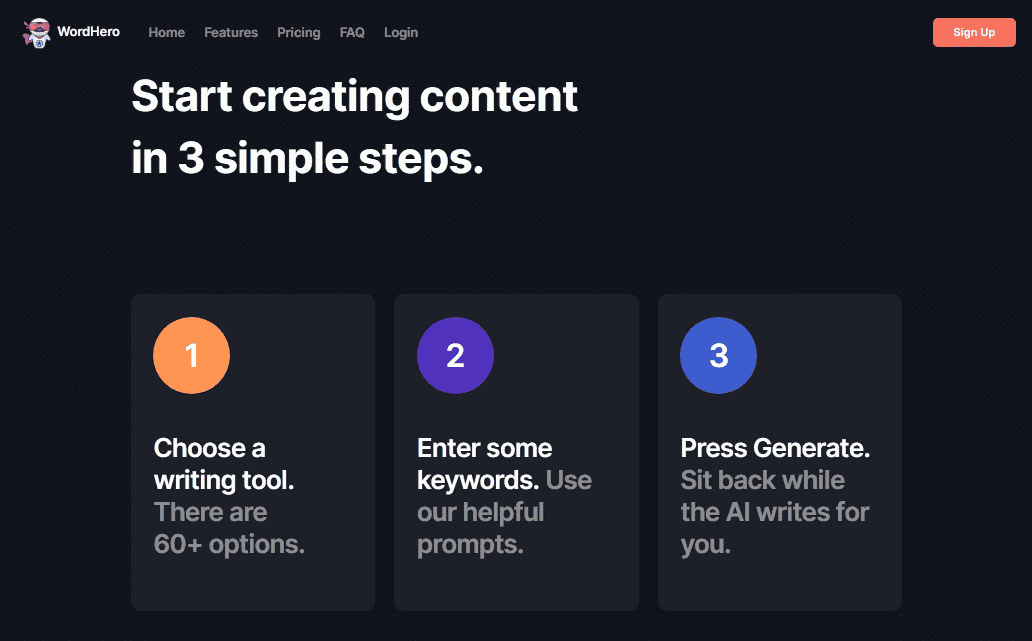 Then all you have to do is sit back while WordHero works its magic!
WordHero Long-form Editor
WordHero has recently improved the new Long-form Editor, which you can access by entering the Editor Mode.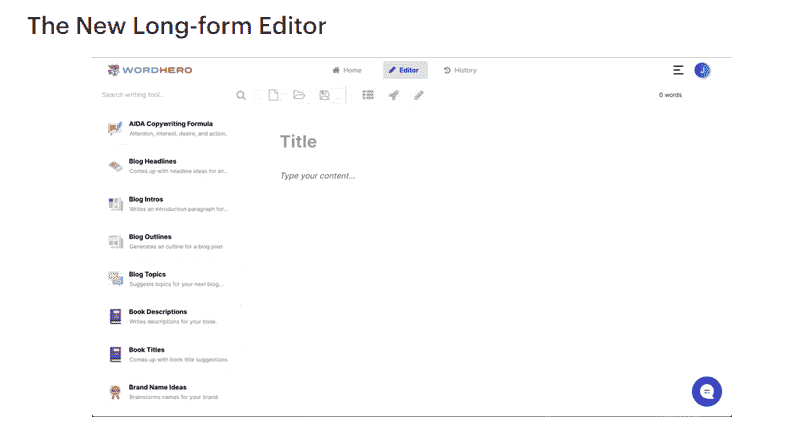 The new editor has a new toolbar at the top. To access the editor mode, navigate to the Editor tab with the pencil icon at the top toolbar.
Below the top bar, is a secondary toolbar, which is actually the main editor toolbar. This toolbar has the three buttons (new document, open document, and save document buttons) as well as three other brand new buttons: blog outline, blog intro, and write more buttons.
Blog outline: Suggests a blog post outline based on your title. Make sure your title is well described, then click the Blog Outline button, which looks like a list icon.
Blog Intro: To write an introduction for your blog post, place your cursor where you want the introduction to appear, and then click on the Blog Intro button, denoted by the rocket icon.
Writing blog section intro: You can write an introductory paragraph for a section of your blog post using the Blog intro tool above as well. Simply highlight the section heading text, and then click on the rocket button, and the AI will generate relevant text based on the sub-heading instead of just the blog post title.
Write More: This last button helps you build up on the content that's already there in the editor. To have the AI write more content for you, click on the pencil icon, denoted by the word "Write More." The AI looks back 600 characters before your cursor. You can also highlight specific content that you want the AI to expand on.
With these built-in tools, you don't have to access the templates on the left to generate content for your blog outline, blog intro, or even continue writing based on the previous text.
Using this AI editor, you can quickly crank up 1000 words of content in under 30 minutes and maybe spend another 20 minutes prepping it for publication. That's already a win for me.
WordHero Review: Final Verdict
WordHero is a great alternative to the more expensive offerings from giants like Jasper AI and Outranking.
However, it's not quite as powerful, yet. But if you're looking for a tool that can help you brainstorm ideas, and generate high-quality first drafts, then WordHero is worth checking out.
I hope you've found this WordHero review useful. The next thing you want to do is to either lock in this monthly price at $49/month or get a lifetime deal over at Appsumo.