Are you looking for ways to elevate your writing skills and produce polished, professional content?
Look no further! In this blog post, we'll be exploring the top apps like Wordtune that can help you enhance your writing, making it more engaging, free of social bias, clear, and error-free.
With the power of AI on your side, you'll be able to communicate your ideas more effectively and impress your audience, whether you're writing an email, crafting a blog post, drafting custom service feedback, or working on an academic paper.
Wordtune is a well-known AI-powered writing assistant that has gained popularity for its ability to refine your text and provide context-aware suggestions. However, it's not the only game in town.
There are many other AI rewording tools out there, each with its unique features and strengths. Our goal is to introduce you to the best Wordtune alternatives, so you can choose the one that suits your needs the most.
From grammar and spell checkers to paraphrasing tools and style guide enforcers, these AI writing assistants cover a wide range of functionalities, ensuring that you'll find the perfect tool to support your writing journey.
What is Wordtune?
Wordtune is an AI-powered writing assistant designed to help you improve your writing by suggesting alternative phrasings, rewording sentences, and refining your overall text.
It uses advanced language models to understand the context and meaning of your writing, allowing it to provide contextually appropriate suggestions.
The main goal of Wordtune is to help users communicate their ideas more effectively by offering enhancements to their written content. It can be particularly useful for non-native English speakers or anyone looking to polish their writing and convey their message more clearly.
Some key features of Wordtune include:
Sentence rewriting: Wordtune can rephrase your sentences, helping you communicate your ideas more clearly and concisely.
Alternative phrasing: It offers alternative ways to express your thoughts, making your writing more engaging and easier to understand.
Context-aware suggestions: Wordtune provides suggestions based on the context of your writing, ensuring that its recommendations are relevant and meaningful.
Browser extension: Wordtune offers a browser extension for Chrome, making it easy to use the tool while writing on various web-based platforms, such as Gmail or Google Docs.
Apps Like Wordtune
1) QuillBot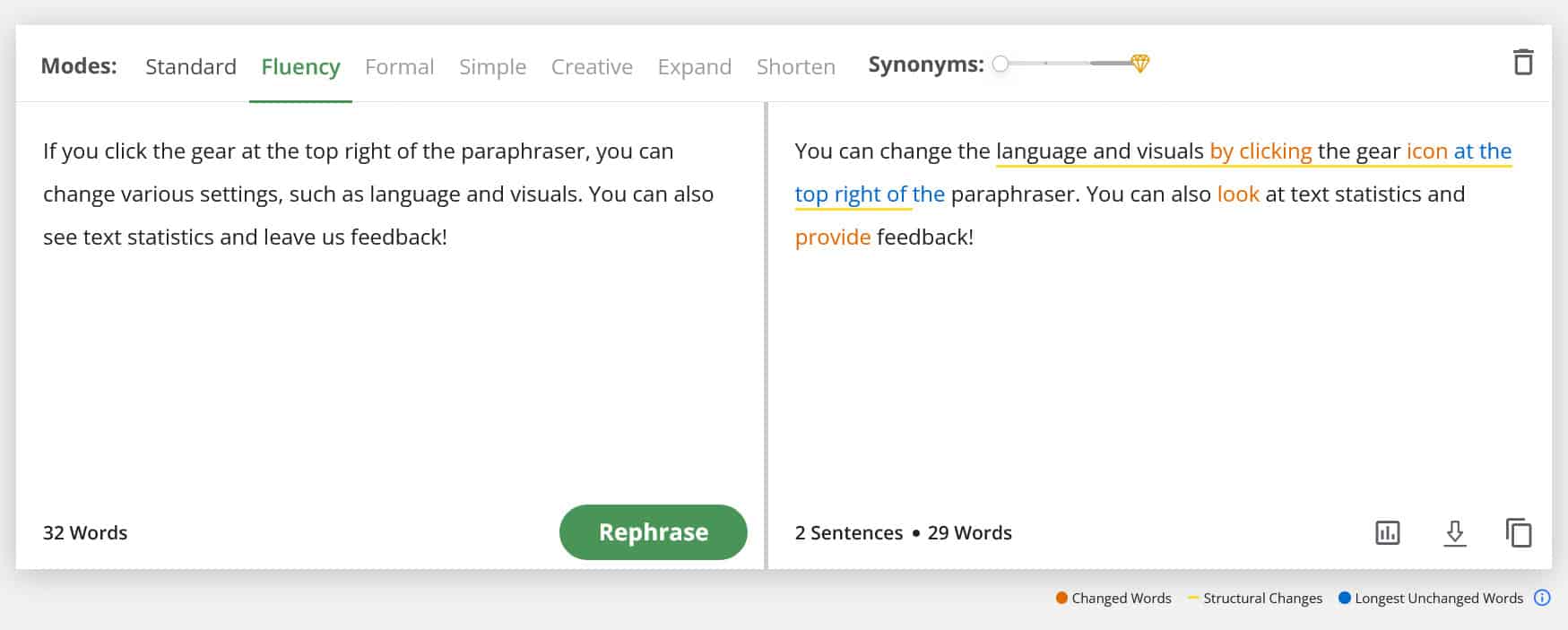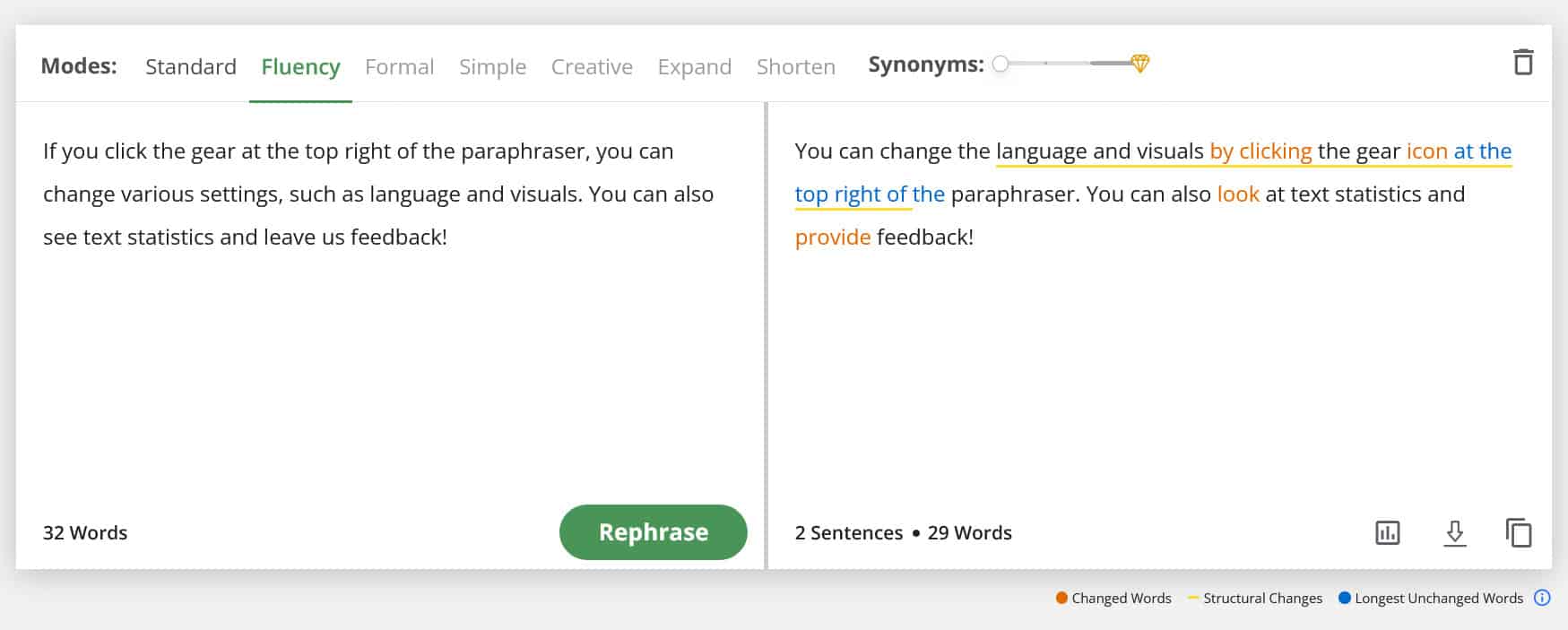 QuillBot is a rephrasing and summarizing online tool that can help you reduce your writing time by half. With it, you can rewrite any text or article in minutes without compromising the quality of your work.
With the QuillBot free version, you can
Rewrite 125 words at once
Enjoy fluency and standard modes- Fluency gives you great content.
Three options for synonyms.
You can do a lot with the premium version. It starts at $ 49.95 per year or $9.99 paid month to month.
With the theQuillBot Premium, you can:
Shorten long-winded sentences and make them more readable and engaging.
Paraphrase unlimited words
Get 6000 words in the AI summarizer
Unlock all paraphrasing modes such as Standard, Expand, Shorten, Formal, Fluency Simple, and Creative to help you curate content that matches your style, without sounding robotic
Get four options for synonyms, so you can easily find a match without going to thesaurus
Get increased processing speed to make the writing painless
Use a plagiarism Detector to ensure your content is original
Recognize tone to help you communicate effectively to your target audience
Write content with QuillBot Co-writer, an AI content completion generator
You can learn more about the capabilities of this tool in our detailed QuillBot review post
QuillBot's interface is straightforward to use. Simply paste your text, pick paraphrasing options, and click paraphrase! You will have your text ready in minutes. It's ideal for improving the quality of your writing or making minor adjustments to existing content.
2) Grammarly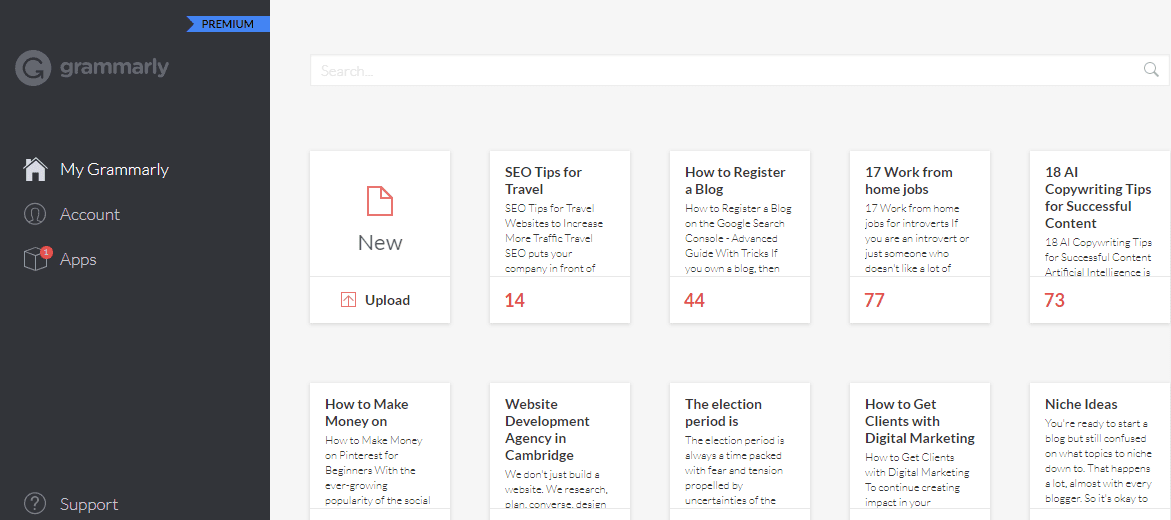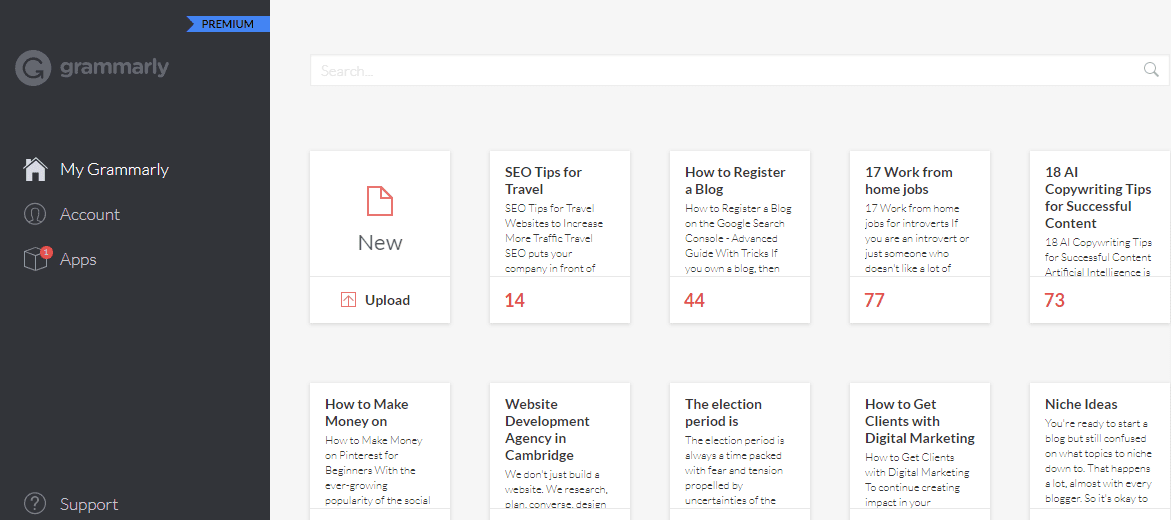 Grammarly is a popular AI writing tool for correcting simple and complex grammar mistakes and enhancing tone and style. It is available in three plans—free, Premium, and Business. A free plan allows you to correct basic grammar errors such as spelling mistakes spacing, and remove unnecessary words.
Grammarly Premium offers suggestions for improving
It also detects
Word choice
Plagiarism
Fluency
Grammar
Punctuation
Spelling
Grammarly helps you write like a pro, even if you are a novice.
Grammarly is an incredible tool every writer should have in their toolbox, as it helps you fix those hard-to-spot yet embarrassing grammatical and spelling mistakes in your content.
You can choose your preferred language, disable it on specific websites, and add new words you frequently use to your dictionary.
This is helpful if you frequently use words that are not necessarily "real" words, such as brand names, slang, or abbreviations.
You needn't be a tech genius to understand the software effectively. Install the plugin in your device or browser extension, and you're ready to go. It'll highlight incorrect words or glaring grammatical errors and show you what to replace them with and why if you hover the mouse over it.
A business plan enables you to unlock much more features. You can enjoy all premium features, do a style guide, add snippets to your text, brand tones, analytics dashboard, and identify writing trends.
3) WordAi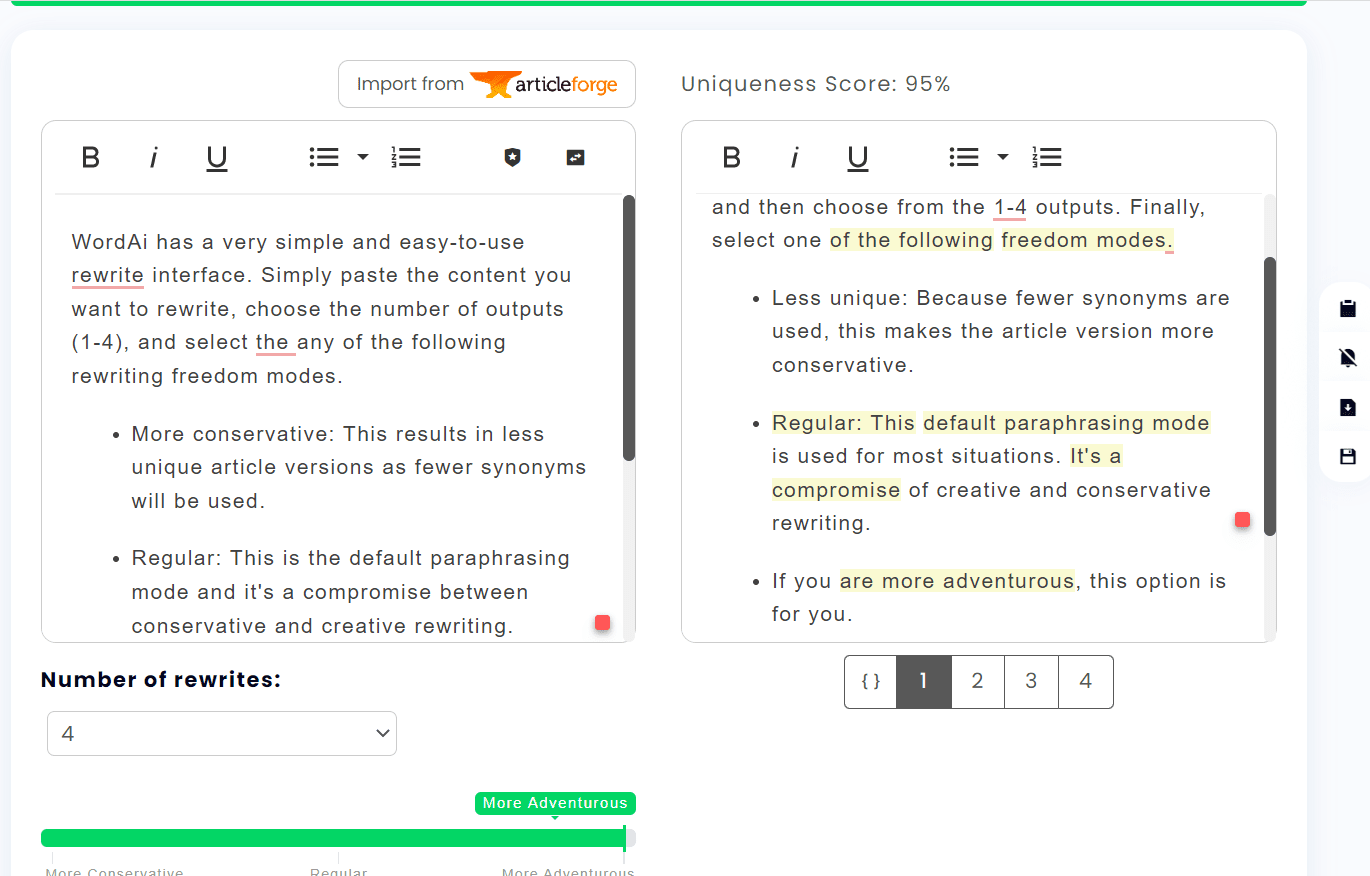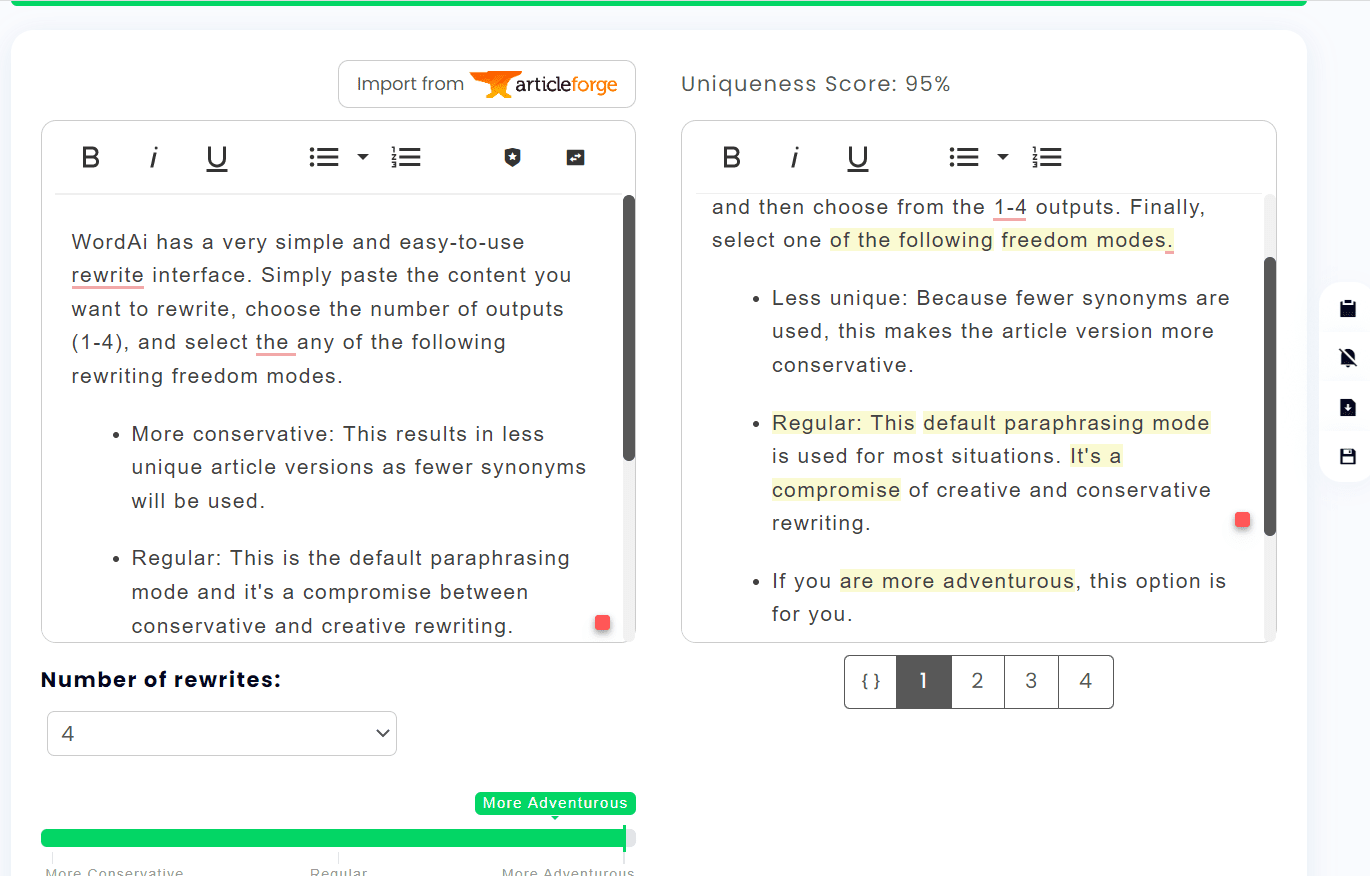 WordAi is another app like Wordtune designed for large content teams.
It's one of the best AI rewriting tools on the market today that businesses use to rewrite full articles for different repurposing needs.
Another helpful feature is that it can rewrite a bulk article, generating 1,000 plagiarism-free versions of one article or blog post content.
It is excellent for link builders needing to create many guest posts content.
In our recent WordAi review, we discussed everything you need to know about this tool
4) Writer.com
Writer is an AI-powered writing assistant designed for businesses, helping teams create consistent, high-quality content.
Writer AI features
Grammar and spell checker: Quickly detects and corrects errors in your writing.
Style guide enforcement: Helps you create content that adheres to your organization's brand guidelines and voice.
Tone and clarity improvements: Analyzes your writing and provide suggestions for a more appropriate tone and clearer communication.
Plagiarism detection: Ensures your content is original by scanning it against billions of web pages.
AI content detection: Use Writer to check for AI-generated content.
5) Whitesmoke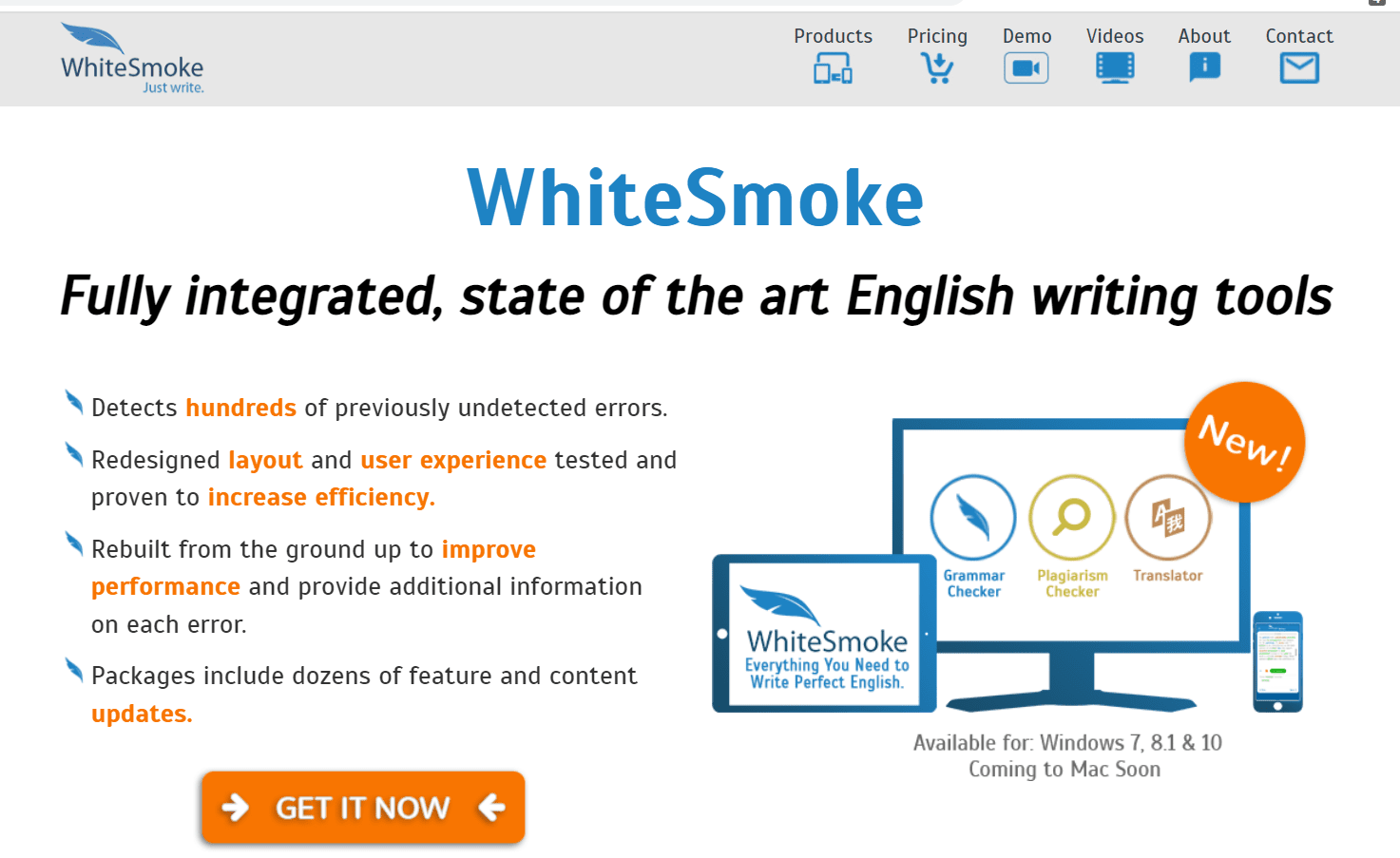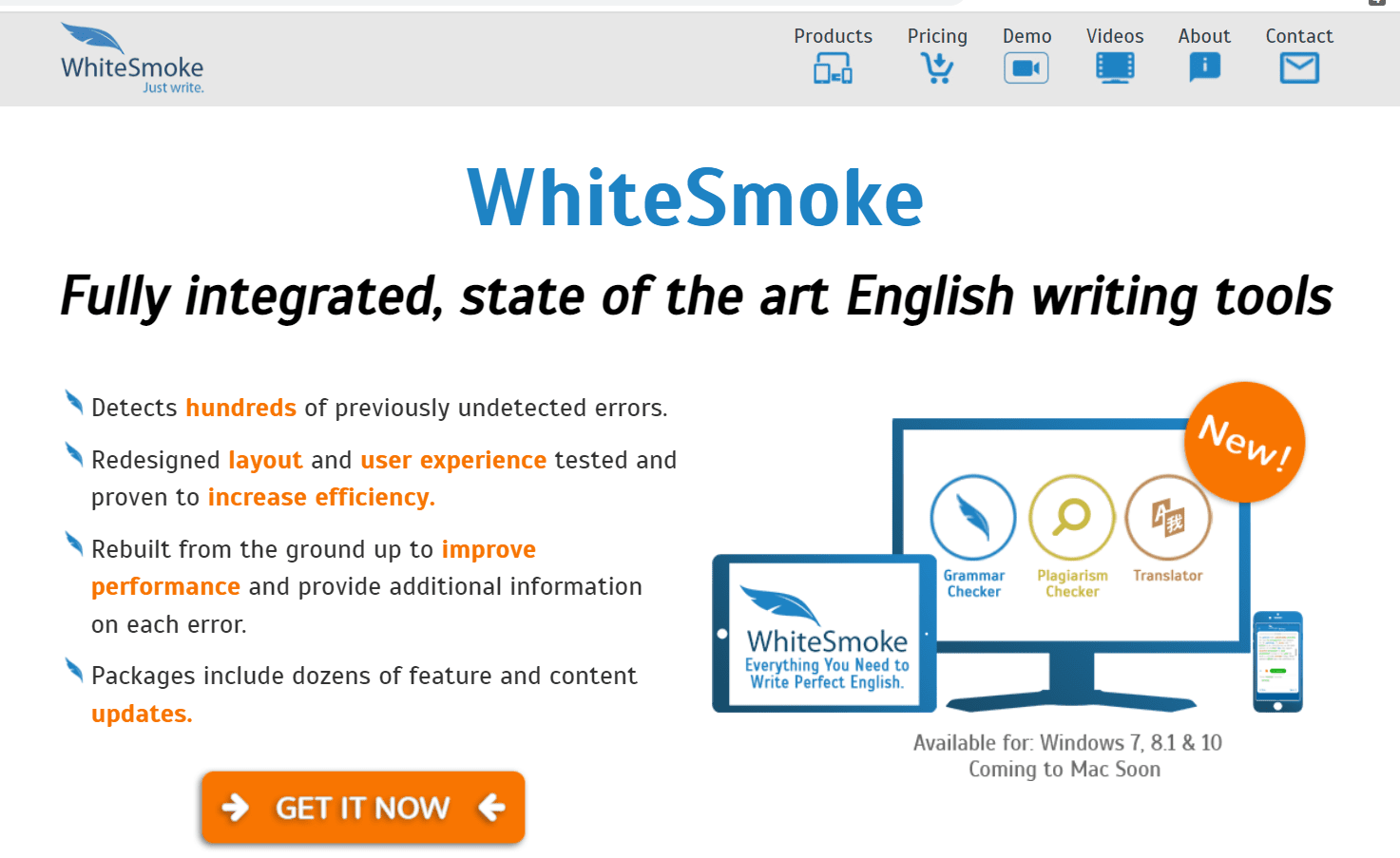 Whitesmoke is a comprehensive writing assistant that checks grammar, spelling, punctuation, and style to help you create polished, professional content.
Features
Grammar, spelling, and punctuation checks: Identifies errors in your writing and offers suggestions for improvement.
Style checker: Analyzes your text and provides feedback on style, tone, and clarity.
Translation: Supports translation in over 50 languages, making it easier to communicate with a global audience.
Plagiarism detection: Scans your text against online sources to ensure originality and avoid plagiarism.
6) Hemingway Editor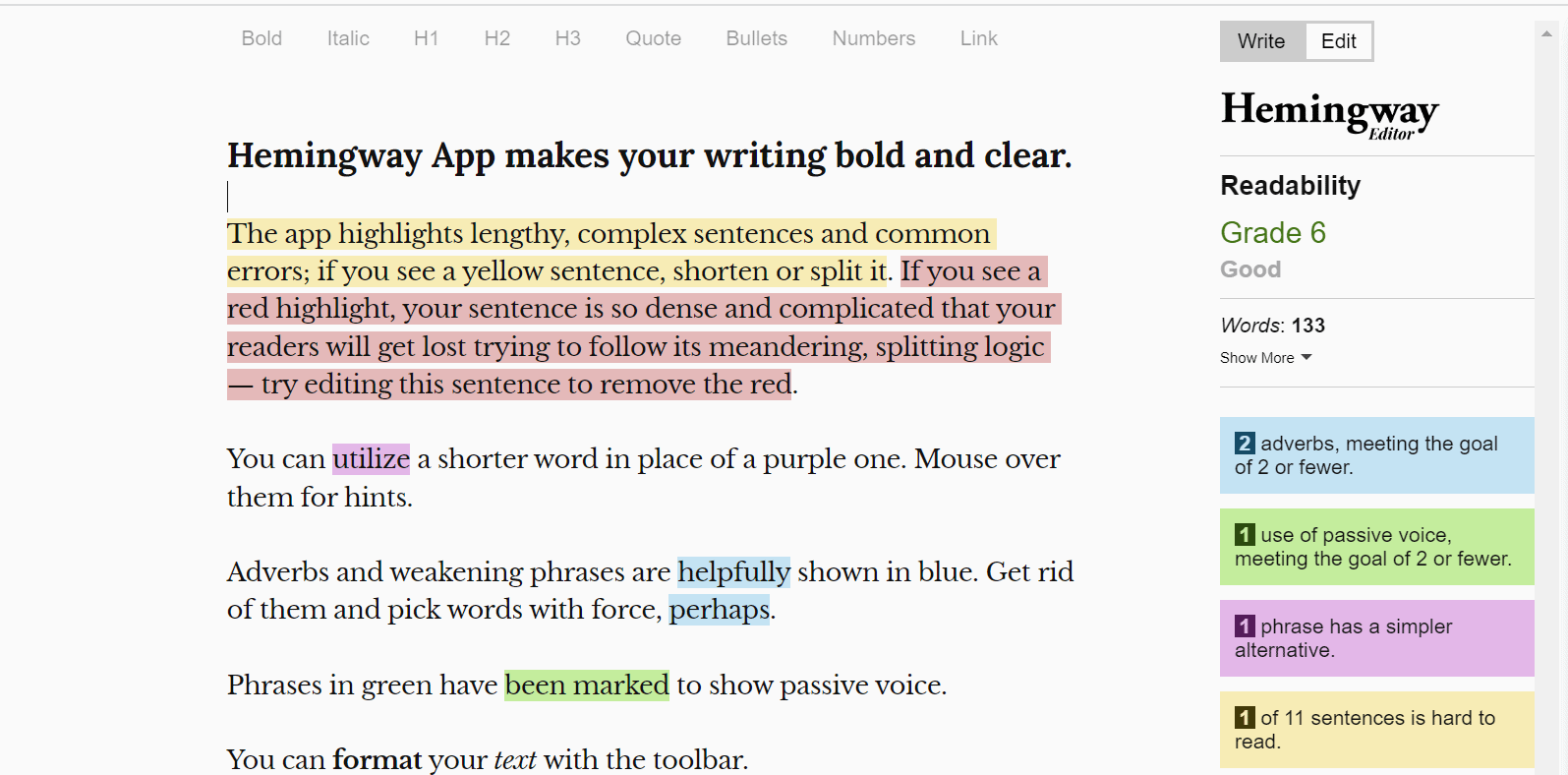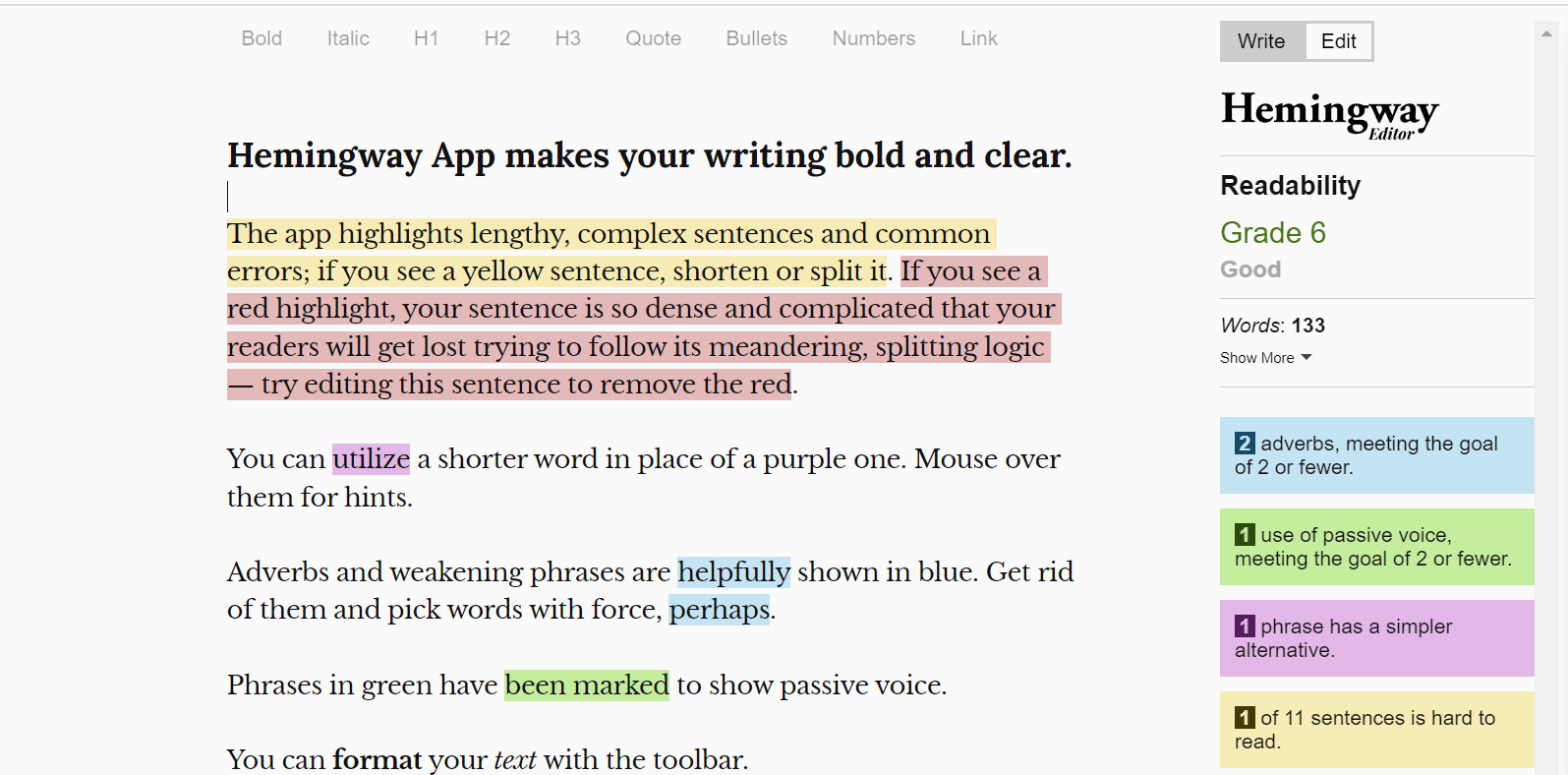 The Hemingway Editor could do the trick if you're a writer searching for an editing app to make your writing more straightforward and fascinating.
It is an editing tool that assists you in improving and polishing your writing by highlighting the following:
Weak and flabby words
Unnecessary jargon
long-winding sentences that are tricky to understand
passive voice usage
Hemingway strengthens your writing by identifying long sentences and weak text, helping you communicate effectively in a few words. It can also make you a superb writer:
The more you read Hemingway, the more you'll notice the common errors you make in your daily writing. You'll soon be capable of catching yourself before making mistakes.
Hemingway pricing
You can use Hemingway in two ways:
Hemingway Editor, the web version, is free and needs a secure internet connection.
The Hemingway App is the software you can buy and install on your Mac or Windows computer. It works without an internet connection. It costs a one-time fee of $19.99.
Hemingway works similarly for free and paid versions when highlighting your mistakes.
However, two distinctions exist in what you can do with an edited piece.
You cannot download the edited work in the free version. You must copy and paste your edited text into the original writing document. In the premium version, you can directly publish the task to Wordpress or Medium and download the text in Word, Markdown, or HTML.
7) ProWritingAid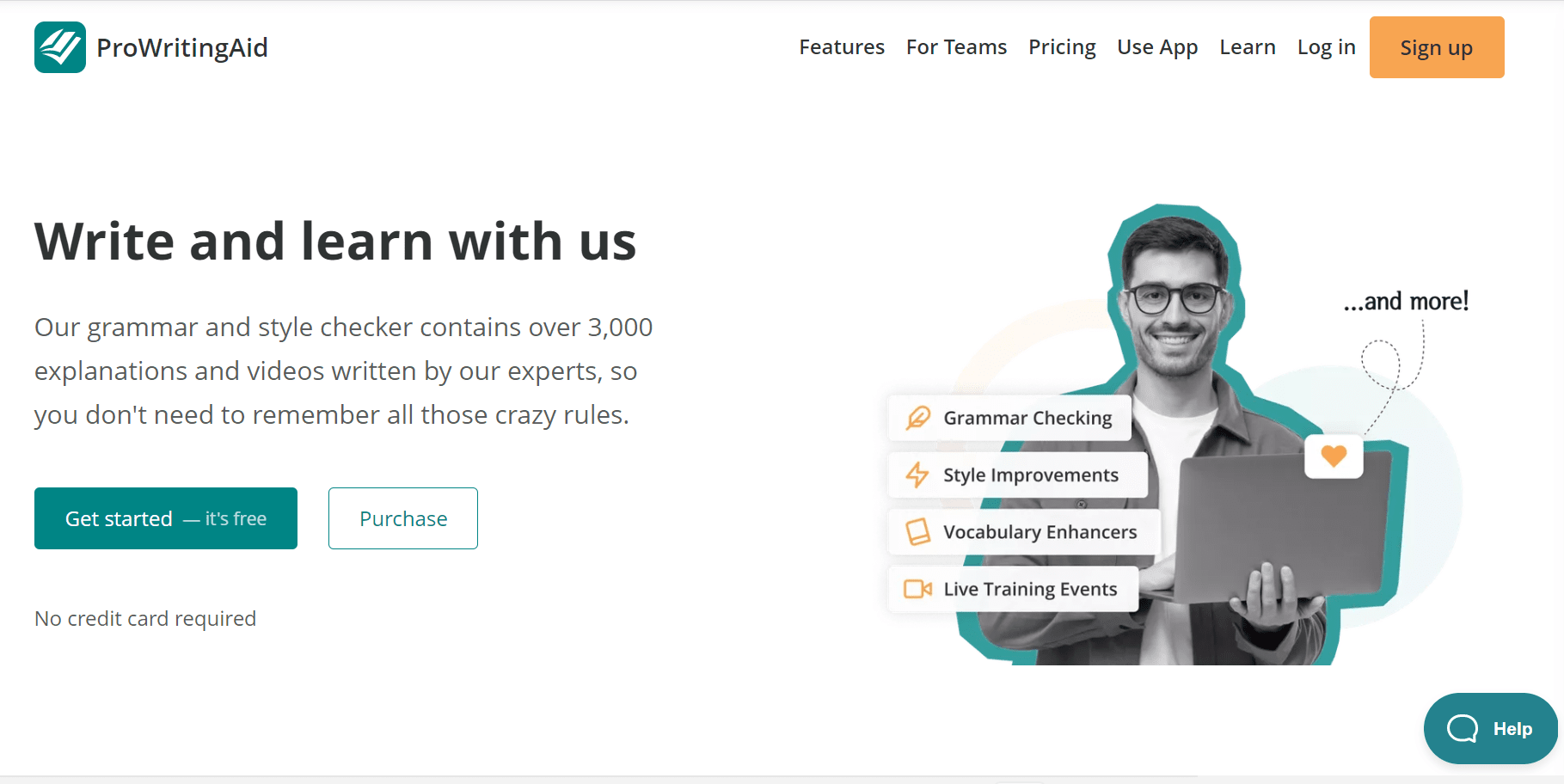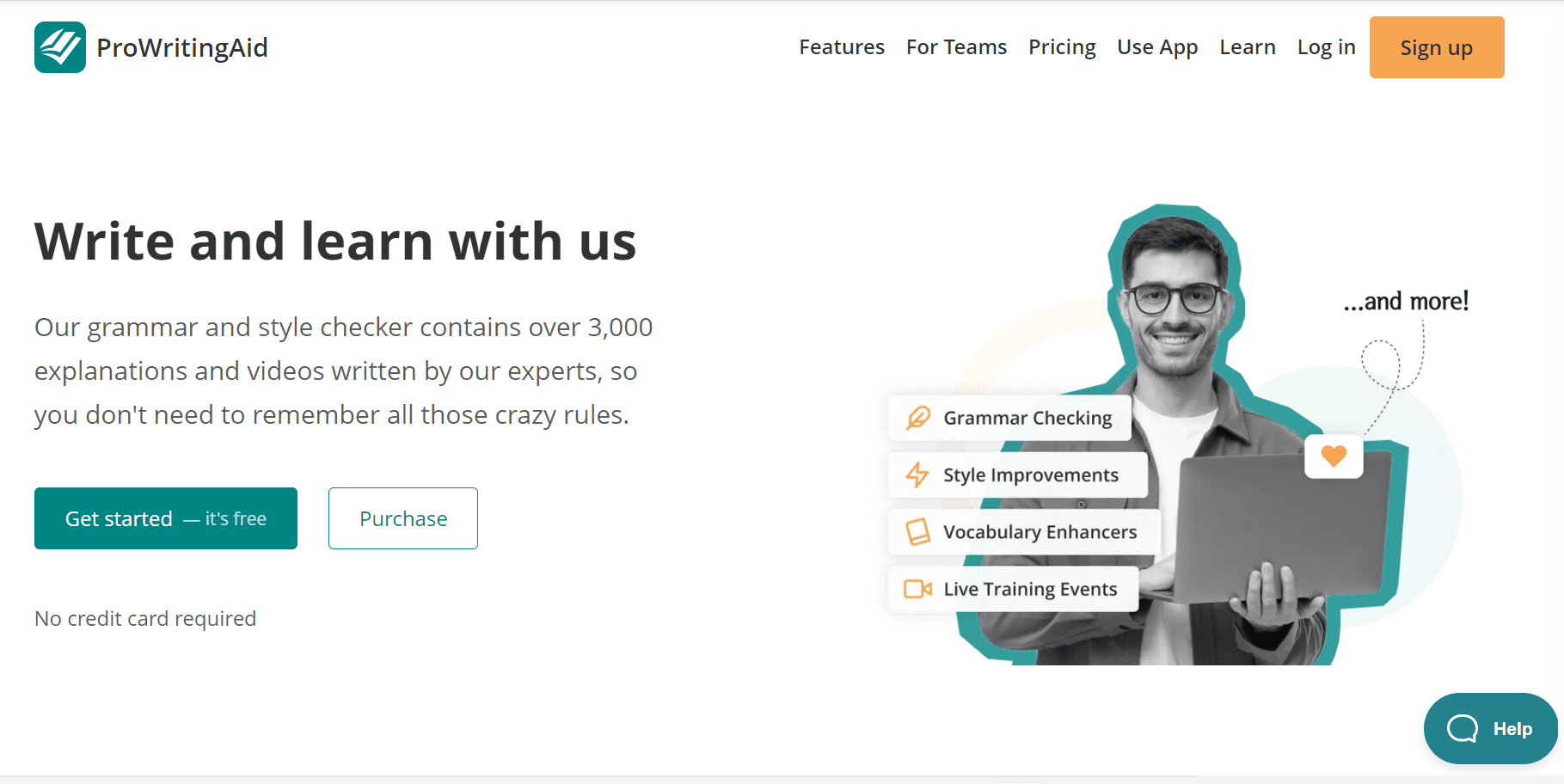 ProWritingAid is a trustworthy and detailed spelling and grammar checker. You can use it to improve your writing by detecting and correcting language errors and typos. It also has an excellent plagiarism checker. This tool helps you spot and correct grammatical mistakes, such as
Sentence variety
Sentence structure
pacing
Emotional tells
Passive voice
Rambling sentences
Overused words
Unnecessary words
Readability levels
Plagiarism
ProWritingAid is a superb writing mentor, a grammar guru, and a dependable style editor. It empowers you to confidently express your thoughts, stories, and insight by giving simple suggestions, descriptions, and advice on improving your writing.
8) Outwrite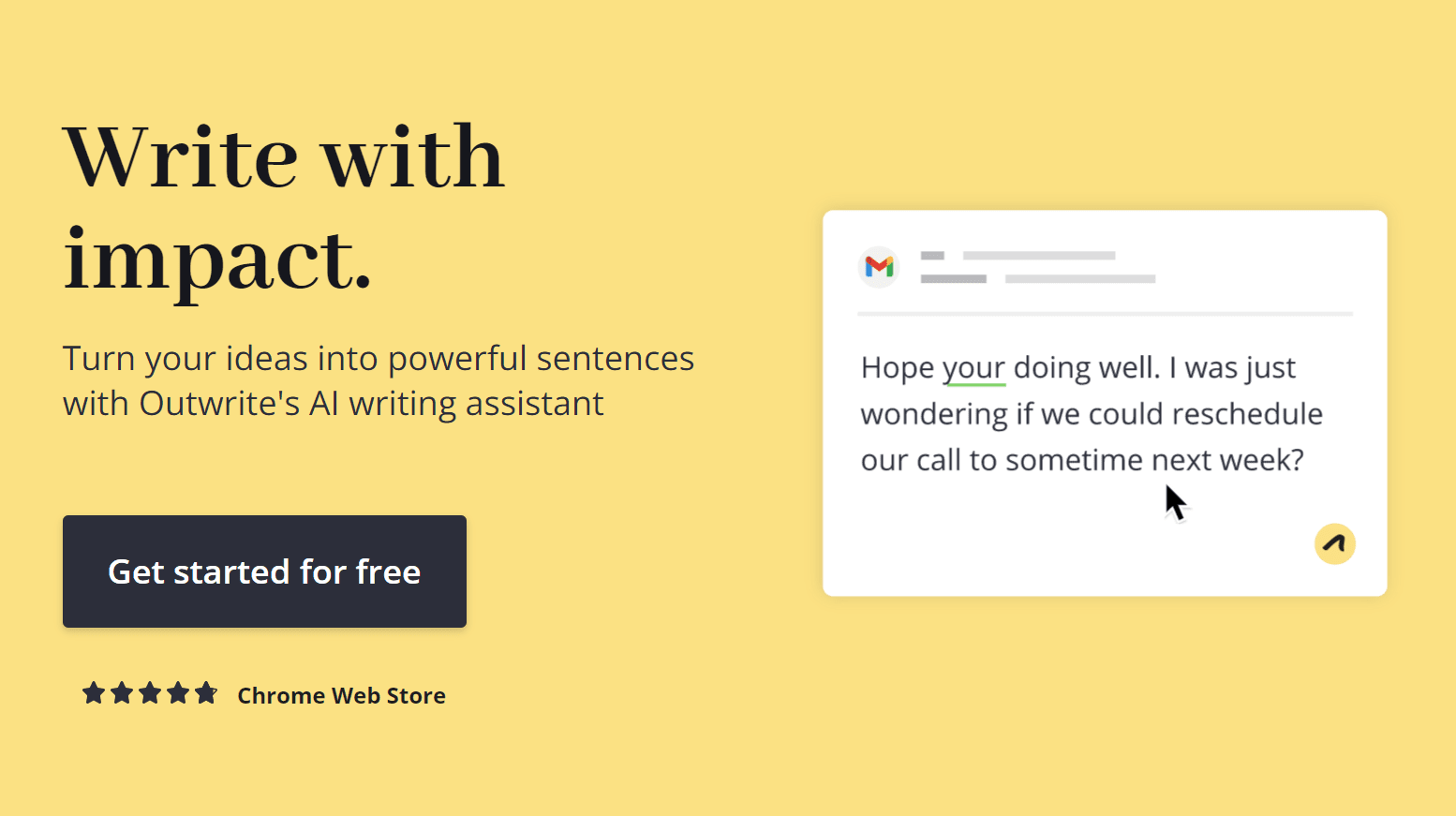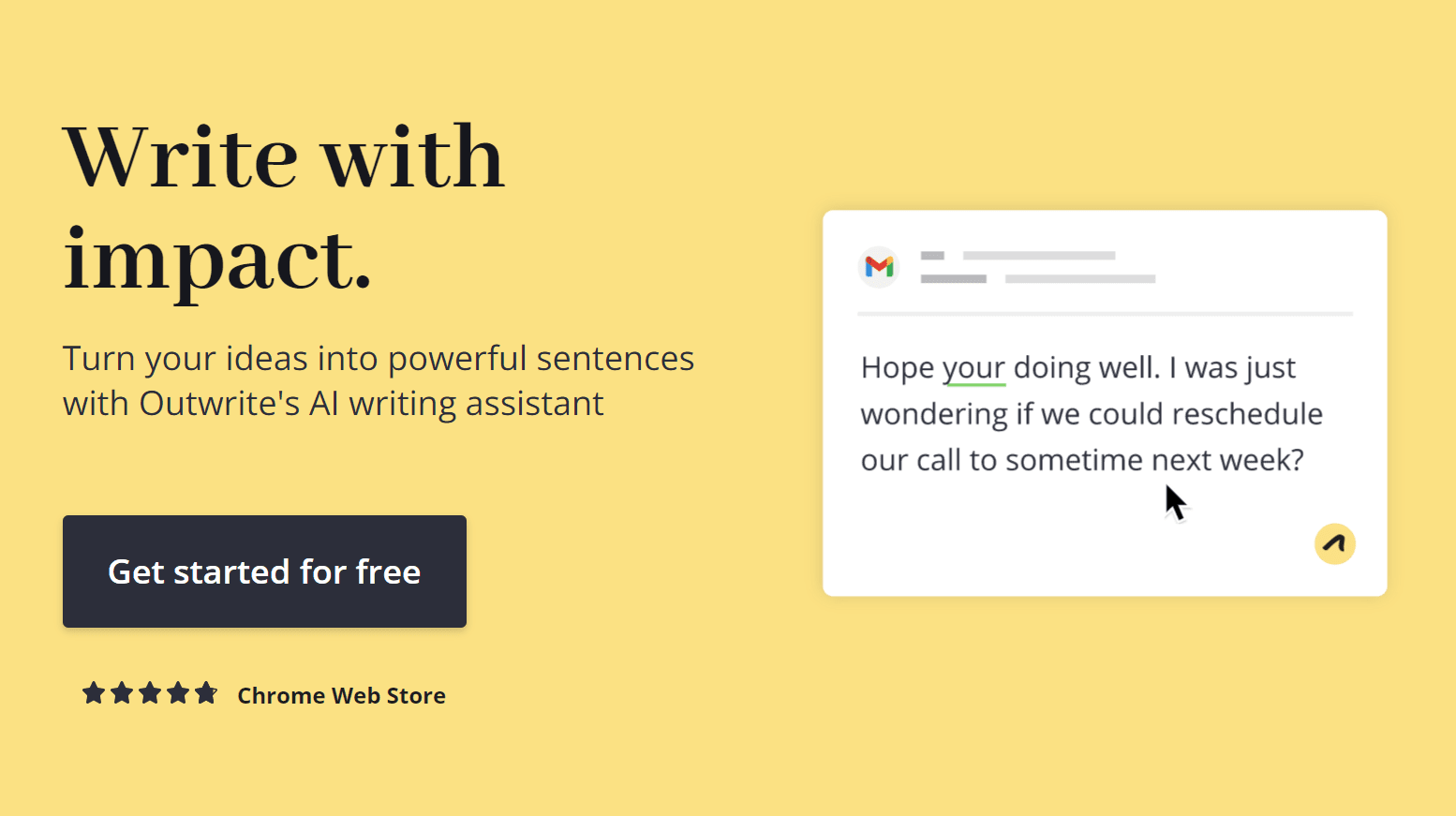 Outwrite is an AI-powered proofreading and editing tool that helps you improve the overall quality and structure of your writing.
Features
Advanced grammar and spell checker: Identifies and corrects grammatical errors and spelling mistakes.
Paraphrasing: Suggests alternative ways to express your ideas, enhancing clarity and engagement.
Word count reduction: This helps you meet word count requirements by suggesting ways to make your writing more concise.
Readability improvement: Offers suggestions to make your content easier to understand for your intended audience.
Passive voice: Use this to change sentences from passive voice to active voice
Style suggestions for improving the quality and the flow of your writing
Multi-lingual support: Check your writing in 3 languages; English, French, and Spanish
9) Textio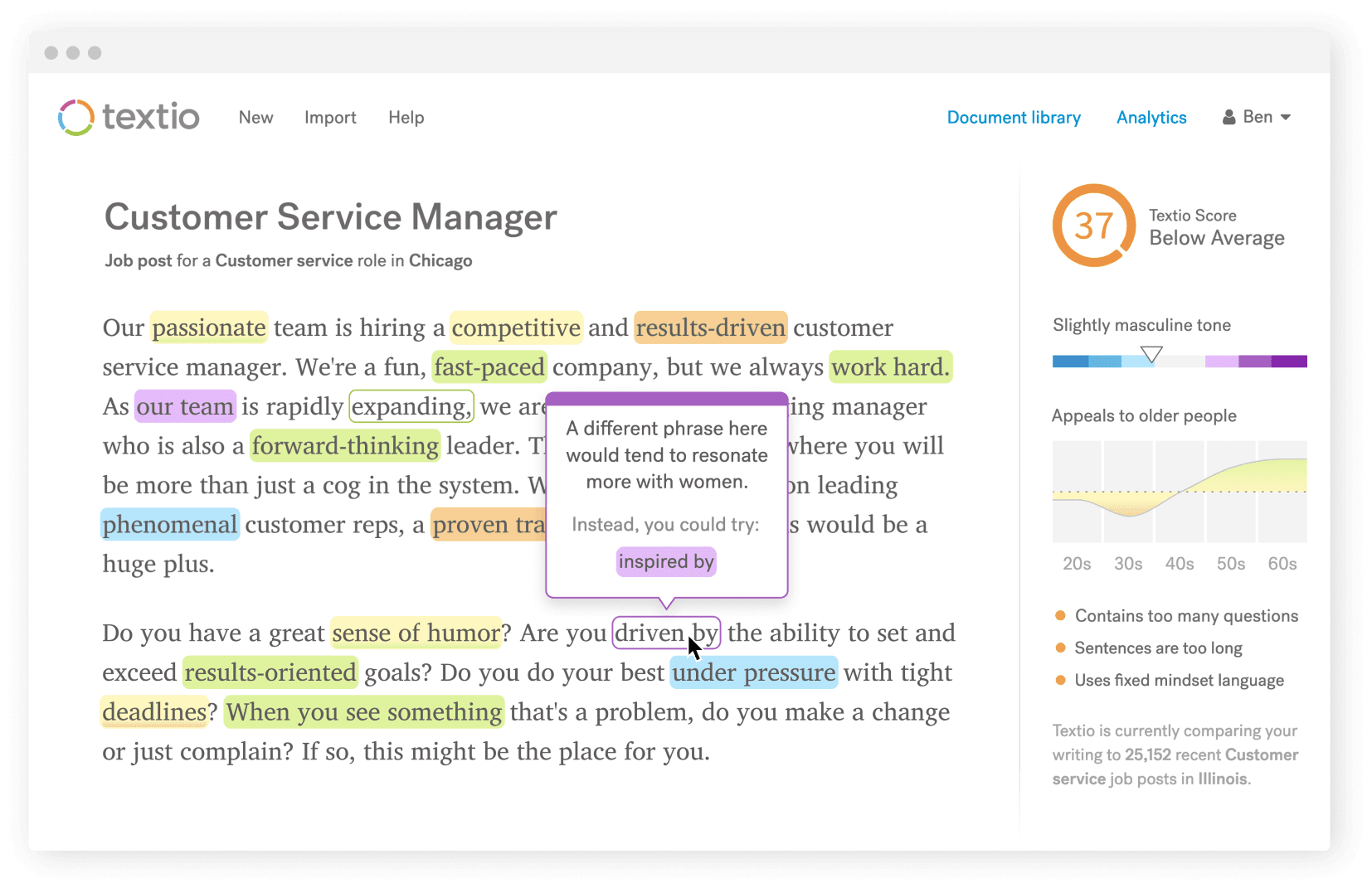 Textio is an AI-powered writing platform specifically designed to help businesses create job postings, emails, and other documents that resonate with their target audience.
The main purpose of this AI rewording tool is to remove social bias from your writing, available for recruiting and performance management.
Textio features
Augmented writing: Suggests improvements to your text based on successful language patterns.
Tone and inclusivity: Ensures that your writing is inclusive and appeals to a diverse range of candidates.
Performance predictions: Analyzes your text and predict its performance based on historical data.
Integration: Easily integrates with popular platforms like LinkedIn, Workday, and Greenhouse.
Final thoughts on apps like Wordtune
By incorporating one or more of these tools into your writing process, you can ensure that your content stands out, effectively communicates your ideas, and leaves a lasting impression on your audience.
As the world of AI continues to evolve, these writing assistant apps will undoubtedly become more sophisticated and powerful, further enhancing your ability to craft compelling content. It's essential to stay up-to-date with the latest developments and make the most of these cutting-edge tools to elevate your writing skills.
If you didn't read, here are the best alternatives to Wordtune:
We hope this blog post about apps like Wordtune has provided you with valuable insights and introduced you to some amazing alternatives to Wordtune.
Remember, the key to becoming a better writer is consistent practice, and having a reliable writing assistant by your side can make all the difference. So, go ahead and explore these incredible apps, and embark on a journey to refine your writing skills and create exceptional content that leaves your readers captivated.