The latest applications of GPT3.5 and ChatGPT are AI art generators. Though not yet perfect yet, these tools are capable of creating super realistic photos and graphics that can be applied in various use cases, using text-to-image technology.
A few ways you can use AI-generated images include:
Enhancing your graphic designs (logos, banners, and other graphic design elements.)
Creating ad creatives
Social media posts
Print-on-demand designs
Product packaging designs
Selling on stock websites
NFTs
Enhancing blog posts and landing pages
Creating educational materials, such as diagrams and charts, or to illustrate scientific concepts.
These powerful tools can actually help you make money with AI
As AI art generators become more advanced, you can expect that the art generated will have more advanced applications, but for now, we just want to have fun and see what's possible at the moment.
AI art licensing
If you are considering using AI art images for commercial purposes (ads, print-on-demand, book covers, etc), I recommend you pay attention to the licensing terms of the tool that you are using to create them.
While most claim that you own the images, their terms do have some fine prints that may limit commercial use of the images generated when on a free plan, for instance.
Best AI art generator tools
1) Jasper AI Art
Jasper has established its brand in the AI content space, and its latest feature, Jasper Art is by no means small. It's one of the best AI art generators that I believe will truly revolutionize the art space.
To create an image in Jasper Art, you need to provide a prompt. Describe your image in detail to help Jasper create an image that's as close to your imagination as possible.
Apart from the image description, Jasper Art also offers a few customizations. You can set your
Art style (3D render, Minimalistic, abstract, etc),
Medium (Classic oil, acrylic, chalk, charcoal, etc),
Lighting (Warm lighting, ambient, colorful light, black and white, golden hour, etc)
Artist (Pixar, Disney, Dr Seus)
Modifiers, (4K, 8K, ), etc.
Jasper Art image details:
Standard image resolution: 512 by 512 px
Upscaling: 2x (1024 by 1024), 4x (2048 by 2048)
Images available to the community (Images generated by Jasper are by default publicly viewable and remixable)
Jasper Art Free Trial
You can try Jasper Art for free for the first 5 days, and generate up to 200 images for free (2K resolutions, not watermarked). Afterward, you can leverage the introductory pricing of $20/month for unlimited art generations.
2) Freepik AI image generator
Freepik, a market-leading creative platform, is going all in on its pioneering AI image generator tool. One of the best AI art image generators out there, it places the user in the driver's-seat, providing the best experience possible for all visitors.
Simply enter a descriptive prompt, select from its five styles, including digital art, and hit the generate button to watch your dream come to life. Take your chosen options to the next level using Freepik's online editing tool, customizing them on the fly.
Take your chosen options to the next level using Freepik's online editing tool, customizing them on the fly.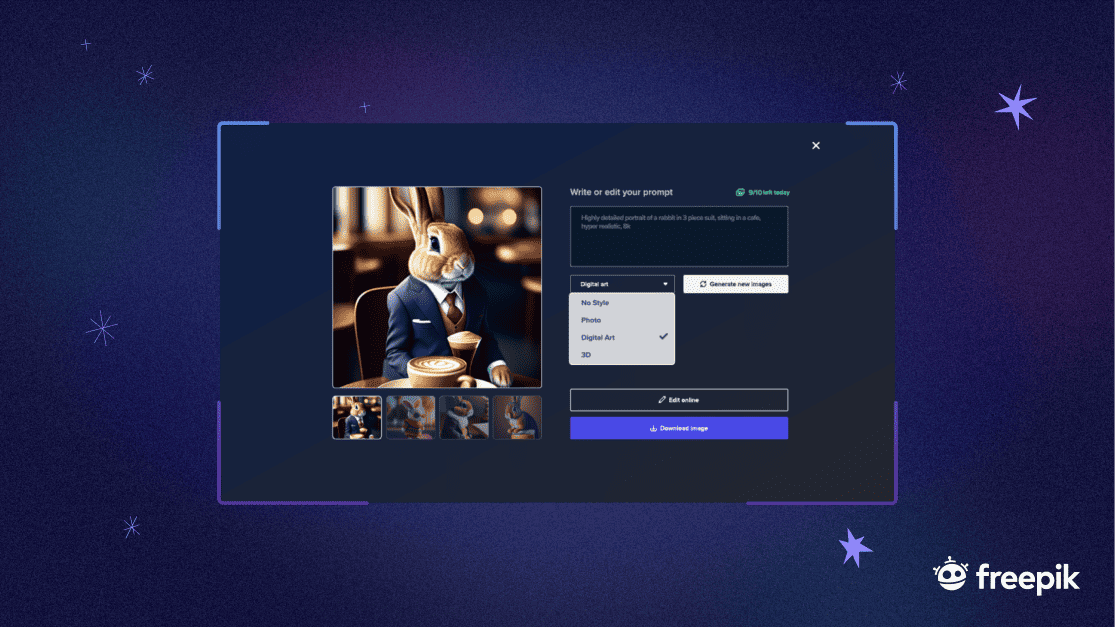 Freepik AI image details:
Freepik AI image details:
Standard size: 512 x 512
Resizing via Freepik's online editing tool: 90 x 90 – 7680 x 7680 (with option to crop)
Key features of Freepik's AI image generator:
An in-depth introduction to AI image generation
Multiple styles to pick from
Accurate image interpretation
Customizing on the go
Add text and graphic elements
Cropping, orientation, and scalability
Adjustable contrast, brightness, and saturation
Is Freepik's AI image generation free?
To use this free service, you need to create an account with Freepik. This will allow you to produce up to three AI-generated images per day. However, upgrading to a premium membership will grant access to unlimited downloads, Freepik's online editing tool, and a bunch of other pioneering features found on the platform.
3) Photosonic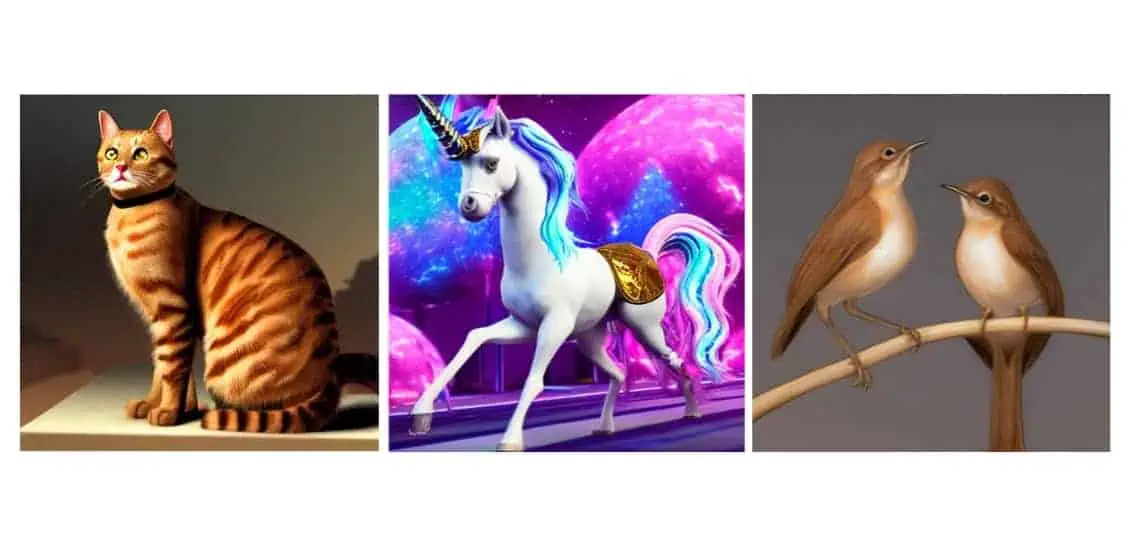 A closer alternative to Jasper Art is Photosonic, a powerful art generator developed by Writesonic.
As a user, Photosonic allows you to control the quality, style, quality, and diversity of the outputs.
Photosonic AI image details:
Standard size: square 512 by 512
Horizontal (768 by 512 px)
Vertical (512 by 768 px)
With this tool, you also have the ability to enhance the generated images.
Key features of Photosonic Art Generator:
Multiple artistic styles
Text-to-image generation
Image-to-image generation
Converting images into paintings
Image enhancement capabilities
Auto face restoration
HD quality downloads
Built-in background removal
Photosonic pricing:
You can try the tool here for free and get 10 credits that allow you to create up to 20 images.
Basic plan ($10/month): access to all features and 100 credits
Unlimited plan ($25/month): access to all features with unlimited generations
4) Nightcafe
This is your go-to tool for high-quality image generation, which is trusted by thousands of creators, designers, and photographers.
This tool presents various ways to generate images with AI:
a) Neural style transfer— use this mode to transform your photo into a realistic masterpiece
b) Text-to-image AI — Use this feature to turn your prompts into realistic images
This tool has close to 100K members in their Discord community, so it's a great option if you want to get inspired by the creations of others. The Discord community is the best place to learn the art of AI art generation, even when you know nothing about design.
Powerful Nightcafe features you'll like:
Multiple style images
Custom seeds
Bulk generations
Bulk downloading
Default negative prompt setting
Start image option
Setting aspect ratio (Square 1:1, Widescreen 16:9, Mobile vertical 9:16, Landscape 4:3, Portrait 3:4)
Ability to boost the accuracy of the images generated
Symmetry (vertical, horizontal)
Image details:
Standard resolution: 512 by 512 px
Low resolution: 640 by 640 px
Medium resolution: 896 by 896 px
With Nightcafe, you can log in every day to unlock 5 free credits.
5) Canva Text to Image
Canva, my favorite design tool, has recently added an AI Art generator dubbed Canva Text to Image.
To start using this feature, follow these steps:
From the design editor, navigate to the left sidebar,
Scroll down to Apps,
Under Create something new, click on Text to Image.
From the pane that appears, enter the text prompt
Choose the style
Click on Generate Image button
Each generation returns four unique images based on your prompt text. Click on any to add to the Canvas. Once added to the canvas, the images are saved to the Uploads section so you can always find them. These image files are named with the prompt text you used when generating the image.
I was able to create the following images using a simple text description.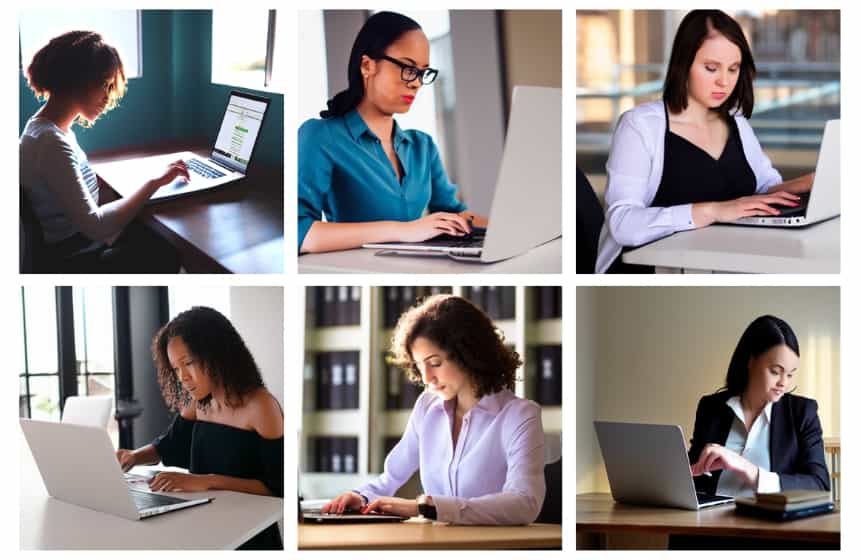 AI Art prompt text: Freelance writer lady typing laptop 4K backlit office wear
Limitations of Canva Text to Image:
No customizations
No way to enhance your images
Doesn't work well with other language prompts.
The good news however is that you are able to modify images by using the other features that are available on Canva. Simply click on the generated image to add it to the canvas, and then click again and Edit the image the same way you would any other image.
Change brightness, contrast, saturation, etc
Play around with filters
Include text
Crop, resize or flip it
Use it on other design elements such as grids, frames, etc.
Remove background
Since it is integrated into all types of designs, you can quickly generate AI images on the go as you go about your design works. Social media graphics, Canva Docs, Canva Websites, etc.
Is Canva Text to Image free?
Canva is available to both free and paid users. With a free plan, you can generate up to 24 AI images daily.
6) Stable Diffusion
Created by the folks at Stability AI, Stable Diffusion is one of the newest AI art generators that are currently available for free.
Depending on the queue, the generation may last a bit longer.
Compared to Nightcafe, this tool is basic at the very least, and besides the prompt, negative prompt, and guidance scale, there aren't many customization options for you to tinker around with.
Also, the generated images were of very low quality the first time I tested the software.
There are 2 ways you can use Stable Diffusion
Unlike other AI art generators in this list, Stable Diffusion claims not to collect or use any personal information, nor store your text or image, but still, I recommend not uploading images to any AI platform which may contain sensitive or identifying information.
The playground is very simple. Simply enter your text prompt and press Generate Image button to start the creation process.
I also love their Prompt Database where you can browse millions of prompts entered by other users, and the resulting images. When starting out with AI image generation, it's hard to get the prompts right. Get inspired by others to improve your prompts.
7) Dall-E-2
Dall-E is one of the earliest AI art generators, and arguably one of the most advanced software on the market today. It was created by the team at OpenAI, and its model is largely relied on by the other AI tools on this list.
This tool is best for creating photorealistic images. One of the features you will like is the paintbrush feature. To use this tool, all you need is to highlight a section of a generated image, and then give the AI a prompt to tweak the image further.
For example, if you have a drawing of a kid sitting on an avocado chair, you can highlight the kid, and provide a prompt like "replace the kid with a photo of a cute cat."
That's it, you don't have to run a gazillion number of runs to hopefully find a variant that includes exactly what you want. Simply tweak it as you go.
Dall-E-2 Features:
Expand generated images beyond the original canvas for expansive compositions
In-painting — Realistic edits and retouching (add and remove elements without distorting the shadows, reflections, and textures)
Image-to-image generation (multiple but close variants)
Text-to-image generation
8) Hotpot AI Tools
Hotpot AI is a suite of tools for the creative types. You can use these tools for creating graphics, pictures, and even text generation.
a) AI Art Generator by Hotpot
The playground is really sleek. In the What should AI draw textbox, enter your detailed prompt. You can ask AI for ideas if stuck. You can then choose from over 100 artistic styles.
For better image generation, turn on premium:
Faster art generation
Private images
Larger images
Remove daily limit
Allow commercial use
Remove ads
b) AI Headshot Generator
Create unique headshots of yourself in any scene or style with Hotpot. You can use these headshots for profile pictures or avatars.
You will need to upload quality 10-30 images of your face (without filters, masks, or expressions such as funny faces or winking), at a resolution of 1024 by 1024 px or higher.
Other Hotpot AI art tools:
AI object remover
AI photo upscaler
AI background remover
AI picture colorizer
AI art personalizer
AI picture restorer
AI face enhancer
Hotpot Pricing
You can buy credits, starting from $10 for 1000 credits
Other popular AI Generators to try
Starry AI
Mid Journey
Deep Dream Generator
ArtBreeder
Deep AI
RunwayML
Stablecog
Big Sleep
Fotor AI art generator
Artspace AI