The best feature that you unlock when you upgrade to Boss Mode, is the ability to write and run text commands within the Jasper Document Editor.
This feature is all you need to plan out your content, develop an outline, and flesh it out into full long-form content (email newsletter, SEO blog post, sales copy, LinkedIn post, etc.)
What is Jasper AI Commands?
Jasper commands are a set of instructions that you give the AI, directing it to generate a given piece of content on a said topic. The more detailed your instructions are, the better and more relevant the outputs will be.
Think of these commands as Hey Siri or Hey Google, but instead of relying on search, AI writers like Jasper base their answers on the database it's been fed with, and the Natural Language Processing tech to provide coherent content based on the prompts provided.
How do you give Jasper a command?
To give Jasper a command, open a document editor, and type in your instruction. For instance, "generate 5 blog post ideas on AI Writing."Then, ensuring that the cursor is at the end of the instruction line, press Ctrl + ENTER, on windows, or Cmd + ENTER, on Mac computers.
If you want to retain the instruction sentence after generation, use Ctrl/Cmd + Shift + Enter, instead.
This shouldn't be confused with the shortcut for running the Compose button (write more), where you would use Ctrl/Cmd + J instead to continue generating more content.
When you run a command on Jasper, the AI relies on the instruction text only, unless the instruction also references the generated text (e.g write an intro on the topic above.)
Claim 10,000 words in Jasper Credits
Examples of Jasper Commands
a) Jasper AI Commands for Blogging
Write a detailed content brief for a blog post on [topic idea]
Generate 5 blog post titles on [topic idea]
Create an outline for the topic above
Write an intro paragraph with at least 5 sentences for a blog post on [topic idea]
Write a blog section on [subheading 1]
Write a blog section on [subheading 2]
Write a blog section on [subheading 3]
Summarize the content above
Generate a blog conclusion for the content above
Write an SEO title on [topic idea] and SEO keyword being [Main Keyword]
Generate a meta description for a blog post on [topic idea] with [Main Keyword] being the focus keyword.
Give me some FAQs ideas for [topic]
Answer the question [Question related to your topic]
Make a list of [topic]
b) Social Media Content
Generate 15 funny tweets on [topic] for a Twitter thread
Write a LinkedIn post on [topic]
Give me 5 ideas for a Facebook post to promote a [product idea]
Create an engaging story for a Facebook group post on [topic]
Write engaging Instagram captions about [topic]
c) Growth Ideas Commands
Give me 7 ideas on how to grow my Facebook group about [topic]
Suggest 8 ways to grow my [topic] Twitter account
Brainstorm 5 business ideas for a person who likes [hobby]
Brainstorm 5 ideas for a person skilled in [skill/talent]
Make a list of keyword ideas around [topic]
Give me 7 lead magnet ideas to grow an audience for my blog on [blog niche]
d) Personal use
Give me 5 gift ideas for my boyfriend/girlfriend (likes [idea])
Help me write an apology letter to my mom
Write an apology letter to my boyfriend for being insensitive earlier today
Help me wish my boyfriend a happy birthday
Help me wish my girlfriend
Write an emotional happy Mother's day message to my mom for always being there for the four of us…
Explain to my 4th-grade daughter why I cannot do the homework for her
e) Ads
Generate an ad copy for [product]
Generate Facebook ad title ideas for [product]
Write a Facebook ad paragraph for [product]
Create a promotional email for [product]
Write some ad headlines for the above product description
Write AIDA-powered ad copy for the product description above
f) Rewriting
Run the Explain it to a child template in the paragraph above
Rewrite this sentence to make it longer [sentence]
Run the Content Improver template on this [sentence]
Rewrite the above paragraph in the tone of [tone/famous person]
Make the paragraph above easier to read
Rewrite the paragraph above in the [Point of view— 1st, 2nd, 3rd]
For rewriting large texts or documents, I recommend checking out these AI rewording tools instead.
g) Emails
Generate 7 ideas for an email series on [topic]
Write an outreach email for guest post collaboration
Write an outreach email for podcast collaboration as a [topic] speaker
Write an email hook about [topic]
Write a funny follow-up email for a previous guest post pitch
h) Articles
Generate 5 ideas for a listicle blog post
Write a short article about [topic]
Write a how-to guide on [topic]
Create a comparison post on [topic] and [topic]
Generate a review post of [product]
Write a 5-item listicle blog post on [topic]
Discuss 5 advantages of [topic]
Discuss 5 disadvantages of [topic]
List 7 common objections to [topic]
Define [topic]
Explain [topic]
What is [topic]?
Is [topic] worth it?
i) Videos
Suggest some creative Youtube titles on [topic]
Generate an engaging Youtube video description about [topic]
Write a video script outline on [video-title]
Write a video script intro for [video-title]
Write a video script hook for [video-title]
Brainstorm 10 video ideas around [topic]
Generate an engaging video script on [topic]
Write a video description for the script above
k) Marketing Frameworks
Use PAS framework to create ad copy for [topic]
Write an AIDA for the above content
Write a BAB about the content above
Ready to give Jasper a shot?
How to use Jasper Commands in Boss Mode to build up a blog post step by step
Let's now have a look at how you can actually use the Jasper AI Commands feature to create a full blog post in less than an hour.
1) Before you start…
You need to have a rough idea of what the topic entails, so be sure to use other tools such as SERanking for keyword research.
For instance, if you are working on an article about becoming a freelance writer, make sure you have your proposed H1, i.e, your blog post heading or topic, in the document and you can create sections by simply running the following commands:
Generate blog post ideas for the above
Generate blog post titles for the above
Create a blog post intro for the above
Generate an outline for the above
Let's pause there for a bit. After you have your title generated and chosen, turn it into H1 as hierarchy and formats are crucial to Jasper.
2) Ask Jasper to generate a blog intro
Proceed to generate the blog post intro by running the third command above.
Now, choose the most appropriate intro that fits into your topic and your writing style.
Before proceeding, edit your intro, and break it into different paragraphs as and when necessary.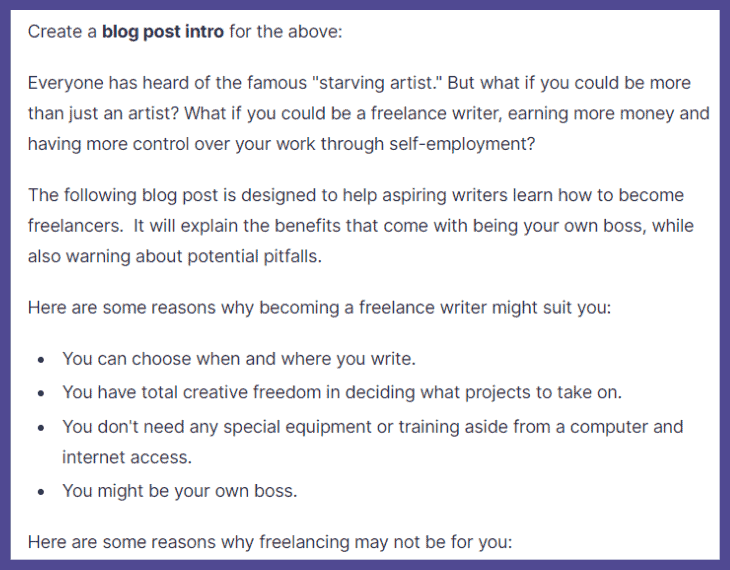 3) Ask Jasper to generate a blog outline
Once you are done with the introduction, run any of the following commands to generate an outline
Generate an outline for the above
Generate blog outline for (Enter Title Here)
Sometimes you might need to do a few runs before getting a great outline. If the outline is not complete, or you just want to add more items, just place the cursor at the end of the last item, hit compose and Jasper will continue the listicle format, adding in more subheadings.
Tip: Arrange your subheadings in the preferred format, rewriting some for brevity and clarity.
Once you are done, highlight your outline and format it with H2, to turn them into subheadings.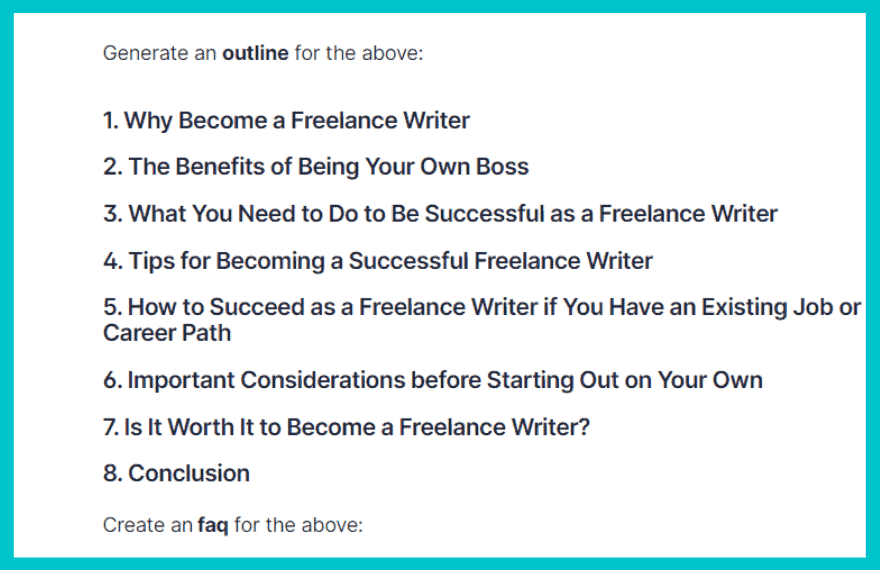 4) Ask Jasper to expand sections from your outline.
The next step in your AI content generation process using Jasper commands is to ask Jasper to expand the section.
To do that, move the cursor to the end of the subheading you want to work on, press ENTER to create a new paragraph, and then ask Jasper to create paragraphs based on the subheading.
You can try the following commands:
Write a paragraph on (paste subheading one here)
Write about (paste subheading one here)
For our case above, we have the following instruction and the output: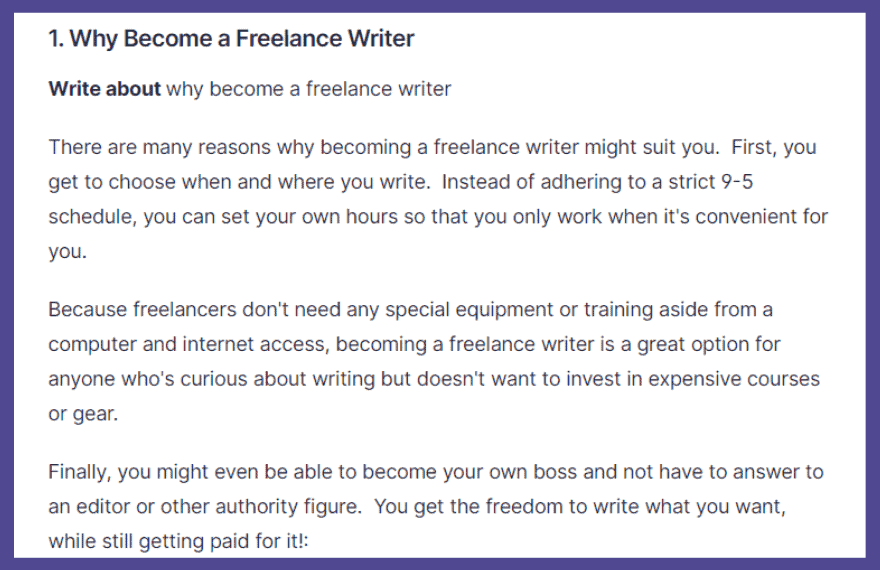 For every section, make sure you edit it first so that it's ready to publish, before moving on to the next.
This way, you are better at instructing Jasper on the format and the direction/angle of your article or marketing copy. Think of this as cleaning up data (information before the next generation), so that Jasper has a more accurate data source on which to base its next predictions.
5) Ask Jasper to write a conclusion
To finish up your piece, generate a conclusion for your article. You can run a Jasper command like:
Generate a conclusion for the above
Write a conclusion
Run the conclusion template on the above.
Alternatively, simply add a Conclusion section, format it as a subheading by using H2 or H3 tags, and then press ENTER to start a new paragraph. On hitting compose, Jasper will know that you want to run a conclusion template, and thus will generate one for you.
Move on to the rest sections repeating the process above.
More Jasper AI Commands to optimize your article
Remember that when it comes to Jasper Commands, you aren't limited to what you can ask Jasper to do.
For example, let's say in writing our article on becoming a freelance writer, I stopped to wonder whether there are highly paid freelance writers. Of course, they are, but I didn't have time to go search for something that Jasper probably already knows.
So in the middle of anywhere, I simply write the command below, press CTL/CMD + ENTER, and magically I have suggestions brainstormed for me by Jasper.
Highlight some of the best-paid freelance writers
Is this what they call Dancing With Jasper?