In our latest post on how to make money with AI art, I noted that you do need to upscale or enhance your AI art before you can use them for commercial purposes. Most AI art generators only return very small images (512 by 512 px or 1024px by 1024 px).
That's where AI image upscalers come in. These software programs use advanced algorithms to enhance the resolution of AI-generated images, to improve details and hence clarity.
Whether you're looking to use your generated art for large prints, or want to improve image quality so as to meet the requirements of stock websites, these AI upscalers can help you get the job done
In this blog post, we will be reviewing the best AI image upscalers on the market while discussing their key features, pros, and cons.
Why upscale AI art images?
Upscaling can help improve the overall visual quality of the image. Higher-resolution images tend to look more detailed and crisp, which can enhance the overall aesthetic appeal of the artwork.
You will also need to upscale your images in order to meet the criterion for various websites where you may need to use your creations. For instance, some print-on-demand platforms like Zazzle may require you to upload graphics of at least 5000px by 5000px.
5 Best AI image upscalers
1) StockPhotos Upscaler
While not the most affordable option, it's one of the most advanced AI image upscaler worth considering. Even with low-resolution images, you can still get sharp and crispy outputs.
Customization options:
Scaling: 2x, 4x or 8x
Smoothing: Balanced, Crisp, Ironed, FacePro
The recently launched feature FacePro is a very powerful tool for reconstructing faces, making your images more detailed, realistic, and accurate.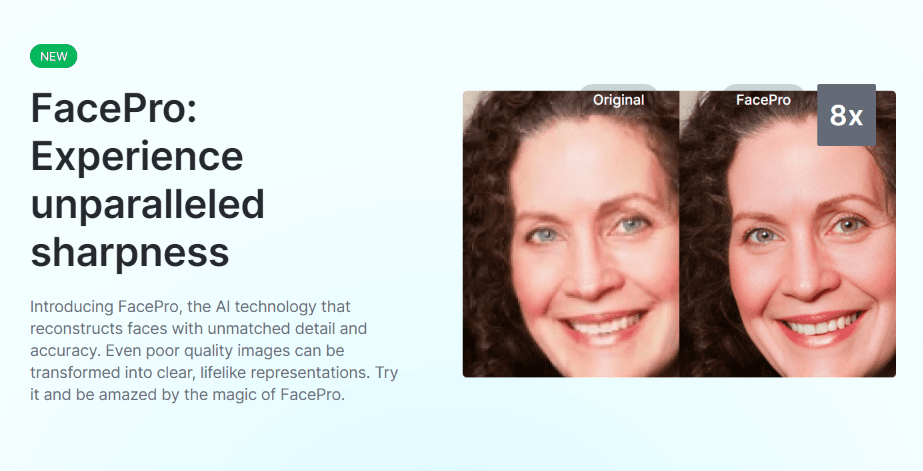 Features of StockPhotos Upscaler (paid plan)
Maximum output size of 8000 pixels
Fast upscaling
Format: Jpg, png, WebP, and Bmp
FacePro Upscales
Cropping and resizing for social (Twitter, IG, LinkedIn, and Facebook)
2) Gigapixel AI
Topaz Gigapixel AI is a powerful AI image upscaler that uses advanced algorithms to improve the resolution and quality of AI-generated images. It can increase the resolution of an image by up to 600% and is capable of producing high-quality results with minimal loss of detail.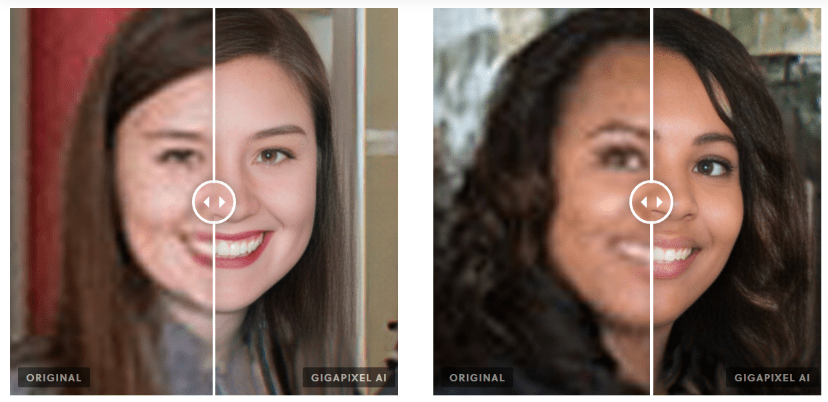 With this tool, you won't be just enlarging the image, but rather increasing the resolution, resulting in a more detailed and emphasized version of the image. It does this by relying on sophisticated neural networks that allow it to add realistic details in the image so that it doesn't become blurry when it's scaled up.
Pricing: Buy for $99 (annually)
3) DeepImage AI
DeepImage is one of the best AI image enhancement tools that offer more features than its counterparts. You can upscale images up to 15000 by 15000 pixels (25 mp).
With this tool, you can:
Use AI photo enhancer to improve image quality
Remove artifacts
Upscale images up to 4x
Remove background
Do light and color correction
Reduce noise
Sharpen images
Bulk upload images for processing
Access API
Pricing:
The pricing of DeepImage starts at $10/month for 100 image credits, but you can also purchase one-time credits.
4) Vance AI Image Enhancer
Another popular AI upscaling tool is Vance AI Image Enhancer which scales images up to 8x, resulting in even more finetuned and detailed images.
Vance AI AI Photo Enhancer capabilities:
Anime upscaling up to 16x
Enhancing photo resolution
Sharpening photo detail
Adjusting image colors
HD and Natural output
Fast rendering (less than 5 seconds)
Apart from the AI Image Enhancer, you get access to other tools within Vance AI, including AI Image Denoiser, AI Portrait Retoucher
AI Image Sharpener
AI Image Colorizer
AI Background Remover
Pricing:
Vance AI pricing starts at just $3.96 for 100 credits, and you can choose between one-time purchases or monthly subscriptions.
5) Icons8 Upscaler
Icons8 Upscaler is an AI-powered image upscaling tool developed by Icons8. It utilizes deep learning algorithms to produce high-quality upscaled images with minimal artifacts and supports up to 8K resolution.
Benefits and features of Icons8 Upscaler:
Produces high-quality upscaled images
Supports up to 8K resolution
Provides API access to help you integrate sharpening, upscaling, and noise reduction capabilities directly into your application
Face processing feature for enhancing faces in your images
Batch uploading
Side-by-side comparison
How to use Icons8 Smart Upscaler
To use Icons8 Upscaler, you first need to go to the Icons8 website. You can upscale up to 3 images for free even without creating an account, though the outputs will be watermarked. Then, upload your image for auto-upscaling.
AI image upscaling FAQs
What is AI image upscaling?
AI Image Upscaling is a technique used to increase the resolution of an image without losing its original details. It is done by using AI algorithms to analyze the image and generate new pixels that match the original image's details. This technique can be used to improve the quality of low-resolution images, making them look more realistic and detailed.
How does an AI image upscaler actually work?
AI Image Upscaling is a technique used to increase the resolution of an image without losing its original details. It is done by using deep convolutional networks, trained on large datasets of images. 
The AI algorithms then analyze the image and identify patterns in the image, such as edges, shapes, and colors. The AI then uses these patterns to generate new pixels that match the original image's details.
What are the common uses for the AI image upscaler tool?
AI Image Upscaling is commonly used to improve the quality of low-resolution images, making them look more realistic and detailed. 
It can also be used to enhance images for printing or to create higher-resolution versions of existing images for use in digital media, especially for displaying on wider screens. 
Additionally, AI Image Upscaling can be used to create images for machine learning tasks, such as object recognition and image classification.
Can you upscale an image for free?
Yes, there are a number of free AI image upscalers that you can leverage if you don't have a budget. However, the quality of the upscaled image may not be as good as if you were to use a paid tool. They also tend to have to restrive terms such as watermarks, or limited upscales. 
The good news is that even the premium of the tools I discussed in this article offer a free trial and the outputs aren't watermarked.
Final thoughts
AI Image Upscaling is a great way to improve the quality and resolution of your AI-generated images. With the right tools, you can easily create high-resolution images for various use cases such as stock websites, print-on-demand products, etc. While there may be some downsides such as cost and technical knowledge required, it is still a worthwhile investment for those who want to produce high-quality images.