Are you looking for a way to create unique content that stands out from the competition? If so, then AI paraphrasing tools could be the answer.
These AI tools can help you easily rephrase any form of content in seconds, ensuring that it is free from plagiarism and tailored to your audience.
In this blog post, we cover some of the best AI paraphrasing tools of 2023 that you can leverage for your various content and marketing needs, but first, we need to understand how these tools actually rewrite content.
What is AI paraphrasing?
AI Paraphrasing tools are a type of copywriting software that uses machine learning or artificial intelligence to help you rephrase the content in a given way, achieving a set goal.
These tools can help you improve existing copy by making it more relatable, and plagiarism-free, or repurposing it for different audiences and marketing channels.
AI Paraphrasers are more powerful than traditional paraphrasing tools because they use advanced algorithms and natural language processing to generate unique, readable, and engaging results.
How do AI paraphrasing tools work?
AI paraphrasing tools work by using machine learning algorithms to understand the meaning of a given text and then generate a new version of the text that conveys the same meaning.
This typically involves analyzing the input text, identifying key phrases and concepts, and then using this information to generate new text that expresses the same ideas in a different way.
They can also identify complex words and unnecessary phrases, and eliminate them so that the final content is always more readable than the source.
Some AI-based paraphrasing tools can also adjust the style, tone, and feel of the text to your needs in no time.
Most AI rewording tools provide different levels of paraphrasing:
Sentence level rewriting
Paragraph level rewriting
Article level rewriting
Best AI Paraphrasing Tools
There are many excellent AI paraphrasing tools available on the market, but the five best are:
WordAi
Copymatic AI Rewriter
QuillBot AI
SpinRewriter
AISEO Rewriter
Paraphraser
Paraphrase Online, and
SmallSeoTools Article Rewriter.
1) WordAi
WordAi is a powerful AI rewording tool that uses Natural Language Processing technology to rewrite or rephrase the content in a way that makes it easier to read and understand.
This simple-to-use tool enables you to completely restructure sentences while keeping the same overall meaning, enrich your text with LSI keywords, express the same ideas differently to avoid duplicate content, and make your writing clearer and more concise.
Thus, you can use WordAi to create unique versions of articles for use cases such as content marketing and SEO, or for distribution in other channels such as LinkedIn, social media, or Medium.
WordAi capabilities
Bulk rewrites
Bulk downloads
Auto-fixing grammar errors when paraphrasing text
Powerful API
HTML content support
One-click rewriting
Code view
Protected Words and Custom synonyms
Integrations:
This tool currently integrates with some powerful content tools, including:
Article Forge (Read our detailed Article Forge Review)
WordPress
When rewriting content, you have three spinning options to choose from: Regular, More Conservative, and More Adventurous.
WordAi pricing plans:
WordAi offers a free 3-day trial.
Monthly plan — $57/month
Annual plan — $27/month
2) Copymatic AI Rewriter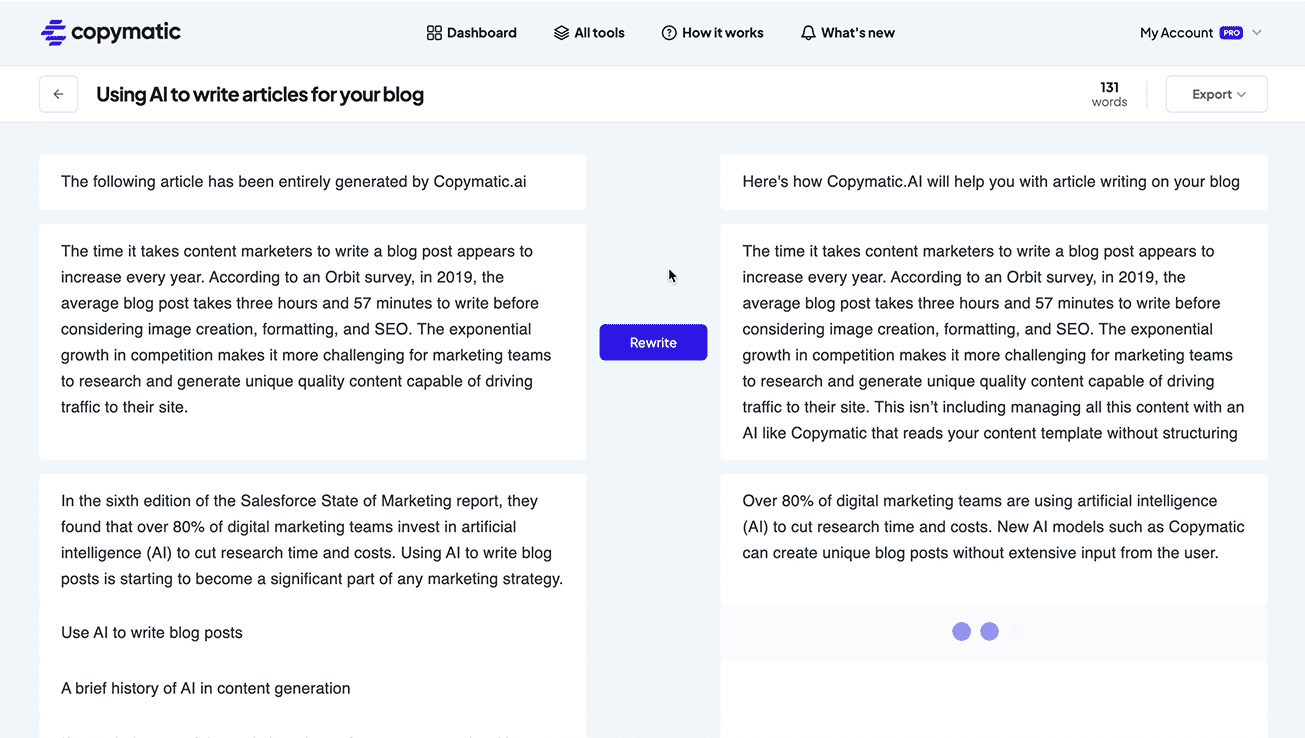 Copymatic is an affordable AI-powered copywriter and content writer that lets you write digital ads, website copy or blog content, and more in seconds.
This tool now has a powerful AI Rewriter wizard that allows you to create completely unique articles with side-by-side comparisons. Rewriting is done at a paragraph level, and you can even rerun the rewriter tool on any given section if you don't like the output.
Copymatic is the best tool to rewrite articles and enhance your content or avoid plagiarism.
Key Features:
Powerful sentence rewriter tool
Best for rewriting blog posts, essays, and product descriptions
100% uniqueness level
Ability to adjust creativity level
The tone of voice adjustment
Optimized rewrites for engagement
Rewrite from URL
Multi-language support
You can rewrite long-form content by copy-pasting it into the editor, or using the URL where the content is publicly accessible.
Pricing Plans:
Copymatic offers a free trial that allows you to rewrite up to 5000 words for free (10 credits)
Copymatic AI pricing:
$9/month — Up to 15000 words per month
$29/month — up to 50,000 words per month
$49/month — Up to 200,000 words per month, etc.
You get to save 4 months of billing by switching to an annual plan.
3) AISEO Rewriter tool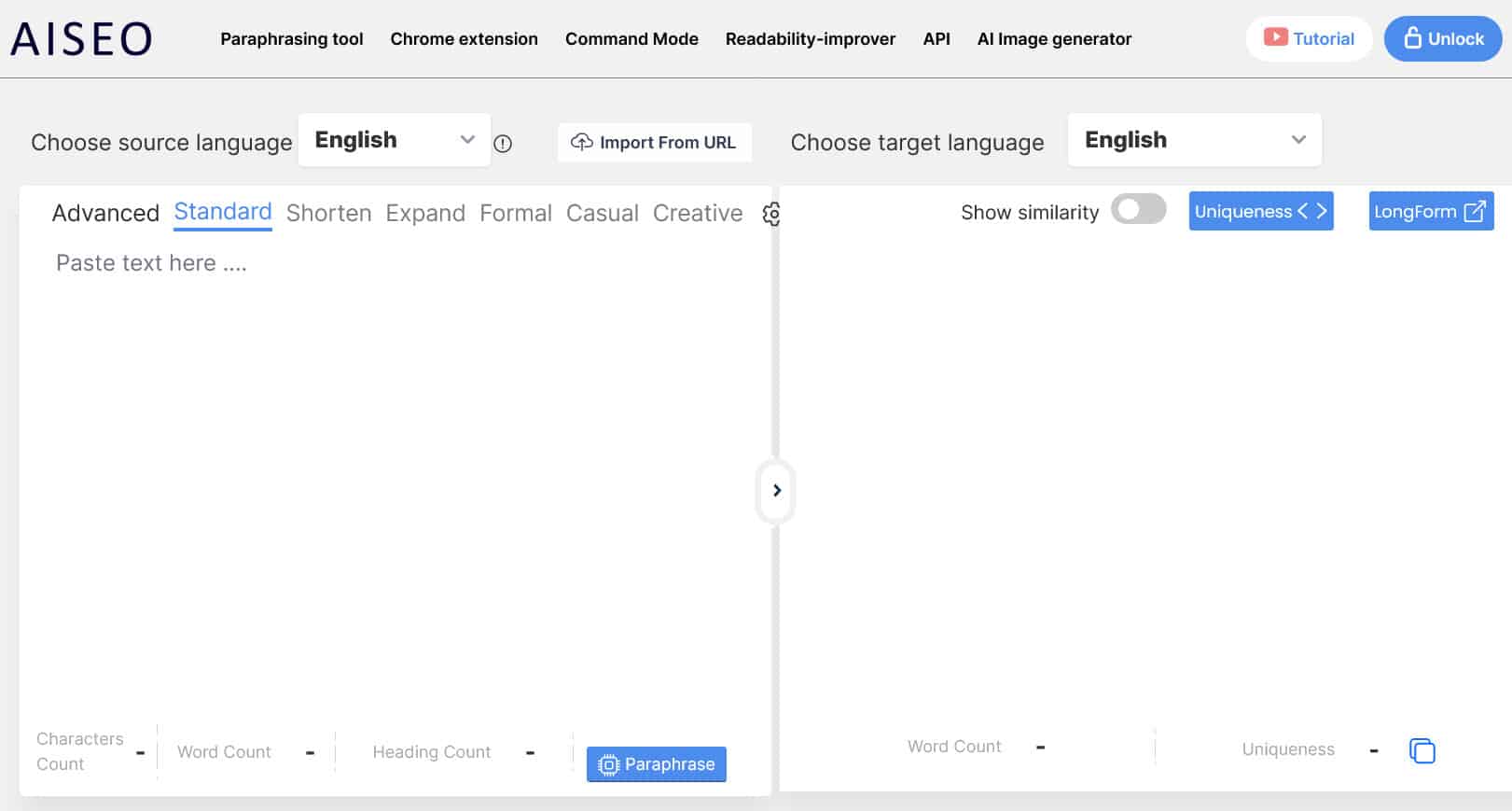 Another popular AI paraphrasing tool is AISEO. It has a number of rewriting tools, including sentence rewriter, article rewriter, and spinbot.
What is AISEO Sentence Rewriter Tool?
AISEO Article Rewriter is a powerful paraphrasing tool that can help you rewrite your sentences more efficiently.
This tool uses advanced AI engines such as GPT-3 to quickly detect the context of each word, phrase, and sentence in order to create a unique version of the text.
It also provides you with a variety of settings and language options, so that you can reword any text in several different ways.
Key Features:
Import content from the URL feature
Customize language settings (source and target)
More than five different modes (Standard, Shorten, Expand, Creative, Factual, Formal, Casual)
Goals customizations
One thing to note is that I did find this tool to be quite slow compared to other AI paraphrasing tools discussed here. However, it does have unique customization settings that can help you get a more refined rewrite.
AISEO Pricing
AISEO has 3 pricing plans:
Grow plan ($19/month) — For up to 50K paraphrasing characters and unlock access to all modes
Scale plan ($34/month) — Unlimited paraphrasing of up to 50k characters with access to all modes
Team plan ($49/month) — For unlimited everything
4) QuillBot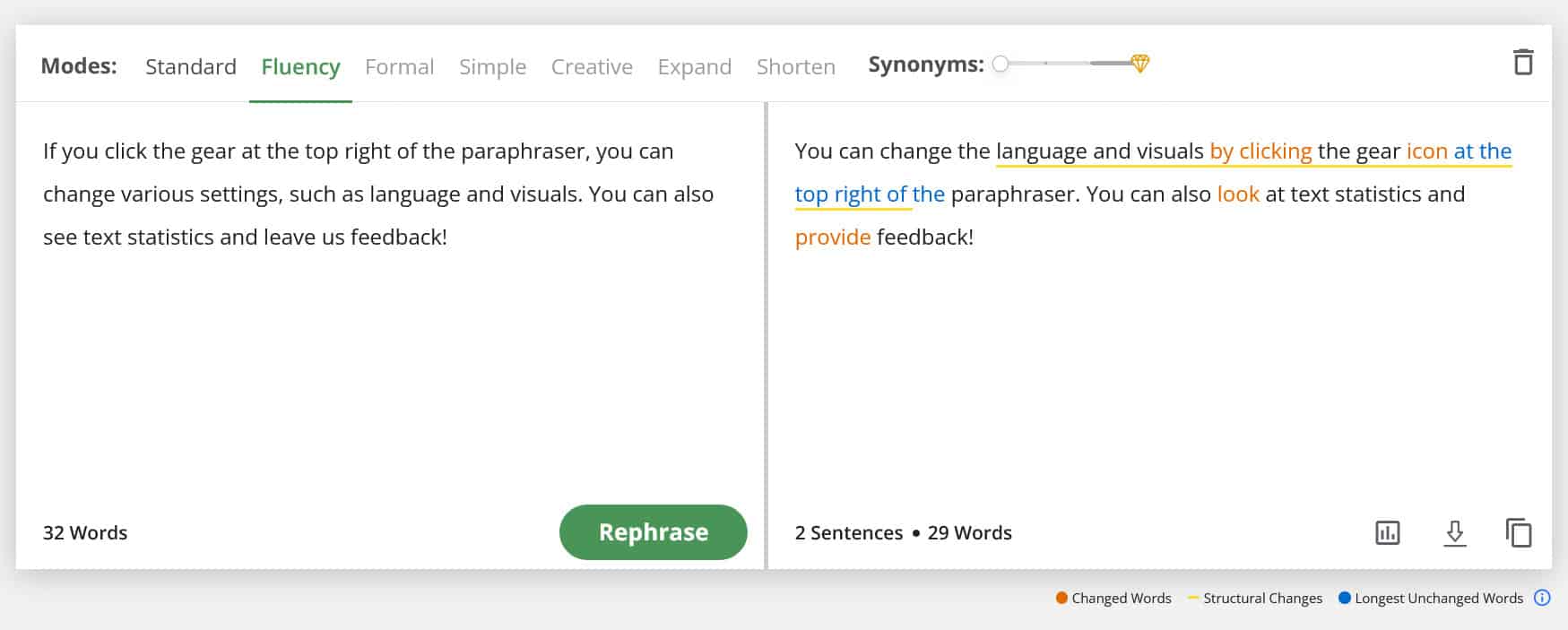 QuillBot is a leading AI Paraphrasing tool for rewriting and enhancing sentences, articles, and paragraphs. It's trusted by over 50 million people worldwide and is the go-to choice for academics, essayists, and writers.
Key Features:
Summarizes content
Offers five quill modes
Offers extensions & add-ons
Recommend synonyms
Web-based tool
Easy-to-use interface
QuillBot API
QuillBot Summarizer Tool
QuillBot Plagiarism Checker
QuillBot Grammar Checker
Integrations:
QuillBot integrates directly into Microsoft Office, Google Docs, and Google Chrome.
Pricing Plans:
QuillBot offers a forever-free plan that allows paraphrasing up to 125 words and enables only two paraphrasing modes (Standard and Fluency)
The premium plan ($9.99/month) offers advanced grammar rewrites, unlocks more modes (Expand, Shorten, Formal, Simple, ), six thousand words on the summarizer, and has other features including plagiarism detection, faster processing speed, compare modes, etc. You can enter unlimited words in the paraphrasing tool with this pan.
5) Spin Rewriter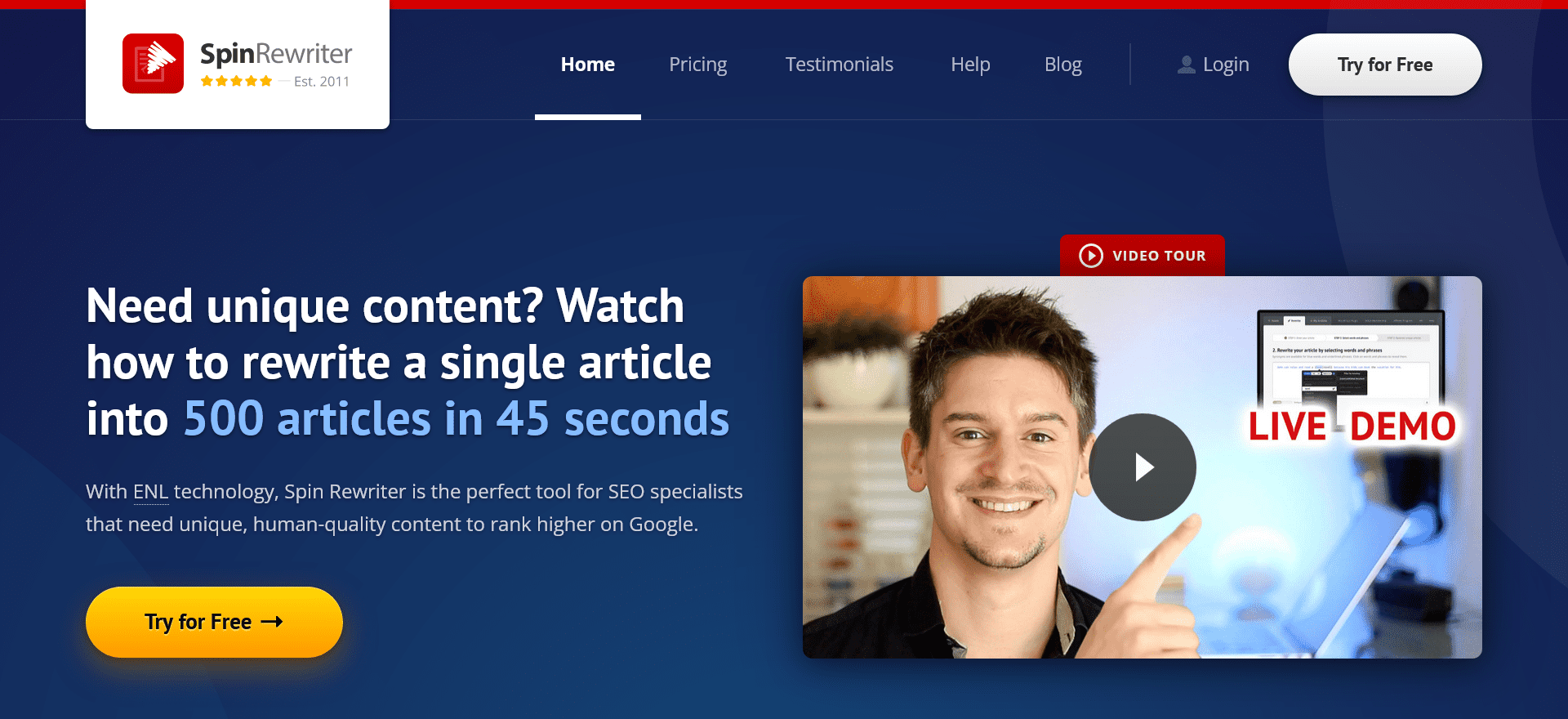 Spin Rewriter is a tool that automatically rewrites or "spins" text by replacing certain words and phrases with synonyms.
The goal of using Spin Rewriter is to create unique, readable content that is free of plagiarism.
The software uses ENL Semantic Spinning technology to perform a thorough analysis of your article, in order to actually understand the meaning of your text.
Main features of Spin Rewriter:
Side-by-side comparison
Stock photo integration
Generate up to 1000 variations of your documents
Mass exporting
Bulk rewriting
One-click rewrite
Supports all 5 spintax formats
Sentence level rewriting
Paragraph level rewriting
Article-level rewriting (While automatically rewriting new paragraphs and summaries)
WordPress remote publishing
One potential benefit of using Spin Rewriter is that it can save time and effort by automating the process of creating unique content.
However, it's important to note that the quality of the rewritten content may not always be as high as manually writing the content from scratch.
User Base:
Spin Rewriter is trusted by over 181,394 satisfied customers and is the go-to choice for many SEO specialists.
Pricing Plans:
Spin Rewriter offers 3 options:
Monthly plans: $47/month
Annual plans: $77/ per year
Lifetime plan: $497
You can try the annual plan for free for 5 days using our affiliate link. If you don't intend to continue with the plan, make sure to cancel it before the 5 days lapse so that you won't be billed.
SpinRewriter uses Semantics Spinning Technology to produce content that is readable and maintains the original meaning.
6) Paraphraser.io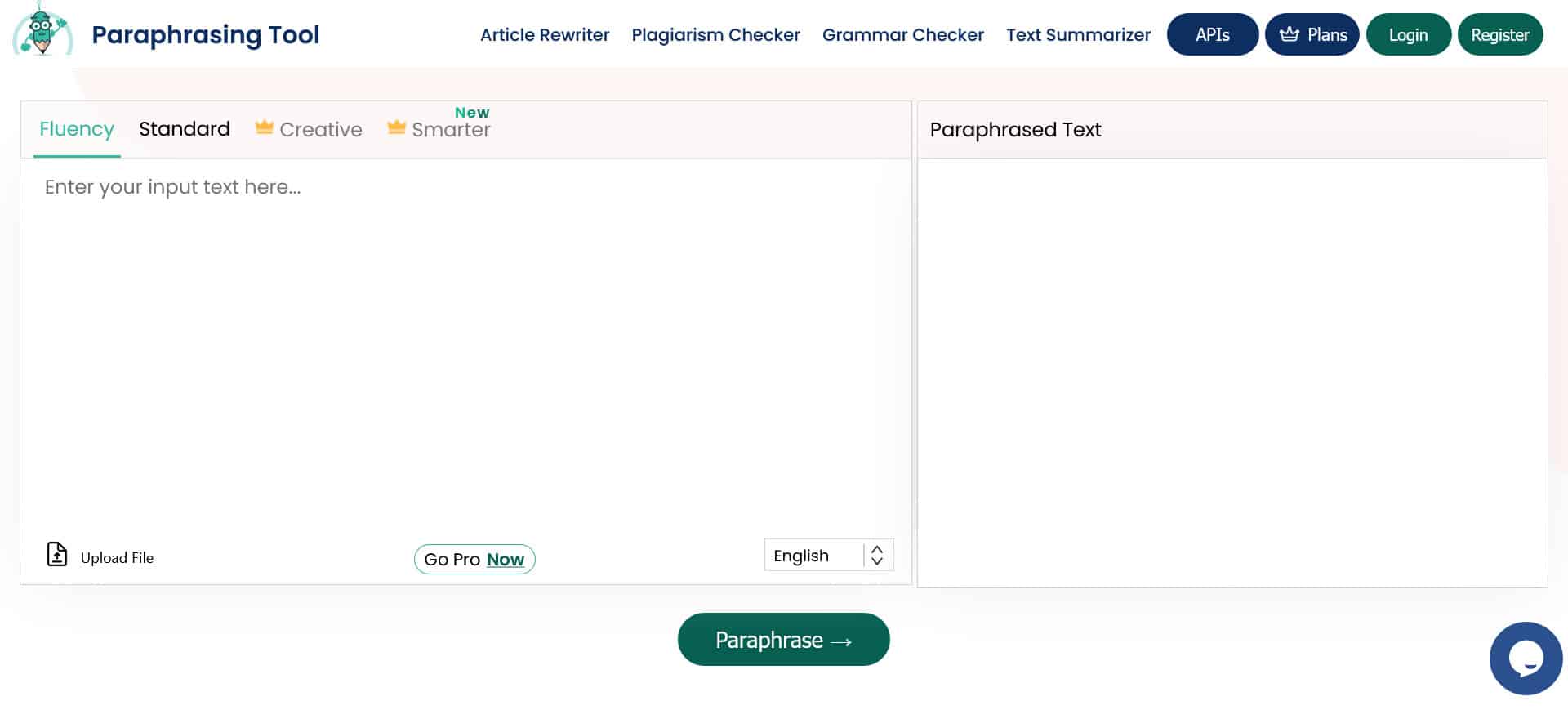 This tool doesn't just paraphrase content, but it also cleans it up by removing duplicate phrases and fixing grammatical errors.
Paraphraser.io features:
Four rephrase modes (Fluency, Standard, Creative & Smarter)
Intuitive interface
Paraphrase up to 1500 words per run
Super fast rewriting
For your rewritten text, you can opt to check for plagiarism, summarize it or run a grammar checker.
Paraphraser is designed for SEO experts and provides them with tons of unique articles for link building.
Paraphraser.io pricing
This tool goes for $20/month or $12.5/month (when paid annually)
7) CleverSpinner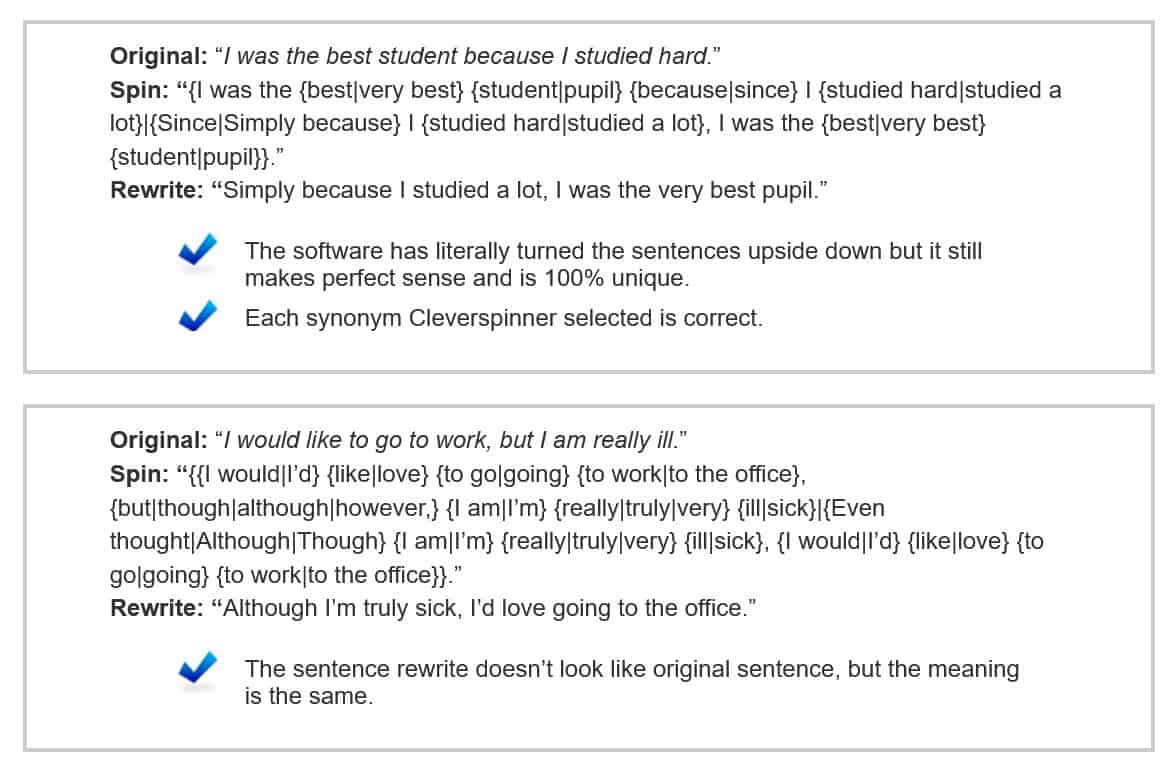 Another powerful paraphrasing tool is CleverSpinner.
This tool allows you to rewrite your content at word, phrase, and sentence levels. So this might not be the right tool if you want a truly AI paraphrasing tool that can reword content at paragraphs and article level (Use Copymatic or Jasper instead)
Key features of Clever Spinner include:
Free 3-day trial
Copyscape and API integration
Fast – takes under 10 seconds to rewrite content
Allows spinning articles in bulk
The editor provides a convenient interface for rewritten content
Pricing
Clever Spinner offers a monthly subscription for $9.90 per month. They also offer a free 3-day trial, as well as a 30-day money-back guarantee.
Approaches to paraphrasing
Depending on what you need, and given use cases, you can employ any of the following paraphrasing techniques:
Rewriting
Summarizing
Content expansion
Changing tone of voice
Should you use AI paraphrasing tools?
Paraphrasing tools have become an invaluable resource for content creators who want to repurpose their content more effectively.
These tools are easy to use and offer powerful features such as rewriting, summarizing, expanding, and changing the tone of voice. They also help to reduce the chances of plagiarism and can be integrated with other popular web-based applications.
So yes, you should definitely use AI paraphrasing tools in your blogging and content marketing processes, but you shouldn't rely on them to just paraphrase other people's content and pass them as your own.
To a large extent, this is illegal. There are ways to use AI rewording and writing tools more responsibly, and repurposing content is one such way.