Heard of Chatsonic AI?
While ChatGPT has made the news for all its amazing features and the resulting fears, this tool, as of now has some limitations, as it still relies on data that was trained on, up to 2021.
This has led many people, you and I included, to start wondering if there are some ChatGPT alternatives that can actually use real-time data from the internet…
Well, in this Chatsonic Review, I take you through what this handy AI content generator is capable of. Read on to find out how you can now use AI to create content based on up-to-date information (including recent news).
First, let's understand what Chatsonic is, and what it can do.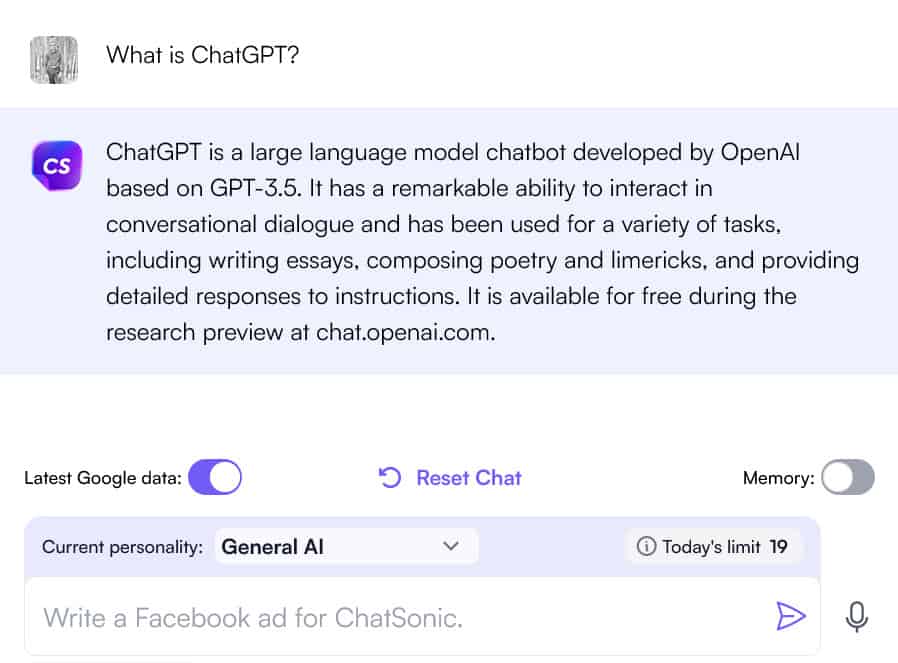 What is Chatsonic?
Chatsonic is a conversational AI content generator from Writesonic that enables anyone with access to create any type of content on any topic. It's built on top of OpenAI's GPT-3 and ChatGPT models.
Unlike ChatGPT (as of Jan 2023), Chatsonic has the option to query Google search in real-time, thus being able to come up with hyper-relevant content, even on newer topics, including current news.
Like any other AI writer, you can create content for social media, post summaries, SEO blog posts, landing pages, etc.
Being a tool built on top of ChatGPT, Chatsonic can:
Create content in a conversational way
Provide better outputs than GPT-3 tools
Recall previous conversations within a chat thread
How does Chatsonic work?
To start generating content with Chatsonic, you need to create a Writesonic account. After you've created a free trial account, you should be able to access all of Writesonic's AI tools, including Chatsonic.
Accessing Chatsonic AI
Once you have created your Writesonic account, you can access the Chatsonic AI tool from the left sidebar. This will open up the Chatsonic AI interface, which is a simple and intuitive user interface.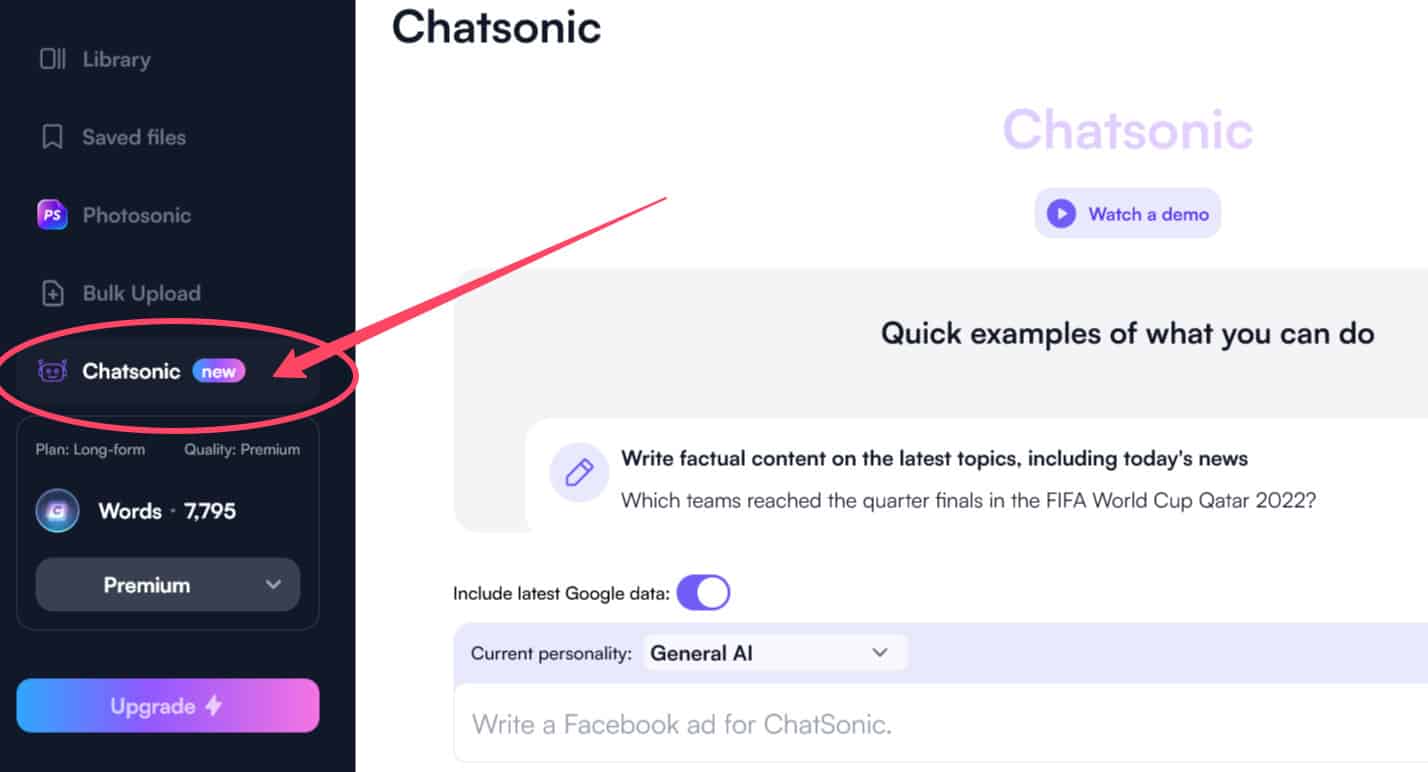 Using the Chatsonic AI tool
Once you've opened up the Chatsonic AI tool, you'll be presented with a simple and sleek dashboard with a few options. The first option is whether you want to use Google data or not. One such option is toggled on by default, but you can toggle it off if you don't want to use Google data.
Next, under the Include latest Google data option, you will a dropbox, named current personality. By default, General AI is selected. This is good for most use cases, but you have 14 other options to choose from.
You also need to toggle the Memory option (recently introduced), if you want AI to recall earlier conversations. Useful if you are relying on chat threads for building up content parts. However, if you just want to chat with the AI on various unrelated topics, then you may leave this option off.
Next is the text area where you need to enter your prompt. Here you get to instruct the AI to do exactly what you want.
Once you've entered your prompt, press the ENTER key to start the content generation. It will take the AI a minute or two to finish creating your content.

Chatsonic features
Google search toggler for real-time data integration with Google search
Ability to generate AI art
Reset chats with one click
Voice command capabilities
Four powerful utility features
Ability to toggle Memory on or off
The utility features allow you to easily use the generated content, by either downloading, copying to the clipboard, editing, opening in the Sony Editor (Writesonic's resemblance of Google's Docs.), or having the tool read it out aloud for you.
a) Factual content generation with Google Search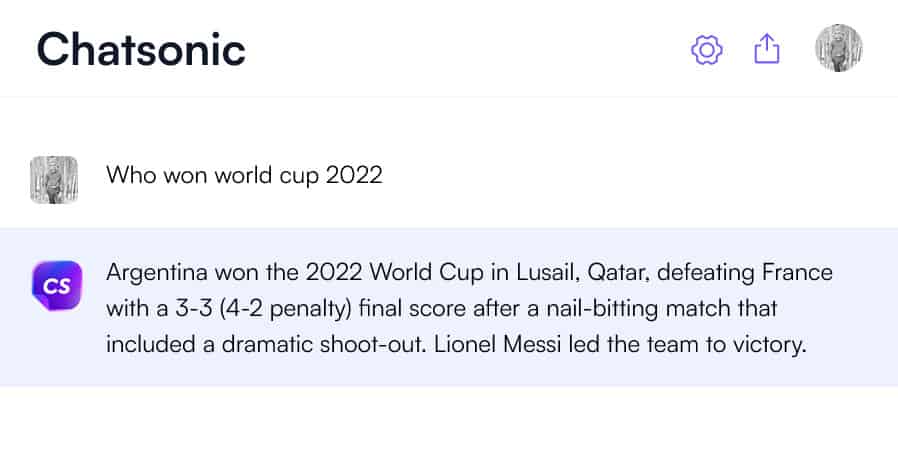 This is perhaps a feature that makes Chatsonic AI better than ChatGPT at the moment.
The AI chatbot is integrated with Google Search to provide users with the latest and most relevant data. This feature helps to ensure that the content generated is up-to-date and accurate. All you need to do to use this feature is to toggle the "Include latest Google data:" at the top of the prompt textbox.
While ChatGPT doesn't know the latest news like who won the 2022 world cup, Chatsonic can give you factual and accurate answers to such questions and queries.
b) Voice commands
Voice commands are a unique feature of Chatsonic. You can give voice commands to specify your requirements instead of typing them in the textbox.
This makes it easier to generate content quickly and on the go. This added convenience is what makes the tool stand out from other ChatGPT alternatives.
The tool also responds back in voice, just like Siri or Google Assistant.
To use this feature, you will need to activate it by clicking on the microphone icon on the right of the prompt textbox.
Keep in mind that you need to be using a browser that supports speech recognition (Chrome, for instance) for this to work.
c) Powerful handy features
One of the most useful features of Chatsonic that ChatGPT lacks is the ability to play with generated content. This includes:
Copying the content to a clipboard,
Downloading it, editing it,



Editing generated content
Editing and rerunning prompts to avoid having outputs that affect the next generations, whenever the AI messes up.
Having the tool read it out aloud (text to speech) or even
Opening it in the Sony Editor (Writesonic's document editor like Google Docs). 
Sharing it via Facebook, Twitter and LinkedIn
These features enable you to easily access and manipulate the generated content.
d) AI art generation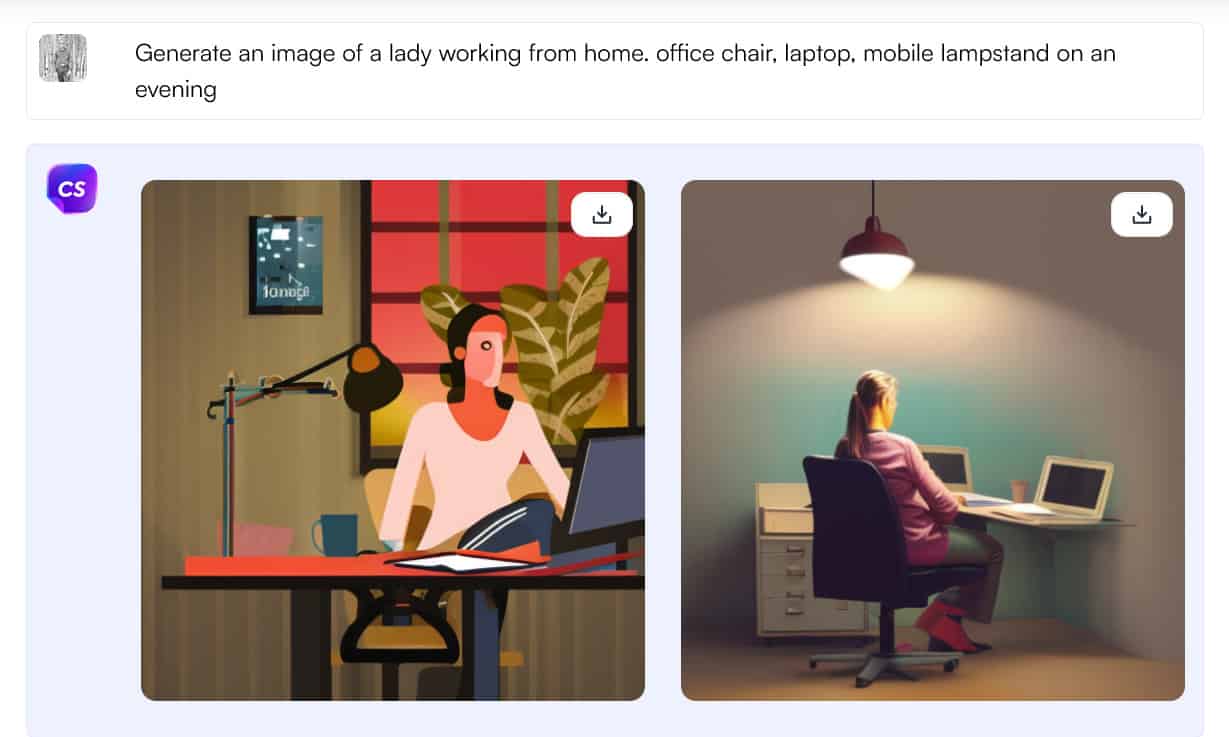 Writesonic has a great AI art generator called Photosonic and is integrated within the Chatsonic interface. Unlike other ChatGPT alternatives, you don't have to switch to a different tool to create images on the go.
A simple use case:
Ask Chatsonic to create a prompt you need to create a perfect image with the tool.
Copy and paste the generated image prompt into the prompt box and ask the AI to generate the image that meets the given description. Or, you could simply say, "Using the prompt above, generate images for me."
The image generator relies on Photosonic, meaning it can create all sorts of images (abstract, realistic, futuristic, etc).
Like text generation, you have options to edit the generated images by providing modifying prompts and copying or downloading them.
e) Specialized Persona modes (and Chatsonic AI content examples)
Besides the default General AI mode, Chatsonic offers 15 more specialized personas that you can use if you want to query a specialized assistant, such as a dentist or an accountant.
Popular persona modes:
Math teacher
This is useful if you have queries specific to Math. While with General mode, you only get the solution, Math teacher mode do provides an explanation on how to solve it.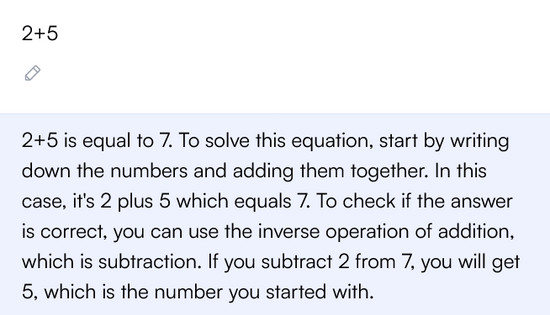 Here's another example when I queried the tool using the Maths teacher mode: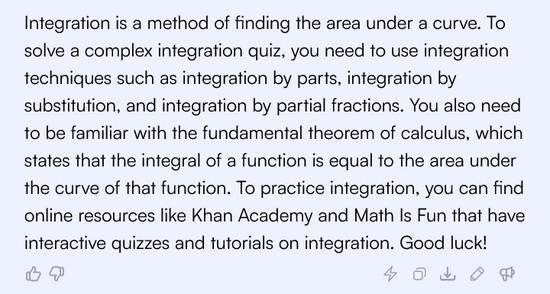 Poet persona mode
This is the best mode for creating captivating poems. When I activated the tool and prompted it to write a love poem for my girlfriend, here's what I got.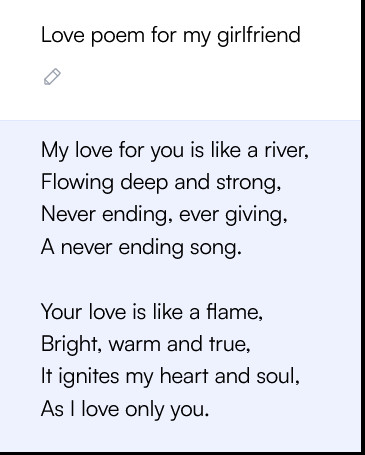 …
Not the best, but you can work with AI by giving it more descriptions in the prompt.
Interviewer mode
Sometimes framing your questions right can be a challenging task for most interviewers. Luckily, with Chatsonic's Interviewer mode, enabled it doesn't have to be.
You simply need to enter a topic, and the AI will create a well thought out question for you.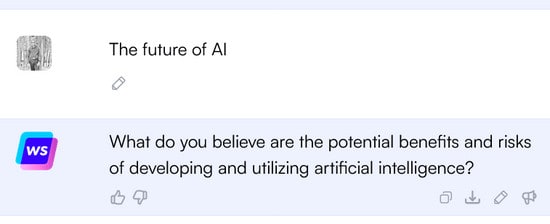 …
Here's list of other expert personas available for you:
Englist translator — can help you translate documents
Interviewer — use this if you want the AI to act as an interviewer
Travel Guide
Stand-up comedian
Motivational coach
Relationship coach
Philosopher
Astrology
Career counselor
Personal trainer
Dentist
Doctor
Accountant
Chatsonic Pros and Cons
Pros / Benefits
Ability to generate factual and more relevant content
Access to other Writesonic's features such as the powerful Sony Editor
Integration with Google Search to provide real-time data.
Provides a convenient way of generating content



Chatsonic remembers earlier conversations in a chat thread
You can now export entire conversations as PDF or Word documents.
Cons of Chatsonic
Compared to ChatGPT, Chatsonic is not great for generating code
Not great for formatted content



Consumes credits to use after 25 daily generation limits
More expensive to use than some other AI writing tools
Chatsonic Pricing
Chatsonic has a really affordable pricing model as compared to other AI writing tools like Jasper.
Since it's offered as part of Writesonic, the pricing plans used are those of the parent company, but the usage do differ slightly.
To access Chatsonic, you need a Writesonic account.
There are 2 plans for Chatsonic: Free-trial and Long-form plans.
Free Trial Plan lets you generate up to 6250 words per month at no cost.
Long-form plan (paid plan) starts at $19/month and allows up to 19000 premium words or 47,500 Good words
The long-form plan rates and the number of words are broken down as follows:
| | | | | |
| --- | --- | --- | --- | --- |
| | Premium Quality | Good Quality | Average Quality | Economy Quality |
| $19/month | 19,000 words | 47,500 words | 95,000 words | 190,000 words |
| $49/month | 75,000 words | 187,000 words | 375,000 words | 750,000 words |
| $99/month | 160,000 words | 400,000 words | 800,000 words | 1,600,000 words |
| $199/month | 350,000 words | 875,000 words | 1,750,000 words | 3,000,000 words |
If you want to save even more, then going for the annual plan gets you 33% off.
When using Chatsonic, you can run 25 free Google-search-enabled generations everyday, and after that, your generations will consume half the number of words created.
Chatsonic Vs ChatGPT
ChatGPT and Chatsonic are two AI chatbot technologies that are transforming the way we communicate.
ChatGPT was created by OpenAI, and its primary purpose is to respond to questions and resolve issues with solutions written in plain language. Chatsonic, on the other hand, is made by Writesonic and is used for content generation. It's built on top of ChatGPT.
The main difference between ChatGPT and Chatsonic is that Chatsonic is aware of the current trends, news and updates whereas ChatGPT is not up to date with the newest trends.
In terms of accuracy and dependability, Chatsonic has an advantage over ChatGPT due to its more advanced capabilities. Additionally, Chatsonic is able to understand voice commands, turn text into art and produce digital artwork to accompany content, while ChatGPT cannot.
That said, ChatGPT is pretty great by itself, and does way better for some use cases such as code generation.
Chatsonic use cases
This powerful tool can help you accomplish anything that relates to text and image content. Here are just but a few ways you can use Chatsonic:
a) Personal use
For personal use, you can use Chatsonic AI writer for a variety of tasks, including:
Writing a love letter for Valentine's Day,



Generating a recipe for a special dish,
Brainstorming ideas for anything (improving your home, starting a business etc.),
Writing a speech for a special occasion,
Generating a personalized poem,
Exploring ways to homeschool your kids,
Coming up with unique bedtime stories,
Brainstorming ways to have fun with your family over the holidays, etc.
b) Content Marketing
Here are 9 different ways you can use Chatsonic AI writer for content marketing:
Brainstorming blog post ideas
Writing compelling ad copy for Google Ads, Facebook Ads, and other pay per clicks platforms
Creating unique and engaging visuals for marketing campaigns
Building up long-form content by querying the tool section by section



Optimizing content for SEO by asking it to generate meta descriptions ans SEO titles
Generating titles, descriptions, and benefit bullet points for eCommerce stores
Developing fresh concepts for business growth
Writing high-converting landing page copy
Leveraging the latest Google data to generate factual content on the latest topics.
Brainstorming various marketing angles to unlock new opportunities
c) Coding
Like ChatGPT, Chatsonic can help you with coding in different programing languages.
Here are a few ideas:
Writing a simple WordPress plugin
Developing a chrome extension
Debugging code
Writing scripts to solve your WordPress needs
The seven general use cases of Chatsonic AI are:
Personal use,
Social media marketing
Code generation,
Personal use refers to using Chatsonic for tasks like writing blog posts, creating social media posts, or predicting the weather.
Chatsonic FAQs
How does Chatsonic generate content?
Chatsonic is built on top of OpenAI's ChatGPT and GPT-3 technologies. Thus, this tools uses natural language processing (NLP) and machine learning algorithms to generate written content based on user input. Based on how it was trainded, it's able to generate content in a conversational way, and even remember what was said before during human-AI interaction.
What is ChatGPT?

ChatGPT is a chatbot launched by OpenAI in December 2022. It is built on top of OpenAI's GPT-3 language model, and it is designed to be able to interact in a conversational way. 
ChatGPT is capable of understanding natural language and generating meaningful responses to questions, as well as being able to handle follow-up questions, admit its mistakes, and reject inappropriate requests
Is Chatsonic better than ChatGPT?
Not necessarily. I found that ChatGPT is still great for long-form content generation (up to 500 words per generation), and the outputs are often high quality provided the prompts are quite detailed.
The only area that Chatsonic beats ChatGPT is for writing timely content such as news and product updates, since ChatGPT can't crawl the internet, as yet. 
How was ChatGPT or Chatsonic trained?
This new model was trained using a combination of supervised fine-tuning and reinforcement learning from human feedback (RLHF). 
For supervised fine-tuning, human AI trainers provided conversations in which they played both sides – the user and an AI assistant – and the model was fine-tuned using this data. 
For RLHF, the model was trained using reinforcement learning, where the model is given a reward signal for taking the correct action in a given conversation.
Can you use Chatsonic for free?
Yes, you can use Chatsonic for free up to 2,500 words! Sign up for a free trial on https://bneur.com/chatsonic and start using this tool right away.
What is better than ChatGPT?
For content generation, you will find that fined tuned tools that are built on top of ChatGPT like Chatsonic and Jasper Chat tend to better than the original model. 
What is Writesonic AI?
Writesonic is an AI Writing Assistant that can generate engaging content within minutes. Founded by Samanyou Garg in 2020, it leverages GPT-3 to generate high quality content in minutes. Like all AI writers, Writesonic has evolved to include conversational tool (Chatsonic) and AI art generator (Photosonic)
Chatsonic Alternatives
Is Chatsonic Worth it?
Absolutely! Chatsonic is a great tool for generating art from texts and creating unique and non-plagiarized content. While you wait for ChatGPT to connects the internet, you can leverage Chatsonic for use cases that require upto date information such as latest industry news.
I hope this Chatsonic review guide has been helpful in providing an overview of the tool so you can decide if it's worth acquiring it for your business.